Brokerage deals, bonuses, and other promotions should never be the main reason you choose one company's account over another.
But they're a useful tiebreaker.
If you've never had to search for a new brokerage account before, let us tell you: It's a bit much. There are dozens of products to choose from, with a dizzying array of features. We've actually spent a great deal of time producing a guide to help people choose among the best investment apps and brokerage accounts, but depending on your needs, you still might end up with a tough decision between a couple of options. And that's when it might be worth looking to see which of the brokerage accounts is offering the best bonus.
Whether it's free stocks or a cash bonus, sign-up deals and other promotions can give one brokerage account that edge it needs to get your business. But, rather than making you sift through all those deals across dozens of different websites, we've compiled a one-stop shopping list of the best brokerage account promotions available today.
We've also included some information about how these brokerages set themselves apart. Because while a bonus is a nice … well, bonus … your investment needs are what matter the most.
Best Brokerage Deals—Our Top Picks
---
Best New Brokerage Account Bonuses, Deals and Promotions
---
Before diving in: Brokerage bonuses and promotions frequently change. Some even disappear and reappear at different times of the year. We'll update this story as often as possible to give you the most current information.
Also, if you see a particular deal you like, check out the promotional period so you know how long you'll have to sign up. The last thing you want is to procrastinate yourself out of a bonus.
1. Plynk
---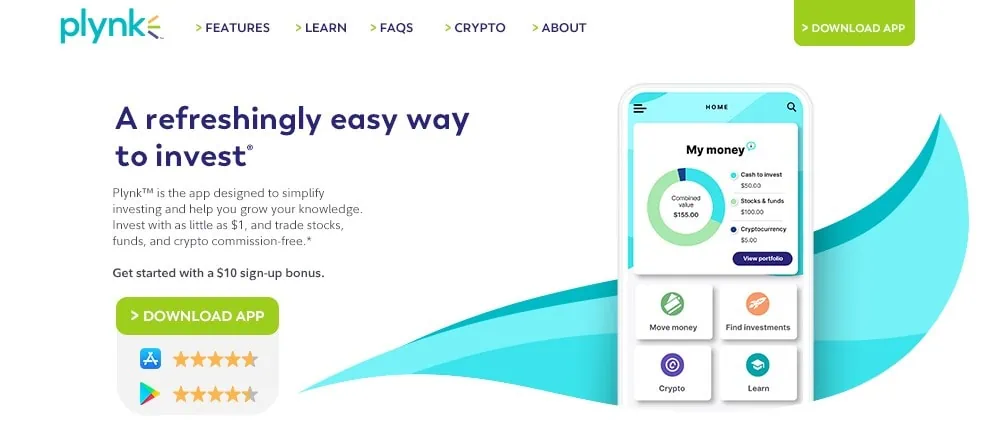 Available: Sign up here
Platforms: Apple iOS and Android App on Google Play.
Promotion: $10 sign-up bonus and up to $75 in net deposit match
Plynk™ is an app designed to help you start investing and learn along the way, and they're currently offering a $10 account signup and $75 net deposit bonus ($85 combined).
The Plynk app helps investors put their money into an investment portfolio. You can invest with as little as $1, and trade stocks, funds, and crypto commission-free**—all in one app.
The platform uses straightforward, easy-to-understand language to explain investing concepts. No jargon. No complex charts and tables. Just simple-language tips and how-tos.
Navigate investment ideas with tools to help you explore and choose. With Plynk Explore, just answer a few questions, and the app will display stock, ETF, and mutual fund investments that mesh with your investment comfort zone.
To assist with building your financial literacy, Plynk offers complete lessons and courses on financial education, including tips, educational content and how-tos.
The Plynk app enables you to make use of a powerful investing technique called dollar-cost averaging through participating in recurring investments. By continuing to buy a fixed dollar amount of investments over time, whether the market is up or down, you can build a disciplined investing habit and lower the stress that can come from market movements.
One of Plynk's most interesting features involves, of all things, gift cards. Specifically, you can redeem unused gift cards for money that you can use to buy stocks in your favorite companies.
→ How to get your cash bonus with Plynk
If this sounds interesting to you, consider opening an account with Plynk. To make it more worth your while, they have a few special offers.
Simply open an account and link your bank account to get a $10 signup bonus. Plynk is also offering a special bonus promotion through Dec. 14, 2023. If you make a deposit, Plynk will double it up to $75. Customers must have a minimum of $25 in net deposits during the promotional period to receive a match. That means you may be eligible for up to $85 in signup bonuses from Plynk by taking qualifying actions.
Read more in our Plynk review.
Related: How to Invest Money: 5 Steps to Start Investing w/Little Money
2. Moomoo
---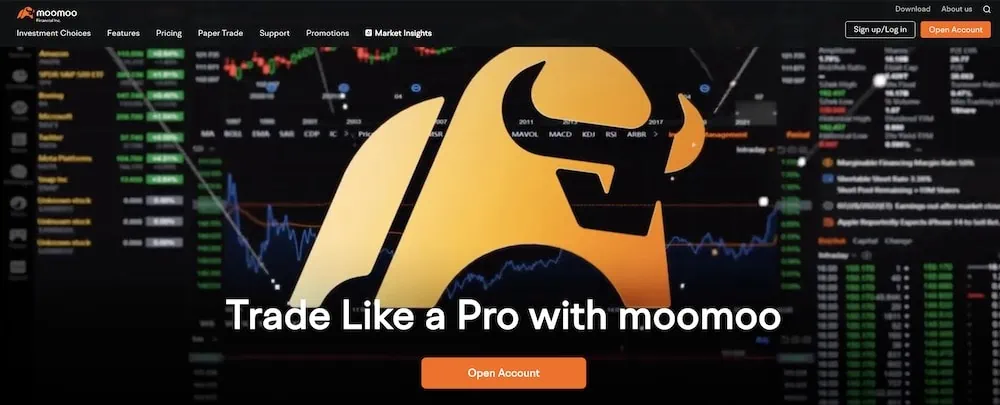 Available: Sign up here
Platforms: Desktop app (Windows, Mac), web, mobile app (Apple iOS, Android)
Promotion: 15 free stocks, each valued between $3-$2,000, plus a share of Tesla (TSLA) or Alphabet (GOOG)
Moomoo is a commission-free trading platform for stocks, ETFs, and options. While Moomoo is best for advanced traders, offering powerful tools to empower your trading insights and strategies, it takes a different approach from other similarly targeted platforms, favoring simple interfaces and high ease of use. The desktop platform is highly customizable, while the mobile app is straightforward, allowing you to search for stocks and trade with minimal hassle.
Still, Moomoo has more than enough under the hood for advanced traders to get the job done. Its charting system, for instance, includes 62 technical analysis indicators and 22 drawing tools. You can set up alerts based on changes in price, bids, turnover ratio, and more. Free Level 2 market data helps you get a greater understanding of a stock's value, determine how liquid a stock truly really is, and better time your trades. You can even enjoy 24/7 financial news handpicked by Moomoo's editorial team.
→ How to get your free stock on Moomoo
You can receive up to 15 free shares (collectively worth anywhere between $45 and $30,000) and an extra share of Tesla (TSLA) or Alphabet (GOOG) from Moomoo. Here's how:
If you open a new brokerage account with Moomoo and fund it with $100, you'll earn five free stocks valued between $3 and $2,000 each.
If you make a net deposit of $1,000 or more in the promotion period, you'll get a total of 15 free stocks valued between $3 and $2,000 each.
If you make a net deposit of $5,000 or more in the promotion period, you'll get a total of 15 free stocks valued between $3 and $2,000 each, as well as one free share of either TSLA or GOOG.
Enjoy these free bonus shares by opening an account with Moomoo through our link and making a qualifying deposit.
Related: 21 Best Stock Research & Analysis Apps, Tools and Sites
3. Robinhood
---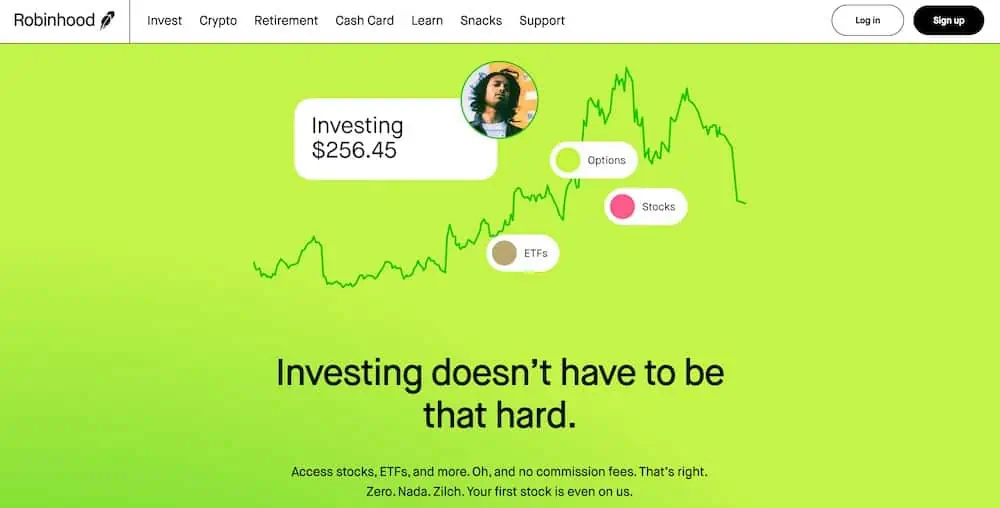 Available: Sign up here
Platforms: Web, mobile app (Apple iOS, Android)
Promotion: $5-$200 toward fractional shares
Robinhood is quick to adopt new features that benefit users and tends to be ahead of the curve. Users can invest in crypto as well as more traditional investments, such as stocks, ETFs, and options.
There are no commission fees. Don't have enough for a full share? The platform allows fractional sharing so you can always stay fully invested. You can get started with as little as $1.
In addition to earning money through asset appreciation, there are more ways to earn money with Robinhood. The Robinhood Cash Card is a debit card with weekly rewards.
Users who turn on Stock Lending can earn income on stocks they own. Those with Robinhood gold can also earn interest in the uninvested cash in their accounts.
As an additional perk for crypto lovers, you can gift crypto to others through the app.
→ How to earn free cash to put toward stock on Robinhood
While several other media outlets refer to Robinhood's offer as a "a free stock," that's a little oversimplified. The bonus is a randomly selected cash amount of between $5 and $200 that can be put toward fractional shares of one of 20 U.S. stocks. Here's how to get your bonus:
Sign up here to start the account opening process.
Link your bank account.
Fund your account with at least $10.
Related: 75 Cryptocurrency Statistics Show Crypto's Gone Mainstream
4. Public.com
---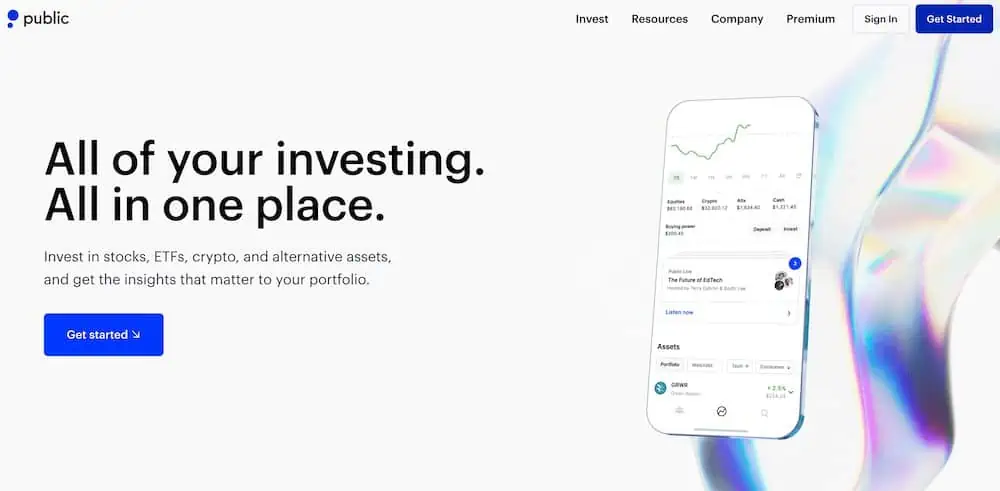 Available: Sign up here
Platforms: Web, mobile app (Apple iOS, Android)
Promotion 1: $150-$10,000 cash bonus
Promotion 2: $1-$300 in free stock
Public.com is a commission-free investing app, geared toward Millennials and Gen-Zers, that as of late has built up the types of assets available to its users. On Public, users can invest in not just stocks and ETFs, but also more than 25 different cryptocurrencies—and more recently, alternative assets from art to sneakers.
That last point is worth a callout. Alternative assets are a relative rarity among investing apps. They can be difficult to research (and thus difficult to properly invest in), but they can provide uncorrelated returns compared to the stock and bond markets, so many savvy investors like to diversify into these assets.
Better still: Public.com allows you to invest in these alternatives in the very same account where you buy your stocks and ETFs.
Public also provides research tools, such as company data, ESG scores, and more. Users also have access to detailed information from financial experts, and Public Live lets you listen to analysts and journalists talking about current market headlines.
→ How to get Public.com's transfer cash bonus
Open a brokerage account.
Go to Settings, then Account.
Choose the option to transfer stocks to Public. (You also can transfer ETFs.)
The following transfer amounts earn the corresponding bonuses:
$5,000-$24,999 earns $150.
$25,000-$99,999 earns $250.
$100,000-$249,999 earns $600.
$250,000-$499,999 earns $1,000.
$500,000-$999,999 earns $2,000.
$1,000,000-$4,999,999 earns $4,000.
$5,000,000 or more earns $10,000.
Note: You can also directly transfer ETFs. Other assets—"fractional shares, crypto assets, alternative investments, options, OTC-traded securities, mutual funds, and bonds," Public says—can be moved over to count toward the bonus thresholds, but they will be liquidated to cash.
→ How to get a free slice of stock from Public.com
New users who deposit at least $20 into their account can collect a fractional share of a stock or ETF, with a randomly selected value of between $1 and $300.
Open a brokerage account.
Deposit at least $20 into your account.
Claim your reward from the button on the top right part of the screen.
For Public.com disclaimer, please see the fine print at the bottom of this article.
Related: 13 Best Stock & Investment Newsletters for Inbox Alpha
5. Webull
---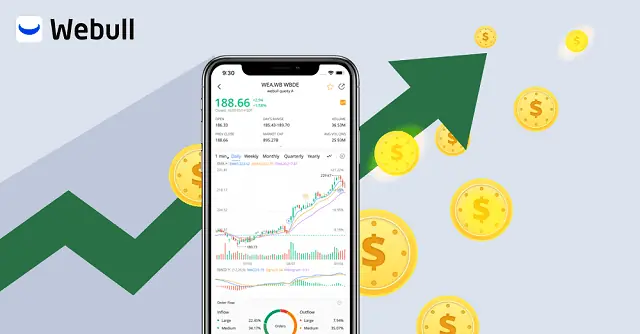 Available: Sign up here
Platforms: Desktop app (Windows, Mac, Linux), web, mobile app (Apple iOS, Android)
Promotion: $18-$36,000 in free stock
Webull is a wallet-friendly brokerage account that offers commission-free stocks, ETFs, and options. Many options have $0 contract fees. And Webull has no deposit minimums. On top of that, it offers fractional shares, which allows investors to start buying for as little as $1. So beginners working with small dollar amounts can still easily diversify across numerous investments.
Newer investors can also learn trading skills through the courses in Webull's education center, and even practice their skills via Webull's paper trading service.
And Webull is available across just about every platform, allowing you to research, trade, and track your stocks on your smartphone, tablet, or desktop.
Webull provides investors with several useful features and tools, including:
Customizable screeners for both stocks and ETFs
Preset lists–including Top Gainers, Top Losers, Most Active, and Best-Performing Industries—investors can use to identify opportunities
Voice commands: Simply speak to buy, sell, or look up information about a ticker
"Big Button Mode": Populates giant buttons on your screen that allow you to quickly make trades with just a push.
Free real-time stock quotes and stock alerts
Webull also offers extended trading hours (pre- and after-market trading) and 24/7 online help. And you can get more than just brokerage accounts—you can also sign up for tax-advantaged retirements such as traditional IRAs and Roth IRAs.
On top of all that, Webull frequently runs promotions that typically involve earning free stock.
→ How to get Webull's free stock sign-up bonus
Currently, Webull is offering new users between six and 12 free shares of stock worth between $3 and $3,000—so, the bonus is worth between $18 and $36,000.
To claim this potential bounty, you will first need to sign up through this link, open your account and make a deposit of any dollar amount. If you do, you will receive between six and 12 shares of stock from Webull.
Read more in our Webull review, or sign up at Webull today.
Related: 11 Best Stock Portfolio Tracking Apps [Stock Portfolio Trackers]
6. TradeStation Select
---
Available: Sign up here
Platforms: Desktop app (Windows), web, mobile app (Apple iOS, Android)
Promotion: Get 50% off futures brokerage fees forever
TradeStation Select is a favorite among intermediate and experienced traders. It provides users with one of the greatest selections of investment choices in the brokerage world, including:
Stocks
Exchange-traded funds
Mutual funds
Bonds
Options
Futures
Futures options
Cryptocurrencies
Foreign exchange
Initial public offerings
This powerful trading system includes a full-featured desktop app, a robust web trading platform, and a highly rated stock trading app—all of which include numerous tools for trading stocks that are useful to seasoned professionals. Traders enjoy fully customizable charts, scanning tools, market insights, even educational materials.
→ How to get 50% off TradeStation futures brokerage fees forever
TradeStation currently has a promotion that allows you to lock in 50% off futures brokerage fees—forever. All you have to do is:
Open a new account with TradeStation. You cannot already have an existing account; only new account holders are eligible.
Use the promo code FUTRAFZT.
Your account will be approved or declined based on several factors, including your trading experience and financial situation.
Related: 14 Best Stock Picking Services, Subscriptions, Advisors & Sites
7. Groundfloor
---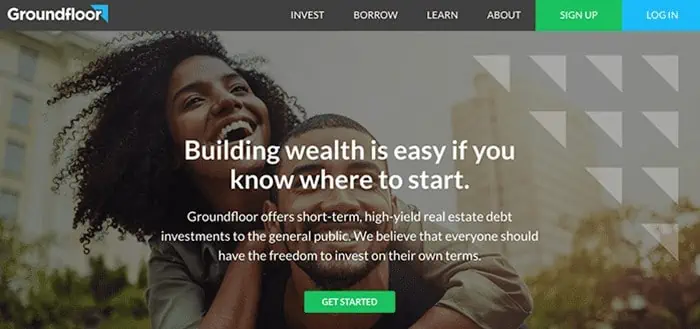 Available: Sign up here
Platforms: Web, mobile app (Apple iOS, Android)
Promotion: $10 cash bonus
Groundfloor accounts allow accredited and non-accredited investors alike to participate in real estate investment loans, in large and small dollar amounts alike. In fact, investors can get started with as little as $10.
Groundfloor says more than 200,000 users have invested over $900 million on its platform to date. It has seemingly returned the favor: Groundfloor says it has delivered 10% average annual returns over the past eight years.
On this platform, you invest in Groundfloor Notes—short-term investments backed by loans made out to real estate investors. Groundfloor Notes typically mature in 30 days, 90 days, or 12 months, and interest rates on Notes vary based on several factors, including bond rates, investor demand, and level of risk in the loan.
Groundfloor users can choose their own investments or let the experts choose for them.
→ How to earn Groundfloor's $10 cash bonus
Use this referral link to open a new Groundfloor account and answer a few questions.
Connect to a bank account.
Fund your account with at least $100.
Related: 9 Best Real Estate Crowdfunding Sites + Platforms
8. Axos Invest
---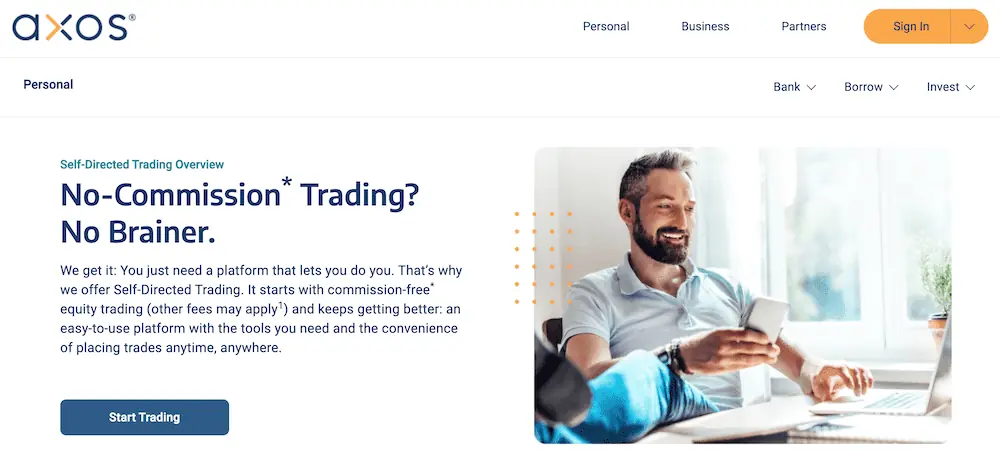 Available: Sign up here
Available via: Web, mobile app (Apple iOS, Android)
Promotion: $250 cash bonus
Axos Invest has options for new and experienced investors alike, allowing users to research and make all of their own investments with the Self-Directed Trading account, or enjoy an automated experience with Managed Portfolios.
Managed Portfolios is Axos's robo-advisory feature. You provide Axos with your time horizon, risk tolerance, and desired return, and Axos will build a portfolio of ETFs that weighs these and other factors. Axos will then rebalance your portfolio as necessary, and if your goals change, Axos can change your portfolio's thrust, too.
Axos Self-Directed Trading provides commission-free stock and ETF trading, as well as access to more than 10,000 mutual funds. The Axos Elite subscription tier adds real-time market data, TipRanks market research, margin trading, lower fees on options trades, and more.
→ How to earn the Axos Invest $250 cash bonus
Open a Self-Directed Trading or a Managed Portfolios account with Axos Invest.
Deposit at least $2,000 into your new account within $60 days.
If you open a Self-Directed Trading account, you must also make two trades of at least $25.
Related: 9 Best Portfolio Analysis Tools [Portfolio Analyzer Options]
9. Fidelity Youth™ Account
---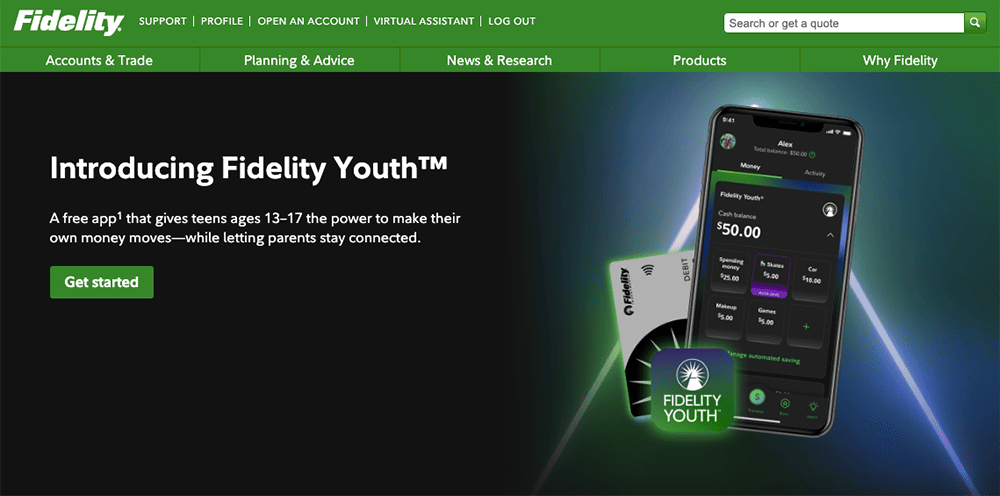 Available: Sign up here
Price: No account fees, no account minimum, no trading commissions*
Platforms: Web, mobile app (Apple iOS, Android)
Promotion: Teens get $501 on Fidelity® when they download the Fidelity Youth™ app and activate their Youth Account; parents get $100 when they fund a new account
Is your teen interested in jumpstarting their financial future? Do you want them to build smart money habits along the way?
Of course you do! Learning early about saving, spending and investing can pay off big when you start on the right foot. And one tool that can help your teen get that jump is the Fidelity Youth™ Account—an account owned by teens 13 to 17 that's designed to help them start their money journey. They can start investing by buying most U.S. stocks, exchange-traded funds (ETFs), and Fidelity mutual funds for as little as $1!⁴
Your teen will also get a free debit card with no subscription fees, no account fees³, no minimum balances, and no domestic ATM fees⁵. And they can use this free debit card for teens to manage their cash and spend it whenever they need.
And as for building smart money habits? You and your teen can access your account through the Fidelity Youth™ app, which has a dedicated Learn tab packed with materials developed specifically to help teens develop good financial habits. Not only will Fidelity's interactive lessons, videos, articles, tools, and calculators accelerate their learning—but for every level they complete, reward dollars will be deposited into their account to use however they want.
Controls parents want and need
A parent or guardian must have or open a brokerage account with Fidelity® to open a Fidelity Youth™ Account. For new Fidelity® customers, opening an account is easy, and there are no minimums and no account fees.
Parents and guardians have plenty of tools they can use to monitor their teen's activity: They have online account access, can follow monthly statements and trade confirmations, and can view debit card transactions made in the account.
To make it even easier, you can set up alerts to notify you of trades, transactions, and cash management activity, keeping you firmly in the loop on actions your teen takes across the Fidelity Youth™ Account's suite of products.
If your teen has an interest in learning about investing and taking their first steps toward building their financial journey, you should consider downloading the Fidelity Youth™ app and opening a Fidelity Youth™ Account. The account comes custom-built for their needs, which will help them become financially independent and start investing for their future.
Read more in our Fidelity Youth™ Account review.
→ How to earn the Fidelity cash bonus
Open a Fidelity Youth™ Account for your teen, and Fidelity will drop $50 into their account. Get $100 for yourself when you open a new Fidelity account and fund with $50¹.
Related: 10 Best Stock Trading Apps for Beginners [Free + Paid]
10. SoFi Invest
---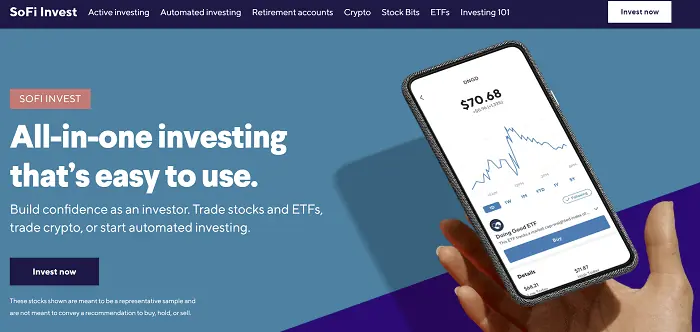 Invest as actively or as passively as you'd like with SoFi Invest.
The Active SoFi Invest Brokerage Account has no required minimum balance, charges no commissions on stock, ETF, and options trades, and its options trading is free of contract fees, too. SoFi also offers 24/7 trading of 30 cryptocurrencies, access to initial public offerings (IPOs), and fractional stock buying for as little as $5.
Want to put your portfolio on autopilot? SoFi's robo-advisory services will create a portfolio for you free of charge (that can be designed to address one or several goals) and auto-rebalance it for you as necessary over time.
And one thing that sets SoFi apart is your ability to handle many financial tasks within the very same app. SoFi's app allows you to tackle anything from banking and investing to student loans, insurance, and mortgages.
→ How to earn free stock from SoFi Invest
SoFi Invest allows you to win a randomly selected dollar amount worth of free stock: $5, $10, $25, $100, or $1,000. To qualify:
Fund your account with $10 or more within 30 days of the account opening.
Your bonus should post to your account in 10 business days.
→ How to earn free Bitcoin from SoFi Invest
You can earn between $10 and $100 worth of Bitcoin when you sign up and make your first cryptocurrency trade. Here's how:
Open a new account with SoFi.
Buy a minimum of $50 worth of any cryptocurrency within seven days.
The following trade sizes earn the corresponding Bitcoin bonuses:
$50-$99.99 earns $10 worth of Bitcoin.
$100-$499.99 earns $15 worth of Bitcoin.
$500-$4,999.99 earns $50 worth of Bitcoin.
$5,000 or more earns $100 worth of Bitcoin.
Related: How to Get Free Stocks for Signing Up: 15 Apps w/Free Shares
11. Tastytrade
---
Available: Sign up here
Platforms: Web, mobile app (Apple iOS, Android)
Promotion: $100-$2,000 cash bonus
Tastytrade (formerly Tastyworks) enables investors to invest in stocks, ETFs, commodities, options, futures, indices, and crypto—all on one platform. Stocks and ETFs trade commission-free.
Create custom watchlists, or view pre-made watchlists, to monitor potential future investments. Tastytrade also helps you discover opportunities with charting tools, alerts, and more. Noteworthy features include:
Quick Roll: Roll your options position into the next expiration cycle with a single right-click.
ETF-Equivalent Futures Delta: Tastytrade has created an easy way for investors to view ETF-future equivalent data.
Percent-of-Profit Limit Orders: Choose a price for limit orders based on what price has better odds of occurring.
Curve Analysis: This click-and-drag interface helps you more easily visualize and adjust your strikes and expirations.
Tastytrade offers a wide array of accounts, but some—including individual retirement accounts and trusts—aren't eligible for its current funding/transfer bonus.
→ How to get the Tastytrade new account cash bonus
Enter the code TIERED_2023 into the referral code field.
Fund the account (whether cash or transfer) with at least $5,000.
The following funding amounts earn the corresponding bonuses:
$5,000-$24,999 earns $100.
$25,000-$99,999 earns $500.
$100,000 or more earns $2,000.
Eligible accounts include individual, joint, LLC, partnerships, S-Corp, C-Corp, and Autotrade-enabled accounts. This promotion is for new customers only.
Related: 11 Best Stock Trading Apps [Free + Paid]
12. E*Trade
---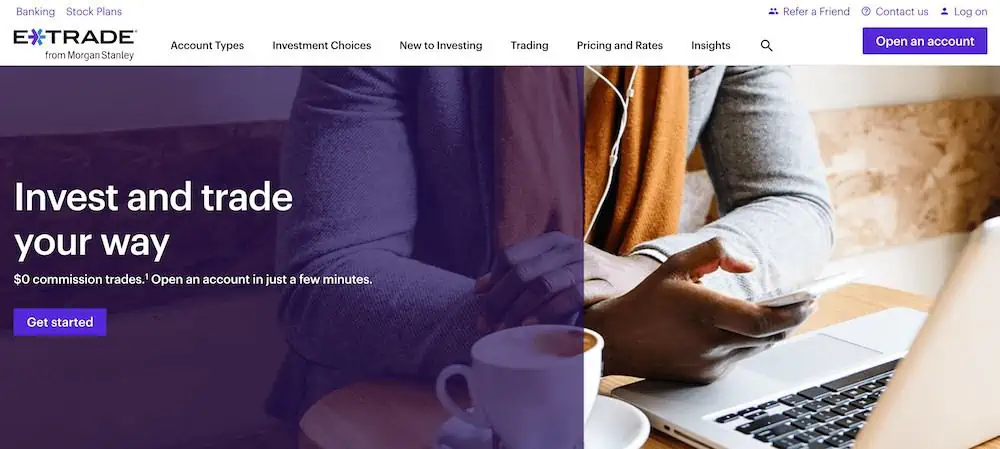 Available: Sign up here
Platforms: Web, mobile app (Apple iOS, Android)
Promotion: $50-$3,500 cash bonus
E*Trade has long been seen as a leading stock investment app for retail investors. E*Trade provides investors access to educational resources that assist you with conducting investment research and analysis and diversifying your portfolio.
E*Trade, like most of the best stock investing apps, offers zero-commission stock, ETF, and options trading. It also has a leg up on some platforms by offering $0-commission mutual fund trading.
E*Trade has two platforms, both of which are free, and both of which have web and mobile versions:
Power E*Trade, meant for more intermediate and advanced traders, has features including advanced chatting, Snapshot Analysis, a powerful stock and trade scanner, and paper trading.
E*Trade, a "basic" platform more suitable for beginners and some intermediate traders who want a more streamlined experience. It still offers plenty of features, including real-time quotes, charts, screeners, market commentary, and stock news. Users can also tap into the financial knowledge of Thomson Reuters, TipRanks, and more.
→ How to get the E*Trade cash bonus
Earn up to $600 when you open an fund an account with E*Trade.
Use this link to open a non-retirement individual or joint brokerage account with E*Trade.
Fund the account with at least $5,000 within 60 days of account opening.
The following funding amounts earn the corresponding bonuses:
$5,000-$19,999 earns $50.
$20,000-$49,999 earns $100.
$50,000-$99,999 earns $200.
$100,000-$199,999 earns $300.
$200,000-$499,999 earns $600.
$500,000-$999,999 earns $1,200.
$1,000,000-$1,499,999 earns $2,500.
$1,500,000 or more earns $3,500.
Note: This offer is only valid for new users.
Related: 7 Best Fundamental Analysis Tools to Find Value Stocks
13. J.P. Morgan Self-Directed Investing
---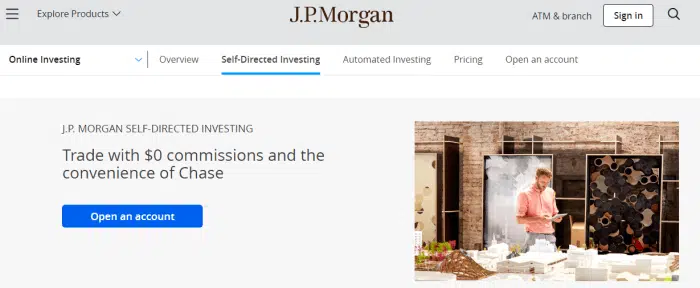 Available: Sign up here
Platforms: Web, mobile app (Apple iOS, Android)
Promotion: $50-$700 cash bonus
J.P. Morgan Self-Directed Investing acts as an investing solution offered from Chase and is accessible through the Chase Mobile® app or Chase.com.
You can use this investing app to make unlimited commission-free trades in thousands of investment options, including a wide range of stocks, ETFs, fixed income, mutual funds and options.
The investing app allows you to utilize tools to build your portfolio including screeners and watchlists—both useful for building diversified portfolios and staying on top of market activity.
The app provides personalized news and J.P. Morgan research and market analysis to empower informed investment decisions. You can leverage these resources to design your own target allocation for your investments.
Consider using J.P. Morgan's Self-Directed Investing platform if you'd like the flexibility to invest as much as you want without paying any commissions on equity and options trades. Some regulatory fees and fund expenses may apply.
You can choose an account that's right for you: an individual taxable account, Traditional IRA or Roth IRA. All carry a $0 minimum.
→ How to get the J.P. Morgan Self-Directed Investing bonus
Open your J.P. Morgan Self-Directed Investing account today and get up to $700 when you open and fund an account with qualifying new money:
$50 when you fund with $5,000-$24,999
$150 when you fund with $25,000-$99,999
$325 when you fund with $100,000-$249,999
$700 when you fund with $250,000 or more
Learn more by visiting J.P. Morgan Self-Directed Investing's website to see if it's the right fit for your needs.
Related: 23 Best Income-Generating Assets [Invest in Cash Flow]
14. Fidelity Cash Management Account
---

Available: Sign up here
Platforms: Web, mobile app (Apple iOS, Android)
Promotion: $100 cash bonus
Fidelity Cash Management lets users not just save and spend, but also make short-term investments in products including CDs and money market funds—all in one place.
The account comes with a free Fidelity Debit Card that can be used wherever Visa is accepted. Don't worry about third-party ATM fees, either—Fidelity reimburses charges from other institutions. Fidelity also uses a sweep program that maximizes FDIC insurance eligibility by spreading deposits of more than the $250,000 FDIC insurance limit across multiple program banks.
The card itself provides you with all the capabilities you'd expect from a standard checking account. You can pay bills, make purchases, withdraw cash, and link your debit card to Apple Pay or Google Pay.
→ How to Get the Fidelity Cash Management Account cash bonus
Open a Cash Management Account with Fidelity.
Use the promo code FIDELITY100.
Deposit at least $50 from an account outside of Fidelity within 15 days.
Related: 11 Best Investment Accounts [Types for Beginners to Use]
15. Tornado
---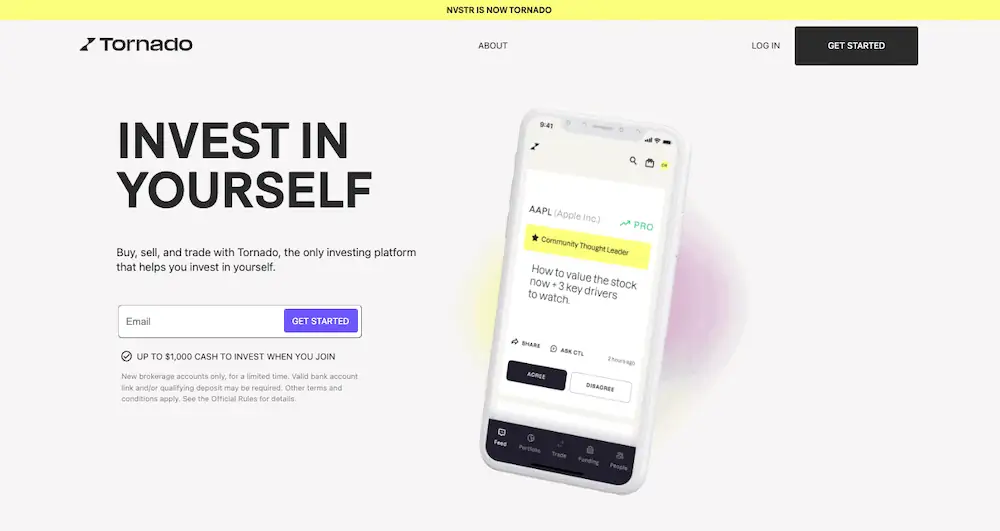 Available: Sign up here
Platforms: Web, mobile app (Apple iOS, Android)
Promotion: $5-$1,000 cash bonus
Tornado (formerly NVSTR) encourages investors to educate themselves on best investing practices. Through its Learn and Earn lessons, investors can develop their investing skills—and earn up to $50 doing so. Users can also learn by discussing stocks with thought leaders and other investors on the platform. It's possible to get one-on-one question-and-answer sessions from experienced investors.
Additionally, you can see which stocks other people on the platform are buying and selling. Real-time news and the ability to add stocks to your watchlist keep you informed. Find a stock that interests you? Click to see metrics, recent news, and more.
The platform does have one downside: High fees. Tornado costs $9.99 per month, and that only provides 50 commission-free trades per month. Additional trades are $4.50—the price for people without a subscription.
→ How to get the Tornado cash bonus
New users who place a single trade with Tornado can earn a randomly selected cash bonus of between $5 and $1,000. Here's how:
Sign up for a new account with Tornado.
Within the first month of getting the account, open a live trading account (not a simulated trading account) and place a trade.
Note: Bonus funds can't be withdrawn for a year.
Related: 19 Best High-Yield Investments [Safe Options Right Now]
Related Questions on Brokerage Account Promotions
---
Which brokerage has the highest bonus?
Webull offers the highest possible bonus value ($36,000!); however, that amount isn't guaranteed. You can receive up to 12 fractional stock shares that could total that amount. The odds of all stocks being the maximum value are low, but possible.
For guaranteed bonuses, the highest bonus is from Public.com ($10,000) … if you can transfer at least $5 million.
Do any brokerages offer a cash bonus?
Yes. The following brokerages described in this article offer cash bonuses:
The cash bonus amount typically is either selected randomly or based on the amount the account is funded with.
Which brokerage deals award free stock?
Webull, Moomoo, Robinhood, and SoFi Invest all award free stock bonuses.
Do any brokerage deals only require an account opening and not a deposit?
Yes, you can get the Plynk $10 sign-up bonus, two free stocks from Webull, and one free stock from Moomoo just by opening accounts.
How does a brokerage account transfer work?
Brokerage account transfers are usually an automated process. To begin the transfer process, individuals fill out a Transfer Initiation Form (TIF) and send it to the firm where they want to transfer their account. From there, the new firm will start the process with the current firm.
Often, you have to pay a fee for this process. However, some brokerage firms will rebate the transfer fee.
Do any brokerage account promotions require a minimum deposit?
Most brokerage firms require a minimum deposit to earn your rewards. Some brokerages only require deposits as low as $10, while others require thousands of dollars. For exact minimum deposit amounts, read the section for each brokerage account.
Editor's note: We cannot assure a bank guarantee for these deals. Always double-check to make sure a deal is still active before opening your account.
---
Terms and Conditions for Fidelity Youth™ Account
The Fidelity Youth™ Account can only be opened by a parent/guardian. Account eligibility limited to teens aged 13-17.
* $0.00 commission applies to online U.S. equity trades and exchange-traded funds (ETFs) in a Fidelity retail account only for Fidelity Brokerage Services LLC retail clients. Sell orders are subject to an activity assessment fee (from $0.01 to $0.03 per $1,000 of principal). Other exclusions and conditions may apply. See Fidelity.com/commissions for details. Employee equity compensation transactions and accounts managed by advisors or intermediaries through Fidelity Institutional® are subject to different commission schedules.
¹ Limited Time Offer. Terms Apply. Before opening a Fidelity Youth™ Account, you should carefully read the account agreement and ensure that you fully understand your responsibilities to monitor and supervise your teen's activity in the account.
² The Fidelity Youth™ app is free to download. Fees associated with your account positions or transacting in your account apply.
³ Zero account minimums and zero account fees apply to retail brokerage accounts only. Expenses charged by investments (e.g., funds, managed accounts, and certain HSAs) and commissions, interest charges, or other expenses for transactions may still apply. See Fidelity.com/commissions for further details.
⁴ Fractional share quantities can be entered out to 3 decimal places (.001) as long as the value of the order is at least $0.01. Dollar-based trades can be entered out to 2 decimal places (e.g. $250.00).
⁵ Your Youth Account will automatically be reimbursed for all ATM fees charged by other institutions while using the Fidelity® Debit Card at any ATM displaying the Visa®, Plus®, or Star® logos. The reimbursement will be credited to the account the same day the ATM fee is debited. Please note, for foreign transactions, there may be a 1% fee included in the amount charged to your account. The Fidelity® Debit Card is issued by PNC Bank, N.A., and the debit card program is administered by BNY Mellon Investment Servicing Trust Company. These entities are not affiliated with each other, and Fidelity is not affiliated with PNC Bank or BNY Mellon. Visa is a registered trademark of Visa International Service Association, and is used by PNC Bank pursuant to a license from Visa U.S.A. Inc.
⁶ Venmo is a service of PayPal, Inc. Fidelity Investments and PayPal are independent entities and are not legally affiliated. Use a Venmo or PayPal account may be subject to their terms and conditions, including age requirements. 
Fidelity Brokerage Services LLC, Member NYSE, SIPC, 900 Salem Street, Smithfield, RI 02917
---
Public.com Disclaimer
This does not constitute investment advice. Investing involves the risk of loss, including the potential loss of principal. Brokerage services for US-listed, registered securities available on Public are offered by Open to the Public Investing, Inc. (OTTP), a member of FINRA & SIPC, and a wholly-owned subsidiary of Public Holdings, Inc. Brokerage services for alternative investments are offered by the Dalmore Group, LLC, a member of FINRA & SIPC. Alternative investments are over-the-counter equity securities that have been issued pursuant to Regulation A of the Securities Act of 1933. Cryptocurrency trading is provided by Apex Crypto LLC (NMLS ID 1828849). Apex Crypto is licensed to engage in the virtual currency business by the New York State Department of Financial Services. New customers of OTTP receive free stock valued between $3 – $1,000 (0.3% receive the maximum value).
---
Plynk Disclosures
Google Play Store and Apple Store Ratings are as of the date referenced (06/22/2023) and provide an average rating of users and do not reflect the experience of an individual customer.