Some people love shopping. Others find it stressful. But most people will agree that children are particularly challenging to shop for, as the parents usually cover the essentials and houses soon become cluttered with toys.
That's why, just like most gifts for children, the best godparent gifts are financial gifts.
But if your first reaction is "cash is so impersonal," don't worry: Cash is not your only option.
Let's go over the best types of investments for godparents to purchase for baptisms and the rest of childhood. We'll provide detail about different investment options, the type of account you need for these investments, how much money is appropriate to gift, and more.
Best Financial Gifts for Godchildren—Our Top Picks
---
| | | |
| --- | --- | --- |
| | | |
| | | |
| | | |
| $1.99/contribution, $1.99/gift | $2.95/mo. for one child. $4.95/mo. for families with 2+ children. | Open a Fidelity Youth™ Account for your teen, and Fidelity will drop $50 into their account. Get $100 for yourself when you open a new Fidelity account and fund with $50¹. |
| | | |
Why the Perfect Gift for Your Godchild Is an Investment
---
Babies don't remember when they receive baptism gifts, so it makes sense to give them a present they can use once they're older. And when a godparent gives an investment as a baptism gift, it can be worth far more for the child in the future than it's worth today.
In the long run, a young adult will appreciate a 529 account that helps pay for college, or an exchange-traded fund (ETF) that becomes worth enough to buy a first car, more than another toy or keepsake box in their collection.
Consider this: Baptism gifts of $200, invested, with a 10% annual return, would be worth more than $1,100 by the time the child turns 18.
Better still: If you add more money on birthdays and holidays, that sum will be significantly more (and you won't have to rack your brain coming up with new gift ideas for every major event).
Related: 10 Best Debit Cards for Teens to Become Money Savvy

Best Godchild and Baby Baptism Gifts [Perfect for a Baby Boy or Baby Girl]
---
Investments are amazing presents, just be sure to always consult the child's parents first. You don't want your financial gift to clash with the parents' savings plans, after all.
So with money on our mind, here are some of the best investment baptism gifts you can purchase for a child.
1. Stocks
---
Usually, it's better to buy children stocks within a custodial account, but you can directly gift stocks as well.
Stocks make excellent baptism gifts because, again, they have the possibility of increasing substantially in value as the child ages. Indeed, if you buy the child a dividend-earnings stock and that passive income is reinvested, the gift will grow even more.
And if you happen to also gift kid-friendly stocks (say, buying a child some shares of Disney), that might spark their interest in saving and investing once they're old enough to understand. It's a good habit to pick up early on in life. Warren Buffett famously bought his first stock when he was 11.
A potential bonus for you? If you gift stocks that have appreciated in value, rather than sell them and give the money as a present, you avoid the long-term capital gains tax liability you would otherwise later owe.
Related: 7 Best Teen Checking Accounts [Bank Accounts for Teenagers]
2. Mutual Funds
---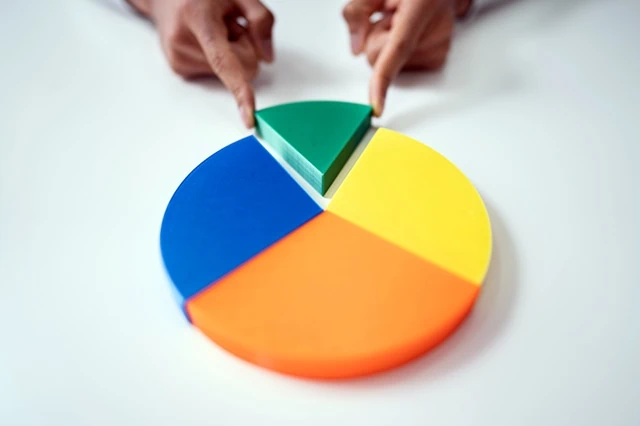 Mutual funds are a "diversified" way to invest. This means that you're spreading your money across more investments. (For example: Rather than individually buying two or three stocks, you could hold one mutual fund that owns hundreds of stocks.)
However, for a baptism gift, we would specifically suggest a target-date mutual fund (or "life-cycle fund"), which many consider the only investment you need to save for retirement.
Target-date mutual funds hold a combination of stocks, bonds, and cash. The fund starts with an aggressive allocation (more stocks) early on, then the fund manager gradually adjusts it (more bonds and cash) as it approaches the target date, which is typically the year a person expects to retire.
This is an easy set-it-and-forget-it method to help a child save for retirement.
Related: Best Investments for Kids
3. Exchange-Traded Funds (ETFs)
---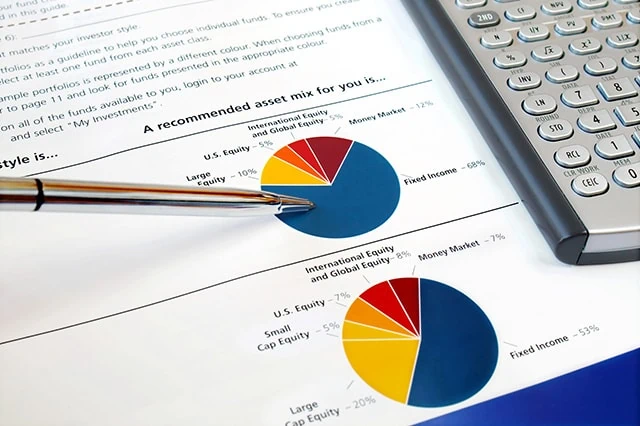 Exchange-traded funds (ETFs) are another wonderful option as a baptism gift. Like mutual funds, they're diversified. But they charge less in fees on average than mutual funds. And rather than mutual funds, which often require minimum investments of a thousand dollars or more, you can buy an ETF for the price of one share–often in the tens or hundreds of dollars. (Even less if you can buy fractional shares!)
ETFs work well as long-term investments that can grow until the child needs the money. You can choose an ETF that invests in a wide selection of stocks, or one with a more specific strategy, like only holding technology stocks.
About Index Funds
The cheapest ETFs and mutual funds are typically "index funds," which try to provide the performance of an index, like the S&P 500.
They're cheap because, rather than being run by several human fund managers with expensive salaries, index funds are "passively" managed, run by sophisticated computer programs.
If you want a low-risk, low-cost investment for a kid, a diversified index fund is a wise purchase.
Invest in Your Godchildren With EarlyBird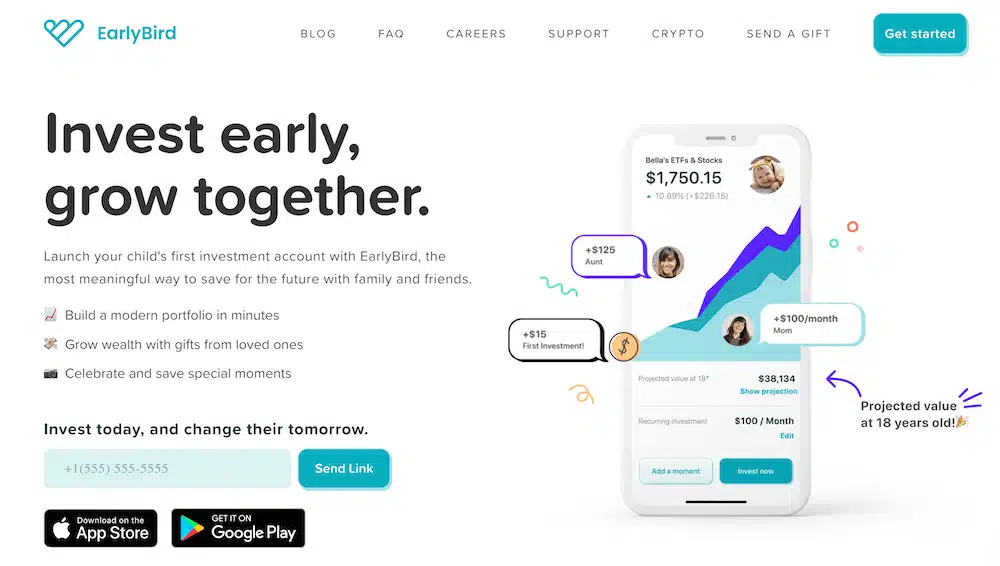 EarlyBird is a mobile app that allows parents and guardians to set up a Uniform Gifts to Minors Act (UGMA) account (more on those below) to gift money for investments to their children.
This app provides a convenient and inexpensive way to gift money to a child, with funds available to go toward any expenses that benefit the child. When opening an account to invest for your children, EarlyBird allows you to choose from five strategic ETF-only portfolios, with investing goals ranging from conservative to aggressive, based on your stated risk tolerance and overall investor profile.
Do family and friends want to provide a gift, but think money is too impersonal? With EarlyBird, they can record a video to go along with their financial contribution, personalizing these moments which last a lifetime. And if you'd like to give but the recipient doesn't have an EarlyBird account, you can text them a link from the app to the recipient's phone number.
Consider opening an EarlyBird account today and receive $15 to get you started after opening your account.
EarlyBird | Custodial Account
$2.95/mo. for one child. $4.95/mo. for families with 2+ children.
EarlyBird empowers parents, family and friends to invest in the next generation through custodial accounts.
Send and receive financial gifts to invest in children.
Offers managed and auto-rebalanced portfolios of ETF-based investments based on the child's age, investment goals, time horizon, risk tolerance, and other factors.
Special offer: Receive $15 to invest by opening an account today.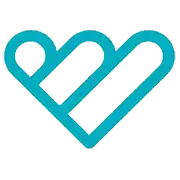 Only available to U.S. residents who are new, first-time EarlyBird users.
Related: 15 Best Prepaid Debit Cards for Teens & Kids [Reloadable]
4. 529 Plan Contributions
---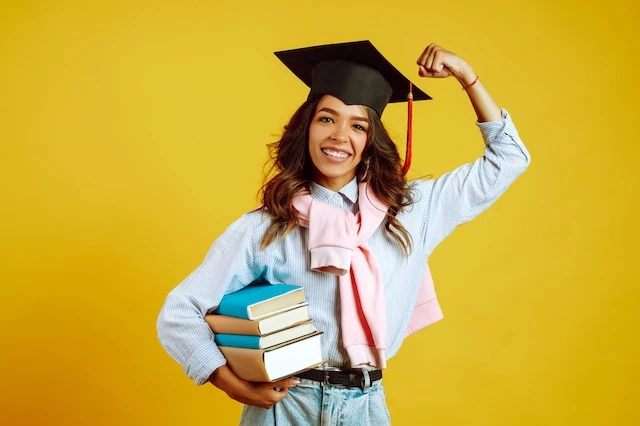 Higher education is expensive. That's why most parents will appreciate a contribution to a 529 plan, which helps pay for tuition and related costs.
If you can afford it, you have the option to front-load an annual exclusion contribution by donating a lump sum (between $16,001 to $80,000) and categorizing the contribution as being spread out over the next five years for gift tax purposes. This is called superfunding a 529 plan.
Doing this helps the account grow faster because the investments have more time to compound. Don't surpass the $16,000 per year threshold or you may regret it come tax time.
And remember: Discuss with parents beforehand to see whether they already have an account set up, or if you should create one.
529s With Backer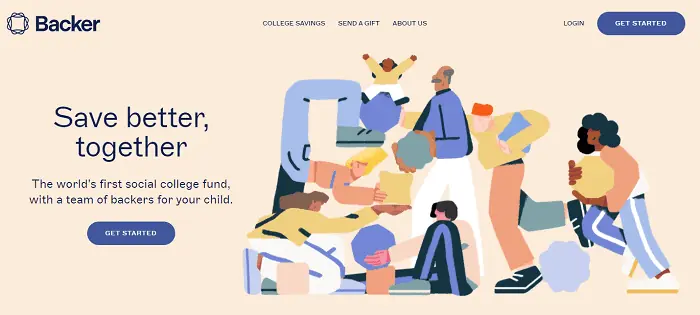 A great option to consider is Backer. Backer, a hassle-free 529 Savings Plan where your family and friends can play a role, has helped families save over $20 million towards college in just minutes.
You can use the 529 plan to put your child on track to afford college; all while remaining invested in an asset class that will grow over time.
You are able to invest using Backer's portfolio of low-cost index funds, including: large-company stocks (S&P 500), small-cap stocks (Russell 2000) international-company shares (MSCI EAFE Index), U.S. government bonds (Barclays Aggregate Bond Index).
Our Top 529 Savings Pick
Backer 529 Plan
$1.99/contribution, $1.99/gift
Backer allows you to invest your educational savings tax-free in a 529 plan and also allows for family and friends to help you to save more.

Use low-cost index funds to invest in different asset classes, including stocks and bonds.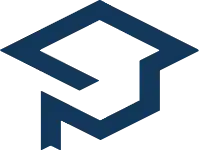 Related: 9 Best Free Debit Cards for Kids & Teens [Earn, Save & Spend]
5. Baby Bank Account
---
While piggy banks are cuter, opening a real bank account for a child has better benefits:
These accounts very likely won't earn as much money as funds invested in the stock market, but they're safe investments and simple to manage.
Related: How to Open a Bank Account for a Minor: Steps, What You Need
Savings Bonds
---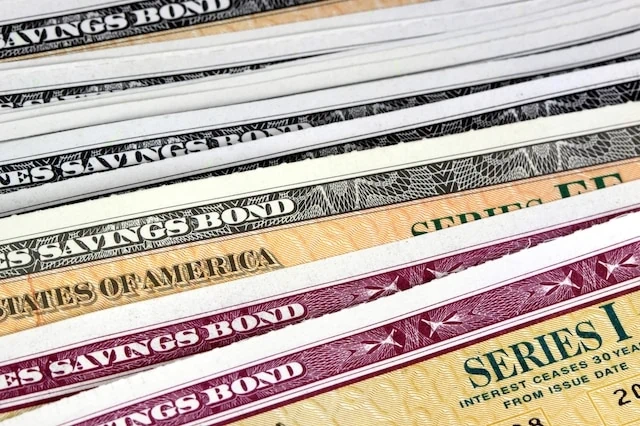 You can buy a savings bond in a baby's name as a reliable investment.
Savings bonds are a way for people to lend money to the government or a business now, then later receive that money back, with interest.
Ideally, your godchild will wait at least a decade, if not more, to cash the bond, at which point it will have generated considerable interest. A similar-sized baptism gift of cash would likely be worth less over the same time period thanks to inflation.
Related: 60 Personal Finance Statistics You Might Not Know (But Should!)
Baby Baptism Gifts: Related Questions
---

Do Minors Need Special Investing Accounts to Hold Investments?
For minors to legally own certain investments, they need to have brokerage accounts. An option for children with taxable income is a custodial IRA.
Roth IRAs are particularly beneficial for youths because they are in a low tax bracket when they make contributions, which then are allowed to grow tax-free. Contributions can be pulled whenever necessary; the investment growth can be fully saved for retirement, or some or all of it can be used to, say, fund an education or purchase a first home.
If the minor doesn't have taxable wages yet, you can open a custodial brokerage account for the child (discussed in more detail below).
Related: Best Bar Mitzvah Gift Ideas
What Is a Custodial Account?
A custodial account is a financial account a person maintains for another person, often a minor. There are two basic types of custodial accounts: Uniform Transfers to Minors Act (UTMA) accounts, and Uniform Gifts to Minors Act (UGMA) accounts.
Both of these accounts are similar in that while the money legally belongs to the child, parents (or other trusted adults) initially control the account funds initially. Minors can't access the funds until they reach their states' age of majority. That age is typically 21, but some set it earlier (18), and for a few, the age ranges up to 25.
They have two primary differences:
UGMA accounts can be used to hold only strictly financial assets, including (but not limited to) stocks, bonds, mutual funds, ETFs and insurance products. UTMA accounts can hold those assets, but also any property—say, real estate or cars.
UGMA accounts have been adopted in all 50 states. However, only 48 states have adopted UTMA accounts. (South Carolina and Vermont are the exceptions.)
Money in both types of accounts is only taxed at the child's rate. The tax rate varies by age and student status. Custodial account rules state that the custodian can use account funds only for the benefit of the minor; once the minor controls the funds, they can use the money for any purpose.
Related: UTMA vs UGMA Accounts: What's the Difference Between These Accounts?
Do Godparents Have to Give Gifts for a Godchild's Christening?
On the christening and baptism date, it's customary for the child's godmother and godfather to give the baby boy or girl a baptism gift. Godparent gifts signify their dedication to mentoring a child.
Some parents choose to give the godparents a token gift, too, to show gratitude for taking on the responsibilities that come with being a godparent.
Related: 4 Best Baptism Gift Ideas [What to Give at a Christening]
What Does a Godparent Give as Traditional Gifts for a Baby's Christening Date?
Traditionally, christening gifts were made of silver. This is where the phrase "born with a silver spoon in his mouth" originates. Often, these items are personalized with the baby's name.
Nowadays, it's more popular for the godparent gift to be sentimental, such as homemade nursery decor, a picture frame, prayer book, or keepsake box.
Cash and savings bonds are also common gifts at a baby's baptism. It's expected that monetary gifts won't be spent right away, but instead invested for the child's future. But because cash is easily spent and you can't guarantee it will be set aside, we suggest considering a different type of monetary gift.
You can choose to give a savings bond, start a bank account (where you can later add money for other occasions, such as birthdays or a Christmas gift), contribute to a 529 plan, or open a custodial account for the child.
By the time a child reaches adulthood, money invested as a baptism gift will be worth far more than the value of an adorable gift set.
Related: How to Invest in Stocks [A Beginner's Guide to Start Investing]
How Much Money Do You Give Your Godchild?
There is no standard for the amount of money to give as baby baptism gifts. Thus, the amount should simply reflect your financial situation and your relationship with the child. (Closer family members, such as grandparents, usually give more money than a distant relative or family friend.)
If you are chosen as a godparent, the child's parents are likely aware of your financial situation. People without much money to spare, such as a college student or person between jobs, shouldn't be expected to gift beyond their means.
The monetary gift can be smaller if you are already paying for the baptism rite. For some people, this is around $50. More money is typically expected if you aren't paying for the baptism rite.
Since you are likely to be very involved in the child's life, you might also be expected to give gifts for any momentous occasion, as well as at certain holidays, such as Christmas.
And anyone who struggles coming up with great gift ideas might want to stick to monetary presents for these occasions as well.
Related