Over the long term, stocks are a winning proposition.
The world is loaded with a variety of investments—you can buy anything from shoes to wine to land, and years down the road, someone might want to buy them for more than you paid. But it's difficult to argue with holding stocks, which are ridiculously simple to buy and generate fantastic returns over the long haul.
Just consider how stocks have performed across more than half a century compared to a few other popular investment assets:
Asset
Average Annual Return, 1970-2022
S&P 500 Index (Stocks)
10.4%
Gold
7.7%
Bloomberg U.S. Aggregate Bond Index (Bonds)
6.8%
90-day Treasury bill (Short-term government debt)
4.7%
Source: Securian Asset Management
Practically speaking, stock investors who plunked a mere $1,000 in the S&P 500 back in 1970, and didn't contribute another cent, would still be sitting on $171,550 today. That compares to just $47,338 for gold, $30,598 for bonds, and a mere $9,895 for short-term Treasuries!
Yes, past performance has no bearing on future returns. But by their very nature, stocks have the potential for higher returns than many other assets, now and in the future—and the longer you hold, the more compounding can do the wealth-building work for you!
If you're looking for a starting point for your own portfolio, look no further. Today, we're going to examine some of the best long-term stocks that you can buy and hold for years and even decades down the road. We'll also talk to you about a few stock-investing basics, and answer a few common questions about stocks.
Disclaimer: This article does not constitute individualized investment advice. These securities appear for your consideration and not as investment recommendations. Act at your own discretion.
Why You Should Invest in the Stock Market
---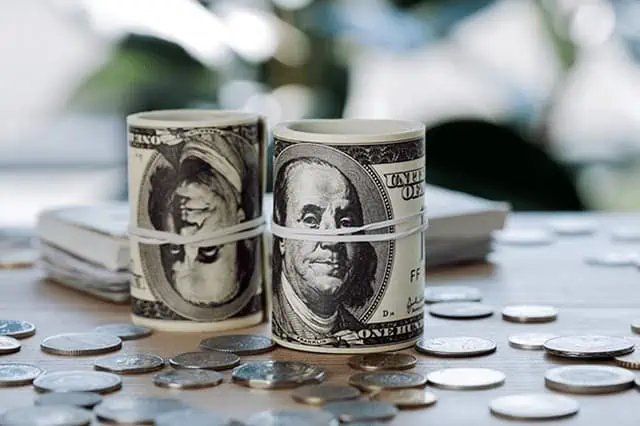 As even novice investors probably know, funds—whether they're mutual funds or exchange-traded funds (ETFs)—are the simplest and easiest ways to invest in the stock market.
But the best long-term stocks also offer many investors a way to stay "invested" intellectually—by following companies they believe in. They also provide investors with the potential for outperformance.
But the bottom line is that, whether you invest in stock mutual funds, stock ETFs, or a few stocks individually, these assets are among the best long-term investments for several reasons. Among them:
They have higher rates of returns than just about any other asset class.
They can be held in numerous types of investment accounts.
They're easier to understand than many other types of investments.
A stock is simply a piece of ownership in a company. It allows you to profit from a company's success—most commonly, from price appreciation in shares of the stock, but in several cases, also from cash distributions (dividends) the company makes to shareholders.
Growth Stocks or Value Stocks?
Growth stocks are companies that are expanding their profits and sales at a steady clip. Typically, growth stocks are firms that have either an attractive product they are bringing to new markets or a steady drumbeat of new items they can sell to existing customers to open up new revenue streams.
Technology companies are typically the most common example of growth stocks, as they bring new gadgets to market that are better or faster than previous products.
Value stocks, on the other hand, are companies that might not be expanding rapidly but have a strong underlying business. Think of a local bank or a utility company that might have trouble doubling in size over the next few years, but doesn't face a lot of competition or disruption to its business model. These kinds of companies are often more stable thanks to the underlying value of their businesses.
The best long-term stocks cover both camps. Reliable growth can result in significant gains over many years, but alternatively, a rock-solid value stock will most commonly weather any market disruptions much better than a company that relies on enterprise spending trends or consumer confidence to drive its sales.
What About Dividend Stocks?
Dividend stocks (which commonly are value stocks, but can be growth stocks) are great ways to drive long-term performance of your portfolio. These companies pay a regular flow of their profits directly back to shareholders, meaning you receive some sort of return regardless of the ebb and flow of share prices.
Stocks that can both grow and pay dividends are the ultimate long-term stocks given just how much in additional returns they can generate over the long term.
Here's a look at the return someone could expect if they received just the price returns from the S&P 500 over the past 25 years:
Now look at how much better the return is when you factor in dividends (had you had reinvested those dividends back into the S&P 500):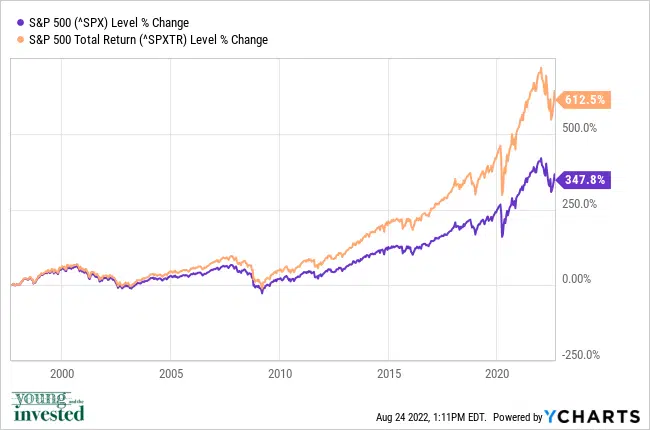 The price return is about 4.5x. The total return (price plus dividends) is more than 7x!
The best long-term stocks tend to be companies that aren't overly dependent on specific trends in the global economy, and companies that can deliver returns in any environment. Dividend growth stocks (companies that pay larger dividends over time) tend to check both those boxes, proving they have operations that generate significant profits, and are growing those profits enough to deliver larger paydays to shareholders each year.
Stock picking help by Motley Fool Stock Advisor
Best Introductory Stock Newsletter
Motley Fool Stock Advisor
Motley Fool Stock Advisor provides a list of five stocks they believe deserving of your money today.
Stock Advisor also lists "Starter Stocks" they believe should serve as a portfolio's foundation.
Limited Time Offer: Get your first year with Stock Advisor for $89 (vs. $199 usual value)
Pros:
Discounted introductory price

Strong outperformance above S&P 500

High overall average return for stock picks
Cons:
High renewal price

Not every stock is a winner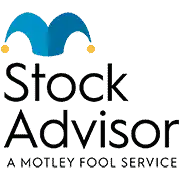 *$89 promotional price for new members only. $110 discount based on current list price of Stock Advisor of $199/yr. Membership will renew annually at the then current list price. Past performance is no guarantee of future results. Individual investment results may vary. All investing involves risk of loss.
Related: 20 Best Investing Research & Stock Analysis Websites
What's a Diversified Portfolio?
---
The best long-term stocks are part of an investment strategy that prioritizes stability and risk management over risky short-term bets that might pay off—or leave you in tears.
There are plenty of investment strategies that, after the fact, look wise simply because they worked out. But your personal financial situation matters. Ask yourself this: Would you bet $10,000 on a 50/50 chance of either doubling that money or losing every penny instantly?
If your answer is "no," then there are certain strategies you should never consider in your toolkit, and others you should stick with even if it means your returns are not as dramatic.
One low-risk strategy that many investors deploy is the notion of a diversified portfolio that spreads your risk around in multiple vehicles. The easiest way to do that is through mutual funds and ETFs, which hold dozens if not hundreds or even thousands of stocks, bonds, and other assets. And you can keep your costs down by purchasing index funds—mutual funds or ETFs managed not by humans, but effectively a rules-based algorithm.
However, you can also look beyond the typical offerings out there and build your own diversified portfolio by hand-picking a basket of long-term stocks.
If you want more control or customization in your portfolio, there's nothing wrong with picking individual stocks—in fact, it often makes sense to put a few individual stocks alongside the mutual funds and/or ETFs in your portfolio.
Just make sure you're doing your research to ensure you have the best stocks available, and that you are keeping an eye on diversification.
Related: How to Get Free Stocks for Signing Up: 15 Apps w/Free Shares
The Best Long-Term Stocks to Buy and Hold
---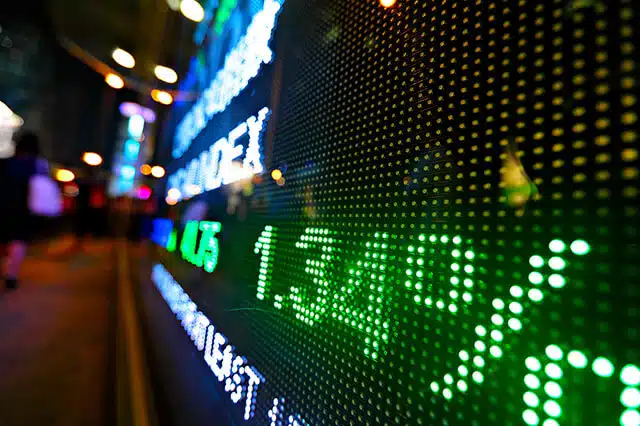 If you're looking beyond mutual funds and ETFs to build your own portfolio of the best long-term stocks, it's crucial to both understand your personal investing goals as well as to do your own homework before buying (and selling!) an individual company's shares.
That includes looking at stocks for specific strengths, like their market share or their annual earnings trends compared with their peers, as well as how a given stock performs against the broader market at large.
There's no one-size-fits-all approach to anything on Wall Street, so you should always look at the latest numbers and do your own personal analysis before making any trades. But to get you started, here are a few standout companies that are among the best long-term stocks to buy based on share performance, earnings trends, staying power, and other factors.
Best Long-Term Stock #1: Johnson & Johnson
---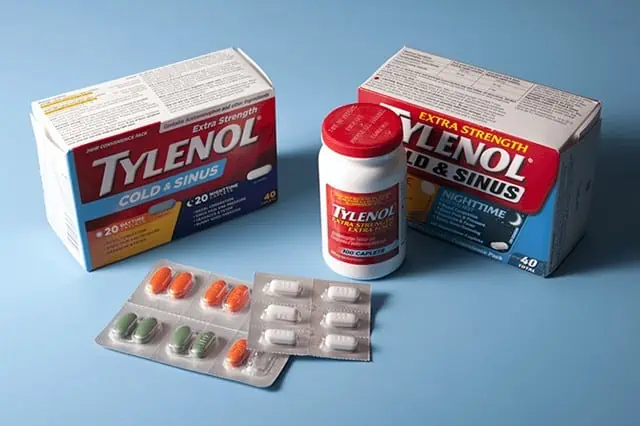 Market value: $448.0 billion
Dividend yield: 2.9%
Sector: Healthcare
If you're after the best long-term stocks, Johnson & Johnson (JNJ) is a great place to start—if not to buy the stock itself, then at least as an illustration of what you should be looking for.
Johnson & Johnson is a massive, diversified healthcare company that was founded back in 1886. JNJ has for decades been referred to as a "widow and orphan" stock, because its defensive, income-generating characteristics make investors feel like they can buy shares almost as an insurance policy to ensure their family's wealth for many years to come.
That's in part because of its dominance and size; J&J typically finds itself among the 20 or so largest stocks on Wall Street. That's also because of the general resilience of the healthcare sector, which enjoys reliable sales regardless of macroeconomic pressures or consumer sentiment—after all, regardless of what the economy's doing, people still have to buy medicine.
For a long time, that was also because of the Johnson & Johnson brand, which commands powerful trademarks like Tylenol pain relief pills and Band-Aid bandages. But that part of the business was recently spun off into a new publicly traded company, Kenvue (KVUE).
The icing on the cake is JNJ's dividends. The healthcare giant has raised its payouts for 61 years running—one of the longest track records on Wall Street. And prior to the spinoff, Johnson & Johnson spent less than half of its profits on dividends, which is a healthy ratio that signals more potential for dividend increases going forward.
Many investors have held JNJ stock for their entire lives, and the company continues to appear worthy as a long-term buy-and-hold stock. If nothing else, it's a representative example of the kinds of companies investors should consider when their holding time is measured in years, and not just a few months.
Related: The 13 Best Investment Apps for Beginners
Best Long-Term Stock #2: AT&T
---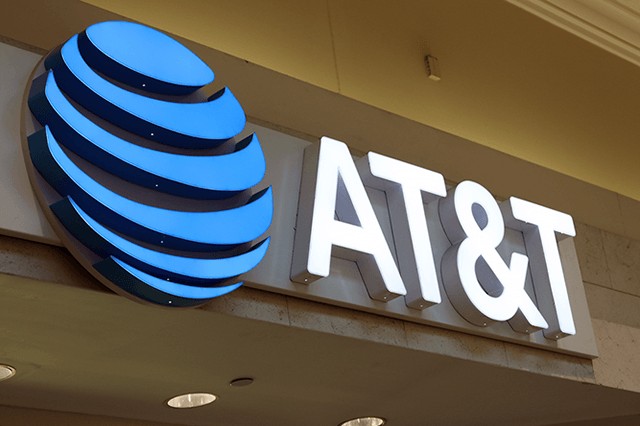 Market value: $107.5 billion
Dividend yield: 7.6%
Sector: Telecom
Another great example of a long-term stock to buy is AT&T (T).
AT&T is the No. 1 carrier in the U.S. as measured by wireless subscriptions with about 45% of the market at present. But it's not just one of the biggest telecommunications companies in the world; it's also one of the most generous dividend payers on Wall Street right now, with a yield that's more than five times greater than the S&P 500 right now.
That high yield is despite a recent dividend cut. Unlike J&J, which is keeping its dividend intact after its spinoff, AT&T announced a cut alongside its spinoff of Warner Bros. Discovery (WBD) last year.
Admittedly, T stock has suffered some short-term hiccups while the company digested that restructuring. (And if you didn't know about the spinout, it'd be easy to look at a chart of AT&T's stock price or a table of annual profits and have a quick panic attack.) But the WBD spinoff is a smart play for AT&T—one that will return the focus to AT&T's core product and keep the company leaner and more competitive.
While AT&T is ostensibly smaller, the foundational business is still there and going strong. And more importantly, without the other short-term distractions caused by a media biz, AT&T is set up for more consistent performance going forward in the long haul.
These kinds of long-term strategic decisions—even those that risk short-term performance bumps—are a hallmark of the best stocks to buy and hold.
Related: 11 Best Stock Portfolio Tracking Apps [Stock Portfolio Trackers]
Best Long-Term Stock #3: Microsoft
---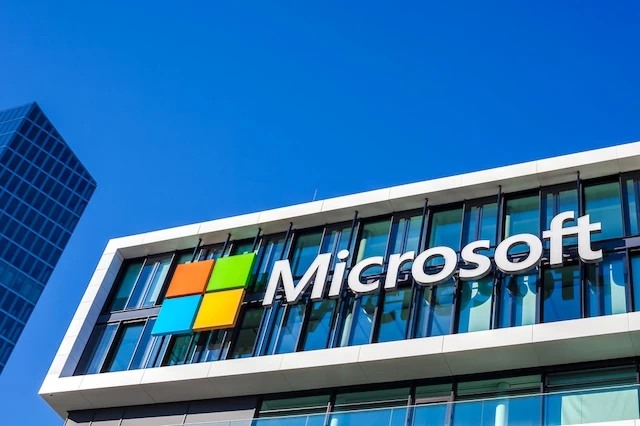 Market value: $2.6 trillion
Dividend yield: 0.8%
Sector: Information technology
When it comes to a stock with scale and staying power, tech giant Microsoft (MSFT) immediately springs to mind. The technology giant is synonymous with workplace productivity, with its Windows and Office 365 software products the gold standard for businesses around the world.
Microsoft isn't without growth plans despite its already impressive scale, however. Its Azure cloud computing business continues to gather steam, its remote workplace tools like Teams have now become hardwired into enterprise operations in the wake of the pandemic, and its Xbox video game arm is a juggernaut in its own right.
With long-term investing, it's all about trying to find certainty in an uncertain world. And the dominance of Microsoft seems incredibly likely regardless of geopolitics, economic cycles, or anything else.
Microsoft is one of the 35 largest corporations in the world as measured by revenue, and second only to tech giant Apple (AAPL) when it comes to market value at present. And despite being a still-"growthy" tech company, it also features a modest but rising dividend.
If you want stability and scale in a long-term stock investment, Microsoft is it.
Related: 21 Best Stock Research & Analysis Apps, Tools and Sites
Best Long-Term Stock #4: United Parcel Service
---
Market value: $161.9 billion
Dividend yield: 3.5%
Sector: Industrials
Cyclical businesses—companies that are heavily tied to the ups and downs of economic activity—are more difficult stocks to hold for the long term because of the inevitable swings. But even though United Parcel Service (UPS) certainly qualifies, it's still an excellent buy-and-hold candidate.
Yes, UPS's logistics business is cyclical, as package volume tends to rise and fall based on broader spending trends. But there's a long-term megatrend lifting this stock that cannot be overlooked. And if you look around the front porches in your neighborhood, you'll probably find proof of this trend yourself via all the boxes lying around.
In the age of Amazon.com (AMZN) and e-commerce, UPS is about as safe a bet as you can make. It's a valuable part of the global supply chain, and it comes in at triple the size of competitor FedEx (FDX).
United Parcel Service has been around for more than 100 years. Relatively recently, it has made a more concerted effort to begin sharing its success with stockholders. UPS has provided shareholders with 13 years of annual dividend increases, and with payouts still slightly under 50% of earnings, there's headroom for more hikes down the road.
What's more, UPS also announced a new $5 billion share repurchase plan after it posted its full-year report in January. By reducing the amount of publicly traded shares on the market, that naturally tips the supply-demand dynamics in favor of higher UPS stock going forward.
That's just one more reason UPS is among the best long-term stocks to buy now.
Related: 7 Best Stock Portfolio Management Software Tools + Apps
Best Long-Term Stock #5: Prologis
---
Market value: $116.9 billion
Dividend yield: 2.8%
Sector: Real estate
Real estate is often seen as a store of value for many long-term investors, and for good reason. In the words of Mark Twain, "Buy land, they're not making it anymore."
That simple truth makes Prologis (PLD) a great long-term stock to consider because of its portfolio of specialized properties in key markets around the world. The global leader in logistics real estate with a focus on high-barrier, high-growth markets, PLD and its warehouses are a key part of the world's supply chain.
Prologis owns and/or operates 1.2 billion square feet across 19 different countries. Top clients include Amazon and FedEx, making these properties must-have hubs for distribution, but they're just part of a diverse base of roughly 6,600 customers largely in business-to-business distribution and retail fulfillment.
With projected revenue growth of a whopping 37% this fiscal year, PLD is ramping up operations to become even more dominant in the years ahead. And with a recent 10% bump in dividends back in February, dividends are now about three times what they were a decade ago.
It's hard to imagine any upstart firm acquiring enough property quickly enough to compete with Prologis in the years ahead. And while spending trends do wax and wane, the long-term nature of PLD leases with first-class corporations means its finances (and its dividend) are very secure for the foreseeable future.
Related: 11 Best Stock Screeners & Stock Scanners
Best Long-Term Stock #6: Dominion Energy
---
Market value: $45.1 billion
Dividend yield: 5.2%
Sector: Utilities
When it comes to the best long-term stocks, the utility sector stands out as a natural place to look.
For starters, utility companies always have "wide moats," which is a way of saying they have significant, established advantages that make it difficult to compete. Utilities are exceedingly capital-intensive businesses that are highly regulated, and thus competition is very difficult to come by—in fact, in many cases, U.S. utilities are de facto regional monopolies. Furthermore, electricity is a necessity for businesses and consumers that sees strong baseline demand even in a rough economic environment. That creates a measure of certainty for the sector, regardless of broader uncertainty or economic cycles.
If you're looking for long-term investments, then, utilities are a natural choice. And in this sector, Dominion Energy (D) stands out as one of the larger and more generous options.
Dominion is among the 10 largest utility stocks on Wall Street. The company boasts nearly 30 gigawatts of electric generating capacity mostly in Virginia and North Carolina. It also has roots that trace back more than 100 years, and in early 2023, it recorded its 380th consecutive quarterly dividend payment to shareholders.
With a generous yield, little threat of disruption, and a long track record of sharing the wealth with stockholders, Dominion is a great example of the kind of slow-and-steady company many investors should covet as a long-term investment.
Related: 11 Best Stock Trading Apps [Free + Paid]
Best Long-Term Stock #7: Dollar General
---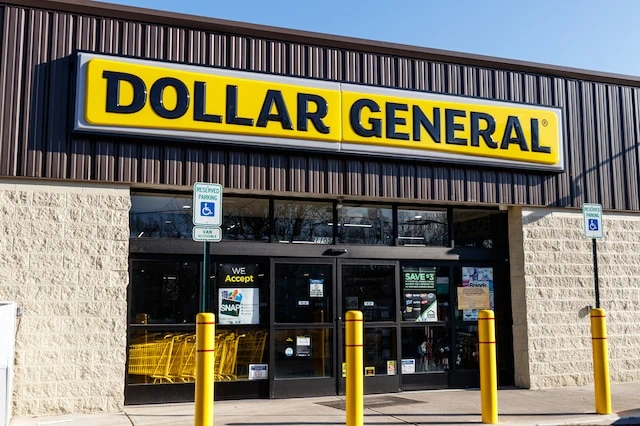 Market value: $36.9 billion
Dividend yield: 1.4%
Sector: Consumer staples
Generally speaking, retailers are hard to rely on as buy-and-hold investments as they tend to be subject to broader spending trends as well as changing consumer tastes. It's also worth noting that brick-and-mortar retailers are anything but a sure thing in this age of e-commerce.
However, discount retailer Dollar General (DG) is still worth a look as a long-term holding, since its unique model sidesteps most of these concerns. As a nationwide chain that offers everything from cleaning products to packaged food to over-the-counter medicines to pet supplies to holiday items, it is very much in the staples business—and as such, doesn't have to rely on discretionary budgets to connect with customers.
In fact, DG's focus on value-conscious consumers who are looking to pinch pennies actually means it has a counter-cyclical appeal. In other words, if times get tough, more customers might end up walking through Dollar General's doors looking to save on their groceries as they pass over its upscale competitors.
Just consider the performance of Dollar General in what has undeniably been a challenging environment for many consumers thanks to inflationary pressures. DG is projecting more than 5% revenue and profit expansion this fiscal year, then another 7% or so growth in both metrics next fiscal year.
That might not set the world on fire, but considering how challenging things have been for other retailers, it's a sign Dollar General has what it takes to weather any short-term disruptions to spending. That should help investors rest easy and consider DG stock as a long-term holding.
Related: How to Invest Money: 5 Steps to Start Investing w/Little Money
Best Long-Term Stock #8: Lockheed Martin
---
Market value: $114.6 billion
Dividend yield: 2.7%
Sector: Industrials
For better or for worse, defense giant Lockheed Martin (LMT) seems like one of those companies that will always have a sound financial foundation thanks to its focus on military matters and close relations with the U.S. Department of Defense.
Lockheed and its iconic "Skunk Works" developed many of the Cold War-era jets and missile systems that have become synonymous with modern military might. And more recently, conflicts like the war in Ukraine have sparked an increase in spending on its drone and missile defense operations.
The for-profit nature of our military industrial complex might not sit well with some investors. But presuming you have no moral qualms about the kind of business LMT is in, this is definitely a long-term investment to consider because its business isn't driven by consumer spending or even enterprise spending the way tech companies or apparel companies are. Instead, it's driven by long-term contracts—and the long-term need for security amid geopolitical unrest.
Lately, LMT stock has been one of the few bright spots on Wall Street. Over the past 24 months, shares are up about 20% while the broader S&P 500 is only up by about 4%. That speaks well of this company's ability to weather tough stretches, and continue to deliver for shareholders regardless of the broader economic environment.
Related: 11 Best Stock Advisor Websites & Services to Seize Alpha
Best Long-Term Stock #9: Enbridge
---
Market value: $76.5 billion
Dividend yield: 7.1%
Sector: Energy
It's no easy task to identify energy stocks with staying power in this age of climate change. However, one of the largest and most stable stocks in the space is "midstream" energy company Enbridge (ENB).
Though a mainstay of the oil and gas industry, it's important to point out that Enbridge isn't an explorer drilling for crude. Instead, it's an energy infrastructure company. It operates as a partnership, focused on the capital-intensive nature of building pipelines, terminals, and storage facilities.
This business model makes the company less volatile than energy exploration-and-production firms, or the various other energy stocks that are sensitive to market prices for petroleum products. That lack of volatility cuts both ways, of course; for instance, Enbridge didn't see quite the same run-up as oil explorers did during the run for crude in 2022.
But stability, not a boom-and-bust cycle, is a hallmark of the best long-term stocks, so this shouldn't necessarily be seen as a drawback.
In recent years, ENB has tightened its grip through acquisitions of firms such as Spectra Energy, and it has only widened its moat. That has helped to fuel its current dividend yield that's well more than four times the S&P 500 right now, built on 28 years of consecutive annual dividend growth.
If you want to make a swing trade on oil prices, ENB is not for you. But if you're looking to invest in a low-risk, income-oriented fashion across 2023 and well beyond, this energy infrastructure player might have a place in your portfolio.
Related: 11 Best Alternative Investments [Options to Consider]
Best Long-Term Stock #10: BHP Group
---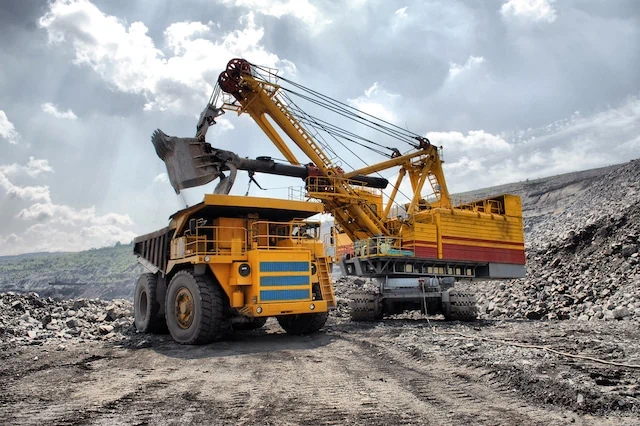 Market value: $156.5 billion
Dividend yield: 8.9%
Sector: Materials
Generally speaking, materials stocks don't make the cut for most lists of long-term investments. Like energy stocks, they are cyclical investments that tend to rise and fall based on broad-based economic trends and industrial demand.
That said, with a little bit of research and a lot of patience, investors can still find good companies in this space that look like they can withstand the test of time.
Case in point: Australia's BHP Group (BHP).
This is one of the largest materials and mining companies on the planet—a multinational company that operates on every continent and extracts everything from copper to iron ore to gold to coal.
BHP is also a leader in so-called "green metals," a term that refers to a metal with lowest total carbon emissions over its lifespan. For instance, stainless steel is widely considered one of the most environmentally friendly metals out there because it is 100% recyclable. In fact, more than half of all the stainless steel materials in use today have actually been sourced from scrap materials rather than fresh ore.
With an unrivaled scale and operations that are increasingly taking into account the modern sustainability concerns of the global economy, it's hard to imagine a world where BHP is not supplying raw materials to companies worldwide. And while BHP's dividends can be irregular and volatile, typically paid twice a year instead of at a fixed quarterly cadence, the massive yield of nearly 9% makes it worth a closer look.
Related: 19 Best Investment Apps and Platforms [Free + Paid]
Frequently Asked Questions (FAQs)
---
Should I only invest in individual stocks?
Statistically speaking, it's difficult for even professional investors to beat the market with their own stock picks. So as you'd imagine, it's extremely difficult for everyday people to do the same. Typically, then, you're best off holding a few individual stocks that interest you, and putting most of the rest of your investment money into diversified funds, such as mutual funds and exchange-traded funds (ETFs).
Mutual funds
When you buy a mutual fund, you're giving money to a fund company that in turn buys investments—usually stocks and/or bonds. And when you want to sell, the company sells off whatever investments it must to raise the funds to make you whole.
These mutual fund companies typically charge fees (that pay for management and other expenses) that are taken straight out of the fund's performance. And unless you're buying the mutual fund within a 401(k), you'll likely have to invest a certain minimum dollar amount at first—say, $1,000, $2,000, maybe even more.
Where mutual funds are a little odd is that, unlike stocks, they don't trade throughout the day. Instead, all buying and selling of a mutual fund happens once per day, after the trading day is over.
Exchange-traded funds (ETFs)
Exchange-traded funds (ETFs) are similar to mutual funds in that they're a pool of money that's invested in various assets—stocks, bonds, commodities, and/or other types of investments.
But unlike mutual funds, ETFs trade just like stocks, on major exchanges, all throughout normal trading hours. That provides them with liquidity, which is great for traders or just anyone who wants to exit their investment immediately.
ETFs also have other advantages, including better tax-efficiency, and a wider selection of niche strategies compared to mutual funds. ETFs do have annual expenses, like mutual funds, but they don't have sales loads and many other "extra" fees. And unlike mutual funds, there are no investment minimums—you can buy as little as one share (or less than one share, if your brokerage offers fractional shares).
Lastly, ETF fees—on average—tend to be cheaper than mutual funds, but that's because most ETFs are index funds. Whereas actively managed funds are run by one or more humans that select stocks, index funds pick investments based on a set of rules and are effectively run by an algorithm. Because there aren't human managers, index funds tend to cost lest to operate, and thus their expenses are typically lower.
Just remember: There are index mutual funds and actively managed ETFs, too. Always know what you're buying.
Do all companies pay dividends?
Not all companies pay dividends. Some companies choose not to, while other companies cannot afford to.
As you can tell by this list, the best dividend stocks are normally slow-and-steady companies that have consistent operations. While it might be possible for a small software company or biotech firm to double its share price overnight, these companies rarely pay dividends because they don't have much in the way of profits—and what they do have, they want to spend on other things, like research and development to continue growing.
How often do companies pay dividends?
The cycle of paying dividends is always different depending on the company. While it's generally true that most U.S. corporations opt to pay their shareholders a dividend once per quarter, the dates aren't fixed.
Specifically, one company might pay you on a January-April-July-October payment cycle while another opts for February-May-August-November.
Complicating things further, some companies pay dividends twice a year, some pay once a year, and some even pay "special" unscheduled dividends.
Are stocks affected by interest rates?
Yes! In multiple ways!
For one, as interest rates rise, the amount of interest paid on newly issued bonds tends to rise. When that happens, bonds (which are fairly stable, reliable investments) start looking more attractive compared to stocks (which have more potential but are riskier investments).
For instance, an investor who owns a bunch of 3% yielding dividend stocks might not look twice at a Treasury bond yielding 1%. But if that same bond started yielding, say, 5%, that's a much more attractive proposition—even if that bond doesn't have the same growth potential.
Also, rising interest rates make it more expensive for companies to fund their growth. Many companies will issue bonds to bring in much-needed dollars to pay for things like new equipment, research, and personnel. The goal: Make enough in profits from that growth that you come out ahead even after not just paying back the loans, but all that interest. But the greater the interest rate a company has to pay on its bond, the more difficult it is to come out ahead.
That's why you'll see, when the Federal Reserve raises its benchmark federal funds rate, stocks of corporations that borrow a lot to grow tend to take it on the chin.
What if I need help picking stocks?
Several stock picking services can help you build a portfolio, typically for an annual subscription cost. One of our favorites is Motley Fool Stock Advisor.
Motley Fool Stock Advisor
---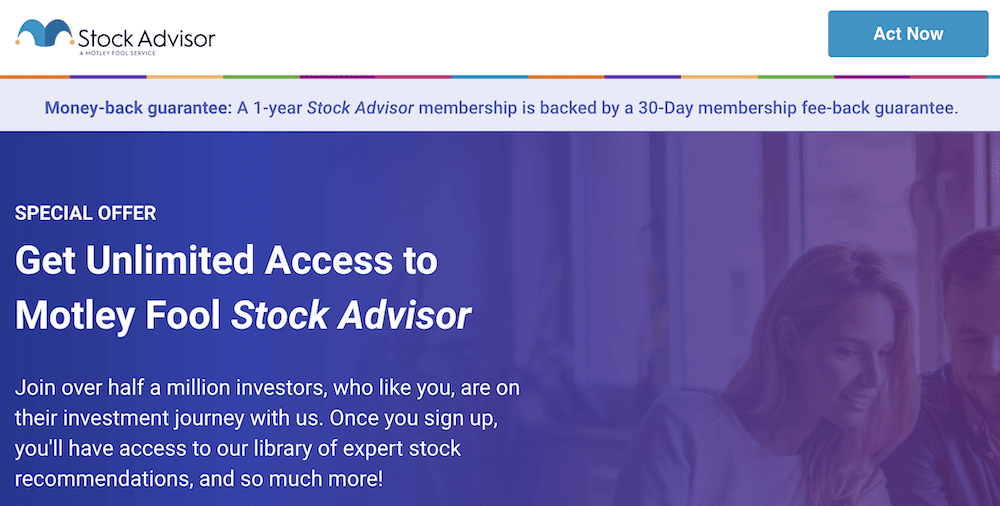 Motley Fool Stock Advisor is a stock picking service that focuses on stable companies with proven track records. Some of their previous picks include Zoom, Netflix, and HubSpot, all of which have gone up significantly since receiving a nod from the service.
Members have access to the service's history of recommendations to see precisely how each of their suggestions has panned out.
The service targets stocks across a variety of industries, such as energy, industrials, transportation, financial services, technology, and healthcare.
Read more in our Motley Fool Stock Advisor review.
Best Introductory Stock Newsletter
Motley Fool Stock Advisor
Motley Fool Stock Advisor provides a list of five stocks they believe deserving of your money today.
Stock Advisor also lists "Starter Stocks" they believe should serve as a portfolio's foundation.
Limited Time Offer: Get your first year with Stock Advisor for $89 (vs. $199 usual value)
Pros:
Discounted introductory price

Strong outperformance above S&P 500

High overall average return for stock picks
Cons:
High renewal price

Not every stock is a winner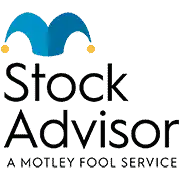 *$89 promotional price for new members only. $110 discount based on current list price of Stock Advisor of $199/yr. Membership will renew annually at the then current list price. Past performance is no guarantee of future results. Individual investment results may vary. All investing involves risk of loss.
Related: