Multifamily property management software can cut down on repetitive tasks, simplify accounting, automate online rent payments, and more. It basically handles anything you need to streamline your rental business operations.
But what is the best software for multifamily buildings? The right property management software depends on the number of units you're renting, your budget, and the core features you need.
Below are today's best multifamily property management software platforms. This article will review software plans and the top features of each platform, highlighting why they stand out from other software solutions for multifamily properties.
Best Multifamily Property Management Software—Our Top Picks
---
Best Multifamily Property Management Software
1. Rentec Direct (Best Property Management Software for the Value)
---
Rentec Direct can help landlords and property managers with advertising, day-to-day operations, accounting, and more, all for a reasonable price.
This property management software automatically syndicates your rental vacancies on popular listings sites, such as Dwellsy, Realtor.com, Apartments.com, and more. Users also get their own fully customizable website with advanced lead tracking.
Rentec Direct handles tenant screening with instant criminal, credit, and eviction reports. Once your tenants are secured, it'll help manage leases.
From the Tenant Portal, residents can pay rent. Rent payments can be done online with ACH, credit cards, or with electronic cash payments. The software reports payments to the credit bureaus, incentivizing on-time payments.
Residents can also make maintenance requests from the portal. Property managers can keep track of maintenance in the order management system and use the vendor ACH payments tool to pay for repairs electronically.
Rentec Direct offers a full general ledger for owners, tenants, and properties. The robust reporting tracks and manages one's portfolio performance.
It creates reports that can be exported to PDF or Excel, emailed, printed, or imported into QuickBooks. This is trust account-certified software.
Pricing can be billed monthly or annually (you save 10% when paid annually) and starts to go up for ten or more units. There is a two-week free trial available.
Related: Best Real Estate Accounting Software for Rental Properties
2. Hemlane (Best Property Management Software for Customer Retention)
---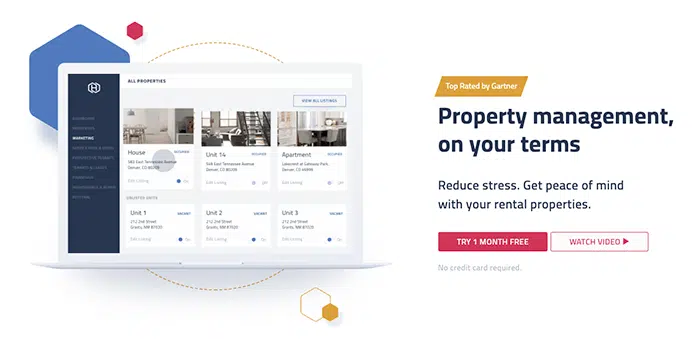 Hemlane boasts a nearly 98% retention rate from its U.S. customers. This property management software processes almost $200 million in annualized payments.
Prospective tenants are sent your listing or can find it on one of the 30 prominent rental listing websites where Hemlane posts it. From there, the renter can quickly get shown the property by a local real estate agent.
Hemlane handles sending applications and conducting background and credit checks. After tenants are onboarded, landlords don't need to deal with the hassle of collecting rent every month.
Residents can make online payments through ACH or credit or debit cards. It's up to the landlord if they will allow tenants to split payments or if one, full payment is required. Hemlane deposits the payments into the bank account(s) of the landlord's choice and automatically charges late fees if payments don't arrive on time.
All of your income and expenses are tracked for you to help with rental property accounting. Hemlane also helps with managing maintenance requests and completing annual inspections.
Since Hemlane is such a comprehensive property management software, it eliminates the need for property managers.
You can try Hemlane's one-month free trial without entering any credit card information. Those who continue to use Hemlane choose a monthly plan based on the services they want and the number of units.
Related: How to Open a Rent Escrow Account for Renters [And Why]
3. Buildium (Best Multifamily Property Management Software for Larger Portfolios [100+ Units])
---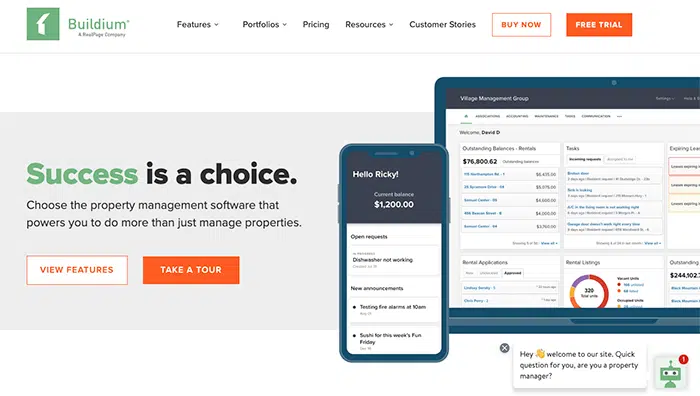 Whether you have a hundred units or nearly five thousand, Buildium is an excellent choice for multifamily property management.
In addition to residential properties, this property management software works well for community associations, affordable housing, student housing, and commercial property management.
Buildium grows with your business. Whenever you want to expand, it will show you leads in your target area.
The software provides you with a professional-looking, customizable property management website that helps you show off your properties, share documents with tenants, accept rental applications, and more.
Buildium schedules showings for you, conducts tenant screening, and automates online rent collection. Residents can pay rent online through credit cards or ACH. Alternatively, they can pay in cash through Buildium's partnership with PayNearMe.
Additionally, it tracks your transactions, manages accounts payable, automatically reconciles bank accounts, and files your Form 1099s. It helps with lease management, maintenance requests, tenant communications, property inspections, and more.
Buildium has three pricing tiers, including Essential, Growth, and Premium. Consider signing up for Buildium today.
Related: Best Real Estate Crowdfunding Sites + Platforms
4. Avail (Best for Small to Medium Multifamily Property Managers [5-50 Units])
---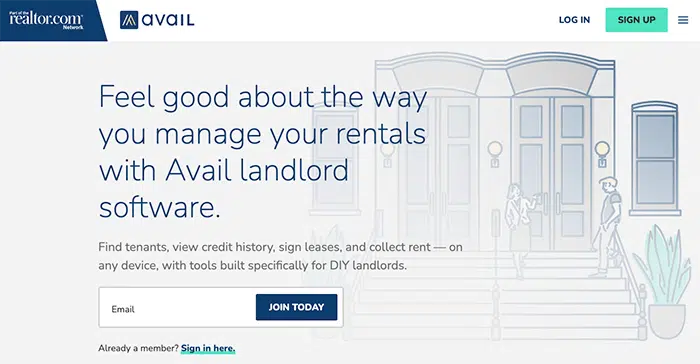 If you don't have a large number of properties, you likely don't want to pay a high amount for multifamily property managers. Avail has a completely free tier that offers many important tools for landlords.
Avail promotes your properties on multiple listings sites, helps interested renters schedule showings, prescreens tenants, and sends online applications.
This property management software screens tenants with the TransUnion Reports of your choice (for no additional cost to you), gives you information about their residence history, and verifies employment and income.
It also streamlines maintenance requests (with real-time updates) and provides state-specific lease templates with legally binding e-signatures.
Additionally, Avail lets tenants pay rent, security deposits, and any other fees online through a credit or debit card or bank account. The payments are sent directly to the landlord's bank.
Landlords who want extra perks can upgrade from the free tier to the Unlimited Plus tier, which has a monthly cost. These users get next-day rent payments, custom applications and leases, a website, and more.
Related: Best Ways to Collect Rent Online
5. Stessa (Best Property Management Software for Residential Multifamily Properties)
---
Stessa allows users an unlimited number of portfolios for single-family homes, short-term vacation rentals, and residential multifamily properties.
Stessa's portfolio Stress Test model lets you run various rent collection scenarios across your portfolios to see what might happen to your cash flow if some tenants stopped paying rent.
Fortunately, your tenants are likely to pay rent as Stessa provides them the option to set up recurring ACH payments. Payments are automatically deposited into the landlord's bank account.
Besides online rent collection, Stessa helps with other money management tasks when you have a Stessa bank account. The included Cash Management card will track all of your expenses and tie them directly to a property.
The software unlocks real-time insights and provides financial reports, such as income statements, balance sheets, cash flow reports, and more.
Stessa creates tax-ready financials and provides free resources in the Stessa Tax Center. If you use TurboTax, you get an exclusive discount. Stessa can also integrate with AppFolio (explained in more detail later), meaning you can automatically import income and expense transactions.
Stessa is free software. There are optional premium services you can pay for, such as rent analysis and market research.
Related: How to Make $50 Fast
6. Entrata
---

Entrata property management software is built to help landlords, property owners, and managers focus on residents, not technology.
The Entrata Management Suite provides a user-friendly dashboard and mobile app for managing building inspections, work orders, rent payments, resident communication, and more.
Tenants can use the online portal to pay rent with ACH transfers, credit cards, money orders, or physical checks. They can also submit maintenance requests, view documents, and create community events.
The Entrata Accounting Suite can manage all your accounting (ledgers, returns, invoice creation, etc.) and purchasing (pay invoices, purchase orders, and more).
The Entrata Marketing and Leasing Suite includes customizable websites for prospective renters to view floor plans, check availability, and see your pricing online.
Lead management agents can handle online leasing, calls, scheduling, and tenant screening. Residents can even secure affordable renters insurance before moving in.
The Entrata Utility Management Suite makes it easy for landlords and tenants to pay utility bills online. Automated tools will help catch billing errors and identify cost savings to increase NOI.
These advanced features can be combined into a single solution with all the tools you need to manage multifamily properties and apartment communities. There is no pricing model online, so you will need to request a demo.
Related: New Jersey Security Deposit Law [What Landlords Need to Know]
7. AppFolio
---
AppFolio uses AI to automate processes for all types of portfolios. As a property management software designed for investors with a minimum of 50 units, it works well for both multifamily and commercial properties.
On the financial side of your business, AppFolio provides Smart Bill Entry, automated accounts payable (AP), 80+ customizable reports, and real-time data analytics. It can also integrate with Stessa to track all of your transactions.
The Smart Bill Entry scans vendor invoices for important information to help you process and pay bills faster. Customizable reports give you in-depth financials, while business analytics provide performance insights across all your multifamily or commercial buildings.
AppFolio also has leasing and marketing tools, online maintenance requests, document management, premium leads, virtual showings, investor services, and more.
The Core plan costs $280 per month for a minimum of 50 units, with additional units at $1.40 each. A setup fee is charged separately.
Property managers and owners with larger units under management qualify for the Plus plan. Pricing starts at $900 per month, with a $3 charge for each additional unit. This plan also has setup fees.
The Plus plan provides advanced leasing metrics, revenue management, premium integrations, and more.
Related: How to Make $100 Fast
What is Multifamily Property Management Software?
---
Property management software automates many of the day-to-day tasks that would otherwise be the responsibility of landlords or property managers.
Multifamily property management software is designed to handle multifamily buildings with dozens, or even hundreds or thousands, of units. When residential portfolios have a high number of units, automation isn't just nice to have; it's necessary.
Related: Best Video Intercom Systems for Apartments
What Features Come With Multifamily Property Management Software?
---
Property management software includes a range of features. Some platforms offer bundled features, while others have tiered pricing for features based on property type and unit count.
While options vary, these are some of the most popular multifamily property management software features.
Lease Management
Top property management software today often includes state-specific lease templates that you can customize with your specific rules. These can be signed electronically to help simplify the leasing process.
Rent Collection
Most software plans include online rent collection because it helps reduce late payments. Tenants have flexible payment options, and money is automatically deposited into the landlord's bank account(s).
Rental Posting Listing and Syndication
Property management software built for syndicated rental listings is much more efficient than manually posting properties on various websites. The more exposure your listing receives, the less likely you are to have vacant units.
Tenant Screening
Filling your units with quality tenants is key to reliable rent payments. Look for property management software that offers tenant screening to run credit checks, background checks, search eviction reports, and more.
Amenity and Facilities Management
Amenities and facilities need regular inspections to make sure everything looks and works the way it should. Property management software can help streamline inspections of every unit, building, and amenity.
Individual and Mass Communication Features
Rather than giving out a personal number, it's easier to have a communication portal to talk to tenants. It's best when you have the ability to message individuals and all of your tenants at once.
Accounting Capabilities
Real estate industry accounting can get complicated. Property management software can track your income and expenses, categorize transactions, aid in asset management, and much more.
Financial Reporting
The best property management software automatically generates reports that give you valuable financial insights. You can see your cash flow, YTD income, and more at a glance.
Maintenance Request Management
Maintenance requests are an important part of property management operations. Using software to manage work orders ensures maintenance and repairs are done before a problem gets worse.
Vendor Management
It's essential to keep great relationships with your vendors. Property management software can help organize your contracts and automate the process of paying your vendors on time.
Responsive Customer Service
Customer service should be available during business hours or 24/7 in case you or your tenants run into issues with the software. Ideally, there are multiple support channels, such as email, phone, and live chat.
Should You Use Multifamily Property Management Software for Your Portfolio?
---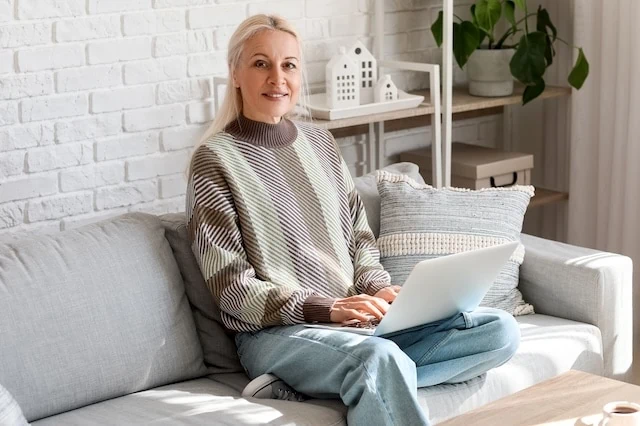 Yes, you should use multifamily property management software to streamline and improve rental operations.
Increase Rental Revenue
Property management software can increase your rental revenue in multiple ways. Its marketing features make it easier to advertise properties and keep your units filled. Some software also helps you calculate rent prices that are competitive but still high enough to be profitable.
Improve Tenant Retention
Rental properties with online payments for rent can be a major selling point, especially if on-time payments from tenants are reported to credit bureaus. Tenants also appreciate software that makes it easy to submit maintenance requests and message the property manager or landlord.
Screen Tenants at Scale
Property management software can screen all applicants and pass the costs on to prospective tenants. This saves you a lot of money while ensuring all tenants have been thoroughly screened before signing a lease.
Maintenance Request Tracking
Not only does software make it easy to put in maintenance requests, but it can provide everyone with status updates on the progress of the request. You will know when the work is done, and tenants won't worry their request has been ignored.
Integrate With Other PropTech
Property management software can often integrate with your other property technology. For example, it might connect with a Swiftlane security system for keyless entry, secure package delivery, visitor access, and more. Tenants appreciate these perks, and you know that your properties are safer.
Related: