When there is an app for almost everything, it's easy to get distracted. Luckily, there are a lot of apps available that will actually make you more productive.
The more focused work time you do, the more money you make, and the more reactional time you can spend without work on your mind. The best productivity apps end up more than paying for themselves.
Whether you're looking to track your time, eliminate distractions, or become more organized, there are apps to help you.
What are Productivity Apps?
---
For the purposes of this listing, we define a productivity app as any software application which makes your work easier while simultaneously enabling you to get more work done in less time.
Hence, in alignment with the formal economic definition of productivity: more output with less input (time quite often in the case of productivity apps).
To be sure, not all of the applications listed below fall into the traditional "productivity apps" category, but all enable you to save time and effort and improve your efficiency and effectiveness.
When used consistently, these apps will pay dividends as their impact compounds in both expected and unexpected ways.
Please review the following list and then assess the areas in your life where you feel you could have greater productivity in 2022. From there, select the app (or apps) which will help you get there.
Time Tracking Apps
---
At the end of each day, are you asking yourself where your time went? Instead of wondering how the day went so fast, track it. It's valuable to know how much time different projects take so you can better plan for the future.
Whether you own a business and want to track employee time, or just want to track your personal time, there are a variety of apps available to help.
FreshBooks
---
Whether you're a full-time 1099 independent contractor or just need to create invoices for some side jobs, FreshBooks will save you time. You can automate tasks such as organizing expenses, creating invoices, and tracking your time.
Since FreshBooks operates in the cloud, you have access to the software from your phone or tablet.  Therefore, you have no need to wait until you can sit at your desktop computer to send an invoice on time.
Specific to time tracking, FreshBooks allows you to perform this easily across multiple platforms seamlessly, whether you start logging on your FreshBooks mobile app or browsing the web with the FreshBooks Chrome extension.
The software will ensure you tally and bill every hour you worked for your assignment. The software also integrates for time tracking functionality with some popular apps like Asana, Basecamp, Teamwork and Trello.
Finally, if you work with a team and need a method for tracking across multiple workers, you can use FreshBooks to keep a tally on everyone's billable time.
FreshBooks builds a visualization of everyone's time allowing you to recognize scheduling or allocation issues before they become major concerns.
Further, by tracking your team's time, you can allow access to each member for tracking their specific projects and clients, providing for an easy-to-view project progress.
You can try FreshBooks for free to see if you like it. After that, monthly prices are based on the number of billable clients you have.
For a limited time: All FreshBooks plans are 60% off for the first 6 months when new users skip the 30 day free trial period. Take a look at the product and see if it makes sense for your needs and if the savings represent a good value.
FreshBooks | Cloud Accounting Software
Lite: $6/mo. for up to 5 billable clients. Plus: $12/mo. for up to 50 billable clients. Premium: $22/mo. for unlimited billable clients. Select: Customized pricing.*
FreshBooks is excellent financial software for freelancers, contractors, and small-/midsize-business owners
Use it to stay organized year-round, prepare for tax season, create and send polished invoices in ~30 seconds, get paid in a snap, track time, and more
* Promotional rates for Lite, Plus, and Premium, over the first four months. Respective renewal rates are $15/mo., $30/mo., and $55/mo.
GigEconomy
---

GigEconomy wants you to "spend less time inputting your hours and more time getting paid for them." It integrates into your Mac's menu bar and keeps you automatically logged in. You have quick access to your client list, time, and invoices.
They also make it simple to spot patterns without complicated spreadsheets. As a bonus, it supports several currencies, making it easy to work for people around the world. The best part? You can buy GigEconomy for under $20.
RescueTime
---
This app doesn't just track your work time -it can track where you spend all of your time on your phone or computer. RescueTime runs in the background of your device.
It automatically categorizes your different apps and websites so you can see where your time is being spent and can gauge your level of productivity. Unlimited historical data can show your productivity trends.
RescueTime plans include RescueTime Lite (free), RescueTime Premium ($6/month) and RescueTime for Orgs ($6/month per team member).
Apps that Remove Distractions
---
Distractions are an opponent to productivity. When we receive a notification on our phones or computers, there is a sense of urgency to check it. By the time we realize it wasn't anything urgent, it's too late.
The distraction has gotten us off track. Checking social media and other distracting sites seems like it will only take a few minutes, but normally it takes longer and that time adds up.
According to a study conducted at the University of California, Irvine, when a notification causes you to switch between tasks, it takes around 23 minutes to return to the task at hand.
Considering the average American receives 45.9 push notifications every day, that's a lot of wasted time transitioning our focus. To be productive, we need to eliminate distractions.
Focus
---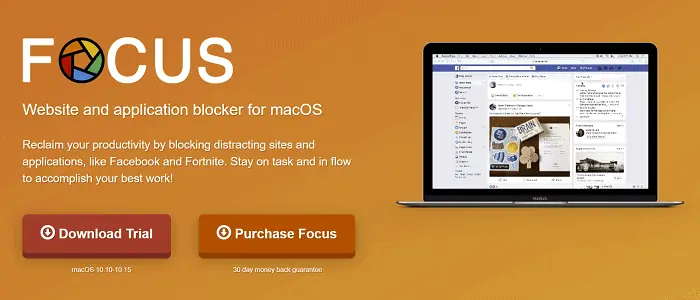 If you want to block distracting apps and websites temporarily, Focus lets you block whole websites or just specific pages. It won't block out your recreational sites permanently.
You can schedule breaks to get in your dose of mindless scrolling. Built-in analytics show how much time you've saved and allow you to create productivity challenges for yourself.
You can download a trial of Focus or purchase it with a 30-day money-back guarantee.
Forest
---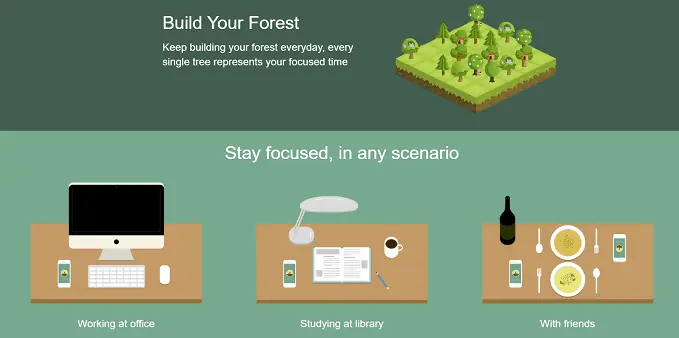 The app Forest gamifies staying off of your phone as well as has a positive environmental impact. With Forest, you pull the app up when you want to stay off of your phone.
As you leave your phone alone, Forest plants virtual seeds that grow into virtual trees. However, if you go on your phone too soon, the tree dies.
You earn virtual currency that buys real trees to be planted through the nonprofit Trees for the Future. As far as real money goes, you can download the app for under $2.
Cold Turkey
---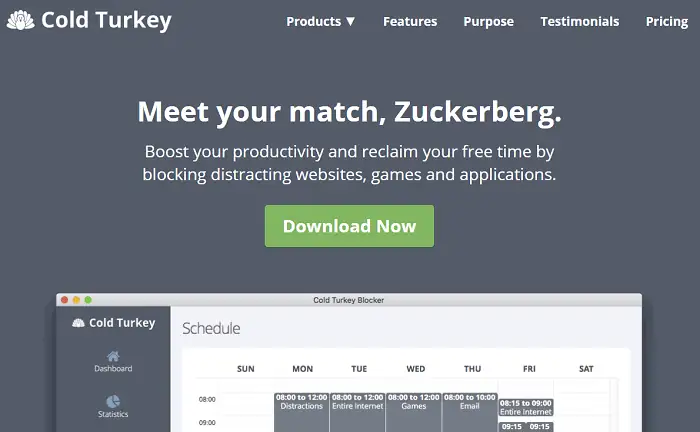 Looking for something more intense? Cold Turkey allows you to block the entire internet or even your entire computer. If necessary, you can create a whitelist or have a friend password protect your settings.
If your current projects don't require internet access, Cold Turkey can completely eliminate that distraction and force you to be productive. Plans include a basic option for free or a paid pro plan with even more features.
Related: 11 Best Stock Tracking Apps [Stock Portfolio Trackers]
Marketing Productivity Apps
---
If you run a small business, work for a company that has an online presence, or look for ways to build a digital connection with your customers, possessing marketing productivity tools and apps can prove immensely useful.
Instead of managing everything in a series of convoluted apps and services, consider all-in-one marketing platforms.
HubSpot
---
HubSpot is a customer relationship management system (CRM), a tool designed to create a united ecosystem of software, education and community to help businesses grow.
The company focuses on inbound marketing, or the notion that people don't want to be interrupted with sales pitches, rather by helped with useful information pertinent to their circumstances.
The platform integrates several functions, from marketing and sales, to services, customer management system needs and operations. Further, they offer integrations and extensions with over 1,000 customized offerings.
Many use HubSpot to create a blog, but, as you can see, it can accomplish so much more for businesses big and small.
Security and Password Apps
---
It takes time to pick creative passwords that fit all the various requirements. It takes more time unsuccessfully trying out different possible passwords you might have used when the one you thought it would be isn't working.
By the time you reset a password (again), you've wasted far too much time. Besides improving security, password management apps save you time.
1Password
---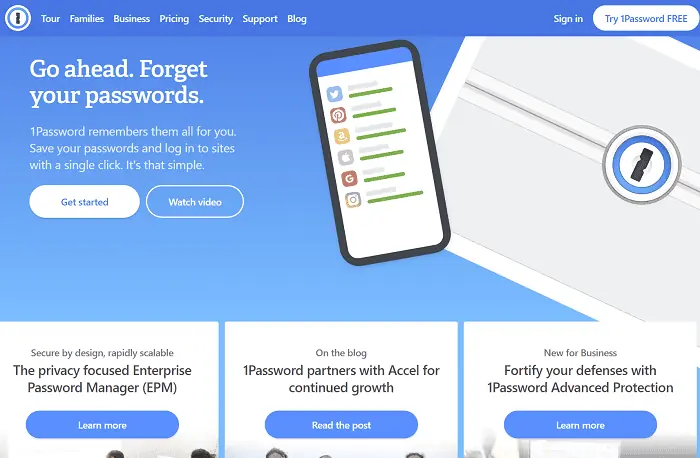 One of the most well-known password apps is 1Password. It saves your passwords and allows you to log into your sites with just one click.
The password generator allows you to change your passwords to make them stronger. It lets you organize your items into over a dozen categories, such as credit cards, bank accounts, logins, and more. You can buy an individual account or a family account.
LastPass
---
LastPass provides a very similar service to 1Password. A feature of LastPass that 1Password doesn't have is Auto-Change Password. This allows you to click just one button to automatically change your password on up to 75 websites.
It's also easier to share your passwords with other people using LastPass, which may be useful if you share accounts with friends or coworkers. You can try LastPass for free or get a premium account for just a few dollars per month.
PassFab
---
If you choose not to use a password manager, there is a chance at some point you'll need to recover or reset lost passwords. PassFab makes this easier.
It can help you retrieve your password for Excel workbooks, reset a forgotten Windows administrator password, recover an iPhone 13 backup password, and more.
After restoring and resetting a password, all of your data is intact. A free trial is available.
Google's Advanced Protection Program
---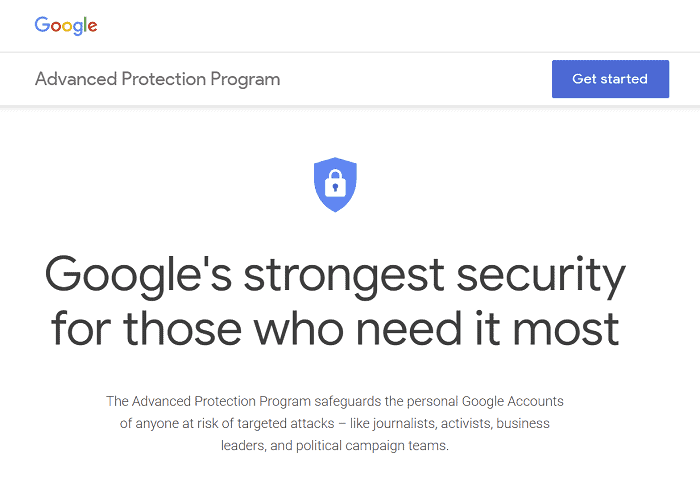 Google recently began offering enhanced cybersecurity protection across your entire online presence.
The Advanced Protection Program safeguards the personal Google Accounts of anyone at risk of targeted attacks – people like journalists, activists, business leaders, and political campaign teams.
Further, it also goes a long way toward preventing unwarranted access for anyone at fear of becoming a victim of cyber or identity theft.
The product works by enabling two factor authentication across your multiple Google-enabled account logins to prevent remote access without your express initiation.
After switching to my role at Google, I saw how powerful the program made systems security across the company. By requiring the connection of a key fob in your computer or cell phone, no one can access the system remotely.
However, by adding the physical fob component, the service goes beyond simply adding 2-Step Verification to your digital accounts and helps to prevent the most sophisticated phishing attacks.
You will need to use this physical security key built into your Android 7.0+ phone, or your iPhone running iOS 10.0+ with the free Google Smart Lock app installed.
The Best Productivity Apps Suite
---
Sticking with the Google product universe, the company offers perhaps the greatest productivity software with its G Suite offering.
The tools and software in this product selection enables the simple and speedy creation of text documents (Google Docs), spreadsheets (Google Sheets), presentations (Google Slides) and more.
This product suite compares to the famous Microsoft Office product collection, except the basic version of G Suite provides comparable functionality for as low as $6/month.
While this may sound like a different level of productivity than you might need, do not let this valuable set of tools put you off because using even a handful of Google Docs features could simplify your life.
Since switching employers, I transitioned from the Office 365 product to G Suite and noticed a considerable level of productivity improvement.
Gone are the days of worrying about version histories, renaming newer (slightly different) documents, or sending documents via attachment.
Now, when I'm working on a project with colleagues, instead of exchanging endless emails about edits, I can simply create a Google Docs document, Sheets spreadsheet or Slides presentation and share it with my colleagues to edit it together in real-time.
And if we work on different schedules, we can comment each other into the document simply by typing "@" followed by their email address. This generates an email to that person's account for easy reminders, action items, and more.
Another great feature comes from Google's G Suite having the ability to convert many document formats in Google Docs. Instead of looking for yet another app, try opening it in Google Docs.
Google did a wonderful job of making this program a nearly-universal document editor. Google Docs has the power to open PDFs, Microsoft Word documents, and other common file formats as well as the ability to extract text from images.
This text can then be exported into many other common formats.
Files created in G Suite do not use up any of your free 15 GB of Google Drive storage (however, make sure to check the Google Drive details on your storage settings page).
Because of this, if you have plans for creating multitudes of documents and collaborating with others, G Suite might serve as the most cost-effective avenue for making that happen.
→ Start collaborating on your documents with G Suite today.
SetApp: Comprehensive App Platform
---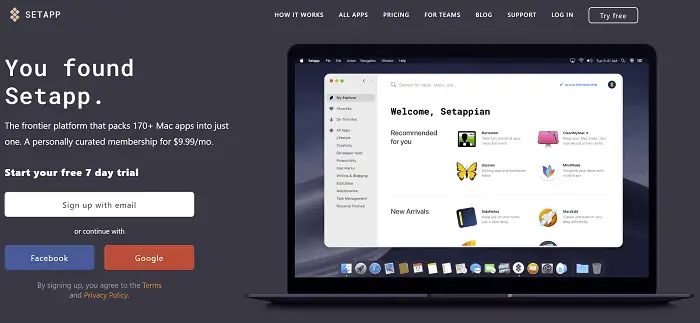 Interested in trying a lot of productivity apps, but don't want to pay full price for them all? Try Setapp. GigEconomy, RescueTime, and Focus (all discussed above) are available to use for free if you have Setapp.
The platform includes over 170 apps and many are focused on productivity. The first week is free and then you pay a flat monthly cost and can use as many apps from the platform as you want.
Read more about the platform in our Setapp review.
Setapp - Netflix for Productivity Apps
A Setapp membership offers unlimited access to a marketplace of over 170 Mac apps in exchange for a low monthly (or annual) price.
Quit paying for individual apps and get the latest versions all included in one low monthly price.
Why You Should Use Productivity Apps
---
Apps can cause a significant decrease in your productivity. That's often the point of them—to distract you or give your mind a break.
However, productivity apps do the opposite. They can stop you from accessing distracting apps, track your time to keep you accountable to yourself, and make time-consuming tasks simpler so you can focus your time and attention elsewhere.
If you struggle with productivity, consider trying out a productivity app. Spending a few minutes downloading an app can save you a lot of time in the long run.
Just remember that your eyes need a break from screens sometimes, even if you're being productive.
Discover the Best Productivity Apps for You
---
If you set a New Year's Resolution to become more productive in 2022, the best productivity apps listed above will help.
We encourage you to investigate each app yourself to learn more, sign up for the free trials many of them offer, and then decide whether they can assist you in becoming more productive.
To recap the list, and for greater convenience, please look below to find the productivity apps mentioned in this article. May your productivity grow in 2022!
Time-Saving Apps
Apps that Remove Distractions
Password and Security Apps
Productivity Tools
Productivity App Platform