Being a landlord means taking on several jobs at once: listing properties, screening tenants, managing leases, maintaining properties, balancing the books, and so much more. If you want to grow your real estate business, though, you need to get those jobs done as efficiently as possible—and property management software can help you do exactly that.
Whether you want most of your property management tasks handled for you or just need assistance with a few aspects of landlord work, several affordable (and even free!) software choices can help you take on many of the burdens that landlords typically face. The difficult part is sifting through all the options to find the best platforms for you, but that's where we can lend a hand.
Today, we'll shine a light on the top property management software options available today. Whether you rent out one unit or a thousand, you should be able to find the right solution for you in this list of both free and paid platforms.
After that, we'll also address numerous commonly asked questions landlords have about property management tools. Landlords need to tackle a seemingly endless list of tasks, so the more of them that can be streamlined, the better.
The Best Property Management Software Platforms—Our Top Picks
---
Best Property Management Software (Free Options)
---
First, let's start with property management solutions that are either entirely free or offer free tiers that are robust enough for many landlords to use them exclusively.
1. Avail (Best Free Property Management Software for Small Landlords)
---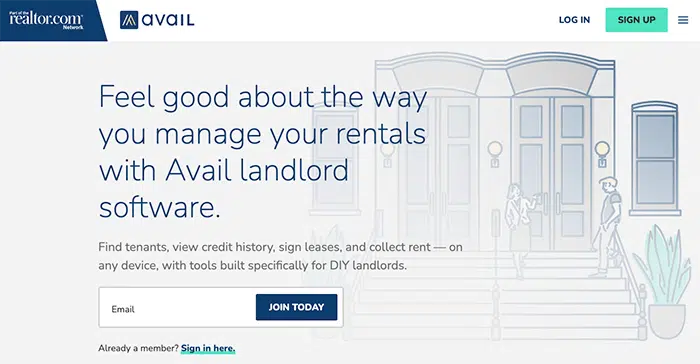 Avail was designed specifically for DIY landlords. It helps landlords every step of the way, from advertising rental properties and screening tenants, to facilitating online rent payments and helping current tenants submit maintenance requests.
In the beginning of the process, Avail lists rental units on multiple popular listings sites and gives prospective tenants the option to schedule showings.
Avail allows you to ask pre-screening questions during the listing process before moving on to a more comprehensive tenant screening process. Landlords have access to TransUnion credit reports and background checks.
Once it's time to onboard tenants, they can electronically sign the state-specific lease agreements you customized with Avail.
Current residents use this software to make online rent payments, pay the security deposit, and tackle any other fees. They can also submit maintenance requests, and receive status updates, through Avail. The software also tracks any maintenance expenses for you.
Other features include rent analysis reports that help you set competitive rates in your area; a rental property calculator that helps you determine if a property is worth investing in; and property accounting software.
Avail's comprehensiveness makes it one of the best free property management software solutions. You can visit Avail to learn more or sign up today.
Related: 7 Best Banks for Real Estate Investors + Landlords
2. TurboTenant (Best Free Property Management Software With Á La Carte Options)
---
TurboTenant is an excellent free property management software platform for landlords who want an affordable way to manage rental property.
Depending on what you need, you can pay more for extra features or stick to the basics. This software can help with advertising, tenant screening, leases, rent payments, renter management, and more.
Landlords can post a rental unit for free on dozens of the most popular listing websites, all from one spot. Interested tenants are invited to apply online and are automatically pre-screened.
The full screening includes credit reports (which won't affect credit scores), background checks, and eviction reports. Chosen tenants can e-sign your customized, state-specific lease agreement that TurboTenant helps you create for $39.
Tenants will appreciate the ability to pay online through a credit card, debit card, or bank transfer. They can set up automatic payments or receive reminders.
TurboTenant can also help with expense tracking, document management, maintenance requests, tenant communications, rent estimate reports, and more.
The software's free tier works with an unlimited amount of properties. It offers most services for free, but it costs extra to create state-specific lease agreements (and lease addendums), e-signatures, and access the Landlord Forms Pack. Applicants cover their own screening costs. A premium tier includes everything, covers tenant screening, and lets you connect an unlimited number of bank accounts. Learn about both tiers at TurboTenant.
Related: 7 Best Sites for Advertising Rental Property Listings [Free + Paid]
3. TenantCloud (Landlord Software for Listing, Screening and Collecting Rent)
---
Listing your rental property, tenant screening, and collecting rent payments are all important tasks that come with being a landlord. The TenantCloud free property management software can handle all three.
In addition to posting your rental listings on several sites, users get a personalized website to show off their vacant units. Landlords can add descriptions, amenities, and plenty of photos.
TenantCloud will match you with ideal tenants and help schedule tours. Once you have applicants, the software will run credit and background checks, including your own customized tenant screening questions.
You can collect rent online with TenantCloud and have payments deposited directly into one or more bank accounts. Tenants have the option to set up recurring monthly payments, meaning you always collect rent on time.
TenantCloud offers other services, including lease templates (with e-signature abilities), end-to-end accounting, customizable financial reports, streamlined maintenance requests, tenant communication tools, and more. Visit TenantCloud to learn more or sign up.
Related: 9 Best Real Estate Crowdfunding Sites + Platforms
4. Stessa (Best Real Estate Quicken Equivalent)
---
Stessa is free property management software designed by and for real estate investors. Whether your rental property is a single-family home, short-term vacation rental, or a multifamily unit, Stessa could provide the property management help you need.
This all-in-one software has a wide variety of capabilities, mostly focused on the financial side of being a landlord or property manager.
On the tenant side, Stessa allows you to set up online rent payments, including recurring payments, ensuring that you're always paid, and paid on time.
Meanwhile, Stessa benefits from its partnership with Roofstock by offering numerous features for real estate investors.
For instance, Stessa has performance dashboards at the portfolio and property levels. Users can monitor important financial metrics in real time, such as income and cash flow, net operating income, total portfolio value, occupancy, and more. They can also automate income and expense tracking through accounts.
Real estate balance sheet updates for assets and liabilities are automatically updated. All of one's documents are stored securely and organized in the cloud.
When it's time to do taxes, landlords can export tax-ready financials and use free resources from the Stessa Tax Center. In fact, Stessa users get an exclusive TurboTax discount. The property management software also can integrate with AppFolio (more on this software later) so users can automatically import income and expense transactions.
While Stessa is a free service, it also offers optional premium services for a fee, including market research and rent analysis. Learn more or sign up at Stessa.
Related: 6 Ways to Invest in Apartment Buildings [w/Minimal Effort!]
Best Property Management Software (Paid Options)
---
For some landlords and property managers, free software just won't cut it. Maybe you have a high number of units. Maybe you need more features than free software offers. Whatever your situation, these paid property management solutions might be more your speed.
5. Best On-Demand Property Management Software: Hemlane
---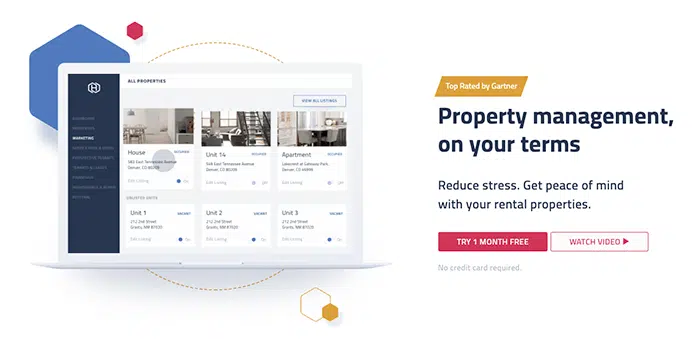 Hemlane saves landlords a substantial amount of time through a number of critical landlord tasks.
This property management software lists your rental property on 30 of the top rental property websites and connects interested renters with local real estate agents for showings. Hemlane also handles tenant screening with thorough background and credit checks.
Once real estate investors have onboarded their ideal tenants, they can use Hemlane for online rent collection; it allows tenants to pay through ACH, credit, or debit cards. The landlord can choose to have payments sent directly into one or more bank accounts.
The property management software tracks income and expenses, saving you time during tax season. It also manages maintenance requests and connects you to locals for your annual inspections.
Visit Hemlane to learn more about the different tiers and sign up.
Related: Which Type of Real Estate Investment is Right for You? 8 to Know
6. Best Multifamily Property Management Software: Rentec Direct
---
Rentec Direct has a vast array of features and is an excellent software choice for managing multifamily properties.
Rentec offers all the financial tools you need, including full general ledger accounting, a robust reporting system to track portfolio performance, online rent collection, and tax reports.
The property management software will ensure you don't have to worry about vacancies. You get a free professional website (with an advanced lead tracking tool!), and it will automatically syndicate your online listings across top property listing services.
Rentec Direct has operations features, such as tenant screening, maintenance reports, electronic vendor payments, credit reporting (to attract tenants/encourage them to pay on time), and tenant communication tools.
Additionally, the software can safely store your important documents, synchronize financial data and transactions, automate recurring expenses, and more. Learn about all features, or sign up, at Rentec Direct.
Related: How to Create Passive Income from Real Estate Investing [2022]
7. Buildium (Best Property Management Software for Large Landlords)
---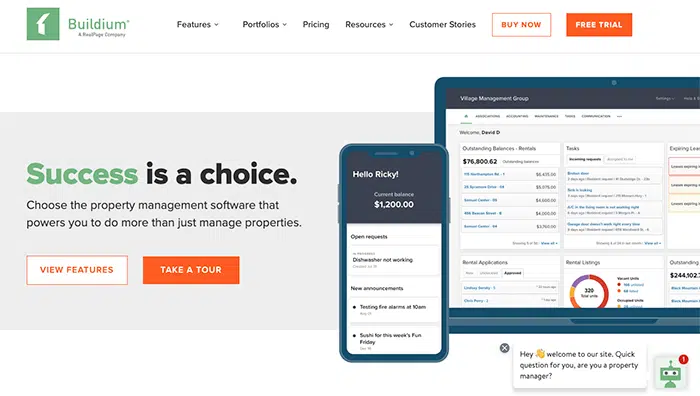 Buildium's property management software grows with you, so it will keep working hard for you whether you rent out to one person or boast thousands of tenants.
When you want to buy more properties, Buildium shares leads in your target area. You can mix up the types of rental properties you own, from single-family homes to commercial properties and more.
This software will advertise your property (including giving you a free website), schedule showings, and conduct tenant screening with criminal, credit, and eviction reports.
Once you've chosen your tenants, Buildium offers automated online rent collection. It lets tenants make rent payments via Automated Clearing House (ACH), debit cards, and credit cards. They can even pay by cash at 20,000 locations thanks to Buildium's partnership with PayNearMe.
The rental property management software lets you quickly analyze your financials and it will file and track your Form 1099s.
Buildium also helps with maintenance requests, customizing lease agreements, property inspections, tenant communications, and more. Check out all of the software's features and sign up at Buildium.
Related: 4 Best Ways Landlords Can Screen Tenants for Rental Property
8. AppFolio (Best Advanced Property Management Software for Large Landlords)
---
Cloud-based rental property management software AppFolio offers two types of plans.
The Core plan, for small to midsize portfolios (at least 50 units) provides several property management features, including:
AI-driven accounting & real-time reporting
Smart Bill Entry, which reads PDF invoices from vendors and makes it easier to pay bills
Marketing and leasing tools, such as listing syndication and property websites
Online maintenance requests
Tenant and owner management
Full mobile capabilities
The Plus plan (at least 500 units) comes with all of the Core features, as well as the following:
Workflow management
Data export capabilities
Revenue management
Performance insights with real-time data visualizations
Account management
Users can connect AppFolio with a Stessa account so they don't need to manually enter transactions.
Just note that AppFolio is designed for investors with at least 50 units. If you only rent out a few properties, this isn't the right property management software for you.
Related: Real Estate Syndication: What It Means and How to Invest
What Does Property Management Software Do?
---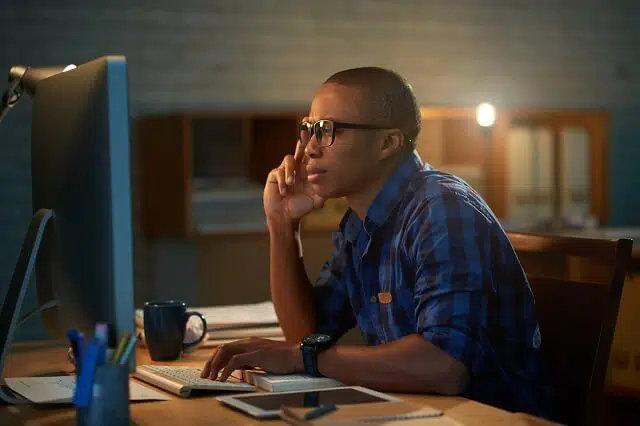 Rental property management software can automate a significant number of landlord tasks, and it can be much more cost-efficient than hiring property managers. Among its uses, depending on the platform:
Assistance with marketing and leasing
Syndicate rental listings on several sites simultaneously
Host and manage online rental applications
Provide screening services
Securely store documents used by tenants and landlords
Property management services
Communicate with tenants
Find contractors for needed repairs
Collect rent online to streamline collection and payments
Share assets and information with business partners or other professionals (e.g., financial reporting for advisors, CPAs, or real estate attorneys)
Create multiple accounts for different property management team members (for larger property management organizations)
Financial reporting and analysis
Measure and monitor overall performance and return on investment
Handle bookkeeping through smart money management, categorization, and Schedule E preparation
Uncover insights to better manage your property finances
Related: Best Video Intercom Systems for Apartments and Office Buildings
Who Uses Property Management Software?
---
Landlords and property managers are the two primary users of property management software. Anyone who runs a rental property can benefit from the services this type of software provides.
Should I Use Property Management Software?
---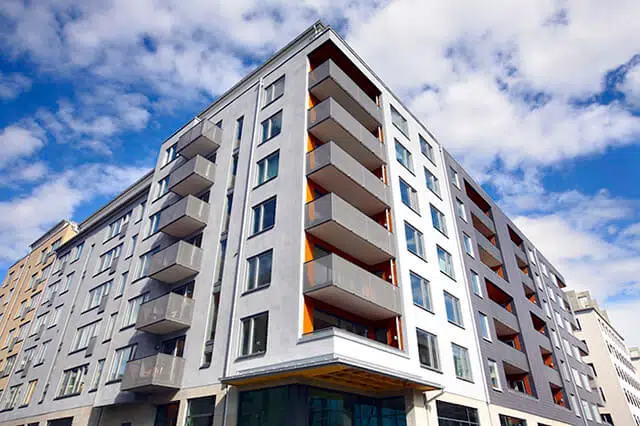 You should use property management software unless you are using a property management company. Being a DIY landlord is a substantial amount of work.
Property management software can take on many of your tasks and accomplish them more efficiently. Even if you have the time, energy, and desire to handle all of your rental property responsibilities, people are prone to errors.
Property management tools can help ensure you aren't forgetting anything, that your financials are in order, and you're following laws.
How Do I Choose Property Management Software?
---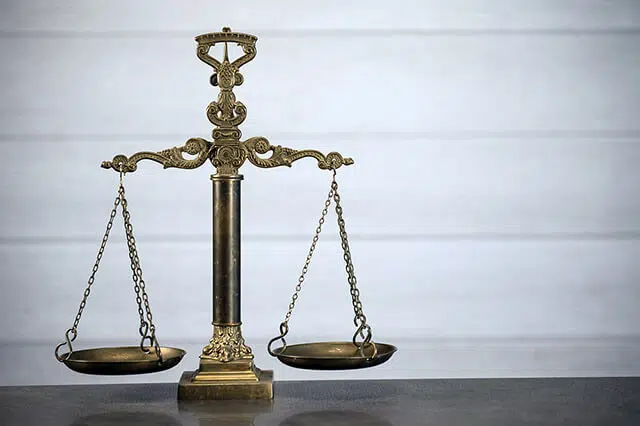 When choosing a property management solution, first and foremost make sure the software you're considering has all of the features most important to you (see the section on "What does property management software do?" for more information on features).
Also remember: Some platforms are geared towards landlords with just one rental property or a few, whereas others are designed for large numbers of units, and some work for any amount of units. For example, Hemlane is meant for rental property owners with between one and 100 units, while AppFolio requires a minimum of 50 units.
You might also compare software prices. Some have free services, but keep in mind that paid software often comes with more features that save you a substantial amount of time you can spend doing other tasks.
Beware Free Products—Are They Really Free?
---
The free property management software explained at the beginning of this piece includes trusted brands that really do offer free services. However, in some cases, they also offer premium (read: paid) services, often with more features and capabilities than their free tiers.
Some paid services offer free trials. Before signing up, determine how challenging it is to cancel if you don't want to continue the service past the trial.
Hemlane is an example of software that doesn't require you to enter any credit card information to start a free trial. If software does require a credit card number, make sure you know when the trial ends, and ensure that you can easily cancel the trial online.
Related Questions on Managing Your Rental Property Business
---

Does rental property management software provide online rent collection?
Yes, most property management software can collect online rent payments.
Online payments are among the most popular property management features because it benefits both landlords and tenants. This system is easier than checks for both parties; some software allows recurring payments (meaning rent is always timely); and it tracks payments, so it makes bookkeeping easier.
How do I keep track of my landlord expenses?
Landlords can have a plethora of expenses, especially if their rental units require frequent maintenance. Property management software is an excellent way to track your expenses.
PM software lets you see your financial information at a glance and will generate expense reports for you. It will also organize the information for tax purposes as well.
For basic expense tracking, most of the software options explained in the sections above can help you. For more comprehensive features, you might want to consider rental property financial software such as Baselane.
How do you manage rental income?
It's essential for landlords to keep their personal and business finances separate. Some landlords choose to have a different bank account for each rental property.
Property management software can help track rental income and make sure everything is in order.
Many software options will collect online payments and deposit them directly into one or more bank accounts of your choice. All income is tracked for taxes and included in generated income reports.
What tools does a property manager need?
A property manager has many responsibilities, such as to market vacant property, screen tenants, collect rent payments, track maintenance requests, tenant management, and much more.
Any tool(s) that can help with these tasks is worth it. The property software options explained in earlier sections have these features (and more) and can keep you far more efficient and organized.
Related: