Collecting rent from tenants doesn't have to be a hassle.
In fact, you can automate the entire process. Even better, it can be automated for just a small fee or even for free. That's thanks to rent collection apps, which can save landlords from headaches and lost time.
But not all online rent payment systems are built the same. That's why today, we're going to explore some of the top rent collection apps and software available today, including highlighting their various features. (Hint: Some do way more than just collecting rent.)
We'll also provide some alternatives to rent collection apps, in case you want to accept online rent payments through different means. And we'll address frequently asked questions related to rent collection, too.
Take just a few minutes to learn about rent collection apps and software now, and you should save significantly more time in the long run.
Best Rent Collection Apps & Software—Top Picks
---
Best Rent Collection Apps & Software
1. Baselane (Best Free Rent Collection App)
---
Baselane allows tenants to pay rent through several payment methods, including bank transfers (via ACH) or debit/credit card transactions. In addition to one-time payments, residents also can choose recurring automatic payments, ensuring rent is always paid on time.
Money is sent directly to the landlord's bank account(s). Baselane supports dedicated accounts for security deposits and accounts by property.
In addition to being an online rent payment service, Baselane also offers various tools and charts to help landlords manage their finances. These tools make it easy to see revenues, expenses, and more at a glance.
Landlords can also use Baselane's debit card—which provides unlimited 1% cash back, up to 5% on home improvement spend, and categorizes expenses—to keep finances organized.
Additionally, Baselane partners with Lendency to provide flexible real estate loans for single and multi-family, five-plus units, portfolio loans, and more. And it offers landlord insurance covering dwelling and liability, loss of rent, and other situations through partner Obie.
Baselane can be used with an unlimited amount of properties, and you can open and use accounts for free. The service does charge for premium features, and like most other rent collection apps, it charges tenants a fee (2.99%) if they make rent payments via credit or debit card.
Related: Which Type of Real Estate Investment Is Right for You? 8 to Know
2. Avail (Best Property Management Software for Small Landlords)
---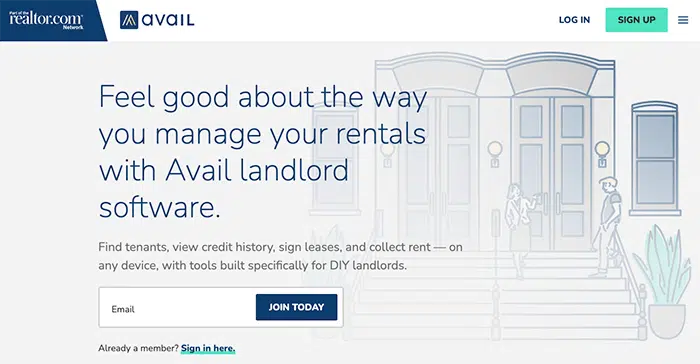 Avail, which claims to have the fastest rent payment processing in the industry, lets residents pay rent, security deposits, and fees online. Tenants can pay from bank accounts; they can make debit and credit card payments, too.
Besides online rent collection, Avail helps landlords with several other tasks, including:
Avail's basic Unlimited service is free to use. The premium version, Avail Unlimited Plus, is $7 per unit and includes features such as waived ACH fees, next-day rental payments and customizable webpages to create your own property marketing site.
Related: Best Property Management Software for Landlords
3. RentRedi (Best Mobile App for Rent Collection Online)
---
RentRedi is highly rated and one of the most tenant-friendly online rent services. Renters can make rent payments with a credit or debit card, ACH or ACH-only payment options, and even cash. Those using ACH or cards can set up automatic payments to ensure their monthly rent is always covered.
RentRedi also boasts more than 90,000 retail locations where residents can deposit cash payments.
Landlords can choose to accept partial payments or even block payments. They can use an unlimited number of payment accounts and receive payments in four to five business days.
Note that RentRedi does charge some small fees ($1 ACH, or 2.9% plus $0.30 for credit cards), which landlords can choose to pay or pass on to tenants. Landlords also can set up automatic late fees for any tenant who falls behind.
Renters can benefit from having their on-time rent payments reported to TransUnion (one of the major credit bureaus). These reports help build credit and, depending on the credit-scoring model being used, improve scores.
RentRedi also helps landlords find new tenants. The service posts your listings for free to RentRedi, Doorsteps, and Realtor.com, and allows for as many properties as you want.
When renters are interested in your property, RentRedi will screen them using SmartMove's ResidentScore (which predicts evictions better than credit scores) and criminal record databases. If everything looks good, your new residents can e-sign your lease and upload any required documents. From there, the software can help you outsource maintenance requests.
Some users opt to get the rental property accounting software add-on through RentRedi's partner REI Hub. RentRedi works with an unlimited number of units and renters. If you choose to pay as you go, it costs $19.95 monthly. A six-month plan charges $15 per month, and the annual plan is the best deal at $9 monthly.
Related: Best Video Intercom Systems for Apartments and Office Buildings
4. TurboTenant (Best Low-Cost Premium Solution for Multiple Rental Properties)
---
Are you tired of juggling paperwork and spreadsheets while trying to manage your rental properties? With TurboTenant, those frustrations are finally a thing of the past. TurboTenant is landlord-specific software designed to make the process of self-managing your rental business easier than ever before. Get leads, screen tenants, create leases, and collect rent—all in one place.
Never miss a payment again and get the most out of your passive income with an intuitive platform that makes life simpler for all parties involved. With TurboTenant, you can quickly set up online rent payments with direct deposit and get automated reminders when a payment is due. Receive instant notifications on payments received, save time by not having to manually update records, and keep everything in one centralized system so you're always up-to-date.
Collecting rent payments through the app entails a 3.49% processing fee for debit cards and credit cards (paid for by tenants), or no fee when using Automated Clearing House (ACH) transfers through a bank account.
This useful software has a Free tier. But their Premium product, which charges a reasonable $99/year, covers unlimited properties and comes with personalized reporting capabilities—giving you the insights you need to run your business efficiently. Best of all, if you need help along the way, TurboTenant's professional customer support team has you covered; the Free plan has email and text support, while Premium users also enjoy phone support. Plus they will help personalize the platform to fit your unique needs so that you can focus on doing what brings in revenue!
Make rental management less stressful and experience the convenience of using TurboTenant today.
Related: Best Free Debit Cards for Kids and Teens
5. Stessa (All-in-One Landlord's Software)
---
Stessa makes it easy for tenants to make an automatic, online rent payment each month through ACH. The platform helps onboard tenants and can send reminders when a rent payment is due. The landlord receives updates when a rent payment is received and deposited into a bank account.
Besides making it easy to collect rent payments, Stessa automatically creates financial reports for your rental business. It can update income statements, balance sheets, and cash flow reports, as well as track your expenses, so you always know how your business is performing.
Stessa also makes tax season simpler, allowing you to export tax-ready financials.
You can manage your finances with Stessa through its Cash Management feature, too. Doing so provides seamless integration and lets you unlock more financial insights. Cash Management users receive a Visa debit card, which can tie purchases directly to a property.**
Landlords can have an unlimited number of free accounts if they want to tie one to each property. There are no monthly maintenance fees, inbound wire fees, or minimum balance requirements.
Stessa is an entirely free rent collection app, but it does offer optional premium services, such as market research.
Related: Best Banks for Real Estate Investors and Landlords
6. Hemlane (Best Hybrid Property Management Software for Online Rent Collection)
---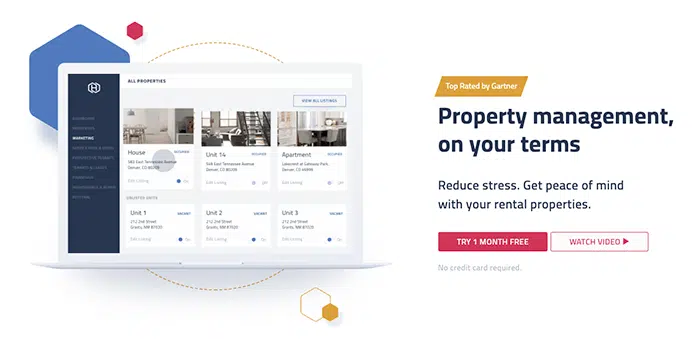 Hemlane, which is available in all 50 states and the District of Columbia, processes almost $200 million in annualized payments.
"The challenge with traditional property management is that landlords were forced to choose between either full service or do-it-yourself," says Hemlane co-founder and CEO Dana Dunford. But she adds that her tiered system "allows landlords to select their level of involvement while tapping into licensed professionals for everything else."
Hemlane's online rent payment service can collect a monthly rent payment through ACH, or through a debit card or credit card transaction.
If a rent payment is late, you can have Hemlane automatically send requests for late fees, and you can elect to charge daily or one-time fees. And you can crack down on late rent by allowing tenants to set up recurring payments.
Landlords also can choose to accept one full rent payment or allow partial rent payments so tenants splitting rent can pay separately.
You can connect Hemlane to several bank accounts to keep finances organized. For example, you might have a different account for each building.
Hemlane does more than just collect rent. It advertises your properties, connects you to local real estate agents to conduct your showings, and finds local professionals to complete your annual inspections. The service also sends out rental applications, performs background and credit checks, tracks your income/expenses, and manages maintenance requests.
Hemlane offers a month-long free trial without putting down a credit card. Following the trial, interested landlords can choose a monthly plan. Each plan starts with a base $28 monthly cost, with unit pricing varying between $2 and $32 depending on what features you desire.
Related: Best Investment Apps for Beginners
7. TenantCloud (Online Rent Collection with Customized Website Design)
---
TenantCloud lets renters set up automatic online rent payments, which can be directed into one or more landlord accounts. Money can be directly deposited into one or more landlord accounts.
This platform stands out from other online rent payment services in a few ways. To start, TenantCloud enables landlords to create free, customized websites to promote their rental properties.
Landlords also get tenant leads through TenantCloud's partnership with Rentler, making it easy to stay at full capacity. Additionally, TenantCloud's Template Builder starts you with a state-specific lease you can adjust and have sent to future tenants. Meanwhile, its TC Messenger system makes it easy to talk to tenants one-on-one or send a message to all tenants at once.
TenantCloud also has other common features, including scheduling tours, sending applications, running credit and background checks, and offering end-to-end accounting (storing receipts, invoices, etc.). Meanwhile, rent payments are reported to all three major credit bureaus.
TenantCloud has four price tiers: Free, Starter ($12 per month), Growth ($40 per month), and Business (pricing varies).
Related: Best Investment Apps and Platforms
8. PayRent (Best for Reporting Online Rent Payments to Credit Bureaus)
---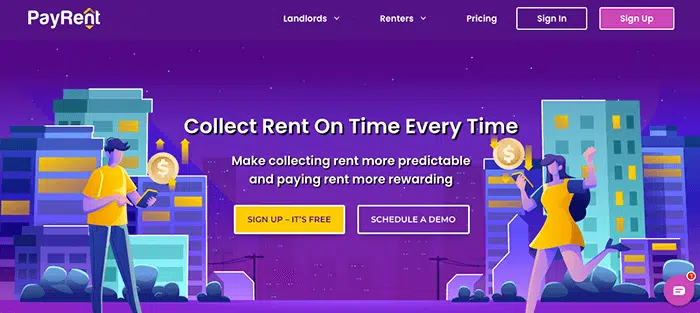 While other rent collection apps offer a wider range of services to attract clients, PayRent focuses specifically on collecting rent online and making the experience as great as possible for both the tenant and landlord.
With RentDefense™, on-time rent payments are "virtually guaranteed." The app will send residents rent reminders and invoices. If necessary, it will send past-due notices and late fees.
Everything from rent payments to occupancy rates to tenant balances is saved and organized so landlords can quickly get an idea of their financials.
Tenants can pay through bank transfers or credit cards and schedule payments in advance.
As a reward for on-time payments, PayRent will report rent payments to all three major credit bureaus. FICO Score 8 doesn't include rent payments in calculations, but FICO 9 and FICO XD do, so in some situations, it can improve one's credit score.
Furthermore, tenants with a good track record can access interest-free emergency funds if they need some financial help.
Tenants pay fees of 3.5% plus 30 cents for a credit card transaction under every PayRent tier. That includes the free Pay-as-You-Go tier, which charges $5 for each bank transfer. The Do-It-Yourself tier is $19 per month, plus $3 per unit after 25 units, and charges $2 per bank transfer. The most advanced tier, Go-Like-a-Pro, is $49 per month plus $3 per unit after 10 units, and includes free bank transfers.
Related: Best Prepaid Debit Cards for Teens
9. Buildium (Best Online Rent Collection for Larger Portfolios)
---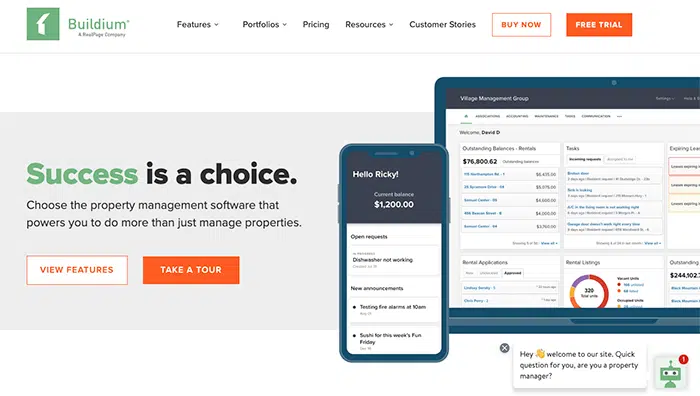 Buildium, founded in 2004, is one of the more established online rent payment systems.
The software lets you collect rent from tenants through ACH payments or credit cards—and it's one of the few that offers cash as a payment method. Thanks to Buildium's partnership with PayNearMe, it can accept rent payments in cash.
All payments are tracked, and the platform will compare deposits to your bank statements to ensure everything adds up correctly.
In addition to making rent collection simple, Buildium also makes it easier to pay vendors, streamline maintenance requests, approve lease applications, and communicate with your tenants. It can also provide leads in your target area for great locations if you want to expand.
Buildium grows with you and works for any kind of landlord, whether you have just a handful of tenants or thousands.
Buildium offers a free trial for all of its tiers. The basic Essential package begins at $50 per month after that, with the Growth tier at $160 per month and Premium starting at $460 monthly.
Related: 11 Best Commission-Free Stock Trading Apps & Platforms
What Is a Rent Collection App?
---
Rent collection apps save landlords and tenants time and money.
Most rent collection apps automate the entire process of collecting rent for landlords and send tenants' rent money directly to a landlord's bank or credit union account. While a rental business might use this software on a desktop, many of these apps have mobile versions, allowing property owners to collect rental payments on the go.
How Can Tenants Pay Rent Online?
---
Rent collection apps, like those explained in the next section, are the best way for tenants to pay rent online.
However, besides rent collection apps, landlords can use several other methods for collecting rent online, such as bank transfers, Zelle, or Venmo.
All of these options are easy for tenants, though they do have their own rules. Bank transfers, for instance, charge fees that vary depending on the bank.
For Venmo, the online rent payment must be made as a business transaction rather than labeled as an exchange between friends and family. Otherwise, your account might be frozen.
Venmo business transactions charge the seller, in this situation the landlord, nonrefundable transaction fees of 1.9% of the payment + 10 cents. For example, if a tenant paid $1,000 in rent, $19.10 would be charged as a fee and the landlord would receive $980.90.
Note that as Venmo automatically accepts payments, this system can make it tricky for rental property owners to evict tenants who don't make full payments. Some states restart the eviction process if you accept even a partial payment after filing at court.
Using Zelle for online rent collection is free for both parties, but not every bank supports Zelle. If you have just a couple of tenants, and their banks happen to support Zelle, this could be a useful system. But landlords with numerous tenants might want to look for other online rent payment systems.
Related Questions About the Best Rent Collection App Options
---
Is there a free online rent payment collection app?
Several rent collection apps are free or at least have free tiers. These include Baselane, Avail, TenantCloud, PayRent, and Stessa, all of which are detailed above.
Some of these free apps collect rent for an unlimited amount of tenants.
Do you need a bank account to collect rent online?
Rent collection apps that allow tenants to pay rent online will send each rent payment directly into a bank account for you. So, yes, you need an account to collect rent online so the money has a place to be deposited.
If you use Baselane to collect rent, it comes with a bank account.
Baselane's accounts have no hidden fees, provide an unlimited 1% cash-back debit card, and integrate perfectly with the Baselane platform, making it easy to do all of your business banking in one place.
If you have a lot of tenants, you can create custom accounts for every property. You might also choose to keep security deposits separated from other funds.
How do you automate rent payments?
Automated rent payments are convenient for both landlords and tenants. However, many rent payment apps don't offer this feature. So, if you want to automate collecting rent payments, the only way is to target rent collection apps that allow for it.
Baselane, Hemlane, TenantCloud, Buildium, RentRedi, and Stessa all let tenants schedule recurring payments. PayRent doesn't offer this feature, but it does allow residents to schedule payments in advance.
Many of these apps will also send rent reminders, issue late fees, create receipts, organize payments for your financial needs, and more.
What is the best way to keep track of rent payments?
Landlords can save a substantial amount of time tracking rent payments by using an online rent payment service that offers the feature.
For example, Baselane offers integrated tracking. It uses smart categorization with Schedule E and property tags, which keeps you organized. You get a consolidated ledger for all of your relevant transactions. It's simple to attach receipts, hide or split transactions, and manually add any important notes.
Stessa also offers automated reporting and tracking. The platform automatically generates financial reports for you. It tracks your expenses, creates balance sheets, cash flow reports, and more.
And if you choose to manage your finances with Stessa Cash Management, it seamlessly integrates with the Stessa app.
How do I keep track of my rental income?
Online spreadsheets are no longer the preferred method for keeping track of rent payment income.
The easiest way to track your rental income is to have a rent collection app, such as those detailed above, do it for you.
Some rent collection apps let you connect to multiple accounts, so you can easily separate expenses. Consider keeping buildings separate, or designate one account just for security deposits.
If you use a rent collection service that lets you open a bank account with them and have a connected debit card, it makes everything even easier.
Many of these apps will also send reminders to tenants to pay rent so you don't have to hunt down missing payments.
How else can landlords collect rent payments?
You always have the option to collect rent via checks or cash. But this method is time-consuming, makes it more difficult to track, and leaves more room for error.
Having tenants pay rent online tends to be much easier. If you don't want to sign up for a rent collection app, consider using cash apps, Zelle, bank transfers, or a combination of these methods.
What is the safest way to collect rent?
While conducting business online might feel unsafe after hearing of countless data hacks targeted to businesses, organizations, and government agencies, paying rent online is still considered safer than paying by check.
Online rent payment services rely on data encryption, password-protected account information and other data security measures. That said, you should always use strong passwords and change them frequently on the off chance your account credentials are compromised.
When you rely on rent payments coming via check, if the check gets misplaced, bank account information can easily fall into the wrong hands—offering criminals a chance to access valuable financial resources without permission.
Related: