Rental listing sites make your properties easier to find so you can quickly fill vacancies and keep your rental business income moving in the right direction. Given that there are plenty of places to post your rental ads, you need to choose the best site(s) for your properties.
I had to navigate the world of rental listing sites myself years ago when I was a landlord in New Orleans. So I understand the struggle. And that's why I've compiled a list of what I believe to be the best rental listing sites. The sites below can generate a significant number of views for your ad. Many of these platforms also offer other valuable services for property owners.
In addition to explaining why these should be your top choices for advertising properties, I'll also answer some of your other burning questions about rental listing sites and services.
What Is a Rental Listing Site?
---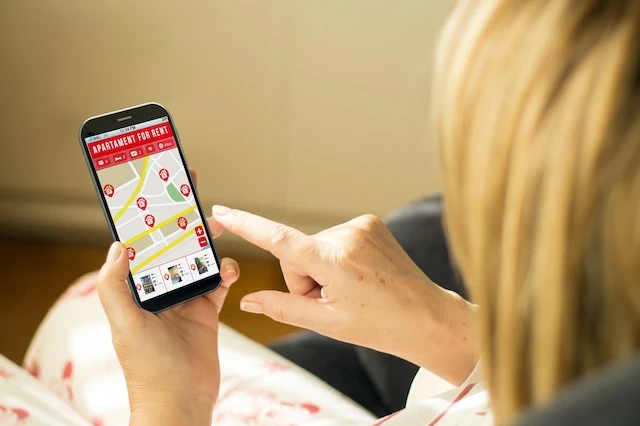 Rental listing sites are websites that landlords use to post vacant properties or properties that will soon be available to rent. Renters search these sites when looking for places to live or visit. If they're interested in a property, they can reach out for a tour or application.
The rental website will match renters to properties using their search criteria. For example, a listing site will show apartment buildings based on a prospective tenant searching for a specific location, amenities available, or number of bedrooms. Long-term rentals are the most common property listing, but most sites also advertise short-term rentals, vacation rentals, and rent-to-own homes.
It's particularly wise to post your rental properties on these websites if you are targeting Millennial and Generation Z tenants.
Where to List Apartment Rentals—My Top Picks
---
What Are the Best Rental Listing Sites?
---
I've researched (and professionally used) a number of rental listing sites. Below, I'm going to go through several of the best options for you—as well as a couple of "oddball" sites that aren't specifically for listings, but still can be used to advertise your property.
1. Avail
---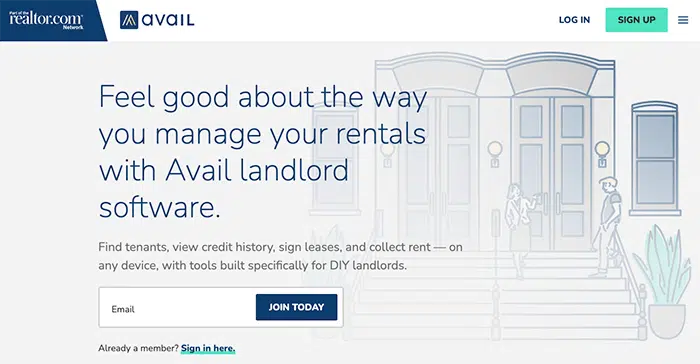 Avail simultaneously publishes your property rental listing across more than a dozen top rental sites for free. These sites include:
Apartments.com
ApartmentFinder.com
ApartmentGuide.com
ApartmentHomeLiving.com
ApartmentList.com
Avail.co
Dwellsy.com
ForRent.com
Moveto.com
Padmapper.com
Realtor.com
Redfin.com
Rentable.co (formerly Abodo)
Rentals.com
Rent.com
Walkscore.com
WestsideRentals.com
Zumper.com
Once you have potential tenants, you can respond to their questions, schedule showings, and complete the screening process all through your landlord account.
If you're seriously considering an applicant, Avail can ask them to provide information about their employment, income, residence history, and more so you can get the most qualified tenants.
Avail also provides background and credit checks. You can select individual or multiple TransUnion reports and pay the fee or pass these costs to applicants. Potential tenants can reuse these reports an unlimited amount of times within 90 days.
Avail also offers monthly rent price recommendations, social sharing, lead management, rental applications, customized online leases, direct-deposited online rent collection, maintenance tickets, a tenant portal, and more.
Avail automatically uploads rent payments and maintenance costs to your accounting dashboard, making it easy to track your rentals' performance and be prepared for tax season. Consider signing up for a free Avail account to list your rental property.
Related: How to Open a Rent Escrow Account for Renters [And Why]
2. Hemlane
---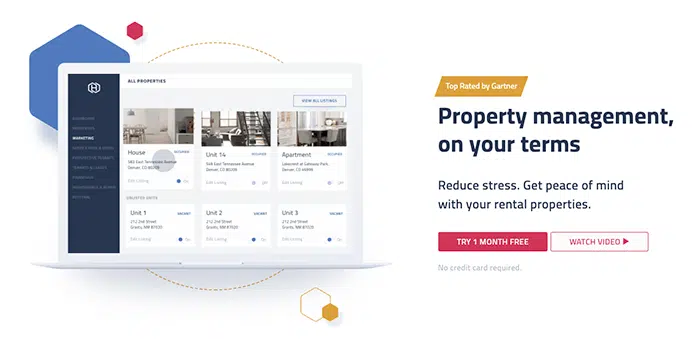 Why would you use a paid rental property marketing service when there are free options for posting your rental vacancies? Well, among other reasons, paid services like Hemlane can advertise for you on many websites at once, saving you time.
Hemlane provides you with access to 30 top rental websites with a single click. And it will track which websites bring the most prospective renters to your listings.
You get an entire professional website to host your ads, and it will automatically update property details as you make changes to your rental.
Hemlane will automatically give prospective renters a showing calendar to save you time and keep your schedule organized. Tenants are pre-screened, and you can choose local licensed real estate professionals to show your properties.
Hemlane will provide a thorough credit report and background check, and it will look through the nationwide eviction database, sex offender registry, and criminal records database. The platform will then provide a recommendation on whether you should accept the potential tenant.
In addition to helping you find and screen tenants, Hemlane sends reminders for upcoming lease renewals and records all resident communications (you can message entire buildings at once). It also accepts rent payments through credit and debit cards or ACH transfers and requests recurring payments.
You can allow tenants to split rent, and late fees are sent automatically. Meanwhile, Hemlane tracks your income and expenses and uploads receipts and other documents to keep you organized. Maintenance requests are handled as well.
If you think Hemlane can help you with your rental property needs, see how it works with a free trial.
Related: 8 Best Rent Collection Apps & Software for Landlords
3. Zillow Rental Manager
---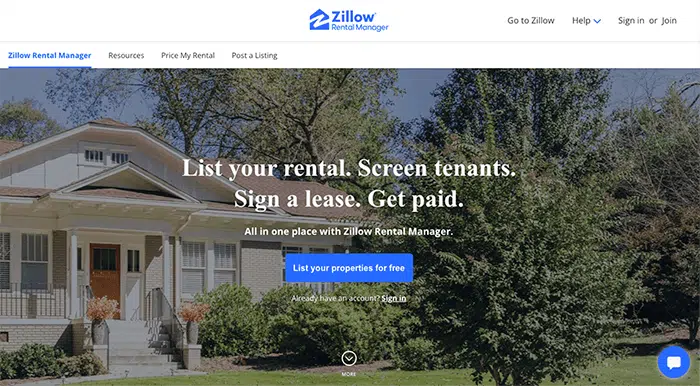 Zillow Rental Manager (ZRM) is one of the top rental property websites, attracting more than 30 million monthly visitors. It allows you to post your listing not only on Zillow, but its partner sites, Trulia and HotPads.
Zillow works for both smaller properties and large apartment complexes alike. It offers free tools to help price your rental and review prices of comparable properties.
When you list a property on Zillow Rental Manager, you can accept rental applications and screen tenants with background and credit checks. Prospective tenants pay $35 for unlimited applications and screening for 30 days.
After onboarding your tenants, you can use the service to collect rent, utilities, and more. Payments are deposited straight into your bank account.
ZRM listings are free, but some property owners and landlords opt to pay $29.99 to make a listing premium for 90 days. Premium listings get customized tips for improving your rental ad, pricing and market insights, and even more exposure.
(WealthUp Tip: Numerous other financial and real estate sites claim that Zillow Rental Manager charges $9.99 per week.
Free with Zillow: Trulia
Trulia has listings for people looking to buy or rent a home. Renters can use 35+ filters and a custom keyword search to find exactly what they want.
The website claims Trulia has more neighborhood insights than any other real estate website. It's useful for anyone who wants to live in a neighborhood with a particular vibe. Trulia also shares resident reviews, which many potential renters appreciate.
Free with Zillow: Hotpads
Hotpads has millions of listings available on its highly-rated mobile app. It has an interactive map search and a commute time calculator.
It's easy for prospective tenants to share listings with their friends and family, which means more exposure for your rental properties. Users can also set up search alerts that notify them when your new rental listing is up.
If you want to use Trulia and Hotpads, it makes sense to sign up with their parent company, Zillow, through Zillow Rental Manager.
Related: How to Open a Security Deposit Account to Hold Rental Deposits
4. Apartments.com
---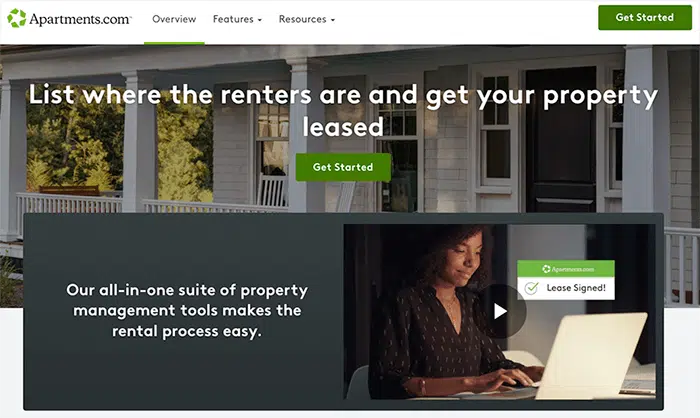 While "apartments" is in the name, rental listing site Apartments.com also lets you quickly list condos, townhomes, duplexes, houses, and other residential properties.
Listings on Apartments.com are automatically published on ForRent.com, ApartmentFinder.com, ApartmentHomeLiving.com, Apartmentos.com, and other rental sites—a network that collectively enjoys more than 100 million rental visitors each month. If you pay for a premium listing, it shows up on Facebook and Instagram as well. Premium listings also get higher placements in search, more unit-level details, and the ability to upload videos.
Screening services on Apartments.com include credit reports, background checks, and eviction history to help you fill vacancies with the most qualified tenants.
Apartments.com will let you make online tours, accept online applications, sign leases online, and collect online payments from tenants. The platform can also help you receive, manage, and share the progress of maintenance requests.
It's simple to track your expenses per property, assign tax categories, and attach receipts, all through the website. You can export these organized files easily to send to your accountant.
Related: How to Run a Background Check for Rental Property
5. Facebook Marketplace
---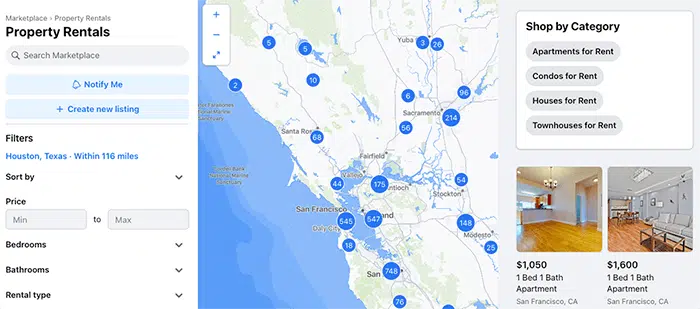 Facebook Marketplace is a free listing site where prospective tenants can search for rentals through the Facebook mobile app or their computer.
The pros? These renters are likely already accustomed to Facebook's interface and find it easy to filter for what they need. The listing process is simple—you can fill in all your property details, add up to 50 photos, even include videos. Meanwhile, Facebook Messenger makes it easy to chat with potential tenants, and you can use Facebook to look at their profiles to get some idea of what they'll be like as residents.
On the downside, Facebook Marketplace won't syndicate your listing across multiple sites. Also, unlike other rental listing sites online, Facebook doesn't let you screen tenants, create leases, or collect rent.
Related: Which Type of Real Estate Investment is Right for You? 8 to Know
6. Craigslist
---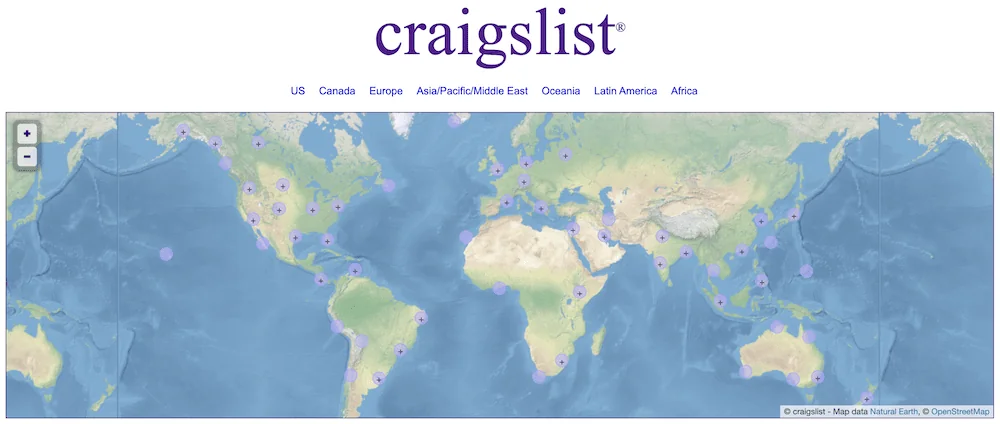 Craigslist is an extremely popular site people check when making a potential apartment list. However, while it's free to use in most places, you have to pay to list apartments in New York City, Boston, and Chicago.
Craigslist is a generally plain, feature-light site that only allows you to post details and photos (no videos) of your rental unit and property. The site doesn't perform any tenant screening for you, which means prospective renters might be less-than-ideal tenants or even scammers. Conversely, users might not completely trust that your rental listing isn't a scam.
And if you're looking to quickly fill vacant units, Craigslist might not be the best option because it doesn't post to multiple listing sites. However, if you're already listing on other sites, Craigslist is a way to get more exposure.
Related: Best Accounting Software for Rental Properties [Free + Paid]
Where Is the Best Place to List Rental Property?
---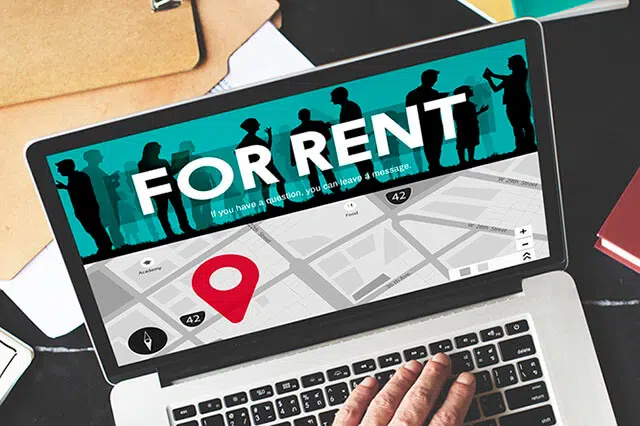 For property owners whose only goal is to get as many potential renters as possible, the best rental websites are Avail, Hemlane, Zillow, and Apartments.com.
These services reach tens of millions of people each month. The platforms will also help you screen tenants and even deal with property management after your residents move in.
Remember: You aren't limited to choosing just one website. But at the same time, make sure you're not paying for multiple services that post to the same partner sites.
Best Rental Listing Sites and Services: FAQs
---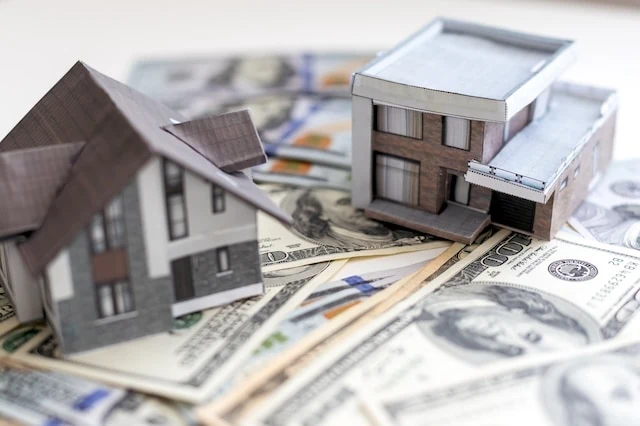 How can I manage finances for my properties?
Baselane is one of the best software options for rental property investors. It supports unlimited properties and types of real estate, including multifamily and single-family homes, apartments, condos, townhouses, and other rentals.
Once you've chosen your residents, Baselane makes it easy to collect rent online through credit cards, debit cards, or bank transfers. Tenants can set up recurring payments, ensuring rent is always on time.
When you sign up for Baselane banking, you will receive a virtual and physical debit card that earns up to 5% cash back. It will track and categorize your expenses so you're organized for tax season.
Baselane will also create financial reports that show your year-to-date expenses, YTD revenue, and more. You can also look at important investment property metrics, such as cash-on-cash return and cap rate.
Baselane also has an artificial intelligence (AI)-powered marketplace that can connect you with the best rates for mortgages, and loans. You'll save time reconciling accounts across all of your properties.
Related: Best Banks for Real Estate Investors and Landlords
How can I advertise rental property listings?
The best way property owners can advertise rental properties is through websites that show available rental listings. If it's a single website that will list your properties across several platforms, that's even better. Renters these days check multiple websites to make sure they don't miss any properties. I most strongly recommend Avail, Hemlane, and Zillow—they receive many visitors specifically looking for a property to rent.
You could also print advertisements in a newspaper, particularly if you're seeking senior tenants.
Wherever you decide to advertise your rentals, add property details, photos, and videos if the platform supports them. Mention whether it's a pet-friendly property and include information about the neighborhood, such as local parks, grocery stores, and transit.
And make it easy for potential tenants to get in touch and ask questions. This can be through Facebook Messenger or a service that automatically pre-screens renters for you.
Is there a service that handles tenant screening?
Yes. Avail, Hemlane, Zillow, and Apartments.com can all handle tenant screening for you. This includes credit checks, background checks, eviction history, and more. Screening costs can be included in the application fee, and reports won't hurt the tenant's credit score.
Is there a cost for rental property sites?
Many sites let you list rentals for free. However, if you want more exposure or additional listing features, you usually have to pay for a premium listing.
Some platforms charge a monthly fee but offer other services to streamline the rental process. These include digital lease signing, credit and background checks, online rent collection, and more.
How much rent should I charge?
When deciding how much to charge for rent, the 1% and 2% rules are an excellent place to start:
The 1% Rule says your monthly rent should equal at least 1% of your rental property's purchase price. Let's say you bought a property for $250,000. Ideally, your monthly rental price would be at least $2,500.
The 2% Rule is similar but states that a rental property is a good investment only if the monthly passive income is equal to or higher than 2% of the original purchase price. With this rule, a property bought for $250,000 should rent for $5,000 per month. Keep in mind that this rule only applies when your main goal is positive cash flow. This is less of a concern if you expect your property to appreciate substantially in value. Furthermore, the 2% rule works best in southern and midwestern states but is less realistic in cities with a higher cost of living, such as Los Angeles.
These are more general guidelines for the rental industry; many experts ignore these rules.
Always check rental prices for comparable properties in the area before listing your unit. Some rental listing sites have tools to help price properties, like Avail and Zillow.
Can you post multiple rental listings?
Yes. Most rental sites will let you post multiple rental listings. You can also post your listings on several websites, and some platforms will syndicate listings for you.
How can property managers post and manage multiple property listings simultaneously?
Avail and Hemlane automatically syndicate rental listings, expediting the time it takes to find, screen, and place tenants. These services make it so you can manage multiple listings, schedule showings, review applications, and screen tenants all in one place. You can also use these tools for ongoing property management tasks.
Are there free rental listing sites?
Yes. Many rental listing websites will let you make a free listing. If you want to upgrade to a premium listing or use additional services on free websites, though, you might need to pay a small fee.
What are the benefits of using a service to manage this for you?
Several rental listing sites will crosspost to other popular partner sites, getting significantly more eyeballs on your property.
Plus, your job isn't over when you post your property. You need to communicate with prospective renters to see if they are serious about your property and screen them to see if they will be reliable tenants.
Top rental listing sites make it easy to message and screen interested renters, schedule showings for you, help with lease creation, and more.
Some are even useful after residents sign a lease, allowing you to collect rent online, streamline service requests, organize your finances, and handle other routine tasks.
Related: 7 Best Sites for Advertising Rental Property Listings [Free + Paid]