Round-up apps are the modern-day coin jar.
For younger readers who aren't as familiar: Tossing spare coins into a jar used to be one of the most popular forms of saving. It stopped your pockets from jingling, you didn't miss the money, and once the jar was full, you could exchange all of the money at the bank or a coin machine.
Assuming you weren't living paycheck to paycheck, this was "fun" money you could spend however you wanted—you might head out to a restaurant or pick up a new pair of shoes.
Paying with cash is becoming less common by the year, however, as people increasingly use more convenient methods: credit cards, debit cards, and money apps. Plastic and digital spending are in … and jingling pockets are out.
But that doesn't mean "spare change" is gone completely—it, like spending, has simply evolved, becoming the "round-up." Read on as we explain how these work, and then we'll look at the best round-up apps you can use as your own digital coin jar.
What Are Round-Ups?
---
With round-ups, your purchase prices are rounded up to the nearest dollar.
If this sounds familiar, that's because you see it all the time at grocery stores and other retailers. The cashier will ask you if you'd like to round up your total, say, to donate to a charity.
But this kind of roundup involves a financial app rounding up your purchase, with the "spare change" put into a savings account or invested for you.
How Do Round-Ups Work?
---
Let's say you're heading to work, and you decide to grab breakfast. You get a coffee and a sandwich, and it sets you back $9.69. You go to pay with a normal debit or credit card or money app, you pay the $9.69, and the transaction is over.
However, now let's say you have a card or app with a round-up feature. Instead, your card is charged for $10, then the extra 31 cents is added to a spillover fund like a savings account or investing account. And this happens with every purchase you make with the card or app—a seamless process that makes saving automatic.
But which app does it the best?
Round-Up Apps—Our Top Picks
---
Best Round-Up Apps
1. Acorns (Best for Using Round-Ups to Invest)
---
Function(s): Saving, spending, investing
Available: Sign up here
Acorns is an investing app geared toward minors, young adults, and millennials, that pioneered round-up capabilities. Acorns' Round-Ups feature rounds up purchases made on linked debit and credit cards to the nearest dollar, investing the difference on your behalf. On average, Acorns users invest over $30 each month from Round-Ups.
With Acorns, once your Round-Ups reach at least $5, they can be swept into your Acorns Invest account. You can choose to round up manually, deciding which transactions will be invested, or use Automatic Round-Ups to simplify the process. And if you have Automatic Round-Ups selected, these Real-Time Round-Ups will be invested as soon as your transaction clears.
Want to save faster? Take advantage of Round-Ups Multiplier, which lets you choose to multiply the amount that would normally be rounded up by 2x, 3x, or 10x. You can turn Multiplier on and off whenever you want.
Not sure what to do if the transaction is an even dollar amount? (Say, $1.00 or $2.00.) Whole-Dollar Round-Ups let you select how much to round up whenever this happens.
The Acorns investment account itself is an automated platform that uses pre-built portfolios of exchange-traded funds (ETFs) to keep investors exposed to stocks and bonds—ideal for younger, less experienced investors, as well as people who just want to keep things simple. Learn more or sign up today.
Related: How to Invest as a Teenager [Start Investing as a Minor Under 18]
2. Greenlight Max (Best Investment Account With Parental Controls)
---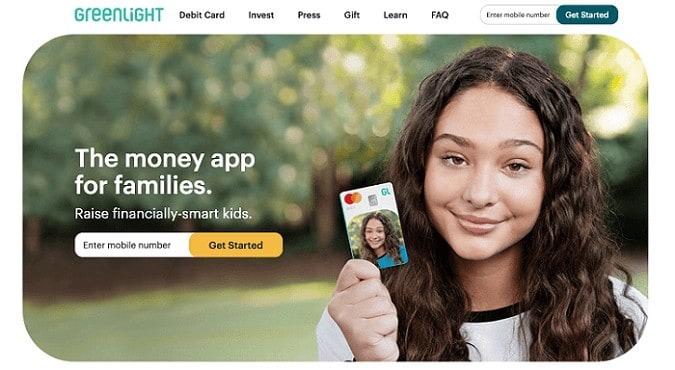 Function(s): Saving, spending, investing
Available: Sign up here
Greenlight Max is an investment account for kids that comes paired with a debit card and bank account. It's easy to use, it allows your child to spend and save, and it can teach your kid the basics of banking and investing.
Greenlight offers a number of Savings Boosts, such as savings rewards and cash back to savings. Another Savings Boost? Round Ups, which allows change from transactions to be funneled into your savings. You can have Round Ups set to always round up, never round up, or ask you before transferring.
A few features of the investing account:
Start investing with as little as $1 in your account.
Buy fractional shares of companies you admire (kid-friendly stocks).
No trading commissions beyond the monthly subscription fee.
Kids can only invest in stocks and ETFs with a market capitalization over $1 billion.
Parents must approve every trade directly in the app.
Consider opening a Greenlight Max account to start investing today.
Related: How to Invest Money: 5 Steps to Start Investing w/Little Money
3. Chime Bank (Checking Account With Round-Ups)
---
Function(s): Saving, checking, spending
Available: Sign up here
Chime was created with the idea that basic banking services should be easy and free. Thus, users aren't charged service fees, overdraft fees, foreign transaction fees, and other charges. Chime customers also have access to more than 60,000 fee-free ATMs nationwide, and they can get paid up to two days earlier if they set up direct deposit.
When you open a Chime checking account, you can choose to enroll in savings, too. Chime's high-yield savings account boasts an average annual percentage yield (APY) that's several times higher than the national savings account yield.
With Chime's Save When You Spend feature, round-ups from your Chime Visa Debit Card are automatically transferred from your checking account into your savings account, helping you put that high yield to work more quickly.
Related: Best Custodial Accounts: How to Start Investing for Kids
4. Current Bank (High-Powered Banking App)
---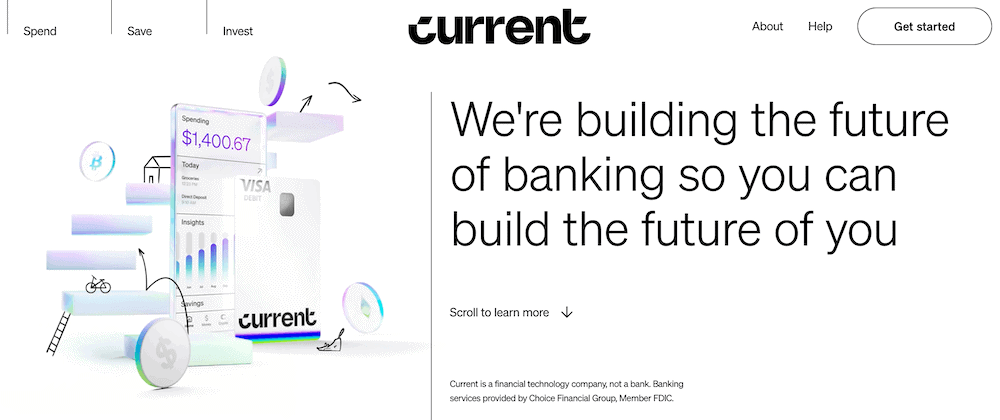 Current provides a wide range of banking services, as well as financial tools and other perks that set it apart from traditional accounts.
Among Current's most popular features are Savings Pods. Each Current account comes with three Savings Pods, which are like digital envelope savings plans, or like having multiple savings accounts. Most people have more than one savings goal—and Savings Pods allow you to choose how much you want to allocate toward each goal.
Current's Round-Ups feature allows you to send digital "change" into the Savings Pod of your choice. But note that you can't use Round-Ups for multiple Savings Pods—the feature can only be enabled for one Pod at a time.
Current offers a high APY on the first $2,000 in each of your three Savings Pods, though the APY on additional balances is close to the national average for all (not just high-yield) savings accounts. Other features include no fees for overdrafts under $200, faster paydays with direct deposit, and points that you can redeem for cash back in your account.
Related: 20 Best Investing Research & Stock Analysis Websites
5. Stash (Investing App With Stock-Back® Rewards)
---
Function(s): Saving, spending, investing
Available: Sign up here
Stash is a mobile-friendly personal finance app that includes various types of investment accounts and an online banking account. This low-cost, all-in-one financial platform caters to hands-on and hands-off investors alike who want an all-in-one financial platform.
Self-directed investors can buy stocks and ETFs with no add-on commission fees; cryptocurrency trading is also available with varying fees. Hands-off investors can use their Smart Portfolio feature, which gives you access to a pre-built portfolio of stocks, bonds, and crypto, and lets Stash automatically rebalance and reinvest dividends for you.
Stash's most noteworthy feature is the Stock-Back® Card, which rewards you various percentages of your purchases (depending on your plan) in stock.
Stash has two subscription tiers: Stash Growth ($3/month) and Stash+ ($9/month), and Stash is covering the first month subscription fee for both plans2. The latter naturally features more options, such as two kids' portfolios, exclusive Stash market insights, and better rewards from the Stock-Back® card.
Sign up here and Stash will give you a $5 bonus once you open an account and deposit at least $5 into your personal portfolio.1
Related: 11 Best Stock Portfolio Tracking Apps [Stock Portfolio Trackers]
6. Qoins
---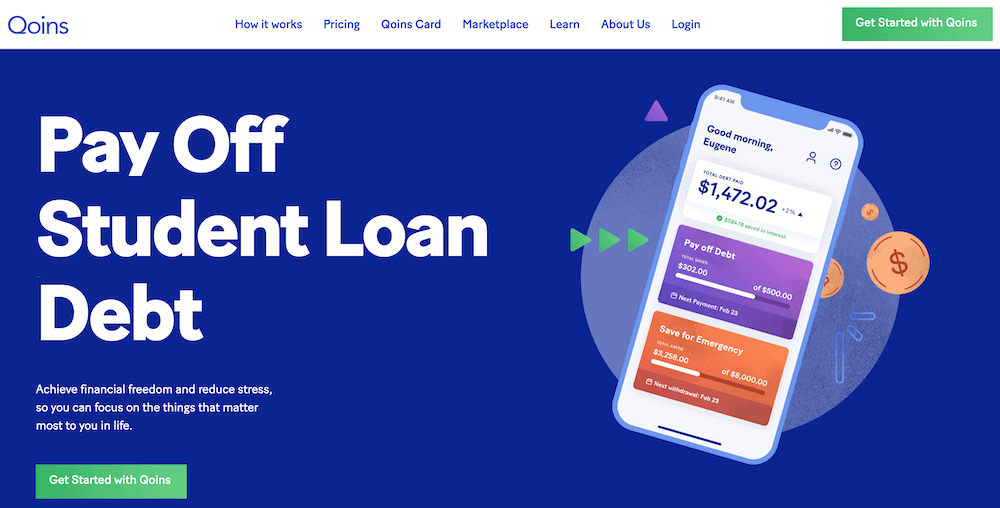 Function(s): Saving, spending, budgeting
Available: Sign up here
Qoins is a financial app and prepaid debit card with features centered around getting its users out of debt faster.
Unlike other apps where your goal might be a car down payment or a vacation to Greece, Qoins helps its users meet goals like knocking out their credit card debt or student loans. (But once you're debt-free, you can set fun savings goals, too!)
Qoins takes the money in your account and makes debt payments with it once every month. This can help you pay off debt faster, reduce the amount of interest you pay, and improve your credit score. According to Qoins, its program can shave anywhere from two to seven years off loan terms, and it has saved users an average of $3,200 in interest payments.
As you might expect, Qoins' round-ups work with the same goal in mind. The app rounds up purchases that you make, but rather than putting the digital change toward savings, it goes to paying off your debt.
Related: 19 Best High-Yield Investments [Safe Options Right Now]
7. Qapital
---
Function(s): Saving, spending, investing, budgeting
Available: Sign up here
Qapital is a highly customizable savings app that pulls money from an existing checking account you connect with the app.
Qapital has one of the more flexible round-up programs. Like with most programs, when you make a purchase with an account that its "Round-Up Rule" is applied to, Qapital will deposit the spare change into one of your Goals (investment or savings).
However, unlike most programs, you don't just have to round up to the nearest dollar—you can round up even higher. So, let's say you selected $4 for your Round Up Rule amount: If you spent $5.50 on a coffee, the purchase wouldn't be rounded up to $6—it would be rounded up to $9! And whole-dollar amounts are always rounded up to your Round Up Rule amount; if it's set to $2 and you spend $1, you'll be charged $3 and a full $2 will be saved toward your goal.
You can save in other ways, too. For instance, you can set Qapital to save a dollar every time you go for a jog, or five bucks every time you go to a baseball game.
People who want to incorporate Qapital further into their financial lives can sign up for the Qapital Visa Debit Card and spending account. The fee-free card provides no-fee access to more than 55,000 ATMs, and is compatible with Apple Pay, Google Pay, and Samsung Pay. It offers round-ups, too, as well as money management features such as Spending Sweet Spot and Money Missions.
When you've reached a certain savings goal, you can cash it out through the debit card, or through one of your bank accounts.
If you prefer to invest with your round-ups, you can pick from several pre-built portfolios—from very conservative (90% bonds, 10% stocks) to very aggressive (10% bonds, 90% stocks).
Related: 10 Best Stock Trading Apps for Beginners [Free + Paid]
Frequently Asked Questions (FAQs)
---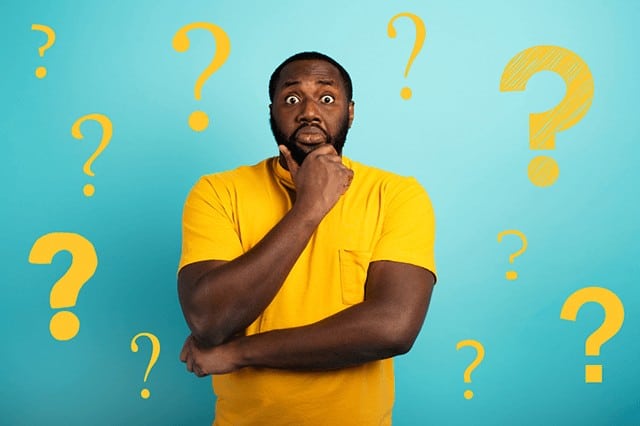 Do Savings App Round-Up Plans Work?
Absolutely. A round-up app works in the background to set aside more money than you typically would. Every purchase you make suddenly becomes a new opportunity to save money.
But let's be clear: If you have lofty savings goals—say, a child's college fund or your retirement—you need to save and invest more substantial amounts than what a round-up program can provide. That said, some savings apps will also let you send over regular payments from a savings account or checking account, so you can augment your savings that way.
Are Round-Up Apps Safe?
Round-up apps aren't inherently safe or unsafe. Features matter.
For one, you want to make sure that your savings are FDIC-insured. And all of the round-up apps listed above offer FDIC insurance up to $250,000 on savings. If your app has an investing component, you'll also want to ensure there's insurance on that—Stash Invest, for instance, offers $500,000 worth of insurance on investments through the Securities Investor Protection Corporation (DIPC). Just note that insurance only protects investments from an institutional failure—not from losses if your investments simply lose value.
Past that, you'll want to make sure your round-up app has other types of security, such as account verification, identity protection, encryption, etc.
Are Round-Up Savings Apps Worth It?
If you want a way to incrementally save without having to think about it, round-up savings apps are excellent tools that are worth the time and energy. They automatically transfer money to your savings with each transaction, letting your savings slowly build up over time. They're especially useful if they can double as standard banking and investment accounts.
Do be mindful of fees, however. If you're paying a few dollars a month for an app and only end up saving a few dollars per month, you're still where you started before. So make sure if you're paying for a round-up savings account, that your savings progress—and the app's other features—are worth the cost.
Is the Digit Account a Round-Up App?
Digit is a financial app that provides typical banking features such as saving and spending, allows you to invest, and also helps you budget your money. However, it is not a round-up app in the truest sense.
Some reviewers include the Digit account in their lists of round-up apps because it can help you save. Specifically, Digit uses artificial intelligence to study your finances, then it automatically saves money for you in incremental accounts, as your budget allows, to help you reach savings goals.
It sounds similar, and it has a similar goal of helping you save, but it's not the same thing.
Why Should I Use Round-Up Apps?
We can think of several good reasons to use round-up apps, including (but not limited to):
They're easy to use. Setup is typically simple, and saving is even easier. Just make your regular purchase, and money will trickle into your savings account without you lifting another finger.
Little amounts add up. Several of the round-up apps we've talked about claim that their users can save hundreds if not thousands of dollars each year. Yes, 30 cents here and 45 cents here doesn't seem like much. But add those amounts up across dozens of transactions each month, and you're generating real savings.
They keep you focused on your goals. Round-up apps typically center around financial goals. That's good! Vaguely saving can be difficult for people. But when you start to see real, tangible progress toward a stated goal, that can act as motivation to keep up what you're doing and even find other ways to save.
Put simply: Round-up apps are easy to use and can help you reach savings goals more quickly than you'd think.
Related:
Terms and Conditions for Stash
---
1 Investment advisory services offered by Stash Investments LLC, an SEC registered investment adviser. Investing involves risk and investments may lose value. Holdings and performance are hypothetical. Offer is subject to Terms and Conditions.
2 Promotion offer subject to terms and conditions available in registration.
Stash Banking services provided by Stride Bank, N.A., Member FDIC. The Stash Stock-Back® Debit Mastercard® is issued by Stride Bank pursuant to license from Mastercard International. Mastercard and the circles design are registered trademarks of Mastercard International Incorporated. Any earned stock rewards will be held in your Stash Invest account. Investment products and services provided by Stash Investments LLC and are Not FDIC Insured, Not Bank Guaranteed, and May Lose Value.
Ancillary fees charged by Stash and/or its custodian are not included in the subscription fee.
Cryptocurrency trading and execution services are provided by Apex Crypto LLC (NMLS ID 1828849) through a software license agreement between Apex Crypto LLC and Stash Financial, Inc. Apex Crypto is not a registered broker-dealer or a member of SIPC or FINRA and is licensed to engage in virtual currency business activity by the New York State Department. Cryptocurrencies are not securities and are not FDIC or SIPC insured. Advisory products and services are offered through Stash Investments LLC, an SEC registered investment adviser. Cryptocurrency is a highly volatile investment; please ensure that you fully understand the risks involved before trading crypto. Visit apexcrypto.com/legal. Apex Crypto charges customers a fee on each cryptocurrency transaction based on their subscription plan with Stash, a portion of which Stash receives as revenue.
Stash has full authority to manage a "Smart Portfolio," a discretionary managed account. Diversification and asset allocation do not guarantee a profit, nor do they eliminate the risk of loss of principal. Stash does not guarantee any level of performance or that any client will avoid losses in their account. Crypto is relatively new and can be volatile. Investments are Delaware Statutory Trusts and offer indirect exposure to Crypto.
All rewards earned through use of the Stash Stock-Back® Debit Mastercard® will be fulfilled by Stash Investments LLC and are subject to Terms and Conditions. You will bear the standard fees and expenses reflected in the pricing of the investments that you earn, plus fees for various ancillary services charged by Stash. In order to earn stock in the program, the Stash Stock-Back® Debit Mastercard must be used to make a qualifying purchase. Stock rewards that are paid to participating customers via the Stash Stock Back program, are Not FDIC Insured, Not Bank Guaranteed, and May Lose Value. What doesn't count: Cash withdrawals, money orders, prepaid cards, and P2P payment. If you make a qualifying purchase at a merchant that is not publicly traded or otherwise available on Stash, you will receive a stock reward in an ETF or other investment of your choice from a list of companies available on Stash. See Terms and Conditions for more details.