You can't have a rental business without tenants, so advertising your rental property to find those tenants is a non-negotiable part of being a landlord.
On the flip side, the more renters who are interested in your property, the pickier you can be with tenant selection. So it pays to spread the word about your properties—and listing websites are one of the best ways of doing that.
Today, we'll explore the best websites for advertising your rental properties. These sites get a substantial amount of views on your listings, most have a free tier, and many offer other valuable services for landlords. We'll also go over frequently asked questions about promoting rental properties. 
Once you have identified your advertising website(s) of choice, you can begin your journey of finding and onboarding your ideal tenants!
Best Sites for Advertising Rental Property Listings—Top Picks
---
The Best Sites for Advertising Rental Properties to Prospective Tenants
---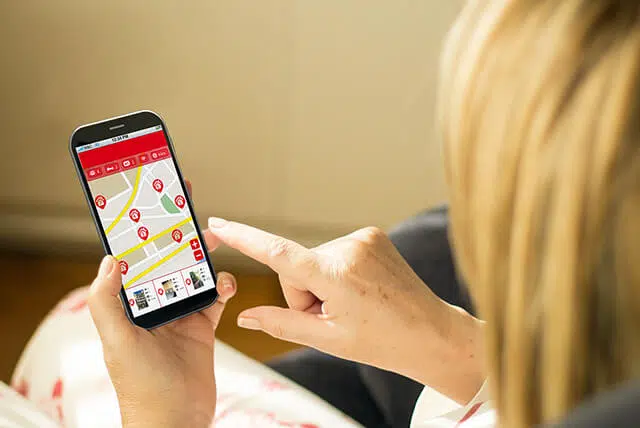 As we dig into rental advertising sites, quickly make a mental list of features that are most important to you. Are you looking for the widest selection of online listings? Do you want to be able to screen tenants? Do you want a dedicated listing site or an all-in-one rental management service? How much of a factor is cost?
Remember: The best overall sites for advertising rental property might be the best for your particular situation, but they might not. So compare carefully and keep your needs in mind.
1. Avail (Best Free Service for Online Listings and Marketing)
---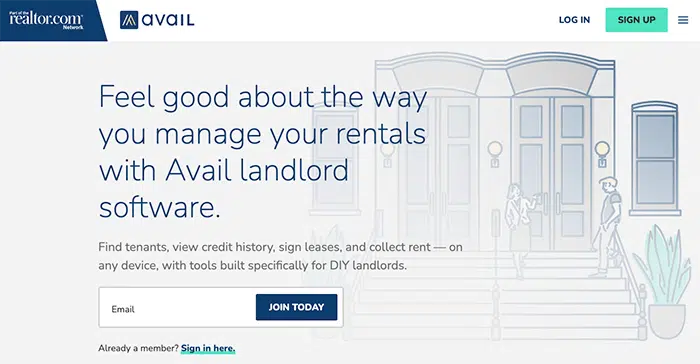 Avail is the best free service to advertise your rental property because it widely promotes your rental listings across popular sites that prospective renters search and takes them through the entire process of becoming a tenant and beyond.
The service simultaneously publishes your rental listing across a dozen top rental sites for free, including:
Apartmentlist.com
Apartments.com
Avail.co
Doorsteps.com
Dwellsy.com
Hotpads.com (fees and additional setup required)
PadMapper.com
Realtor.com
Rentable.co (formerly Abodo)
Trulia.com (fees and additional setup required)
Walkscore.com
Zillow.com (fees and additional setup required)
Zumper.com
Once you have potential tenants, you can respond to their questions, schedule showings, and ask pre-screening questions—all through your landlord account. The process of scheduling showings is streamlined and takes only minutes.
If you're seriously considering a tenant, Avail can ask them to provide information about their employment, income, residence history, and more, so you can get the most qualified tenants.
It costs you nothing to choose which TransUnion reports you want to require. These reports won't harm your prospective tenants' credit scores, and tenants can reuse them an unlimited amount of times within 90 days.
Avail also offers monthly rent price recommendations, social sharing, lead management, simple rental applications, and customized online leases.
Avail's other services outside of online marketing include handling Direct Deposited online rent collection, maintenance tickets, a tenant portal, educational content, and more. Avail automatically uploads rent payments and maintenance costs to your accounting dashboard, making it easy to track your rentals' performance and be prepared for tax season.
Visit Avail to learn more or sign up.
Related: 7 Best Banks for Real Estate Investors + Landlords
2. Hemlane (Best Paid Rental Property Listing + Management Service)
---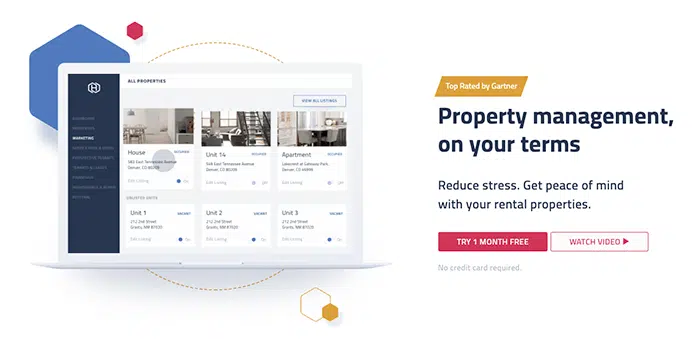 Why would you use a paid rental property marketing service when there are free options for posting your rental vacancies?
Well, among other reasons, paid services like Hemlane can advertise for you on many websites at once, saving you time.
Hemlane gives you access to 30 top rental websites with a single click. And it will track which websites bring the most prospective renters to your listings. Hemlane also will generate an entire professional website to host your ads, and it will automatically update a property's details as you make changes to your rental.
Since your listings are comprehensive, rather than brief, it will minimize questions prior to showings. Hemlane will automatically give prospective renters a showing calendar to save you time and keep your schedule organized.
Tenants are pre-screened and you can choose to add local licensed real estate agents to show your properties. Interested parties can fill out a free application before you decide to move on to the screening process. Hemlane will provide a thorough credit report and background check; it looks through the nationwide eviction database, sex offender registry, and criminal records database. The platform will then recommend whether you should accept the potential tenant.
Hemlane also offers many services besides promoting your rental vacancies, making it well worth the cost. The service sends reminders when leases will need to be renewed soon, keeps a record of all resident communications, and takes care of accepting rent payments through credit or debit cards or Automated Clearing House (ACH), as well as requesting recurring payments.
You can allow tenants to split rent, and late fees are sent automatically. Meanwhile, Hemlane tracks your income and expenses and uploads receipts and other documents to keep you organized. Maintenance requests are handled as well.
Learn more about Hemlane's other features, or sign up today.
Related: How to Find Good Tenants With Online Rental Listings
3. TenantCloud (Best for Customized Website Design)
---
TenantCloud lets you list your rental unit to several partner websites at once, including Rentler, Apartments.com, Oodle, Zillow, Trulia, Hotpads, and more.
However, what really sets TenantCloud apart from competitors is that it enables landlords to create free, customized websites to promote their rental properties. Landlords can add information about themselves or their rental business team members, upload photos, create a custom application, choose a color scheme, add a logo, and more.
Landlords also get tenant leads through TenantCloud's partnership with Rentler, making it easy to stay at full capacity and fill rental vacancies quickly. The Leads Tracking Tool lets you view all prospective tenants.
Besides rental marketing, TenantCloud also has other useful features, such as scheduling tours, sending applications, running credit and background checks, and offering end-to-end accounting (storing receipts, invoices, etc.).
Additionally, TenantCloud's Template Builder starts you with a state-specific lease you can adjust and have sent to future tenants. And its TC Messenger system makes it easy to talk to tenants one-on-one or send a message to all tenants at once.
TenantCloud also lets renters set up automatic online rent payments, which can be directed into one or more landlord accounts. These rent payments are reported to all three major credit bureaus. Money can be directly deposited into one or more landlord accounts. Learn more about TenantCloud's features or sign up today.
Related: Best Video Intercom Systems for Apartments and Office Buildings
4. RentRedi (Best Mobile App for Rent Collection Online)
---
RentRedi provides a free marketing page to share your rental ads on websites like Facebook Marketplace, Craigslist, and more. And it offers a relatively uncommon feature: the ability to add virtual tour options to each rental unit listing.
The service automatically posts your listings for free to RentRedi, Doorsteps, and Realtor.com, allowing for as many properties as you want. You can also syndicate to Zillow, Trulia, and HotPads.
When renters are interested in your property, RentRedi will screen them using SmartMove's ResidentScore (which it says predicts evictions better than credit scores) and criminal record databases. And if everything looks good, your new residents can e-sign your lease and upload any required documents.
In addition to helping you connect with prospective tenants, RentRedi is one of the most tenant-friendly online rent collection services. Renters can make rent payments with a credit or debit card, ACH or ACH-only payment options, and even cash. Those using ACH or cards can set up automatic payments to ensure their monthly rent is always covered. RentRedi even boasts more than 90,000 retail locations where residents can deposit cash payments.
Renters can benefit from having their on-time rent payments reported to TransUnion (one of the three major credit bureaus). These reports help build credit and, depending on the credit-scoring model being used, improve scores.
RentRedi's software can also help you outsource maintenance requests.
Some users opt to get the rental property accounting software add-on through RentRedi's partner REI Hub. But you can sign up with RentRedi directly, too.
Related: Which Type of Real Estate Investment is Right for You? 8 to Know
5. Zillow Rental Manager
---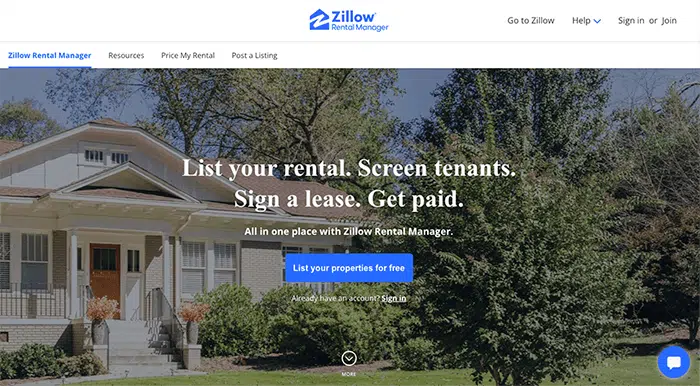 Zillow Rental Manager, which works for both smaller properties and larger apartment complexes, is one of the top rental property websites and the most visited rental site by far. Zillow gets about 36 million unique monthly visitors, according to Statista data.
Remember: The more views on your rental listing, the more likely you will get interested tenants.
Zillow tracks rental listings' performance data and trends to help you determine a rent price where you're still attracting enough prospective tenants while still making a profit.
Zillow Rental Manager will also screen tenants for you through background checks, credit checks, eviction histories, and income verification. While this is a free service for posters, prospective tenants pay $35, which allows them to submit their application to an unlimited number of participating rental properties for 30 days.
The platform also makes it easy for tenants to sign leases. You can use Zillow's online lease building templates or upload your own. After your tenants are onboarded, you can use the service to get rent, utilities, and more, deposited straight into your bank account.
When you post with Zillow, your rental ads can also be posted on its network of rental sites, including Trulia and Hotpads.
Trulia
Trulia has listings for people looking to buy or rent a home. Renters can use more than 35 filters and a custom keyword search to find exactly what they want. The website claims Trulia has more neighborhood insights than any other real estate website, and is useful for anyone who wants to live in a neighborhood with a particular vibe.
Trulia also shares resident reviews, which many renters appreciate. People often trust what their peers say more than what a rental ad promises. For landlords listing within unique neighborhoods, this can help match you with tenants most likely to be interested in your property.
Hotpads
Hotpads, meanwhile, is "designed with the urban renter in mind" and has millions of listings available on its highly rated mobile app. This makes it easy for people to share listings with their friends and family, which means more overall exposure for your rental properties.
Hotpads also has a map-based search and a commute time calculator. And tenants receive alerts that notify them when new rentals matching their criteria hit the market.
Related: Real Estate Syndication: What It Means and How to Invest
6. Apartments.com
---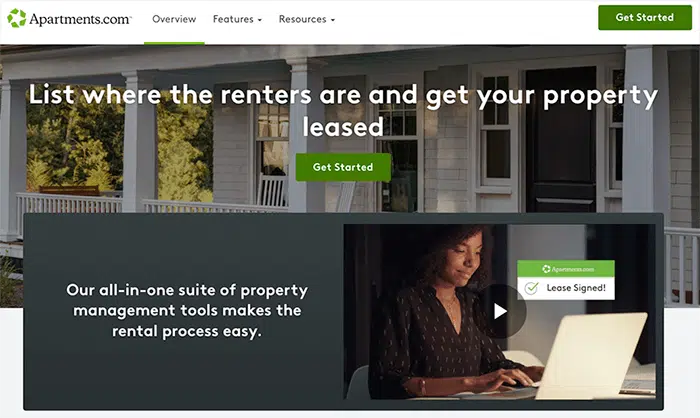 Apartments.com lets you quickly list a property on a website with more than 26 million visitors each month. The site boasts that it has helped in the signing of more than 40 million leases nationwide. (Also, don't be fooled by the name—the rental listing site also lists condos, townhomes, duplexes, and even standalone houses.)
Listings are automatically listed not just on Apartments.com, but also on ForRent.com, ApartmentFinder, ApartmentHomeLiving.com, and Apartamentos.com. If you make a premium listing—which enjoys higher placements in search, larger ads, and the ability to upload up to six videos–it shows up on Realtor.com and Doorsteps as well.
Apartments.com will help you screen for the most qualified tenants through comprehensive credit reports and background checks. TransUnion will send you criminal and eviction reports about your applicants. Applicants pay for the reports, and it's free for you; also, the reports won't negatively affect tenants' credit scores.
Apartments.com will let you make online tours, online applications, customized leases with electronic signatures, and online payments from tenants. The platform can also help you receive, manage, and share the progress of maintenance requests.
It's simple to track your expenses per property, assign them tax categories, and attach receipts, all through the website. You can easily export these organized files so you can send them to an accountant or tax preparer.
Many real estate professionals appreciate the broad exposure of ads for a vacant property as well as the variety of services available.
Related: 10 Investments that Earn a Great Return [10% or More]
7. Facebook Marketplace
---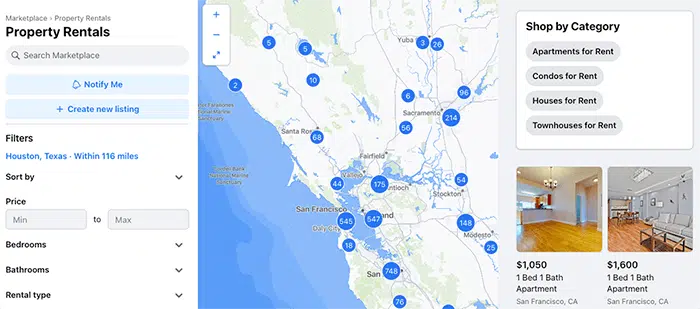 OK. We admit it: Facebook Marketplace might not be first to mind when it comes to renting out your property. But it's still worth considering for your rental listing. That's because Marketplace makes it easy for prospective tenants to search for rentals via a computer or mobile app.
People searching for housing are likely already accustomed to Facebook's interface and find it easy to filter for what they need.
The listing process is simple, though it won't syndicate across other sites. You can fill in all of your property details and up to 50 photos. You can include videos, too.
Facebook Messenger makes it simple to chat with potential tenants, and you can look at their profiles to get an idea of their personalities.
Unfortunately, unlike some other rental listing sites, Facebook doesn't have many other features, such as the ability to screen tenants, create leases, or collect rent. You can post on Facebook marketplace for free, however, as long as you have a Facebook account.
Related: 9 Best Real Estate Crowdfunding Sites + Platforms
How Can You Advertise Rental Properties?
---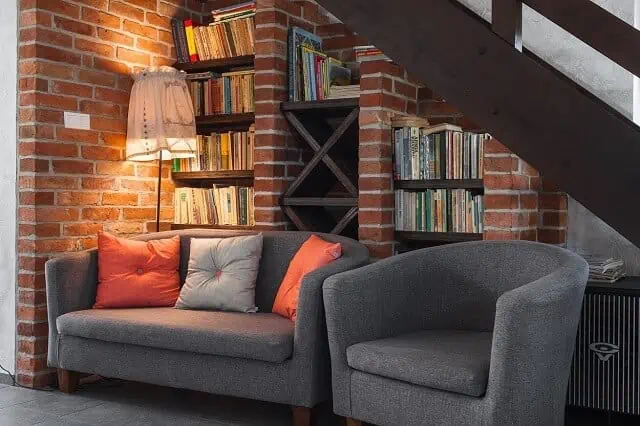 Today, most rental property advertising is done online. Renters like to be able to research potential homes from their computer or mobile device.
Most of the best websites for promoting a rental property are detailed in the sections above. However, other websites exist—dedicated platforms like Dwellsy or RentDigs, as well as generalist sites such as Craigslist—that make sense for some listers. Other people list via physical newspaper ads or even putting up rent signs in grocery stores.
Another option is to encourage current tenants to refer others they know in exchange for a reward, such as a discount on the next month's rent. However, this strategy only works if your tenants are happy and you have a good relationship.
What Is the Best Way to Advertise a Rental Property?
---
The best way to advertise a rental property is through free online listings. That's because "free" is a form of advertising that can fit into any marketing budget—and free online listings are still quite effective.
Many online listings can be easily posted across many popular websites at once, so they'll have broad reach. Interested renters are already searching these websites. So if you only advertise your rental properties one way, this should be it.
How Do I Attract Tenants to My Rental Property?
---
You can attract tenants to your rental property with a detailed description, lots of photos, and a competitive price.
The more information you include in a property description, the more time it saves you and every prospective renter. No one benefits from major surprises at property showings.
Include information both about the unit and the building as a whole. For example, if you are renting out apartments, mention whether pool or gym access is included. Or mention how close a property is to local attractions and/or public transportation.
Also include a generous number of photos (and where possible, a video walkthrough) of both the building's interior and exterior. Investing in good lighting for the residence can make a big difference in both the photos and a potential renter's first impression during a showing.
Of course, you can have an excellent property description and photos, but it won't matter if your rental is out of everyone's budget. Competitive rent prices matter. You'll want to conduct competitor research to determine what comparable listings in the area fetch. You might also get help through a service, such as an Avail Rent Analysis report.
Why Does Marketing a Rental Property Matter?
---
Landlords shouldn't just be concerned about getting tenants, but also about getting reliable tenants—tenants who likely will pay rent on time and follow all of the rules in your lease agreement.
Marketing your rental property does that by generating higher interest in your property. After all, the more renters who want to lease your units, the pickier you can be about which ones you accept.
And if there's substantial interest in your property, that's a potential sign that you could increase rent prices.
Ideas for Marketing/Advertising Your Rental Property
---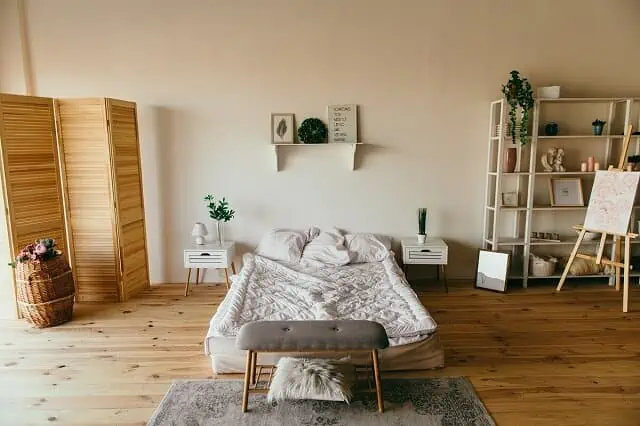 Use attractive language and detailed descriptions
The more detailed your property descriptions are, the better. In addition to the basics, like the number of bedrooms or types of appliances, include adjectives that describe the feel of the place.
For example, you might mention that a unit is modern, spacious, or filled with natural light. Evoke some emotions, so potential tenants can visualize themselves in the space.
Take clean pictures (no blur)—consider a professional photographer
Taking great property photos isn't easy. You might have a beautiful rental space, but if the photos don't reflect that, renters won't consider the property. So make sure the space is clean and free of clutter before photos are taken, and as we mentioned before, consider investing in better lighting.
Also, unless you have a high-quality camera and some photography skills, consider hiring a professional photographer. Professionals know the best angles for the photos and the key elements to include in each photo. Will it cost money? Yes. But is there typically a noticeable difference between pro and amateur rental photos? Also yes.
List nearby attractions with expected commute time
A residence's location and the commute time to nearby attractions are another major factor that tenants consider when choosing a property.
Mention all of the nearby attractions people might be interested in and the expected commute time. For instance, you might say your rental unit is only a five-minute walk to the nearest elementary school, a 10-minute drive to a popular outdoor shopping center, or a 15-minute bus ride from downtown.
List benefits and amenities in bulleted lists
Make it easy for prospective renters to scan your listing and check for amenities that are important to them. Bulleted lists make it easy to quickly glean information. Conversely, it's easy to miss important features (central air, parking) stuffed in large, unwieldy paragraphs.
List open house times
Listing open house times has a couple of benefits.
For one, it saves time—individual showings can take a lot of time, whereas open houses allow you to show many prospective tenants your space at the same time.
It also provides renters with more of a sense of urgency to apply for your rental unit before somebody else gets it. That's because an open house implies "there's so much demand, we don't have time to do individual showings."
And again, driving rental demand allows you to be more selective about which tenants you choose.
Mention lease terms
Be upfront about lease terms that will affect which buyers will qualify for your property.
How long is the lease for? Is it for a year, six months, month-to-month, or do tenants have multiple options? If a unit isn't immediately available, when is the earliest a new tenant could move in? Are pets allowed, and if so, is there a monthly fee for having pets in the residence?
Other FAQs About Advertising Rental Property Online
---
When should you start marketing a rental property?
State in your lease how much notice a tenant needs to give to renew their lease, or, if their lease automatically renews, how much notice they need to give if they are moving out. When this deadline approaches, check in to ensure you're on the same page about whether they're going to stay or move out.
When a tenant's lease is soon going to end and the tenant has informed you they won't be renewing, you need a plan for filling the vacancy—immediately.
Start marketing efforts for the soon-to-be-vacant space as soon as your tenants give notice they won't be renewing. And be clear in your advertisements when the property will be available.
If you've advertised that property before, your ad should only need a few changes. Update the rent price if it has changed, include any new property additions or upgrades, and include new photos if anything has physically changed (new appliances, different wall color).
Should I use paid advertising for my rental property?
It depends. Many landlords find success doing all of their rental property marketing with free services, so try that first. And if you don't have immediate success, before you pay for advertising, make sure the issue isn't your property description, photographs, or price.
Suppose you're confident in the factors above, but still aren't getting enough views on your advertisements, aren't booking showings, or the quality of applicants isn't meeting your standards. In that situation, you might want to pay for premium listings and other paid advertising to gain more exposure.
Should I use a property manager or property management companies?
A property management company can handle advertising each property listing for you. Property managers who are familiar with the area might know exactly how to phrase ads to get attention from your target audience.
Additionally, your property management company might have connections to secure attractive rates on online newspaper ads and rent signs if you want other forms of advertising outside of the sites detailed above.
However, if advertising is the only task you need help with, it likely isn't worth the cost of hiring property managers. Only consider looking into property managers if there are other property management tasks you would want them to handle. (For example, you might also task a property management company with maintenance for apartment buildings, showing properties, evicting tenants, and more.)
People with the budget to hire someone for property management should consider it. But otherwise, you can get a substantial amount of views on your properties without using a property management company.
How can I get a lease agreement?
You can consult a lawyer and create a lease on your own, or you can save time and money by customizing a state-specific template from a trusted platform.
Hemlane is a great option for creating a lease agreement. Hemlane has a partnership with Rocket Lawyer, letting users create free custom leases in under 10 minutes. After your lease is completed, Hemlane stores it and sends reminders when it's nearly time to renew.
Avail is another excellent option for making a free lease agreement. You start with a lawyer-reviewed lease that has local rules. Then, you add in your specific clauses, disclosures, and security deposit requirements.
You can print the agreements or send them to tenants online. If you go the online route, renters can do legally binding electronic signatures.
Related: