TurboTax is approaching four decades of service helping Americans organize and file their income tax returns. Indeed, "tax software" feels too light a term anymore—at this point, TurboTax is a tax institution.
TurboTax regularly ranks among most people's lists of the best tax software, and it's easily the most widely used software there is. Consider this: Last year alone, roughly 38 million people relied on TurboTax to get some aspect of their taxes knocked out. That's about 15% of the adult population.
While the exact number varies by study, some 45% of Americans use tax filing software. So, if we do a little math, that means a whopping one-third of all people who use tax software go with TurboTax.
Of course … that also means the other two-thirds use something else.
A few TurboTax alternatives have become more prominent over the years, and today, we're going to evaluate some of those top competitors. While TurboTax clearly works for many people, there's a reason (actually several) why its rivals stay busy. We'll delve into what makes TurboTax great, and why despite that, consumers sometimes look elsewhere. 
What Is TurboTax?
---
TurboTax is America's most popular tax software. Chipsoft's Michael Chipman created the software back in 1984, and it was sold to Intuit a little less than a decade later. Since then, it has grown to serve tens of millions of Americans every year through several tiers (more on those in a moment).
Of course, while most people know TurboTax as a fully do-it-yourself tax solution, it does offer more. TurboTax also provides access to tax experts for full-service tax prep, as well as a middle-ground solution where you can prepare your taxes with some expert help.
To get to know TurboTax better, let's dive into the particulars.
TurboTax Overview
---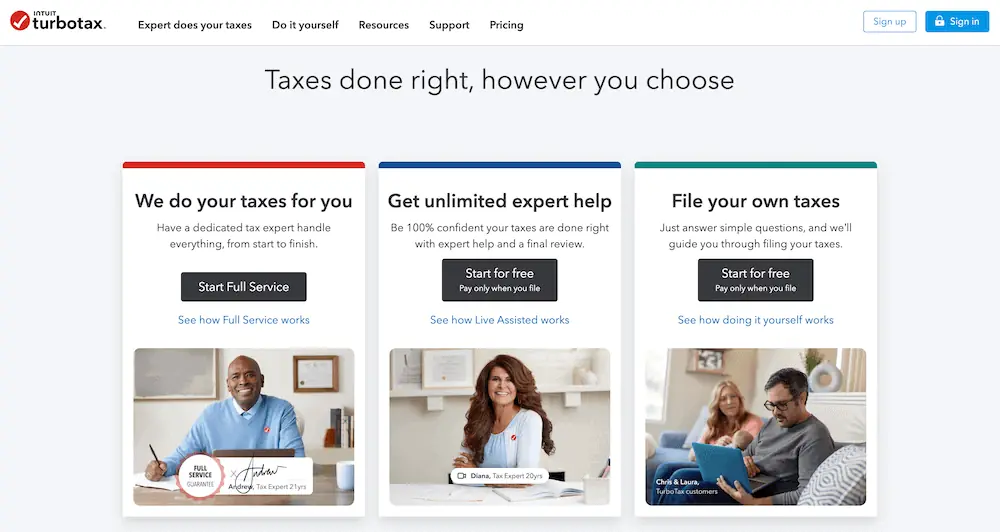 Available: Start your return
What TurboTax Deluxe can do: Everything handled by TurboTax Free Edition; additionally, can manage itemized deductions (Schedule A), charitable contributions and HSA distributions (1099-SA).
What TurboTax Deluxe can't do: Deductions and expenses from side hustles or self-employed work (Schedule C), capital gains and losses on investments and crypto (Schedule D), rental property income (Schedule E).
TurboTax remains the king of tax software in 2023. It doesn't just have one of the most well-known brands—this software has it where it counts, boasting a smart interface and all the features you'd expect from a high-powered program.
TurboTax Deluxe is the most popular tax package offered by the company and covers W-2 income, itemized deductions found on Schedule A, and health savings account (HSA) distributions on 1099-SA.
If you need to report a more sophisticated tax situation, you'll need to upgrade to TurboTax Premier. This tax preparation software package assists you with calculating your investment and rental income as it comes fully-equipped with in-program support for Schedules D, E, and K-1. Further, if you have any crypto transactions, gains or losses to report, you'll need to pony up for this package.
For those with greater needs on account of self-employment or business income (such as from freelancing or gig work), TurboTax Self-Employed provides everything in the Premier version as a baseline but also adds additional support for many self-employment tax deductions of note like the home office deduction (both standard and simplified), additional deduction assistance with special features for freelancers and independent contractors.
Of special note, TurboTax Self-Employed can come paired with a one-year subscription to QuickBooks Self-Employed through purchasing the company's Tax Bundle. The software proudly features a useful expense-tracking feature through QuickBooks (think the ability to snap pictures of receipts and track mileage via your smartphone).
If you don't feel you can handle all this power by yourself, or if you think you might need some help understanding the tax laws as you file, you can seek out the assistance of a professional tax preparer through two higher-tier service options: TurboTax Live and TurboTax Live Full Assistance.
TurboTax Live offers a one-on-one review with either a CPA or enrolled agent before you file to assist with your return. You can have unlimited, on-demand advice, depending on your needs. These tax professionals will also assist with reviewing your return before you file.
Simply make an appointment to fit your schedule or request a live talk. (Don't worry, you don't need to look your best. They can't see you, only you can see them; they just have a view of your screen to provide better guidance). Also, you can receive tax advice all year with the Self-Employed version, providing better financial planning.
If you'd like a tax expert to prep, sign, and file your taxes for you, you'll need to upgrade to their highest tier: TurboTax Live Full Service. With this highest level of service also comes the highest level of pricing. (See box below for full pricing details.) While pricey, these are often cheaper options than using a tax professional outside of the software package.
Regardless of your service tier, when touring through the tax software and preparing your tax return, the program provides numerous simplified prompts on what to do with each section. These messages aid you in preparing your return correctly and smoothly. Along the way, TurboTax's software performs regular checks to see if you qualify for numerous tax deductions and credits based upon the information entered into the tax preparation software.
For those filing a basic return (i.e., only claiming the standard deduction without further adjustments) on a Form 1040, TurboTax allows you to file your federal and state taxes for free. However, for those who wish to itemize their deductions or use some of its other, more-powerful features, they will need to consider upgrading to some of TurboTax's other paid versions.
TurboTax pros
High-powered tax filing software capable of handling most taxpayers' needs.
Includes tiered-access to tax professionals.
TurboTax cons
Pricey software solution, depending on needs.
Some product support features aren't as useful on lower tiers, often necessitating upgrading to a higher price tier to get the service you need.
TurboTax does not reveal the full cost of your return until the end of the process, sometimes resulting in sticker shock on more complex filings.
See our TurboTax review.
Related: Tax Preparation Checklist [Get Your Tax Documents In Order]
TurboTax Alternatives—Our Top Picks
---
Best TurboTax Alternatives [Best Tax Software Competitors]
H&R Block (Best Tax Software for Complicated Returns)
---
Available: Start your return
What H&R Block Deluxe can do: Everything handled by H&R Block Free; additionally, can manage itemized deductions (Schedule A) and HSA distributions (1099-SA).
What H&R Block Deluxe can't do: Deductions and expenses from side hustles or self-employed work (Schedule C), capital gains and losses (Schedule D), rental property income (Schedule E).
H&R Block is one of the top TurboTax alternatives, especially as it pertains to tackling more complicated returns. That's because H&R Block combines its online tax preparation software with its extensive network of many tax professionals.
In fact, you have the ability to begin working with the software to prepare your return and then choose to visit a local H&R Block tax professional to finish the tax filing process. This can happen at any point in the tax return preparation process should you need in-person assistance and allow for smooth information transfer. Depending on your tax professional needs, in-office visits are available for an additional fee.
H&R Block offers a free version which is more robust than the other tax software versions reviewed here. H&R Block's version allows you to claim the child and earned income tax credits, student loan interest, and retirement and Social Security income.
As an additional feature, H&R Block's tax preparation software allows you to upload PDFs of your tax forms to make the data input part of the tax return quick and simple.
H&R Block pros
Offers the chance to do your own return but has in-person professional help available as needed for a fee.
Offers Refund Advance Loans to tax filers who will receive a refund but may need money sooner, especially those who claim the earned income tax credit and must wait until mid-February.
Preparing Schedules 1-3 is included in the free version of the software
H&R Block cons
Is more expensive than many competitors.
In-office assistance is available, though pricing can be steep if you have a simple question to answer.
See our H&R Block review.
Related: Does My Child Have to File a Tax Return?
Cash App Taxes (Best Free Tax Software for Semi-Complex Returns, AGI > $73,000)
---
Available: Start your return
What Cash App Taxes can do: Handles most tax situations—for free.
What Cash App Taxes can't do: Doesn't offer access to tax professionals for preparing your tax return, nor handle multi-state income tax return filing or if you earned foreign income. Can't handle business taxes and doesn't offer import of trade activity (such as crypto or stocks), requiring you to input these transactions manually, one-by-one.
Cash App Taxes is the former Credit Karma Tax preparation software platform that the Justice Department required Intuit to divest before completing its acquisition of Credit Karma in 2020. Now, the completely free tax software platform is offered by Square under the Cash App Taxes brand.
It features a basic, no-frills tax platform designed to handle state and federal taxes for free—no matter the complexity of your tax situation. The only snag? No professional tax assistance or preparation is made available through the platform. So, you'll simply need to grab your necessary IRS forms and begin preparing your own return. If you know what you're doing, that makes Cash App Taxes the most affordable tax filing software on the market as there are no hidden fees or charges. They offer the same types of guarantees around tax refund accuracy, getting you your maximum refund and even provide you with audit defense—all free of charge.
If you're not in need of a tax pro, that makes Cash App Taxes one of the top TurboTax alternatives for DIY filers, in our estimation. It can handle everything from self-employment income to investment income, crypto transactions, business expenses, health savings account contributions and distributions and more. Consider Cash App Taxes if you feel comfortable in the driver's seat for preparing your own tax return.
Cash App Taxes pros
Completely free tax software, no hidden fees or charges
Offers up to six-day advance of any tax refunds through a Cash App account
Cash App Taxes cons
No available tax pro assistance or advice available
Related: Federal Tax Brackets and Rates
H&R Block Free (Good Free Tax Filing Software for Simple Returns, AGI < $73,000)
---
Available: Start your return
What H&R Block Free can do: Income from wages (W-2) and unemployment income (1099-G), income from bank interest (1099-INT) and dividends (1099-DIV), student loan interest (1098-E), Schedules 1, 2 and 3, Child Tax Credit (1040, Schedule 8812).
What H&R Block Free can't do: Store tax returns for six years, child and dependent care expenses (Form 2441), Itemized deductions (Schedule A), deductions and expenses from side hustles or self-employed work (Schedule C), HSA distributions (1099-SA).
Let's get straight to it: What exactly qualifies as a "simple" tax return? For the purposes of this review, I define it as a return with only salary income from a Form W-2 and minimal added income sources (i.e., interest or dividend income of $1,000 or less); only claims the standard deduction (nothing is itemized); and potentially qualifies to claim the refundable Earned Income Tax Credit or Child Tax Credits.
In other words, very minimal time investment needed to prepare your return and little complexity in your tax circumstances. Hence "simple."
And while some tax filing software packages come jam-packed with features (hello TurboTax Self-Employed), you don't always need to bring a gun to a knife fight. Sometimes simple circumstances call for simple solutions. In the world of tax preparation software, the best free tax software undoubtedly is H&R Block Free. This version handles simple returns at a reasonable price and still brings the user-friendly design and format the more powerful version provides.
Stated succinctly: The H&R Block Free version stands out among its peers.
To illustrate, most free software only allows you to prepare and file your Form 1040 with a few tax credits (i.e., earned income and child tax credits) should you qualify. The H&R Block Free version sweetens the deal by also allowing you to prepare and file Schedules 1, 2, and 3—very common forms many taxpayers need to file their returns.
H&R Block Free grants you access to report (though not calculate) important items like business income and expenses, alimony and child support, deductible student loan interest, specific retirement contributions, the alternative minimum tax (though not likely something you will encounter using the Free version since this has a complicated set of items for calculating), the tax credit for dependent care expenses, the Lifetime Learning Credit, and the Saver's Credit. The software allows you to include this information in its free version; no other competitors we reviewed do the same. You're getting more for less (or nothing)!
The H&R Block Free version also carries the intuitive Q&A format and provides an easy to use interface. If you don't have all of your information gathered at once and wish to fill out sections in a different order than it requests information, you can skip around and keep track of your progress in the top banner display.
H&R Block Free pros
Offers ability to prepare Form 1040 plus Schedules 1, 2, and 3—more than most other free versions.
If you're due a refund but need the money sooner—especially applicable to those who claim the Earned Income Tax Credit and must wait until mid-February—you can receive a refund advance loan on a debit card.
Comes with free audit support with additional assistance from the company's Worry-Free Audit Support, providing direct contact with an enrolled agent.
H&R Block Free cons
In-office service price is a value if you have several questions you need answered, but potentially not worth it if you only have one or two questions.
Can't handle factors such as investment income, rental income, crypto income, self-employed income, etc.
Related: How Are Social Security Benefits Taxed?
e-File (Best Tax Software for Value)
---
Available: Start your return
What e-File Deluxe can do: Everything handled by e-File Free Edition; additionally, can deduct mortgage interest (Schedule A) and retirement income (Form 1099-R) for filers with up to $100,000 in income.
What e-File Deluxe can't do: All itemized deductions (Schedule A), business income (Schedule C)
On cost, e-File compares favorably to competitors reviewed here, amounting to half the price of many comparable programs. And e-File has captured market share primarily by offering its product at a low price point.
To many, it demonstrates remarkable value. The product offers a free basic federal e-file, preparing your federal return for free, and then a competitive price per state return. However, there are stipulations for meeting these low cost hurdles. In particular, you must earn less than $100,000, be under the age of 65, and also be single or married, filing jointly with no dependents.
e-File pros
Great budget pick. Cost-effective if you meet the restrictive criteria for its free product.
Its premium product costs less than half the costliest TurboTax product.
Best for people with very simple tax situations.
Full phone and online support with Deluxe and Premium products.
e-File cons
Simpler design and functionality of its free software version aren't appropriate for a more complex tax situation.
The best option if only looking for bare functionality at the best price. But buyer beware: if you can't handle your tax return by yourself, this might be a poor option between its functionality and lack of assistance options.
Considered the best value if you know what you're doing with your return and have little doubt about the forms needed or positions you plan to take.
See our eFile review.
Related: Do You Have to File Taxes This Year?
TaxSlayer (Best Tax Prep Software for Ease of Use)
---
Available: Start your return
What TaxSlayer Classic can do: Everything in TaxSlayer Simply Free, additionally can handle all individual and joint taxpayer situations without business or self-employment income
What TaxSlayer Classic can't do: Can't handle business, self-employment income
TaxSlayer has some easy-to-use features that make it a great elementary-level tax software to use. The software includes videos to explain each step of the process, associated definitions, and resources to answer your questions if they should arise.
TaxSlayer appears to be the best option if you have a high level of comfort doing your own taxes and don't have a desire to pay full freight for some of the more powerful software packages mentioned above. It doesn't come equipped with the flash of TurboTax or H&R Block, and it doesn't charge for assistance. (Though should you want to skip the line and get help more quickly, you can skip the line with the TaxSlayer Premium tier, at a more affordable price than competitors' similar products.)
Where TaxSlayer differs, aside from price and design, is how it prices its products. In fact, TaxSlayer chooses to price its offerings in line with the level of support you need and not what each level of software can do. In other words, the cheapest and most expensive software packages from TaxSlayer offer the same functionality, just different levels of support. Nearly every tax form and situation comes available with all versions and can handle tasks as important as itemizing deductions, claiming credits, tracking investment income, capital gains and losses, rental income and more. One exception is if you have business or self-employment income to report; this requires upgrading to TaxSlayer Self-Employed.
For those with few questions about how to handle their situation nor a desire to prepare taxes with appealing visual effects and on-screen explanations along the way, TaxSlayer pairs an easy-to-use design with value and support if you feel the need to pay for it. The only free support you will receive comes from technical questions and are addressed through email.
The Premium and Self-Employed packages offer "Ask a Tax Pro," where users submit their questions directly through their TaxSlayer accounts. Afterward, TaxSlayer's tax professional reaches out within one business day via phone or email to provide tax help. Unlike the major online tax providers, the tax help does not come with a video or face-to-face encounter.
Of special note: for Self-Employed package purchasers, tax pros specialize in self-employment tax items, providing the best-suited tax help for your situation.
In review, the program does not come with many fancy features, but this could be what makes it so easy to use (and cost effective). Despite this stripped-down look, TaxSlayer gets the job done at an affordable price point. The software option offers free minimal federal tax return functionality and one free state return. Each additional state return costs extra (see box below for pricing details).
TaxSlayer pros
Offers explanatory video tutorials on numerous sections of the return.
Pricing largely based on the amount of support you'll need rather than software capabilities.
Unlimited phone and email phone support to answer tax questions.
TaxSlayer cons
Not a very sleek look or feel; employs a minimal design.
Stripped-down capabilities make the software less suitable to more complex tax returns.
See our TaxSlayer review.
Related: 11 Ways to Avoid Taxes on Social Security Benefits
TaxAct
---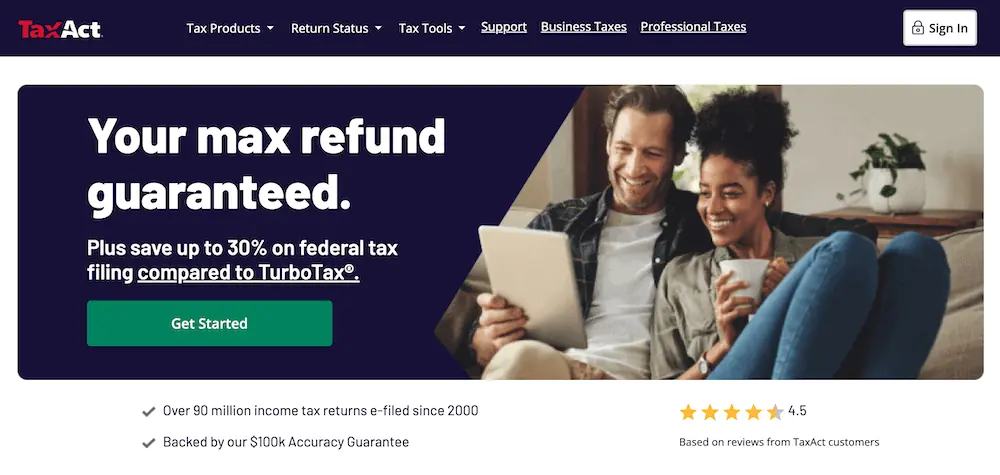 Available: Start your return
What TaxAct Deluxe can do: Everything in TaxAct Free, additionally can handle itemized deductions (Schedule A), child and dependent care credit, student loan interest deduction, mortgage interest deduction, health savings accounts (1099-SA)
What TaxAct Deluxe can't do: Can't handle business, self-employment income
TaxAct is a lower-cost tax software program suitable for simpler returns. It offers most of the standard options found in most tax filing software, including being able to import your previous year's return, as well as this year's W-2 and some 1099s. TaxAct does offer numerous planning tools and calculators, alongside suggested tax deductions and credits that self-employed individuals will find of use.
When lining up TaxAct's products against those of H&R Block and TurboTax, you might not find them as visually appealing, nor will they wow you with all the bells and whistles. However, TaxAct makes up for this shortcoming by offering far more competitive pricing and delivering good functionality.
Finally, much like other online tax software companies, TaxAct provides a couple backstops. For one, if TaxAct's software causes either a larger tax liability or smaller refund than you receive using the same data through another tax-prep product, TaxAct claims it will refund the difference in the refund or liability (up to $100,000) and refund any applicable software fees. TaxAct also offers to cover any legal costs or penalties up to $100,000 that accrue as a result of using their system and claiming an errant tax position. Another feature (for a premium price) offered through TaxAct is their Audit Defense program, which offers a comprehensive response to any possible IRS audits.
TaxAct pros
Good functionality at a fair price.
Offers protection against not receiving your maximum refund.
TaxAct cons
Not geared toward more complicated returns.
See our TaxAct review.
Related: How to Give Stocks as a Gift in a Tax-Efficient Way
IRS Free File Program and Free File Fillable Forms (Best Free Tax Filing Software, AGI <$73,000)
---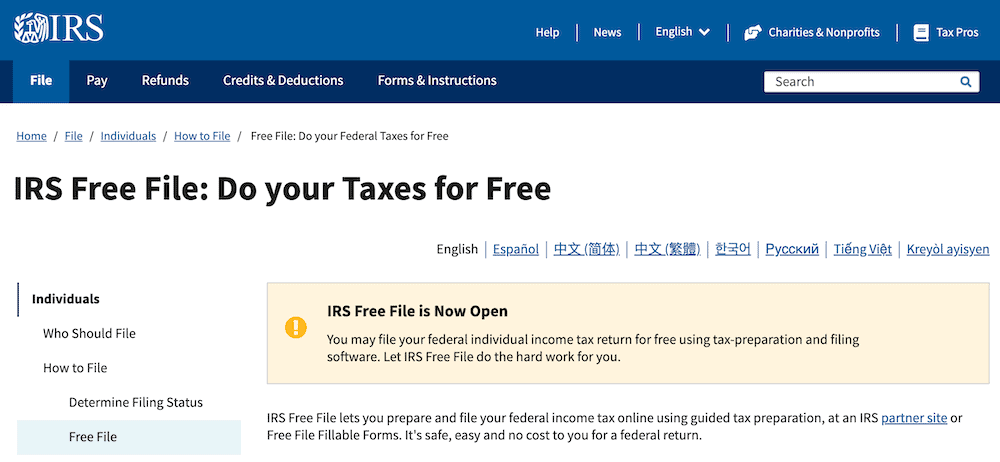 Available: Start your return
What IRS Free File and Free File Fillable Forms can do: Free File handles all federal tax situations for free if your AGI is less than $73,000 (Free File); if you can do your own return, no income limits to do your own tax return (Free Fillable Forms).
What IRS Free File and Free File Fillable Forms can't do: Free File handles all federal tax situations but does sometimes require you to pay for state tax return preparation depending on tax software company selected as part of the program; no limitations on Free Fillable Forms.
Each year, the IRS partners with tax preparation companies to offer free federal tax filing to individuals who make less than $73,000 in adjusted gross income per year. You can select from up to eight tax software companies to prepare your federal tax return for any situation. One catch: you might need to pay for your state return, depending on the software package you choose. Additionally, you can't be offered any financial banking products as part of the experience. For example, if you need a refund advance, you'd need to apply for one of the paid programs above.
If you want to do your returns by yourself, you can use the IRS's Free Fillable Forms—there is no AGI threshold to meet. This doesn't include state or local tax forms, however. You'll also need to make sure the numbers pencil out; you won't be able to make changes once you submit without filing an amended return.
IRS Free File Taxes and Fillable Forms pros
Free federal returns.
Offers access to eight different companies' software packages to prepare your return.
IRS Free File Taxes and Fillable Forms cons
Can't access banking products you might receive through paid programs (e.g., refund advance).
May need to pay for state tax return preparation.
Can encounter math errors if using Fillable Forms and filing taxes by hand.
Related: How to File a Tax Extension [Postpone Taxes to Oct. 16, 2023]
What Is Tax Filing Software?
---
To make your life easier when complying with the sometimes-onerous tax return standards in the United States, tax preparation software compiles the numerous rules and regulations for federal and state income taxes for you to prepare on your own computer and time.
You can use tax software either online or have it directly installed and run on your computer. Both versions come equipped with prompts, forms, and information to assist individuals and businesses prepare their income taxes. Because of the simplicity and on-demand nature of tax software, many choose this path to file their taxes.
Additionally, for those who file their own taxes using tax software each year, most programs allow you to pull in the previous year's return and auto-populate information. Further, tax software eliminates the need for taxpayers to prepare their returns on actual forms.
Instead, after inputting your required information, the tax software populates the fields in the necessary forms on your behalf, removing the headache of navigating different forms and schedules.
The tax software helps by taking simple or complex tax situations alike and providing understandable prompts for the user to submit the necessary information. From here, the software compiles the information and completes the tax return for you. At this juncture, you can either send the completed income tax returns (federal and state) via mail or digitally through e-file, the IRS' preferred manner for transmitted your completed tax return.
And the best part? No math! Computers handle the heavy lifting and eliminate the possibility of simple arithmetic errors. This proves immensely useful when it comes to tax time because no one wants to make mistakes and catch the attention of the IRS. Instead, you want to file your federal and state tax returns without headache or controversy.
Related: