Apartment buildings with a video intercom system are more secure, save property managers time, and generally make tenants happier. However, as these systems become increasingly popular—and thus more companies put more intercom products on the market—it's becoming increasingly challenging to sift through the competition and pick the best one.
Allow us to lend a hand.
Today, we're going to explore the best apartment intercom systems that property managers should consider. We will help you decide which intercom is the best fit for your apartment buildings by going over the pros and cons of each system, features, use cases, product/installation costs, and much more.
Best Video Intercom Systems for Apartments—Our Top Picks
---
The Best Video Intercom Solutions
---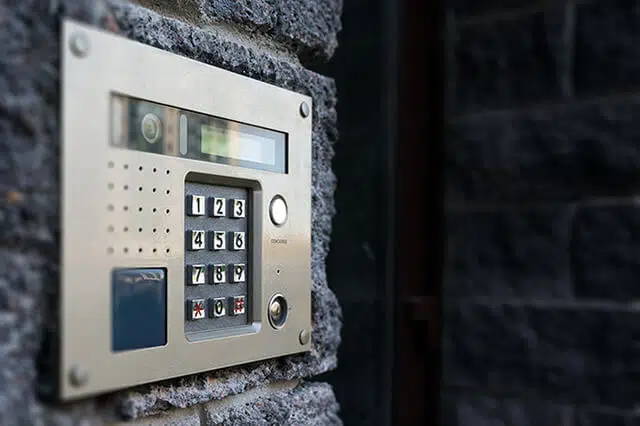 Remember: As we're going through each of these video intercom systems, pay close attention to features you require at your own properties. While ratings are in part determined by wealth of features offered, the solution with the most features might not necessarily be the solution with the features you need.
1. Swiftlane Video Intercom Systems for Apartments
---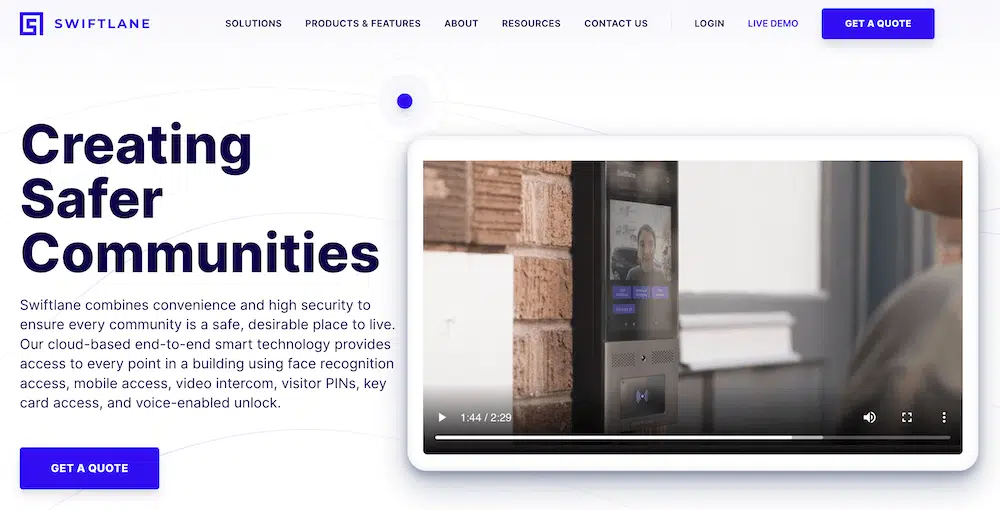 Swiftlane's apartment entry system provides a large variety of methods for how tenants, their guests, and workers can enter apartment buildings:
Residents can go inside their homes with facial recognition access, just like how they unlock their phones.
Residents can also use the Swiftlane app to open the door with their voice.
Through the Swiftlane app, they can also enter by holding their phone up or just letting the system detect the phone in their purse or pocket.
Anyone who prefers a more old-school method can use an assigned PIN or keycard. (Building managers or tenants can also let people in remotely by providing a temporary PIN.)
Swiftlane Use Cases
1. Remotely allowing staff entry
Property managers and landlords are busy and can't always be at apartment buildings to let in maintenance workers, cleaning staff, and other contractors. But for safety reasons, they also don't want to give workers unlimited access to the buildings.
Swiftlane's apartment building entry system has a solution: Contractors can be given a PIN that can only be used within a designated time frame.
2. Tenants who forget keys or fobs
Tenants forget their keys. It happens. And it's frustrating for both the tenant, and whoever has to let them into the apartment building.
Fortunately, they can get in without a key via several methods. They can use the Face Recognition Access Control system by looking into the SwiftReader. Alternatively, they can enter with their phones using the Swiftlane mobile app, which is available for both iOS and Android. They can open the door from within the app, put their locked phone close to the reader, or let the signal be detected from the phone in their pocket.
And if all else fails, they can simply type in an assigned PIN.
3. Tenants need to let guests in remotely
A tenant might need to let others in without being able to physically go to the door—maybe they're in bed or out of town, or maybe there's an emergency.
With Swiftlane, tenants have the ability to remotely unlock the door from anywhere. They can have visitors use the video intercom system or just the audio version so they know who is at the door. Then, residents can let them in without moving.
Alternatively, tenants can create single or multi-use codes to let others into the apartment building. Creating a one-time-use PIN ensures the person can't access the building again later. This is preferable to having tenants hide keys for pet sitters and other visitors.
Features
1. Multi-tenant video intercom
Swiftlane's video intercom system stops tenants from accidentally letting unwanted people into the building.
Too often, people buzz all of the apartments in a building, knowing that someone will admit them. Furthermore, sometimes tenants need to let someone in when they aren't home, which a buzzer system doesn't allow.
Using the video system, a visitor finds the person they want through the touchscreen directory. The residents get a video or telephone call. They can visually verify the person, with 1080p HD video, before letting them in, even if they aren't home. The unlimited photo log of visitor activity heightens security.
2. Mobile app access
Forget your keys? Swiftlane's mobile app access lets you unlock doors straight from the app. No free hands? No problem! You can use Siri voice commands to unlock your doors without needing to dig for a key.
You can even unlock the doors remotely to let in someone who is walking your dog, watering plants, or needs access for another reason. It's safer to remotely let visitors in yourself rather than hiding a key that could get lost or stolen.
3. Touchless facial recognition access
Tenants can enroll their faces through the Swiftlane mobile app and access the building with face recognition. The technology has advanced anti-spoofing via 2D and 3D depth data. Tenants don't have to worry about forgetting keys or fobs and can get in much easier when carrying heavy items.
Swiftlane Pros
Vandal and impact protection guarantee: You can rest easy knowing your system won't be stolen or vandalized. Every Swiftlane apartment intercom system is IK07 impact rated, uses custom security screws, and has a sturdy aluminum enclosure. For extra peace of mind, you can purchase additional theft and vandal protection insurance.
Real-time security monitoring and tailgating detection: "Tailgating" is a term used in the security sphere to describe an unauthorized person following an authorized person into a secured area. In this situation, it would be a stranger entering one of your apartment buildings after someone who lives there or a guest. The authorized person entering doesn't realize the person who came in directly after them didn't have permission to do so and likely assumes it's another tenant's guest. Swiftlane has tailgating detection to prevent break-ins and sends automatic tailgating alerts. And the cloud-based dashboard lets you see door access in real time to stop any unauthorized individuals.
Streamlined operations for property managers and landlords: Swiftlane's smart video intercom systems don't require a property manager or landlord to be on-site at any time. Property managers can remotely add or remove tenants from the dashboard and give temporary PIN access to vendors and maintenance workers. They can create single-use PINs that expire after five minutes or multi-use PINs scheduled during a timeframe when people need access. The process is intuitive. The website says it can be easily learned in 10 minutes; it didn't take us much longer than that.
Swiftlane Cons
No in-unit wall mounted intercom receiver. Calls must come through a mobile app, a landline phone, or a tablet.
Newer company: Swiftlane was founded in 2019, and thus it doesn't boast nearly as long a track record as many of its competitors.
How Much Does Swiftlane Cost?
Depending on the model and features you want, a Swiftlane video intercom costs between $1,300 to $2,200. Interested parties can receive a quote based on the number of buildings, number of entry doors, and number of units.
Related: Best Property Management Software for Landlords [Free + Paid]
2. ButterflyMx Video Intercom
---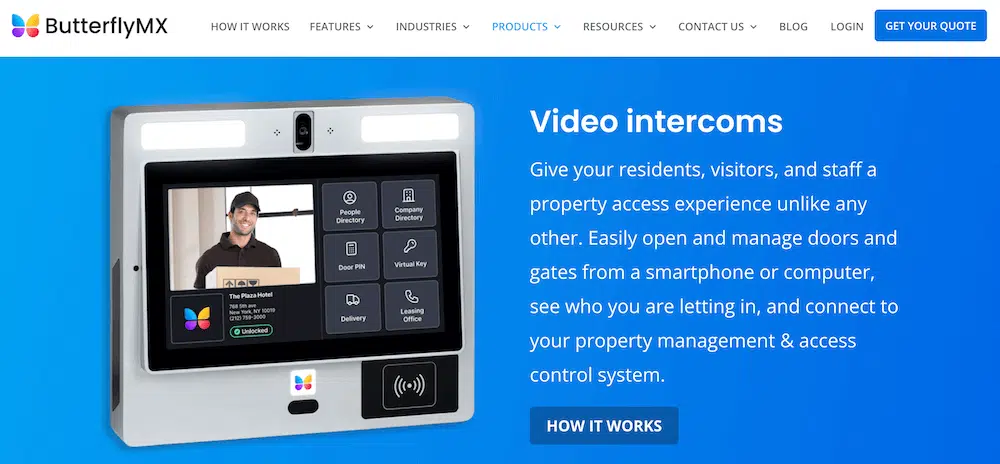 ButterflyMX simplifies building entry with its smartphone app and property management dashboard. Residents can enter the building with a simple phone swipe. They can create QR codes and delivery pins to provide others access (and are told when these are used).
Each door entry is logged with a photo, the date, and the time, so property managers can easily monitor live video and sort through past logs.
ButterflyMX Use Cases
1. Gated community access
Rather than hiring someone to monitor entry into a gated community, ButterflyMX's wireless intercom system makes it possible for residents to let their own guests through the gate. Video allows them to visually confirm their visitor has arrived and let them into the community. A property manager can audit gate releases, buzz workers in, and revoke entry if necessary.
2. Catching unauthorized entry
Property managers can see date- and time-stamped photos of people who enter the building. Residents can also review door releases to their homes with date and time stamps. In the unlikely event someone unauthorized enters the premises, there is ample evidence and documentation.
3. Hands-free entry
While there are several convenient ways to enter a building with ButterflyMX's wireless intercom system, perhaps the easiest is through voice commands, which work via voice-enabled assistants such as Siri and Alexa on mobile devices and even an Apple Watch. A resident carrying heavy items, which may even block their face, can still enter the building by giving the demand to their device.
Features
1. Audit trails
Property managers can view live video and date- and time-stamped photos for 365 days. In the event someone enters the building who shouldn't, ButterflyMX makes it easy to see who and when.
2. Smartphone (or regular phone) property access
Tenants can enjoy the ease of controlling who enters with their smartphones. Expected guests can use virtual keys that can be revoked at any time. Unexpected guests can video call so tenants can confirm who is there before opening the door with a swipe or voice command.
Through their smartphones, tenants can also review door releases with date- and time- stamped photos and unlock a key-fobbed elevator. If a smartphone isn't nearby, an Apple Watch works as well. Even residents without a smartphone can choose to receive a regular phone call and press 9 to open the door for a guest.
3. Package delivery
For buildings with a package room, delivery workers can enter their designated PIN to drop off a package. The resident receives a notification when the package has arrived.
ButterflyMX Pros
Balance of safety and convenience: People who need to enter the building can do so in several ways, such as swipe-to-open, voice commands, video calls, and virtual keys. Strangers have no building access, and in the event they manage to tailgate in, live video and time-stamped photos can identify the individual.
Fast and easy installation: It's simple to get this apartment intercom up and running for residents. There is no need for the building wiring and in-unit hardware that traditional video systems require, which can cut down on installation costs. The smart intercom only needs internet, power, and door strike. However, the installers do need to be ButterflyMX-certified.
Trusted and highly rated company: ButterflyMX is trusted by more than 7,500 communities, 650,000 people, has thousands of five-star ratings online, and recent reviews are very positive.
ButterlyMX Cons
No loitering or tailgating detection: Unauthorized people who want building access may loiter around the premises, then follow or "tailgate" another person into the building. While ButterflyMX's security features can help identify tailgaters after the fact, it does not include tailgating detection.
No facial recognition: People have become used to opening their phones and apps with just their faces. ButterflyMX does not offer this feature, however, unlike some competitors.
How Much Does ButterflyMX Cost?
ButterflyMX systems have different prices depending on whether it's Surface (mounted on a wall or pedestal) or Recessed (mounted into a wall or pedestal) and what size you want.
A 7-inch Surface is $3,995, while the 11.6-inch Surface is $5,995. A 7-inch Recessed is $4,495 and the 11.6-inch Recessed is $6,495. You can request a free quote.
Related: Best ButterflyMX Alternatives
3. LiftMaster CAPXLV Smart Video Intercom
---

The LiftMaster CAPXLV apartment intercom system doesn't overdo it with endless features, but instead focuses on perfecting the main functions tenants need most.
Tenants can view live video of visitors and either use their smartphones to let people in or make virtual guest passes for them ahead of time. Don't want someone to come in? Tenants can deny access. The system also sends out alerts if a suspended code is used or an active code is being used too much.
LiftMaster Use Cases
1. Unexpected resident guests
When tenants have a guest unexpectedly visit, the tenants can confirm the guest with the 135⁰ view video camera. Once they see who it is, they can grant access from the myQ Community app.
2. Planned resident guests
When a tenant knows a visitor is coming and the tenant won't be home or will be too occupied to grant access, they can virtually send a guest pass so the visitor can enter.
3. Unauthorized re-entry
Let's say the property manager gave a contractor an entry code to access the building for work. The property manager ends up needing to fire the contractor and suspends the entry code afterward. Not only would the contractor not be able to enter the building with a suspended code, but the property manager would also get an alert if the person attempted entry.
Features
1. Remote programming and activity monitoring
Property managers and tenants can monitor the door activity in real time through live streaming. They can also look at past entry data. Managers can also grant and revoke access codes and modify directory entries.
2. Property management software integrations
LiftMaster CAPXLV has integrated partnerships with Entrata, Yardi, RealPage, and more.
3. Grant/deny access from the myQ Community app
Tenants can easily identify visitors at the entrance. If they want to let them in, they can unlock the entrance right from their phones.
Pros
LiftMaster's other popular products: LiftMaster automatic garage door openers and commercial gate openers are very popular. If you already use and love this brand's products, it might make sense to stick with them for your apartment intercom needs as well.
Reliability: The local system memory means entry will work even if the internet is down. Data is protected, too.
Data storage: The system stores video clips every time someone accesses the building. These clips can be stored in the cloud or locally.
Cons
No landline calling: Residents must have a smartphone to use this product. Some competitors have a landline calling option for residents who prefer that method, but LiftMaster doesn't have this ability.
No tailgating feature: When someone enters with a guest pass, an unauthorized person might follow them inside. This can be seen when reviewing past entries, but it won't automatically notify anyone of suspected tailgating.
How Much Does LiftMaster's CAPXLV Smart Video Intercom Cost?
Prices for this apartment intercom system may vary depending on the dealer. Clicking the "Dealers Near Me" button on the LiftMaster website shows dealers in your area. You can contact nearby dealers for an accurate quote. The price typically is a little higher than $3,000.
Related: 7 Best Banks for Real Estate Investors + Landlords
4. Latch
---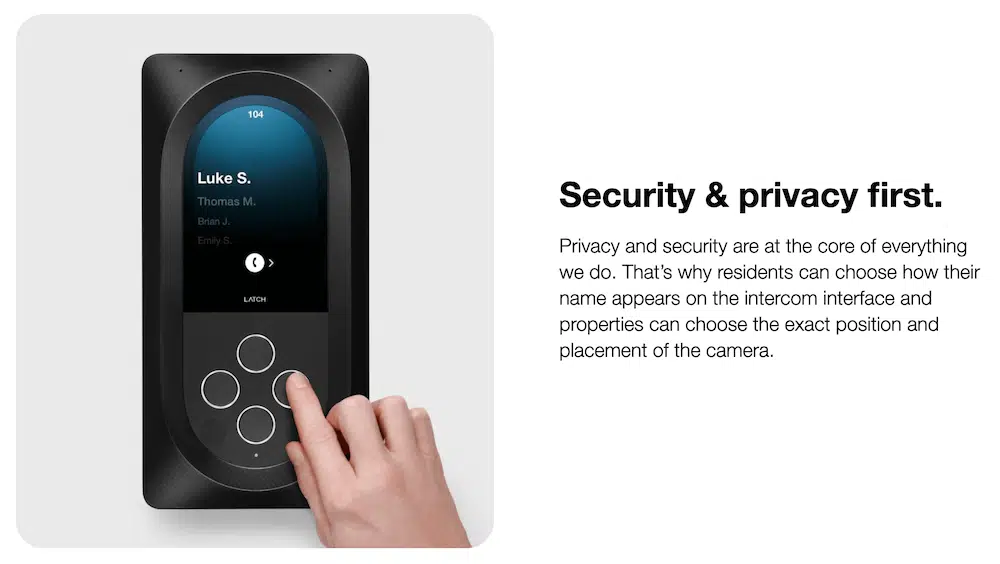 The Latch intercom system is durable and intuitive. It's simple for residents to receive audio or video calls and unlock the door remotely for approved guests.
Latch Use Cases
1. Extreme-weather access
Latch can operate even with temperatures as low as -22°F and as high as 140°F. The tactile buttons are easy to press while wearing gloves.
2. Unexpected deliveries
The Latch Delivery Assistant's virtual doorman makes sure delivery workers can get in when necessary. It notifies tenants that a package has arrived. And if a Latch Camera is installed in a package room, it can monitor that room as well.
3. Tenants don't use legal name
There are many reasons a person might be known by a name other than their legal name. For example, foreign exchange students sometimes decide to go by more Americanized versions of their names. Other people go by middle names or have gone by a nickname so long that even long-time friends forget the legal name. Some people require extra privacy and don't want their full first and last names listed in a directory.
Latch lets tenants decide what name to have listed in the directory for increased security and to reduce confusion for guests.
Features
1. Enhanced audio
The microphone has automatic sensitivity adjustment, echo cancellation, dual microphone, and noise reduction.
2. Instantly connects with other Latch devices
Having all devices connected means a property manager can control all access from a single platform.
3. Tactile buttons
While similar products use touchscreens, Latch uses tactile buttons that are intuitive and easy to use, even when wearing gloves.
Pros
Vandalism-proof materials: The sturdy materials used include stainless steel, impact-resistant glass, and glass fiber-reinforced resin. The screen uses Corning Gorilla Glass 3.
Flexible connectivity: The intercom can be connected via Ethernet, cellular LTE, or Wi-Fi.
Custom resident names: Tenants can decide how their names appear on the intercom interface. This eliminates confusion if a tenant never uses their legal name socially and goes by a middle name, for example. It can also help with privacy if a person prefers to only display the first letter of a first or last name.
Cons
Only one-way video calls: Several competitors offer two-way video calling in case the tenant wants to be seen.
No entry log: Unlike competitors, Latch doesn't take photos with date and time stamps of people who enter the building. If an unauthorized person enters the building, there isn't any evidence of who the person is or when they entered.
How Much Does Latch's Video Intercom Cost?
Potential customers must contact Latch to purchase. Latch doesn't list current prices, but the visitor entry intercom costs $2,999, and the company charges a $2 per unit per month software fee. Price may vary depending on contract length and number of units.
Related: How to Find Good Tenants With Online Rental Listings
5. AlphaTouch Cloud-Based PoE Video Intercom System
---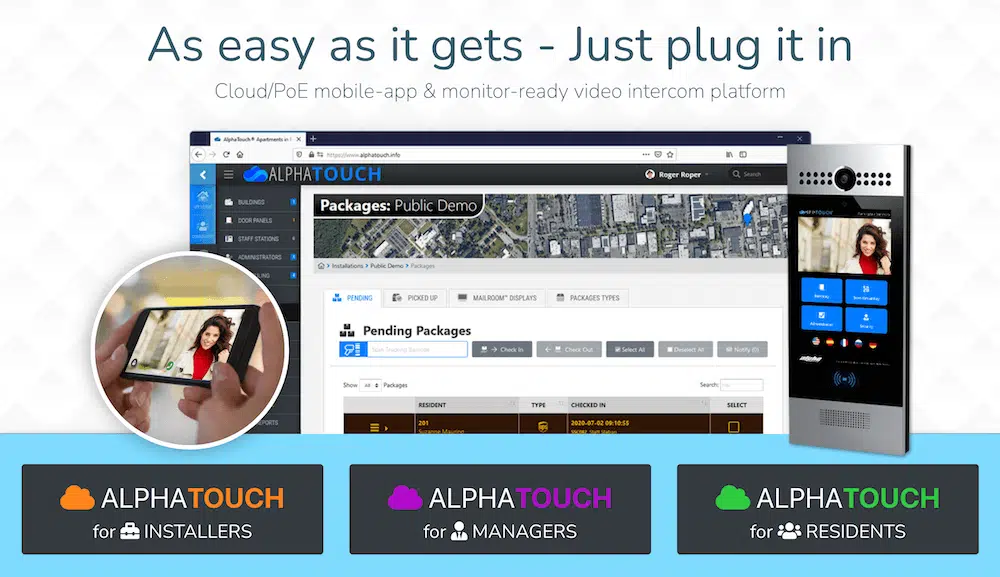 The AlphaTouch Cloud-Based PoE Video Intercom System uses a touchscreen door entry system. Guests can two-way video call tenants, who receive the call on an indoor monitoring device in the unit or via a smartphone app. Tenants can unlock the door from the app.
AlphaTouch Use Cases
1. Unauthorized attempted entry
When anyone attempts to gain entry to the building, whether successful or not, the system takes a photo of that person and saves it along with other details, including the time, date, resident called, and whether the door was opened.
Let's say someone repeatedly tried to access the building through multiple tenants, but nobody admitted the person. The authorities could be contacted to question that person on why they wanted to enter.
2. Dog walker or house sitter
Tenants don't have to be home to allow visitors entry. They can either have visitors video call and then unlock the door remotely, or create visitor QR codes.
3. Building expansion
Property managers don't have to worry if the number of tenants grows from dozens to thousands. The AlphaTouch system can work with any number of tenants.
Features
1. Easy updates
When software updates are available, the system automatically notifies property managers and residents. Just click to update from anywhere.
2. Visitor log
Any time someone calls a tenant or enters an access code, the system takes a photo and notes the date, time, the tenant being called, and whether or not the door was opened. If necessary, the log can be accessed by the authorities.
3. Time-limited visitor QR codes
Not all visitors need unlimited access. With AlphaTouch, visitors can be given time-limited QR codes to ensure only temporary building access.
Pros
Affordability: While you need a quote to access current prices, AlphaTouch is usually one of the more affordable intercom system options.
Scalability: This multi-tenant intercom system can work with any number of door entry stations and any number of tenants.
Well-established company: Alpha Communications was founded in 1983. The company president and founder has more than 50 years of experience in the industry.
Cons
Missed calls mean no entry: Several reviews from tenants complain that the system sometimes freezes or lags, causing them to miss calls. The guest has to try calling again to gain entry.
No features for easier tenant entry: AlphaTouch's entry capabilities are all focused on making it easy to grant or deny access to visitors. There are no features that let tenants enter the building hands-free, such as voice commands or facial recognition.
How Much Does the AlphaTouch Video Intercom Cost?
You need to get a quote to purchase this apartment intercom. Alpha Communications doesn't list prices for the AlphaTouch system; potential customers must use the website to build a system and request a quote. Also note that Alpha Communications charges monthly fees.
Related: How to Run a Background Check for Rental Property
6. DoorBird
---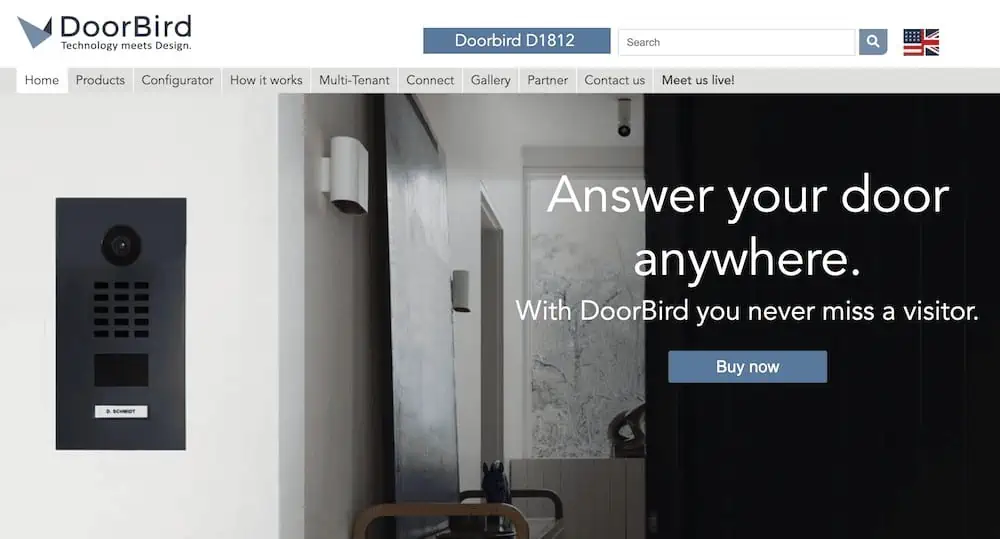 DoorBird is Germany's leading manufacturer of IP door intercoms. Its multi-tenant apartment building system can be used at multiple entrances, elevators, and other rooms of the building.
DoorBird Use Cases
1. Delivery person granted limited access
Delivery workers can be given unique digital keys that only work during designated hours. Outside of those hours, the keys are disabled for improved security.
2. Visitor while tenant is away
Even if a resident isn't home, when a guest rings the doorbell, the resident gets a push notification on their iOS or Android device. The tenant can still talk to and look at the guest and then open the door.
3. Visitors at night
DoorBird's cameras have night vision and the microphone has noise reduction. Even if someone rings the bell at night, a tenant can easily verify if it is a person they know and decide whether or not to let the person inside the building.
Features
1. Remote video call entry
Guests can find the resident of their choice in the digital name directory and ring that doorbell. The tenants get push notifications on their phones and can see and talk to the visitor. Once the identity of the person is confirmed, they can open the door. This works even if the resident isn't home.
2. Remote management
Through the DoorBird WebAdmin, building managers can access all IP video door stations. Without stepping foot on site, they can complete tasks such as updating the names on the digital doorbell.
Managers can also remotely enable or disable unique digital keys for cleaning staff, maintenance crews, and other workers. Digital keys have unique identifiers and the building manager can specify what times it works, the amount of time, and which doors can be opened.
3. Tenant access methods
One way residents can enter is through dual-band key fobs managers can remotely configure. Another method is through the app. Tenants can also use individual PIN codes. If there is just a single unit, a fingerprint module can be used.
Pros
Superior video and audio: DoorBird's cameras use an ultra-wide-angle lens with HD video that has infrared LED for night vision. The microphone has echo cancellation and noise reduction.
Bonus features for tenants: In addition to all of the building entry features, tenants' indoor stations also provide room-to-room communication, weather updates, and concierge call.
Enhanced security: Building access is automatically logged for safety purposes. Any stolen or lost digital keys can quickly be blocked and replaced.
Cons
Requires minimum internet speed (landline): The minimum Internet upload speed is 0.5 Mbps. It's recommended that your network components aren't more than 2 years old.
Maximum of 200 key fobs: Only 200 key fobs can be registered, which may be limiting to larger apartment complexes.
How Much Does DoorBird's Intercom Cost?
You need to request pricing from DoorBird. Door stations run anywhere from more than $600 to nearly $3,200. Indoor stations list for around $550. Expect an IP video door station for multi-tenant buildings to cost around $2,500. The price for the indoor station is around $500. This includes automatic cloud storage of entry photo logs for the most current motion sensor events. Seven-day HD storage requires a $58 annual subscription.
Related: 4 Best Ways Landlords Can Screen Tenants for Rental Property
7. Aiphone IXG Series IP Multi-Tenant Video Intercom
---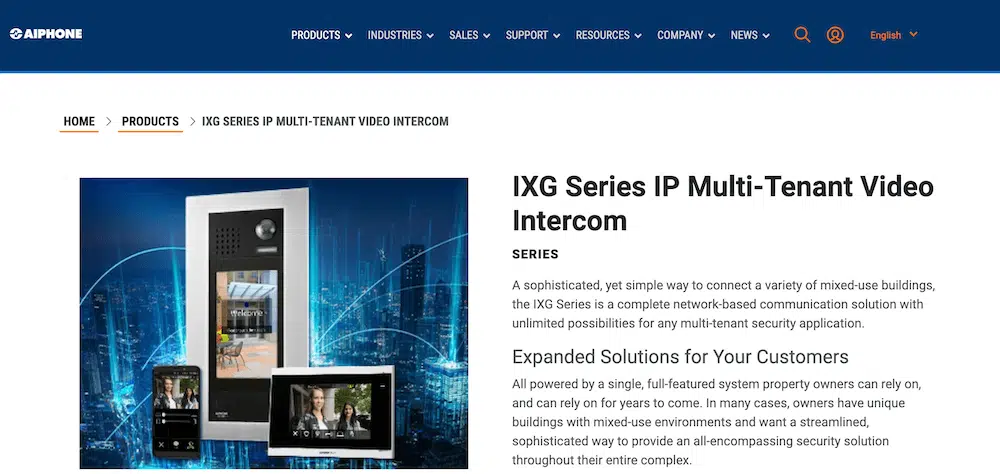 The Aiphone IXG Series IP Multi-Tenant Video Intercom is an excellent choice for mixed-use buildings that need a multi-unit intercom system. It uses a cloud-based app and touchscreen entrance panel, and it provides two-way video from the door entrance.
Aiphone Use Cases
1. Package or food deliveries
When a delivery person arrives, that person can call up to the appropriate unit. The resident can see the person over video and unlock the door.
2. Resident with hearing aid has a visitor
With some multi-tenant intercom systems, a person with a hearing impairment might not hear that a guest is phoning up to be let into the building. Since Aiphone stations are integrated with telecoil, the resident is more likely to hear the call. Two-way video can also make it easy to see who is at the door and communicate further.
3. Visitor forgets number
Friends and family aren't always going to remember a random building code, but they are much less likely to forget a resident's name. Being able to type in a tenant's name is better than having a guest hanging out in the area while they try to contact the resident via other means.
Features
1. Multiple ways to gain entry
Visitors can type in a unit number or the name of the person they want to reach. The tenant can see the person over video (two-way video available) and unlock the door (even remotely). Alternatively, someone with an entry code can enter the code and the door will unlock automatically.
2. Remote property management
It's simple for a property manager to change settings, such as what tenants are in which units, or revoke app access if a tenant's phone is lost or stolen.
3. Telecoil integration for tenants with hearing impairments
A telecoil, or T-coil, is a copper wire built into a hearing aid. When the T-coil is activated, it turns signals into sound. Aiphone's tenant, guard, and entrance stations are integrated with T-coil to assist those with hearing impairments wearing compatible devices.
Pros
Well-established company: Aiphone was established in 1970, meaning it has been around much longer than many of its competitors. The fact that it was ahead of the curve and remains a respected company should instill trust. The IXG IP Multi-Tenant Video Intercom rolled out in 2020.
Scalability: This apartment intercom will support up to 9,999 physical devices and 9,999 apps, making it usable for even the largest rental buildings.
Remote updates: Some apartment intercom systems still require in-person manual updates, but with Aiphone, you can program updates remotely.
Cons
Security vulnerability: TechCrunch recently reported that "Norwegian security company Promon says the bug affects several Aiphone GT models that use NFC technology, often found in contactless credit cards, and allows bad actors to potentially gain access to sensitive facilities by brute-forcing the door entry system's security code." An Aiphone spokesperson did not respond to TechCrunch's requests for comment sent before the article was published. According to TechCrunch, "Aiphone told the security company that systems manufactured before December 7, 2021, are affected and cannot be updated, but that systems after this date have a software fix that limits the rate of door entry attempts."
No touchless entry for residents: Tenants who have their hands full have no hands-free way to enter the building. Other systems have hands-free capabilities, such as facial recognition or voice command.
No time-stamped photos: While the live video is useful, this system doesn't save video or photos of who has entered buildings. In the event of a crime, there might not be enough evidence that a person wasn't permitted on the premises.
How Much Does Aiphone's Video Intercom Cost?
You need to use a third-party distributor to buy Aiphone's apartment intercom system at the manufacturer's suggested retail price (MSRP).
The MSRP for an IXG-DM7-HID Aiphone IP Video Entrance Station is $2,400. This is just for the equipment. Activation, installation, and monthly service fees might come at an additional cost, so always get a quote first.
Related: Best Accounting Software for Rental Properties [Free + Paid]
What Is a Video Intercom System?
---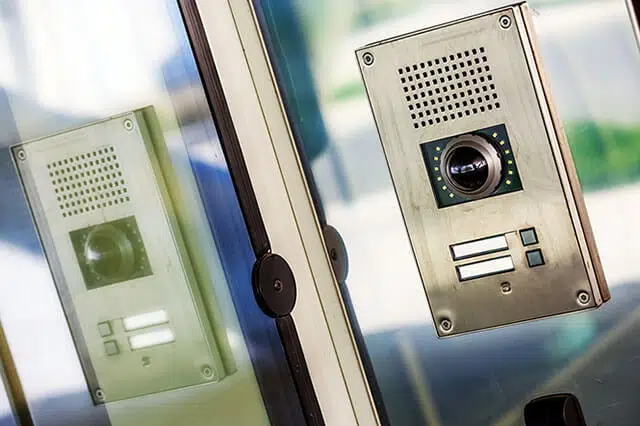 A video intercom system is an electronic device that enables video (and typically voice) communication between two people. Sometimes also called a video door phone or video entry intercom, it is simply an intercom system equipped with a camera that can capture and stream live video in addition to audio.
Building-entry video intercoms provide an extra layer of security by allowing occupants to visually confirm the identity of visitors before unlocking the door for them.
Types of Video Intercom Systems for Apartments
---
1. Wired video intercom systems
Wired video intercom systems use fixed wires or cables to transfer voice and video data packets between two intercom stations. Wired systems can include older telephone entry systems as well as modern PoE (Power over Ethernet) based video intercoms that use Ethernet cables to relay audio and video signals. Most PoE intercom systems are also IP-based devices, meaning they can also relay data over the air via VoIP (Voice over Internet Protocol), Wi-Fi, LTE, and related technologies.
2. Wireless video intercom systems
Wireless video intercom systems need no cables to transmit and receive voice and video data. Some of them have onboard batteries and need no external power connection to operate. Wireless systems can fall under two categories: RF (radio frequency) video intercoms and IP based video intercoms.
3. Telephone entry systems
A telephone entry system is an intercom system that enables visitors at the front door of a building, home, or office to call the inmates and request entry. The system also allows the recipient to unlock the door remotely by pressing a button on the telephone set or tenant station. Older telephone entry systems used POTS (plain old telephone lines) to operate, whereas the latest systems can connect via Ethernet cables as well as wirelessly using VoIP technology.
4. Cloud-based video intercom systems
A video intercom system that operates using cloud software applications and data is known as a cloud-based intercom system. The information and phone numbers of your tenants or employees as well as entry logs and photos are stored securely on the CSP's (cloud solution provider) server. You can access entry data or update user information from anywhere through mobile applications and browsers. With older systems, you have to physically go to the intercom's master station to make changes.
Related: 8 Best Online Rent Payment Systems [Rent Collection Services]
Why You Should Replace a Dated, Wired Intercom System With a Wireless Apartment Intercom System
---
If your intercom system needs frequent repairs, has voice quality issues, fails to open doors, or simply looks obsolete, you should consider replacing it with a latest IP-based wireless system.
A wireless apartment intercom system offers several compelling advantages such as video calling, entrance monitoring and mobile connectivity. Old intercom systems simply don't provide these functionalities.
What Are the Benefits of Installing a Video Intercom System for Apartments?
---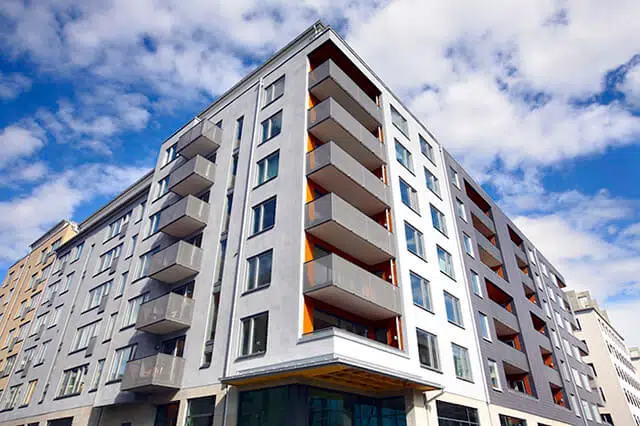 Video intercom systems offer several key benefits that make them indispensable for modern apartment buildings.
Improved overall security
Cloud-connected video entry stations improve general security by allowing the building's inmates to visually authenticate visitors before granting them access. The hardware has built-in video cameras that stream real-time entry footage or photos to mobile devices and browsers, safeguarding the building from trespassers and intruders. Video intercom systems also curb porch piracy by preventing casual thieves and loiterers from entering the building by misrepresenting themselves as delivery drivers.
Night vision
Most video intercom systems have infrared night vision cameras, so you can clearly see and recognize the caller even under low-light conditions or at night.
Mobile app accessibility and access control
Today's IP and cloud-based apartment video intercom systems are accessible through mobile applications, meaning you can receive visitor calls, watch entry video, and allow or deny access from anywhere using the provider's smartphone app.
Remote access control system
Modern video intercom systems come with remote access control features that can be accessed through smartphone applications as well as regular mobile phones and landlines. Swiftlane, for instance, allows users to unlock the door remotely through its mobile app or by pressing 9 on a connected mobile or landline phone.
Wi-Fi, Ethernet, LTE internet-accessible
Video intercom systems offer several connectivity options and alternatives, which make them more reliable compared to legacy intercom systems. Some systems can access the internet and relay calls through fixed Ethernet cables as well as wirelessly through Wi-Fi and LTE. This means the access control and video intercom systems keep working even when your broadband connection is down.
Intuitive system
Modern systems have software architecture and user interfaces that are more intuitive than legacy software. The latest cloud apps and onsite hardware offer plug-n-play functionality, automatic fault detection, and over-the-air software updates, making these systems easier to maintain and operate compared to older audio intercom systems for apartments.
Cloud-based
Cloud-based video intercom systems automatically back up all calls and entry events in a cloud database. Cloud storage protects the data from theft, loss and tampering and allows you to access the video footage in case of any eventuality. You can choose how many days of footage you want to store and can always scale the storage limit. Older systems have on-board memory that is insecure and can only store a limited amount of data.
Better guest management and experience
Contemporary video intercom systems offer multiple access control methods including cards, mobile, PIN codes, and facial recognition. You can use the appropriate credentials to program automatic entry for guests. For example, you can send them temporary QR codes or links that they can scan or click to unlock the door. The system also notifies the host when their guests arrive. Hence, a video intercom system improves guest management and uplifts visitor experience at the apartment buildings and offices where it is deployed.
Identity verification (facial recognition)
Video intercoms with facial recognition provide foolproof entrance security and monitoring while providing a completely touchless and frictionless access experience. For example, Swiftlane offers the option to activate facial recognition for your employees, tenants and guests, so they can unlock the door just by facing the Swiftreader.
Secure package delivery
With audio intercom systems, porch pirates or opportunists can enter the building simply by saying they are delivery drivers. Once inside, they can make away with unattended packages or other items they can lay their hands on. Door readers that stream and record video footage of each caller help dissuade would-be package thieves.
Contactless entry and delivery
Contactless entry and package delivery can be enabled using facial recognition, smartphone, and proximity smartcard-based access control. Modern video intercom systems offer all of these entry methods.
Fewer resident lockouts
Mobile access control systems can lock out residents when their smartphone's battery is drained. Cards can be lost or forgotten, restricting access and causing unnecessary hassle to your residents and staff. Using a video intercom system with facial recognition ensures there are fewer resident lockouts.
Virtual keys
Virtual keys are links or QR codes that you can assign to your tenants and visitors. They can simply click the link on their mobile or scan the QR code with a smartphone camera to gain automatic touchless entry.
How Much Does It Cost to Install a Video Intercom System?
---
The installation cost of a wired video intercom system can vary from $4,000 to $5,000 for a four-unit apartment building to up to five times that amount for large apartment building installations. You can avoid most of this expense if you decide to go for a wireless video intercom system.
What Are the Cost Models of Video Intercom Systems?
---
The cost model of a video intercom system can vary widely based on the type of system you select. Cloud-based systems charge a one-time hardware and installation price along with a monthly pay-as-you-go software fee for availing different services. Other systems charge a per-door and per-user fee; apart from charging separately for video surveillance and other services. Also note that monitoring systems that require a separate access control solution might have costlier installation fees.
How Do Video Intercoms Work in Apartments?
---
Previous-generation intercom systems lived on company servers and were connected to the intercom and locking hardware via LAN (local area network) or regular telephone lines. Modern video intercom systems operate via cloud-connected video readers and/or door controllers. The reader is installed at the main entrance of an apartment building, whereas the controller may be installed anywhere in the building. The reader contains a video camera and can stream live video to tenant stations installed in each apartment as well as to smartphones, regular mobile phones, or landline phones. The recipient of the call can watch and speak to the person at the door and release the door by pressing the unlock button on the tenant station, the smartphone app, or by pressing a predefined digit on a regular phone.
How Do You Use Apartment Intercom Systems?
---
Apartment intercom systems are quite simple to use.
For visitors: You just have to approach the reader and use the touchscreen or tactile interface to browse the electronic directory. Press the call button and the door phone will automatically call that person on the video station or on multiple mobile or landline numbers, depending on the preferences they have set.
For residents: You will receive a tone on your indoor station or an alert on your mobile, along with the real-time video of the person making the call. If you know the person or are satisfied with their credentials, you can simply unlock the door by pressing the button on your indoor station or mobile app.
Other FAQs About Apartment Intercom Systems
---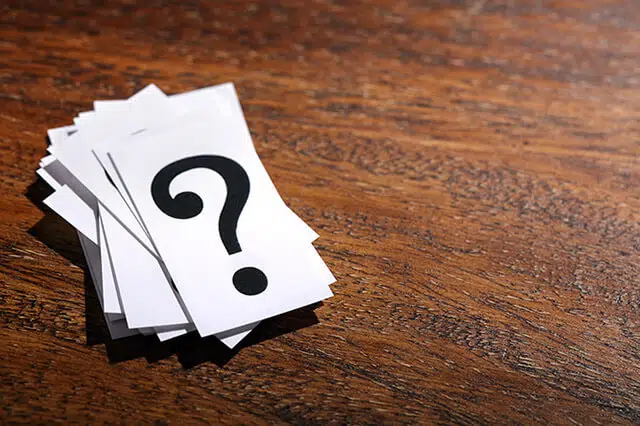 How do apartment intercom systems work with phones?
Traditional apartment intercom systems used a building's regular telephone lines to relay calls to PABX (Private Automatic Branch Exchange) or landline phones installed in each apartment unit. Latest apartment intercoms use SIP (Session Initiation Protocol), WebRTC and VoIP technologies to place calls to mobile phones and PBX phones. This means residents can receive visitor calls and grant access even when they are out of their homes.
Can I use my cellphone as an intercom system?
Yes, you can use your cellphone to receive intercom calls if your home or building intercom system is either SIP-enabled or offers a mobile app for taking calls on the go.
Who should use a video apartment intercom system?
Apartment video intercom systems should be used at small and large multifamily buildings to enhance security, convenience, and communications for residents and visitors. Users of an apartment intercom system can include apartment occupants, their guests, delivery drivers, security guards, and property owners and managers.
Can you grant access with video intercom systems?
Most video intercom systems come with built-in remote access control. After you speak to the visitor and visually ascertain their identity through video streaming, you can unlock the door by pressing a button located on the indoor station, mobile app interface, or by pressing 9 on your regular landline or cellphone, depending on the type of system you are using.
What is the best apartment intercom system?
The best video intercom systems for apartments include Swiftlane and ButterflyMX, which received our overall best ratings. But depending on your need (scalability, durability against extreme weather), some of the other options on this list might be better for your situation.
Related: