What's a good way to evaluate your financial health? Knowing your net worth. And thanks to a growing number of wealth tracker apps, that goal has never been easier.
If you open up your banking app and check out how much money you have in checking and savings, that's part of your net worth—but it doesn't tell the whole story. Your net worth is made up of numerous factors, across varying types of accounts. And manually keeping tabs on all of this to determine your net worth can be difficult and time-consuming.
The good news: You can make things easier on yourself with net worth trackers.
Today, we'll help you start to better understand your net worth. We'll start by showing you exactly what that is, and then we'll explore what we believe are the best net worth trackers available today. After that, we'll answer other common questions about your net worth.
What Is Net Worth?
---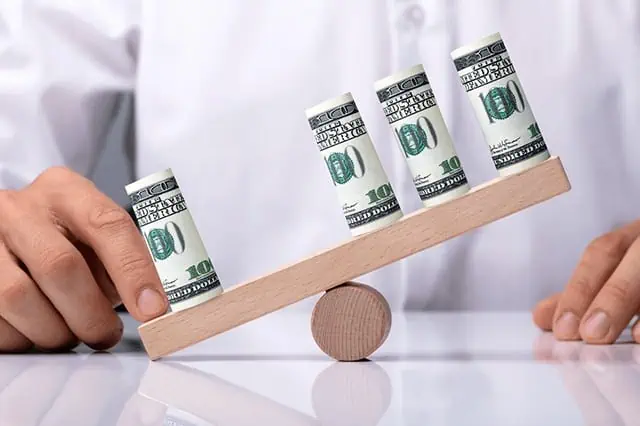 Net worth is a straightforward calculation. You take all your assets, subtract all of your liabilities, and what's left over is your net worth. Or, as a formula:
Assets – Liabilities = Net Worth
Examples of assets include cash in savings, checking, and other accounts; investments (say, stocks and bonds); and equity you have in your home.
Examples of liabilities include student loan balances, car loan balances, mortgages, and credit card debt.
So let's say you don't have much money in your checking account—you still might have a higher net worth than you think if you also hold a lot of high-value investments you could easily sell to raise cash. Conversely, maybe you have a lot of money in your checking account, but that number is low compared to all of your credit card debt. If that were the case, you might have a lower net worth than you think.
Your net worth might be positive, but it also might be negative. No matter what, though, it's an important number to know—which is why you should regularly keep tabs on it.
Wealth Trackers—Our Top Picks
---
| | | |
| --- | --- | --- |
| | | |
| | | |
| | | |
| Free (no monthly fees for tools); Starts at 0.89% AUM for wealth management services | Starter: Free. Plus: $29/mo. Premium: $79/mo. Family Office: $699/mo. (All paid plans billed annually.) | Try plans for 14 days for $1. Then, Kubera Persona: $150/yr. Kubera Family: $225/yr. |
| | | |
Our Top Wealth Tracking Pick
Free (no monthly fees for tools); Starts at 0.89% AUM for wealth management services
High-Net-Worth Portfolio Tracker
Starter: Free. Plus: $29/mo. Premium: $79/mo. Family Office: $699/mo. (All paid plans billed annually.)
Multi-Asset-Class Investment Tracker
Try plans for 14 days for $1. Then, Kubera Persona: $150/yr. Kubera Family: $225/yr.
Best Wealth Net Worth Tracker Apps
---
So, what are the best net worth tracker apps? Below, we list several of our favorites, and explain what makes theme stand out.
1. Empower (Personal Capital Is Now Empower)
---
Available: Sign up here
Platforms: Web, mobile app (iOS, Android)
Empower (Personal Capital is now Empower) has 3.3 million users, some of whom use free tools such as the Personal Dashboard, and some of whom use the Wealth Management service.
Empower's free tools
The free Personal Dashboard makes it easy for people to add all their financial accounts in one place, including credit cards, savings, checking, loans, and tax-advantaged investment accounts.
Empower also provides a free Investment Checkup tool to assess your portfolio risk, analyze past performance, and get a target allocation for your portfolio. The tool will help you identify overweight and underweight sector investments (perhaps you have too much allocated to utilities, and not enough to healthcare, for example) and assess your diversification.
You can even compare your portfolio to both the S&P 500 and Empower's "Smart Weighting" Recommendation, which suggests that investors more equally weight their portfolios across size, style, and sector—unlike the S&P 500, where the biggest stocks have the most effect on the portfolio, and there are huge differences in how much each sector is weighted.
The Empower Fee Analyzer helps you examine the fees you pay in your accounts, whether that's advisory fees, sales charges, expenses, and other costs.
Other investing and personal finance tools include a Savings Planner, Retirement Planner, Financial Calculators, and more.
These services, of course, are also available with Empower's full-service Wealth Management account—along with a number of other perks.
Empower Wealth Management
The Wealth Management plan better suits investors who want a fuller advisory experience. The service pairs automated tools with human management.
After you enter your risk tolerance, goals, time frame, and personal preferences, Empower creates a recommended portfolio. The portfolios are diversified across multiple asset classes and rebalanced when necessary. The six asset classes include:
U.S. stocks
International stocks
U.S. bonds
International bonds
Cash
Customers have the option to incorporate socially responsible investing (SRI) into their investments, too. In short, that means you can choose to invest only in companies that have positive environmental and social impacts.
Investors enjoy access to financial advisors who can help them make various financial decisions, from retirement planning to college savings to stock options and more. Empower's financial advisors are available 24/7 by phone, live chat, email, or web conference.
Note that the Wealth Management plan has a minimum initial investment of $100,000. Investors with between $100,000 and $200,000 have access to a team of financial advisors. Those with more than $200,000 have access to two dedicated financial advisors. There are extra benefits for people who invest over $1 million, including lower fees.
Wealth Management annual fee tiers
$100,000-$1,000,000: 0.89%
$1,000,001-$3,000,000: 0.79%
$3,000,001-$5,000,000: 0.69%
$5,000,001-$10,000,000: 0.59%
$10,000,001-plus: 0.49%
Regardless of how much money you bring to the table, if you sign up, you will be given the option to schedule an initial 30-minute financial consultation with an Empower advisor.
Best Overall Portfolio Tracker
Empower | Free Net Worth and Investment Tracking
Tools: Free. Wealth Management: Starts at 0.89% of assets annually.*
Empower (formerly Personal Capital) offers both a free set of portfolio, net worth, and cash flow tracking tools, as well as paid asset management service.
Link Empower to your bank and investing accounts, credit cards, and more to see a single view of useful information and data, including your net worth.
Empower Wealth Management offers unlimited advice and retirement planning help, as well as managed ETF portfolios, for accounts with between $100,000 and $250,000 in assets. Higher asset tiers include access to dedicated financial advisors, retirement specialists, and more investment options (including stocks, options, real estate, and private equity).
Pros:
Free portfolio tracker

Free net worth, cash flow, and investment reporting tools

Dedicated investment advisor

Free tax-loss harvesting

Dividend reinvestment

Automatic rebalancing

5-day-a-week live customer support, 24/7 email support
Cons:
High minimum for investment management ($100k)

High investment management fee (0.89% AUM)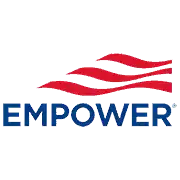 * Fees for clients with $100,000 to $1 million in assets pay 0.89% of assets annually. Clients with more than $1 million in assets pay 0.79% of assets annually on the first $3 million, 0.69% on the next $2 million, 0.59% on the next $5 million, and 0.49% on anything over $10 million.
Related: 11 Best Stock Portfolio Tracking Apps [Stock Portfolio Trackers]
2. Vyzer (Best Investment Tracking App for High-Net-Worth Individuals)
---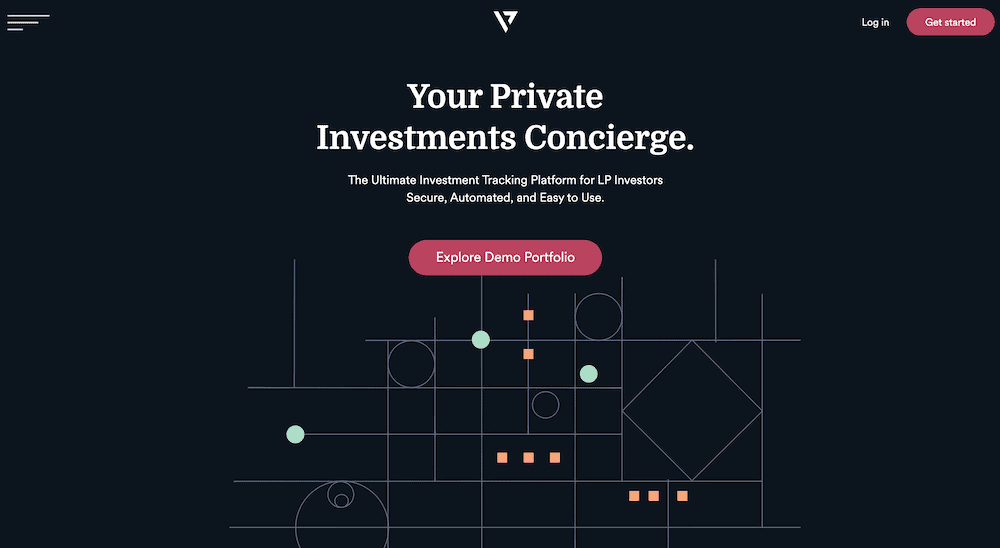 Available via Desktop (Windows, macOS), mobile (Android, iOS) app
Vyzer represents the best investment tracking app for high-net-worth individuals found on this list. It offers investment portfolio tracking, financial planning tools, and wealth management solutions for both public and private investments.
The digital wealth management platform also distinguishes itself by serving as the only service that combines public and private investment performance tracking. Vyzer keeps tabs on all of your investments in one place, providing a comprehensive view of your entire portfolio so you can easily monitor its performance. It supports all of the following accounts and asset classes:
Real estate (syndications, funds, rental properties)
Private equity funds (venture capital, hedge funds, debt funds)
Private companies (startups and small-to-mid-sized enterprises)
Investment accounts (Brokerage accounts, pension plans, 401(k), IRA, Roth IRA)
Bank accounts (18,000+ banks worldwide)
Crypto (Binance, Coinbase, BTC + ETH addresses, and more)
Precious metals
Collectibles
You can even track investments you co-hold with others, and organize your investments under different holding entities.
Vyzer is designed for investors with diverse portfolios and multiple sources of income. It allows users to forward or upload any financial documents (think spreadsheets, investment documents, Schedule K-1s, quarterly statements, and more) and have the platform translate them into new assets or liabilities or update existing ones. After you link your bank accounts to the platform, Vyzer analyzes your transaction data with artificial intelligence to identify which transactions link to which assets or liabilities you've added to your account. This feeds the system's cash flow tools.
Once you load all of your assets and liabilities into the dashboard, you can produce a cash flow forecast based on scheduled distributions, capital calls, expenses, and more.
Curious about how your peers handle their investments? Vyzer members can anonymously view each other's portfolios to understand the financial products and funds they've invested in.
Vyzer has four different subscription tiers—one free, and three paid:
Starter (Free): Like many free tiers, this is a "light" offering that provides limited functionality, including manually adding up to three items and syncing up to three financial institutions. This is recommended for users who are on the fence about Vyzer and want to take the software. Just note that the free tier does not include access to the mobile app.
Plus ($29/mo., billed annually): This provides full Vyzer functionality (including mobile app access), as well as a much higher number of connections. Specifically, you can manually add up to 15 items and sync up to 10 financial institutions. It also includes Basic support (online chat and email assistance, responses typically within one business day).
Premium ($79/mo., billed annually): This plan, geared toward much larger, more complex portfolios, has similar functionality as the Plus plan, but with more reporting features and far more connections. Specifically, with Premium, you get 120 manually added items, 30 synced institutions, and 30 cash flow scenarios. Support is also upgraded, to Preferred (faster response times, usually within a few hours).
Family Office ($699/mo., billed annually): This tier is recommended for ultra-high-net-worth individuals (UHNWIs—investors with a net worth of $30 million or more) who want comprehensive family office services. All Vyzer features are unlocked with this plan (naturally), plus you're given a private account manager and Priority support (response in an hour or less, as well as phone support).
Empower, found earlier on this list is the closest comparison to Vyzer. The platform is different from Empower in four main ways:
Vyzer doesn't offer active wealth management.
Vyzer can track more asset classes than Personal Capital (Empower)
Vyzer offers more flexibility in adding new data to your account, and requires less effort.
Vyzer charges a flat monthly fee (or a discounted annual fee) that you pay from outside with your investments, say with a credit card. Personal Capital takes its fees from portfolio performance.
If you are a sophisticated investor with a complex portfolio to track, consider signing up with Vyzer to follow everything in a single platform. Remember: If you're on the fence, you can begin with a free Starter account—but if you're ready to get all of your accounts synced up, you can sign up for one of the three paid subscription tiers.
Read more in our Vyzer review.
Best Portfolio Tracker for HNW Investors
Vyzer | Your Private Investments Concierge
Starter: Free. Plus: $29/mo. Premium: $79/mo. Family Office: $699/mo.*
High-net-worth (HNW) investors can keep track of public and private investments with Vyzer, which provides portfolio tracking, wealth management, and financial planning tools.
Enjoy comprehensive, holistic insight into your investment portfolio.
Platform includes robust cash flow planning tools to make the most of your cash.
Find new opportunities by seeing what other high-net-worth investors within the Vyzer community are doing.
Pros:
Can track a portfolio of public and private investments

Can generate easy-to-view data from uploaded documents and linked bank accounts

Fair fees under new tiered fee structure
Cons:
No active wealth management offerings

Free Starter tier is heavily limited and has no mobile app access
* Price when paid annually. Represents savings of 19%, 20%, 20%, respectively, versus monthly billing options. Paid monthly: Plus: $36/mo. Premium: $99/mo. Family Office: $873/mo.
3. Kubera (Best Portfolio Tracking App for All Assets)
---
Kubera is one of the most advanced portfolio trackers on the market. It boasts thousands of bank connections, more global currencies than any other service, and detailed information about all of your investments.
Kubera is the ideal product for young professionals, homeowners, real estate professionals, and even cryptocurrency investors, among others. It allows you to keep track of your comprehensive portfolio holdings and analyze data from markets around the world.
The service is ideal for customers with international holdings, too. The service boasts connectivity to more than 20,000 banks, brokerages, and other investment institutions around the world. You can track global stocks—Kubera supports major stock exchanges in the U.S., Canada, U.K., Europe, Asia, Australia, and New Zealand—bonds, mutual funds, foreign exchange, precious metals, cryptocurrencies, NFTs, and more. You can also track real estate, automobiles, even domain names.
The platform allows you to view your holdings' values and even estimated resale values at any given time without having to search through complicated paperwork. In short: This service is like having several portfolio management apps all in one place.
Just one glaring weakness for those who like app-based experiences: Kubera has zero apps; it's a wholly web-based platform, regardless of your device.
Want to explore Kubera to see if it's right for you? Start with a risk-free 14-day trial; after that, you can choose a monthly or annual plan.
Best Multi-Asset Class Investment Tracker
Kubera | World's Most Modern Portfolio Tracker
Try plans for 14 days for $1. Then, Kubera Personal: $150/yr. Kubera Family: $225/yr.
Kubera tracks all your assets in one place—traditional & crypto.
Can access financial information from 20,000+ global banks, brokerages, and financial institutions.
Keeps all details in one place to build a complete view into your net worth as simple as a spreadsheet.
Pros:
Easy to use

Connects to more than 20,000 financial institutions around the world

Values a high assortment of assets
Cons:
No financial planning tools

Above-average cost

No mobile app
Related: 21 Best Stock Research & Analysis Apps, Tools and Sites
4. Betterment (Invest + Track Your Wealth)
---
Available: Sign up here
Platforms: Web, mobile app (iOS, Android)
Betterment calls itself your "all-in-one financial dashboard." That's because you can invest, bank, plan—and, of course, see your net worth—all in one spot.
Users can connect their Betterment accounts as well as outside and shared accounts. From the dashboard, you can see money coming in and out of your accounts, track your savings progress, see how your investments are performing, and get an overall picture of your net worth and financial well-being.
Worried about whether you're on track to retire comfortably? Betterment can help you develop a retirement plan. Tell Betterment what you want your retirement to look like, and its tools can estimate how much money you'll need—and how much to save to get there. It's a flexible system, too, able to account for other financial goals you want to add over the years. We also like Betterment's tax saving tools, which determines which types of assets go in which accounts in a way that optimizes how you'll be taxed.
You can also bank fee-free through Betterment. The platform offers up a high-yield cash account, as well as a Betterment Checking account and Visa debit card that includes cash-back rewards. Betterment also offers up to $2 million worth of FDIC insurance—eight times the standard amount of protection.
We think investing is a mixed bag here. Betterment offers a wide variety of accounts—brokerages, IRAs, even 401(k)s—but its investment options are limited. You can only invest in exchange-traded funds (ETFs) with Betterment, even in retirement accounts. You can add cryptocurrency to that list through a Betterment crypto account, but that's it. No stocks, no mutual funds, no individual bonds, etc.
Moreover, this is not a self-directed account. Instead, you invest in those low-cost ETFs via custom-built portfolios, and Betterment will automatically adjust your holdings as needed to keep you on pace to hit your goals. And investing involves risk, so if you want to ratchet down that risk, you'll need to select more conservative portfolios.
Robo-Advisor
Betterment | Investing Made Better
$4/mo., or 0.25% annual fee*. Premium: Additional 0.15% annual fee.**
The Betterment app gives you the tools, inspiration, and support you need to become a better investor.
Start with as little as $10 and use the top-rated mobile app to set up automatic investing into diversified ETF portfolios.
You can also invest in diversified preset cryptocurrency portfolios.
Customize your risk tolerance and investment goals with guidance available at any time.
By upgrading to Premium, you can unlock unlimited financial guidance from a Certified Financial Planner™.
Pros:
Hands-off investment management

Diversified portfolio that automatically rebalances

Low-cost investment selection
Cons:
High account fees

Limited investment selections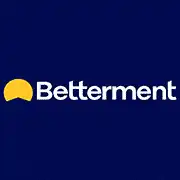 * 0.25% annual fee triggered if you set up recurring monthly deposits totaling $250 or more, or reach a balance of at least $20,000 across all Betterment accounts. ** $100,000 minimum balance required to sign up for Premium.
Related: 11 Best Stock Advisor Websites & Services to Seize Alpha
5. You Need a Budget (Smart Budgeting Platform)
---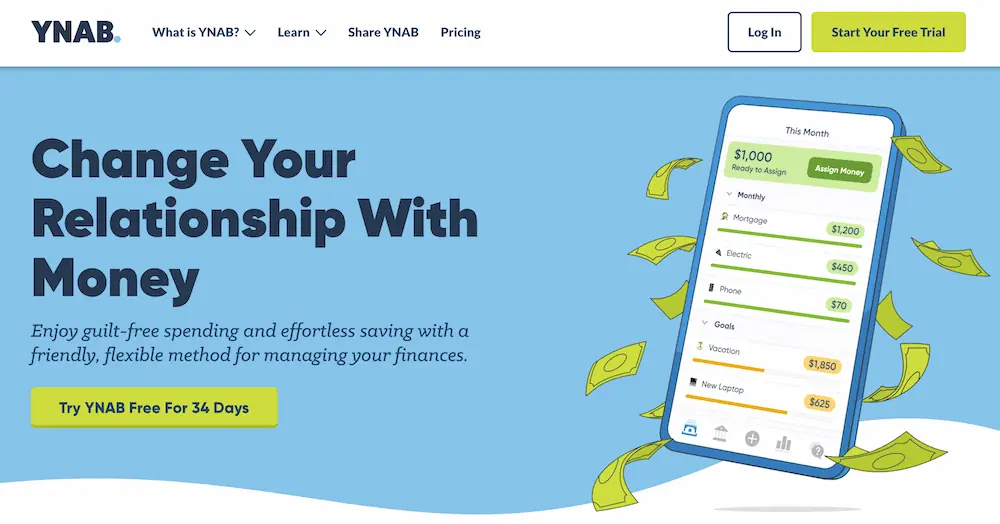 Available: Sign up here
Platforms: Web, mobile app (iOS, Android), smart speaker (Alexa)
You Need a Budget (YNAB) determines how much money you have and tracks your monthly income, and it also helps you determine what your expenses are and when they need to be paid.
It can track fixed expenses and allows you to budget for less frequent variable expenses. In addition to keeping track of expenses, it can help you establish goals and plan for saving money.
And you can put it all together with their Net Worth Report, which provides a snapshot of your various account balances.
You Need a Budget's method is built around four rules:
Give every dollar a job. When you get money, decide right away what all that money needs to do based on your priorities.
Embrace your true expenses. Take significant but infrequent expenses (say a biannual insurance premium) and break them into smaller monthly "bills."
Roll with the punches. Be flexible. Life doesn't always happen exactly how you plan it. If you overspend in one area, move funds from another category to balance it out.
Age your money. Be purposeful with your spending and spend less than you earn. Eventually, you should aim to be able to spend today with money you earned 30 or more days ago.
Are you out shopping and wondering whether a purchase is within your budget? Wonder no longer—you can easily access YNAB via your iPhone or Android smartphone.
Have a question about your budget but no free hands? Have your Apple Watch or Amazon Echo device talk to you about your finances.
In addition to being available on the road and hands-free, YNAB also differs from many other budgeting apps in that it doesn't just help you track your net worth—it helps you improve it through a strategic, real budget. Survey results show new users saved $600 on average by just their second month.
Try You Need a Budget free for 34 days without entering any credit card information. After that, you can sign up for monthly or annual billing.
Digital Envelope Budgeting System
YNAB | Personal Budgeting Software
Free 34-day trial. $8.25/mo.*
You Need a Budget (YNAB) is an award-winning software platform which uses a proven method to teach you how to manage your money and get ahead.
Budgets update automatically and in real time, and can be accessed on your computer, phone, or tablet.
Pros:
Customizable

Allows for multiple budgets
Cons:
Difficult for beginners

No bill tracking or bill pay

No investment tracking features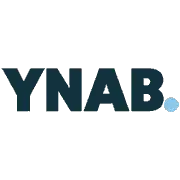 * Price when paid annually. Represents 45% savings versus monthly billing option. Paid monthly: $14.99/mo.
Related: 19 Best High-Yield Investments [Safe Options Right Now]
6. Tiller (Spruce Up Your Spreadsheets)
---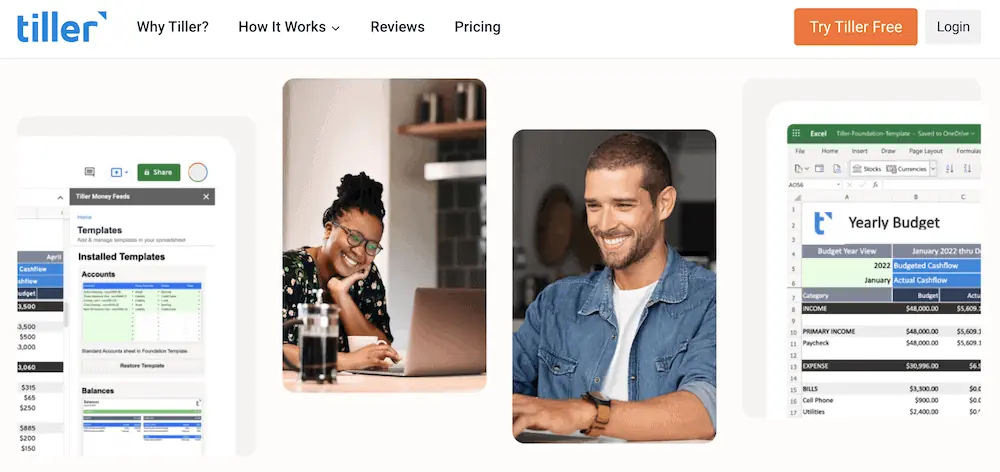 Have you ever made a budget in Excel? Well, Tiller Money takes that a step farther. This automated personal finance service provides highly customizable Google Sheets and Microsoft Excel templates to allow spreadsheet lovers use their favorite formulas.
You can connect Tiller to your bank accounts, credit cards, and more, to pull in real-time data so you don't have to manually enter in a single number. From there, you can choose a template and customize it to display what's important to you.
Users can adjust data to test different scenarios that could affect their net worth and create custom charts and reports. The optional AutoCat feature automatically categorizes your income, transfers, and spending, according to your custom rules.
Members can use up to five spreadsheets with one subscription. Users can also opt in to receive daily emails summarizing their account activity.
The service is funded only by subscriptions and doesn't sell your personal data to third parties or advertisers. Sign up for a 30-day free trial today.
Tiller | Your Financial Life in a Spreadsheet
30-day free trial. $79/yr.
Tiller helps you organize your financial life by connecting your various bank and other financial accounts to an easy-to-read spreadsheet.
Highly customizable templates allow you to track your net worth and any other financial metrics that are important to you.
Pros:
Easy to use

Works with basic spreadsheet programs

Can connect with more than 21,000 financial institutions
Cons:
Supports investment accounts but cannot show portfolio holdings

Limits number of spreadsheets you can use with one subscription
Related: 14 Best Stock Picking Services, Subscriptions, Advisors & Sites
7. PocketSmith (Net Worth Tracker With Finance Tools)
---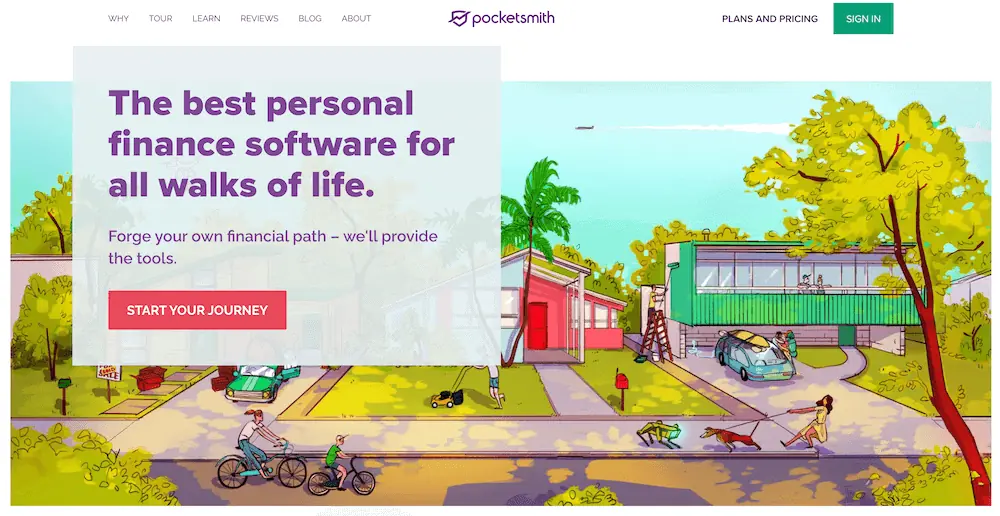 Available: Sign up here
Platforms: Desktop app (Windows, MacOS, Linux), web, mobile app (iOS, Android)
PocketSmith helps users determine how to increase their net worth in the future by getting them to see their current financial patterns.
Users can automatically import and categorize transactions from more than 14,000 banks and other financial institutions worldwide. Have assets and liabilities in different countries? No worries: PocketSmith automatically converts data into whatever currency you want based on daily rates.
The platform's historical reporting feature provides ample insights into your past earnings and spending habits. PocketSmith then helps you take those insights and turn them into learning opportunities by showing you how changes in your behavior will affect your future financial situation. The software will show you, to the day, what your net worth will look like up to three decades in the future.
In addition to net tracking, noteworthy PocketSmith features include a budget planning calendar, automatic interest calculations, Mint migration, and the ability to invite other PocketSmith users—including an advisor—to view and even manage your account. One of our reviewers also noted the ease with which he could manage income from his day job and his side gigs. We also love the technological flexibility; PocketSmith is available on the web, mobile apps, and desktop apps—it even supports Linux!
You can track your net worth with PocketSmith's free Basic plan, which allows you to connect up to two bank accounts, can provide up to 12 budgets, and project finances up to six months out. However, if you want automatic bank feeds, you have to upgrade to the Premium tier, which also provides automatic categorization, support for up to 12 financial accounts, and can project your finances up to 10 years out. The Super tier offers everything in Premium, but allows you to hook up unlimited accounts and project up to 30 years of finances.
PocketSmith | Forge Your Own Financial Path
Basic: Free. Foundation: $9.99/mo. Flourish: $16.66/mo. Fortune: $26.66/mo.*
PocketSmith is a powerful net worth tracker that helps you understand how your past and current financial choices can affect your future.
Excellent product for expats: It supports international banks and can show all transactions and balances in one single currency.
Highly customizable budgets that allow you to plan a month at a time or down to the day. You can also test out your budget by plotting "what-if" scenarios against your plan.
Integrates with several platforms, including Mint and Xero.
Pros:
High number of app choices, including desktop with Linux compatibility

Supports international banks

Excellent budgeting calendar
Cons:
High cost to unlock all features

Connecting investment accounts can be complicated

Few investment-related features
* Price when paid annually, represents savings of 33% versus monthly billing options. Paid monthly: Foundation: $14.95/mo. Flourish: $24.95/mo. Fortune: $39.95/mo.
Related: 20 Best Investing Research & Stock Analysis Websites
8. Google Sheets (Free DIY Option)
---
Platforms: Web, mobile app (iOS, Android)
DIY net worth trackers might consider opening up Google Sheets.
This is an option for truly self-motivated people. Google Sheets doesn't have a net worth tracking template in its template gallery. But you can easily create your own system that you can organize exactly how you want.
Unlike a physical spreadsheet, Google Sheets can calculate for you to prevent mathematical errors. Of course, you also have to manually update the numbers to track your current net worth. While the best net worth trackers update automatically, you can't connect a bank account to Google Sheets on your own.
Still, there's no cost here—using Google Sheets is completely free—so we think this is worth considering if you're a go-getter.
Related: 11 Best Stock Trading Apps [Free + Paid]
Related Wealth Tracker + Net Worth Questions
---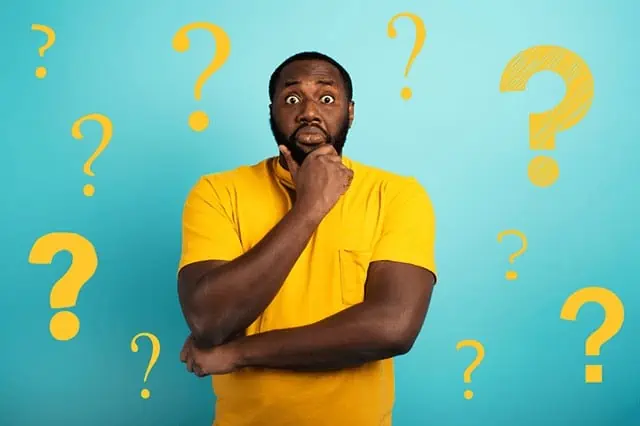 How to Calculate Net Worth
If you want to calculate your net worth, you need to know how much you have in assets, and how much you have in liabilities.
First, find the sum of all your assets. This includes cash, money in savings and checking accounts, investments, and any equity you have in a car, real estate, or similar assets.
Next, find the sum of all your liabilities. This is any money you owe—say, student loans, mortgages, or credit card debt, but it can even be unpaid bills or money you owe to a person, business, or government. (By the way: Even tracking just that debt will do wonders for understanding your financial situation.)
Take the sum of the assets you calculated and subtract the total liabilities to know your net worth. As a formula, it's simply:
Assets – Liabilities = Net Worth
How Can I Track My Net Worth?
One method to track your net worth is through the use of spreadsheets. This is more organized than using a pencil, paper, and calculator. Spreadsheets are also free to use.
Another option for net worth tracking is to use an app. Using an app to track your net worth usually isn't free, but it is easier, more accurate, and updates automatically. Once you have all of your bank accounts connected, the personal finance app does all of the work for you. Helpfully, these apps typically boast other features you can use to achieve your financial goals.
How Do You Set Up a Net Worth Tracker?
Services that track your net worth usually have you start by connecting your bank account and any investment accounts. They might also have you connect credit cards and any other debt accounts.
If your app does support automatic tracking, the app will start taking care of all the calculations so you can track your net worth. As you spend and earn more money, it will automatically update your net worth so you'll know how you're doing at all times.
The best net worth trackers usually offer other features, from budgeting tools to investment advisory services that help adjust your asset allocation, or they might provide other independent financial advice. All of these features can help you increase your net worth over time.
If you're manually net worth tracking, you'll have to add all of your assets and liabilities to a spreadsheet. Then, you'll need to take the total of your assets and subtract your liabilities to find your net worth. And because these numbers aren't automatically updating, you'll have to update your numbers regularly to accurately keep track of your net worth.
Related: