Investing is a pivotal part of building wealth—one that's more effective the earlier you begin. Thus, if you can, you should start investing at a young age.
Oh, there are certainly roadblocks to navigate. Consider this: According to the Council for Economic Education, fewer than half of America's states require students to have a class in personal finance to graduate, meaning many teens can't rely on schools to teach them about investing. Compounding the problem: Many parents also don't feel confident enough in their financial knowledge to teach teens how to invest.
The good news? Teens can get both educational content and hands-on investing experience through a few financial apps—and one such app of note is Bloom: Investing for Teens.
Bloom is an investment app that offers features such as parental controls and fractional shares that greatly tamp down the risk of teens breaking their bank accounts while they practice investing. And after proving they've learned the basics, teens can even get their first stock free.
If that sounds interesting to you, read along with us as we take a deeper dive into the Bloom: Investing for Teens app. We'll explore the pros and the cons of the app—and to ensure that you find the right fit for you, we'll also dive into some of the best teen investing app alternatives.
Investing even a little while you're young opens up the possibility of earning great sums down the road. So now is the time to start doing your research into the best teen investment app for you.
What Is the Bloom Investing App for Teens?
---
Bloom is an investment app that's designed specifically for teens ages 13 through 17. It has a focus on education—boasting more than 150 interactive educational lessons taught by Ivy League professors—and features parental controls to keep teenagers on the right path.
What Type of Investment Account Does Bloom Offer?
---
The Bloom app lets teens enjoy fractional trading through Uniform Transfers to Minors Act (UTMA) / Uniform Gifts to Minors Act (UGMA) custodial brokerage accounts.
Bloom Investing Features
---
No Account Minimums
A Bloom investing account has no required minimum account balance. has no required account balance.
Tiny Minimum Deposits and Stock Orders
Bloom requires a mere $1 minimum for deposits. And because Bloom allows for fractional shares, stock and ETF orders can be as small as $1.
No Trading Commissions
Bloom offers commission-free trading on U.S. stocks and exchange-traded funds (ETFs).
Parental Controls and Safety Features
Parents or guardians sponsor accounts for teenagers. They can fund the teenager's account with a bank account or debit card, and they can also make withdrawals.
On the investment side, Bloom gives teens the ability to invest in stocks, ETFs, and cryptocurrencies. However, parents can approve or deny trades if they decide such stocks or ETFs are too risky, set limitations on which types of securities their teen can trade, and even limit how frequently their teen can trade. (Note: Bloom already prohibits the trading of options, as well as day trading and margin trading.)
Educational Content
Bloom comes equipped with more than 150 interactive financial lessons taught by Ivy League professors. The lessons cover basic knowledge and advanced concepts across personal finance, investing, economics, crypto, and more. They can even learn about noteworthy investors and business leaders.
They're incentivized to learn, too. Bloom's "Learn & Earn" center rewards teens by allowing them to redeem in-app currencies, earn free stocks from Fortune 500 companies, and participate in raffles.
Investable Assets
Bloom allows investors to trade stocks and ETFs, both of which are excellent for long-term investments. The platform supports more than 5,000 U.S. stocks and ETFs, and teens can even start out with a free stock of their choice by passing the Beginner Stock Quiz.
Bloom doesn't advocate any specific security, but rather leaves the choices up to the teens and their parents. (In other words, a security's eligibility to be added to your portfolio is not an endorsement.)
And Bloom doesn't just allow for market orders—users can set conditional orders to buy a stock or ETF when it reaches a certain price. They can also set custom price alerts so they know when a particular stock or fund is near a level where they might want to buy or sell.
Teens also have the option to invest in five popular cryptocurrencies, but parents can control whether their teen can trade in crypto.
Fractional Shares
Teens aren't exactly loaded with cash—and that's no problem! Bloom allows you to buy fractional shares of stocks and ETFs for as little as $1. (Just note that fractional share transactions can only be executed through market orders during normal market hours.)
The site also allows fractional share trading in cryptocurrencies, though the minimum to invest with those is $5, not $1.
Related: 11 Best Fractional Share Brokerages
Security
Security is a high priority for Bloom, which uses bank-grade encryption and authentication to keep your account safe. Also, account funds are Securities Investor Protection Corporation (SIPC)-insured up to $500,000. The brokerage services are provided by Alpaca Securities LLC ("Alpaca"), a wholly-owned subsidiary of AlpacaDB, Inc.
Mobile Capabilities
Bloom is compatible with the iPhone, iPad, iPod Touch, and Mac.
Related: The 13 Best Investment Apps for Beginners
How Much Does Bloom Cost?
---
Parents can join Bloom for $15 per month or $60 for 180 days. They can add up to five teens to an account, so there is no need to pay extra if you have multiple teenagers. (Also note: Only the parents have to pay for the app; the teenagers don't.) Also, while Bloom doesn't list any charges for directly depositing funds via your bank account, it will charge a 5% deposit fee on debit card deposits made to the investment account.
What Happens When the Teen Becomes an Adult?
---
A teen's Bloom account will automatically transfer over to them once they reach the age of majority. Now, this age varies by state, so make sure to know the age of majority for your state. By this time, teens should feel more prepared to continue as adult investors.
Bloom Investing App Review
---
Bloom is an overall strong entry in the teen investment app space. It gives teens the freedom to explore thousands of stocks and funds, as well as the educational tools they need to grow their investing and personal finance know-how.
We're not the only ones who feel that way: Bloom currently enjoys an overall 4.7/5 rating on the Apple App Store across more than seven thousand ratings. The feedback is largely positive, and the developers seem responsive to both positive and negative reviews.
Our big hang-up? The cost. At $15 per month (or even at $10 per month with the six-month option), Bloom presents a relatively hefty price to get your teen started investing—especially considering that you can get other highly rated teen investment apps for free, like the ones we'll discuss below. We also flinched a little bit at the 5% fee for depositing funds via debit card; that's a sizable charge period, but especially noteworthy given you're already paying a high monthly price for the app.
If you do go to download Bloom, be careful: The apps Bloom: Stock Market Research, Blooom (which has shut down), and the Australian app Bloom, are all different from the teen investment app described in this piece. If you choose to use Bloom: Investing for Teens, make sure you download the correct app—the logo should look like the one below.
Related: 19 Best Investment Apps and Platforms [Free + Paid]
Free Teen Investing App Alternatives
1. Fidelity Youth™ Account (Best Free Debit Card With Teen Investing)
---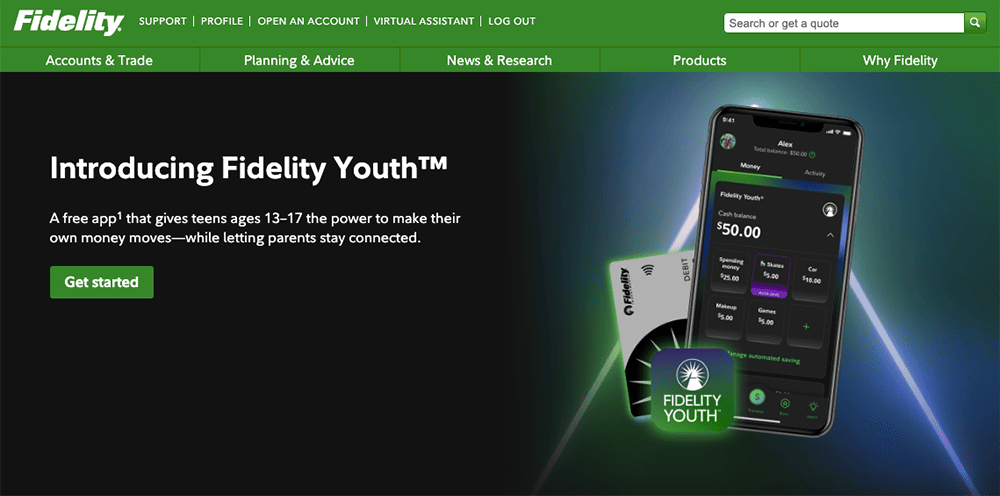 Available: Sign up here
Price: No account fees, no account minimum, no trading commissions*
Platforms: Web, mobile app (Apple iOS, Android)
Promotion: Teens get $501 on Fidelity® when they download the Fidelity Youth™ app and activate their Youth Account; parents get $100 when they fund a new account
Is your teen interested in jumpstarting their financial future? Do you want them to build smart money habits along the way?
Of course you do! Learning early about saving, spending and investing can pay off big when you start on the right foot. And one tool that can help your teen get that jump is the Fidelity Youth™ Account—an account owned by teens 13 to 17 that's designed to help them start their money journey. They can start investing by buying most U.S. stocks, exchange-traded funds (ETFs), and Fidelity mutual funds for as little as $1!⁴
Your teen will also get a free debit card with no subscription fees, no account fees³, no minimum balances, and no domestic ATM fees⁵. And they can use this free debit card for teens to manage their cash and spend it whenever they need.
And as for building smart money habits? You and your teen can access your account through the Fidelity Youth™ app, which has a dedicated Learn tab packed with materials developed specifically to help teens develop good financial habits. Not only will Fidelity's interactive lessons, videos, articles, tools, and calculators accelerate their learning—but for every level they complete, reward dollars will be deposited into their account to use however they want.
Controls parents want and need
A parent or guardian must have or open a brokerage account with Fidelity® to open a Fidelity Youth™ Account. For new Fidelity® customers, opening an account is easy, and there are no minimums and no account fees.
Parents and guardians have plenty of tools they can use to monitor their teen's activity: They have online account access, can follow monthly statements and trade confirmations, and can view debit card transactions made in the account.
To make it even easier, you can set up alerts to notify you of trades, transactions, and cash management activity, keeping you firmly in the loop on actions your teen takes across the Fidelity Youth™ Account's suite of products.
If your teen has an interest in learning about investing and taking their first steps toward building their financial journey, you should consider downloading the Fidelity Youth™ app and opening a Fidelity Youth™ Account. The account comes custom-built for their needs, which will help them become financially independent and start investing for their future.
Read more in our Fidelity Youth™ Account review.
Related: 10 Best Free Debit Cards for Kids & Teens [Earn, Save & Spend]
2. Step Banking
---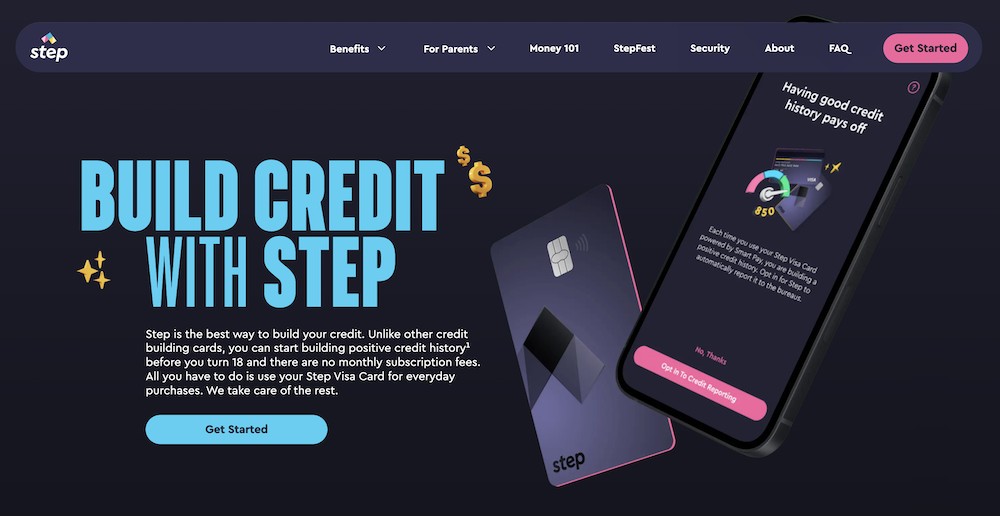 The free Step Visa Card is a unique "hybrid" spending card that functions like a debit card, but also boasts some of the features of a Visa credit card—including the ability to build your child's credit history.
Parents add money to this FDIC-insured account and can determine how their child can spend. A regular Step account allows a child to have both a physical spending card as well as a virtual card in the Step app, while a Parent Managed Account only allows the child to spend via a physical card. Either way, they can use their card anywhere Visa is accepted. Children can also use their cards to withdraw money from more than 30,000 ATMs for free.
And parents needn't fear that their child will overdraft—they can't spend any money they don't have.
Further, the Step Card comes protected by Visa's Fraud Protection and Zero Liability guarantee. That means if your teen's card gets lost or stolen, or misplaced and fraudulent charges crop up, you can dispute the charges within a certain time frame to avoid liability for paying.
Savings tools for kids and teens
The Step Card also includes fantastic savings benefits.
Users earn 5% annually—compounded and paid monthly—on up to $250,000 saved in their Savings Goals. Like with your average savings account, Step's savings yield can change depending on movements in the Federal Funds Rate, but if that happens, Step will give you 30 days' notice before it happens.
To qualify, the user must have a direct deposit of at least $500 per month, and the benefit extends for as long as the direct deposits continue. So even if your teen just holds down a summer job for three months and meets the qualifying direct deposit, they can still enjoy three months of high interest. (Other perks of making a qualifying direct deposit? Bonus points on dining, food delivery, charitable donations, specific merchants—and you can get paid up to two days early.)
You can boost your savings potential even more with Savings Roundup. With this feature, small purchases are rounded up to the nearest dollar figure, and that extra money is put toward a Savings Goal. For instance: Let's say your child buys a cup of coffee for $2.75; Step rounds up to $3.00 and puts 25 cents toward a goal.
Investing and cryptocurrency
Step even features an "invest" function that allows children age 13 and older to buy and sell stocks, ETFs, and Bitcoin. Cryptocurrency transactions entail a small transaction fee. They can also earn Bitcoin (or cash) rewards when they opt into offers from companies like Hulu, Chick-fil-A, CVS, and The New York Times. The app is not a pure crypto wallet, however—your kids currently can't spend Bitcoin directly at vendors.
Build credit history
One of the most unique and powerful features of the Step card is its ability to build your child's credit history. With this optional feature, Step will report the past two years' worth of information—transactions, payment history, and more—to the credit bureaus when your child turns 18. That can greatly improve their chances of starting adult life with a better credit score, which can help lower the cost of things like student loans and auto insurance.
Lastly, Step is absolutely free: No monthly fees, no subscription fees, no account minimum fees, and no ATM fees within Step's network of 30,000+ ATMs.
Read more in our Step review.
Related: 13 Best Money Apps for Teens [Invest, Spend, Budget + Pay]
Why Should Teens Invest?
---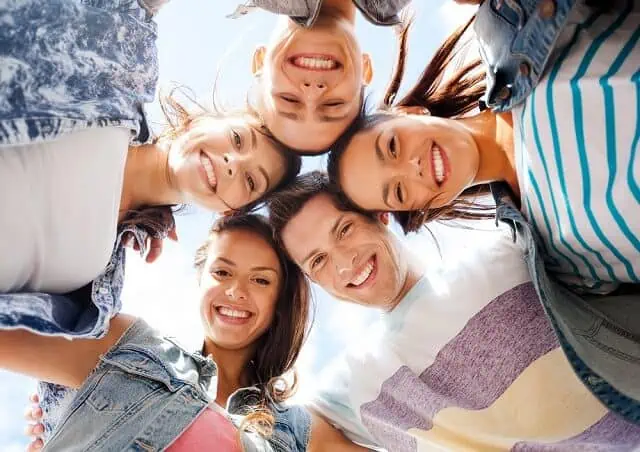 One of the main reasons teenagers should invest is so they get hands-on experience in how investing works. Investing young teaches the necessity of researching assets and understanding the balance between risk and reward.
Another reason teens should invest is because the younger you are, the more you can benefit from the power of compounding. Even if a teen is able to invest just a small amount of money, that money has many decades to grow.
And if you make an investment mistake when you're young, sure, you'll be disappointed, but you'll have a very, very long time to financially recover from that mistake.
Related:
---
Terms and Conditions for Fidelity Youth™ Account
The Fidelity Youth™ Account can only be opened by a parent/guardian. Account eligibility limited to teens aged 13-17.
* $0.00 commission applies to online U.S. equity trades and exchange-traded funds (ETFs) in a Fidelity retail account only for Fidelity Brokerage Services LLC retail clients. Sell orders are subject to an activity assessment fee (from $0.01 to $0.03 per $1,000 of principal). Other exclusions and conditions may apply. See Fidelity.com/commissions for details. Employee equity compensation transactions and accounts managed by advisors or intermediaries through Fidelity Institutional® are subject to different commission schedules.
¹ Limited Time Offer. Terms Apply. Before opening a Fidelity Youth™ Account, you should carefully read the account agreement and ensure that you fully understand your responsibilities to monitor and supervise your teen's activity in the account.
² The Fidelity Youth™ app is free to download. Fees associated with your account positions or transacting in your account apply.
³ Zero account minimums and zero account fees apply to retail brokerage accounts only. Expenses charged by investments (e.g., funds, managed accounts, and certain HSAs) and commissions, interest charges, or other expenses for transactions may still apply. See Fidelity.com/commissions for further details.
⁴ Fractional share quantities can be entered out to 3 decimal places (.001) as long as the value of the order is at least $0.01. Dollar-based trades can be entered out to 2 decimal places (e.g. $250.00).
⁵ Your Youth Account will automatically be reimbursed for all ATM fees charged by other institutions while using the Fidelity® Debit Card at any ATM displaying the Visa®, Plus®, or Star® logos. The reimbursement will be credited to the account the same day the ATM fee is debited. Please note, for foreign transactions, there may be a 1% fee included in the amount charged to your account. The Fidelity® Debit Card is issued by PNC Bank, N.A., and the debit card program is administered by BNY Mellon Investment Servicing Trust Company. These entities are not affiliated with each other, and Fidelity is not affiliated with PNC Bank or BNY Mellon. Visa is a registered trademark of Visa International Service Association, and is used by PNC Bank pursuant to a license from Visa U.S.A. Inc.
⁶ Venmo is a service of PayPal, Inc. Fidelity Investments and PayPal are independent entities and are not legally affiliated. Use a Venmo or PayPal account may be subject to their terms and conditions, including age requirements. 
Fidelity Brokerage Services LLC, Member NYSE, SIPC, 900 Salem Street, Smithfield, RI 02917