Most people have become accustomed to paying for just about anything with a credit card. But can you pay for rent using a credit card?
The short answer is yes. While it's possible to pay your rent with a credit card, this payment method has pros and cons.
Keep reading to learn about paying rent with a credit card, how it works, what will happen to your credit score, and more. By the end of this article, you should be able to determine if it's worth trading your checkbook for online rent payments with a credit card.
Can You Pay Rent With a Credit Card?
---
Generally, yes, you can make a rent payment with a credit card. The option to pay rent with a credit card will depend on your lease agreement, whether your landlord or property manager will accept credit cards and if they possess the right online rent collection systems to process credit card payments.
Some landlords or property managers still prefer monthly rent checks or cash. (Some even accept recurring rent payments through Venmo, Zelle or PayPal, though they probably shouldn't.) If you want to pay your rent with a credit card, you can recommend a free online service for rent collection.
You're likely not the only tenant interested in making rent payments online with a credit card. Some services, such as Baselane, also allow tenants to send money for rent using ACH bank transfers or debit cards.
As a bonus to the landlord, rent reminders are sent automatically, all of the transactions are tracked, and payments are transferred directly to the designated bank account(s).
Note that paying with a card usually comes with a processing fee. Still, the potential benefits of paying rent with a credit card often offset the extra costs.
Why Would You Want to Pay Rent With Credit Card Payments?
---
Using a credit card for your monthly rent payment offers the same advantages as using credit cards for other transactions. Plus, rent payments are recurring and usually a substantial expense that can help maximize credit card benefits. This payment method is also a great way to build your credit history if you can make your payments on time each month. Below are some reasons to pay rent with a credit card.
Signup Rewards
Most credit cards have a welcome bonus that includes valuable rewards for new members. However, signup rewards usually have minimum spending requirements to receive the bonus.
For example, a credit card may offer 80,000 bonus points when you sign up, but you only get those points if you spend $4,000 in the first three months. While your other purchases may be less than the minimum spend amount, it can be easier to meet the requirements if you pay your rent using a credit card.
Credit Card Rewards
Rewards credit cards let you earn points on everyday purchases. Typically, you will earn at least one reward point per dollar on things like gas, groceries, and travel spending.
Reward options will vary for each credit card. You might be able to spend reward earnings on gift cards, discounted travel, free merchandise, and more.
Some cards will even waive the annual fee if you spend enough each year. Adding rent payments to your credit card bill can help you reach these targets and earn rewards faster.
Cash Back
Cash back cards essentially pay you for spending money. Some cards have different cash-back percentages for each spending category, while others have a flat rate for all purchases.
Most cards apply cash back as a credit on monthly statements. Sometimes, you can redeem cash back on a check or a direct deposit into a checking account.
To earn cash back when you pay rent, use credit cards that offer cash back on recurring payments or a flat rate on all purchases. While not always common, if the cash back you earn exceeds the processing fee, it's an easy choice to pay your rent with a credit card.
Convenience
Paying rent with a credit card is more convenient than paying by cash or check. Cash payments require multiple trips to the bank, or you have to buy stamps and envelopes to send a rent check in the mail every month. Often, I'd have to drive to meet tenants in person who opted to pay via cash. It was my least favorite means of accepting payment from tenants.
If you pay rent with a credit card, you can quickly pay online from anywhere with any device. Credit cards can also help avoid bounced checks in case your paycheck arrives late, and there's not enough money in your account to cover rent costs.
Avoid Late Fees
Some landlords charge late fees if a rent payment isn't on time. Mail delivery can be unreliable, and hand-delivering a rent check or cash isn't always feasible.
Using a credit card to pay your rent online can help you keep up with on-time payments. Some rent collection apps or third-party platforms also have auto-pay options and rent reminders, so you don't get hit with late fees.
Build Credit
Paying rent with a credit card can help build credit if you pay your credit card bill by the due date each month. Rent payments aren't automatically reported to credit bureaus, but you can ask your landlord or property management company to do this for you.
Boom is another option tenants can use for credit bureau rent reporting. Boom reports rent payments to the three major credit bureaus (Equifax, TransUnion, and Experian).
According to Boom, you can see your credit score impact in as little as 10 days. This quick turnaround time can help you get approved for personal loans, qualify for a lower mortgage payment, get a higher credit limit, and more.
Boom charges $2 per month to send rent reports every month. This service will also report up to 24 months of past rent payments for an additional $25.
It only takes about five minutes to sign up through the online portal. To get started, you will need a valid rental agreement from the last 24 months, a social security number, and a bank account that has been used to make rent payments.
Boom | Build Credit by Paying Rent
Enrollment: $10 one-time fee. Ongoing reporting: $2/mo. Past reporting: $25 one-time fee.
If you're trying to build your credit, Boom gives you a boost, reporting your current and past rent payments to all three credit bureaus.
Features quick enrollment and only reports positive rent payment to Equifax, Experian, and TransUnion.
You have the option to report up to 24 months of past rent payment history, start ongoing rent payment reporting, or both.
Pros:
Reports to all three credit bureaus

Only reports positive rent payment history

Past and ongoing history reporting options

Low monthly cost for ongoing reporting
Cons:
Enrollment fee

High one-time past reporting fee
Related: Best Banks for Real Estate Investors + Landlords
How to Make Rent Payments With a Credit Card
---
Consider asking your landlord to use a rent collection app like Baselane if there isn't already a system in place to collect credit card payments. Simply fill out a short form online, and the platform will invite your landlord to join.
Don't worry, Baselane is 100% free for landlords. There are no hidden fees or minimum balances.
Your landlord can also benefit from other services Baselane provides, such as bookkeeping and reporting, a cash-back debit card that offers unlimited 1% rewards and up to 5% rewards on home improvement spend, a high APY on all balances, and much more. The same platform can be used to collect security deposits, late charges, and any other necessary fees.
If your landlord has residents who don't want to pay with credit cards, Baselane also supports debit cards and bank transfers. There is even an option to set up recurring rent payments.
Once your landlord signs up for Baselane, it only takes a few minutes to create a free tenant account:
Your landlord will send you an email invite. Click the link in your invite to activate your account.
Log in to set up your account and review your lease details.
Choose "credit card" as your payment method. When you pay via credit card, you incur a 2.99% transaction fee which is automatically added to each payment. Debit cards have the same fee, but bank transfers are free.
You will receive rent reminders and payment confirmations. Easily split payments with roommates and manage your rent from any device and see your payment history, track paid deposits, and more.
Rental Property Financial Solution
Baselane | Rent Collection, Landlord Banking + Rental Property Finances
Baselane is a complete rental property financial management system.
The bank account for landlords has no fees and offers high yields on all balances (4.19% APY as of 11/17/2023), unlimited 1% cash back on debit card spend, and up to 5% cash back on home improvement spending.*

Other features include check writing, same-day ACH payments, and up to $2.5 million in FDIC insurance.

Baselane also offers bookkeeping, rent collection, analytics, and more.
Special Offer ($150 bonus): Earn a $150 bonus after completing four steps with your Baselane Banking account. (1) Make a deposit of greater than $500 into a Baselane banking account within 30 days. (2) Maintain that average balance for 60 days. (3) Make more than $1,500 worth of mortgage payments within 90 days. (4)

Collect more than $1,500 of rent via Baselane into Baselane Banking within 90 days.
Pros:
Free high-yield bank account

Free online rent collection

Same-day ACH payments

Check writing

Generous cash back on qualified debit card spend

Up to $2.5 million in FDIC insurance

50 states lease creation and e-sign

Provides Zillow-sourced market values automatically
Cons:
No tenant screening services

No rental property listing capabilities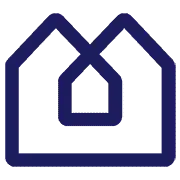 * 1% cash back is credited instantly following purchase with
no maximum spend. No minimum spend applies. Cash back is credited once per month for all rewards above 1% and credited to your account with a maximum of $2,000 annual spend per calendar year. Terms and conditions apply.
Related: Best Accounting Software for Rental Properties
What to Consider Before Paying Rent With a Credit Card
---
While there are many advantages to making rent payments with a credit card, there are a few drawbacks to keep in mind.
Fees
Most third-party services for rent collection charge processing fees for each credit card payment, usually around 3%. If your earn rate is lower than 3% for cash back or rewards points, then you may want to look for a different credit card or use an alternative payment method.
Interest Charges
Credit cards charge interest on purchases if you don't pay the total balance before the next billing cycle. It may be tempting to make the minimum payment, but the only way to avoid extra fees from interest charges is to pay your credit card balance in full every month.
Impact on Your Credit
Making rent payments using your credit card won't have a direct impact on your credit score. However, it could raise your credit utilization ratio, which is how much credit you're using (what you owe) divided by your available credit (what you have left).
A credit utilization ratio below 30% is recommended for a good credit score. Higher credit scores should be under 10%. If using your credit card for rent puts you above these thresholds, then your credit score might be negatively impacted.
Is Paying Rent With a Credit Card a Good Idea?
---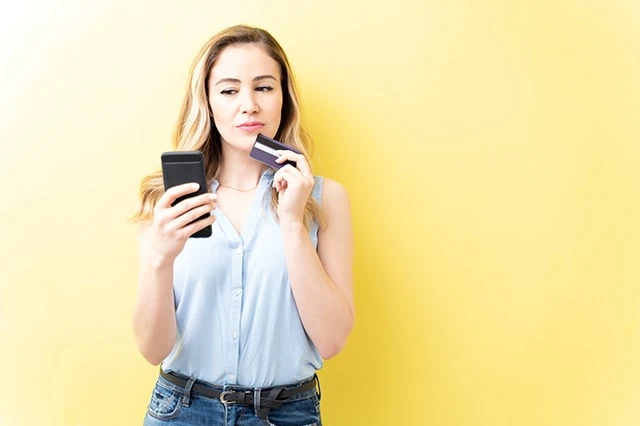 There are pros and cons to paying rent with a credit card, and whether or not it's a good idea varies by person.
Credit card transactions can help you avoid late fees and improve your credit score with a rent reporting service. Earning rewards points or cash back is another bonus.
However, you're charged a processing fee to pay your rent using a credit card. Carrying a balance or going over your credit limit adds extra fees, making it harder to pay your credit card bill.
Can't decide if paying rent with a credit card is a good choice for you? Ask yourself the following questions:
Do I have a limited credit history or a well-established credit history?

Paying rent with a credit card can be more beneficial for building credit than if you have a strong credit history.

How high is my current credit utilization?

If your utilization is under 30%, putting a monthly rent payment on your credit card could improve your credit score. Credit utilization above 30% may bring your score down.

How do the credit card rewards I would receive compare to the fees I would pay?

If your credit card doesn't offer much in terms of rewards, the fees could leave you at an overall loss. However, if you earn decent rewards or there's no annual fee, it may even out.

How much is convenience worth to me?

For busy schedules or frequent travelers, the fees are well worth it. To others, sending out a mail check each month doesn't feel like much of an inconvenience.
Consider each of the questions above and weigh them based on what is most important to you. Some people only care about convenience, while others are focused on credit scores. The best way to pay rent isn't the same for everyone.
Related: