If you want tenants to set up recurring payments, you need to choose an app that makes it easy to pay rent.
Most tenants probably already use the Venmo cash app to send money and receive payments from friends and family members. But is Venmo the best app for recurring rent payments?
Let's look at how to set up the Venmo app and accept rent payments on Venmo and decide if it really is the app you should use to collect recurring payments from tenants. This article will also go over other services for collecting recurring payments from tenants so you can decide whether Venmo is right for your rent money or if there is a better solution.
Can You Set up Recurring Payments on Venmo?
---
You can't set up Venmo recurring payments because there is no auto-pay option. If you want to receive recurring monthly payments for rent, you'll have to send reminders to prompt tenants to send money with Venmo.
Alternatively, you can schedule reminders for yourself to send a Venmo payment request to tenants. They have to be Venmo users to receive the request.
How to Collect Rent with Venmo, Zelle, and PayPal
---
1. Sign up for an Account
You will need to supply basic personal information to sign up for a payment account. Note that Venmo and Zelle are only available in the U.S.
2. Link your bank account
Have banking information ready for the account you want to link. For Zelle, landlords and tenants should link to a bank that supports Zelle, or transfer limits will be very low (around $500 weekly).
3. Provide Your Account Username (Email Address or Phone Number for Zelle) to Tenants
Your tenants need to know where to send rent payments. For Zelle, they need an email address or phone number. Residents can send PayPal payments to your account's email address. For Venmo, they will need your account username.
Be careful, as online payments sent to the wrong person through Zelle or Venmo are unlikely to be recovered.
4. Accept Rent Payments
All of these platforms accept payments automatically.
5. Transfer Money to Your Bank Account (Venmo and PayPal Only)
Zelle payments are sent directly to your bank account. Rent payments sent to your Venmo or PayPal account require you to transfer funds to your bank.
Zelle and Venmo payments will take one to three days to process. PayPal accounts can take 30 minutes to one business day to transfer rent payments.
Should You Use Zelle, Venmo, or PayPal to Collect Rent?
---
While you can accept rent payments on Venmo, Zelle, or PayPal, there are several reasons why you shouldn't.
1. Transaction Fees / Payment Processing Fees
You lose money on fees when you receive rent payments on Venmo or PayPal if you accept payments for goods and services as a business transaction. Zelle transfers are free, but the bank or credit union linked to the account may charge account fees.
Rent payments on Venmo are considered a business transaction rather than a peer-to-peer payment between friends and family. The Venmo app charges 1.9% of the payment + 10 cents for each payment.
For example, if a tenant paid $2,000 for rent, $38.10 would be deducted as a fee before depositing the remaining $1,961.90 into the landlord's Venmo account. These fees add up quickly when you have a lot of tenants using Venmo as a payment method. And be careful if you think you can skirt Venmo's rules around accepting business transactions through their friends and family payment method as this clearly violates their terms of service. Violating these rules can quickly get your account banned from the platform.
When tenants use PayPal to pay rent, landlords must receive money as "goods and services" through business accounts. For these transactions, PayPal charges 2.9% of the total transfer amount plus a flat fee. The same warning applies for PayPal business transactions: misrepresenting business transactions as money being sent between friends and family can result in a ban being placed on your account.
2. Risk as a Landlord for Accepting Partial Payments
Payments on Venmo, PayPal, and Zelle are all automatically accepted, even if it's just a partial payment. Accepting partial payments is an issue for landlords trying to evict tenants. Some states will restart the eviction process if you accept any payment amount after filing in court.
With a multifamily rental property we owned in New Orleans, we had a tenant who failed to pay rent for consecutive months, violating our lease contract. After attempting to offer payment plans to the tenant but failing to reach a mutually beneficial way to work out the back rent, we had no choice but to proceed with a formal eviction process through the Orleans Parish Sheriff's Office. During this process, the tenant sent partial payment through PayPal, thus restarting the time requirements to evict the tenant. We made the mistake of using PayPal to accept rent payments and quickly moved away from this platform because of the inability for landlords to control when payments get made for rent.
3. Can't Set Up or Accept Recurring Payments
Venmo and Zelle don't have an option to set up automatic payments. Recurring payments can only be set up for Zelle if the connected bank offers this feature.
PayPal has automatic recurring payments, but they have to be set up through a payment portal for bills or subscriptions. The other option is to use a bank's recurring payment system.
Alternatively, PayPal lets you set up recurring invoices requesting rent payments from tenants. There is an option for automatic billing if a tenant authorizes you to withdraw rent payments instead of the tenant sending money. This lets you schedule payments.
How Can You Set Up Recurring Payments Online for Your Rental Business?
1. Consider Free Rental Property Financial Software (Baselane)
---
Baselane is a software platform for managing rental property finances that simplifies recurring rent payments.
Tenants can make one-time or recurring payments for rent through bank transfers, credit cards, or debit cards from any device. These online payment methods can also be used for security deposits, late fees, or other regular payments (e.g., parking).
These payments are sent directly to the landlord's bank account, with the option to set up multiple bank accounts for each property.
In addition to collecting and tracking rent online, Baselane has rental property accounting, bookkeeping, cash-back debit cards with smart Schedule E categorization, state-specific lease agreements, up to $2.5 million in FDIC insurance, and other financial features.
Other Baselane features worth noting?
Interested in learning more? Sign up with Baselane today and learn how you can earn a $150 bonus, too.
Rental Property Financial Solution
Baselane | Rent Collection, Landlord Banking + Rental Property Finances
Baselane is a complete rental property financial management system.
The bank account for landlords has no fees and offers high yields on all balances (4.19% APY as of 11/17/2023), unlimited 1% cash back on debit card spend, and up to 5% cash back on home improvement spending.*

Other features include check writing, same-day ACH payments, and up to $2.5 million in FDIC insurance.

Baselane also offers bookkeeping, rent collection, analytics, and more.
Special Offer ($150 bonus): Earn a $150 bonus after completing four steps with your Baselane Banking account. (1) Make a deposit of greater than $500 into a Baselane banking account within 30 days. (2) Maintain that average balance for 60 days. (3) Make more than $1,500 worth of mortgage payments within 90 days. (4)

Collect more than $1,500 of rent via Baselane into Baselane Banking within 90 days.
Pros:
Free high-yield bank account

Free online rent collection

Same-day ACH payments

Check writing

Generous cash back on qualified debit card spend

Up to $2.5 million in FDIC insurance

50 states lease creation and e-sign

Provides Zillow-sourced market values automatically
Cons:
No tenant screening services

No rental property listing capabilities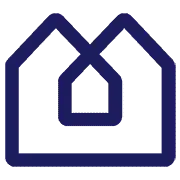 * 1% cash back is credited instantly following purchase with
no maximum spend. No minimum spend applies. Cash back is credited once per month for all rewards above 1% and credited to your account with a maximum of $2,000 annual spend per calendar year. Terms and conditions apply.
Related: Best Rent Collection Apps and Tools
2. Consider Free Rental Property Management Software (Avail)
---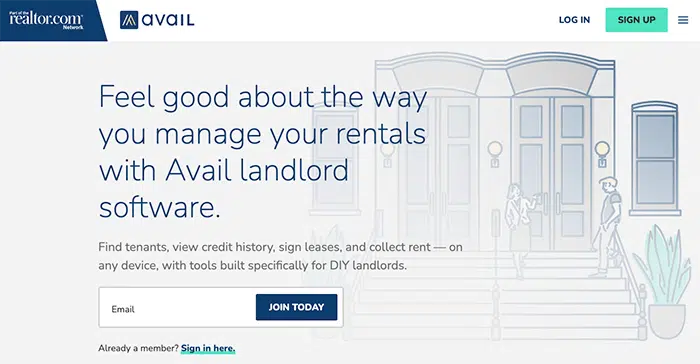 Avail is another option for landlords who want an easy system for collecting rent.
Tenants can pay rent, security deposits, and any other fees online with a credit or debit card or through a bank account or other financial institution.
Through auto-pay, residents can set up a recurring payment to go out each month. These recurring payments are deposited directly into the landlord's business account.
Avail's comprehensive rental property management software can also advertise your property on multiple listing sites, screen tenants, and help you create a state-specific lease agreement.
Additionally, the system streamlines maintenance requests, helps schedule showings, sends out applications, and simplifies bookkeeping.
Avail is a free service with the option to upgrade to the premium version for $5 per unit. Premium accounts include more features, such as next-day rent payments and property website creation.
Free Landlord Software
Avail | Free Landlord Software
Unlimited Plan: Free. Unlimited Plus: $7/unit/mo.
Avail offers free landlord software that allows you to syndicate listings on rental property sites, conduct credit and criminal screenings, execute state-specific leases, process online rent payments and perform maintenance tracking.*
Premium version offers next-day rent payments, waived ACH fees, custom applications and leases, custom lease cloning for reuse, and creating a property website.*
Tenants pay application fees, screening fees and payment fees ($2.50 per bank transfer w/Unlimited Plan).*
Pros:
Free plan with useful features

Tenant screening

Listing syndication with dozens of sites

State-specific lease creation

Online rent payments
Cons:
Next-day rent payments only come with Premium

No chat features within the app, must rely on email for communicating with tenants
* Some fees may apply for certain services (e.g., ACH fees for rent collection)
Related: Best Accounting Software for Rental Properties [Free + Paid]
How Else Can a Tenant Pay Rent?
---
1. Check
Checks are the classic way to pay rent. This method involves a lot of work for tenants and landlords.
Tenants have to bring the check to an office or send it in the mail, where it can go missing. You can ask for post-dated checks to avoid losing them, but the payments can still bounce, and then you have to chase tenants for rent money.
2. Cash
Collecting rent in cash can be messy. You have to manually record all payments and make sure you give tenants receipts, which isn't a friendly system for bookkeeping.
Furthermore, you have to double (or triple) check that you're receiving the correct amount and hope you don't lose any bills on your way to the bank.
3. Money Order
Tenants can go to a bank, post office, or convenience store to make a money order. They have to pay the amount of the money order upfront plus a small fee, then give the money order to you.
For tenants, this can feel like a lot of work, and it may lead to late payments. In contrast, online rent payments can be done in minutes or automatically.
4. Cashier's Check
Cashier's checks are similar to money orders. Tenants can get a cashier's check from a bank where they have an account.
The bank withdraws the funds and serves as the guarantor of the cashier's check amount, and then you cash the check. This method guarantees money is in a tenant's account, but it's not the most efficient way of collecting rent.
Cashier's checks cost around $10 to $15, which adds another $120 to $180 on top of rent payments for tenants each year. The extra cost, plus the trouble of obtaining the check each month, is enough to make some tenants decide to rent elsewhere.
Related: