Perhaps you're young and are looking for your own place to live.  You've moved along in your career enough to know you could afford to own something in your name but aren't sure if you're quite ready to take a leap and buy a house.
This leaves you facing the decision of taking an intermediate step of buying your own smaller place or renting somewhere.  In other words, choosing between a condo vs apartment.
But what are the differences between a condo and apartment?  Are they the same thing? Why would you want one over the other?  Read more to see which is the best fit for you.
What is a Condo?
---
A condo, or condominium, is a private residence that can be owner-occupied or rented by a landlord to a tenant.  It is typically located within a residential building and part of a larger community.
If you are not the condo unit owner, then you rent from a landlord, who has full say as to who is approved to stay in the unit.  Within the walls of their unit, owners have decision-making discretion.
Further, when condo owners lease or rent their units to tenants, they can qualify to take special tax deductions available to people employed in a trade or business.
Some examples include items like depreciation, insurance expenses, utilities, marketing, maintenance and upkeep.
Outside the unit, condos are subject to homeowners' association (HOA) bylaws and must have decisions affecting the entire complex made collectively.
Often, there is an elected board of directors which oversees investments, activities, events, and other important decisions affecting the condo complex.
What is an Apartment?
---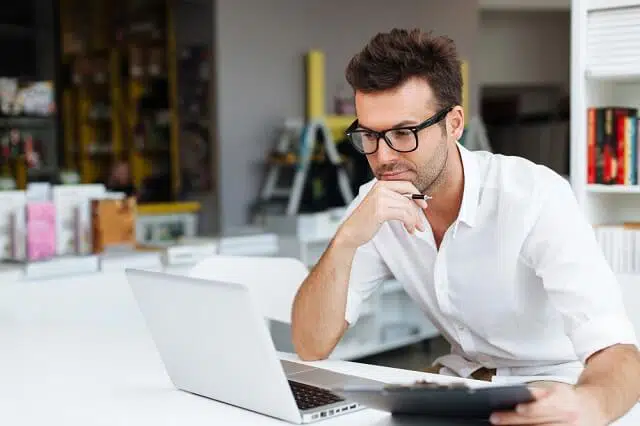 When most people think about renting, they tend to think about apartments.  An apartment is a single unit inside a multi-family building, multi-unit complex, or other development which is owned by someone other than the occupant.
The apartment is leased to tenants for the purposes of earning rental income and is not intended to be owner-occupied.
When you live in an apartment, you pay for rent under a defined lease or other legal agreement.  Depending on arrangement, you may also pay for utilities, but this varies based on leasing agreement.
You may have the option to pay directly from your bank account, through check, a debit card or even a credit card.
Related: Which Type of Real Estate Investment is Right for You? 8 to Know
What is the Difference Between a Condo and Apartment?
---
In the purest sense, condos represent a form of ownership of one dwelling in the proximity of other units.  There are multiple forms of condos, such as townhouse condos, apartment-style condos, and even detached condos.
Should You Own a Condo as an Investment?
---
Owning a condo is a smart move for a young adult if the property continues to appreciate in value as well as produce positive cash returns on your investment. These investments can prove the best passive income ideas because of the money you make while you sleep.
Further, they offer tax-advantaged benefits like MACRS depreciation and the ability to write off several other related expenses against the earnings generated from rental income.
Learn more about the best investments for young adults and start building your wealth.
not owned by the occupant.  A tenant rents the apartment from a landlord.
Where most people run into confusion telling the difference between apartments and condos is the latter can be rented and appear like an apartment.
Condo vs. Apartment YouTube Video
---
In this short YouTube video, the narrator speaks about the main differences between condos and apartments.  Notice he focuses primarily on the different ownership situations.
Comparing a Co-Op vs. Condo
---
Another housing arrangement mentioned as an alternative to condos are co-ops, or cooperatives.  According to the New York Times, co-ops are commonly found in New York City but are seen elsewhere as well.
In general terms, they tend to be less expensive, though more exclusive, than condos.  The purchase approval process and building rules tend to be stricter with a co-op, and they make up a larger percentage of New York City's housing stock.
In a co-op, you do not own your unit.  The entire building is owned by a corporation and when you buy in, you purchase shares in the corporation.  These shares come with the privilege of using a designated unit along with the common areas of the building.
Unlike a condo, but like a privately-held startup company, the current co-op shareholders usually have the right to veto any sale of shares from one owner to another interested buyer.
This differs from a condo where unit owners may sell their condo to another without a vote being taken by the HOA.
Amenities for Condo-Living and Apartment-Living
---
Depending on the condo or apartment, amenities can vary.  Upscale condos offer numerous on-site amenities like a fitness center, pool, hot tub, grill, gated parking and more.
However, these amenities are not exclusive to condos.  Apartment buildings can offer similar benefits.  Both can offer a la carte services like dry cleaning pick-up and delivery, on-site laundry, community rooms for hosting events, or even a business office with printing and WiFi access.
If an apartment building offers these features, they are offered to everyone.  Within the same building, these features have little variation apartment by apartment.
In condos, however, because the units can be customized by the unit owners, you can find additional features not always seen uniformly as you would in apartment buildings with standard floorplans.
This means variations in design such as hardwood flooring, marble countertops, upscale bathroom design, vaulted ceilings, etc.
These are investments made by the condo owner to improve the experience of owning the unit, the property value, or both.  Because of this customization, you can expect to see a wider variety of property values for similar floorplans.
For apartments, you are generally not allowed to renovate the space.  Commonly, a tenant cannot make changes without the owner's express permission.
Maintenance Responsibilities
---
The term condo denotes ownership over one unit of the overall structure (most commonly the interior parts like walls, floors, ceiling, and space contained within the unit confines) and shared ownership of the rest of the complex (e.g., exterior walls, land, yard, roof, parking lot, driveways, etc.).
For a condo, it is the owner's responsibility for handling all maintenance, renovations, and overall unit status.  The condo association handles repairs over common areas.
In apartments or rented condos, the repairs, upgrades and maintenance are the responsibility of the apartment or condo owner, not the tenant.  This benefit attracts many people to rent.
Having the knowledge the responsibility for maintenance and repairs resides with someone else can be freeing.  If something breaks, contact the landlord.  If the plumbing backs up, call the front office.  If the heater quits working, text the property manager.
Some apartment complexes offer services which allow tenants to submit work orders online or have someone on-call 24 hours a day in case an emergency presents.  Depending on the quality of the apartment management, the issue could be resolved in a timely manner or not.
With apartments, most are generally managed by professional companies, which offers peace of mind to tenants.  They know potential issues will be handled in a timely and professional manner.
Whereas with a condo, if the unit owner is unavailable or lives out of town, it may be more difficult to contact them when needed maintenance arises.
Do I Need Special Insurance for a Condo or Apartment?
---
→ If You Owner-Occupy: Condo Insurance
If you own a condo and occupy the unit, you will need to purchase a condo insurance policy through a provider like Liberty Mutual.  These policies will provide coverage for what your condo's HOA policy doesn't cover, primarily those events within the walls of your unit.
Specifically, condo insurance, also called HO6 insurance, often includes coverage for:
Personal Property – Property you own within your unit.
Dwelling – Coverage for the dwelling itself, including walls, fixtures, flooring, etc.
Liability – If something happens on your property and you are found liable, HO6 insurance might help to cover these costs.
To look into these items more, consider starting your search with Liberty Mutual.
Liberty Mutual | Bundle & Save
Liberty Mutual offers several types of insurance, whether this is for condo or homeowner's insurance, landlord, renter's insurance or auto, they may be able to offer more savings through bundled policies.
→ If You Own and Rent Your Condo: Landlord's Insurance
If you own a condo and rent it to tenants while not living on the property as an alternative investment to the stock market, you will instead need to look into landlord insurance.
This runs higher than standard condo insurance but provides coverage for your condo-turned-rental real estate.  These special policies are necessary for covering against mishaps or loss events which can occur while renting your property.
→ If You Rent a Condo or Apartment: Renter's Insurance
Finally, if you rent a condo or apartment, you might consider carrying renter's insurance coverage.
My wife and I lived in an apartment after we moved across the country and carried renters insurance coverage through Liberty Mutual because our apartment complex required coverage with them listed as an interested party.
We bundled this coverage with our auto insurance and saved by insuring multiple items under one policy.  Looking into renters insurance coverage through a company like Liberty Mutual could save you money through bundling and be what you need.
Once you enroll, check your insurance declaration page to ensure the information included about you, the covered property and the plan all reflect your desired policy details.
Apartment vs. Condo Infographic
---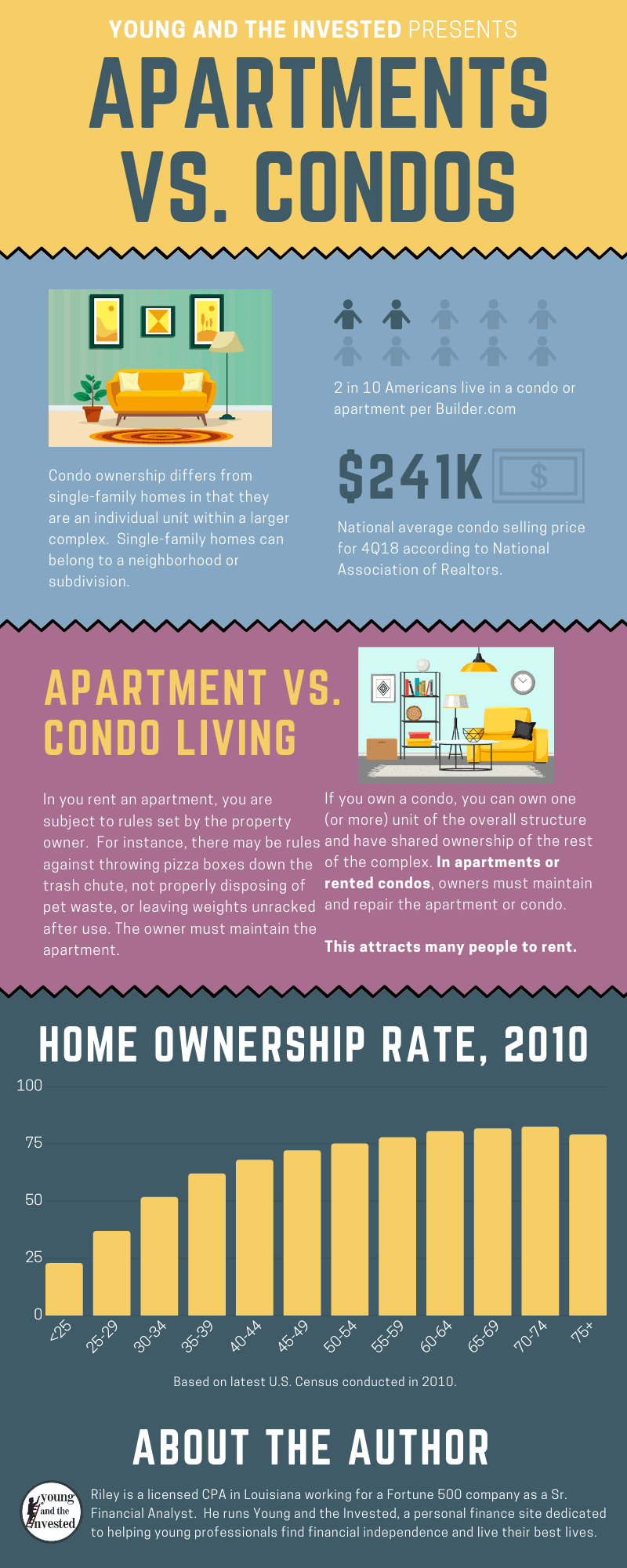 What are the Rules in a Condo vs. Apartment?
---
While rules can be stifling, they can also be useful for maintaining a property's livability and attractiveness.  Because of this, it is important to follow them and stay on good terms with the condo complex or apartment building.
In a condo complex, there is a board of directors which acts as management over the shared areas and enforces applicable covenants and by-laws.  Each owner is a member of the homeowners' association.
In some instances, condo boards hire an external property management firm to handle the administrative functions.
The board will instead perform executive functions such as administering funds, supervising maintenance projects for the building, or documenting discussions and agreements made with service providers hired for the benefit of the condo complex.
Regarding voting on condo matters, multiple arrangements can be stipulated to in the condo's by-laws.  It is common to see voting power assigned by square footage owned relative to the whole development, equal representation (1 vote per owner), or other means.
In an apartment, you are also subject to rules set by the property owner.  For instance, there may be rules against throwing pizza boxes down the garbage chute, not properly disposing of pet waste, or leaving weights unracked after use.
In both cases, not following these rules can result in fines.  However, in the case of an apartment, violating the rules enough times could result in eviction or other disciplinary action.
Where Can I Find Condos and Apartments?
---
Real estate listings can be found in multiple places these days due in large part to the ubiquity of the internet.  It's easy to check Craigslist condos for sale, or Zillow apartments for rent.
Each platform also offers other services to assist potential home buyers or interested renters with marketing mixes suited to an individual's needs.
You can simply sort through Craigslist apartments for rent in your area by using their search tools and filtering your results.
While not always the most robust filtering service, given some listings lack the necessary detail you want, it can still provide a good idea of the apartments for rent in your area.
Likewise, when using Craigslist to find condos for sale, you can search for available listings to get an idea of the marketplace.  When I looked for my place, I merely typed "condos for sale near me" into Google and sorted through some Craigslist postings which appeared.
After applying a few quick filters to narrow my search, I found my condo and directly contacted the seller.  Other great places to look are Redfin's homes for sale and choosing to look at condos only.
For those who are looking at apartments, Redfin, Zillow, Craigslist, Hotpads, Trulia, and other platforms are great for searching.  There are countless more options available and these are only a handful I have used to manage my own rental properties.
In our case, we have had the most success using a combination of Zillow, Craigslist, and Facebook Marketplace to promote our rental properties.  We hosted an open house through Zillow and found several potential tenants.
For those looking to sell their property, but only for the right price, you should see Zillow's Make Me Move service.  This is a way for homeowners to test the market and gauge potential interest without officially listing their home for sale.
The way it works is once you put a listing on Zillow's Make Me Move service, potential buyers can contact you via e-mail to discuss further details. As the homeowner, you remain anonymous until you wish to share the information with the interested buyer.
I listed my New Orleans condo for sale on the above sites.  My hope was these platforms would broaden my reach and allow me to avoid seeking the help of a real estate professional to sell my property and pay a commission.
In the end, I opted for an agent at a reduce commission and I sold the condo for about what I expected to clear.
Over my 6 years of ownership, I earned a ~20% IRR. I'm quite happy with the return but even happier I sold the condo to help finance the house my wife and I now own in California.
Related:
Real Estate Agents vs. Brokers
---
If you are looking for a space and do not know your market well enough to navigate it yourself, there are likely several real estate agents and brokers available to help you.  Knowing which one you want means understanding the difference between real estate agents vs. brokers.
A real estate agent is anyone who has earned a real estate license. This license can be as a sales professional or an associate broker.  They have access to listings on the multiple listing service (MLS) and help you to buy or rent a property.
A real estate broker is an agent who has also passed a broker license exam. These individuals have taken education courses beyond the necessary credits needed for passing the real estate agent exam.
The primary difference between real estate agents vs. brokers is that brokers can own real estate firms and/or hire agents to work for them. Using either of these to find a space may be necessary depending on your housing market.
Is it Better to Buy a Condo or Rent an Apartment?
---
As a condo owner, it might be taxing always needing to handle repairs either for yourself or your tenants.
However, if the property value continues to increase and you can tolerate the upkeep, growing your assets and net worth could overshadow the out-of-pocket costs.
Knowing that equity is building will help you sleep at night.
When looking how to increase net worth, consider tracking your net worth with a free tracking app like Empower (Personal Capital is now Empower). The app includes useful tools for tracking your net worth across time, digging into various aspects of your financial picture, monthly cash flow analysis, and more.