I frequently say that debit cards are one of the best tools parents have for teaching their children to be financially literate. But that education is only as good as the tool, which is why you need to make sure any debit card you give your kid stands up to scrutiny.
Today, I'm going to help you decide whether Copper Banking fits that bill.
The most recent T. Rowe Price Parents, Kids & Money Survey found that 57% of surveyed parents have at least some reluctance to discuss money matters with their children. That's a problem: If parents are hesitant to talk to their kids about money, one important piece of financial education is flying right out the window.
However, debit cards can cure these ills. For one, kids benefit greatly from hands-on financial education—like using a debit card to spend, or watching their money grow within a savings account. And learning about these cards can spark the conversations parents are shy about having.
Copper Banking offers up one such debit card that's worth a closer look. So read along with me as I conduct my Copper Banking review to learn more about what it can (and can't) do for your child's financial literacy.
What Is Copper Banking?
---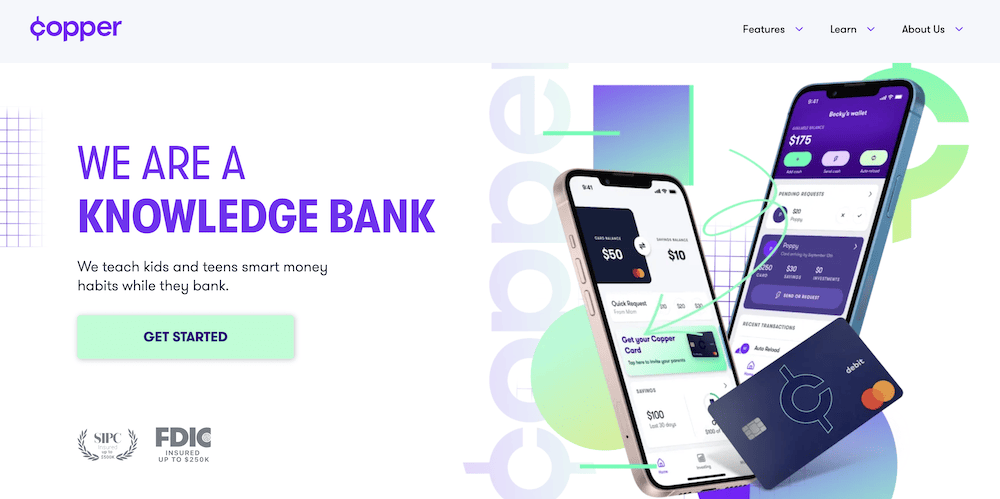 Copper Banking is a fintech app with a prepaid debit card that provides digital banking for minors. Although the app is marketed to teens, children as young as 6 can have an account as long as they have their own phone.
Copper Bank is entirely online, but customer deposits are FDIC-insured through their banking partner, Evolve Bank & Trust.
Founded by experienced entrepreneurs and business partners Stefan Berglund and Eddie Behringer, Copper Banking utilizes an app and a debit card to help children become financially responsible. Berglund and Behringer already have experience creating a fintech company for teens. They're best-known for their previous startup, Snap! Raise, a crowdfunding platform for high school teams, clubs, and more.
Using their experience combined with their passion for increasing financial literacy in teens, they founded Copper Banking.
Copper Banking is an app with an attached debit card that provides kids with a number of banking services. But what sets Copper Banking apart from similar apps on the market is its focus on financial literacy. For example, embedded in the app is a feature called "Money Moves"—quick, easy-to-understand money lessons for your kids. From answering questions like "How Do I Make a Budget?" all the way to "What is an IPO?" Money Moves help your kids learn about financial topics while they're using the app.
Related: Opening a Child Bank Account with Debit Card [Kids' Debit Card]
Who Is the Copper Banking App for?
---
Even though very young kids are technically allowed to use the Copper Banking app (with permission from their parents), it's primarily geared toward teenagers—specifically those who are interested in learning about money and want more independence—and their parents.
Parents should know that regardless of what age their children are, they can't just set their kids up in the Copper app and walk away. This is not a set-it-and-forget-it product. Using the app requires involved parents who want to work with their children, establish a budget, and help them create financial goals.
Luckily, the user interface is intuitive enough that people of all ages should have little difficulty using it right away.
When used regularly, this app is primarily a financial literacy tool that helps kids understand how to manage their finances by exposing them to managing money and familiarizing them with financial terms.
How Does the Copper App and Debit Card Work?
---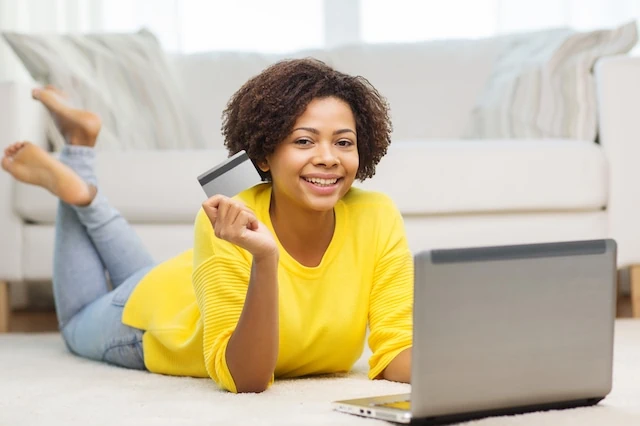 In the U.S., you must be 18 years old to open a bank account on your own. So, Copper users need a parent or guardian's permission to open and use the account.
After verifying their identity to open an account, parents add money to the Copper Bank app by linking either a bank account (free transfers, three to five business days) or debit card (small fee, instant transfer). This money sits in a digital wallet until parents are ready to transfer it to their children's Copper accounts.
Parents can give money to their children as a one-time payment or a recurring payment, like an allowance. Once children have the money in their app, they have autonomy over how to use it—they can spend it using the Copper card, or they can set up and save toward savings goals.
Importantly, this is a paid account. Users have their choice of two subscription tiers:
Copper: $4.95 per month
Copper + Invest: $7.95 per month
One last note before we move on to the features of both these plans: Copper Banking isn't a bank, but instead a fintech app powered by a partnership with SynapseFi (a software provider) and Evolve Bank & Trust (EB&T, a bank). The three of these entities together enable users to enjoy banking features within this app. It's a seemingly minor distinction, but one that educates a few of the features I'll discuss below.
Debit Card for Kids + Teens
Copper Banking | Banking Built for Kids
30 days free. Copper $4.95/mo. Copper + Invest: $7.95/mo.
Copper is the digital bank and debit card for teens built with the mission of creating a financially successful generation.
Send/Request:

Teens and parents can easily send and receive money all at the touch of a button.

Spend:

Pay with a digital wallet via Apple Pay or Google Pay or use the physical Copper Debit Card.

Monitor:

Get a snapshot of all your spending in an easy-to-read dashboard.

Save:

Gain quick snapshots of your savings and helpful tips on how you can save even more. Set up savings bucks and save for the things that you want.

Learn:

With the help of Copper's team of financial literacy experts, learn more about how to maximize your money and prepare yourself for your financial future.
Pros:
Allowance administration

Financial education resources

Network of 55,000-plus fee-free ATMs
Cons:
No chores tracking or assignment

No parental controls beyond notifications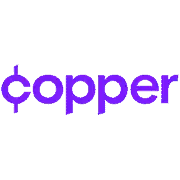 What Are Copper Banking's Features?
---
Copper Banking has a plethora of features—some standard, and some that set it apart from both traditional banks and similar apps on the market today. Below, I'll highlight some of the main features both parents and kids will benefit from when they become Copper Banking users. All features mentioned below are included in both subscription plans unless otherwise indicated.
Debit Card for Kids
---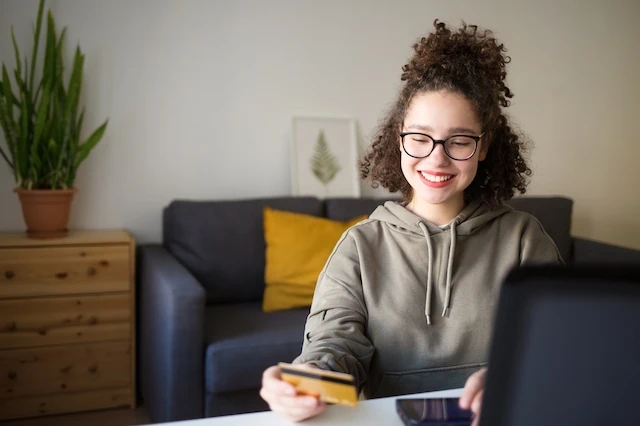 Like I mentioned before, debit cards for kids are among the most important financial education tools. Thus, Copper Banking's debit card is one of its most vital features.
All Copper users get a Copper card—a Mastercard debit card that can be used to both spend online and in physical stores, as well as to withdraw money from a network of more than 55,000 fee-free ATMs.
The card includes RoundUps, which are a popular feature among microsavings apps. Purchases made with the card are rounded up to the nearest dollar, then the extra money is sent to the savings account to help your children reach their savings goals.
Related: Best Debit Cards for Teens
Parental Controls
---
What's great about the Copper app is that parents are in charge. Children can't open a Copper account without a parent. Parents fund the account using the Copper wallet. And parents are in control of how much money their children get to use.
Copper's parental controls are adequate. Parents can always keep an eye on their children's purchases through the app, and they can even opt into receiving notifications every time their child uses their card. Think your child is spending too much, or are you just worried that the card has been lost or stolen? Parents can freeze the card for as long as they want, and unfreeze it when they're ready. Plus, Copper won't let your kids transact with any vendors flagged for inappropriate content.
Have more than one child? No worries—Copper scales with your family. Each parent can add up to five children to a single Copper account. So if you have a basic Copper account, that $4.95 per month buys you one, two, three, four, even five cards for your children if you need them. And adding more kids to the account is straightforward and easy.
Mastercard Card Network
---
Copper comes with a Mastercard debit card, meaning your teens can use their debit cards anywhere Mastercard is accepted—except, as I just mentioned, with any vendors flagged for inappropriate content.
Still, you have worldwide coverage with this card, as Mastercard currently is accepted at more than 210 countries around the globe.
You also enjoy Mastercard Zero Liability Protection, which doesn't hold cardholders responsible for any unauthorized transactions as long as they used reasonable care from protecting the card from loss or theft and promptly reported any fraud to Copper.
Virtual Debit Card
---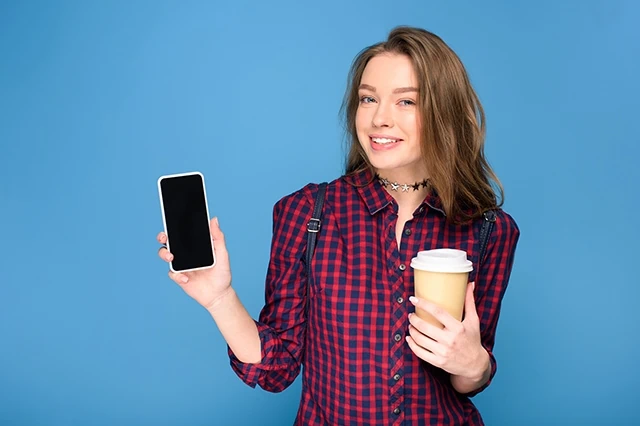 In addition to receiving a physical card, Copper customers can also use a virtual debit card via Apple Pay or Google Pay to make purchases. It's added functionality that elevates Copper above similar apps.
Copper Banking Mobile App
---
The Copper Banking mobile app is available on both Apple's App Store and Google Play, and it's free to download.
The interface of this financial app for teens is exceptionally user-friendly. It's sleek, sophisticated, and has an excellent user experience that makes managing your finances easy (even if you're, you know, a kid starting your money management journey).
Money Transfers
---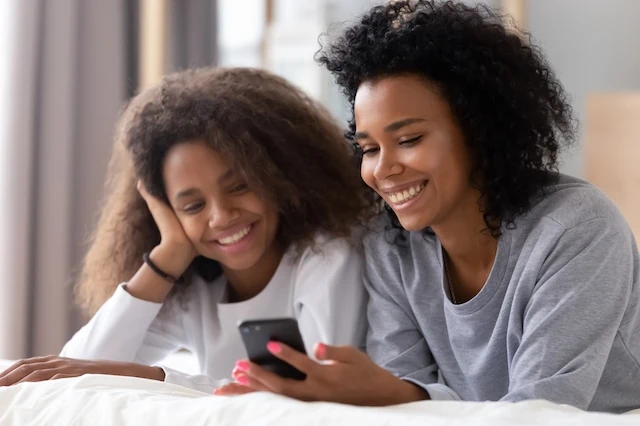 When parents want to transfer money into their account, they can do so in one of two ways:
Bank transfer: If you transfer via a linked bank account, transfers are free and take three to five business days to clear.
Debit card transfer: If you transfer via a debit card, transfers cost 2.5% of the total amount + 30 cents per transaction, but transfers are instant.
Parents can manually initiate transfers into their wallets, or they can set up Auto-Reload, which reloads the parent wallet whenever its funds fall below a predetermined threshold.
Once parents have funds in a wallet, they can instantly transfer money to their child's Copper Banking app. And once kids have that money, they can spend it, save towards their goals, or even send money to each other.
Investing (Copper + Invest Only)
---
With Copper + Invest ($7.95 per month), your child also gets access to an easy starter investment platform that uses automatically curated smart portfolios built with their preferences in mind.
Your child is given a questionnaire that helps Copper determine a portfolio based on their age, income, net worth, investment objective(s), and investment horizon. Copper then recommends one of three ETF portfolios—Moderately Aggressive, Aggressive, and Extra Aggressive—made up of thousands of stocks. Parents can review the portfolio to ensure it matches with not just your child's preferences, but your family's. (Portfolios can be changed later by accessing the Support chat.)
Your child can begin investing for as little as $1, then add more contributions down the road. Copper will automatically rebalance the portfolio as needed to make sure it always keeps up with your child's investment preferences.
Allowance
---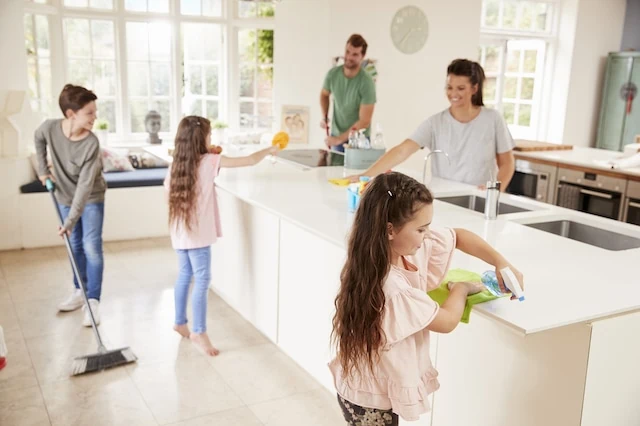 Copper allows parents to bring allowance into the 21st century.
Parents have two options: send a one-time payment when their kids need or request them, or set up recurring transfers (say, a weekly allowance). The latter can be used as a tool to help children set budgets—they know how much money they'll have every week, and they can learn the trade-offs of spending it right away or saving it for larger purchases they want.
Tasks + Earn
---
Copper also has a solution for parents who want to teach their kids the concept of earning.
With Tasks, you can set up anything that needs to get done—chores, homework completion, even a family project—so your children get paid once they're marked as complete. Tasks can be set up on a one-time basis or made to repeat.
Parents aren't the only way kids can get paid through Copper. Through the Earn feature, children can complete surveys to collect "creds," which can be cashed in for real money.
Related: 7 Best Paid Surveys for Kids and Teens
Savings
---
Does your kid want to save up for a down payment on a car? College tuition? Maybe just a new laptop? With Copper Banking, they can set up savings goals and put money away toward those purchases.
Better still, Copper pays interest on those savings—currently 2% for Copper subscribers, and 5% for Copper + Invest subscribers.
Financial Education + Literacy Development
---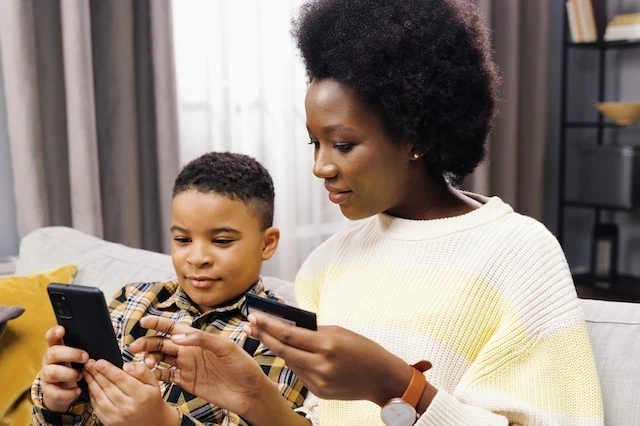 Copper Banking shines when it comes to education. It has hired financial literacy experts to help develop their literacy development content, including:
Liz Frazier, Copper's Executive Director of Financial Education. Frazier is the author of the book Beyond Piggybanks and Lemonade Stands.
Lily Lapenna, Copper's Financial Literacy Advisor. Lily Lapenna has been recognized by Queen Elizabeth and the World Economic Forum for her work in personal finance.
Copper Money Moves
---
Copper's approach to financial literacy doesn't involve boring classroom topics or difficult-to-decipher charts and graphs.
Instead, Copper offers what they call Money Moves: "Bite-sized financial lessons to help you become a financial superstar."
Money Moves are organized into four different categories:
Debt
Budgeting
Investing
Savings
Each Money Move is a short, 1-to-2-minute video covering topics such as "How do dividends work?" and "What do our taxes actually go toward?"
Card Limits
---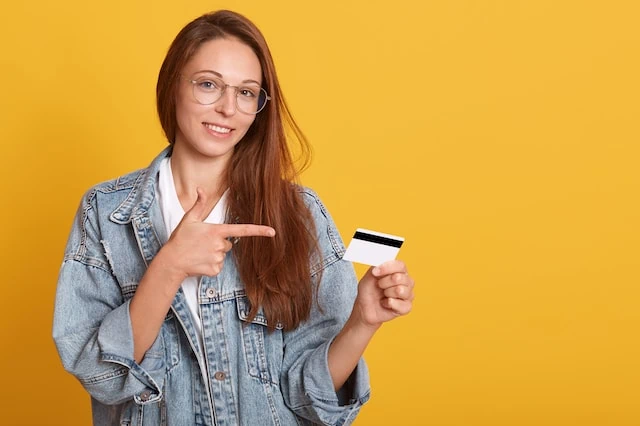 Copper's teen accounts have no maintenance fees, but they still have certain card limits. Here are some restrictions parents should understand before signing up with Copper:
Daily deposit limit (debit card or ACH): $500
Monthly deposit limit (debit card or ACH): $2,000
Daily spending/transfer limit: $2,000
OK, chances are you don't have to worry about your child needing to spend more than $2,000 at the mall. But they could be in a situation where they need emergency cash, and it's important to know what the cap is on what you can send them.
Overall, though, these card limits are in line with what many other banks allow.
FDIC Insurance
---
Copper itself can't offer Federal Deposit Insurance Corporation (FDIC) insurance because it's a fintech company. However, it's able to offer up to $250,000 of FDIC insurance thanks to its partnership with EB&T, which I mentioned earlier. This means any of your deposits of up to $250,000 are protected in the event that Copper and/or EB&T fail.
ATM Withdrawals
---
Copper card users can withdraw cash fee-free from the Allpoint network of more than 55,000 ATMs. However, like with similar cards, you might face third-party charges if you use an out-of-network ATM.
No Overdraft Fees
---
Copper Banking does not charge any overdraft fees. Your child can only spend what you've allowed them to spend from their account.
Direct Deposit + Divvy
---
Both children and parents can set up direct deposit with their Copper account. To find your Copper routing and account number, visit the app, click on Settings and look for "direct deposit." You will see all the information you need right there.
If your child gets their first job and the employer pays by direct deposit, your child simply needs to give their employer their routing and account number, and they'll be able to receive their paychecks in their Copper account. (And note: If your teen does do direct deposit, they can get paid up to two days early.)
Copper also offers a feature called Divvy that allows you to automatically put aside a percentage of each paycheck toward savings and/or investing.
Costs
---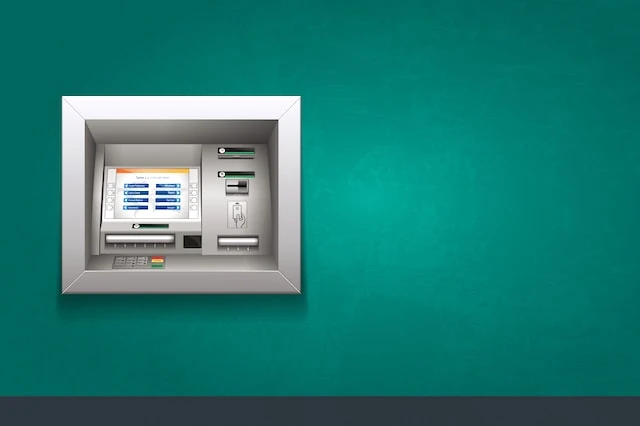 Copper charges users in two ways:
Subscriptions (The basic Copper plan is $4.95 per month, while Copper + Invest is $7.95 per month)
Load fees

Transfers from a linked bank account (2.5% of the total amount + 30 cents per transaction)
Cash loads at a Green Dot location (up to $4.95 per load)
There are no minimum-balance or overdraft fees, nor are there any hidden fees. Still, you could end up facing other third-party fees—say, if you make a withdrawal from an out-of-network ATM.
How to Open a Copper Account
---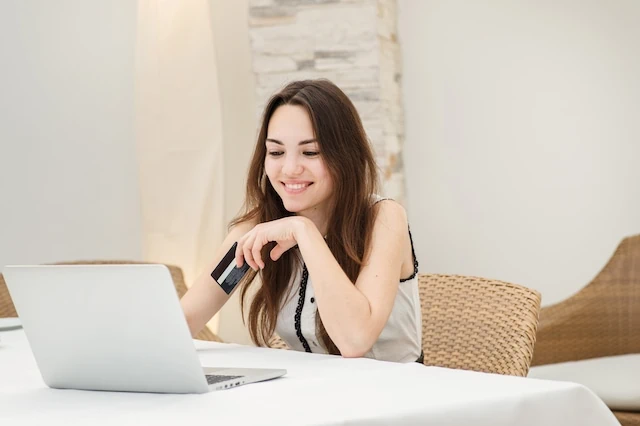 Here are the steps you'll need to take if you want to open a Copper account.
Download the Copper app. Enter your phone number to receive a unique verification code on your phone.
Create your own parent account. This allows you to send cash to your teen through this app.
Sign up. Enter your information to create your Copper account. This will provide visibility into your teen's Copper account like debit card usage, savings goals, and more.
Approve your teen to download their app. Once cleared, your teen can download their teen account app.
Enter your address to receive a debit card in the mail. You will need to provide your Social Security number (SSN) or tax identification number (TIN) to verify your identity (in compliance with the U.S. Patriot Act).
While you wait for your physical Copper Banking debit card to arrive, you can use a virtual debit card on the Copper app.
How Is Copper Different From Traditional Banks?
---
From the boring back end, Copper is different from traditional banks in that it's a fintech company that has partnered with a bank to offer its financial services.
From what you get: Copper offers something more than, say, a regular bank's teen checking account. It offers saving, investing, allowance, chores, and a number of other features that would require multiple financial accounts to enjoy with a traditional institution.
Copper also has far more focus on educational tools. This allows kids to understand financial responsibility, reduces the risk of overspending, and helps teens establish good savings habits before they're exposed to more complicated financial products such as loans, insurance, and credit cards.
Copper also differs in that it charges a flat usage fee. On the one hand, that makes it more expensive than a traditional bank. But you get more from Copper for those fees, and you don't face hidden fees like you do with checking and savings accounts. There are no overdraft fees or non-sufficient fund fees, which are typical at most banks and can act as a serious drag on people's finances.
Copper Banking Review
---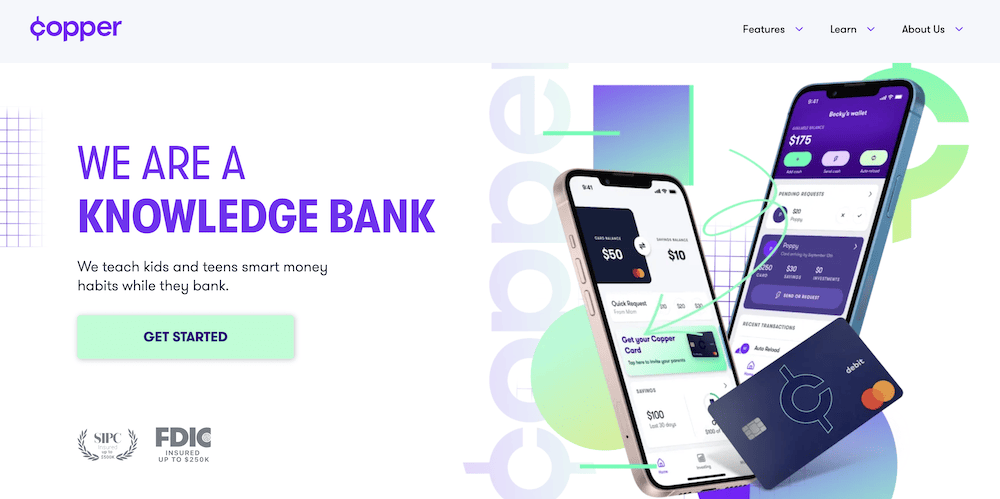 Copper Banking is an excellent choice if you want an all-in-one financial solution for your kids. With Copper, you get the functions of a checking account (the debit card), a savings account, and (with an upgraded plan) a robo-advisory investment account, with a lot of little features tucked in between.
Copper also offers plenty to parents. It's a tool that parents can use to help teach their kids money management and financial literacy. It can also make allowances and paying for chores a whole lot easier. And the Copper card provides peace of mind thanks to its various parental controls.
The sticking point with Copper, and where parents have a tough decision on their hands, is price.
Parents have several excellent free debit card choices for their kids, including the Chase First Banking℠ account or the Fidelity® Youth Account if they want something with an investment option. Conversely, parents who are happy to dole out money will find a superior experience with the Greenlight card, which is more expensive but offers more powerful spending controls, stock trading app capabilities, card design customization, and many more features.
Copper Banking nicely fits a niche, however, for parents willing to spend (but who don't want to spend too much) on a feature-rich card for their kids.
Debit Card for Kids + Teens
Copper Banking | Banking Built for Kids
30 days free. Copper $4.95/mo. Copper + Invest: $7.95/mo.
Copper is the digital bank and debit card for teens built with the mission of creating a financially successful generation.
Send/Request:

Teens and parents can easily send and receive money all at the touch of a button.

Spend:

Pay with a digital wallet via Apple Pay or Google Pay or use the physical Copper Debit Card.

Monitor:

Get a snapshot of all your spending in an easy-to-read dashboard.

Save:

Gain quick snapshots of your savings and helpful tips on how you can save even more. Set up savings bucks and save for the things that you want.

Learn:

With the help of Copper's team of financial literacy experts, learn more about how to maximize your money and prepare yourself for your financial future.
Pros:
Allowance administration

Financial education resources

Network of 55,000-plus fee-free ATMs
Cons:
No chores tracking or assignment

No parental controls beyond notifications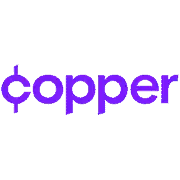 Related