Reaching financial independence requires sound decision-making, determination, and effort.
However, we can also use a little luck to work in our favor. In that case, learning to invest in stocks is paramount, but why not enlist some help to get us started by scoring some free stocks?
Believe it or not, several companies offer free stocks online through their services and apps. For those interested in getting some of the most popular stocks in their portfolio for free, consider reviewing the services listed below and see how you can earn free stocks with minimal effort.
This article looks at the best ways to get free stocks from investing and trading apps, which you can choose to hold for the long-term or sell for a quick profit. Some may even pay dividends which qualify for the passive income tax rates (long-term capital gains).
Apps Giving Away Free Stocks—Top Picks
---
How to Get Free Stocks for Signing Up
---
In today's world, it might seem far-fetched to think anything comes to you for free. In the world of stock investing, you might have found an exception when it comes to finding ways to get free stocks.
Believe it or not, since many new discount brokerages have entered the trading scene, they've managed to lure millions of investors to sign up for the services with free trades and free stocks.
Further, some even go so far as to offer free stock charting, analytics, research and more. Their value proposition only continues to grow as they find new ways to monetize services and offer you free shares of stock.
If you want to receive free stock from different brokers, you will need to meet certain criteria. Some choose to give investors free shares by simply opening an account while others require you to take certain actions like making a minimum deposit and making a trade.
Make sure you read the fine print before proceeding but you may find that these free stock shares are only one part of what makes these investing platforms worthwhile.
Some even bypass the stock and give you a sign up bonus as an account credit to get you started investing sooner.
Have a look at this following list to see which brokers offer free stocks and sign up bonuses for opening accounts with their platforms.
1. Fidelity Youth™ Account ($50 Bonus for Teens, $100 for Parents)
---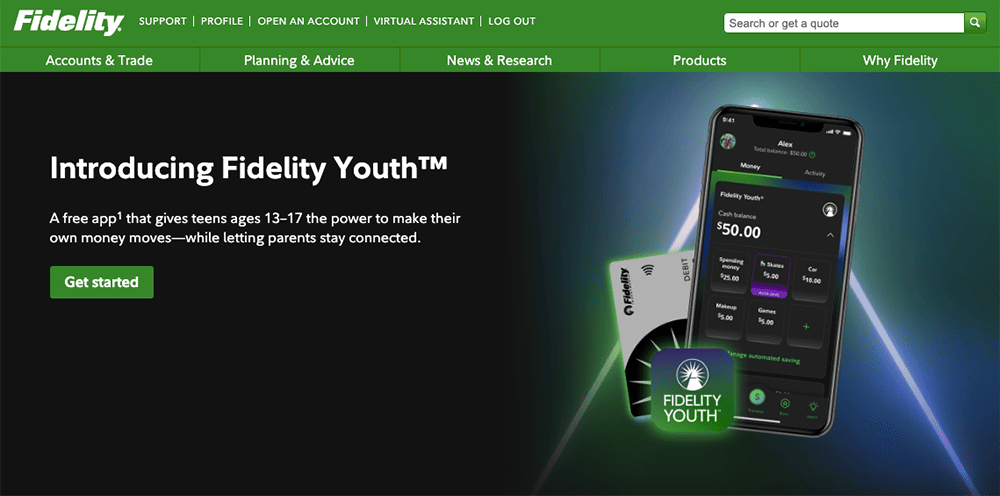 Promotion: Teens get $501 on Fidelity® when they download the Fidelity Youth™ app and activate their Youth Account; parents get $100 when they fund a new account
Available via web, mobile app (Apple iOS, Android)
Learning early about saving, spending and investing can pay off big when you start on the right foot. And one tool that can help your teen get that jump is the Fidelity Youth™ Account—an account owned by teens 13 to 17 that's designed to help them start their money journey. They can start investing by buying most U.S. stocks, exchange-traded funds (ETFs), and Fidelity mutual funds for as little as $1!⁴
Your teen will also get a free debit card with no subscription fees, no account fees³, no minimum balances, and no domestic ATM fees⁵. And they can use this free debit card for teens to manage their cash and spend it whenever they need.
A parent or guardian must have or open a brokerage account with Fidelity® to open a Fidelity Youth™ Account. For new Fidelity® customers, opening an account is easy, and there are no minimums and no account fees.
If your teen has an interest in learning about investing and taking their first steps toward building their financial journey, you should consider downloading the Fidelity Youth™ app and opening a Fidelity Youth™ Account. The account comes custom-built for their needs, which will help them become financially independent and start investing for their future.
Read more in our Fidelity Youth™ Account review.
→ How to earn the Fidelity cash bonus
Open a Fidelity Youth™ Account for your teen, and Fidelity® will drop $50 into their account. Get $100 for yourself when you open a new Fidelity® account and fund with $50¹.
Related: Best Stock Apps for Teens
2. Robinhood (1 Free Stock)
---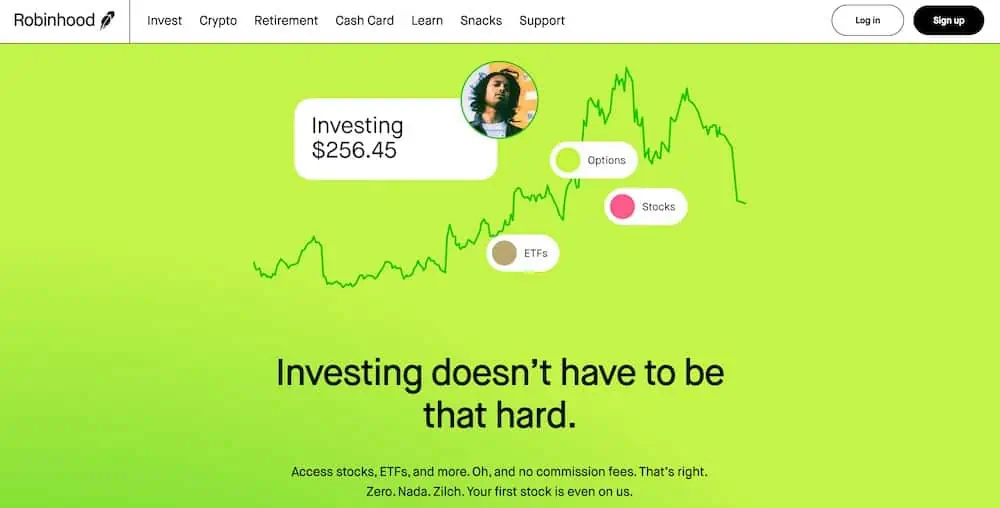 Free stock value: $5 – $200
Platforms: Web, mobile app (Apple iOS, Android)
Robinhood is a pioneer of commission-free trading, jumping into the investing public's consciousness in 2013 when they rolled out commission-free trading. They remain a standout option for cost-minded investors thanks to their continued $0 commissions on stocks, ETFs, and options, as well as for its fractional trading, which allows people to invest with as little as $1.
More importantly, though, Robinhood has evolved from a bare-bones app appealing to mostly beginner investors to a fuller-featured account suitable for a wider range of experience levels.
For instance, Robinhood now offers individual retirement accounts (IRAs) and Roth IRAs via Robinhood Retirement. Functionally, it comes up short compared to many other IRA providers because of its investment options. It offers just stocks and ETFs; like with its brokerage account, mutual funds aren't available.
Sign up for a Robinhood brokerage account or Robinhood retirement account today.
→ How to Get Free Stock on Robinhood
Like Webull and other Robinhood alternatives listed in this article, Robinhood offers an incentive of earning a free stock valued between $5 and $200.
The service boasts your ability to get a free stock from companies like AAPL, AMZN, BRK.B, CVX, DE, DIS, F, GOOGL, HON, JNJ, JPM, KO, LLY, MCD, MSFT, NVDA, PG, TSLA, WMT, XOM.
To receive your Robinhood free stock, sign up with this link and open your account within 24 hours. Upon approval for your account, you will receive your free share of stock by playing their pick-a-card game of chance.
3. Plynk Investment App ($85 bonus)
---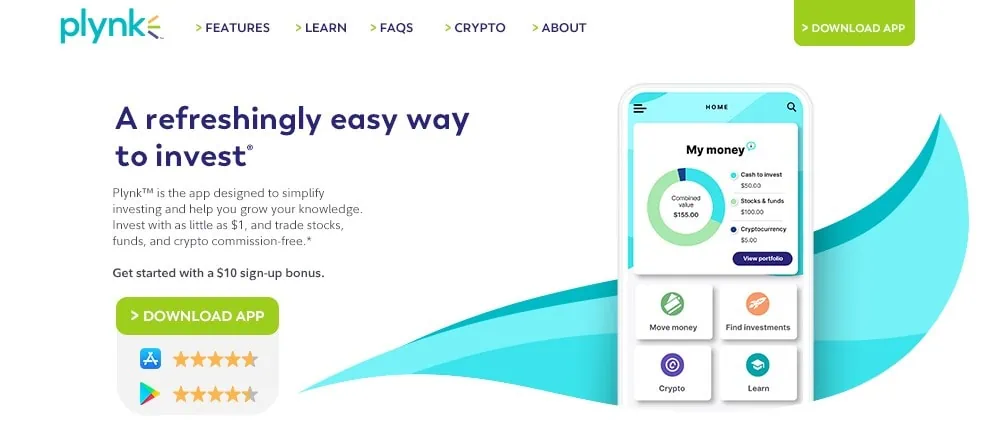 Bonus value: Up to $85
Available via Apple iOS and Android App on Google Play.
Plynk™ is an app designed to help you start investing and learn along the way, and they're currently offering a $10 account signup and $75 net deposit bonus ($85 combined).
The Plynk app helps investors put their money into an investment portfolio. You can invest with as little as $1, and trade stocks, funds, and crypto commission-free**—all in one app. The platform uses straightforward, easy-to-understand language to explain investing concepts. No jargon. No complex charts and tables. Just simple-language tips and how-tos.
One of Plynk's most interesting features involves, of all things, gift cards. Specifically, you can redeem unused gift cards for money that you can use to buy stocks in your favorite companies.
→ How to Get Free Bonuses on Plynk
If this sounds interesting to you, consider opening an account with Plynk. To make it more worth your while, they have a few special offers.
Simply open an account and link your bank account to get a $10 signup bonus. Plynk is also offering a special bonus promotion through Dec. 14, 2023. If you make a deposit, Plynk will double it up to $75. Customers must have a minimum of $25 in net deposits during the promotional period to receive a match. That means you may be eligible for up to $85 in signup bonuses from Plynk by taking qualifying actions.
Read more in our Plynk review.
4. Moomoo (15 Free Stocks + 1 Share of TSLA or GOOG)
---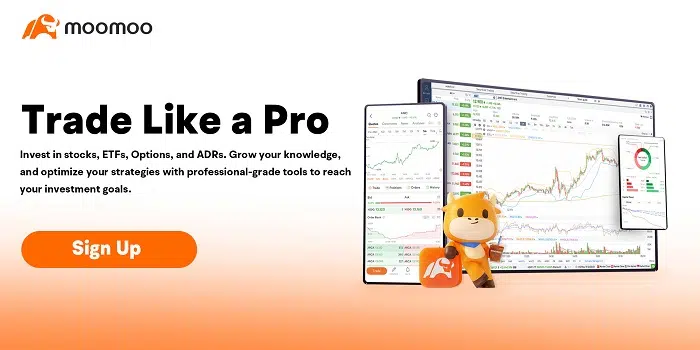 Free stock value: 15 free stocks, each valued between $3-$2,000 + 1 Share of TSLA or GOOG (with $5,000 deposit)
Moomoo is a commission-free professional trading app that enables active traders to trade like a pro with professional grade tools and interface. The free advanced trading app integrates AI-powered trading tools with free real-time Level 2, comprehensive data and an engaged trading community in one app.
Over 2 million clients worldwide have opened a brokerage account with FUTU, an SEC registered broker-dealer who backs the app with a fully digitized brokerage and wealth management app.
→ How to Get Free Stocks on Moomoo
You can receive up to 15 free shares (collectively worth anywhere between $45 and $30,000) and an extra share of either TSLA or GOOG from Moomoo. Here's how:
If you open a new brokerage account with Moomoo and fund it with $100, you'll earn five free stocks valued between $3 and $2,000 each.
If you make a net deposit of $1,000 or more in the promotion period, you'll get a total of 15 free stocks valued between $3 and $2,000 each.
If you make a net deposit of $5,000 or more in the promotion period, you'll get a total of 15 free stocks valued between $3 and $2,000 each, as well as one free share of either TSLA or GOOG.
Enjoy these free bonus shares by opening an account with Moomoo through our link and making a qualifying deposit.
5. Webull (6-12 Free Stocks)
---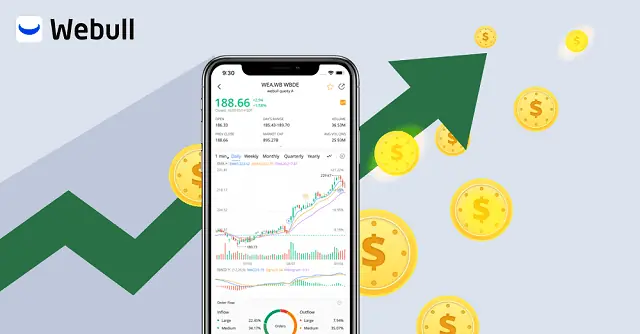 Free stock value: $18 to $36,000
Available via desktop, Apple iOS and Google Android.
Webull first hit the investing world in 2018 and made a splash by offering free stock trading, as well as commission-free trading of exchange-traded funds (ETFs) and options. And since then, it has become one of the best stock apps for intermediate traders and investors, though many of its features are helpful to beginners as well.
For one, Webull remains friendly to wallet-conscious traders today. It costs nothing to open a Webull account. Stocks, ETFs, and options still trade commission-free. Many options have $0 contract fees. And Webull has no deposit minimums. On top of that, it offers fractional shares, which allows investors to start buying for as little as $1. So beginners working with small dollar amounts can still easily diversify across numerous investments.
Newer investors can also learn trading skills through the courses in Webull's education center, and even practice their skills via Webull's paper trading service.
And Webull is available across just about every platform, allowing you to research, trade, and track your stocks on your smartphone, tablet, or desktop.
Why choose Webull to trade stocks?
Webull provides investors with several useful features and tools, including:
Customizable screeners for both stocks and ETFs
Preset lists—including Top Gainers, Top Losers, Most Active, and Best-Performing Industries—investors can use to identify opportunities
Voice commands: Simply speak to buy, sell, or look up information about a ticker
"Big Button Mode": Populates giant buttons on your screen that allow you to quickly make trades with just a push
Free real-time stock quotes and stock alerts
We'll point out that while Webull allows for many types of commission-free trades, other costs will still apply to a few transactions. For instance, a 55-cent contract fee applies to certain options trades. And Webull doesn't directly charge fees for trading cryptocurrencies; however, it does build a 1-percentage-point markup into the price of cryptocurrency when you buy or sell crypto.
One particularly noteworthy shortcoming for investors is that you can't buy mutual funds on Webull. Yes, ETFs offer a wide array of diversified strategies, but the mutual fund world offers some cheap index funds and many successful actively managed strategies.
Regardless, Webull remains one of the best, and most cost-friendly, trading platforms you can come across. And on top of all the free features mentioned above, Webull also runs frequent promotions. For instance, right now …
→ How to Get the Webull Free Stock Sign-Up Bonus
Currently, Webull is offering new users between six and 12 free shares of stock worth between $3 and $3,000—so, the bonus is worth between $18 and $36,000.
To claim this potential bounty, you will first need to sign up through this link, open your account and make a deposit of any dollar amount. If you do, you will receive between six and 12 shares of stock from Webull.
Read more in our Webull review, or sign up at Webull today.
6. SoFi Invest (1 Free Stock)
---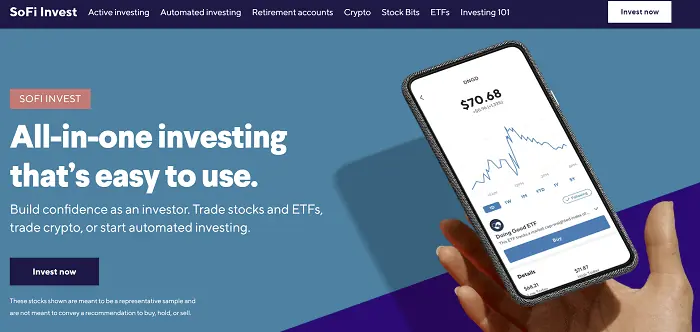 SoFi Invest is an app that allows you to track and trade your money. The service is the latest from the SoFi financial wellness platform and offers free trades on stocks, ETFs, cryptos and more.
The service allows you to be an active trader by picking stocks on a regular basis or passive through its automated investing service.
The company wants to serve all customers who have an interest in improving their financial situation alongside participating in their other personal finance products like student loans, money management, credit cards and more.
→ How to Get Your Free Stock on SoFi Invest
By opening a Wealth account with SoFi Invest and depositing at least $50, you become eligible for a free sign-up bonus worth $5 – $1,000.
7. Public.com ($3 to $300 bonus)
---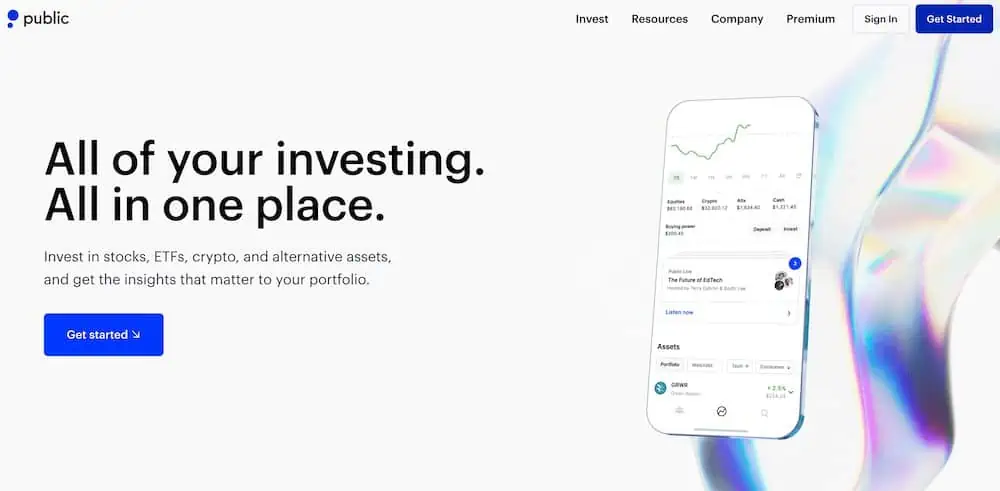 Public.com is another commission-free investing app which caters toward Millennials and Gen-Zers keen on investing in line with their social preferences and with good company.
The stock investing app boasts an increasingly-common feature geared toward younger investors who may not have enough money to buy some pricier shares at one time: fractional investing.
This lines up with the mission of the company: making the stock market inclusive, educational, and fun by allowing people to invest alongside friends and other well-regarded investors.
Much like social media platforms who provide the standard blue check mark logo to verify public figures, Public.com provides visibility into trade activity and other insights these verified investors wish to provide to the Public.com community.
→ How to Get Your Free Stock from Public.com
To get you started, the service offers a free $10 sign up bonus for making an initial deposit as well as the ability to gift free stock gifts (fractional shares) to referrals you make.
If this sounds like an interesting investing app, open an account and make an initial deposit to see if the app meets your needs.
Read more in our Public.com investing app review.
8. Groundfloor ($100 bonus)
---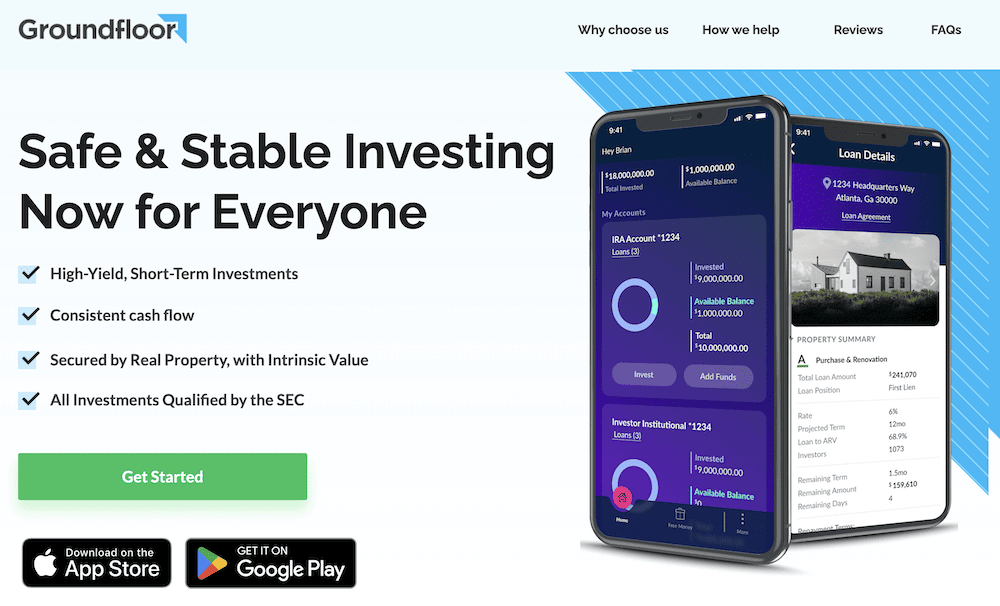 Free stock value: $100
Available via desktop
Groundfloor is a different type of investment platform from the others listed here. Groundfloor acts as a crowdsourced real estate investing platform which focuses on debt investments.
The platform focuses on purchasing fixer-uppers, performing the maintenance and upgrades, and then flipping it for a profit.
Groundfloor provides financing for short-term residential real estate loans and pays the platform's investors interest for lending their funds. It reviews loan applications and offers investors the ability to fund one it believes will perform. In exchange, investors receive a set amount of interest from their loan as well as a return of principal.  Most loans have a 6-12 month term, but can extend to 18 months.
→ How to Get Your Free Bonus from Groundfloor
As an incentive to open your account with Groundfloor and begin investing, they offer a $100 bonus if you deposit $1,000.
To receive your bonus, you will need to sign up through this link, connect your bank account to fund your account and deposit a minimum of $1,000.
You will receive your $100 investment credit bonus once your deposit settles in your Groundfloor account.
9. Stash ($5 bonus)
---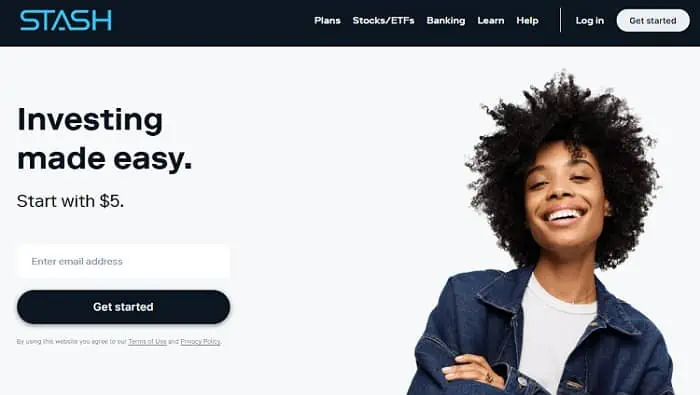 Stash is a mobile-friendly investing app and checking account.  Stash provides a low-cost, all-in-one financial platform which caters to hands-off investors looking to automate their investing as you spend money and make recurring deposits into your account.
For those looking to combine investing and banking in one place, Stash offers several benefits you might find attractive for your needs:
Stash Banking offers:
To add more incentive to use the platform for investing, by shopping at places like Walmart and Amazon, you can earn Stock-Back Rewards® by making qualified purchases with your Stash Banking debit card.
Related: 10 Best Fractional Share Brokerages to Buy Partial Stocks & ETFs
10. Acorns ($20 Bonus)
---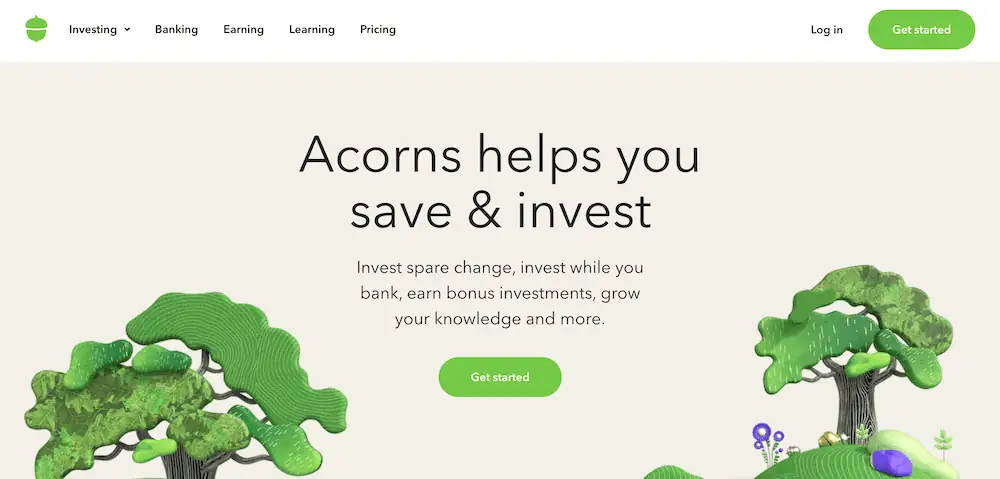 Free value: $20
Available via Apple iOS and Google Android.
Acorns is a investing app for minors and young adults wishing to start small and grow their portfolios into large amounts.  Much as you would an acorn maturing into a mighty oak tree.
The micro investing app works by investing in tiny increments through rounding up your purchases on linked credit cards to the nearest dollar, making it one of the better money apps for kids and teens.
As an example, if you purchase a $4.25 latte from Starbucks, Acorns will round this amount up to $5 and invest the $0.75 on your behalf if you have automatic roundups enabled on your account.
The idea behind the app is simple: over time, you fit money into your investments through your regular purchases.  The service automates your investing through small roundups, masking the decision to invest.
The service takes your contributions and invests them into professionally-created portfolios to ensure your investments align with your financial goals and remain diversified.
This can be a smart way to learn how to invest as a teenager or younger because it builds good lifelong investing habits.
For a small monthly fee (as low as $3/mo.), you can use this service. Acorns also offers Acorns Later in addition to Acorns Invest, a service meant to set aside money in an individual retirement account (IRA), one of the best investments for young adults.
Further, you can also sign up for an Acorns Spend debit card for kids and teens as well as a checking account that will allow you to earn and save more money.
→ How to Get Your Free Bonus from Acorns
To entice people to begin using their product, Acorns offers a $20 bonus when you sign up for a new account and setup a recurring deposit. After completing your signup, Acorns will deposit $20 into your account. From there, it can be invested according to your stated preferences.
Learn more in our Acorns review.
Related: Best Acorns Alternatives: Micro-Investing Apps to Use
11. Firstrade
---
Free stock value: $25 – $600
Available via desktop, Apple iOS and Android App on Google Play.
Firstrade is a leading online brokerage firm offering a full line of investment products and tools designed to help investors improve their financial position through sound investing practices.
Firstrade provides high value and quality services meant to inform your investing strategies and build long-term wealth.  And it does so with free trades.
Firstrade combines proprietary trading technology with an intuitive user interface, available customer service and sleek mobile applications.
In short, the platform offers access to over 11,000 different investments, including index funds, stocks, bonds, target date funds, mutual funds, and more.
Firstrade offers a comprehensive solution for all of your investing needs, whether you are just learning how to invest money or an active day trader, Firstrade commits itself to excellence and putting customers first.
→ How to Get Firstrade Free Stocks and a Sign Up Bonus
Getting a free deposit bonus from Firstrade is simple – follow this link to open your account and make a deposit, transfer or rollover into your account. The Firstrade sign-up bonus ranges as follows:
$50 bonus with a deposit/transfer/rollover of $5,000 – $9,999
$100 bonus with a deposit/transfer/rollover of $10,000 – $24,999
$300 bonus with a deposit/transfer/rollover of $25,000 – $99,999
$700 bonus with a deposit/transfer/rollover of $100,000 – $499,999
$1,500 bonus with a deposit/transfer/rollover of $500,000 – $999,999
$3,000 bonus with a deposit/transfer/rollover of $1,000,000 – $1,499,999
$4,000 bonus with a deposit/transfer/rollover of $1,500,000 or more
If you'd like to earn free stocks from Firstrade, you can refer your friends to the platform.  Both of you will receive a free stock after your friend's account receives approval.
The free stock comes from a randomly selected company determined by an algorithm used by Firstrade. The value of any share may fall between $3 and $200, which can fluctuate with movements in the market.
The company chooses stocks from the most popular ones traded on Firstrade and offers you a 1:100 chance of receiving a share from Apple, Facebook, Bank of America, AMD and more.  You can receive up to $500 in free stocks from referring your friends to Firstrade.
Related: Best Investments for Teenagers
12. E-Trade
---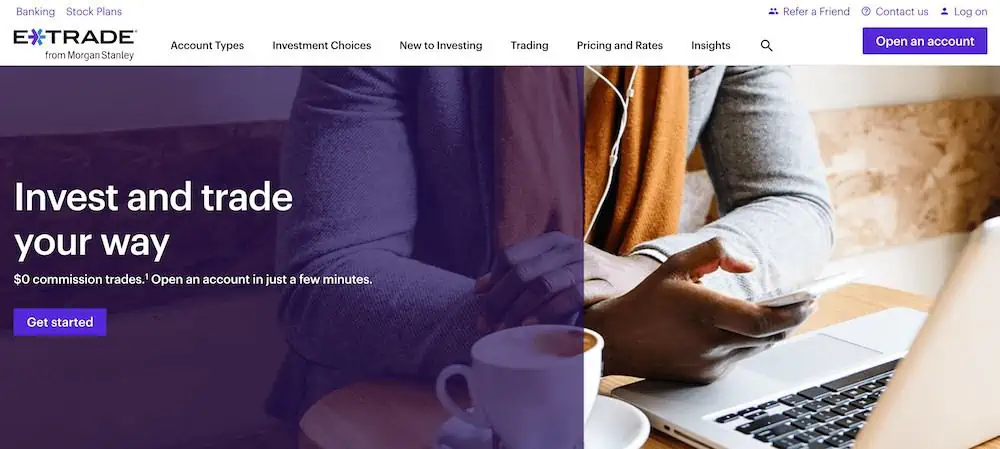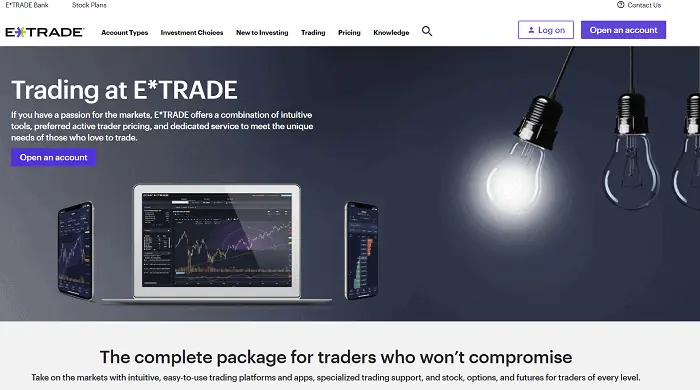 Free stock value: $25 – $2,500
E-Trade is a tried-and-true investing platform which has led the retail investing industry for many years.
Of note, E-Trade provides access to educational resources which can assist you with learning how to choose from your multiple investing options, conducting investment research software and analysis, trading stock futures and diversifying your portfolio.
They have additional trading options and data as a result of acquiring OptionsHouse. This can assist with making more-informed options investment decisions.
As another service, E-Trade also offers retirement planning to clients as well as in-person informational sessions annually in certain areas.
E-Trade has three platforms. All are free and have no minimum investment limit.
Power E-Trade offers investors real-time data and studies.
E-Trade Web provides live market commentary and stock analysis.
E-Trade Pro gives you strategy scanners and back-testing.
Each program gives you access to a dashboard where you keep track of your accounts, investments, and make your trades. E-trade does have small fees for options contracts and some fees involved with retirement accounts.
→ How to Get E-Trade's Sign Up Bonus
Getting a free bonus from E-Trade only requires you to open an account and deposit/transfer/rollover funds: follow this link to open your account.  The E-Trade sign-up bonus ranges as follows:
Currently, the service offers a cash bonus in the following increments:
$50 bonus with a deposit/transfer/rollover of $5,000 – $19,999
$100 bonus with a deposit/transfer/rollover of $20,000 – $49,999
$200 bonus with a deposit/transfer/rollover of $50,000 – $99,999
$300 bonus with a deposit/transfer/rollover of $100,000 – $199,999
$600 bonus with a deposit/transfer/rollover of $200,000 – $499,999
$1,200 bonus with a deposit/transfer/rollover of $500,000 – $999,999
$2,500 bonus with a deposit/transfer/rollover of $1,000,000 – $1,499,999
$3,500 bonus with a deposit/transfer/rollover of $1,500,000 or more
Note: This offer appears to be paused for the time being.
13. Nvstr
---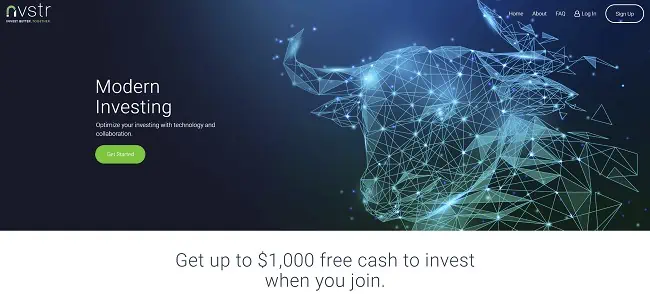 Free value: $10 to $1,000
Available via desktop and mobile site.
Nvstr, pronounced, "investor," is another trading platform offering no minimums and a community of investors who share their collective wisdom.
In fact, Nvstr builds itself around an investing community who seek to invest through collaboration by sharing ideas and recommendations.
Nvstr offers a tool called Portfolio Optimizer, which relies on Nobel Prize-winning research.  In short, it aligns your portfolio with your risk appetite and has an intentional design with position sizes for creating the best projected portfolio risk/reward.
To build your optimal portfolio using the Optimizer tool, you simply need to select which stocks you want in your portfolio and then allow the tool to trade into the optimal allocations of each to meet your risk tolerance.
Of note, and unlike Webull or Robinhood, Nvstr does charge trading commissions of $4.50 per trade after making 25 trades per month which come included with the $4.99 per month membership.
Signing up for an account with Nvstr requires a monthly subscription, which will then make you eligible for the signup bonus.
→ How to Get Nvstr Free Stock
By creating an account with Nvstr and starting a membership, you will earn the chance to receive a bonus worth between $10 – $1,000.  To earn this free opening bonus, you will need to make a trade within your first two months of account opening.
As another note, you cannot withdraw this free stock within the first 12 months.
→ Get your free cash bonus from Nvstr here.
14. Diversy Fund ($50 bonus)
---
Free stock value: $50
Available via desktop, Apple iOS and Google Android.
Like Groundfloor above, DiversyFund is a different type of investment platform from the others listed here. DiversyFund offers investors the ability to purchase multi-family projects.
The company believes the path to building wealth lies beyond just the stock market. Instead, a diversified portfolio includes access to private market real estate that you hold over the long-term.
The company targets multi-family properties with between 100-200 units and uses the monthly cash flow to renovate and improve the properties' values.
At the end of an approximate 5-year term, the company finds a buyer and sells the property. You receive cash distributions when the properties sell as the company divides profits amongst investors.
From here, you can choose to reinvest the proceeds or take out the full payout.
→ How to Get Your Free $50 Amazon Gift Card from DiversyFund
As an incentive to make your first purchase on the platform, when you open your account with DiversyFund and begin investing, they offer a $50 Amazon gift card.
To receive your bonus, you will need to sign up through this link, use coupon code "Diversy50," connect your bank account to fund your account and deposit a minimum of $500.
You will receive your $50 Amazon Gift Card once your purchase goes through in your DiversyFund account.
Note: This offer appears to be paused for the time being.
Related Questions on Free Stocks
What are the Tax Consequences for Receiving Free Stock?
If you receive free stocks or sign-up bonuses from any of these brokerages, you should have awareness of the tax implications involved.
More broadly speaking, let's discuss the tax impact of investing in stocks in general by reviewing some of the applicable rules affecting investing.
In particular, the most widely-known tax consequence associated with buying and selling stocks is the capital gains tax, which occurs when you sell a stock for a profit.
This tax breaks into two categories, depending on how long you held the stock before selling:
Short Term Capital Gains: If you recognize a gain by selling an investment you held for under a year for a higher price than you originally paid, you will pay taxes on this in your usual marginal income tax bracket.  This means if your top tax bracket was 22%, you will pay this amount of tax on your gain.
Long Term Capital Gains: You face this tax when you sell an investment you held for over a year for a gain. These rates can be more advantageous than short-term capital gains because they vary from 0% to 20%.
When you receive a free stock from the brokerages listed above, this gain technically counts as taxable income and should be reported on your tax return.  It will be taxed as if it were ordinary income (i.e., like your paycheck).
Another tax you may face comes from dividends you could receive from stocks which act as income-generating assets.
These typically count as taxable income but you will need to understand whether these dividends count as qualified or non-qualified dividends to understand how you claim them on your tax return.
Non-qualified or ordinary dividends have you pay the same tax rate as your regular income tax bracket, while qualified dividends are taxed at the same long-term capital gains rates above (0% to 20% depending on your income and situation).
If you want to pay as little tax as possible on these investments, you will need to think of investing as a long-term strategy.
Therefore, you should consider whether your investments can be held for over a year to avoid paying higher capital gains taxes.
Finally, not all investments result in gains when sold.  If you incur a loss, you can use it to offset your capital gains or even have up to $3,000 of capital losses per year be used to lower your taxable income reported on your tax return.
Any unused amount can roll forward indefinitely to offset future capital gains or income (only up to $3,000 per year for income offsets).
Where Can I Get Stocks for Free?
Get your free stocks from the following companies:
Can You Buy Stocks for Free?
It is now common for many stock trading companies to offer free trades. Most of the companies above offer free stock trades (some even act as the best stock news apps or stock research websites) though some do charge commissions (e.g., Nvstr).
Many brokers have been forced to compete on price and must now follow the race to the bottom for offering free stock trades to remain in the consumer's consideration.
What Companies Offer Free Stock Trading?
You can participate in free stock trading from the following companies both on and not on this list:
*Company offers free trading but charges monthly account subscription fees for bundled services offered through the all-in-one financial platforms.
How to Get Free Stocks: What App Gives You a Free Stock?
As described above, all of these companies offer free stock or a free bonus for signing up and possibly making some minimum deposit.
Of the companies listed, Webull, Public, Robinhood, and SoFi Invest offer free stocks for signing up.
The remaining companies all offer signup bonuses in the form of cash or fee rebates for transferring assets into your new investment account.
Does Robinhood Really Give Free Stock?
Robinhood does give free stock for opening an account and linking a bank account. No deposit is necessary as of when this was published. The stock will vary but can be worth as little as $2.50 or as much as $225.
What Free Stocks Can I Get?
The stocks awarded will vary because the companies target a specific dollar value when granting a stock. As stock prices rise and fall, the stocks eligible for being given as free stocks will change.
For Webull, the company has awarded shares from the following companies:
The New York Times (NYT)
International Paper (IP)
Douglas Emmett, Inc. (DEI)
Vonage Holdings (VG)
How Many Free Stocks Can You Get on Robinhood? Webull?
Robinhood allows up to $200 per year of free stocks as referral bonuses through their in-app referral program. Webull currently has no limit to the number of free stocks you can receive.
How Long Does It Take to Get My Free Stock?
For most of the companies listed here, the stock award can be nearly instant, while some can take a few business days for the free stock to settle in your account.
Robinhood awards them instantly and will notify you each morning if you have received your free stock.
You will need to read the fine print on how long you must hold the stock in your account before you can sell it for cash. Once you receive your free stock, you may need to hold onto it for a minimum time.
Nvstr, for example, requires you to hold the cash reward in your account for at least one year as well as make one trade within 30 days of account opening.
Is Robinhood Still Giving Free Stock?
Yes. As of this writing, Robinhood continues to give free stocks to individuals who open an account, link a bank account and fund the account.
Robinhood has used this lure to draw in millions of investors who first begin investing with the stock trading app.
What is the Cheapest Way to Buy Stock?
The cheapest way to buy stock is through a discount broker who charges no trading commissions nor monthly or annual account subscription fees.
Further, you want a discount broker who doesn't enforce account minimums, making inactivity or low account balances not a problem.
One such broker to consider is Webull. The free stock trading app has no investment minimums, charges no trading commissions nor recurring subscription fees. Trading with Webull is completely free and easy to do.
Are Free Stocks Really Free?
The common adage, "There's no such thing as a free lunch" also applies to the free stocks world.
Most apps require you to make some minimum initial deposit in order to unlock the free stocks or sign up bonus for joining the service.
However, many of them require a very low amount of capital to receive a free stock.
Therefore, free stocks are mostly really free. It doesn't cost you money in the sense that you must spend it, but it does require you to commit money upfront in order to receive the free stocks or bonuses offered by the company.
This might also require a minimum time commitment to holding the money on the platform.
Therefore, it is a judgement call on your part about whether free stocks are really free if you must commit a certain amount for a certain period of time to keep your free stocks.
Can You Sell Your Free Stock on Robinhood?
Yes. Robinhood allows you to sell your free stock on the app after a few days. You cannot sell the stock as soon as you receive it. They require you to hold it in your account for at least 3 market days prior to selling.
Afterward, you may sell the stock to buy another share of stock or other investment offered on the app or withdraw the cash to your bank account.
How Do I Claim My Free Robinhood Stock?
Claiming your free Robinhood stock is easy. After you've completed your enrollment in the app and made the connection to your checking account, Robinhood will send you a push notification alerting you to having earned a free stock from Robinhood.
From there, you click through the on-screen prompts to navigate to your free stocks selection screen, allowing you to pick between 1 of 3 available options.
They make the free stocks giveaway into a game of chance, meaning you don't know what is behind each option.
You need to play their game and you will immediately receive the free stock you picked in your account as soon as you return to your account homepage.
How Can I Get Free Apple Stock?
You can receive free Apple stock from Robinhood if you are lucky enough to receive one of their higher value free stock giveaways.
The odds are lower that you will receive a share of Apple stock as opposed to stocks like small pharmaceutical companies, mining operations or other tech companies. However, you can receive a free share of Apple stock, Facebook stock or other companies.
Webull occasionally does special promotions for giving away Apple, Facebook, Amazon, Alphabet (Google), Tesla and other major tech stocks.
Can You Get Free Stocks with No Deposit?
At least one app, Plynk, allows you to receive cash with no deposit made into your account.
Though, generally, companies require some level of financial commitment before giving free stocks. Usually, investing companies use this as a gating action, meaning you must commit some minimum level of financial capital to their app for a minimum period of time to ensure you are an active user and not a bot.
Investing apps could be scammed by millions of people opening false accounts for free stocks and no deposit made.
Requiring a minimum level of money to be deposited and held on the platform requires you to be real or at least willing enough to park your money there for a period.
The apps above have various minimum deposit levels. Robinhood has low (when not accounting for recurring subscription fees) minimum deposits while M1 Finance has one of the highest.
---
Terms and Conditions for Fidelity Youth™ Account
The Fidelity Youth™ Account can only be opened by a parent/guardian. Account eligibility limited to teens aged 13-17.
* $0.00 commission applies to online U.S. equity trades and exchange-traded funds (ETFs) in a Fidelity retail account only for Fidelity Brokerage Services LLC retail clients. Sell orders are subject to an activity assessment fee (from $0.01 to $0.03 per $1,000 of principal). Other exclusions and conditions may apply. See Fidelity.com/commissions for details. Employee equity compensation transactions and accounts managed by advisors or intermediaries through Fidelity Institutional® are subject to different commission schedules.
¹ Limited Time Offer. Terms Apply. Before opening a Fidelity Youth™ Account, you should carefully read the account agreement and ensure that you fully understand your responsibilities to monitor and supervise your teen's activity in the account.
² The Fidelity Youth™ app is free to download. Fees associated with your account positions or transacting in your account apply.
³ Zero account minimums and zero account fees apply to retail brokerage accounts only. Expenses charged by investments (e.g., funds, managed accounts, and certain HSAs) and commissions, interest charges, or other expenses for transactions may still apply. See Fidelity.com/commissions for further details.
⁴ Fractional share quantities can be entered out to 3 decimal places (.001) as long as the value of the order is at least $0.01. Dollar-based trades can be entered out to 2 decimal places (e.g. $250.00).
⁵ Your Youth Account will automatically be reimbursed for all ATM fees charged by other institutions while using the Fidelity® Debit Card at any ATM displaying the Visa®, Plus®, or Star® logos. The reimbursement will be credited to the account the same day the ATM fee is debited. Please note, for foreign transactions, there may be a 1% fee included in the amount charged to your account. The Fidelity® Debit Card is issued by PNC Bank, N.A., and the debit card program is administered by BNY Mellon Investment Servicing Trust Company. These entities are not affiliated with each other, and Fidelity is not affiliated with PNC Bank or BNY Mellon. Visa is a registered trademark of Visa International Service Association, and is used by PNC Bank pursuant to a license from Visa U.S.A. Inc.
⁶ Venmo is a service of PayPal, Inc. Fidelity Investments and PayPal are independent entities and are not legally affiliated. Use a Venmo or PayPal account may be subject to their terms and conditions, including age requirements. 
Fidelity Brokerage Services LLC, Member NYSE, SIPC, 900 Salem Street, Smithfield, RI 02917
---
Plynk Disclosures
Google Play Store and Apple Store Ratings are as of the date referenced (06/22/2023) and provide an average rating of users and do not reflect the experience of an individual customer.