It tends to feel like your kids grow up too fast. You blink and your toddler is a teenager. It can be tempting to want to keep your child a kid forever, and in some areas, it's certainly wise to shield them from the realities of adulthood for now.
But one adult subject you don't want to delay is finances. The sooner kids start to learn money management skills, the more likely they will become financially responsible adults.
An excellent way to give your child hands-on financial experience is by getting a debit card designed specifically for kids—one with some parent controls in place, of course.
Since you've found your way to this article, I'd wager you're considering GoHenry and Jassby, but aren't sure which one to pick. I've been there. Here at the WealthUp, we've thoroughly analyzed all of the most competitive kids' debit cards—including GoHenry and Jassby.
Today, I'll pit GoHenry against Jassby. For each card, I'll provide an overview, cost breakdown, and highlight all of the key features. At the end, you'll get a recommendation as to which card you should choose. And just in case neither card seems perfect for your family, I'll also give my thoughts on other kids' debit cards worthy of consideration.
GoHenry vs. Jassby Comparison
---
WealthUp Rating
☆ 4.4 / 5
☆ 3.7 / 5
App Store Rating
☆ 4.5 / 5
☆ 4.4 / 5
Price*
Individual: $4.99/mo.
Family: $9.98/mo. (Up to four children)
$5.95/mo.
Billing
Monthly
Monthly
Special Offer
Free 1-month free trial
Monthly fee waived during first month of service
Allowed Cards Per Subscription
Individual: 1
Family: 4
6 (across both adults and minors)
Minimum Age**
6
None
Features That Make This Card Stand Apart
Videos and quizzes that teach money skills
Rewards, financial literacy materials

Basics

Spending
Yes
Yes
Saving
Yes
Yes
Investing
No
No
Giving/Donating
Yes
Yes

Funding

Funding Source(s)
Debit card, credit card (Does not accept AmEx)
Bank account, debit card
Direct Deposit
Yes (Age 14+)
No
Allowance
Yes
Yes
Chores
Yes
Yes
Gifting
Yes
No
Cash Reload Fee
N/A (No cash reload)
N/A (No cash reload)

Saving/Spending

Savings APY
N/A
N/A
Round-Ups
No
No
Other Savings Features
Parent-Paid Interest
None
ATM Network
None
No ATM access
ATM Transaction Fee
$0 (GoHenry does not charge an ATM fee, but it is not part of an ATM network, so an ATM operator fee will apply)
N/A
Card Network
Mastercard
Mastercard
Compatible Mobile Wallets
Apple Pay
Apple Pay, Google Pay, Samsung Pay

Parents

Parental Controls
High (Single-transaction and/or weekly spending limits, transaction type-level controls)
Medium (Transaction type-level controls)
Parental Monitoring
Yes
Yes
Parental Notifications
Yes
Yes

Other Features

Cash Back
No
No
Builds Credit
No
No
Customization options
Yes, 45+ options
No
Refund Policy
No refunds given, month-to-month pricing
No refunds given, month-to-month pricing
* Prices do not include processing fees when applicable.
** Many cards have different suggested minimum ages. We are only listing any hard-and-fast minimum age requirements.
GoHenry Overview
---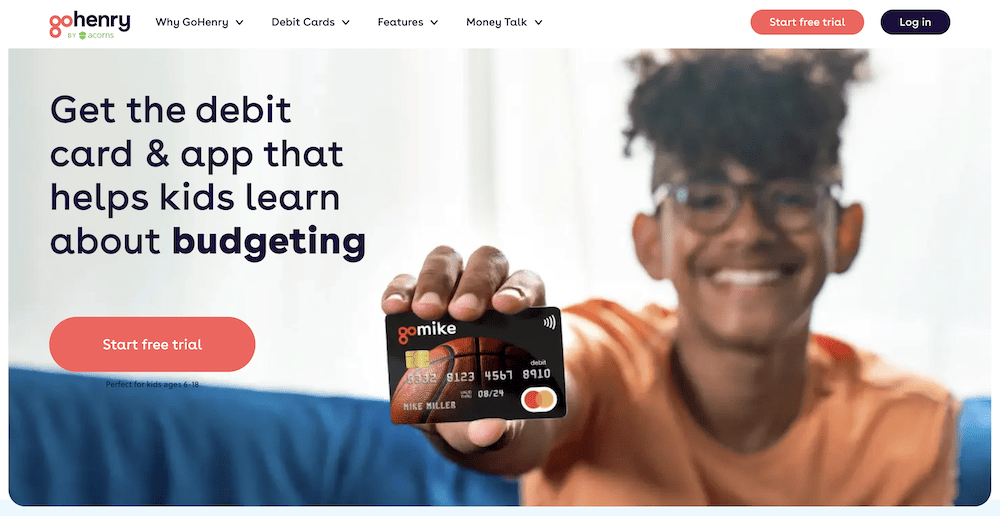 I view GoHenry as more than just a way for kids to spend—it's a holistic financial solution for minors.
GoHenry includes an account, prepaid debit card, app, even financial lessons. Parents are given an online account that's linked to, and allows them to oversee and manage, individual accounts for each of their children via both the GoHenry app and the online account portal.
Kids can only spend whatever money is on the card, so parents don't have to worry about costly overdraft fees or their kids running up a debt. Plus, it comes with some parental controls.
But GoHenry really sticks out to me as one of the best prepaid debit cards for kids because of their customer service. They offer everyday phone availability, email access, and social media engagement, ensuring users can solve their problems quickly and with little hassle.
GoHenry has no minimum age requirements but recommends starting at age 6 or older. Your child will be able to do plenty with the card from the onset—and plenty more as they grow up to be teens. Not only can they receive an allowance, but they can also get paid by employers through their account. They can use that money to reach savings goals or shop within the limits you've set. Your teen can even receive money from (or send money to) friends!
With time, a combination of your parental guidance and the app's features should help your kids develop good money habits around earning, saving, spending, and giving.
Users should know that the company was acquired in 2023 by Acorns—a popular investing app for young adults who invest spare change through Round-Ups and recurring investments. However, for now, it still operates as GoHenry, and as of this writing, I've seen no announced changes that would suggest it will stop operating as normal. (In fact, Acorns actually offers GoHenry for free when you sign up for its Premium plan.)
Best Debit Card for Customer Service
GoHenry | Kids' Debit Card + Financial Education App
30 days free. Individual: $4.99/mo./child. Family: $9.98/mo. for up to 4 children.
A financial app and debit card designed to give young people ages 6-18 a bright financial future.
Kids can earn allowance, complete chores, set savings goals, give to charity, and bank with GoHenry.
Use the app to build a solid financial education.
Among the best customer service in kids' debit cards, offering everyday phone availability, email access, and social media engagement.
Pros:
Parental controls at store category level

Can implement chore and allowance system

Financial literacy resources

Customized card for $4.99
Cons:
High price point for multiple children

No paired investment account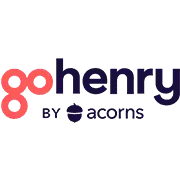 Related: 30 Best Side Hustles for Teens [In-Person + Online]
GoHenry Plans + Costs
---
GoHenry offers a one-month free trial, then two pricing options, depending on the number of children:
Plan
Monthly Fee
Features Offered Under Plan
Individual
$4.99/mo.


- GoHenry card for one child
- Parental controls
- Allowance and chores
- Instant money transfers
- Savings goals
- Money missions
- Giftlinks

Family
$9.99/mo.
Everything in the Individual plan, for up to four children
GoHenry accounts don't charge transaction fees nor foreign transaction fees. It's also free for friends to instantly send money to your child.
GoHenry is one of the few cards that does not have a fee-free ATM network, however, so you'll incur third-party fees at virtually every ATM.
You can customize debit cards at a cost of $4.99 each.
Related: 11 Best Debit Cards for Kids
GoHenry Features
---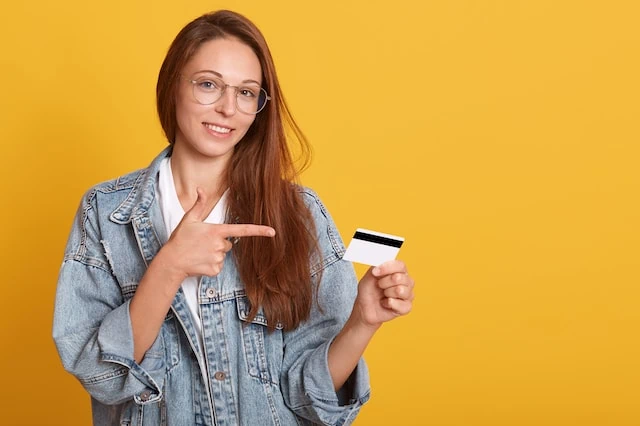 Below, I've listed a number of GoHenry's most prominent features. Many of them are designed to keep kids and teens happy, but others help parents keep an eye on their children's spending.
GoHenry Card
The GoHenry card is a Mastercard-branded prepaid debit card that can be used anywhere Mastercard is accepted.
Parents load their parent account via a linked debit card or credit card, though GoHenry doesn't allow you to fund via American Express. Parents load their children's GoHenry cards from the parent account.
Each child can choose from 45 different GoHenry debit card designs or create a customized card for $4.99. When you open a GoHenry account, you should receive your children's debit cards in the mail seven to nine business days later.
ATM charges are a weak spot here. While many kids' debit cards have fee-free ATM networks, GoHenry does not. GoHenry itself won't charge your child for withdrawing money from an ATM, they will incur a third-party fee from virtually any ATM. GoHenry caps ATM withdrawals to $120 per day and $480 within four days, as well as three withdrawals in one day and four within four days.
The card offers chip and PIN-protected transactions, bank-level encryption, and secure PIN recovery through the app. Cardholders also benefit from Mastercard Zero Liability Protection. This means you and your child aren't held responsible for any unauthorized transactions as long as you used reasonable care to protect the card from loss or theft and promptly reported any fraudulent charges to GoHenry.
Parental Controls
GoHenry offers a few parental controls to ensure children are using their debit cards responsibly, including:
Spending overviews
Real-time spending alerts
Single-transaction and/or weekly spending limits
ATM withdrawal limits
Enabling/disabling spending at ATMs, in stores, and/or online
GoHenry also automatically blocks spending at "over 18" merchants, such as casinos, alcohol wholesalers, adult-themed sellers, and more. Optionally, you can turn on a "strict merchant block" from any businesses that sell age-restricted items, even if they also sell kid-friendly merchandise. (For instance, your child wouldn't be able to buy candy at a convenience store that sells alcohol.)
You can also block and unblock the card as needed from your parent account. So, let's say your child has lost their card—you can block any expenditures on it until it's found, then unblock it once it's back in your child's care.
Allowance + Chores
Parents can reduce their mental load and put allowance on repeat every week. Just choose the amount, and the day of the week, and it'll automatically be sent to your kids from then on.
You can also set chores for your child, such as walking the dog, doing homework, or sweeping. Kids get paid as chores are marked completed either by you or your child. Any chores marked as complete will be paid out when weekly allowance is due.
Instant Money Transfers
In addition to paying a regular allowance, parents can click "Quick Transfer" to instantly send money to a child at any time. Instant money transfers are a great way to reward a child, gift money for a special occasion, or send money in the event of an emergency.
Savings Goals
Kids can set up savings goals through GoHenry to start building the essential habit of setting money aside. They can set a target amount and/or date and, if they find it motivating, add an image. GoHenry also offers weekly autosaving to help children reach their goals faster.
Parent-Paid Interest
Earning interest is an excellent way to motivate kids to save. While GoHenry itself doesn't pay interest, it does offer parent-paid interest. When this feature is enabled, parents can pay a predetermined rate on any deposits in the child's savings account. The interest is paid on the first of each month from the parent's account.
Money Missions
In addition to the hands-on financial experience kids gain through GoHenry's debit card, they can increase their financial literacy through GoHenry's in-app Money Missions.
The short stories, videos, and quizzes are easy to binge, and learning is gamified through earning badges. These lessons are tailored for your child's age, so younger kids learn money basics and older kids learn more advanced topics. Money Missions are developed by teachers and financial education experts and follow the K-12 Personal Finance Education National Standards.
My suggestion? Give your kids small monetary rewards for successfully completing lessons.
Giftlinks
You're not the only one who can send money securely to your child through GoHenry. Anyone you give a Giftlink to can send money as well. So if grandparents want to send money for a birthday or a family friend wants to gift money for a baptism, they can easily do so without anyone needing to deal with cash. They can even add a personal message.
The sender doesn't even need to have the GoHenry app. All they need is a credit card or debit card registered to a valid U.S. address (Cash, checks, nor prepaid debit cards won't work, however.)
Customer Service
GoHenry has some of the best customer service among kids' debit card providers. They offer everyday phone availability (9 a.m. to 5 p.m. ET), email access, and social media engagement.
Interested in GoHenry? You can sign up here.
Related: 4 Best Ways to Save Money for Kids [Children's Savings Plans]
Jassby Overview
---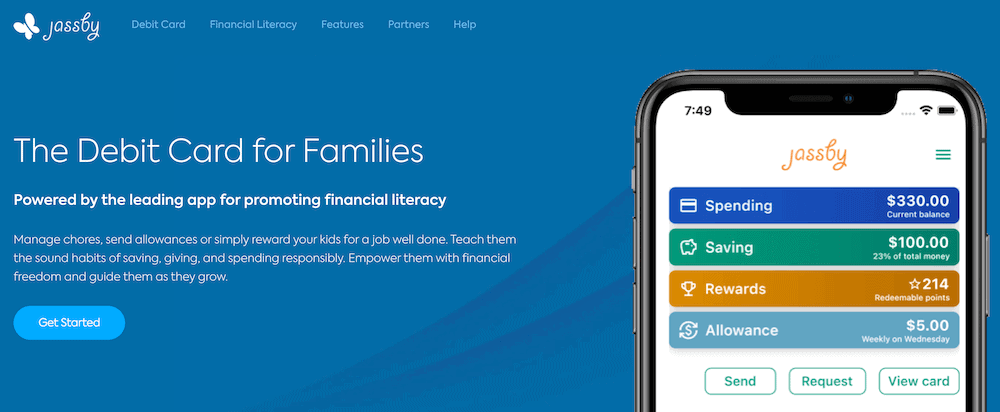 Jassby is a mobile wallet app that families can use to manage chores, allowance payments, and money spent on the company's flexible virtual and physical debit cards.
When you open a Jassby account, you receive digital debit cards that can be used online, as well as in-store anywhere Apple Pay, Google Pay, or Samsung Pay is accepted. But for extra flexibility, parents can order physical debit cards for their children that are good to use anywhere Mastercard is accepted.
Parents transfer money to their children's Jassby debit cards via a linked bank account or debit card. Parents can receive real-time spending notifications, monitor the account, track purchases, block certain spending categories, and instantly lock or unlock their kids' debit cards as needed.
The app also allows parents and guardians to share money with their kids while teaching them valuable financial literacy skills. Jassby offers courses, videos, games, and more through its Jassby University feature.
Jassby has an easy-to-use allowance function—just pick the amount, distribution (Spending and/or Saving account), frequency, and day of the week or month. Kids can also learn the merits of earning through Jassby through Activities (chores), or they can earn Jassby Rewards by logging into their accounts, receiving allowance, or even by completing Jassby University courses. (100 points = $1, which can be automatically transferred to the Jassby Spending account.)
There is no minimum age requirement to use the Jassby card, but Jassby says most kid members are between the ages of 8 and 17.
Jassby | The Money App and Virtual Debit Card for Families
$5.95/mo. (monthly fee waived for first month).
Jassby is a mobile wallet that families can use to manage chores, allowance, and virtual debit card spending.
Digital and physical debit cards can be used anywhere Mastercard is accepted, in-store and online. Digital debit cards can be used through Apple Pay, Google Pay, or Samsung Pay.
Parents can limit certain types of transactions, monitor spending, receive notifications, and lock and unlock Jassby cards.
Offers a strong suite of features, including courses, videos, games, and more, that help kids learn valuable financial literacy skills. Progress is measured through a proprietary Jassby Financial Literacy score, and kids are rewarded with points as they learn.
Earn Jassby Rewards points through simple actions such as logging into your account and receiving an allowance, or by completing Jassby University courses. Points can be redeemed for cash, deposited into your Jassby Spending account.
Pros:
Chore management

Rewards

Apple Pay, Google Pay, and Samsung Pay

Excellent lineup of financial literacy tools
Cons:
Can't be used to withdraw cash

Relatively expensive
Related: Best Savings Accounts for Kids [Children's Bank Accounts]
Jassby Plans + Costs
---
Jassby has just one paid subscription tier.
Plan
Monthly Fee
Features Offered Under Plan
Jassby
$5.95/mo.


- Jassby card for up to six family members
- Parental controls
- Financial literacy materials
- Giving/donating capabilities
- Rewards program

The monthly fee is waived for the first month of service. Those who created Essential Plan accounts before April 1, 2023, are grandfathered in at a rate of $3.95 per month.
Replacement cards cost $4.95 plus tax.

Related: 25 Best Jobs for 15-Year Olds
Jassby Features
---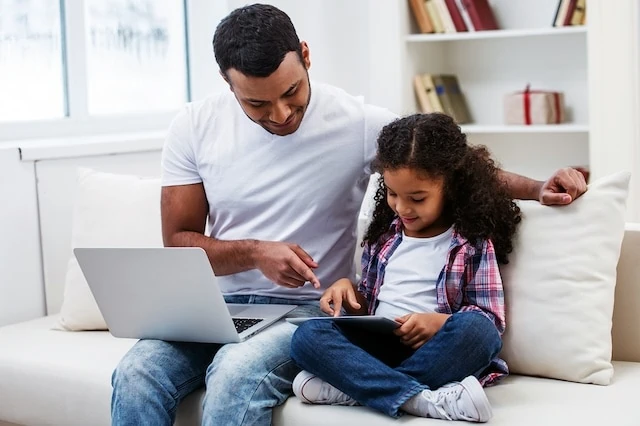 These are some of the most prominent features of Jassby. The account aims to be easy to use for both kids and adults.
Jassby Card
The Jassby card you receive upon opening your account is digital-only—you can receive a physical Mastercard debit card for free, but you must request it. Both forms are accepted anywhere Mastercard is accepted.
The digital card can be used online, and it can also be added to Apple Pay, Google Pay, and Samsung Pay for use in stores and other in-person locations. The physical card can be used both online and at in-store locations.
One Jassby account allows you to have up to six cards. And unlike many accounts that provide one parent card and all remaining cards for kids, you can spread Jassby's six cards across multiple children and multiple adults.
Parental Controls
Jassby has several parental controls worth mentioning.
Jassby automatically restricts kid spending for anything categorized as dating services, liquor stores, lottery/gambling, and money transfers. Parents can also manually restrict certain spending categories, including clothing stores, digital goods, restaurants, and retail stores.
Parents can monitor transactions, receive spending notifications, and quickly lock and unlock the card from the app.
Jassby doesn't offer dollar-amount controls. But because kids can only spend what's in the account, parents can limit spending simply by managing how much money is in their children's accounts.
Financial Literacy
Jassby University is the app's robust financial literacy feature. Lessons include topics on saving, budgeting, and more. This all feeds a proprietary Jassby Financial Literacy score that reflects their progress, and kids are rewarded with points as they learn.
Rewards
Speaking of points, Jassby Rewards are a great motivator. Kids can earn points by doing basic financial actions such as logging into their accounts every week, making transactions, and receiving allowance. Plus, as I just mentioned, they can also earn points by learning about money. Jassby's points system allows a kid to redeem 100 points for $1, which is put into their Jassby Spending account.
Giving Back
Through Jassby, kids can see how donating small amounts of money to a charity can make a difference, helping parents teach their children the importance of giving back. (Note: When kids go to the Charity section of the app, they will be sent to an external link listing charities—so don't be surprised when it seems like you're exiting.)
You can sign up for Jassby here.
Related: Best Teen Checking Accounts [Banks for Teens]
GoHenry vs. Jassby: Our Editors' Choice Is …
---
In many ways, GoHenry and Jassby are similar. These are both paid plans with features for allowance, chores, and building financial literacy. To keep you from worrying, either account is easy to monitor and will send you notifications.
However, GoHenry offers several features that are missing from Jassby. This account lets you set single-transaction and or/weekly spending limits. Parents who want to encourage their children to save more can set up parent-paid interest.
A feature targeted towards the kids allows 45+ options for customization so they can show their personalities. Plus, kids aged 14+ can set up direct deposit for any paychecks they may receive at a part-time job.
Overall, here at WealthUp, we rank GoHenry higher than Jassby. You can sign up for GoHenry here.
Related: 13 Best Allowance and Chore Apps for Kids [Easier Family Life]
Other Debit Cards for Kids to Consider
---
Are neither GoHenry nor Jassby the best fit for you and your family? You may want to try one of these other highly rated debit cards for kids.
1. Fidelity Youth™ Account (Best Free Debit Card With Teen Investing)
---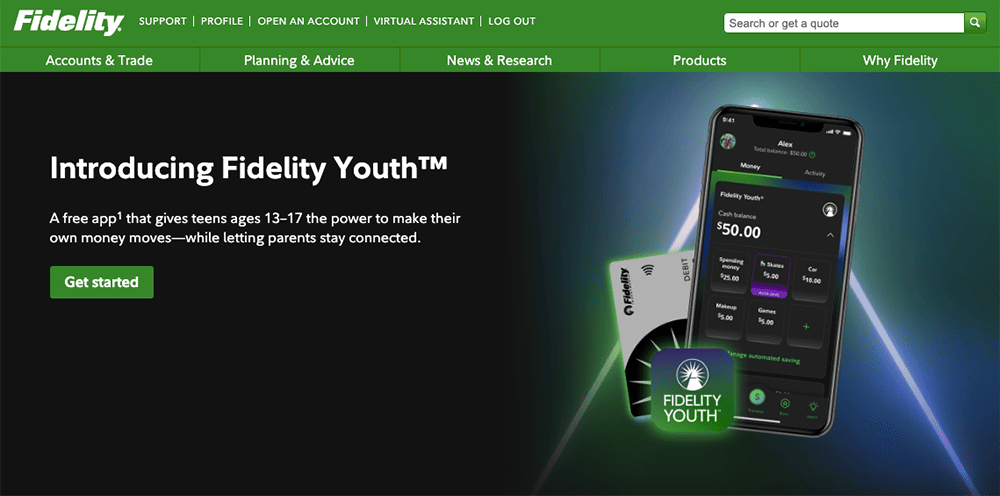 Available: Sign up here
Price: No account fees, no account minimum, no trading commissions*
Platforms: Web, mobile app (Apple iOS, Android)
Promotion: Teens get $501 on Fidelity® when they download the Fidelity Youth™ app and activate their Youth Account; parents get $100 when they fund a new account
Is your teen interested in jumpstarting their financial future? Do you want them to build smart money habits along the way?
Of course you do! Learning early about saving, spending and investing can pay off big when you start on the right foot. And one tool that can help your teen get that jump is the Fidelity Youth™ Account—an account owned by teens 13 to 17 that's designed to help them start their money journey. They can start investing by buying most U.S. stocks, exchange-traded funds (ETFs), and Fidelity mutual funds for as little as $1!⁴
Your teen will also get a free debit card with no subscription fees, no account fees³, no minimum balances, and no domestic ATM fees⁵. And they can use this free debit card for teens to manage their cash and spend it whenever they need.
And as for building smart money habits? You and your teen can access your account through the Fidelity Youth™ app, which has a dedicated Learn tab packed with materials developed specifically to help teens develop good financial habits. Not only will Fidelity's interactive lessons, videos, articles, tools, and calculators accelerate their learning—but for every level they complete, reward dollars will be deposited into their account to use however they want.
Controls parents want and need
A parent or guardian must have or open a brokerage account with Fidelity® to open a Fidelity Youth™ Account. For new Fidelity® customers, opening an account is easy, and there are no minimums and no account fees.
Parents and guardians have plenty of tools they can use to monitor their teen's activity: They have online account access, can follow monthly statements and trade confirmations, and can view debit card transactions made in the account.
To make it even easier, you can set up alerts to notify you of trades, transactions, and cash management activity, keeping you firmly in the loop on actions your teen takes across the Fidelity Youth™ Account's suite of products.
If your teen has an interest in learning about investing and taking their first steps toward building their financial journey, you should consider downloading the Fidelity Youth™ app and opening a Fidelity Youth™ Account. The account comes custom-built for their needs, which will help them become financially independent and start investing for their future.
Read more in our Fidelity Youth™ Account review.
Best Brokerage Account + Debit Card for Teens
Fidelity Youth™ Account | An account where teens can save, spend, and invest
Open a Fidelity Youth™ Account for your teen, and Fidelity will drop $50 into their account. Get $100 for yourself when you open a new Fidelity account and fund with $50.¹
Your teen will get a $50 reward once they download the Fidelity Youth app and activate their Youth Account.
The app is free

²—plus, no monthly fees or account minimums to open.³

They can invest in stocks for as little as $1 with fractional shares.

⁴

Your teen can learn to save and spend smarter with their own debit card with no domestic ATM fees.

⁵

Teens can link their account to mobile payment apps like Venmo and PayPal.

⁶

Parents can set up alerts and monitor their teen's account activity online, and through statements, trade confirmations and debit card transactions.
The Fidelity Youth app will have a dedicated Youth Learn tab to help jumpstart your teen's financial learning and build better money habits.
Pros:
No monthly account fees

Signup offer available to new users

Comprehensive financial suite for teens
Cons:
Parent must be a Fidelity account holder

Account balance doesn't accumulate interest

No chore or allowance system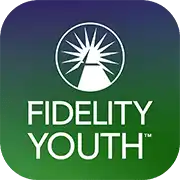 See additional terms and details for the Fidelity Youth™ Account at the end of this article.
Related: Best Banking Apps for Kids & Teens [Teen Banking]
2. Copper Card (Best Debit Card for Kid Independence)
---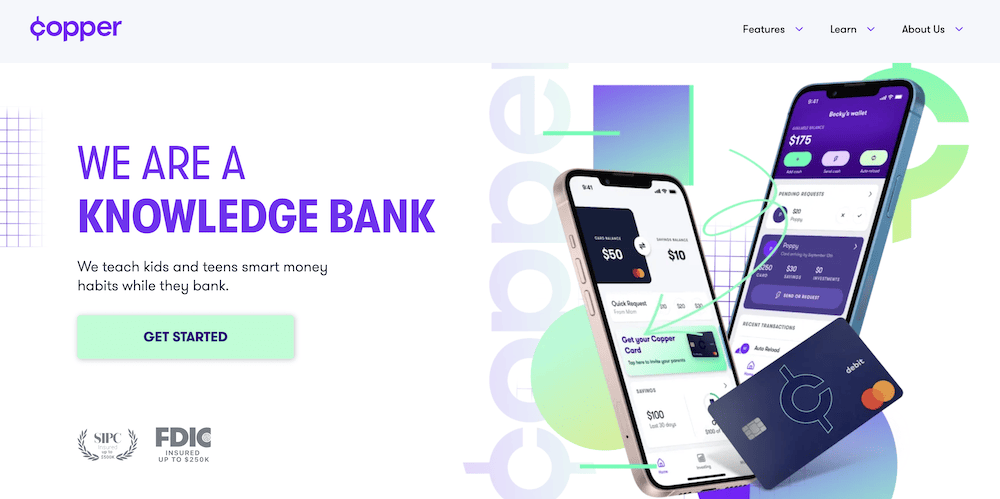 Available: Sign up here
Price: 30 days free. Copper: $4.95/mo. Copper + Invest: $7.95/mo.
Copper Banking was founded on the belief that kids and teens should have equal access to financial education and should be empowered to learn by doing. Now, the company is on a mission to help children gain real-world experience by giving them access to their money in a way that traditional banks can't.
The Copper app and debit card teaches your child how to make smart financial decisions by creating a platform where parents and their kids can connect. With the Copper app, you get easy snapshots of your accounts. And with the Copper Debit Card, it's easy to shop in-store or online, including with Apple Pay or Google Pay.
Plus, users get exclusive access to engaging advice curated by a team of financial literacy experts who provide tips on how to take control of their financial future.
Copper features
When I reviewed the Copper banking product, I found the following features to be most important:
Send/Request: Kids and parents can easily send and receive money all at the touch of a button.
Spend: Spend using Apple or Google Pay, or using the Copper Debit Card.
Withdraw: Access your money from more than 55,000 fee-free ATMs.
Monitor: Get a snapshot of all your child's spending in an easy-to-read dashboard.
Save: Gain quick snapshots of your kid's savings and helpful tips on how to save even more. Set up savings buckets and save for the things that you want.
Learn: With the help of Copper's team of financial literacy experts, gain bite-sized tips on how you can maximize your money and prepare yourself for your financial future.
The basic Copper account includes the above banking features. With Copper + Invest, your child also gets access to automatically curated smart portfolios built with their preferences in mind. (We like the guardrails they provide to get your child started with investing.) Your child is given a questionnaire that helps Copper determine a portfolio based on their age, income, net worth, investment objective(s) and investment horizon. Copper then recommends one of three ETF portfolios—Moderately Aggressive, Aggressive, and Extra Aggressive—made up of thousands of stocks. Parents can review the portfolio to ensure it matches with not just your child's preferences, but your family's. (Portfolios can be changed later on by accessing the Support chat.)
Much like many other apps I've reviewed on WealthUp, your child doesn't need much money to begin their investing journey with Copper. They can begin investing for as little as $1, then add more contributions down the road. Copper will automatically rebalance the portfolio as needed to make sure it always keeps up with your child's investment preferences.
Copper is available to kids 6 years and older.
Read more in our Copper Banking review.
Debit Card for Kids + Teens
Copper Banking | Banking Built for Kids
30 days free. Copper $4.95/mo. Copper + Invest: $7.95/mo.
Copper is the digital bank and debit card for teens built with the mission of creating a financially successful generation.
Send/Request:

Teens and parents can easily send and receive money all at the touch of a button.

Spend:

Pay with a digital wallet via Apple Pay or Google Pay or use the physical Copper Debit Card.

Monitor:

Get a snapshot of all your spending in an easy-to-read dashboard.

Save:

Gain quick snapshots of your savings and helpful tips on how you can save even more. Set up savings bucks and save for the things that you want.

Learn:

With the help of Copper's team of financial literacy experts, learn more about how to maximize your money and prepare yourself for your financial future.
Pros:
Allowance administration

Financial education resources

Network of 55,000-plus fee-free ATMs
Cons:
No chores tracking or assignment

No parental controls beyond notifications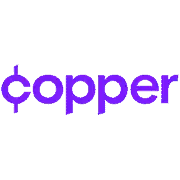 Related: How to Invest as a Teenager [Start Investing as a Minor Under 18]
3. Step Banking (Best for Building Credit)
---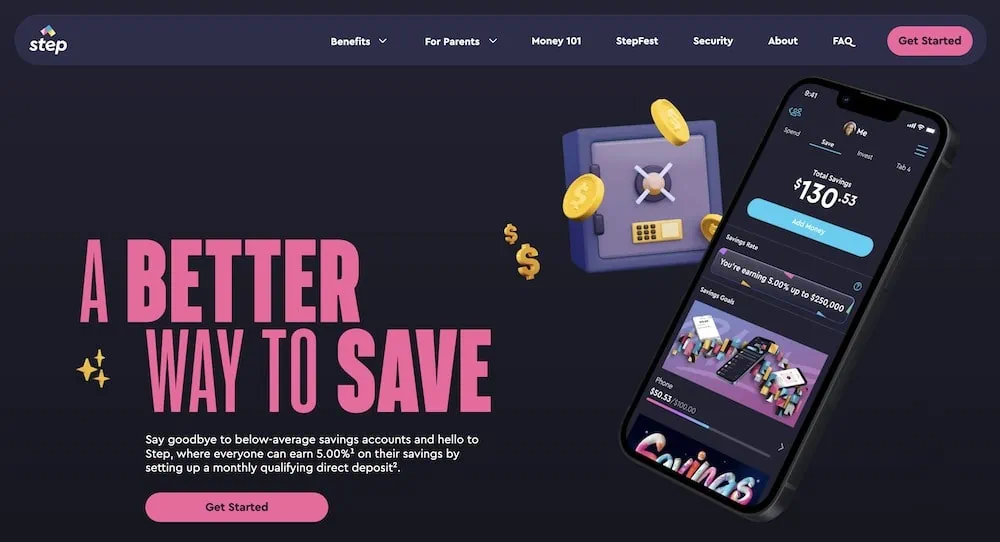 The free Step Visa Card is a unique "hybrid" spending card that functions like a debit card, but also boasts some of the features of a Visa credit card—including the ability to build your teen's credit history. In our overall review of the best cards for teens, this option truly stuck out as a one-of-a-kind product worth mentioning in this article despite it not technically being a debit card. When we personally tested the product, we found it to be a powerful option to set up teens for a strong financial future.
Parents add money to this FDIC-insured account and can determine how their teen can spend. A regular Step account allows a child to have both a physical spending card as well as a virtual card in the Step app, while a Parent Managed Account only allows the teen to spend via a physical card. Either way, they can use their card anywhere Visa is accepted. Teenagers can also use their cards to withdraw money from more than 30,000 ATMs for free.
And parents needn't fear that their teen will overdraft—they can't spend any money they don't have.
Further, the Step Card comes protected by Visa's Fraud Protection and Zero Liability guarantee. That means if your teenager's card gets lost or stolen, or misplaced and fraudulent charges crop up, you can dispute the charges within a certain time frame to avoid liability for paying.
The Step Card also boasts a great savings tool for teens. Any money up to $250,000 saved in a Savings Goal can generate 5% in annual interest (compounded and paid monthly) with a qualifying direct deposit*. And with Savings Roundup, small purchases are rounded up to the nearest dollar figure; that extra money is put toward a savings goal. (Example: Your teen buys a cup of coffee for $2.75; Step rounds up to $3.00 and puts 25 cents toward a goal.)
Step even features an "invest" function that allows teens age 13 and older to buy and sell Bitcoin for a small transaction fee. They can also earn Bitcoin (or cash) rewards when they opt into offers from companies like Hulu, Chick-Fil-A, CVS, and The New York Times. The app is not a pure crypto wallet, however—your kids currently can't spend Bitcoin directly at vendors.
One of the most unique and powerful features of the Step card is its ability to build your teenager's credit history. With this optional feature, Step will report the past two years' worth of information—transactions, payment history, and more—to the credit bureaus when your teen turns 18. That can greatly improve their chances of starting adult life with a better credit score, which can help lower the cost of things like student loans and auto insurance.
Lastly, Step is absolutely free: No monthly fees, no subscription fees, no account minimum fees, and no ATM fees within Step's network of 30,000+ ATMs.
Best for Building Credit
Step | Banking for the Next Generation
The Step Visa Card is a one-of-a-kind "hybrid" spending card that can help you to build your credit history via everyday purchases, even before you turn 18.
Earn a high 5% annual rate on up to $250,000 in your Savings Goals with qualifying direct deposits.*
Buy and sell fractional shares of stocks, ETFs, and Bitcoin for as low as $1.
Earn cash and crypto rewards when you use your Step Visa at participating merchants.
Send and receive money instantly, spend with Apple and Google Pay.
Pay allowance weekly, bi-weekly or monthly.
Track your card balance from the Step App.
Banking services, provided by Evolve Bank & Trust, are FDIC-insured for up to $250,000.
Pros:
Helps build credit

Free secured card for kids, teens, and young adults

High yield on money held in Savings Goals

Free investment account for stocks, ETFs, and Bitcoin

Fractional investing for as low as $1

FDIC insurance
Cons:
High-yield savings only available with qualifying monthly direct deposit*

Can't directly deposit checks into a Step account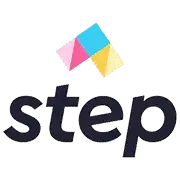 * Users must have a direct deposit of at least $500 per month to qualify. Benefits continue for as long as the user maintains the monthly $500 minimum direct deposit.
Related: Best Teen Credit Cards for Building Credit
4. Revolut <18 (Fee-Free Prepaid Debit Card for Kids)
---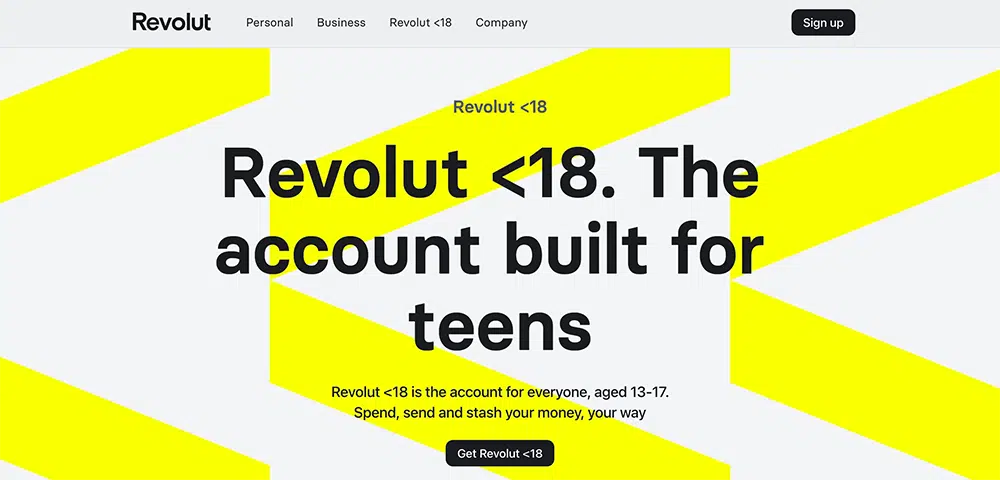 Revolut <18 is a prepaid debit card for kids designed to teach them money skills for life. Aimed at building healthy money habits from an early age, the unique, customizable card empowers parents to have full insight into their kids' card activity through providing instant spending alerts and parental controls.
You can choose to freeze the card, set controls on how they use the cards online and with contactless payments through your Revolut app. Further, you can set spending limits on how much your child can use with the prepaid card.
Parents use the card and accompanying app to teach kids about earning, budgeting, saving and even investing money (depending on the plan chosen). You can also use the card to manage chores and allowance, set savings goals as a family and help your children manage their money.
And if your child did something deserving of a reward? You can send parent-paid bonuses when they complete specific tasks. Simply add money to their digitized piggy bank through the app. You can send and receive money in seconds through Revolut's Payments feature, which allows instant transfers between account holders and also global transfers at transparent rates.
Of note: You must have a personal Revolut account before you can open a Revolut <18 account for your children. You can add up to five Revolut <18 accounts per parent account.
To learn more about Revolut <18, consider visiting their site and opening an account for yourself and your child.
Revolut <18 | One App, All Things Money
Revolut <18 is a prepaid debit card for kids designed to assist parents teach kids ages 6-17 about money. Families can handle chores and allowance, create budgets, set parental controls and more.
Revolut <18 comes with unique, customizable cards that parents can use to set up tasks and goals to work on together as a family.
Special Offer:

New and existing Revolut customers can enjoy 2% cash-back rewards on qualifying purchases when you join between Nov. 20, 2023, and Nov. 27, 2023

.*
Pros:
Prepaid debit card for teens

Parental controls

Round-ups

Chore and allowance management

Customizable designs
Cons:
Children can't load funds, only parents can

Parents need to have a personal Revolut account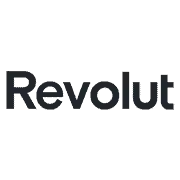 Revolut is a financial technology company. * Subject to applicable terms. First 5,000 eligible customers only. Fees may apply. Banking services provided by Metropolitan Commercial Bank (Member FDIC).
---
Terms and Conditions for Fidelity Youth™ Account
The Fidelity Youth™ Account can only be opened by a parent/guardian. Account eligibility limited to teens aged 13-17.
* $0.00 commission applies to online U.S. equity trades and exchange-traded funds (ETFs) in a Fidelity retail account only for Fidelity Brokerage Services LLC retail clients. Sell orders are subject to an activity assessment fee (from $0.01 to $0.03 per $1,000 of principal). Other exclusions and conditions may apply. See Fidelity.com/commissions for details. Employee equity compensation transactions and accounts managed by advisors or intermediaries through Fidelity Institutional® are subject to different commission schedules.
¹ Limited Time Offer. Terms Apply. Before opening a Fidelity Youth™ Account, you should carefully read the account agreement and ensure that you fully understand your responsibilities to monitor and supervise your teen's activity in the account.
² The Fidelity Youth™ app is free to download. Fees associated with your account positions or transacting in your account apply.
³ Zero account minimums and zero account fees apply to retail brokerage accounts only. Expenses charged by investments (e.g., funds, managed accounts, and certain HSAs) and commissions, interest charges, or other expenses for transactions may still apply. See Fidelity.com/commissions for further details.
⁴ Fractional share quantities can be entered out to 3 decimal places (.001) as long as the value of the order is at least $0.01. Dollar-based trades can be entered out to 2 decimal places (e.g. $250.00).
⁵ Your Youth Account will automatically be reimbursed for all ATM fees charged by other institutions while using the Fidelity® Debit Card at any ATM displaying the Visa®, Plus®, or Star® logos. The reimbursement will be credited to the account the same day the ATM fee is debited. Please note, for foreign transactions, there may be a 1% fee included in the amount charged to your account. The Fidelity® Debit Card is issued by PNC Bank, N.A., and the debit card program is administered by BNY Mellon Investment Servicing Trust Company. These entities are not affiliated with each other, and Fidelity is not affiliated with PNC Bank or BNY Mellon. Visa is a registered trademark of Visa International Service Association, and is used by PNC Bank pursuant to a license from Visa U.S.A. Inc.
⁶ Venmo is a service of PayPal, Inc. Fidelity Investments and PayPal are independent entities and are not legally affiliated. Use a Venmo or PayPal account may be subject to their terms and conditions, including age requirements.
Fidelity Brokerage Services LLC, Member NYSE, SIPC, 900 Salem Street, Smithfield, RI 02917
---
Step Disclaimer
Disclaimer: Step is a trademark of Step Mobile, Inc.
---
Revolut <18 Disclosure
The Revolut USA Prepaid Visa® is issued by Metropolitan Commercial Bank pursuant to a license from Visa U.S.A. Inc. for Visa cards, and may be used everywhere Visa are accepted. Banking services are provided by Metropolitan Commercial Bank, Member FDIC, and are subject to the terms of a Cardholder Agreement. "Metropolitan Commercial Bank" and "Metropolitan" are registered trademarks of Metropolitan Commercial Bank © 2023.