Disclosure: We scrutinize our research, ratings and reviews using strict editorial integrity. In full transparency, this site may receive compensation from partners listed through affiliate partnerships, though this does not affect our ratings. Learn more about how we make money by visiting our advertiser disclosure.
Famzoo and Greenlight are two competing companies that offer debit cards for kids and teens. Both feature parental controls, transaction notifications, spending limits and other useful features that give parents insight and control into their kids' money decisions.
While both offer similar features, they differ in some ways in terms of features, functionality and price—with each potentially offering a better value proposition than the other, depending on your unique circumstances and family situation.
In this Famzoo vs. Greenlight comparison, we take a look at each prepaid debit card for kids to see which one is the best debit card for teens.
Making a choice between these two cards will depend on what your child's needs are, how much access you want to have over their financial decisions and what you hope to accomplish with these powerful tools for building financial literacy and personal finance responsibility.
Let's dive in to learn more about Greenlight vs. Famzoo!
What are Debit Cards for Kids and Teens?
---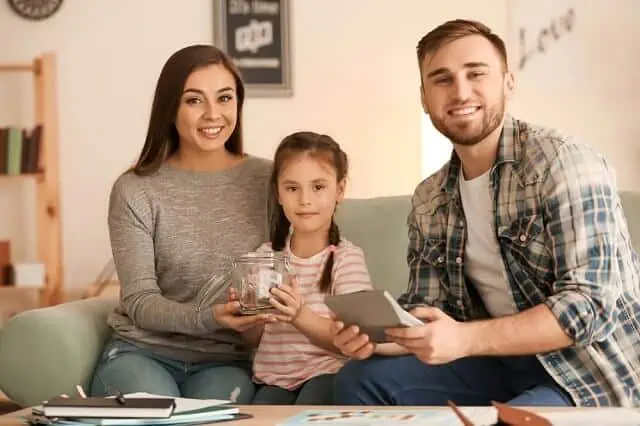 Due to legal reasons tied to lack of capacity, minors do not have the ability to enter into legal contracts. As a result, children can't open their own bank account until they reach the age of majority in their state—often 18 years old.
Parents interested in offering their kids a bank account and paired debit card can still choose a number of possible paths:
1) Opening a sub account from their own bank account.
This can provide your kids with a card to use while you can maintain control over the account itself. Under this situation, it's still likely that your child will need to be at least 13 years old before receiving a debit card.
However, these accounts may not come with the features you want for maintaining control over your child's spending habits.
2) Opening a debit card for teens (minors).
This route understands parents' desires to teach their kids about money, while providing sufficient parental controls and oversight to make sure a child's spending and money decisions are smart.
To accomplish this mission, debit cards for teens offer parents custom spending controls, spending notifications, merchant blocking, daily and ATM spending limits, plus other controls enabled through feature-filled mobile apps.
Some new apps even allow you to lock the card or limit where your child spends money.
These cards also effectively function as a prepaid debit card because you can establish parental controls. Traditional banks or prepaid debit cards might not allow you to do this beyond keeping the account balance at a certain level.
Should You Get a Debit Card for Teens and Kids?
---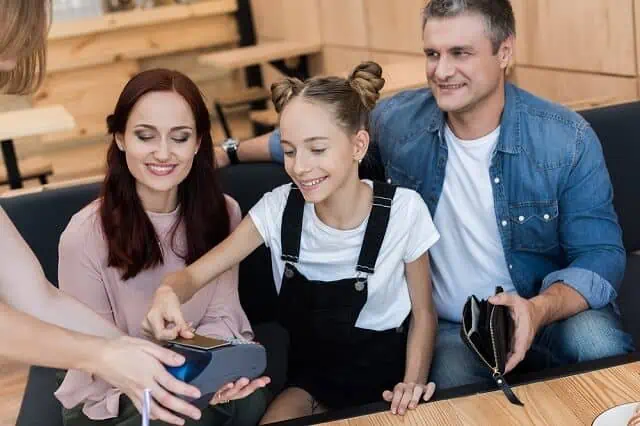 Kids learn best with their hands and by experiencing things in person. That's why starting a savings goal with a physical piggy bank can materialize the concept of saving in their minds.
This tangible aspect makes it real for them and gives them a connection to money.
With enough time, however, you can move this money management to the modern, digital-first world, relying on what has become an increasingly common way to handle money.
Having a debit card for kids and teens addresses several areas of parental concern simultaneously:
Parental Controls. By having significant control over how kids are spending money, withdrawing money from ATMs, or working toward savings goals, debit cards for kids can provide ideal levels of control to parents and not need to worry about spending cash without their knowing. Setting spending controls or spending limits can provide significant peace of mind.
Avoids Cash. Closely related to parental controls, having plastic in the pocket of your kid avoids needing to hand over cash, go by the ATM or grocery store, or risk losing it altogether. Debit cards for kids provide security over your money with the convenience of transferring money with a few taps of the mobile app linked to your cards.
Educational Resource. These cards offer ample financial resources to learn about money, but also have controls in place before many transactions occur. This forces a conversation between parents and kids, allowing you to teach your kids about numerous financial lessons in advance of a decision getting made.
Spending Control. I know what you're thinking: Didn't he already talk about parental controls above? Yes, but I mean "spending control" from the personal finance point-of-view. Meaning, kids have to control their own spending because a debit card forces you to live within your means, making it impossible to use tomorrow's dollars to fund today's purchases. These limits from a card can help to develop a stronger sense of financial literacy by navigating these everyday decisions with today's dollars, not tomorrow's potential profit. These cards don't act like a credit card, allowing you to spend what you don't currently have through borrowing.
While a debit card for kids can provide the above benefits, making cash possibly a thing of the past, you don't necessarily need to forsake one entirely for the other. Having money held in cash and on your card and account can make good financial sense.
Though, for the reasons above and the added convenience, I find initiating a digital account transfer from your account to their account is far easier than driving to the bank to get money out of the ATM.
If these sound like good reasons to consider getting a prepaid debit card for your kid, have a look at two of the best debit cards for kids and teens: the Greenlight Debit Card and Famzoo Debit Card.
Be sure to check out my full list of best debit cards for teens to learn about other options in this market.
Related: 11 Banking Apps for Minors [How Minors Can Bank Money]
What is the Best Prepaid Debit Card for a Teenager?
---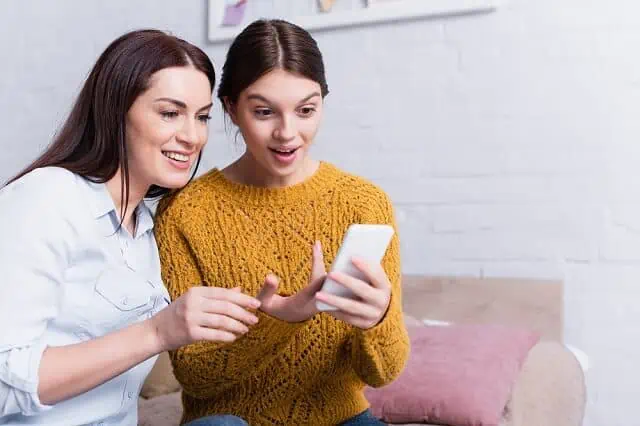 A prepaid card is a type of payment card that can be loaded with money in advance and then used to purchase goods or services without incurring debt from the issuer.
In other words, these aren't credit cards which borrow against a line of credit, allowing you to repay them each monthly billing cycle. Instead, prepaid cards require you to front the money on your card and spend down the balance until you next reload it.
Prepaid debit cards for kids enable them to:
have money to spend in stores and online
have a card that looks like a debit card or credit card
avoids a non-sufficient funds, withdrawal or transaction fee (other fees may apply, however)
pairs with a mobile app that offers security features, parental controls to set spending limits, money management tools, saving features, and more
Some even double as allowance and chore apps for kids, empowering parents to pay weekly allowance after determining whether their kids have completed their chores.
With these features in mind, let's take a look at which company, Greenlight vs. Famzoo, makes the best prepaid debit card for teenagers.
Related:
Greenlight vs. Famzoo Prepaid Debit Cards
---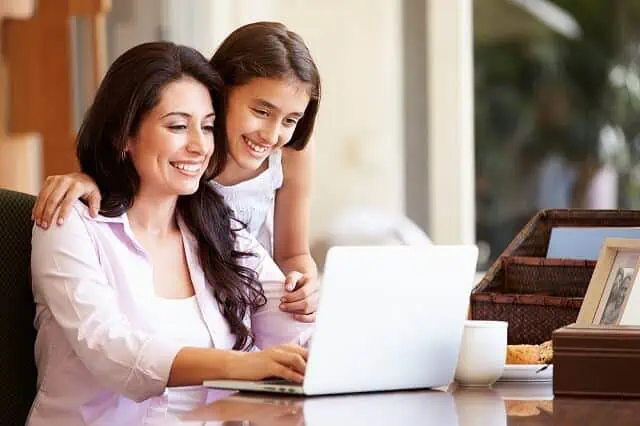 If you've made it this far, you'll know both Greenlight and Famzoo are debit cards for kids and teens which allow parents to:
set spending limits
control where kids spend money
teach them about money
With these starter banking products, parents can eventually introduce other important financial tools like a checking account and savings account, or even credit cards and the idea of interest.
The main difference between these two prepaid debit cards is that Greenlight offers a more feature-filled experience and also comes with slightly lower monthly fees if you have more than one one to four children, or even lower monthly fee if you have five (Famzoo charges for the fifth debit card).
That said, Greenlight might still be your better choice if you want to house other important functions in the same platform, namely the ability to invest with Greenlight Max, the investing feature from Greenlight.
With these major differences highlighted upfront, let's first move into how Greenlight vs. Famzoo compare similarly before proceeding to the more nuanced differences.
Related: Best Kid Debit Cards
Similarities Between Famzoo vs. Greenlight
---
Both being prepaid debit cards for kids, these banking products have more similarities than differences.
Famzoo vs. Greenlight: Features
---
Use spending controls to set spending limits
No card reload fees
No transaction fees
Both charge monthly fees to their users (though the pricing system differs)
Offer the ability to track chores and act as an allowance app for parents to pay their children
Offer a free trial for 30 days to start and demo the service
Work with Apple Pay and Google Pay (FamZoo also offers Samsung Pay and PopMoney, the latter of which charges a $0.95 fee)
Can have multiple family members participate simultaneously though parent account(s) and child account(s)
Can direct deposit money onto the card from a job
Provide real-time spending alerts to parents
Both offer custom cards (at different price points)
No overdraft fees (not a teen checking account)
Multiple funding options (e.g., instant transfers from parents' bank account or parent wallet)
Can send gifts through various means (sending links) through the app
Ability to "give" and donate money to charity through the app
Each app has a high Apple App Store rating (4.8 for Greenlight, 4.6 for Famzoo)
Provide customer service and support (hours differ, based on prepaid card plan chosen)
Famzoo vs. Greenlight: Bank Accounts
---
Both prepaid debit card for kids accounts have the following bank account features in common:
Both prepaid debit card for kids accounts have the following bank account features in common:
FDIC Insured
FDIC insured up to $250,000 on account balance through the same banking partner/card issuer (CenterState Bank or Four Corners Community Bank for Famzoo and Community Federal Savings Bank for Greenlight).
Prepaid Debit Mastercard
Both use MasterCard as their payment network processor (Greenlight Prepaid Mastercard and Famzoo Prepaid Mastercard).
Account Balance Available through Mobile App
Ability to check debit card account balances through the mobile app.
Further, you can check savings balances as well as investment balances on Greenlight + Invest and Greenlight Max plans.
A Famzoo debit card for kids doesn't currently provide access to an investment account.
Establish Savings Goals
You can establish savings goals through each app linked to the debit card for kids.
Greenlight recently began paying interest of up to 1% on the savings goals through its General Savings account in the Greenlight + Invest plan and up to 2% on the savings goals established through its premium Greenlight Max plan.
Of note, the General Savings account is not a separate account, rather a "General Savings" designation on funds dedicated toward savings. They do not reside in a savings account or other checking account.
Additionally, the Greenlight debit card allows you to use Parent-Paid Interest, which is an annual percentage rate that you set for your child's General Savings in the Greenlight app.
Their account will earn the interest on the first of each month and all you have to do is set up the money transfer into their account from your parent's wallet.
Greenlight calculates and pays interest monthly based on the average daily balance of your child's "Total Savings" for the previous month. This represents the total amount saved between General Savings and Savings Goals.
With Parent-Paid Interest you can choose how much interest their savings earns. If you want your kid to earn a lot, then you can set your Parent-Paid interest to pay up to 100% interest.
Famzoo also allows you to set up parent-paid compound interest on savings goals set in your kid's account. Though, remember, like Greenlight's Parent-Paid Interest, you're the bank paying interest, here—not Famzoo.
A child can establish goals for how they save their money and put part of their allowance toward this goal each week.
Direct Deposit
Greenlight and Famzoo both offer the ability for kids and teens to link their paychecks to their cards through direct deposit.
If kids have a job and use Greenlight or FamZoo, they can direct deposit their paychecks onto their cards.
Custom Cards
Greenlight allows you to customize your prepaid debit cards, but it costs $9.99 each. You can also receive a Greenlight Black Card, described as "Modern. Bold. Black. And just for Greenlight Max kids."
Famzoo doesn't allow card customization, even for an additional fee.
Famzoo vs. Greenlight: Fees
---

No Overdraft Fees
Neither card charges overdraft fees because they provide prepaid cards. If you don't have the money to spend, you can't overdraft the card balance. Unlike with a checking account, which can assess an overdraft fee.
Monthly Fee
Both services make money through assessing a monthly fee and are affordable for multiple family members on their base plans.
The monthly fee varies by plan chosen on the Greenlight Debit Card. More details on the monthly fee differences below.
FamZoo also offers upfront discounted pricing, lowering your effective monthly fee if this appeals to you and having certainty of your banking needs for that period of time.
No Transaction Fee
Neither debit card for kids assesses a transaction fee for purchases made with the card.
Differences Between Famzoo vs. Greenlight
---
Just as there are many similarities between Famzoo vs. Greenlight, there are also differences well worth noting. These will likely be the reasons you choose one card over another.
Greenlight vs. Famzoo: Features
---
Investing App Capability
One of the biggest differences between Greenlight vs. Famzoo is that the former allows a kid to invest in stocks while Famzoo doesn't.
The Greenlight + Invest and Greenlight Max plans allow kids to invest in stocks and ETFs (including kid-friendly stocks) by establishing a custodial account in the child's name and using the service as stock trading app.
Like the spending controls parents can set on their kid's debit card, they also need to review each stock trade prior to execution.
A kid cannot currently invest through Famzoo and would need to open another custodial brokerage account through an app like Acorns Early or M1 Finance.
This latter app offers parents to open a custodial Roth IRA for kids, letting kids with earned income set aside after-tax dollars into a retirement account that can grow for 5+ decades tax-free.
IOUs vs. Prepaid Card Account
Another difference between Famzoo and Greenlight is that Famzoo allows two types of accounts: IOU Accounts or a Prepaid Card Account.
IOU accounts simply allow you to track money you hold elsewhere on behalf of your child. This balance denotes how much you owe your child and can then use Famzoo to make automated payments from you to your child for allowance, rewards, interest and more through crediting your child's IOU account.
The main differences between these accounts are the IOU accounts don't hold real money while the Prepaid Card Account does. If you use IOU accounts, the first two months are free.
Prepaid Card Accounts have one month free.
Age Ranges
Different age ranges (Greenlight: 8-18; FamZoo all ages) exist for each card, though all ages can apply.
Interest Payments
Greenlight offers a premium tier called Greenlight Max, which offers all the features of Greenlight and Greenlight + Invest, but also:
up to 2% on Savings through the Savings Reward system
1% cash back
a Greenlight Black Card
priority customer support
identity theft protection
cell phone protection, and
purchase protection on stolen or damaged Greenlight purchases.
Likewise, Greenlight and Greenlight + Invest can pay 1% on General Savings balances.
FamZoo offers a parent-provided interest payment feature, but doesn't pay interest on savings balances.
Loans
Greenlight doesn't allow kids to borrow from their parents on larger purchases they'd like to "finance".
FamZoo offers the ability for parents to issue loans with a parent-set interest rate and terms. Kids can borrow money and learn about interest when it works against you on credit.
Though, these loans won't go toward a parent's goal of helping their children build credit.
Penalties for Not Completing Chores
FamZoo allows parents to assess penalties against their children for not completing chores on time (or at all).
Greenlight only allows for parents not to pay from their parent app.
Security
One of the biggest differences between these apps comes down to how you can fund your kids' debit cards.
With the Greenlight debit card, the parents' bank account links directly through Plaid, an API-based encryption service which connects your financial information with thousands of apps in a safe and secure manner.
This entails providing your bank account information to Plaid, who then uses this to connect your bank account to an account which can fund the Greenlight debit card for kids.
FamZoo handles fund transfers differently, by placing the funds from parents directly onto the card without use of your checking account info.
Greenlight vs. Famzoo: Bank Accounts
---
Spending Controls
Greenlight provides store-level spending limits as well as the ability to lock and unlock all spending. In other words, turning off the spend function on the cards.
Famzoo allows you to lock and unlock the debit card as well, but it cannot provide blocking of specific merchants.
Apple Pay and Google Pay
With Greenlight, kids who meet the minimum age requirements for using Apple Pay and Google Pay may use these services through their phones.
For reference, Apple Pay and Google Pay are digital payments services which attach a debit card to your phone for making purchases without the physical card. At retailers, you can tap your phone on the point-of-sale terminal to pay.
Likewise, Apple Pay and Google Pay give kids (and parents) the ability to pay online with a debit card or credit card.
FamZoo allows Apple Pay, Google Pay, Samsung Pay and PopMoney.
Round Ups
Greenlight allows "Save the Change Roundup", which rounds up debit card purchases to transfer the difference between what you paid and the nearest whole dollar to the General Savings or Charity pods.
Maximum Card Balance
The card balances allowed on each account vary slightly:
Greenlight allows up to $10,000 per parent account and $5,000 per child account.
FamZoo allows $5,000 per card with a maximum $2,500 per day card load and card to card transfers.
Related:
Greenlight vs. Famzoo: Fees
---
Monthly Fee
Both services charge a monthly fee, though Greenlight charges a flat $4.99 for up to five kids in the family while FamZoo charges $5.99 per month for up to four kids.
Each additional card incurs an additional one-time $3 for shipping.
FamZoo also allows upfront discounted pricing over longer periods, dropping their effective monthly fee to a lower amount.
ATM Fee
Greenlight doesn't charge an ATM fee whether in-network or out while Famzoo doesn't either.
However, you may need to pay an ATM fee to the ATM operator. As such, Famzoo encourages users to get cash back from an in-store purchase, like at a grocery store when you can get cash back on top of your purchases.
Likewise, you can't deposit cash onto your Famzoo debit card nor your Greenlight debit card from an ATM. Therefore, you won't pay fees for something you can't do!
Card Replacement Fee
Greenlight grants your first replacement card for free, though subsequent replacement cards are $3.50 per card. Additionally, you can pay $24.99 to get expedited delivery instead of the standard 7-10 business day delivery.
Famzoo charges no card replacement fee for the first two cards but then $3 for each subsequent replacement. Like Greenlight, Famzoo also offers an express delivery option for $25.
Cash Reload Fee
Greenlight doesn't offer direct cash reloading while participating retailers allow Famzoo users to reload their cards by using the Greendot or MasterCard repower networks, though they usually charge a fee. This fee typically amounts to $4.95, though it may vary.
Greenlight only allows cash reloads by depositing cash into your individual bank account and then transferring this to the Parent's Wallet. Also, Greenlight doesn't currently allow kids to withdraw cash at the register as this overrides parental controls the company has in place.
How to Choose the Best Prepaid Debit Card for Your Family
---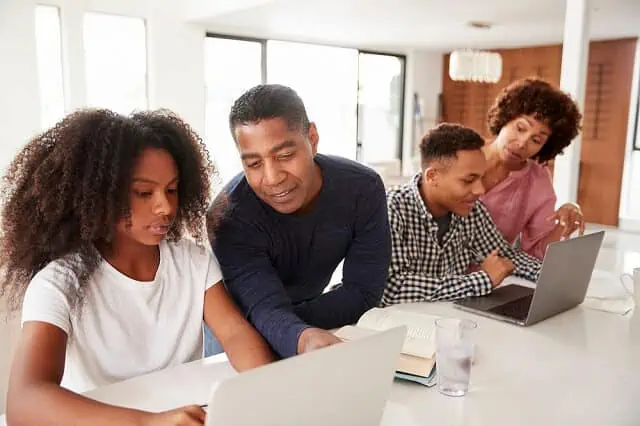 Make no mistake, each debit card for kids has a significant number of features which make the card a great choice to have for building financial literacy and responsibility in your family.
However, there are some real differences features you should consider. For small and larger families alike, both of these apps come with similar price points.
Both have comparable prices you pay per month for a similar number of users. Families with five kids can all get cards for one flat monthly rate through Greenlight while that same family would need to pay a one-time shipping fee for each additional card beyond the fourth kid in the family.
However, FamZoo offers the ability to pay upfront for an extended period of time, lowering the per month fee you'd pay.
As far as features, Famzoo doesn't currently have the older teen functions you'd like to see like greater spending controls.
Though, for younger ages, both apps do well to manage chores and allowance.
The Greenlight spend card excels for spending controls in that they have more granularity on how you can control where kids shop online and off.
Greenlight also offers interest to its cardholders, at either 1% or 2%, depending on the plan chosen. No other prepaid debit card for kids currently offers this from what we've reviewed.
This adds a valuable edge when teaching kids the value of saving and compounding.
Likewise, Greenlight also offers additional investing functionality through its Greenlight + Invest and Greenlight Max products as well as additional coverages for things like cell phones and card purchases as well as identity theft protection under the highest priced plan.
Bottom Line
---
In the end, both cards should work well for your family, giving your child a debit card to save and spend money while learning valuable money lessons in the early years. You won't make a wrong choice going with either card in what we can see.
Consider each of these cards to understand which makes the most sense for your family.
The only true edge goes to Greenlight on the greater granularity of spending controls and investing functionality. Though, that said, Famzoo provides comparable spending control features for a lower price point if paid upfront at a discounted price.
If you choose Famzoo, the investing will need to be done with other investing apps for minors elsewhere if that's of interest.
Because most custodial accounts charge fees, this makes Greenlight's higher monthly price for their Greenlight + Invest plan a wash with what you'd need to pay from some other investing apps.
Once you've made up your mind about either card, your kids can take these money spending lessons learned as children and apply them on their own when they're no longer children or in their teen years.
Read more in our Greenlight Card review.
Related: Looking for another kid's debit card to add to your comparison? Make sure you check out our GoHenry vs. Greenlight matchup to learn more about this other debit card for teens and how it stacks up!