While not many enjoy thinking about their own mortality, life insurance still represents a major financial decision you should consider.  In fact, life insurance acts as a cornerstone piece for a sound financial plan.
Purchasing the right policy for your needs can help you protect your loved ones from the financial risk that might arise with your passing.
Life insurance provides death benefits which can cover any financial needs, including final expenses like burial or cremation, paying off a mortgage or student loans or any other types of debt which need to be managed.
Depending on the beneficiaries' needs, some choose to use life insurance to replace the deceased's income in order to maintain the same lifestyle without financial hardship.
Haven Life offers a streamlined purchasing experience for term life insurance and is backed and wholly owned by MassMutual, a company which has served the public since 1851.
MassMutual offers a wide variety of financial products including retirement investing, whole and term life insurance, investment services and other financial planning services.
Unlike MassMutual, however, Haven Life only offers term life insurance through a digital buying experience.  Should you have a need for permanent life insurance, you might consider working with MassMutual to meet them.
This Haven Life review the term life insurance coverage offered by the agency, as well as the cost and process for getting coverage. Do not forget to compare Haven Life against other online life insurance companies.
And also be sure to understand whether term life insurance is worth it as a financial planning tool.
What is Haven Life?
---
A common theme among the online life insurance innovators reviewed on this site is creating buying experiences that don't need a medical exam.
The Haven Term policy features a streamlined application process, taking anywhere from 10 – 30 minutes depending on how detailed your medical history is and also allows some qualified applicants up to age 59 and who are applying for up to $1,000,000 potentially skip the medical exam.
MassMutual, owner of Haven Life, issues the company's policies.  MassMutual stands as one of the largest U.S. life insurers, providing superior financial security given its scale and diversity.
For those who do not want to take a medical exam, Haven Life offers Haven Term Simplified (i.e., no medical exam) — a 100% no medical exam term life insurance policy, which is available in coverage amounts up to $500,000.
As with all 100% no exam policies, Haven Term Simplified will have higher rates compared to a medically underwritten rates (Haven Term).
Life insurance medical exams act as valuable assessments of insurability risk. The more detailed information you can provide to an insurer, the less risk the insurer takes on and the more affordable pricing can be.
If you express a willingness to submit to a medical exam, you may potentially qualify for a Haven Term policy at a better rate (and you might not need to take a medical exam).
As for product offerings cited here and with other insurers reviewed, Haven Life does not sell permanent life insurance.
For its term life insurance products, while the company's online application takes slightly more time than others listed here, Haven Life tends to offer extremely competitive rates to make up for the extra commitment.
In particular, Haven Life offers term life insurance for adults aged 59 and younger for up to $3,000,000. For those in the 60 to 64 age bracket, you can apply for a $1,000,000 term life insurance policy.
Related:
Haven Life's Financial Picture
---
Haven Life's parent company MassMutual, issuer of the Haven Term policy, boasts a remarkable financial strength rating according to A.M. Best, clocking in with an "A++ (SUPERIOR)" score.
As a reminder, financial strength should serve as an important determinant when choosing an insurer because it indicates how well an insurer can pay claims.
Because life insurance claims might not occur until decades in the future, this rating serves as an absolute differentiator if all else appears equal for term life insurance policies.
Haven Life's Cost
---
Life insurance companies analyze a variety of factors to assess risk and determine policy pricing.  For the medically underwritten Haven Term policy, the application will ask questions about age, health, smoking status, lifestyle choices and more to determine eligibility and pricing.
The Haven Term Simplified (100% no medical exam policy) application process is a bit shorter, but the better value generally is with medically underwritten policies.
Regarding the additional drivers of insurance coverage cost, the premiums assessed also consider the total desired policy face value as well the term of coverage (i.e., number of years).
Customers can use Haven Life's instant estimate quote tool to get an idea of how much a term life insurance policy might cost.
This does not provide any guarantee of rate, merely an estimate based upon reported risk factors through the company's application.  The actual premium rate offered is subject to change.
The following are quote examples for applicants living in Illinois for a medically underwritten Haven Term policy through Haven Life:
A healthy, non-smoking 25-year-old female may pay as little as $7.97 a month ($13.78 if they smoke) for a $100,000 10-year policy.
A healthy male aged 45 requesting a policy face value of $250,000 for a 20 year term, receives a premium as low as $38.16 a month.
This same scenario for a male who smokes causes the premium to more than triple, going to $127.13 a month.
Haven Term policy applicants who are healthy, do not smoke, and are 35-years old purchasing $500,000 for 20 years can expect to pay monthly premiums of $23.34 for males and $20.32 for females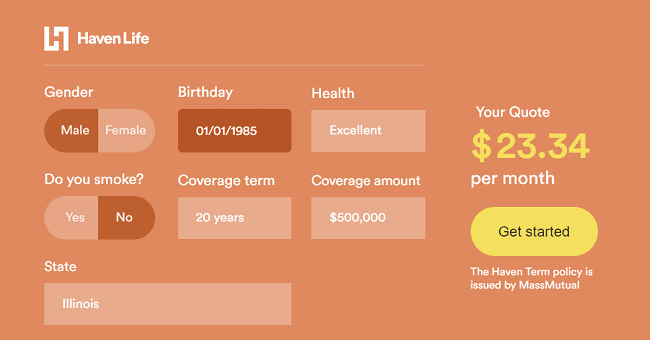 Coverages Offered and Most Popular Policy
---
At this time, Haven Life offers two primary products: its Haven Term Simplified Product (100% no medical exam policy) with a maximum coverage amount of $500,000.  These policies come with a higher price tag than a medically-underwritten Haven Term Life.
For the Haven Term Life policy, if you are under the age of 60, you may apply for up to $3,000,000 in coverage.
The basic policy provides some unique insurance policy riders, including:
Haven Life Plus: This rider is available to Haven Term policyholders in eligible states (except those in FL, NY, ND, SD, and WA, which are ineligible). Plus provides access to no cost benefits  through brand partners like MinuteClinics and Trust & Will.
Accelerated Death: Comes standard with the Haven Term policy and allows for terminally ill policyholders (those with 12 to 24 months left to live) to access a portion of their policy benefits to pay for medical expenses or other financial needs.
Waiver of Premium: For those who choose to opt-in and who purchase a life insurance policy before 50. This waiver assists permanently disabled policyholders maintain their coverage. Pricing varies with your policy and situation but typically costs around $3/month.
Does Haven Life Require a Medical Exam?
---
Technically, because Haven Life offers its Haven Term Simplified Product – a type of term life insurance policy which doesn't require a medical exam – those who have excellent health at the time of application may apply for coverage and have a policy put in place within hours.
Therefore, Haven Life does not require a medical exam for qualified, healthy applicants.
However, these no medical exam policies come with higher life insurance premiums because they do not undergo a medically-underwritten exam to price the policy in full accordance with the applicant's health.
How Much Life Insurance Do I Need?
---
While this answer varies depending on financial situation and need, the typical rule of thumb offered by personal finance experts is purchasing life insurance coverage which amounts to 10-15 times your income.
For example, if you make $50,000 per year, you would be best served with a policy offering $500,000 – $750,000 in coverage for your beneficiaries.
Having this tax-free life insurance payout will go a long way toward replacing your income and helping your dependents who relied on you for meeting their needs.
In most cases, carrying a life insurance policy acts as a smart move when incorporated as part of a broader estate plan.
However, your situation may vary and you should consider unique needs before deciding on the amount of life insurance you need.
Related: 8 Best Ways to Invest a Lump Sum Life Insurance Payout
Applying for the Haven Term Policy
---
As convenience and speed have become important in our everyday lives, Haven Life offers a quick turnaround for your application.
Underwriting algorithms review your application information in real-time to instantly evaluate your application. If approved, coverage can begin immediately.
As stated above, eligible applicants up to age 59 may be able to purchase up to $1,000,000 in coverage without a medical exam.
For those who do require a medical examination to finalize coverage, Haven Life makes it as simple as possible by giving you 90 days to take it and you can schedule it at a time and place of your choosing.
In the interim, you may be able to start temporary coverage with a preliminary price. After receiving the exam results from the qualified medical professional, Haven Life finalizes the price if the customer receives approval for the MassMutual-issued coverage.
In instances where a customer does not receive an offer for coverage beyond the temporary period, or does not wish to proceed with the policy, Haven Life provides a refund.
Below represents the major need-to-know facts about Haven Life:
Online application and policy origination process with potential for medical examination
In some cases, no need for medical exam
A++ rated financial strength
No commissioned sales agents
Only sells term life insurance policies
Coverage up to $3,000,000
10, 15, 20 and 30 year terms available
Covers insurable age groups up to 64 years old
Our Term Life Insurance Pick
Haven Life | Competitive Rates w/Exam
HAVEN LIFE AT A GLANCE
Sells term life insurance online, with potential for medical exam (for the best rates)
In some cases, no need for medical exam
Coverage up to $3,000,000
10, 15, 20 and 30 year terms available
Covers insurable age groups up to 64 years old
Related: What is an Insurance Declaration Page? All About the DEC Page
How Haven Life Compares
---
See how Haven Life compares against the other online life insurance agencies in the market.  Have a look at each review by clicking on the relevant links below to learn which might lead to your best policy.
Best Online Life Insurance Agencies - 2020
| | | | | |
| --- | --- | --- | --- | --- |
| | Bestow | Haven Life | Fabric | Ethos |
| | | | | |
| Products offered? | Term life insurance only. | Term life insurance only. | Term life insurance and accidental death. | Term life insurance. |
| Term options | 10 and 20 years. | 10, 15, 20 and 30 years. | 10, 15 and 20 years. | 10, 15, 20 and 30 years. |
| Age Availability | For 20-year policies, 21 to 45 (21 to 43 for male tobacco users); for 10-year policies, 21 to 54. | 18 to 64. | 18 to 60. | 18 to 75. |
| Coverage amount available | Up to $1,000,000 for 10- and 20-year terms. | $100,000 up to $3,000,000. | $100,000 up to $5,000,000. | $100,000 up to $1,500,000. |
| Medical exam required? | No. | Depends. A medical exam may not be needed for eligible applicants applying for up to $1,000,000 in coverage. Once an application is submitted, you will find out if a medical exam is needed to finalize your rate. | Depends. May be required if more health information is needed. Better rates possible with medical exam. | Depends. May be required on policies over $1,000,000 or if more health information is needed. |
| Can be declined for coverage? | Yes. | Yes. | Yes. | Yes. |
| Available in | All states except NY. | All states except CA, DE, FL, ND, NY, and SD. | All states except MT, CA*, and NY*. | All states except NY. |
*Must purchase Fabric Instant (accidental death) first, then can purchase Fabric Premium.
Prices, products offered and coverage terms effective as of publication.
Disclosure: The opinions and ideas expressed in the article are those of the author(s) and are not promoted or endorsed by Haven Life or MassMutual. You should always consider seeking professional advice before making a major financial decision.
DISCLAIMERS:
*MassMutual and its subsidiaries C.M. Life Insurance Company and MML Bay State Life Insurance Company are rated by A.M. Best Company as A++ (Superior; Top category of 15). The rating is as of 03/01/2020 and is subject to change. MassMutual has received different ratings from other rating agencies.
Haven Life Plus (Plus) is the marketing name for the Plus rider which is included as part of the Haven Term policy. The rider is not available in every state and is subject to change at any time. Neither Haven Life nor MassMutual are responsible for the provision of the benefits and services made accessible under the Plus Rider, which are provided by third party vendors (partners).
Haven Term is a Term Life Insurance Policy (DTC and ICC17DTC in certain states, including NC) issued by Massachusetts Mutual Life Insurance Company (MassMutual), Springfield, MA 01111-0001 and offered exclusively through Haven Life Insurance Agency, LLC. Policy and rider form numbers and features may vary by state and may not be available in all states. In NY, Haven Term is DTC-NY. In CA, Haven Term is DTC-CA. Our Agency license number in California is OK71922 and in Arkansas, 100139527.