Opening a bank account is one of the most important tasks for any young person. The first time you do it, you will be asked how old you are and how much money to deposit. But how old do you have to be before being able to open a bank account at Bank of America?
With this article, we cover the rules and regulations you need to know when opening a bank account, including how old you have to be, the documents you need and the process for opening a bank account to enable child banking at Bank of America. When setting up a bank account, it's best to be prepared and start by coming into the branch or opening an account online. Continue reading to learn what you need to do to open a bank account.
Of note, Bank of America only offers a Minor Savings Account and a Student Checking Account for minors (the latter of which requires the bank account owner to be enrolled in college or a qualified vocational program).
Looking for a Free Bank Account for Minors? Consider Step Banking
---
Best for Building Credit
Step | Banking for the Next Generation
The Step Visa Card is a one-of-a-kind "hybrid" spending card that can help you to build your credit history via everyday purchases, even before you turn 18.
Earn a high 5% annual rate on up to $250,000 in your Savings Goals with qualifying direct deposits.*
Buy and sell fractional shares of stocks, ETFs, and Bitcoin for as low as $1.
Earn cash and crypto rewards when you use your Step Visa at participating merchants.
Send and receive money instantly, spend with Apple and Google Pay.
Pay allowance weekly, bi-weekly or monthly.
Track your card balance from the Step App.
Banking services, provided by Evolve Bank & Trust, are FDIC-insured for up to $250,000.
Pros:
Helps build credit

Free secured card for kids, teens, and young adults

High yield on money held in Savings Goals

Free investment account for stocks, ETFs, and Bitcoin

Fractional investing for as low as $1

FDIC insurance
Cons:
High-yield savings only available with qualifying monthly direct deposit*

Can't directly deposit checks into a Step account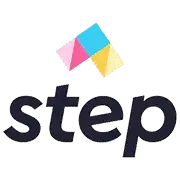 * Users must have a direct deposit of at least $500 per month to qualify. Benefits continue for as long as the user maintains the monthly $500 minimum direct deposit.
Related: Step Banking App Review
Am I Eligible to Open a Bank Account?
---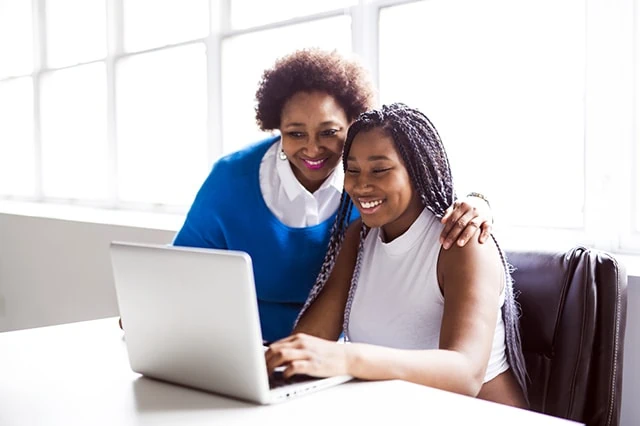 To be eligible to open a bank account, you need to meet certain requirements. Generally, most U.S. banks require you to be:
A U.S. citizen
18 or older (an adult)
Have a government-issued ID
Make a minimum opening deposit (and maintain certain balance requirements)
A joint-account-owner if you're not of legal age
How Old Do You Have to Be to Open a Bank Account?
---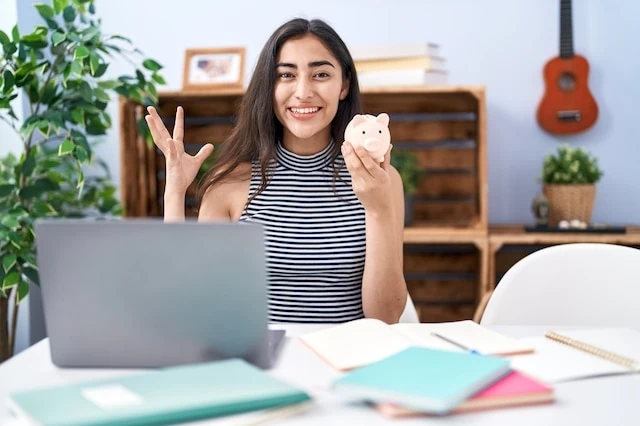 Opening bank accounts requires you to be of an eligible age. You need to be at least 18 years old to open an account by yourself, or the age of majority in your state of residence. One way around this requirement comes from opening a joint account with at least one of the account holders being the age of majority. Typically, this is a parent or legal guardian.
Likewise, you can also apply for accounts specifically targeted toward minors looking to open a bank account, but this still requires a parent or legal guardian to serve as one of the account holders. These accounts allow the adult to manage the account while also teaching the minor owner about banking.
Before applying for an account, you want to check with your potential bank of choice to determine the eligibility requirements for opening an account. Also be sure to examine the fees, like a monthly maintenance fee or service fee, and other associated charges assessed by the bank. You don't want to get hit with overdraft fees or late payment charges and a bank might turn you away if you have a history of them.
In some cases, banks may run a background or criminal check to assess if you have participated in any financial crimes.
As another consideration, you may need to be a U.S. citizen to open a bank account in the United States.
In the event you apply for a credit card, the financial institution will also take a look at your credit history and credit score. The type of credit card you apply for may require you to have a decent credit score to open the account. Though, some credit cards target individuals looking to build or rebuild credit, making you eligible without a good score or any history at all.
Related: Best Credit Cards for Teenagers
How Old Do You Have to Be to Open a Bank Account at Bank of America?
---
For Bank of America, you can open a joint account with a child who is at least the age of 13. This makes them eligible to have an account with a debit card of their own you can monitor and access as you wish.
Most banks allow online and mobile access so your teen can access and check their balance and account history when they wish. Some accounts even provide text and push notifications if they encounter suspicious activity, duplicate expenses, low balances and more. All of these items can be useful for a teen and parent first learning how to bank, manage their spending and set savings goals.
Bank of America also offers a special account called a SafeBalance account which allows the sole account owner to be 16 or older.
How to Open a Bank Account as a Minor at Any Bank
---
Children cannot open bank accounts in their own names because they are not legally capable of entering into contracts yet. A parent or guardian must open the account and be listed as joint owners with their minor child.
The steps you need to take for opening accounts will vary depending on the financial institution. However, according to general procedures for how to open a bank account for a minor, these steps should generally allow you to open a bank account for your children.
How to Open a Bank Account for a Minor
1. Choose the Type of Account You Want (Checking Account vs. Savings Account)
---
Banks commonly offer checking and savings accounts for kids these days, and increasingly, they're combined with banking apps for kids and teens.
Here are some of the most basic types of account you'll come across:
1. Savings Account
Best for: newborns and young kids with a long time horizon.
Savings accounts allow you to deposit money and earn a modest amount of interest for money held in the account. These accounts carry Federal Deposit Insurance Corporation (FDIC) coverage worth $250,000 (insurance on your bank account deposits in the event your institution faces financial problems), representing a safe place to store money and earn interest.
2. Checking Account
Best for: teenagers starting to manage their own money.
A checking account is another bank account that allows you to store money–but it also provides easy access for using your money. These accounts, which also carry FDIC insurance, usually come paired with a debit card and check-writing privileges.
Some accounts have monthly minimum balance requirements and charge service fees. Minors should look for checking accounts with minimal or no fees if possible.
3. Prepaid Debit Card
Best for: people first learning about managing money.
If we're being technical, a prepaid debit card is a "stored value" card that works similarly to a gift card. A prepaid card allows you to spend only the money stored on the card, and nothing more—unlike a credit card with a line of credit you borrow against as you spend.
They have their benefits. Prepaid debit cards prevent overdraft fees, thus helping you avoid the costly pitfalls of spending too much or overextending yourself financially. You can't spend more than you have, and you don't get penalized for trying.
4. Custodial Account
A custodial account is a savings account an adult manages on behalf of a child under a certain age (usually, 18, 21 or 25, depending on the state). Any financial assets held in the account are owned by the account beneficiary (the minor). These accounts allow adults to make transactions within the account, such as buying and selling investments or saving money for the benefit of the minor.
Custodial accounts allow you to save for future expenses ranging from college or a car to a wedding or even a down payment on a home. Custodians have a fiduciary responsibility for managing the assets held in the account, meaning they are bound ethically and legally to act in the best interests on behalf of the minor.
5. Roth IRA for Kids
Best for: kids with income looking to grow their money for a long time.
A custodial Roth IRA for kids is a retirement account that allows your child to set aside earned income toward retirement.
Kids can pay lower income taxes now as they contribute to the account–then the money will grow tax-free in the account, and they won't be taxed when they withdraw their funds in retirement. Those decades of tax-free growth make Roth IRAs a powerful way to leverage compounding returns to a child's benefit.
There's an App for That
Restrictions might apply from one banking institution to another. For instance, teenagers generally only have access to kids checking accounts. Regardless of what type of account you pick up, you'll want one with a feature-rich app.
For instance, with apps such as Greenlight, you can establish parental controls to monitor, manage and shortlist where your kids shop online and offline alike.
Further, you have the ability to assign chores and disburse allowance payments, automate money transfers, offer Parent Paid Interest (this is like the yield that you would earn in a savings account, but instead, it flows from your parental account into your child's account at rate you determine later), and much more.
Many of these money apps for teens come equipped with useful financial literacy tools for you to teach your kids solid money management.
Related: Best Debit Cards for Kids
Do Your Due Diligence
---
Deciding the account type you want is an important step. Once you settle on this decision, you'll need to look at which providers make the most sense for your needs.
As with many products geared toward kids, there are myriad kid-focused account providers to choose from. And that can make it challenging to identify which one makes the most sense for your needs.
Banks, credit unions, even fintech companies will offer many of the same account features, but maybe not all of them. So your job is to determine which account features are most important to you and your child.
Among the features to consider:
ATM Networks
You can typically use an ATM card at any cash machine–but if it's out of your bank's network, you're going to pay. A large network means you're less likely to incur those fees.
Of course, your child might not ever need to withdraw money several states away, in which case, a large ATM network might not matter–just one that has a few machines in your area.
Branch Locations
This is a similar idea to the ATM network, but instead of allowing you to merely withdraw or deposit cash, branches provide a wider array of services.
You might or might not need a high number of branch locations–but you probably want at least one or two conveniently located branches that are easy to visit.
App Functionality
When comparing apps, you'll want to examine both ease of use (who wants a hassle just trying to check their account balance?) and the app's tools and functions.
Do you want to be able to limit your child's spending capabilities, or maybe deposit checks online? Make sure your bank's app can do all you want it to do.
Interest Rates
We frequently tout the importance of teaching your child about the power of compound interest. Why not give them a practical example that grows their money over time?
Sure, no one will get rich off the interest in their checking or savings account, but more is more–consider looking for a competitive interest rate from your child's account.
Access to Feature-Rich Debit Cards
All cards are not created equal. Some cards boast features such as parental controls over where their kids shop, or how much they spend. Some also offer purchase notifications and even purchase requests.
Thus, you should make sure the debit card you get has the features that are right for you and your child.
2. Submit an Application
---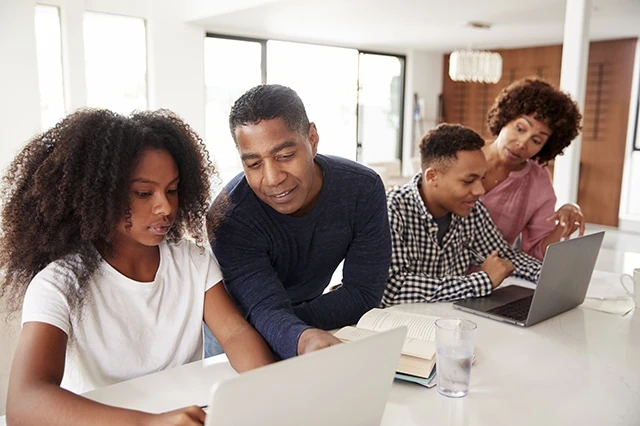 Once you've chosen a bank and an account that fits your needs, it's time to apply–which means you'll need to submit an application with you as a joint account owner.
The good news is that while some banks and credit unions might make you visit in person to open a kid's banking account, others will allow you to open a minor's bank account online. Same thing with several fintech apps.
Either way, the application process should only take about 10-15 minutes. And there are several things you can expect from the process that should be the same no matter what.
First off, you'll need to provide some sensitive information about yourself. So make sure you have a secure internet connection, and that your financial institution offers a secure web portal.
Be especially careful that you're not being led to any fake or spoof sites with similar names as your intended bank, credit union or fintech firm.
After verifying you're in the correct place on a secure connection, you can proceed with the application. The bank will ask a series of questions meant to verify your identity.
This means you'll need to supply your target bank with some necessary information when you're opening an account. This includes:
Your name
Address
Date of birth
Social security number
Valid government-issued ID
If you're opening a bank account for your minor online, you'll provide this information in text box forms found on the website.
If your web browser auto-populates forms with your personal details, make sure they appear in the correct locations on the application. You don't want your information to appear where your child's should, or vice versa.
Once you've submitted all the requested information, the financial institution will process your application. At this point, your history with other bank accounts is likely to come under review.
Your application will trigger your bank to request information on your banking history by contacting an account verification service such as ChexSystems, a consumer-reporting agency that serves a similar purpose as the major credit reporting bureaus (Experian, TransUnion and Equifax), but for bank accounts.
The agency will create your Consumer Disclosure report–a document containing information about your financial history and any problems you might have had with previous bank accounts.
The agency looks for derogatory marks that might exist on your checking and savings accounts, which you would have picked up from, say, paying late fees, bouncing checks or experiencing fraudulent activity. (The process is similar to when a credit card company processes your application for a credit card and reviews your credit score provided by the credit reporting bureaus.)
ChexSystems assembles the provided information on your Consumer Disclosure report to calculate a risk score–which ranges from 100 to 899, where higher scores are better–based on your consumer banking history. Based on this score, the banking institution will decide whether they will allow you to open an account with them. (Note: Running one of these reports doesn't ding your credit report with an inquiry.)
If you'd like to access your ChexSystems consumer report, you can get a free copy every 12 months through the ChexSystems site.
If you're approved for your account, the next step involves funding the account.
3. Fund the Account and Activate the Debit Card
---
As a condition for opening a joint account with a minor, you often need to fund the account as part of the final stage of the application process.
Placing funds into your child's account can usually be done with a debit card or credit card, or even a direct transfer from an existing bank account. Some restrictions may apply depending on the institution.
If you opened a checking account, your account might come paired with a free debit card or bank card your kid can use to make purchases or withdraw from their deposit accounts.
Note that while some banks and credit unions offer temporary cards immediately, your actual card could take one to two weeks after application approval to arrive.
When the official debit card arrives, you likely will need to activate it via telephone (by a toll-free number provided on the card) or online through a secure web portal.
However, increasingly, many modern banking apps will allow you to activate the debit card through a smartphone app–and even "carry" it in a digital wallet such as Apple Pay (age 13+) or Google Pay (age 16+).
If your bank, credit union or other financial institution offers a mobile app with your bank account, you should strongly consider downloading it on your phone.
Apps allow you and your child to check the children's savings account balance and monitor any account fees, transactions and more.
Further, you can use these mobile apps to monitor account activity or restrict access to funds.
Several of today's most popular apps, including Greenlight and Copper, let parents assign chores and pay allowance through the app with just a few taps.
What Do You Need to Open a Bank Account Online?
---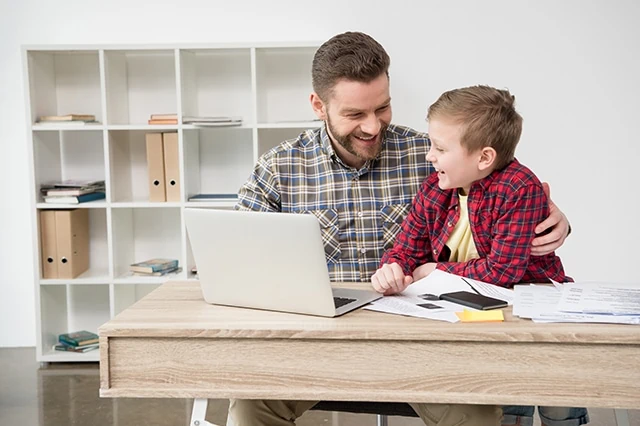 Now, you can open a banking account with debit card for your child with a few clicks of a button, thanks to digital systems and fintech apps.
As part of the U.S. Patriot Act, the government requires financial institutions to help fight the funding of terrorism and money laundering activities.
Therefore, federal law requires all financial institutions to obtain, verify, and record information that identifies each person who opens an account.
For you, this means you'll need to supply your target bank with some necessary information when looking to open an account. This includes information like:
Your name
Address
Date of birth
Social security number
Valid government-issued ID
To open an account with banks like Wells Fargo, Bank of America, Chase, U.S. Bank, or Capital One, a deposit account with a credit union, or even mobile banking apps like Greenlight, you will need to supply a handful of important pieces of documentation.
Afterward, your kid can start making deposits into these joint accounts, working toward financial goals, using a paired ATM card and managing their money.
While what you need may vary by institution, but the information above will be standard requirements. The account holder will need to provide all or some variation of the above items the joint account held between the minor and parent or guardian with the following documents:
Your driver's license
Your Social Security number
Your child's Social Security number (potentially a Social Security Card)
Your child's birth certificate
Proof of address (usually a utility bill)
How Do Banking Apps Work?
---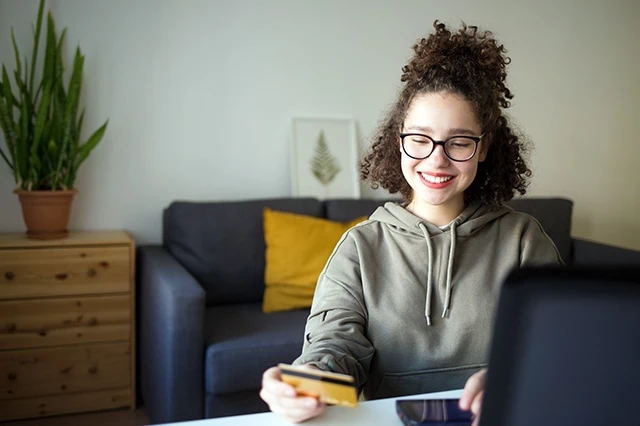 While branded as a banking app for kids, these bank accounts work the same way they would for adults, except parents also have access to the account.
Both children and parents have online account access and these apps allow children to log into their own sub-accounts, like an authorized user on a kid's credit card.
These sub-accounts carry fewer features than the adult version because you can set specific limits on how funds get spent, managed and saved.
These banking apps come with debit cards with parental controls and allow you to fund money through transfers from existing checking accounts.
Grown-ups can monitor, limit and pick specific locations where cards can get used.
These apps for kids also help with letting your kids save money in what has become their virtual piggy bank.
Should I Open a Savings Account for My Child?
---
Banking apps for kids can assist them in learning the value of money. This means teaching kids to save money.
They can be set up with targets for saving and the app will show them how much they have saved, what their target is, and when they've hit it.
Some apps teach children about budgeting by having a spending limit that parents approve before each purchase or an allowance amount based on age. Some of these banking apps also provide financial literacy resources to teach kids about money.
Some apps allow teens to save for certain expenses like summer camp, a prom dress or college tuition.
These apps can allow the teen to set up teenager money goals with milestones and it will let them know when they've hit the goal in an easy-to-read pie chart layout that breaks down where their saved funds go.
Done consistently and through repetition, these apps can help kids with things to save up for as well as how to manage their funds for the long-term.
Where Else Can I Open a Bank Account for My Child?
---
In today's environment, you have several options available to open bank accounts for your children.
You can either choose a traditional bank or credit union, one that offers banking products for children.
More modern options like online banks also offer savings accounts and checking accounts while some companies are making it easy to open an account with them by partnering up with schools.
Some even come complete with their own debit cards so kids can start using the money with the supervision of their parents.
Some banks offer a special teen checking account where you and your child act as the account owner because you are joint account holders.
Minors can't legally have bank accounts in their own name, meaning your name must also sit on the title to the account.
Best Bank Accounts for Child Banking
---
Compare these best online bank accounts for kids that let them save, spend and learn how to manage their money.
App
Apple App Store Rating
+ Best For
Fees
Step Banking
☆ 4.7 / 5
Building credit history
Free (no monthly fees)
Revolut <18
&star; 4.7 / 5
Parent-Paid bonuses
No monthly fees
Greenlight
&star; 4.8 / 5
Customer rating and parental controls
$4.99/month for up to five kids
Copper Banking
&star; 4.9 / 5
Teen financial independence
Copper $4.95/mo., Copper + Invest: $7.95/mo.
GoHenry
&star; 4.6 / 5
Accessible customer service support
1 month free. Individual: $4.99/child/mo. Family: $9.98/mo. for up to four children
Current
&star; 4.8 / 5
Innovation and product features
Free
FamZoo
&star; 4.5 / 5
Financial literacy resources
$5.99/mo per child
Stash
&star; 4.7 / 5
Everyday people looking to start managing their finances
$3/month - $9/month

Mazoola
&star; 4.4 / 5
COPPA Compliance
Free
Axos First Checking
&star; 4.7 / 5
Teens ready to learn about money management
Free
Acorns
&star; 4.8 / 5
Automated investing in the background into diversified investments
$3/month - $9/month
M1 Finance
&star; 4.3 / 5
Fee-free active trading and automated investing
$10/month or $95/year on M1 Plus subscription for custodial account
Chase First Banking
&star; 4.8 / 5
High customer satisfaction from a major bank without fees
Free
*Apple App Store Rating as of November 8, 2023.
1. Copper Card
---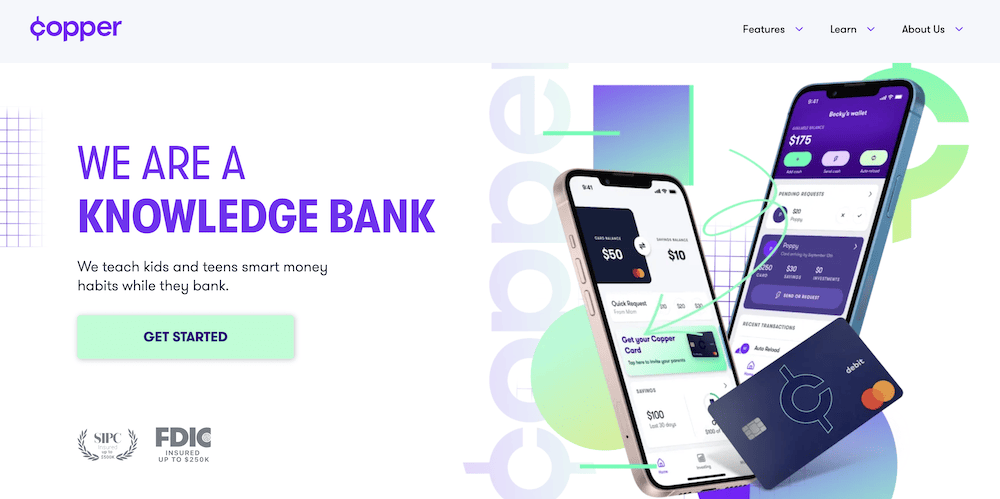 Available: Sign up here
Price: Free 30-day trial. Copper: $4.95/mo. Copper + Invest: $7.95/mo. (All plans include cards for up to 5 children)
App Store Rating: 4.9
Copper Banking was founded on the belief that kids and teens should have equal access to financial education and should be empowered to learn by doing. Now, the company is on a mission to help children gain real-world experience by giving them access to their money in a way that traditional banks can't.
The Copper app and debit card teaches your child how to make smart financial decisions by creating a platform where parents and their kids can connect. With the Copper app, you get easy snapshots of your accounts. And with the Copper Debit Card, it's easy to shop in-store or online, including with Apple Pay or Google Pay.
Plus, users get exclusive access to engaging advice curated by a team of financial literacy experts who provide tips on how to take control of their financial future.
Copper Banking Features:
Send/Request: Kids and parents can easily send and receive money all at the touch of a button.
Spend: Spend using Apple or Google Pay, or using the Copper Debit Card.
Withdraw: Access your money from more than 55,000 fee-free ATMs.
Monitor: Get a snapshot of all your child's spending in an easy-to-read dashboard.
Save: Gain quick snapshots of your kid's savings and helpful tips on how to save even more. Set up savings buckets and save for the things that you want.
Learn: With the help of Copper's team of financial literacy experts, gain bite-sized tips on how you can maximize your money and prepare yourself for your financial future.
The basic Copper account includes the above banking features. With Copper + Invest, your child also gets access to automatically curated smart portfolios built with their preferences in mind. Your child is given a questionnaire that helps Copper determine a portfolio based on their age, income, net worth, investment objective(s) and investment horizon. Copper then recommends one of three ETF portfolios—Moderately Aggressive, Aggressive, and Extra Aggressive—made up of thousands of stocks. Parents can review the portfolio to ensure it matches with not just your child's preferences, but your family's. (Portfolios can be changed later on by accessing the Support chat.)
Your child can begin investing for as little as $1, then add more contributions down the road. Copper will automatically rebalance the portfolio as needed to make sure it always keeps up with your child's investment preferences.
Copper is available to kids 6 years and older.
Read more in our Copper Banking review.
Debit Card for Kids + Teens
Copper Banking | Banking Built for Kids
30 days free. Copper $4.95/mo. Copper + Invest: $7.95/mo.
Copper is the digital bank and debit card for teens built with the mission of creating a financially successful generation.
Send/Request:

Teens and parents can easily send and receive money all at the touch of a button.

Spend:

Pay with a digital wallet via Apple Pay or Google Pay or use the physical Copper Debit Card.

Monitor:

Get a snapshot of all your spending in an easy-to-read dashboard.

Save:

Gain quick snapshots of your savings and helpful tips on how you can save even more. Set up savings bucks and save for the things that you want.

Learn:

With the help of Copper's team of financial literacy experts, learn more about how to maximize your money and prepare yourself for your financial future.
Pros:
Allowance administration

Financial education resources

Network of 55,000-plus fee-free ATMs
Cons:
No chores tracking or assignment

No parental controls beyond notifications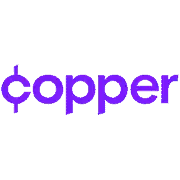 2. Greenlight Card
---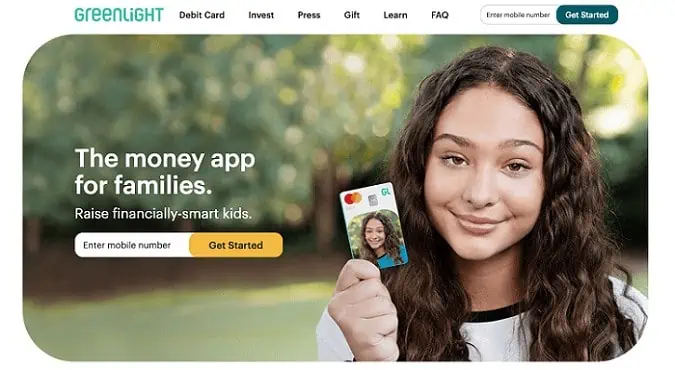 Available: Sign up here
Price: Free 1-month trial, $4.99/month after
Greenlight provides parents control over where their kids can spend money by limiting the stores where their cards work. Parents can get alerts when money is spent on the Greenlight debit card and for how much.
Greenlight works like a prepaid debit card, allowing you to transfer money onto the card for your child to pay for expenses at approved locations.
You can choose how much money to load onto the card and your child will be cleared to make approved purchases so long as a money balance backs up the card.
If your child asks for extra money to get added to the card, you can have them take a photo of the purchase they want to make and receive your approval. This gives you control and allows kids to discuss why a purchase either is a good or bad idea.
If your child has a job, they can add their own funds to the card as well.
The Greenlight debit card is a good choice for parents looking to teach their kids the importance of saving money and making prudent financial decisions.
This financial product can be an effective learning tool for helping kids to understand why saving should be a priority and how to simplify paying an allowance or tracking chores.
It's also a rapidly growing app many parents have come to use for raising financially-smart kids.
Read more in our Greenlight Card review.
Our Investing & Prepaid Card for Kids Pick
Greenlight | The Investing App and Prepaid Card for Kids
Core: $4.99/mo. Max: $9.98/mo. Infinity: $14.98/mo. (Each account supports up to 5 children.)
Greenlight offers flexible parental controls for each child and real-time notifications of each transaction.
Greenlight is the only debit card letting you choose the exact stores where kids can spend on the card.
Parents can use this app to teach them how to invest with a brokerage account through Greenlight Max and Greenlight Infinity plans.
Unlike many apps that simply provide features and controls, Greenlight is also designed to spark discussions with children about spending, investing, and more, fostering more education.
Pros:
Best-in-class parental controls (can prohibit specific stores)

Can add brokerage account to invest in stocks

Intuitive Parent + Kid apps

Competitive cash back & interest rates

Parent-Paid Interest
Cons:
High price points

No cash reload options

No parent / child lending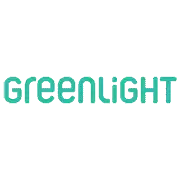 Related: Best Greenlight Alternatives
3. GoHenry
---
Available: Sign up here
Price: 1 month free. Individual: $4.99/child/mo. Family: $9.98/mo. for up to 4 children
GoHenry is a banking app for minors that comes paired with a debit card. You have an online account which comes linked to individual accounts for each of your children.
You can manage all of the money held in each account through the company's app and online account portal.
Each child will receive their own GoHenry debit card which comes paired with parental controls you can set for your children.
What's nice about GoHenry is the ability to spend only the money available on the card, meaning you don't need to worry about costly overdraft fees or accrue debt.
You open a GoHenry account, receive your children's debit cards in the mail 7-8 business days later, set up an automatic weekly allowance transfer into your children's accounts and can set up one-off or weekly spending limits.
This will keep your children's spending in check and you can block/unblock the card as needed as well as choose the stores where your kids can shop.
With time, the controls provided by the app and the guidance you offer can help your kids to earn, save, spend and give with good money habits.
Learn more by reading our GoHenry debit card review.
Best Debit Card for Customer Service
GoHenry | Kids' Debit Card + Financial Education App
30 days free. Individual: $4.99/mo./child. Family: $9.98/mo. for up to 4 children.
A financial app and debit card designed to give young people ages 6-18 a bright financial future.
Kids can earn allowance, complete chores, set savings goals, give to charity, and bank with GoHenry.
Use the app to build a solid financial education.
Among the best customer service in kids' debit cards, offering everyday phone availability, email access, and social media engagement.
Pros:
Parental controls at store category level

Can implement chore and allowance system

Financial literacy resources

Customized card for $4.99
Cons:
High price point for multiple children

No paired investment account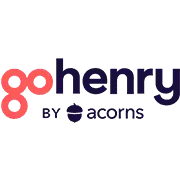 Related: GoHenry vs. Greenlight
4. Acorns
---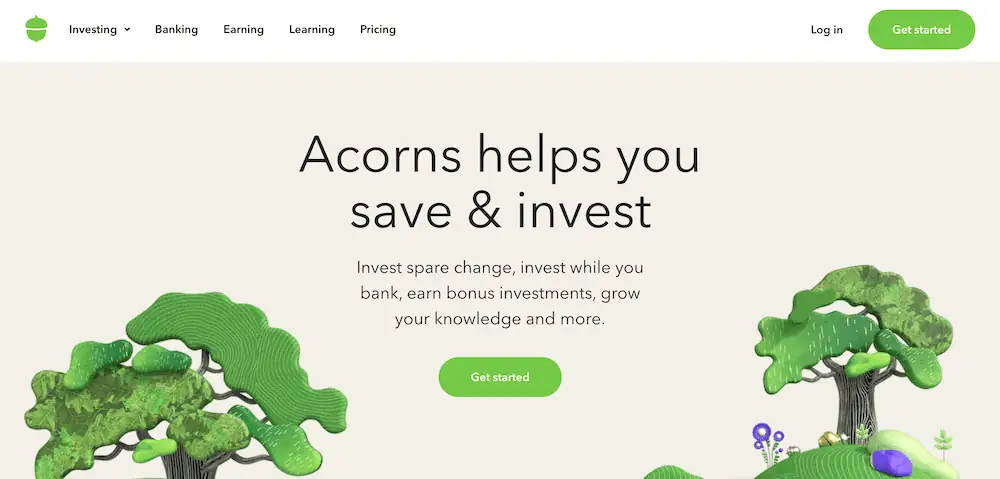 Available: Sign up here
Price: Acorns Personal: $3/mo. Acorns Personal Plus: $5/mo. Acorns Premium: $9/mo.
Acorns has become one of the most popular micro investing apps for kids and young adults by offering a robust money management platform.
The full suite of offerings includes the ability to establish custodial accounts for minors to invest, regular and retirement investment accounts for adults and a bank account with linked debit card.
If you sign up for the Acorns Spend product, it creates a bank account that carries FDIC Insurance protection for up to $250,000.
Further, it uses the Acorns "Round-Ups" feature which rounds up purchases to the nearest dollar, investing the difference between the transaction amount and the whole dollar. The service claims to help users invest an average of $30/month using this feature.
While not a free stock trading app, Acorns does give you the following subscription options:
Acorns Personal ($3 per month): Includes an Acorns Invest investment account, as well as Acorns Later for tax-advantaged investment options such as Roth IRAs. Also includes Acorns Checking, a bank account that has no account fees, lets you withdraw fee-free from more than 55,000 ATMs nationwide, and Smart Deposit, which allows you to automatically invest a bit of each paycheck into your Acorns accounts.
Acorns Personal Plus ($5 per month): Everything in Acorns Personal (Acorns Invest, Later, and Checking), plus Premium Education, which are live onboarding sessions covering account setup, Round-Ups, setting up recurring investments, and more; Emergency Fund; and a 25% bonus on Acorns Earn rewards (up to $200 per month).
Acorns Premium ($9 per month): Everything in Acorns Personal Plus, plus Acorns Early, which allows you to open a custodial investment account for your child so you can begin investing for them while they're a minor; custom portfolios that allow you to hold individual stocks; live Q&As with financial experts; a 50% match on Acorns Earn rewards (up to $200 per month); $10,000 in life insurance; even the ability to set up a will for free.
For a limited time, the service also offers a $20 sign-up bonus for people who open an account.
Learn more in our Acorns review.
Micro-Investing App
Acorns | Invest, Earn, Grow, Spend, Later
Personal: $3/mo. Personal Plus: $5/mo. Premium: $9/mo.
In under 5 minutes, Acorns allows you to get investment accounts for you and your family, plus retirement, checking, ways to earn more money, and grow your knowledge.
Famous for investing spare change automatically through Round-ups, this all-in-one financial app helps younger generations start investing earlier.
Invest in expert-built portfolios made up of diversified ETFs.
New Premium tier includes perks such as live Q&As with financial experts, a 50% match on Acorns Earn rewards (up to $200/mo.), $10,000 in life insurance, and the ability to pick individual stocks for their portfolios.
Special offer: Get $20 to start*.
Pros:
Robo-advisor with affordable fees (on larger portfolios)

Fixed fee model

Round-ups

FDIC/SIPC insurance
Cons:
High fixed fees for small balances

Limited investment selections

Must subscribe to Premium for any self-directed investing options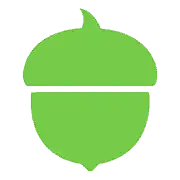 * Must set up recurring investments and make your first successful recurring investment ($5 minimum) to receive bonus. Bonus will be awarded within 10 days of following month.
Related: Best Acorns Alternatives: Micro-Investing Apps to Use
5. Stash
---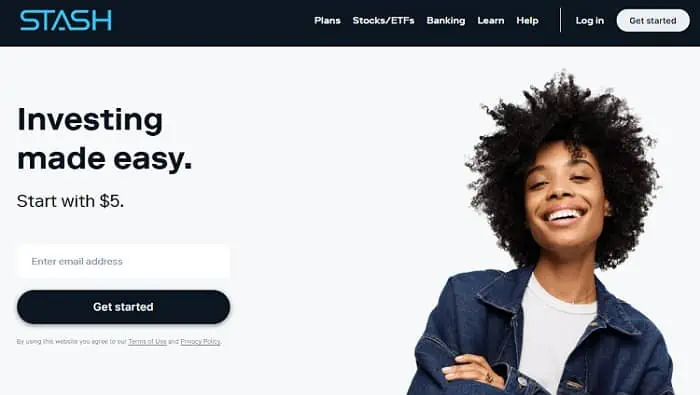 Stash is an all-in-one personal finance management platform. The app includes a mobile-friendly investing app for beginners and comes paired with a checking account and debit card.
Stash caters to people looking to begin managing their money and invest as you spend money and make recurring deposits into your account. You can also pair the subscription with a stock news app or site to learn more about the market.
You can grow your account balances over time by making regular deposits, utilizing its round ups feature, or "Stock-Backs," on your purchases.
This essentially substitutes for the cash back features seen on some credit and debit cards, paying you in free stocks as opposed to cash back.
Stash | Investing Made Easy
Growth: $3/mo. Stash+: $9/mo.
Stash is a personal finance app that simplifies investing, making it easy and affordable for everyday Americans to build wealth and achieve their financial goals.

Invest in stocks, ETFs, and cryptocurrency.

Earn

Stock-B

ack® rewards on every eligible debit card purchase.

Special offer:

If you sign up and make a $5 deposit, Stash will also provide a $5 sign-up bonus.
Pros:
Robo-advisor with self-directed investing capability

Fractional shares

Offers values-based investment options

Get paid up to two days early when you direct deposit pay into your Stash account

FDIC/SIPC insurance
Cons:
Charges monthly fee

Smart Portfolios don't offer tax-loss harvesting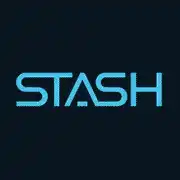 Related: Best GoHenry Alternatives
6. Current
---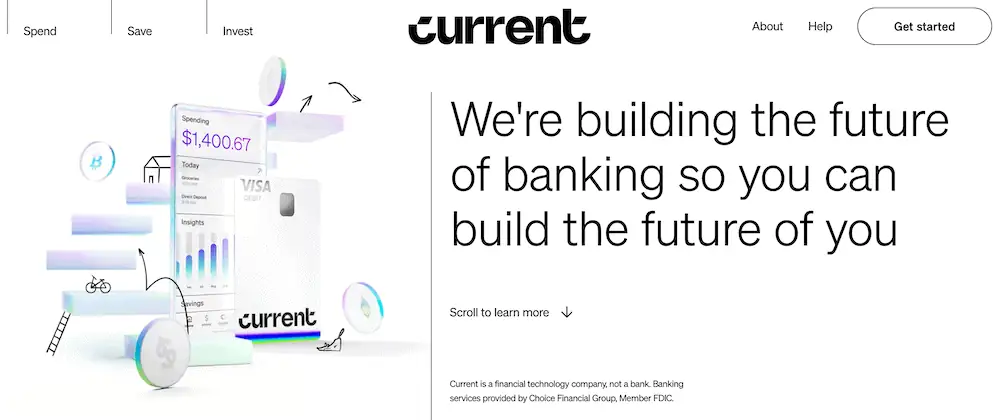 Current is a banking app designed for all families. The Current app allows you to track your teen's spending in real-time, set limits on how much they can spend, and even block specific merchants.
You also get the peace of mind that comes with knowing their money is safe because it's not cash. Plus, the company doesn't charge any fees or interest for student accounts so there are no surprises when bills arrive.
Current helps parents teach teens financial responsibility while giving them a way to learn without having cash around the house and all its temptations.
That means less worry for both parents and kids! With Current, your teenager will be able to do everything from paying friends back to buying groceries at the store–all safely with only her phone!
And teens will have the opportunity to learn financial responsibility and budgeting from an early age. This will allow them to grow their savings and move one step closer to financial independence.
Read more in our Current review.
Great No-Monthly-Fee Teen Card
Current Teen | Banking for All
Free. (No monthly fees. Parent account required.)
Current is a financial technology platform that lets teens enjoy not just traditional banking basics, but numerous features meant to simplify spending, streamline saving, and set them on the path toward more organized finances.
Teens can spend with the Current Visa debit card, which allows them to purchase in-store and online, as well as withdraw money fee-free from more than 40,000 in-network Allpoint ATMs.
Current Teen Accounts also come with Savings Pods, which earn 0.25% APY and allow you to round up purchases (overages are funneled into your savings).
Parents can monitor their kids' spending, adjust maximum ATM withdrawal and spending limits, and even toggle spending categories (and the Current debit card itself) on and off.
Parents can also automate allowance payments, pay for chores, instantly transfer money to their teens, and more.
Pros:
Free account (no monthly maintenance fees)

Good parental controls

Fee-free ATMs

Cash reloads

Gas hold deposits

24/7 email and live-chat support
Cons:
No direct deposit

No paired investment account

No card customization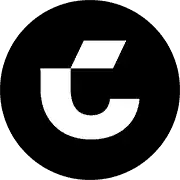 7. FamZoo
---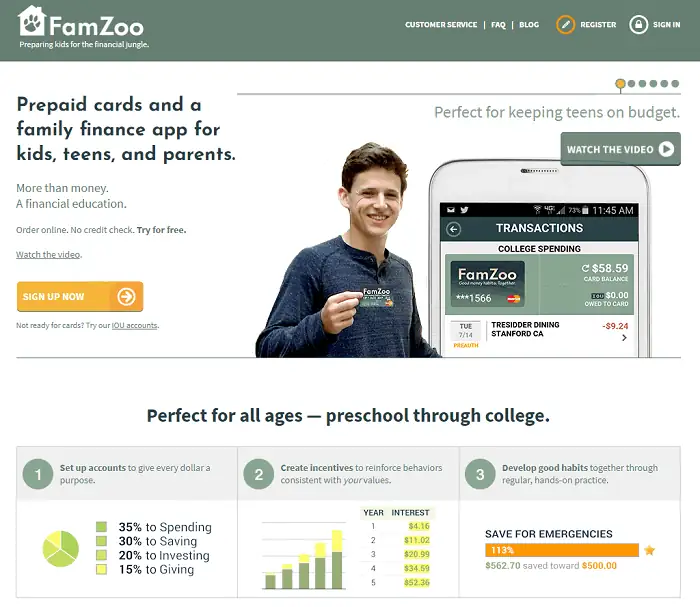 FamZoo is another prepaid debit card service parents can use to manage their children's spending. It works by having parents release money into their child's account and then having the card work with a loaded balance. Money can be loaded onto the cards at any time.
FamZoo acts like a regular checking account with a linked debit card except FamZoo makes sure the account can't be charged overdraft fees, saving you money.
Adults are able to monitor the transactions being made. After a free trial, this app costs $5.99 per month, but the price goes down if prepaid in advance.
FamZoo | Preparing Kids for the Financial Jungle
Free trial, then $5.99/mo., $25.99/6 mos., $39.99/12 mos. or $59.99/24 mos. (all per family)*
FamZoo is the prepaid debit card used by families to teach children good financial habits from an early age.
FamZoo lets you fund your account in a variety of ways, including bank account, debit card, payment app, digital wallet, and cash.
Many of the app's functions also have financial literacy in mind, including Parent-Paid Interest, parental loans, and reimbursements.
Robust, customizable allowance and chores functions.
Pros:
Prepaid card without overdraft fees

Highly customizable allowance and chores functions

Strong financial education resource library
Cons:
High fee at monthly rate

No paired investment account

Weak parental controls
Related: Greenlight vs. FamZoo
8. M1 Finance
---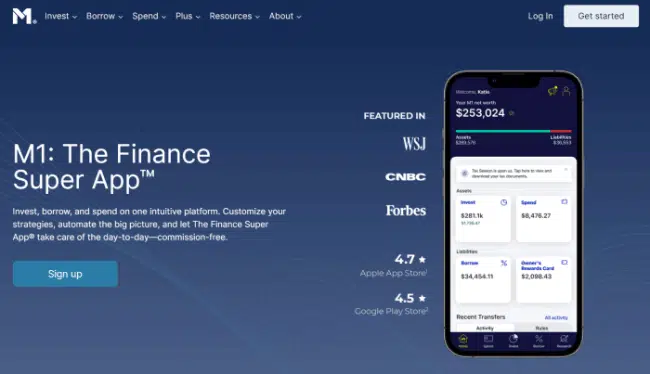 Available: Sign up here
Price: Free trades, M1 Plus: $10/mo. or $95/yr.
M1 Finance is an all-in-one super app that does it all. The app allows you to invest, borrow and spend but also open a M1 Finance custodial account to allow your kids to use it as an investment app as well.
The service requires you to sign up for M1 Plus to do this, however. Be sure to watch out for when the company puts this on promotion, making it free for you to try.
If you hold money in the app's free checking account, it comes with FDIC insurance coverage and is part of the entire safe M1 Finance financial app experience.
Read more about this app in our M1 Finance review.
Our Self-Directed Robo-Advisor Pick
M1 Finance | Smart Money Management
Basic: Free. M1 Plus: $10/mo. or $95/yr.
M1 Finance's Smart Money Management gives you choice and control of how you want to invest automatically, borrow, and spend your money—with available high-yield checking and low borrowing rates.
Basic account includes an FDIC-insured checking account and an M1 Visa debit card that delivers 1% cash back.
Upgrade to M1 Plus and unlock perks including higher cash-back rewards on the M1 Owner's Rewards Credit Card, 5.00% APY from high-yield savings, ATM reimbursements, and 0% international fees.
Invest in stocks, ETFs, and cryptocurrencies.
Special Offer 1: Open a brokerage account and receive up to $500.*
Special Offer 2: Open an account and get 3 months free of M1 Plus**.
Pros:
Robo-advisor with self-directed investing capability

Attractive cash-back and APY opportunities with M1 Plus subscription
Cons:
Doesn't support mutual funds

Doesn't allow trading throughout the trading day (1 trading window for Basic, 2 for M1 Plus)

High cost for M1 Plus service tier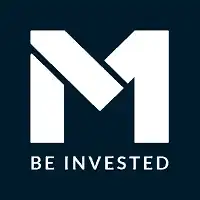 M1 Plus is a $10/mo. or $95 annual subscription offering products and services from M1 Spend LLC and M1 Finance LLC, both wholly-owned, separate but affiliated subsidiaries of M1 Holdings Inc. * You must make a qualifying deposit within 14 days. Deposit $10,000-$29,999 to receive $75. Deposit $30,000-$49,999 to receive $150. Deposit $50,000-$99,999 to receive $250. Deposit $100,000 or more to receive $500. ** Your free trial begins the date you enroll in the M1 Plus subscription, and ends 90 days after ("Free Trial"). Upon expiry of the Free Trial, your account is automatically billed an annual subscription fee of $95 unless you cancel under your Membership details in the M1 Platform.
9. Chase First Banking: Best Free Debit Card for Kids and Teens
---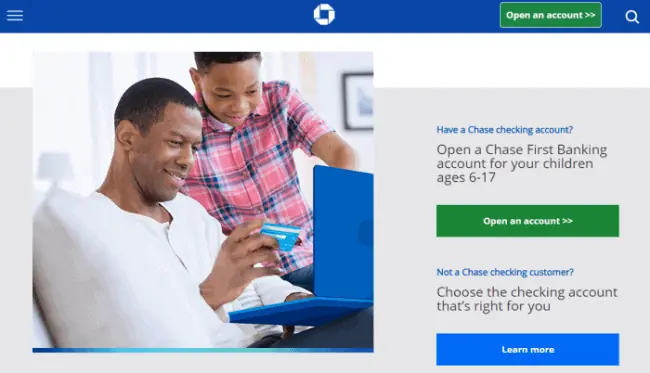 Available: Sign up here
Price: Free (no fees)
Ready to teach your little ones about money, but not quite sure if you have the time, patience and expertise?
Chase First BankingSM offers simple banking for both of you in one location: the Chase Mobile® App—for free. Manage all accounts with this mobile app and encounter no fees as well as find yourself able to withdraw money on 16,000 Chase ATMs around the country.
At the heart of Chase First BankingSM sits one of the best free debit cards for kids and teens that works anywhere Visa is accepted.
Need insight and oversight into your child's spending and saving? You can set spend alerts and limits as well as specific locations all in your Chase Mobile® app.
Teach your kids to spend, save and earn — all from the Chase Mobile® app. Chase First BankingSM helps parents teach teens and kids about money by giving parents the control they want and kids the freedom they need to learn.
To get started, you'll first need to be a Chase customer with a qualifying Chase checking account.
Consider opening a Chase Total Checking SM or Chase Secure BankingSM account to qualify.
Chase Total CheckingSM also grants access to 16,000 Chase ATMs and more than 4,700 branches as well as a $200 sign up bonus when you set up direct deposit within 90 days of coupon enrollment. You can pay $0 in monthly fees, subject to meeting certain conditions*.
Chase Secure BankingSM offers the same Chase ATMs and branch locations as well as a $100 sign up bonus when you make stated qualifying activities and meet certain conditions.
Once you open a qualifying Chase Checking account, you may apply for a Chase First BankingSM account for your child.
Read more in our Chase First Banking review.
What is a Custodial Account?
---
A custodial account is established with a parent's money and the child is the account holder, meaning they have full ownership over the funds held in the account.
You can open custodial accounts, also known as UGMA (Uniform Gifts to Minors Act) and UTMA accounts (Uniform Transfer to Minors Act), to establish savings and investments for your minor children.
Many use these accounts to teach kids about money management but also to invest on their behalf for future expenses like college, a wedding, car or housing down payment.
One potential downside of a custodial account is that once the funds get deposited into the account, they become irrevocable gifts, meaning you can't take the money back.
While not a problem in most circumstances, this can be a sticking point for some individuals and should be something to be mindful of with custodial accounts.
After reaching the age of majority, custodial accounts transfer to the account owner and no longer have a custodian manage the funds in the account.
Further, since the funds in these accounts technically belong to the account holder, they carry a higher financial contribution weight when deciding financial aid eligibility for college.
Federal financial aid formulas consider 20% of the money in the account as funds available to pay for college.
When compared to 529 plans established by a parent or legal guardian for the benefit of the minor, these provide less favorable conditions to receive financial aid.
The Free Application for Federal Student Aid (FAFSA) formula considers a maximum of 5.6% of the money held in a 529 plan to be available for college.
The money held in these accounts classifies as an asset of the parent and not the child, despite the child's Social Security Number appearing on the account title.
Related Questions on Child Banking
Can a 12 Year Old Have a Checking Account?
---
Yes, though they need to have a parent or legal guardian as an account co-owner. They cannot open one by themselves.
Can You Open a Bank Account at 16?
---
Yes, though you again will need to have a parent or legal guardian as an account co-owner. You cannot open one of these accounts as a minor because you cannot legally enter into contracts as a minor.
Can a 16 Year Old Open a Bank Account Without Parents?
---
Not exactly. You cannot open an account without parents or a legal guardian, though you can open a joint account with someone you trust who is the age of majority.
Can I Open a Bank Account at 17 By Myself?
---
Technically, no. Not by yourself. A minor requires a parent or legal guardian (or someone the age of majority) to serve as a joint owner on a bank account.
How Do I Open a Bank Account at 17?
---
You can open an account with the steps listed above and the help of a parent or legal guardian.
Are There Tax Implications to Opening a Bank Account for Kids?
---
Yes, you may face tax implications for having a bank account or custodial account which pays interest or other investment income. This applies to any unearned income, including interest, dividends or capital gains.
The taxes you face depend on the type of account you set up, but all follow the same Kiddie Tax rules by the IRS with respect to unearned income.
Savings accounts. If your child makes more than $2,200 in unearned income (interest income in this case) in a given tax year, you and they may need to pay taxes.
Custodial accounts. If a UGMA or UTMA account makes more than $2,500 in unearned income from interest, dividends or capital gains in a year, the minor and yourself will likely need to pay taxes.
Trust funds. Minor beneficiaries and other beneficiaries of a trust fund are responsible for paying taxes on any unearned income produced and distributed by the trust. Trusts may be subject to taxation if distribution is made. If you're considering setting up a trust fund, consider visiting Trust & Will to learn more about your options and how a trust will be taxed.
Can You Gift Money to a Child's Account?
---
As of 2023, you can gift up to $17,000 per year to a single person without needing to document the financial gift with the IRS.
This means you can learn how to gift stock to a UGMA account without paying any extra taxes. If you have a spouse, they can also gift up to $17,000 per year.