Any landlord managing multiple apartments should understand the importance of installing an apartment intercom system with door release functionality.
From helping you monitor who visits to providing additional security for your tenants through allowing for hands-free entry into buildings and units, effective apartment intercom systems come with features that make living more efficient, secure, and pleasant.
Of course, to ensure you receive the full benefit from such a system, there are several factors to consider when making your purchase—including budgeting correctly for your desired level of quality.
Today, we're going to guide you through what you need to know, and what considerations you should make, when you search for an apartment or condo video intercom system. With this information in hand, you should be better equipped to buy the best apartment intercom system for your rental properties.
Best Apartment Video Intercom System With Door Release—Our Top Picks
---
What Is an Apartment Intercom System With Door Release?
---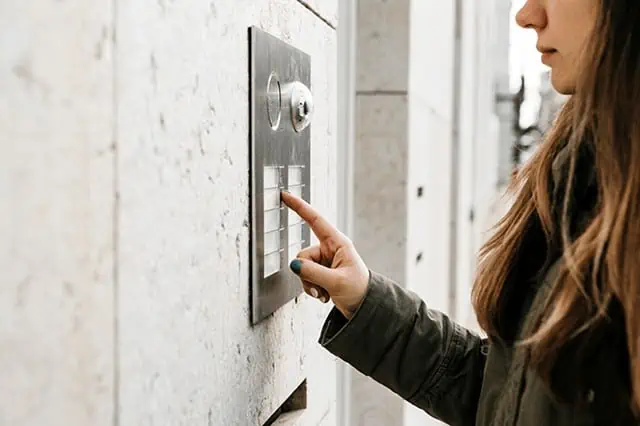 An apartment intercom system with door release, sometimes also called a building entry intercom system, is an electronic device that allows residents to unlock the door remotely after speaking to visitors via audio or video calling. The device has two basic functions:
Audio and Video Calling: People who want to gain access into the building can call the front desk or each apartment unit from the building entry intercom station. The latest apartment intercom systems provide a camera in their entry station, which enables visitors to make video calls to residents.
Remote Door Release: The recipient of the call, who can either be a resident or a staff member, can manage visitor access by speaking to the caller on a fixed indoor monitor, intercom handset, or even on a smartphone. The resident or staff member can unlock the door by pressing a button on the indoor station or mobile app—whichever they are using to receive the call.
Legacy video intercom systems require indoor monitors to be installed in each apartment unit. However, modern apartment intercom systems can place calls on the resident's mobile devices, eliminating the need for fixed indoor stations.
Related: 9 Best Rent Collection Apps & Software for Landlords
How Does a Door Release Mechanism Work With an Apartment Intercom System?
---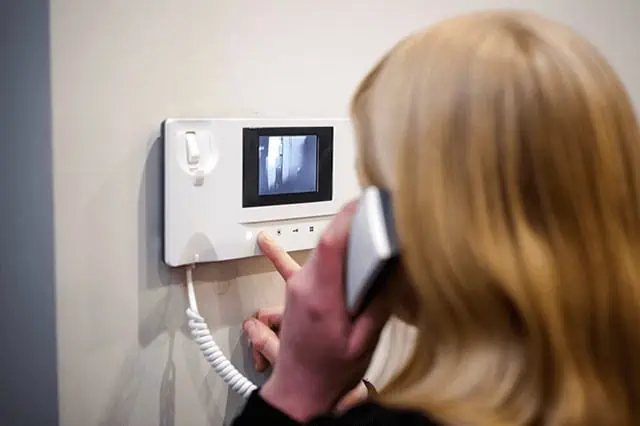 The entry station of an apartment intercom system is connected to the main door's electronic lock. It releases the door lock when a resident presses the unlock button on their telephone set, indoor station, or mobile app, depending on the type of system being used.
Older systems use plain old telephone lines to call Private Branch Exchange (PBX) phones (an internal private phone network) or fixed intercom stations provided in each apartment unit. Modern intercom systems can connect calls wirelessly using technologies like Voice over Internet Protocol (VoIP) or Session Initiation Protocol (SIP)—two methods for calling people using the internet as opposed to traditional landline phone coaxial, twisted pair, or other phone wires. Newer apartment intercom systems can place calls to the residents' smartphones via mobile apps as well as the old-fashioned landline phones.
As a resident, you can grant access to a visitor by pressing the unlock button on a mobile app or by pressing a specific digit on the keypad (say, pressing 9) if you're using a regular mobile phone integration or a plain old phone set. The system sends a signal to the door controller, which actuates the electronic door lock.
Related: 7 Best Banks for Real Estate Investors + Landlords
What Types of Door Releases Are Available?
---
The short answer is, you have two options when choosing an intercom system with door release: wired or wireless.
How do wired door release systems work?
Wired door release systems use wires or cables to connect the intercom's receiving station with the door release. When the resident or recipient presses the door release button on their handset, the equipment sends an electric pulse to the control panel, which is further connected to an electric strike or a magnetic lock (maglock).
Generally speaking, wired intercom door release systems are used in homes, single-tenant applications, and small-sized apartment buildings. Scaling wired door release systems to fit a multi-tenant building can be a nightmare as you have to run wires to all apartments—leading to a very time-consuming and resource-intensive apartment intercom system installation.
Legacy systems work around this problem by using the building's PBX system and regular telephone lines. While this reduces the expense, PBX systems are an older technology that's fading from popularity. Cloud-based wireless video intercom systems are replacing them as we speak.
How do wireless door release systems work?
Intercom systems with wireless door release are much easier to install and scale compared to wired intercoms. Wireless video intercom systems use special VoIP-enabled entry door intercom stations, indoor stations, and control panels.
When a user presses the unlock button on their intercom's indoor station or mobile app, the device transmits a digital signal. An internet-connected control panel receives the signal and sends an electric pulse to an electronic door lock.
The control panel can be connected to electric door locks via physical wires. Or, it can be connected to smart locks through the building's Wi-Fi network.
The latest generation of wireless apartment video intercom systems uses cloud-connected door readers and control panels and can work with multiple types of credential systems and property management software.
Depending on the video intercom and access control system you are using, the control panel may be connected to card readers and other authentication devices.
Related: 7 Best Sites for Advertising Rental Property Listings [Free + Paid]
Are Wireless Door Release Video Intercom Systems Safe for Apartments?
---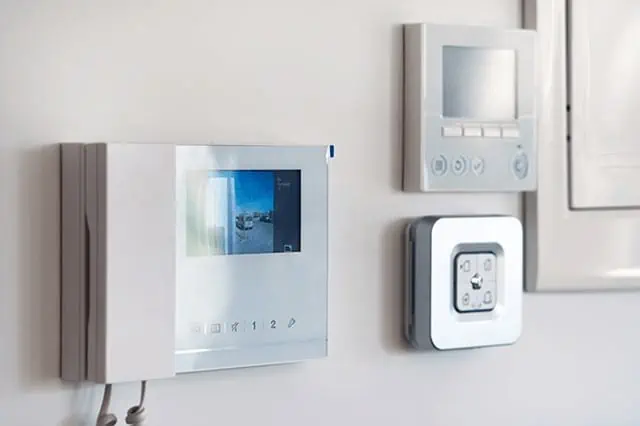 Have you ever watched Seinfeld? Remember how Elaine or George would buzz up to Jerry—just a voice and a button? Well, that's exactly what a legacy call box is.
Wireless video intercom systems are much safer for apartment buildings than these old apartment buzzers. This is because they allow residents to see the person at the door before they grant access. A video intercom can eliminate or reduce the chances of illegal entry. Wayfarers and porch pirates can easily enter a multi tenant building using a traditional call box by impersonating a delivery driver or a dog walker.
Wireless video intercoms are also very easy to install. Among other upsides, they sidestep the need for laying cost-prohibitive cabling throughout the building.
The added physical security comes at the cost of data privacy concerns. To protect the building's entry, video intercom access control systems have to capture and store people's photos, stream their video, and collect their personal data. Therefore, it is important that if you buy an apartment intercom system with door release, it offers appropriate protection against data theft and breaches. It must comply with all applicable privacy laws such as the CCPA, COPPA, GDPR, and others.
Today's cloud-based video intercom access control systems store data in the cloud, behind secure firewalls. They use encryption to send data over-the-air rather than sending analog signals through a wire that can be rigged. Still, the chances of data breach cannot be ruled out completely.
To conclude, it would be safe to say video intercom systems are safer than vintage call boxes when it comes to providing physical security. Speaking of cybersecurity: These systems are as safe as any other modern apartment building access control system. Your building's staff and IT personnel and your security policy can help you ensure and improve data privacy and security.
Related: 4 Best Ways Landlords Can Screen Tenants for Rental Property
Should I Install a Video Intercom System With a Door Release?
---
In all sincerity, we can't think of a good reason why you should not install a video intercom system with door release. These systems improve security and user experience by a wide margin over call boxes and telephone entry intercoms.
Consider just some of the advantages of these systems:
Better entry controls
A traditional audio intercom is fraught with risks. For example, a criminal could enter the building by playing recorded audio. With smart video intercoms, your residents can see the person who is calling rather than just listening to their voice. The system also records visitor entry photo logs, further enhancing security.
Greater convenience and connectivity
Besides improving security, a smart video intercom system also provides great convenience to your apartment building occupants and staff members. As a resident, you can take visitor calls even when you're not in your apartment
Heck, you could be halfway across the world, and you could still see and talk to the person who wants to enter the building, then unlock the door for them.
More direct communication
Visitors, delivery drivers, guests, and residents can use the entry door intercom station to call each resident directly, without having to speak to the building's front-desk staff.
Enhanced property values and appeal
Further, a sleek touchscreen video intercom station at your front door can elevate your apartment building's image, rental value, and visitor property access experience.
Related: How to Run a Background Check for Rental Property
How Much Does It Cost to Replace an Existing Apartment Intercom System or Install a New System?
---
As you can see, video intercom systems have a lot going in their favor, so your decision to buy one may boil down to your budget. Fortunately, buying a video intercom system with door release is unlikely to make you bankrupt. In fact, it is likely to increase your building's value and occupant experience.
Replacing your old and outdated calling box with a modern cloud-based video intercom system can set you back by a few thousand dollars. The exact cost varies with the size of your apartment building, the feature set you need, and the brand you buy.
The general total cost of ownership (TCO) information provided below for video intercom systems includes the installation costs, hardware costs, and ongoing service fees.
Installation costs
A Power over Ethernet (PoE)-based wireless apartment intercom door release system, which uses Ethernet cables to carry the electrical current necessary for operating each device instead of electrical power cords, can cost anywhere between $1,500 to $9,500 to install.
The cost might be on the lower side if you have a small apartment building and can use your existing ethernet network to power the system.
Battery-operated intercoms cost much less, but they are also less suitable for a multi-floor apartment building and might have performance issues.
Hardware costs
The hardware price of a multi-tenant apartment intercom system starts at around $3,000. However, it can vary widely depending on the manufacturer, scale of application, and system features.
Ongoing fees
Cloud-based systems charge a per-unit service fee for ongoing intercom system costs. This covers the cost of ongoing functionality and the services provided, including the software licensing cost, updates, and customer support.
Some examples of ongoing fees for an apartment building intercom system include:
ButterflyMX subscription fee is around $42 per unit per year.
Swiftlane's annual subscription fee is between $24 and $30 per apartment.
Related: Best Property Management Software for Landlords [Free + Paid]
Choosing the Right Wireless Apartment Intercom System
---
Choosing the right wireless apartment intercom system is a critical decision for building owners and the tenants they house. The right apartment intercom system not only helps tenants connect with visitors conveniently, but it allows them to feel secure in their home.
At the same time, property owners should ensure that the apartment intercom system is intuitive, fits within their budget, and gives tenants control over who has proper access to the building.
By researching different product features and conducting careful comparisons, condo and apartment building owners can easily find an installed wireless intercom system that meets their security needs while also providing convenience to their tenants.
Understand your needs
While modern video intercom system offerings have useful feature sets that many landlords find effective in a mobile-first world, you first need to understand if you need one of these high-tech solutions in your condo or apartment building.
If you have very few units or aren't part of a gate-protected complex with restricted access, it might not make sense to install such systems. On the other hand, if you prioritize tenant safety and think having multi-tenant intercom systems with remote door release access available via cell phone is important, a wireless video intercom system is likely high on your list of investments to make at your property.
Evaluate features and costs of apartment intercom systems
Once you have identified your needs and think installing new apartment intercoms or replacing an old wired system makes sense, you should compare available intercom systems based on features.
Items to consider include (but aren't limited to):
the number of entry doors and gates they are compatible with
sound quality of the intercom system
facial and voice recognition capabilities
remote access options
user-friendly interface
any additional features
From there, you should consider the installation requirements and the total cost of ownership. Consider how much time it will take to install each system and whether you need to hire a professional installer or do it yourself. Check to see whether the system requires any special parts or tools.
Once you decide on a system, calculate how much it will cost to install and run over time. Ask about pricing options such as monthly fees or one-time setup costs and consider factors such as warranties and maintenance fees.
Review available information and decide which makes the most sense for your needs
Finally, once you've researched your options, compared features, and evaluated costs related to equipment, installation, and ongoing fees, you should consider getting references and reading reviews. You can ask the companies under consideration to provide references from current customers who have used the system and read online reviews to get an idea of what others think about it.
Two companies lead the pack when it comes to intercom systems: Swiftlane and ButterflyMX. We highlight them both below.
Related: Best Accounting Software for Rental Properties [Free + Paid]
1. Swiftlane Video Intercom Systems for Apartments
---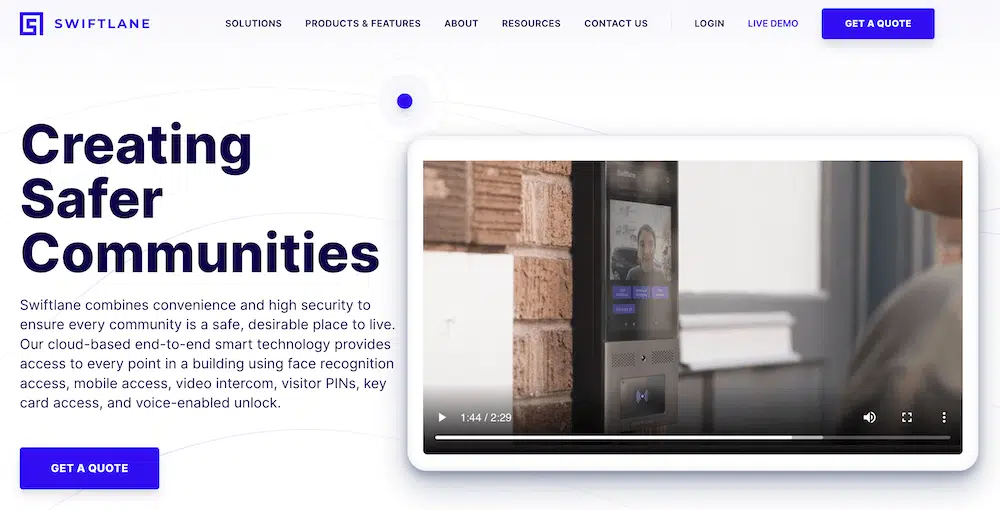 Swiftlane's apartment intercom system provides a large variety of methods for how tenants, their guests, and workers can enter a multi-tenant apartment building:
Residents can go inside their homes with facial recognition access, just like how they unlock their phones.
Residents can also use the Swiftlane app to open the door with their voice.
Through the Swiftlane app, they can also enter by holding their phone up or just letting the system detect the phone in their purse or pocket.
Anyone who prefers a more old-school method can use an assigned PIN or keycard. (Building managers or tenants can also let people in remotely by providing a temporary PIN.)
Related: Which Type of Real Estate Investment is Right for You? 8 to Know
2. ButterflyMx Video Intercom
---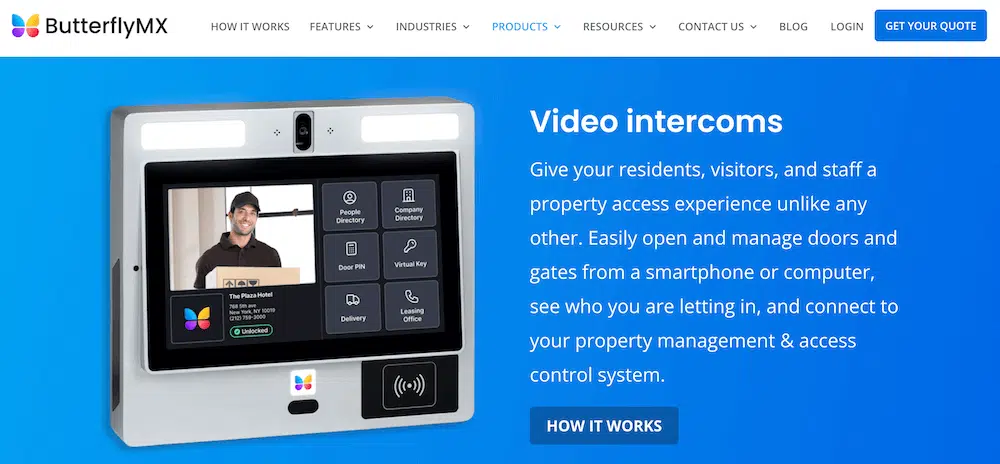 ButterflyMX simplifies building entry with its smartphone app and property management dashboard. Residents can enter the building with a simple phone swipe. They can create QR codes and delivery pins to provide others access (and are told when these are used).
Each door entry is logged with a photo, the date, and the time, so property managers can easily monitor live video and sort through past logs.
Related: Best ButterflyMX Alternatives to Consider Instead
FAQs: Apartment Video Intercom Systems With a Door Release
---
How do you open a door with an intercom?
If you are using an old telephone entry system, you can open the door by pressing a digit on your intercom set, such as 9 or 0. Your building's admin will tell you which digit you have to press.
Modern video intercom systems allow you to open the main door from your apartment unit or from anywhere using a mobile application or regular mobile phone.
If you are in your apartment and are taking the visitor's call on a video monitor, you can press the unlock button on the monitor.
If you are receiving the call through a mobile app, you can press the unlock button on the app's screen.
If you are speaking to a visitor on your landline or regular mobile phone, you can press a predefined digit to release the door, just like a telephone entry system.
How does an intercom work in apartments?
Video intercom systems are most often used to manage visitor access to apartment buildings. You can say they are the modern substitute of an apartment calling box.
A door video intercom system is installed at the apartment building's main door. The door station has a built-in directory that includes the names of the apartment residents. Using the intercom's touchscreen or push-button interface, visitors can find the name of the resident they came to visit and call them. The resident receives the call on their apartment intercom station or smartphone if it's a smart intercom system. They can speak to the visitor and press the unlock button if they want to permit entry.
Related: