When we face a problem, we look for solutions. But not everyone has the same problems nor wants the same solutions. In today's world, most of our financial problems get solved through use of the best money apps, especially for teens and kids.
But how do you know which one best meets your needs? Or, if looking for someone else like a teen or minor, how do we know which are the best money apps for them?
This post walks through the considerations you should make when deciding how to choose the right finance app for you or your child. This includes budgeting apps, money management apps and investing apps.
What are Money Apps?
---
Money apps are an easy way to manage your money and stay on track. They typically offer various features for budgeting, monitoring spending habits, giving you financial goals as well as important reminders.
Money apps for kids through adults are a great tool for anyone who needs help learning how to handle their money responsibly in the future.
Money apps can also be a useful tool for adults struggling with money issues and want a little help from a conveniently accessible piece of software on their phone or tablet.
What are Money Apps for Teens and Young Adults?
---

Money apps for teens are a great way for parents to monitor their teen's spending habits, control what they purchase and make sure the money is being allocated wisely.
Some of the best money apps for teens are Greenlight or Acorns, which offer the ability to track expenses through a budget as well as establish goals.
Both apps even take it one step further by using investments with real money to help teach teens about money in the future. They can enable teenage investing and provide for a way to understand the stock trading risk kids face.
These financial apps teach kids about money through a fun and interactive way. They also teach kids how to deal with finances responsibly and think about their financial future. They're all-in-one money apps that provide a lot of the financial firepower for your arsenal.
Some other good money apps for teens and young adults are included below, but many can be used by adults too.
Apps like Robinhood, which helped make investing openly accessible to the masses by eliminating trading commissions and ushering in an era of free stock trading apps get special features on this list.
How to Choose the Right Finance App
---

Undoubtedly, many money apps offer similar features, from money management tools to financial planning for teens and young adults and ways to cut down on your expenses, you'll need to figure out which apps are truly worth your time – and sometimes money.
In all honesty, this might be easier said than done. By simply scrolling through either the Play Store from Google or the App Store from Apple, the long list of apps can overwhelm even the most-discerning individuals.
Therefore, determining how to choose the right finance app becomes important by cutting through the clutter and focusing specifically on what you want your finance app to accomplish.
What's great- and not so great- about money apps, is that money apps work better for different people according to their needs, tastes and preferences.
That being said, some universal truths still apply when deciding how to choose the right finance app:
1. Focus on the Goal You're Trying to Achieve
---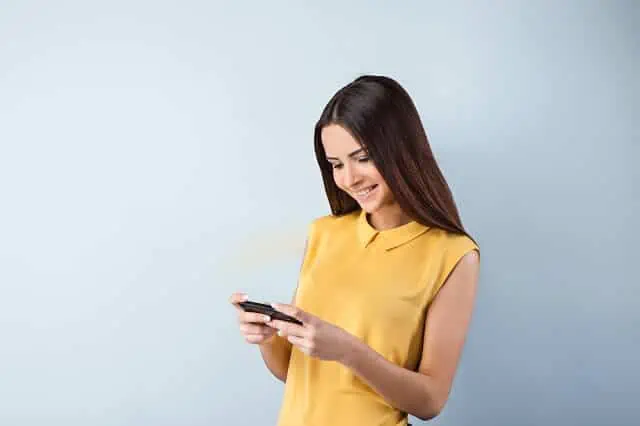 The right finance app allows you to focus on the goal you're trying to achieve. Further, the right app is one that will allow you to record and track your progress.
For example, if you're trying to get out of debt or save for a big purchase such as an engagement ring, the right app would be something like Acorns which allows users to set up budgets and savings goals.
On the other hand, if you want to receive notifications about money you might consider free money management apps like Empower (Personal Capital is now Empower).
If you're trying to keep track of your spending, the right app is one that will have money tracking and budgeting. A more direct approach is through using an app such as You Need a Budget (YNAB).
The best way to choose the right finance app for yourself is by focusing on what goal you are trying to achieve and then aligning that with the app best aimed at assisting.
2. Review the Features Offered and Determine if They're Worth the Price (or Time)
---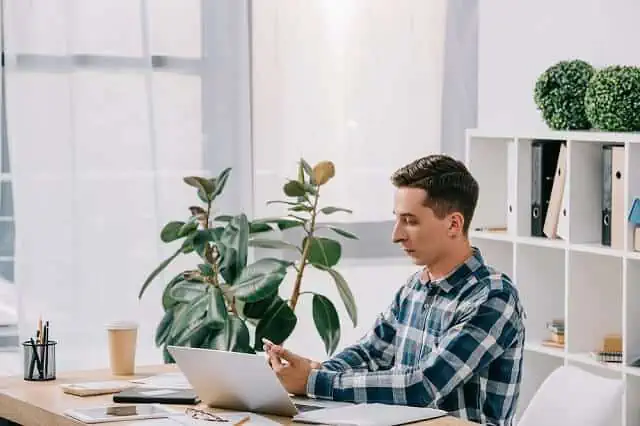 Most things in life involve trade-offs and performing a cost-benefit analysis. Money management apps are no different.
If you need to track your money and set budgets but don't have a lot of money to spare, then a free app is the best option for you.
Alternatively, if you're looking for a more robust, premium service to help with goal-setting and receiving reminders on spending habits, then Acorns or Greenlight might be more fitting.
To make sure that money management apps work well with your needs, consider:
What are the apps' features?
Do you want a free or paid service?
How much money is required to use the app?
Once you've done this, compare different apps and see which one best suits your needs. Then make sure that it's worth paying for! The right finance app will balance between these needs.
3. Review the App's Scores on Platforms from Other Users
---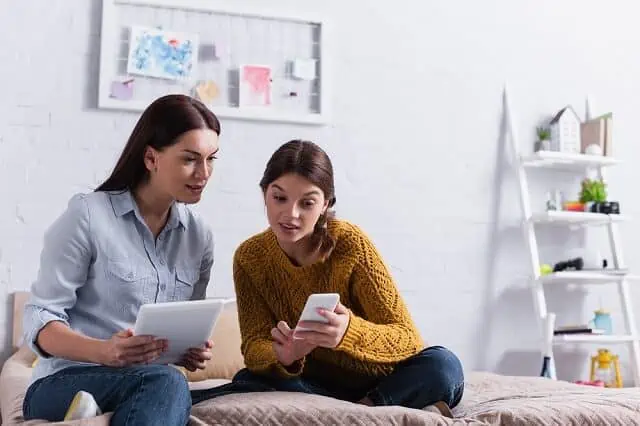 A great way to assess the overall cost-effectiveness and functionality of a finance app is through looking at scores from other users in the App Store on Apple or Play Store from Google.
For example, Empower is a free app that has an average of 4.7 stars on the App Store and 4.4 stars on the Play Store.
Look for the ones with high user ratings and number of reviews to see if they fit your needs (and others') best!
If you've been looking for ways to manage money better or are tired of carrying around too much cash all the time, opening a well-rated banking app or financial app might be a great way to help.
4. Carefully Consider Your Time and Money Commitments
---
Make sure the right finance app for you accomplishes what you need it to do with a reasonable amount of time and money commitment.
For example, the app that works best for you might be one that does not need a lot of time commitment in order to use it. Some allow you to link other financial accounts to see everything in one place.
Apps such as Empower allow users access to their bank accounts, investment accounts and other asset values with just a set of login credentials and multi-factor authorization confirmation.
If your top priority is finding a finance app that doesn't take up a lot of time, then make sure the work you put in is worth it.
A free app might appeal to you because the price is right, but for a low monthly fee or one-time purchase fee, you might find the increased functionality dramatically improves your satisfaction with the finance app.
5. Focus on Keeping Your Personal Information Safe and Secure
---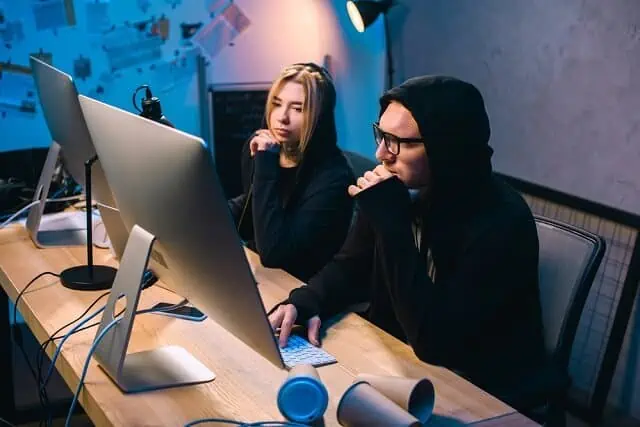 What also matters in determining the right finance app for you is keeping your personal information safe and secure.
A finance app with a lax security system or one that doesn't make you set up an account before use is not worth the risk of having all your personal information stored in it.
Review whether you need multi-factor authorization, which is where the app asks for a secondary form of identification when you log in.
For example, when you log into some accounts online, they'll send you a text message or email address to the contact info on file to verify you attempted to access the account and not a hacker.
A finance app should also have password protection and data encryption to protect your personal information from cybercriminals, who always look for ways to take control of devices containing sensitive data.
If the money apps you're considering don't offer these protections and security features, then you might consider passing.
With these guiding principles in place, consider reviewing the list below to dive deeper into the apps and companies offering them. If any of them meet the grade for the five universal truths, consider downloading them and giving them a try.
Best Personal Finance Apps
---
There are four different types of personal finance apps to compare:
premium subscription service
free app with ads and in-app purchases
no cost but require a lot of manual input work
freemium service with limited functionality for free and an upgrade to better features
The best personal finance apps combine a lot of financial features into one app or offer a unique value proposition to help your finances.
1. Acorns (All-in-One Personal Finance App)
---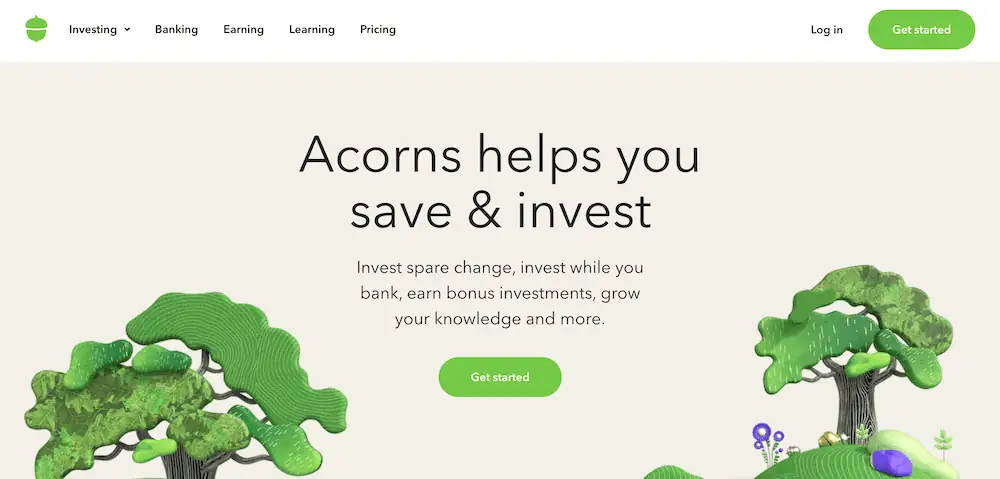 Available: Sign up here
Price: Acorns Personal: $3/mo. Acorns Personal Plus: $5/mo. Acorns Premium: $9/mo.
Acorns is a personal finance app geared toward minors, young adults and millennials by offering "Round-Ups," where the app rounds up purchases made on a linked debit card for teens to the nearest dollar, investing the difference on your behalf.
For example, if you purchase a coffee for $2.60 on a linked credit card, Acorns automatically rounds this charge up to $3.00 and invests the $0.40 difference in selected investments. Users have seen an average of $30 per month invested this way and makes the service one of the best investments for young adults who are looking to get started with saving and investing. Indeed, this micro investing app can show teens how to start investing as a minor and build from a small amount over time.
This makes Acorns one of the best investing apps for college students as a result.
The personal finance app allows minors to have custodial brokerage accounts (Acorns Early) managed by their parent or legal guardian. You can get access to Acorns Early by subscribing to the Acorns Premium tier. Using an app like Acorns could also be the best way to invest $1,000 for a child's future.
The app also allows you to save toward specific goals, and anyone can use it. The simplicity and power of the app make it appealing to any age.
Acorns has three plans for you to consider:
Acorns Personal ($3 per month): Includes an Acorns Invest investment account, as well as Acorns Later for tax-advantaged investment options such as Roth IRAs. Also includes Acorns Checking, a bank account that has no account fees, lets you withdraw fee-free from more than 55,000 ATMs nationwide, and Smart Deposit, which allows you to automatically invest a bit of each paycheck into your Acorns accounts.
Acorns Personal Plus ($5 per month): Everything in Acorns Personal (Acorns Invest, Later, and Checking), plus Premium Education, which are live onboarding sessions covering account setup, Round-Ups, setting up recurring investments, and more; Emergency Fund; and a 25% bonus on Acorns Earn rewards (up to $200 per month).
Acorns Premium ($9 per month): Everything in Acorns Personal Plus, plus Acorns Early, which allows you to open a custodial investment account for your child so you can begin investing for them while they're a minor; custom portfolios that allow you to hold individual stocks; live Q&As with financial experts; a 50% match on Acorns Earn rewards (up to $200 per month); $10,000 in life insurance; even the ability to set up a will for free.
Learn more in our Acorns review.
Related: How Do Prepaid Debit Cards Work?
2. Tally (Pay Off Credit Card Debt)
---
Tally works as a personal finance app by becoming your automated debt manager. The app which automatically works on your behalf to lower your credit card payments and pay down your debt faster.
By monitoring your linked credit cards and taking stock of your payment history, the debt payoff and personal finance app develops a better understanding of whether you would be best-served by consolidating your high credit card debt into a loan from Tally.
Tally aims to help you pay off your credit card debt sooner and for less than you would paying off the debt alone. Essentially, Tally's debt consolidation product helps to make it easier for you to stay on top of your credit card balances and pay them off faster.
You link your credit cards to the Tally app and have it keep track of your due dates, minimum payments and APRs for each card. Based on what Tally finds, the app's algorithm calculates the best payment strategy for handling your credit cards every month.
As an additional feature of the app, Tally offers late fee protection to prevent overdraft fees or penalty fees.  If you remain in good standing with Tally, you won't need to confront a late fee on a linked credit card again.
3. Current (Modern Banking)
---
Available: Sign up here
Price: Current Premium Checking Account: $4.99/month; Free for Teen Account
Current is a banking app designed for all families to manage money your way. The Current app allows you to:
track your spending in real-time
manage your money with spending notifications, insight and more
get paid up to two days faster with direct deposit
set up savings pods for specific purchases
avoid up to $100 in overdraft fees with Overdrive
pay no hidden fees or maintain minimum balances
earn points and cash back
access to 55,000+ Free ATMs nationwide
instant gas hold refunds
cash deposits at over 60,000 stores
mobile check deposit
current pay to send or receive money for free (like Venmo, Cash App and PayPal)
You also get the peace of mind that comes with knowing their money is safe because it's not cash. Plus, if you're a young adult in college, like Acorns, the company doesn't charge any fees or interest for student accounts so there are no surprises when bills arrive.
If you want to use this money app for teens to teach teens financial responsibility, you can use Current to give them a way to learn without having cash around the house and all its temptations.
You can control merchants, spending limits and set up automatic spending notifications. That means less worry for both parents and kids!
With Current, your teenager will be able to do everything from paying friends back to buying groceries at the store–all safely with only her phone! But you can also use Current for yourself because it's redefining banking for a modern digital age.
Best, the app allows you and teens to have the opportunity to learn financial responsibility and budgeting from an early age. This will allow you to grow your savings and move one step closer to financial independence.
Read more in our Current review.
Related: Best Debit Cards for Kids
4. Splash Financial (Student Loan Refinancing)
---
Splash Financial isn't quite a personal finance app in the traditional sense, but it does offer a powerful way to save money and shed your unwanted student loans.
It works as a refinancing marketplace and technology platform that partners with credit unions and banks to help consumers save money on their student loans. The company carries a simple and straightforward mission: help people save money on their student loans.
My wife and I refinanced her student loans on a loan marketplace and we received much more competitive rates than we would have by going to banks individually.
We refinanced her medical school student loans and saved 515 basis points on our interest rate (8.00% to 2.85%).  Over the life of this line of student loans, we saved thousands of dollars in interest!
Several lenders compete in this space like First Republic Bank, the bank which partnered with my employer and which we used on my wife's second set of student loans.
However, Splash Financial avoids the hassle of getting separate, personalized quotes from different lenders.
Instead, you can receive personalized rates from up to 10 lenders in 2 minutes.  To see a simplified view of why you should refinance with Splash Financial, look at the infographic below.
If you need help taming your student loans, you might consider looking on the Splash Financial marketplace to see if you can receive more competitive loan terms through refinancing.
Related: How to Increase Net Worth: 14 Ways to Grow Your Assets
Best Investing Apps
---
The best investing apps avoid trading commissions and focus on delivering valuable insights, offering appropriate functionality and providing a great user experience for their target audience.
5. Webull (Self-Directed Investing App)
---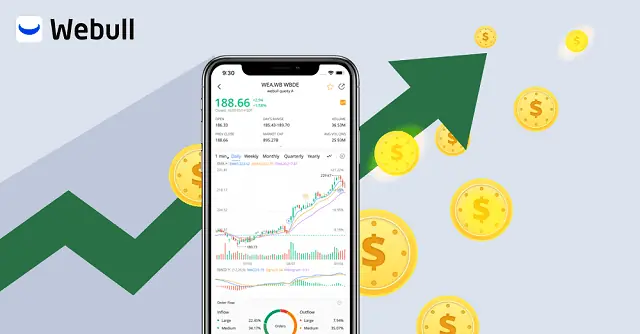 Available: Sign up here
Price: Free to download, no stock/ETF trade commissions
Webull is a fairly new market entrant in the investing space, launching in 2018.  Despite this, they've created a very powerful self-directed investing experience for anyone looking to cut their teeth on trading and long-term investing.
As an added benefit, they offer a robust paper trading product to allow you to learn about market and stock movements without exposing your own money to loss.
The company is a free stock trading app for beginners, intermediate and advanced investors that also has free trades of ETFs, options and cryptocurrencies through their mobile app or desktop site.
In other words, no commissions for the trades you would like to make in your portfolio. The company also offers free stocks for users who sign up.
The company acts as an app like Robinhood by offering no commissions on any of its trading products, allowing it to compete in a fiercely competitive trading brokerage industry. Learn how Webull makes money instead.
Further, to get people to sign up and demo their service, the company offers incentives to new accounts. You can learn how to get free stocks by signing up for the app and making a minimum initial deposit.
Read more in our Webull review.
6. M1 Finance
---

Available: Sign up here
Price: Free trades, M1 Plus: $10/mo. or $95/yr.
M1 Finance has the tools you need to help build a strong financial future. And, now, your children can reap the benefits, too with a custodial account available through the company's M1 Plus subscription.
Recently, M1 Finance launched custodial accounts, expanding access to my top-rated robo-advisor app. The service knows how important it is to plan for your future- that means for your family's future as well.
Now, M1 Finance allows you to manage your family's investments all in one place. The app also has stock news stories to learn about the market.
For more in-depth investing, consider pairing this account with stock analysis tools or an investment research website to learn how individual stocks trade.
Custodial accounts are exclusively available to M1 Plus members, and you can get started when you join today.
Read more in our M1 Finance review.
Related: 9 Best Robo-Advisors for Investing Money Automatically
7. Stash Invest ($5 Bonus)
---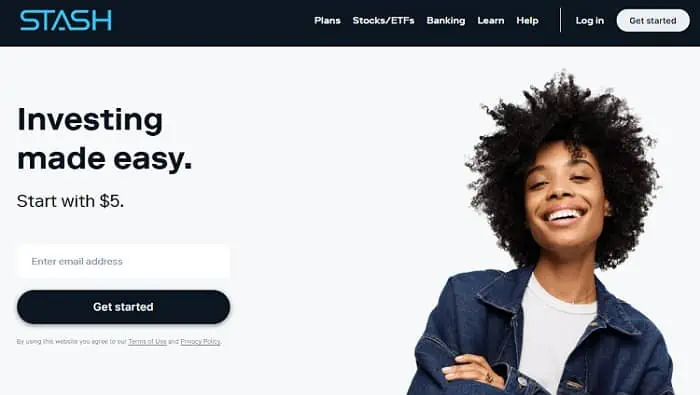 Available: Sign up here
Price: Beginner: $1/mo, Growth: $3/mo, Stash+: $9/mo
Stash is a personal finance app complete with investing, money management and banking features. The app may have a special appeal to young adults because of its powerful platform of financial services.
On the Stash+ plan, Stash offers custodial accounts (UGMA/UTMA) for you to invest for your children or other kids in your life. When a child reaches the majority (typically age 18), they can use the money saved in their Stash account to pay for education and other opportunities.
As you contribute money to your Stash account, these amounts can be used to purchase fractional shares of companies, meaning you can invest in as little as $1 worth of Amazon (AMZN), Tesla (TSLA), or other companies you think may help you build wealth over time.
Stash has thousands of individual stocks and ETFs for investors to choose from. The Stash Growth and Stash+ plans offer you the ability to contribute to tax-advantaged investments like Traditional and Roth individual retirement accounts (IRAs).
To proceed with investing, you will start by answering some simple questions to understand your investment preferences, risk profile and financial objectives.  Based on these answers, Stash makes recommendations for you.
If you sign up from the link below, Stash will deposit a $5 bonus into your personal portfolio after you deposit at least $5 into your personal portfolio. To get you started, use this link or click the button below.
Related: Investing Books for Kids, Teens and Young Adults
Best Budgeting Apps to Consider
---
The best budgeting apps are the ones that best suit your needs. Have a look at the following budgeting apps to learn more about how they work and whether they make sense for your needs.
8. Empower
---

Available: Sign up here
Price: Free, for accounts over $100,000 in investments, 0.89% annual fee for Wealth Management
Empower (formerly Personal Capital) has quickly grown into a popular financial app because it aggregates several accounts in one comprehensive view. This allows it to be one of the best stock tracking apps.
The app offers free budgeting software, helpful notifications to indicate monthly progress, and management services for your investments.
The basic version of the app is completely free and used by more than 3,100,000 individuals, speaking to the app's reach and popularity. The app doesn't just stop as a budgeting tool, however.
It can also implement a Fee Analyzer which shows the fees you pay on your retirement plans alongside personalized asset allocation recommendations and tools.
If you have $100,000 or more in assets to invest, Empower also offers a Wealth Management plan for an annual fee of 0.89% of assets under management. This service provides regular access to a financial advisor to assist with planning your finances.
Related: Can I Retire at 60 with $500k?
9. You Need A Budget (YNAB)
---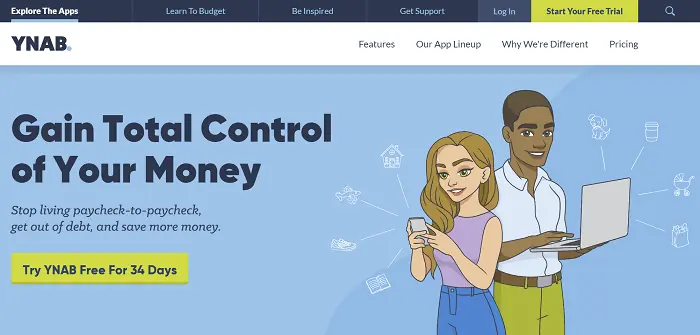 Available: Sign up here
Price: Free 34-day trial, then $14.99/mo on Monthly Plan or $98.99/year
YNAB determines how much money you have, what your expenses are, and when your expenses need to be paid. It can track regular payments as well as budget for less frequent costs.
YNAB makes managing a budget simple. In addition to keeping track of expenses, it can help you establish goals and plan savings. You can try YNAB for free for 34 days and then it costs $98.99 per year or $14.99 per month if paid monthly.
10. Digit
---

Available: Sign up here
Price: Free for 30 days; $5/mo thereafter
Digit can help you save more money with little effort on your end. The app considers your expected income, account balances, upcoming bills, recent spending, and personalized preferences as a young adult to calculate how much money you can spare for savings.
Next, it automatically transfers that amount into your Digit savings account a few times a week or month, depending on your spending patterns. This eliminates the guesswork on how much you can safely save towards vacations, paying off debt, or anything else.
Every three months you save with Digit, you receive a 0.5% saving bonus.
The app prevents overdrafts by automatically transferring money to your checking account, and in the event an overdraft still occurs, Digit will cover the fee. There are no account minimums and you can withdraw money at any time.
You can try Digit free for 30 days and then the cost is $5/month.
How to Choose the Right Finance App for You
---
Now that you've reviewed this laundry list of various money apps, do you know which apps are right for you? Finance apps have become popular as financial services firms try to compete with each other and users want convenience on their smartphone or computer.
In recent years, these finance apps have taken a lot of work out of balancing your budget, investing your money, or setting it aside for certain goals by automating many tasks that used to take considerable time throughout the month.
Consider using them to create a financial plan that you can stick to without having to waste hours figuring things out yourself.