You can't build Rome in a day—but you can make $100 in 24 hours.
Indeed, there are several ways you can make that much cash in that much time. It might take some time, money, and/or effort to get started, but fortunately, I know of a few tools that will make earning that money a little simpler. In fact, you might get to a point where you're earning that much in passive income each day.
Are you ready to start earning more? Read on as I outline a number of different ways that you can start earning $100 or more every day.
Ways to Make $100 a Day—Our Top Picks
How to Make $100 a Day
1. Become a Landlord
---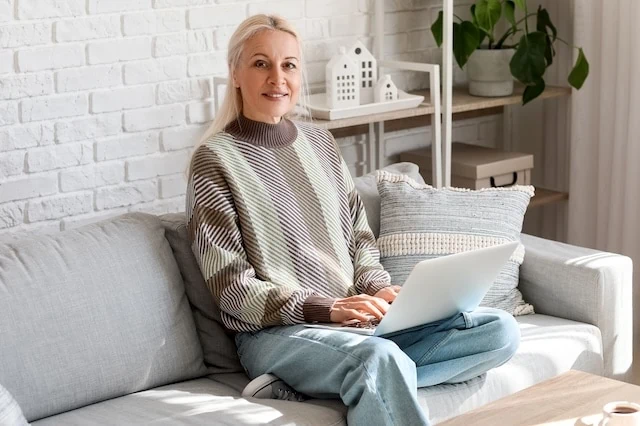 Whether you choose to focus on long-term or short-term rentals, real estate is an excellent way to make money. Depending on what type of rental(s) you're targeting, you might need to spend a substantial sum of money up front before you ever start collecting cash. But in the long run, this can be a lucrative business.
Being a landlord or otherwise investing in real estate is an excellent way to make extra money for several reasons: It can act as a hedge against inflation, real estate can generate substantial regular income, and it comes with several tax benefits.
Spare room or accessory dwelling unit
---
One of the easier renting options is to rent out a spare room in your home or an accessory dwelling unit.
For the uninitiated: An accessory dwelling unit is a standalone structure or one attached to the main home on your residential property. It might be a shed converted to a liveable space, a "tiny home," or an apartment built above a garage. You might have heard them called "in-law units," "in-law suites," or "in-law apartments."
A spare room or accessory dwelling unit can be an affordable option when the accommodations already exist; obviously, it becomes more expensive if you buy or build a tiny home or other structure for the specific purpose of renting it out.
This type of rental is a great candidate for short-term rentals through platforms like Airbnb or Vrbo. Owners can charge higher per-day rates for short-term rentals. The downside is that there is no guarantee how often the rental will be booked and you need someone to clean between guests.
If you plan to use the spare room or accessory dwelling unit as a long-term rental, make sure you thoroughly vet prospective tenants. Renting out to someone you already know might give you some peace of mind, but remember—existing relationships can sour when financial factors are thrown into the mix.
If you are part of a homeowners association, make sure you are following any applicable rules. Also, become familiar with any local and state landlord-tenant laws, as well as permitting rules.
Related: How to Become a Landlord [24 Steps to Earn Rental Income]
Full home(s) or apartment(s)
---
Renting out an entire home or apartment building has the potential to earn you far more money than just renting out a room.
Naturally, however, it can be even more expensive and time-consuming to get started and maintain. Still, once everything is up and running, you can make money mostly passively—especially if you end up either hiring a property manager or using landlord software.
Baselane
---
Baselane is one of the best software options for rental property investors. It supports unlimited properties and types of real estate, including multifamily and single-family homes, apartments, condos, townhouses, and other rentals.
Baselane categorizes transactions by property and Schedule E category, so you never miss a tax-deductible expense. Come tax season, it'll auto-generate tax reports that can be shared with an accountant with just a click, putting it among the top accounting software for rental properties.
The platform can integrate with your bank accounts. You can also open a free Baselane banking account with a high APY interest rate, up to 5% cash back, and no minimum balance requirement. The account is specifically designed to function as a bank account for real estate investors and landlords.
Tenants can pay rent online through Baselane using a debit card, credit card, or ACH bank transfer. Payments are deposited directly into your bank account.
At any time, you can look at important investment property metrics, such as cash-on-cash return, cap rate, and more. These valuable insights can help you see which of your real estate rentals are generating cash flow increases and any that need adjustments.
Baselane also has an artificial intelligence (AI)-powered marketplace that can connect you with the best rates for mortgages, and loans. You'll save time reconciling accounts across all of your properties.
Baselane is completely free and has no hidden fees. Users can also add on landlord insurance at an affordable rate.
Stessa
---
Stessa is property management software designed by and for real estate investors. Whether your rental property is a single-family home, short-term vacation rental, or a multifamily unit, Stessa could provide the property management help you need.
This all-in-one software has a wide variety of capabilities, mostly focused on the financial side of being a landlord or property manager.
On the tenant side, Stessa allows you to set up online deposits and online rent payments, including recurring payments, to ensure that you're always paid—and paid on time.
Stessa also benefits from its partnership with Roofstock by offering numerous features for real estate investors. For instance, Stessa has performance dashboards at the portfolio and property levels. Users can monitor important financial metrics in real time, such as income and cash flow, net operating income, total portfolio value, occupancy, and more. They can also automate income and expense tracking through accounts.
Real estate balance sheet updates for assets and liabilities are automatically updated. All of your documents are stored securely and organized in the cloud.
When it's time to do taxes, landlords can export tax-ready financials and use free resources from the Stessa Tax Center. In fact, Stessa users get an exclusive TurboTax discount. The property management software also can integrate with AppFolio so users can automatically import income and expense transactions.
Stessa's free Essentials tier offers a number of features, including unlimited property tracking, manager connections, and real estate document and receipt storage; expense and mileage tracking; basic financial and tax reporting; banking; online rent collection; and tenant screening. The paid Pro tier adds or enhances several features, including unlimited portfolios, unlimited Smart Receipts, budgeting, project expense tracking, CapEx and Schedule E, and a higher APY from Stessa's Cash Management account.
Related: 8 Best Rent Collection Apps & Software for Landlords
Commercial real estate
---
Commercial real estate (CRE) is any real estate not meant for residential purposes—it's a wide term that covers shopping centers, office buildings, hospitals, movie theaters, amusement parks, hotels, and so much more.
CRE agreements with businesses often have much longer lease terms than residential rentals. Rental prices are typically higher, too. The flip side? It's also more expensive to get started.
Unless you have the necessary real estate knowledge to find, finance, and manage your own commercial real estate properties, you might be better off investing through a crowdsourced real estate sponsor.
EquityMultiple
---
Interested in diversifying your portfolio past stocks and bonds? EquityMultiple allows you to delve into alternatives, connecting investors with opportunities in individual commercial real estate (CRE) properties and real estate funds alike.
CRE investments typically enjoy low correlations to stocks and bonds, making them an important source of differentiated returns. They also offer attractive risk-adjusted returns and historically have been less volatile than stocks.
EquityMultiple provides access to real estate funds that may hold several types of investments, including equity, preferred equity, and/or senior debt investments. It also offers exposure to individual properties. Investors looking for something with lower risk might consider EquityMultiple's Alpine Notes—a savings alternative with competitive rates of return on three-, six-, and nine-month notes, providing conservative diversification and short-term yield.
EquityMultiple allows only accredited investors to invest through its real estate platform, and it requires a $5,000 minimum investment to begin.
Interested in learning more about EquityMultiple? Sign up for an account and start the qualification process.
Fundrise
---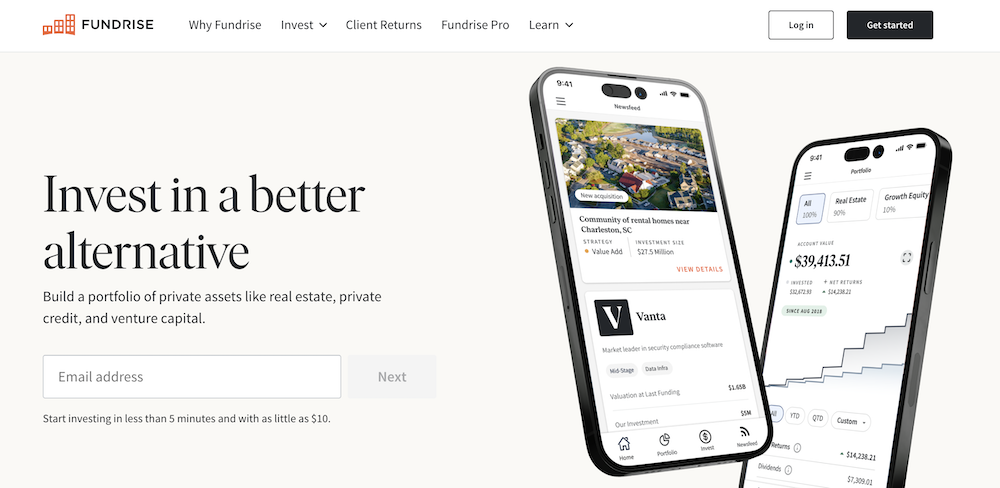 Fundrise is a popular real estate and alternative asset investing platform that allows you to diversify through its numerous funds. Each fund holds a number of properties and is designed to provide varying levels of risk and income.
Investors have two primary ways to invest in real estate through Fundrise:
Fundrise
The standard Fundrise account is a managed portfolio that allows you to invest for as little as $10. When you open and fund an account, you select an investment strategy, then Fundrise allocates your money to the fund (or funds) that make up that strategy. As time goes on, Fundrise may add new funds to its available selections and allocate your money toward those funds if they fit within your strategy. You can add more money to your account over time, again with a small minimum additional investment of just $10.
All the while, Fundrise's dashboard will show you how you're invested and what you've earned. If you've set up an Investor Goal, Fundrise's goals tracker will let you know if you're on the right track—or if not, what to do to make sure you achieve that goal or goals. Fundrise will also provide updates on real estate holdings' occupancy, market trends, and more.
Fundrise Pro
Investors who want a little more control over their investments might consider Fundrise Pro—a monthly subscription service that allows you to choose your own investment path, and provides you with more data to make the best choices for you.
Unlike with the managed Fundrise account, Fundrise Pro users can allocate however much they'd like to whatever funds they'd like, making direct investments into specific funds. They can also choose between dynamic allocation (investing more or less into certain funds over time to meet your plan's specifications) or flat allocation (simply investing the same amount of money per your allocation choices). Fundrise also offers access to its proprietary data warehouse, Basis, as well as curated insights from the Wall Street Journal.
Everything else you should know about the Fundrise platform
Fundrise is primarily a commercial real estate investing platform, but it does have other offerings. For instance, it boasts the Innovation Fund, which holds primarily private high-growth tech companies, as well as a private credit investing strategy.
You don't have to be an accredited investor to use Fundrise—it's open to any U.S. citizen age 18 or older. But accredited investors do enjoy some perks, including being able to invest directly into several funds closed to non-accredited investors, and occasionally, better ability to invest in Fundrise's eREITs. If you are an accredited investor, once you've opened your account, go to Settings → Advanced Options → Accreditation to upload proper documentation.
RealtyMogul
---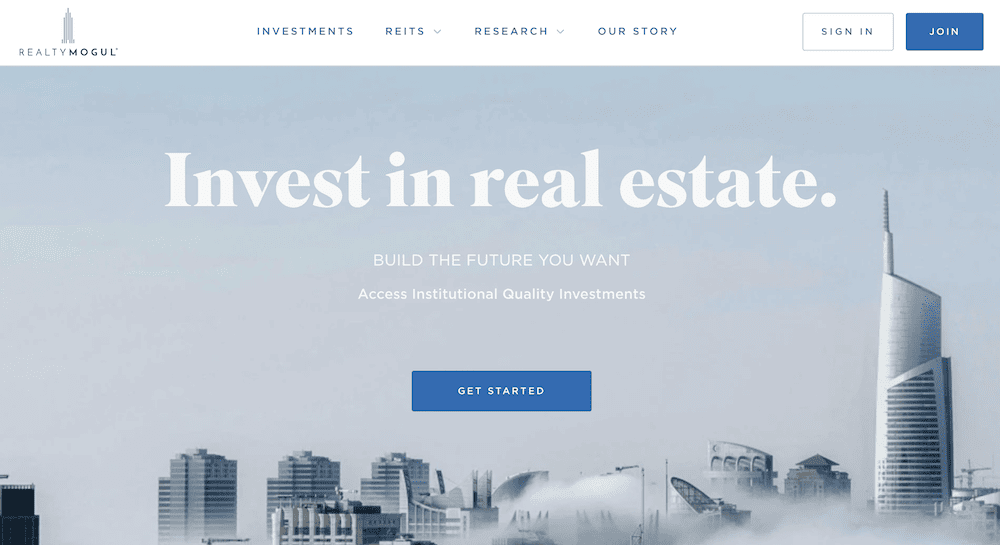 RealtyMogul is an online real estate crowdfunding marketplace that primarily offers opportunities in CRE and residential properties. The company caters to individuals seeking institutional-quality real estate investments.
The company offers two private REITs that are open to accredited and non-accredited investors alike. If you're an accredited investor, you can also participate in RealtyMogul's private placements.
When you participate in private placement opportunities through RealtyMogul, you can choose to invest through fractional ownership in an individual property or a group of properties.
Investors who prefer to invest through REITs have two options at RealtyMogul:
RealtyMogul charges a 1% annual management fee for Income REIT and a 1.25% annual management fee for Apartment Growth REIT. Other fees might apply.
Learn more about RealtyMogul by visiting their site.
Related: 9 Best Real Estate Crowdfunding Sites + Platforms
Storage Units
---
Rather than renting out places for people to live, consider renting out storage units for extra money. Storage facilities are often in high demand, and it can be a much simpler way to make money than managing property where tenants live.
You could start with an empty garage, large shed, or barn. After posting about it on social media, Craigslist, or elsewhere, you might find people who need you to store furniture, a boat, boxes, and other items. If you're successful, you might need to buy larger facilities to expand and make more money.
Aside from putting the items in storage (and maybe practicing your Tetris skills if it's a tight fit), this is a mainly passive income. However, as you grow, you might need to hire a management team, which will help you scale but will cut into your margins.
2. Rent Out Your Car
---
If you want to make money by renting to others, you don't necessarily need property. You could, for instance, rent out your car.
HyreCar
---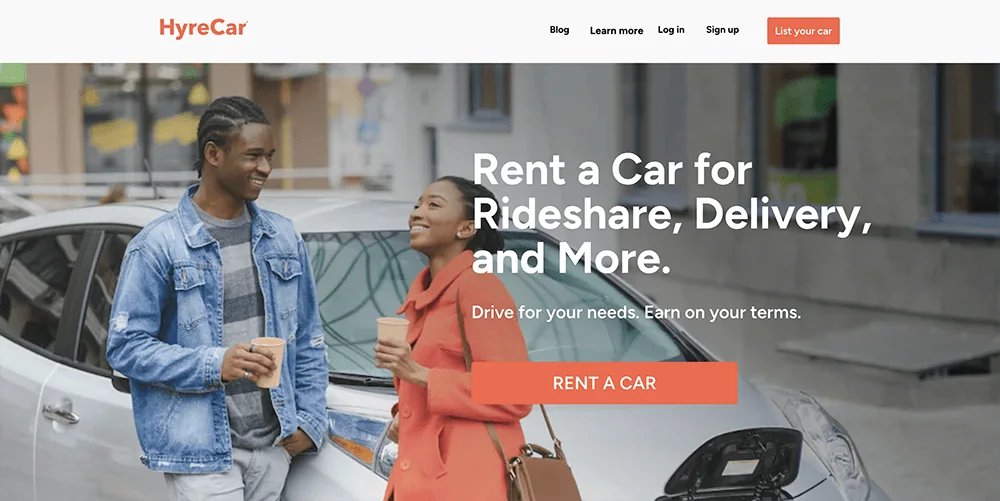 Do you have a vehicle that sits around unused most of the time? You can actually turn your vehicle into cash flow by renting it out through HyreCar.
It only takes a few minutes to list your car for rent on HyreCar. You will need to describe your car and upload photos, vehicle registration, and any necessary Uber/Lyft inspection documents. From there, you respond to driver requests and coordinate meetup times to hand over and pick up your keys. You get paid when the driver picks up the vehicle.
Worried about who might be driving your car? HyreCar has basic eligibility requirements, and has a third-party provider (Checkr) run a motor vehicle record and criminal background check.
How much money can you make? Vehicle owners get to choose their own prices, so you can choose whatever price is worth it to you. You might want to take a look at the pricing recommendations, though, to see if the rate you want to charge is above or below market average.
If you're interested in learning more or signing up, visit HyreCar through our link.
Related: 50+ Best Money-Making Apps That Pay You Real Money
3. Sell Digital Products
---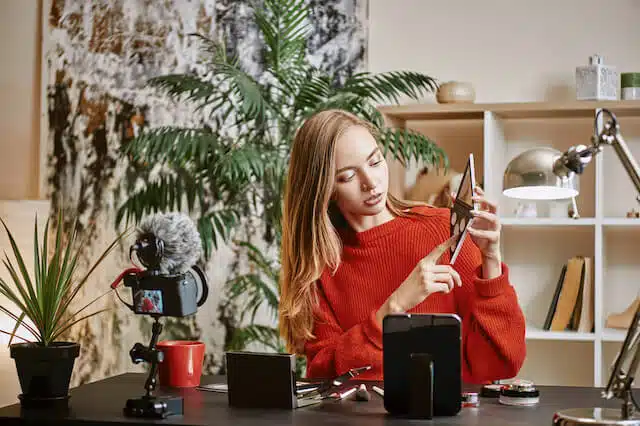 Running brick-and-mortar stores is complicated and expensive; it's much simpler and cost-effective to sell stuff online. But if you don't know how to make any physical goods, that's OK—you can always sell digital products.
Etsy printables
---
Etsy is one of the most popular e-commerce marketplaces in the U.S., offering buyers a chance at finding one-of-a-kind items.
But don't worry: If you want to make money on Etsy, you don't have to just rely on physical items (think crocheted sweaters or woodwork, which would require you to spend money on expensive materials every time you get an order). You can also create digital products, such as E-printables. Not sure how to create or sell them online? You can take an Etsy E-Printables online course to learn how. (Editor's note: In general, online courses are an excellent way to learn marketable skills.)
You can sign up for a free e-book, and then you'll be allowed to apply for a course that costs $247 (though a $50-off coupon will be applied at checkout, making your cost $197).
Once you've learned how to create E-printables, you can set up an Etsy online store and make money by selling them. Check out the course in the product box below to learn more.
Online courses
---
Many people make extra money selling online courses on platforms like Teachable.
Selling online courses is much easier if you already have an audience or are otherwise well-known as an expert in at least one subject matter. If you have a newsletter, blog, YouTube channel, or some other regular information distribution, you can create an online course and market it to those people.
Come launch day, you could see a lot of course sales early—but if you don't already have an audience in place, it might take time for sales to start trickling in.
Related: 30 Best Side Hustles for Teens [In-Person + Online]
4. Buy a Passive Cash Flow Business
---
For those not looking for fast cash, but instead have a long-term mindset, a cash flow business can be a great way to consistently earn money with little effort.
Vending machines
---
Vending machines are a source of mostly passive income. (They're a low-maintenance business in general, but they're only completely passive if you hire someone to refill machines for you.)
To get started, you'll need to reach out to local office buildings, laundromats, and other places where vending machines are commonly found. You can buy new or used vending machines or rent them, then broker deals to place your vending machine in and around these properties.
As the machine's supplies diminish, you'll either have to create your own schedule for collecting your extra money and replenishing supplies, or hire a vending specialist to do so.
ATMs
---
ATMs require a little bit of hands-on TLC, too, but they can be another source of mostly passive income.
An ATM will cost you in the thousands, or even low tens of thousands, up front. You'll also need to make sure they remain secure and well maintained, and you'll also have to set up cash collection from time to time.
Still, you can make money every time someone needs to withdraw some cash. You can decide how much in fees you'll charge (though some states have limits). And if you own several ATMs located in busy areas (think: casinos), you can make good money.
Related: 10 Investments that Earn a Great Return [10% or More]
Laundromats
---
If you're looking for ways to earn money that take little-to-no upfront cash and little work, keep scrolling. But if you're willing to spend a chunk of money, and put in some elbow grease, to create a mostly hands-off business that will generate sturdy cash flow in the long run, keep reading.
Most of the statistics regarding laundromat success and profitability come from either laundromat franchisers or washing/drying machine vendors, so you have to take them with a grain of salt. Still, the touted numbers are appealing. Speed Queen, which manufacturers commercial-grade laundry appliances, says laundromats boast an "ultra-high success rate of 94.8 percent, a cash-on-cash ROI of 20 to 35 percent, and a simple management structure."
Even finding a laundromat to buy can be difficult—you'll either need to check internet listings, talk to a broker, or speak with owners one by one in person. You'll need to find funding to make the purchase; verify important financial metrics such as expenditures, revenues, and net income; inspect equipment; and determine what additional work you'll need to do to maximize your ROI once you've closed the deal.
However, there's a bright light at the end of the tunnel. Once you've bought a laundromat, made any initial expenditures, and hired staff for operations, you can let your employees handle the day-to-day management while you collect money.
Online Businesses
---
Starting your own successful online business can take a substantial amount of time and money. The good news is that you could be earning money online by investing in someone else's online platform.
WebStreet
---
Many alternative-investing platforms have long allowed investors to participate in the growth of brick-and-mortar businesses—restaurants, stores, and the like. However, Webstreet provides access to a more difficult-to-reach industry: online firms—from content websites to micro-software-as-a-service (SAAS) businesses to even Amazon storefronts.
WebStreet's investment process is fairly simple. You review open funds and determine which one(s) you want to invest in. You invest at least the minimum required, and you become a fractional owner of each underlying business. You're entitled to a share of gains from any profitable business exit, and you'll typically receive quarterly distributions, too.
Webstreet's vetted portfolio managers acquire, run, and exit sites on behalf of investors. These portfolio managers co-invest and contribute 5% of the invested capital in their first raise, so they have skin in the game—and thus are even more motivated to choose the best assets.
WebStreet is available only to accredited investors, with a required minimum investment of $60,000 in each fund. Interested in learning more or signing up? Check out WebStreet today.
Related: 11 Best Stock Portfolio Tracking Apps [Stock Portfolio Trackers]
5. Start a New Job or Side Hustle
---
Food delivery
Delivering food, whether from restaurants or grocery stores, is a popular way to make money outside of one's full-time job. Popular options include DoorDash, Uber Eats, and Instacart.
A major benefit of these jobs is that you can largely create your own schedule—while some hours will be out of play because grocery stores and restaurants typically aren't open 24/7, you can mostly work when you want.
Any delivery job has the opportunity for a cash tip, and these apps typically let you cash out quickly. If you live in a large city and accept as many orders as possible, it's definitely possible to make $100 in a day.
You typically will need your own transportation—usually a car, but depending on where you live, a bike will do the trick, too.
Rideshare apps
There are many reasons people don't want to drive themselves places. They may be visiting a new city, not have a car, be inebriated, have a disability, and much more. If you're comfortable driving others around, you can be making money whenever you have free time.
Uber and Lyft are two of the most popular rideshare apps.
→ How to get paid with Uber
Uber drivers automatically get paid every week.
Need money faster? You can use Instant Pay to cash out up to five times per day. Instant Pay charges $0.85 per cashout, but it's the fastest way to get your money. It puts funds on your personal debit card. Soon, Uber will be releasing an Uber Pro Card, which will allow free automatic cashouts after every trip.
→ How to get paid with Lyft
Lyft automatically transfers driver's previous week's earnings to their accounts every Tuesday. People who want to get paid faster can use Express Pay, which functions the same way as Uber's Instant Pay.
Express pay costs $0.85 per transfer and sends funds to your debit card. Lyft Direct is another option. This is a debit card and bank account for Lyft drivers that offers instant payments after every ride without any fees.
Become a virtual assistant
---
Are you detail-oriented and organized? You might make a great virtual assistant. Your tasks might include data entry, scheduling appointments, email monitoring, and other administrative tasks.
There are many ways to make money online, but I mention this one specifically because it can pay a decent rate, and because you can typically find both part- and full-time positions, depending on your preference. I also like that it's a doable job for stay-at-home parents and people with disabilities.
According to Indeed, the average virtual assistant rate in the United States is $24.44 per hour. This means that by working just a little over five hours, you can make $100 a day.
Related: How to Invest Money: 5 Steps to Start Investing w/Little Money
How to Make $100 a Day: FAQs
---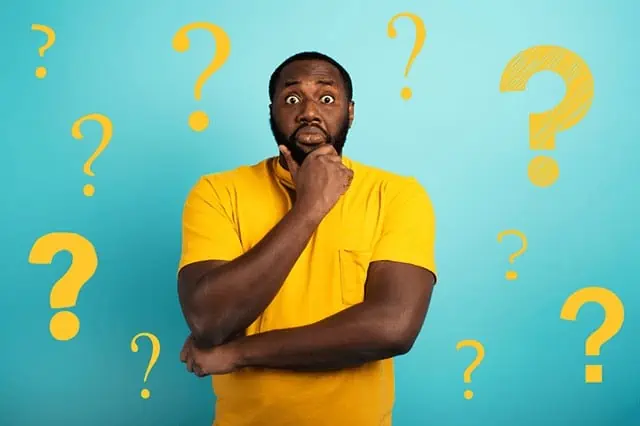 How else can I make extra money?
In addition to everything I've outlined above, there are many easy ways to make a little extra cash—maybe not $100 a day, but a quick $5 or $10 here and there. You make money watching videos online, being part of focus groups, and taking online surveys. You can even make money by playing video games.
Rarely are there set hours for these tasks. You typically can complete them whenever you have a little free time and a reliable internet connection.
Just know that survey sites and websites that pay you to play games online don't always pay with real money. Some give the option of having money sent to your PayPal account, some might pay in gift cards, and some might pay by other means. So just make sure ahead of time that you're OK with the site's payment method.
How can I earn $100 in passive income?
There are many ways to earn at least $100 in passive income. But just because you make money passively doesn't mean there is no upfront work or money required. A few options for how to earn passive income include becoming a landlord, renting out your car, selling digital products, and buying a cash flow business.
How else can I invest in real estate?
Earlier in this piece, I highlighted some of the most profitable real estate opportunities, but those aren't the only way to make extra money through real estate. You could invest in rental real estate renovations through Groundfloor, buy publicly traded real estate investment trusts (REITs) through brokerages like Webull, non publicly traded REITs through Streitwise, mortgage notes, rent mobile home parks, or rent land to farmers or other people.
What can I do online to make $100 a day?
In-person work isn't an option for everyone. Fortunately, it's possible to make $100 a day online. The easiest way to do this is to find a remote full-time job or do freelance work. You might do coding, freelance writing, or graphic design work. If you're looking to make extra cash more passively, consider selling digital products or investing in online businesses.
Related: