Microsoft Rewards is a free program which pays loyal Microsoft users for doing tasks online using Microsoft's products and services.  Many have found the program useful for defraying the costs of participating in popular features for reduced cost or for free.
This Microsoft Rewards review steps through the program details, how you can use it to make money, the benefits and drawbacks of participating, and whether it is something worth considering.
What is the Microsoft Rewards Program?
---
As stated in the intro to this review, Microsoft Rewards is a free program which awards users of Microsoft products.
Specifically, the program allows you to earn points when performing searches on the company's Bing search engine, order products through the Microsoft Store online and Windows 10 operating system, as well as for completing specific surveys, tasks and activities.
There are no commitments or fees for participating.  Rather, the program is included in your Microsoft account and only requires you to sign up, stay signed in, and participate in the necessary elements required to earn you points.
Plain and simple, this is a customer rewards program which incentivizes Microsoft customers to remain within its ecosystem.  If the customer uses Microsoft products often enough, it can result in free memberships to Xbox Live Gold, Xbox Game Pass, or possibly a new product called Xbox Game Pass Ultimate.
This final service combines the Xbox Live Gold and Xbox Game Pass into a single monthly subscription of $14.99 per month and results in a $5 per month lower amount than currently available separately.
However, if you buy the Annual Live Gold membership while going month-to-month on Xbox Game Pass, that combo is cheaper if you buy the Gold membership on sale.  This bundle only saves people money who pay for both services on a month-to-month basis at full price.
How Does the Program Work?
---
The program "pays" you in rewards points for searching the web with Microsoft's Bing search engine.  The browser used does not matter, however, many use Microsoft Edge because the default search engine is Bing.  Also, using Microsoft Edge comes with its own rewards (discussed more below).
At my office, we use Windows 10, which comes equipped with Microsoft Edge by default.  On my work computer, I use this web browser for my external search needs and Internet Explorer for accessing our intranet website.
Microsoft Edge has proven to be a powerful browser which incorporates many of my office's apps and programs.  Because of this, I routinely use Bing for my search needs.
Regarding how to rack up rewards points, you need to use Bing for your search needs. I can't impress this upon you enough.
Rewards points requires Bing searches.  You can earn points using Bing and Microsoft Edge (make sure Bing is the default search engine in Microsoft Edge and this setting is active in your Windows settings), or shopping in the Microsoft Store online from your Windows 8.1 or Windows 10, or Xbox One devices.
If you're on mobile, download the Bing app to get points from your phone.  The Microsoft Rewards app is available to everyone on Xbox One where you can see your Microsoft Rewards dashboard like you would on a computer.  This Xbox / Microsoft Rewards view should contain all pertinent information needed to utilize your account.
Further, if you're signed in with Cortana, Microsoft's digital assistant who helps you find things on your computer and get things done, you can earn points when Cortana searches Bing, subject to limits and certain terms.  Using this service can also result in more Microsoft points.
Microsoft also offers additional opportunities to earn points from time-to-time and each point-earning offer is not available in perpetuity.  Therefore, be sure to check for offers regularly through their marketing e-mails, online, or in your Microsoft Rewards account.
As a note, be mindful of searches using a bot for Microsoft Rewards earnings purposes.  This includes searches using any macro, automated or fraudulent means of any kind.
Microsoft explicitly states this violates their service agreement and can result in penalties or expulsion from the program.
Once you've acquired sufficient points, you may redeem them for gift cards, devices, movies, apps, Xbox games, Microsoft subscriptions (Live Gold, Game Pass, and a potential combo), sweepstakes, shopping sprees, vacations and more.  You also have the option to donate your points to a nonprofit or charity.
How Else Can I Make Money Playing Games?
---
Aside from Microsoft Rewards and the numerous games and activities offered through the program, another popular gaming app allows you to make money while playing video games.  The app, called Mistplay, has a simple premise: play games, collect points and exchange them for free gift cards.
The more you play, the more you earn. Discover new games on the platform by visiting your mixlist, choosing a game and start earning points! You can level up to earn points faster, making it easier to get more cash fast.
Additionally, the service offers unit multipliers to earn more points. It is worth trying out games with unit multipliers of 3X and 4X, because this allows you to earn gift cards 8X faster than a game with a 0.5X unit multiplier.
Additionally, Mistplay offers weekly contests where they giveaway large prizes including hundreds of dollars of gift cards and electronics.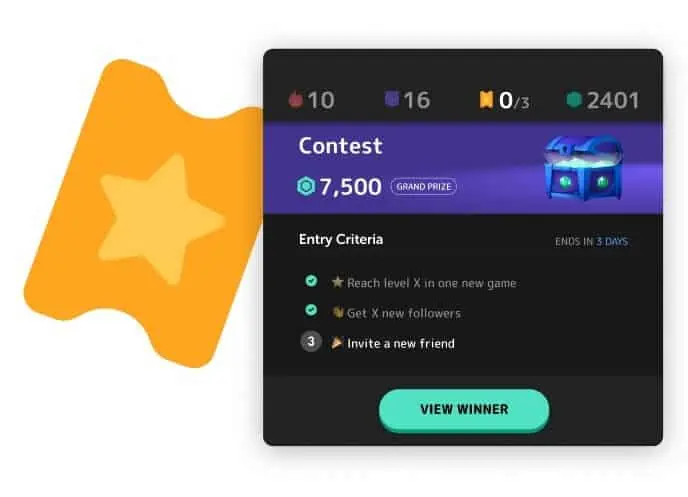 One limitation the app currently faces is that it is only available on the Android OS.  Meaning, if you have an iPhone, you cannot download this app.  It is available through the Google Play Store.
Consider downloading the game app that makes you money and playing it for an hour or two. Redeem your units for cash rewards, whenever you want.
How Much are Microsoft Rewards Points Worth?
---
It should be noted rewards points earned in the program have no cash value.  However, the points conversion equates to 1 point = $0.001.  In other words, if you have 10,000 points, this amounts to $10 worth of eligible rewards discussed below.
The trick is to remain signed in on your Microsoft account and you will see your rewards points display next to your account name.  This allows you to track your progress as you go.
Also, unredeemed points expire if not earned or redeemed for 18 months.  The program operates under a use it or lose it method.  Regular activity will negate this problem.
Are There Different Levels in the Program?
---
For each Bing search performed, you earn 5 points.  Earnings under the program's Level 1 cap at 50 points per day, or 10 Bing searches.  However, Level 2 comes with more room for earnings potential.
But to get there, you'll need to earn over 500 points in one month.  So long as you continue earning 500 or more points per month, you will remain at that level.
You want to be at this level to earn the maximum rewards possible.  Otherwise, you're handicapping yourself from cashing in points towards some desirable rewards discussed below.
Level 2 allows for a higher daily cap on the amounts of daily points you can earn.  Remember, Level 1 limits you to 50 points per day.  Level 2 is much more generous and allows up to 250 points per day.
Under Level 1, you cap out at 10 searches per day (10 searches x 5 points each), while Level 2 caps you at 50 searches per day (50 searches x 5 points each).  These paid searches are crucial for racking up points in the program.
How Do You Earn Microsoft Rewards?
---
The program has three major ways to earn points:
1. Search to Earn
As mentioned above, searching with Bing via Microsoft Edge and Cortana are the quickest ways to earn points redeemable toward prizes.  By signing into your Microsoft account and searching on Bing, you put more points on your scoreboard to the tune of 5 points per search.
You will want to level up to Level 2 quickly by maintaining a minimum of 500 points earned each month.  This second level allows for higher daily point maximums and ultimately a quicker path toward redemption on something worthwhile.
Using the Bing Search app on mobile and Microsoft Edge as well as the Windows Search Box on your computer deliver the most rewarding results.
Level 1 members earn up to 5 points a day (150 points a month), when searching Bing in Microsoft Edge on PC or mobile while Level 2 members earn up to 20 points a day (600 points a month).  This combines with the points earned from performing Bing searches.
2. Shop to Earn
Shopping in the Microsoft Store allows you to earn rewards for the program.  If you want to rent a movie from Microsoft Movies & TV, buy a new Surface tablet, or some other Microsoft product, you can earn 1 point per $1 spent.
To do this, you'll need to remain signed in with your Microsoft account, shop the Microsoft Store on Xbox, Windows, or online, and Microsoft will track your earned points.  Further, when spending money on Xbox for eligible digital content, you can earn up to 20 points per $1.
This works by reaching Level 2 membership.  When you make qualifying online purchases at the Microsoft Store as a Level 2 member, you will earn 10 points per dollar spent, plus any applicable bonus points.
Level 2 members will receive Xbox Live rewards by also receiving an additional 10 points per dollar spent, for a total of 20 points per dollar spent.
Microsoft also offers daily special offers direct from your Rewards page. This can be a lucrative way to earn points on purchases you already intended to make.  Be mindful of spending unnecessarily and attempt to stick to your personal budget plan.
3. Play to Earn
Microsoft knows engagement is a hot commodity and wants to vie for your time.  Therefore, it makes efforts to create on-going inducements to motivate your continued participation.
The program has daily offers colored with quirky holidays and unique facts.  It offers weekly quizzes with trivia and a colorful email series.  Finally, the program offers daily quizzes which take you on quick adventures across the internet every day in search of answers.
All of these test your skills and allow you to earn points with fun and easy challenges and do not ask for any personal information.  These activities lead the program participant to use Bing search and other Microsoft products regularly, thereby allowing Microsoft to create a stronger product ecosystem.
How Much Can You Earn with Microsoft Rewards?
---
The primary differentiators on your maximum earning capability boil down to (1) how often you search with Bing and (2) your MS Rewards membership level.  Reaching Level 2 is not difficult and can be done in a matter of a few days.  To get the most of the program, Level 2 is a necessity.
As a Level 2 member, assuming you are intent on maxing out your rewards-earning potential and are a regular internet user, you can earn:
Max paid searches every day – 7,500 points (250 points per day * 30 days)
Completing daily offers – 1,500 points (50 points per day * 30 days)
Browsing with Microsoft Edge – 600 points (20 points per day * 30 days)
This totals to a maximum of 9,600 points per month, assuming no money is spent in the Microsoft Store.  Equating the conversion factor from above, this comes out to $9.60 per month.
By making purchases through the Microsoft Store or completing limited-time special offers for free points, you stand to earn a lot more.  Using these techniques, you can save a small amount of money.
Alternatively, you could earn up to $20 per month getting paid to play games on Mistplay, more than 5x the maximum potential payout of Microsoft Rewards.
If you think you will play Mistplay games regularly and want to earn more for playing video games, I'd recommend considering Mistplay as alternative to earn more money while playing games.
What Can You Get With Your Points?
---
Microsoft Rewards offers many possible redemption options, including Xbox Live Gold membership, Xbox Game Pass, Microsoft Gift cards, third-party gift cards, donations to charity, sweepstakes, travel, and more.
Some of the available gift cards include companies like Burger King, Amazon, Chipotle, REI, and other participating vendors. See the image below for some of the available options showing at the time of this writing.  All redemptions are subject to timing and availability.
Does Microsoft Enforce Minimum and Maximum Payout Thresholds?
---
The minimum payout varies depending on the item being redeemed.  Also, the conversion ratio can change with time, availability, and item.  For example, some $5 gift cards cost 6,500 points while others can cost 4,800 points (a 1,700 point differential).
The minimums you will encounter include:
Most sweepstakes cost 200 points to enter and are awarded on a monthly basis
Upon sign-up for Microsoft Rewards, you have initial opportunities to earn sweepstakes entries for a $1,000 Microsoft Gift Card, a Surface Tablet, and other options
To redeem points for a Microsoft gift card, you can pay 1,600 points (with a Level 2 membership) for $1.25 or 1,700 under Level 1
Skype rewards which allow for account credits as low as 900 points or unlimited for 2,800 points
Donate 1,000 points to charity (worth $1)
And for maximum thresholds:
You may redeem gift cards to your Microsoft account, up to a total of $1,000 per day. If multiple accounts are registered in your name or Microsoft has determined you created, you may redeem a gift card up to $5,000 on a given day, but not more than $1,000 per account.
At any given point, the maximum amount of monetary value you can store in your Microsoft account is $1,000 with the same $5,000 caveat across multiple Microsoft accounts
For maximum thresholds by country, see the following chart.
| Country | Maximum |
| --- | --- |
| Australia | AUD1,000 |
| France | EUR250 |
| Hong Kong | HKD8,000 |
| India | INR50,000 |
| New Zealand | NZD5,000 |
| Singapore | SGD1,000 |
| Switzerland | CHF3,000 |
| Taiwan | TWD10,000 |
Related: 15 Best Debit Cards for Teens to Become Money Savvy
Microsoft Rewards Pros and Cons
---
Pros:
Earn points by doing tasks you're likely already performing, just use Microsoft products (e.g., if your default browser is Microsoft Edge and search engine is Bing, it makes sense to get rewarded)
Easy to earn points through Bing searches, quizzes, trivia, and other offers
Using Bing search isn't necessary, though it is a lucrative method for earning points
Program participation is free and does not require your personal information on various tasks
More participation yields higher benefits (Level 1 vs. Level 2)
Better than taking online surveys and possibly receiving a gift card because program is low effort without a catch
If an avid Xbox user, regular program participation will land you free Xbox Live Gold, Xbox Game Pass for life
Available in 21 regions and 13 languages
Points redeemable for third-party gift cards like the ones pictured above (subject to change and availability)
Points can be used to redeem gift cards, Xbox Live Gold, Xbox Game Pass, Microsoft Movies & TV
Microsoft Movies & TV
Cons:
As a counter to the pros listed above, to earn points rapidly, you'll need to use Bing Search over competitors (i.e., Google)
No affiliate program offered through Microsoft for enrolling others
Only available in participating countries and regions
What are Xbox Rewards?
---
As described more fully above, Microsoft Rewards is a customer loyalty program which gives you the opportunity to earn rewards for doing the things you already do with Microsoft products.
Some common examples explored already include searching the web with the Bing search engine and using the Edge web browser as well as buying games and apps.
In 2018, Microsoft transitioned Xbox Live Rewards (commonly called Xbox Rewards) into Microsoft Rewards, the subject of this post.
If you participated in Xbox Rewards in the past, you will still be rewarded for many of the same things you did in the past on your Xbox, such as purchasing game, movie, and TV shows through the console.
Now, you will also be rewarded for Bing searches and other online purchases through the Microsoft Store.
What if I Experience Problems with My Microsoft Rewards Account?
---
If you have trouble seeing an accurate multiplier on your account (20 points per dollar spent), Microsoft points not registering, or other odd account behavior, make sure you have gone through the Microsoft Rewards or Xbox sign in process.  To access your Microsoft login, check here. 
You may have to correspond with Microsoft through an MSN Hotmail account which has been migrated to the company's Microsoft Outlook program if you have your mail come through those services.  However, if you're like me, I have a non-Microsoft email account and have my Microsoft Account run through that email address.
If you still have problems, you may need to contact Xbox support online, call the Microsoft support number at 1 (800) 642-7676, or reach out to the dedicated Xbox support Twitter account (@XboxSupport) if you're more inclined to reach out through social media.
If you need an explainer on how the Microsoft account password reset process works, check out this quick tutorial.
Be sure to tell them about the issues experienced with your Microsoft account and how it is impacting your Microsoft Xbox account and/or Microsoft Rewards account.  The company should be motivated to solve your problem.
Conclusion
---
The Microsoft Rewards program offers valuable benefits to regular users of Microsoft products.  The program serves as a manner to build its products ecosystem and maintain customer loyalty.
The free points make many products free or reduced in price and also qualify for multiple third-party gift cards.  Take the money and run!
In essence, this is a way to earn passive income and open up entertainment options to make reaching financial independence more enjoyable.
If you find yourself looking for more quality entertainment options for less and within the confines of a personal budget created in Excel (another Microsoft product), I'd strongly recommend participating in Microsoft Rewards.
Begin your Microsoft Rewards participation and take steps toward living a Millennial retirement today.
---
For other ways to save money, also consider reading:
Readers: How have your experiences in the Microsoft Rewards programs gone?  Do you like it? Dislike it?  What tricks have you developed to maximize your rewards opportunities?