MoneyPatrol Personal Finance App
---
If you share a similar situation to my wife and I, organizing your finances into a complete picture can prove a daunting task.
Each month, we review our finances by pulling account balances from numerous places into a single budget we created in Excel. The process consumes a lot of time and often results in transposition errors as we transfer numbers from various account statements to our budget.
We have searched for an easier solution to overcome this problem and think we may have found it with the all-on-one budgeting app called MoneyPatrol (formerly AccountPatrol).
In sum, MoneyPatrol acts as an advanced money tracking, monitoring, alerting and budgeting tool which:
Securely monitors your numerous financial accounts,
Easily tracks your spending across multiple auto-bucketed categories,
Manages your personal finances in one powerful dashboard
This MoneyPatrol (formerly AccountPatrol) review goes over the product's primary details, including account views, alerts, notifications, and financial insights about your personal finance behavior.
What is MoneyPatrol?
---
MoneyPatrol acts as an all-in-one budgeting tool which actively monitors your accounts and maps out your spending, saving, and financial decisions to provide alerts, notifications and financial insights about your money activity.
MoneyPatrol works by using an artificial intelligence (AI) engine which diligently monitors and analyzes financial transactions occurring in your various linked financial accounts.
To get the full effectiveness of the app, you will need to link all of your accounts or it cannot track your full financial picture.
From there, based upon your actions, MoneyPatrol then provides timely alerts, as well as notifies and shares insights with you regarding money trends, patterns and anomalies the software observes.
If MoneyPatrol sees something amiss, it will observe this irregular activity and inform you through an alert.
This software app aims to empower users to make better financial decisions in real-time and improve your financial trajectory toward financial independence.
To make this process easier, MoneyPatrol provides ready and easy access to its advanced money dashboard both through the web and mobile app platforms (iOS and Android).
For those interested in demoing their service can choose to enroll in a free 15-day demo and then elect to pay $84 upfront for the first year ($7/month) if they would like to continue using the app.
The company intends to offer a monthly payment plan in the future.
Now, let's explore some of the key features MoneyPatrol provides to its users.
What are the Key Features of MoneyPatrol?
---
→ Organize Finances
---
MoneyPatrol allows users to connect all of their bank accounts, credit cards, loans and investment accounts to see and manage all their finances in one place.  This provides a fully-informed view of your financial picture and is useful for building wealth over time.
→ Monitor Transactions
---
The budgeting app provides users the ability to see their transaction history across multiple accounts as well as the power to verify the transactions.
This serves as a control for checking each transaction and helps to empower the user to pay close attention to each and every transaction. This can assist in preventing identity theft and for building good credit across time.
Monitor Your Credit for Free
→ To take this action further, consider registering for a free credit monitoring service like Credit Sesame or Credit Karma.
While both services are free to the user, the Credit Sesame also comes paired with $50,000 of identity theft insurance to add additional protection against identity thieves on the hunt for financial information.
→ Receive Alerts and Insights
---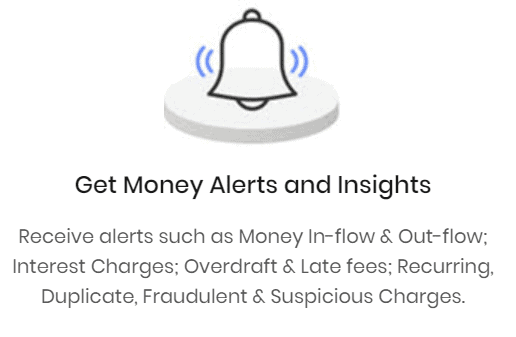 Registered MoneyPatrol users will receive text message alerts in addition to emailed insights about their transactions, expenses and income logged in the platform.
Having these communication options enables users to stay abreast of real-time actions affecting their finances.
→ Create and Manage Budgets
---
To improve something, you must first measure it.  One of the most reliable methods for accomplishing this in personal finance comes from establishing a regular budget and review process.
MoneyPatrol simplifies this process by allowing you to create and manage monthly budgets easily through tracking in various categories and with multiple merchant tags.  This assists monitoring your spending at a monthly level.
Closely related to the previous MoneyPatrol feature, as you make transactions and your spending goes over established budget thresholds, the app will send you Account Alerts to make you aware of the transaction's impact.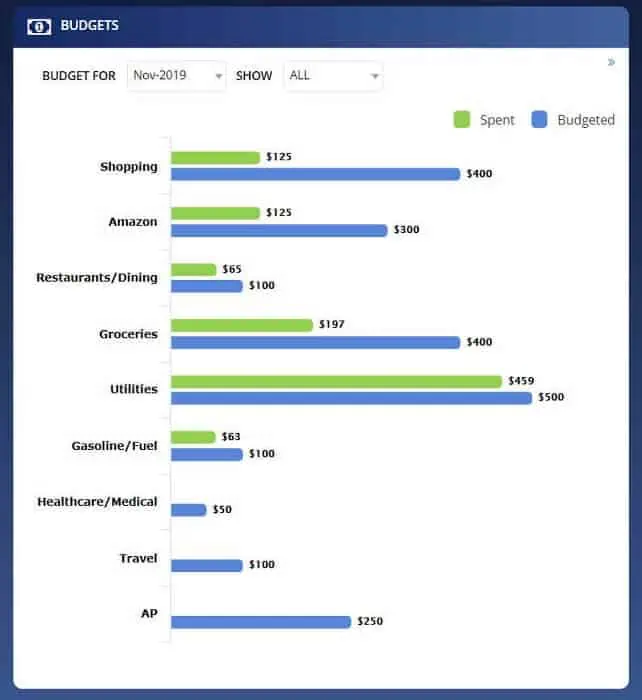 Level Up Your Personal Finances
→ Consider taking this control one step further by pairing MoneyPatrol with a debt management app like MeetTally, an automated debt management tool which makes it easier to save money, manage your credit cards, and pay down debt balances faster.
→ See more of the best financial apps which would pair well with MoneyPatrol.
→ Set and Receive Bill Reminders
---
When using the MoneyPatrol app, you have the power to create custom recurring Bill pay reminders for items like paying your student loans, mortgage, rent, credit cards, and more.
For those interested in this useful feature, they can receive an alert 2 days in advance, in the hopes of providing sufficient time to act and avoid any late fees which might come from paying late.
This will assist in keeping you on top of your payments, helping your credit score.
→ Track Investments
---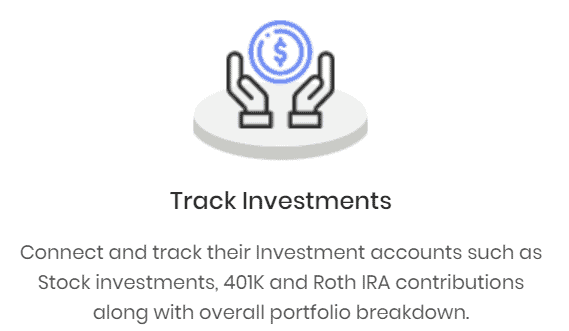 MoneyPatrol doesn't just handle information related to your bank accounts, credit cards, and accounts related to income and expenses, it also extends to the world of investing.
It acts as a monitor on your investment performance in your investment accounts like your individual retirement account (IRA), 401k, and other after-tax investments.
By seeing these accounts in one place, you can develop an easier sense of whether you have made financial progress over time.
Consider some of the best apps and services for automating your investment contributions by reviewing the information in the box below. You may also get some free shares of stock or sign-up bonuses as a special offer.
Personally, I recommend exploring investing in index funds as a means for storing your wealth because they provide diversification, lower fee structures than mutual funds, and also trade like stocks.
Consider reading this article on how to start investing money to learn more.
Ways to Invest Your Money
→ Look at these great companies like Webull for self-directed investing (and free stocks and a sign-up bonus) or M1 Finance for robo-advisor investing opportunities.
→ For the more experienced investors looking to diversify from stocks and equities, consider alternative investment options, investment ideas for young adults or even other passive income ideas.
→ Understand Money Flow
---
MoneyPatrol offers an easy-to-follow view into your monthly cash flow (pictured below).  The company provides a breakdown of monthly cash in from income sources, as well as monthly cash out-flows towards items like expenses.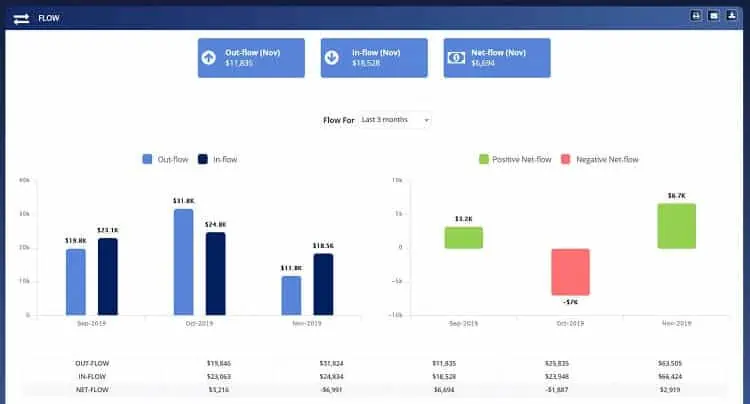 Using this view, you can prepare for a savings strategy going forward.  Understand your monthly cash flow so you can time when you should move money into savings without running the risk of having an account overdraft fee.
Trust me when I say how hollow it feels to move money into a savings account prematurely only to have forgotten about a bill coming due, forcing you to withdraw that very same savings contribution.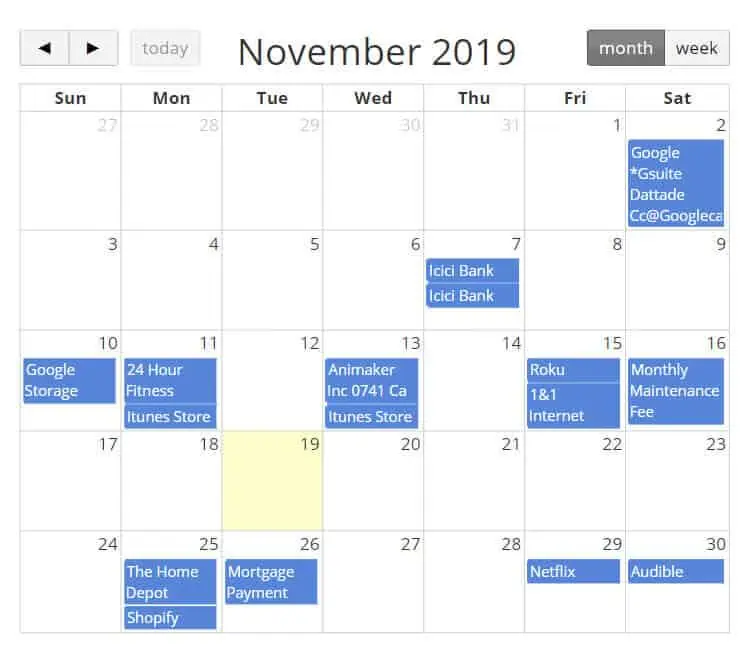 With MoneyPatrol's cash flow tracking and bill calendar views, you won't be caught off guard again for when you should pay bills without incurring late fees.  You can say goodbye to late fees.
How to Manage Your Utility Bills Better (and Greener!)
As a tip for managing your utility bills, saving the environment, and also earning rewards credit card points, consider enrolling in a service like Arcadia Power.
Arcadia allows you to pay your power bill with no credit card fees and also to earn your rewards points. Previously, I had no way to pay my electric bill with a credit card and often ran the risk of being late with my bill payment.
Now, Arcadia Power auto-bills your credit card without fees, monetizing your utility payments and earning valuable rewards credit card points.
→ Help the environment and avoid utility late fees with Arcadia Power.
→ Track Loans
---
Finally, MoneyPatrol helps with tracking your loan payments across time.  The service allows you to track all of your loans to understand your liabilities and payments on them better.

Is MoneyPatrol Safe and Secure?
---
I don't intend to mince words with this general word of caution about providing your financial account login credentials with any person or service: maintaining your information in a secure manner is paramount.
Personally, no matter the level of benefit advertised, if I knew a system offered poor cybersecurity controls to guard my data, I wouldn't proceed.
However, because much of our lives now take place on the internet, much of our connection to the outer world occurs through our smartphones and computers.
Because this trend does not look to reverse any time soon, we must take extra precaution to understand the risks involved with doing business digitally and also how to keep our information safe and secure.
With MoneyPatrol, the company uses many industry standard best practices to protect your data with controls like:
Multi-Factor Authentication
Secure, military-grade 256-bit encryption
MoneyPatrol doesn't store bank account and brokerage credentials on their servers
Data not shared with any third-parties
Never share any personally identifiable information like SSN, Name or Address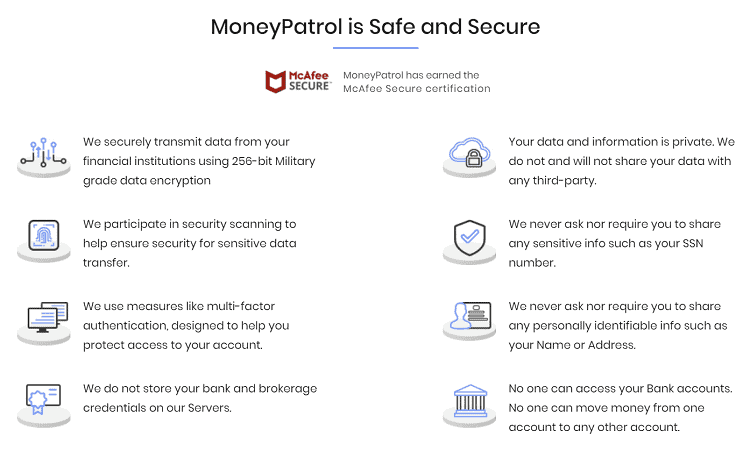 As an externally-certifiable data point, MoneyPatrol has earned the McAfee Secure certification, meaning the cybersecurity company found no malicious links or malware, no phishing attempts, and the use of an industry-standard SSL certificate.
Which Financial Institutions Does MoneyPatrol Work With?
---
Once you start your free 15-day trial, you will have the ability to connect accounts from over 15,000 U.S. and Canadian financial institutions, including access to your checking, savings, debit cards, credit cards, mortgages, investment, and student loan accounts.
As soon as you connect your accounts, the app will create your customized dashboard and begin sending you alerts and insights via text, email or your dashboard.
To prevent notification overload, you have the ability to throttle the communication and set thresholds and alert criteria for receiving your notifications. This allows you the flexibility to decide when (and how!) you want to be alerted by MoneyPatrol.
How Does MoneyPatrol Compare?
---
For a quick rundown comparison of how MoneyPatrol compares to other leading budgeting and personal finance apps on the market, see the graphic below.  As you can quickly see, in many respects, MoneyPatrol offers a significant level of functionality.

Conclusion on MoneyPatrol
---
MoneyPatrol offers a multitude of tracking, alerting, and trend analysis features.  Further, it provides a comprehensive view of your financial picture by incorporating account activity, balances and visualizations on a customized financial dashboard.
MoneyPatrol offers a 15 day free trial and then the service costs $84 upfront for the first year ($7 / month). Based on their bill tracking and cash flow projection features, by paying your bills on time and avoiding late fees, the service could pay for itself.
Finally, MoneyPatrol's website claims users have "reported an average of $5K+ positive impact on their personal finances." If so, this makes the annual $84 account fee a worthwhile investment.
Final assessment of Pros, Cons and Cost:
Pros: Mobile app is available for iOS and Android and also provides for an online desktop application. Offers a Document vault for uploading receipts and tracking expenses (useful when pairing with the best tax software).
Cons: Higher price point than other budget tools on the market (e.g., Mint, Empower)
Cost: Free trial for 15 days, then $84 upfront ($7 / month; no discount for annual pricing)
Start Your Free MoneyPatrol Trial Today
If you found the review helpful for learning more about MoneyPatrol, consider starting a 15-day free trial and giving the service a chance to organize your personal finances.  Perhaps you may even find the improvement to be in line with the claims made by the company on their website.
→ Start your free MoneyPatrol trial by clicking this link.