It's never been easier to invest in the market thanks to commission-free trading apps.
Public.com counts itself as one of those investment platforms by offering not only commission-free stock trading but also unlocking an experience of content and community, contextual to their portfolio.
The unprecedented transparency and community development the app brings to investing might just make the Public investing app the future of investing for young people.
They might be inclined toward joining a community of support and encouragement, pushing folks to accomplish their investment objectives and ultimately practice better money management.
The platform offers many benefits that are not available on traditional brokerage accounts, including investing in fractional shares and public portfolios where you can see what other people are buying, holding, or selling.
To learn more about Public and its aims of helping people become better investors in the stock market by making it easy to learn and grow, keep reading to learn if Public is for you.
About the Public App
---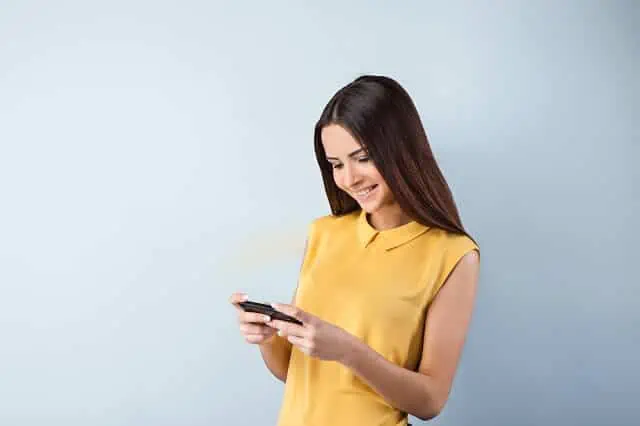 Public.com is a commission-free stock trading app founded in 2019 after early development and funding. On Public, members can build a diverse portfolio of stocks, ETFs and crypto within a single platform.
In an attempt to appeal to younger investors less likely to have ample loads of cash to invest day one or on an ongoing basis, the company doesn't require minimum deposits or maintaining a minimum account balance for users to start investing with the platform.
The app allows you to make commission-free trades in line with other shares you can purchase on other investing platform options but it doesn't choose to accept Payment for Order Flow ("PFOF").
Discussed more below, PFOF essentially acts as a way for online discount brokers to earn compensation for routing your trade orders to third-parties when executing your trades.
Famously, apps like Robinhood drew scrutiny around the practice of PFOF because of the conflict of interest it creates between brokerages and users, including incentivizing users to trade more frequently.
Public decided to break with the PFOF-centric business model early on, because it says this better aligns its incentives with those of its customers for the long-run.
After seeing the possible conflict of interest in this business arrangement, Public decided to break with this business model and install a "Tipping" system instead.
This effectively works like optional brokerage trading commissions model you can pay for placing a trade through their platform.
There's also a social media or community cornerstone to Public. The platform gives members the option to share their investment ideas and portfolios, helping to promote transparency about what you and others invest in and why (hence choosing "Public" as their name).
Further, it provides this info in a social media-like feed, similar to what you might see in apps like Venmo where transactions between friends post publicly for all to see.
This investing social network, or social investing app, gives you and everyone else an idea about what gets held in each other's portfolios.
You can follow influencers and analysts who have tens of thousands (or more) followers on the app to read their messages, track their trades and see their thoughts (if provided).
And if they buy a decent sized-stock (from a price per share perspective), you can take advantage of another major feature enabling Public's accessibility: buy fractional shares (the app calls them "stock slices" or simply "slices").
This works the same way it does on any other micro-investing app: you can purchase less than one share of stock.
This works quite well if you're drawn to a stellar company with a high per share price but you find yourself unable to buy in until you save up enough to nibble on one share.
In a sense, Public works wonders for simplifying investing for beginning investors just learning how to start investing with small amounts of money. The last app able to accomplish this with remarkable feat is Robinhood.
Also like Robinhood, Public has a limited assortment of investment vehicles like stocks, ETFs and cryptocurrencies—admittedly fewer options than even Robinhood, which also offers options.
Some might see this as a drawback, but Public doesn't look to support these more sophisticated and less well-known investment vehicles. Unlike Robinhood or Webull, Public doesn't allow day-trading or more speculative investing products such as options or margin lending. Instead, it practices the motto of "Putting Investors First."
That means that aim is to put an easy-to-use app in the hands of millions, pushing them to invest for the first time without being overwhelmed by stock analysis tools, stock investment research websites, or other highfalutin investment products.
If you want simple, community-oriented interaction and an accessible app capable of letting any adult invest for the first time, Public.com might be an app to consider.
Let's learn more about this app in our Public review.
Public.com Features
Types of Investment Accounts
---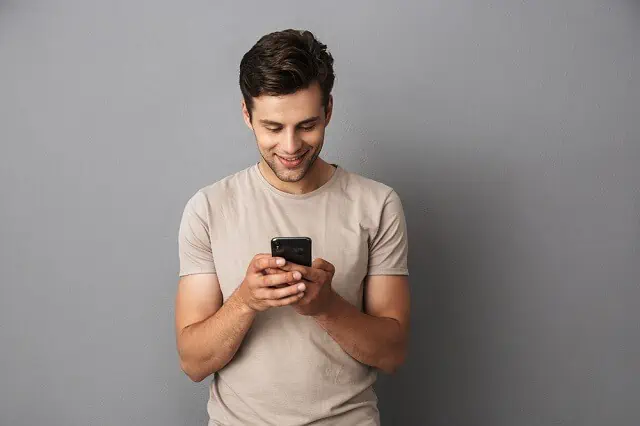 You can open a taxable brokerage account and a savings account with Public.com. Currently, no IRAs are available. The vast majority of Public members consider themselves long-term investors. You can invest in both stocks and ETFs.
Public does not offer a checking account, savings account, debit card or credit card at this time. Future services may come available which offer these banking products to have Public serve as an all-in-one financial platform.
Investment Options
---
If your main focus is on day trading, Public isn't the best fit for you as there is no option trading and no penny stock trading.
At this time, there also aren't investment choices for mutual funds, bonds, forex, or futures. Your investment options are limited to stocks (fractional stock trading allowed), ETFs and cryptocurrencies.
Minimum Investment
---
Public requires no minimum deposit. It's free to get started.
Commission-Free Trading (No Trading Fees)
---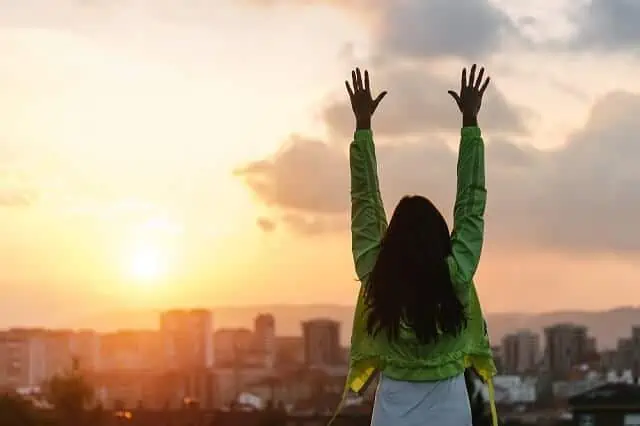 Public initially joined the Payment for Order Flow (PFOF) revolution common among many commission free stock trading apps, but abandoned the model in light of the Robinhood GameStop stock market mania in early 1Q21.
Now, instead of PFOF, Public has your trade routed directly to exchanges. This removes any conflict or interest between customers and brokers.
Along with this change, the company has optional tipping. Members can choose to add a small tip to trades if they want to help with the increased costs of direct routing. Again, this is optional. Traders can choose to pay $0 commission on trades.
Free Stock for Signing Up
---
When you sign up for the Public investing app, you can claim a free stock once your account is approved. The free stock will have a value of up to $20 and what you receive (and the amount it is worth) is random.
If you sign up through a referral from a friend, your free stock may be worth up to $70.
Refer Friends for Free Stocks
---
Both the "referrer" and the "referee" can receive a free stock, valued up to $70, when an existing member invites a new member who opens a qualified account. There are nine different stocks users can choose among once the account is approved.
You must keep the value of the free stock in your account for at least 90 days. You can then keep it longer if you expect it to grow more in value or you can withdraw it. A single member can earn up to $500 through this program.
A Community of Investors
---
The Public app is aptly named because of the public, social elements that put a community alongside the brokerage. Investors can opt into the social element to share their own activity and see other people's portfolios, including portfolios created by industry experts.
This transparency is useful for investors of all levels, especially beginners.
Members can also create chat groups with family, friends, or other community members. They discuss the stock market and investing becomes highly social.
Dividend Reinvestment
---
Some companies pay dividends to their investors. When you use Public as your investing app, you have the option either to keep those dividends in your account balance or automatically reinvest them into the same company (commission-free).
Public Investor Profiles
---
Profiles on the Public Investing App are public, meaning anyone can view another person's profile. If you choose to, you can connect to your phone's contacts to see if anyone you personally know is already on the platform. You can also choose to make your profile private.
You can also search and discover investors with similar interests and follow them. There are some "certified" profiles that are popular and can supply investors with new ideas, expert content and inspiration as well.
You can choose to make your profile private.
Themes
---
Public has organized their stocks into a variety of categories or "Themes." Some of the themes include (but aren't limited to):
Crypto Revolution
Women in Charge
Diverse Leadership
Sports
Food Delivery
SaaS Companies
Combat Carbon
Above is just a small sample of the Themes you can browse. Clicking into any theme will give you an explanation of what the theme is about and a list of stocks that fit the Theme.
For example, if it's important to you to support public companies who have women in leadership positions, clicking Women in Charge will show 51 public companies with female CEOs, such as Poshmark, CVS Health, and Honest Co.
You can click any of the stocks to learn more about the company, its current stock price, price targets, and more.
Fractional Shares Investing
---
You can purchase fractional shares, called a "stock slice" or "share slices" on the Public investing app. This means that you can own part of any available company you believe in—no matter how expensive the stock price.
Other investing apps that allow fractional sharing usually require you to go into a purchase window to see how much of a stock you can purchase.
Public makes the process easier by having a Fractional Shares Calculator. You can type in the ticker symbol of a stock you're interested in (or start typing the company name) and how much money you plan to invest. Public.com will tell you what fraction of the stock you can purchase.
Related: 8 Best Fractional Share Brokerages to Buy Partial Stocks & ETFs
Education With Town Halls & Public Live
---
A unique feature of ownership on the Public app is the educational content and in-app programming.

Town Halls
These are live community AMAs with public company leaders, where Public community members can ask their most burning questions. Members can submit questions in advance to be answered live at the Town Halls.
Usually, these events are scheduled a month or two in advance. You can read previous Town Hall conversations on Public.com's website.
Public Live & The Open
Business news moves so quickly that it can be difficult for investors to keep up. Every day in the public markets, companies IPO, report earnings, change leadership, launch products and make moves that investors care about and want to discuss with one another.
Public Live is an in-app audio broadcast feature that gives members direct access to business leaders, financial creators, and industry experts as events in the market unfold in real time.
And the daily morning show, called The Open, unpacks the biggest headlines before the opening bell everyday at 9:15am ET.
Safety Labels & Volatility Reminders
---
Members have complete control over what stocks they choose to buy. The Public app does not provide investment advice, but it will warn members about potentially risky investments. Before buying a potentially risky stock, the order flow has an extra step that shows a Safety Label.
A Safety Label may be attached to a stock if the company has recently filed for bankruptcy, it has a very small market cap, it is a leveraged or inverse ETF, or it's experiencing elevated volatility. Members can still buy a stock that has a Safety Label as long as they are aware of the risk.
Volatility Reminders act as an extension of the Safety Labels Feature, which flag potentially risky stocks as per the SEC. This includes micro-cap stocks, leveraged ETFs, bankrupt companies and highly volatile meme stocks.
Account Protection
---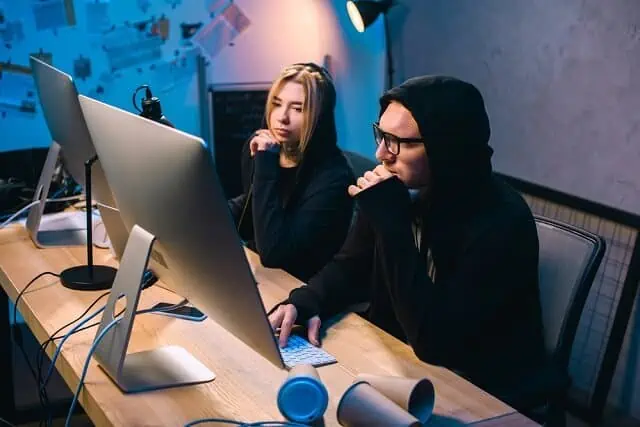 Public works to protect your account through AES 128-bit encryption and TLS 1.2 to secure data in transit, protecting your data from cyberattacks.
Further, Public maintains SIPC insurance worth up to $500,000 for all user accounts held in their brokerage account.
This doesn't protect against market risk or loss of your principal, but it does provide protection for the amount of money held into your account against the financial failure or Public up to $500,000.
No Payment for Order Flow (PFOF)
---
Most free stock trading apps have survived the removal of commissions largely through monetizing their users' trading activity.
They accomplish this through Payment for Order Flow ("PFOF"), which according to SEC Rule 606 and 607, they must disclose payments received through a quarterly report from the company's clearing house on all non-directed orders.
In this case, many commission free stock trading apps use Apex Clearing to route non-directed orders placed by their users.
Apex sends certain equity transactions to exchanges, electronic communication networks, or broker‐dealers during normal business hours and during extended trading sessions.
Instead, Public relies on an optional tipping model which users can append to trades. These are optional but replaced PFOF as a revenue stream for Public. You can view how Public makes money here.
You can choose to tip by hitting the "+" sign until reaching the tip amount you'd like to provide and submitting it. This then gets deducted from your buying power shown in your investor dashboard.
This happens separately from orders nor does it change the prioritization or status of your orders. The company says tipping is up to you as well as much you can provide.
The minimum you can provide varies by dollar value of your order while the maximum available is 5% of your order value.
What We Like About Public.com (Public Pros)
---
No account minimums. Public.com doesn't require a minimum deposit and there isn't a minimum balance you need to keep in your account.
Active investing community built with engagement and transparency. Members' investments are public and you can discuss with other members about investment topics.
No commissions but also PFOF-free. There are no trading fees at all. Members have the option to tip if they want to, but it isn't required. Further, they don't have an inherent conflict of interest for routing orders to market makers instead of directly to an exchange.
Fractional shares. The Public app allows you to buy "stock slices" rather than an entire share if you don't have the funds or desire to buy a full stock.
Great customer service. There are several options for contacting Public.com staff. You can email them, use the live chat (with real humans), or reach out on social media.
What Public Can Do Better (Public Cons)
---
Custodial accounts. Currently, the Public investing app doesn't have custodial accounts available. Minors can still download the app and try the inactive version to invest in stocks of their favorite companies. They won't be able to trade stock shares, but they can follow investors, track stocks in the app and learn about the stock market.
Add a web-based view or desktop app. There is no option for trading with Public.com outside of the mobile app.
Quicker deposit clearing. It can often take up to five business days for bank deposits to settle in members' accounts. Debit card deposits are instant, but are limited to $1,000 per transfer.
Who is Public.com Best For?
---
Beginner investors. While traders of any experience level can learn from seeing what experts are investing in, this transparent aspect of the Public app is particularly useful for beginners. Being able to buy fractional shares is also beneficial to investors who don't feel confident buying a full, expensive stock or ETF right away. Public.com's motto is "Everyone's an Investor."
Investors who want a community element and connection while investing. The Public investing app gives users a way to discuss investments with others—from friends and like-minded individuals to those with different views and strategies.
Long-term investors. If you're looking for day trading, the Public investing app isn't for you. Most Public.com investors invest long-term and it's best used for long-term investments.
Investors with minimal money to start or contribute regularly. There is no minimum deposit required, no minimum balance members need to maintain, and fractional shares can be purchased.
How to Open a Public App Account
---
To get the ball rolling on your account:
Visit the Public Investing App Home Page
Enter your phone number to have a download link texted to your phone
Download the app in your relevant app store (Apple App Store or Google Play Store)
Create an account with your username and password
Connect your bank and make a deposit to invest in stocks and ETFs! (Receive your free stock)
Upload a profile photo so your friends can find you easily
Check out some of the stock themes to get a sense for the kind of companies you'd like to watch and own
From there, Public suggests following a few people and checking out their portfolios to get a sense for how the community works.
Public App Review
---
Public.com is a one-of-a-kind community-oriented investment app for beginner investors to learn from others, avoid paying trading commissions and have access to nearly any stock for as little as $1 through a "stock slice."
You can invest in the stocks of companies you admire and like, even stocks you liked as a kid.
Inside the Public member community, users can:
Encounter many different perspectives and rationales for buying shares in several companies' stocks, ETFs or cryptocurrencies.
Engage with others eager to share their insights and thoughts around portfolio-building.
Share their investments and portfolios (optional setting) for others to discuss and learn from.
Tune into innovative in-app programming, like Town Halls, Public Live, and The Open.
And while you can see trades made in a social media-like feed with comments, questions and other thoughts from followers, be cautious to let influencers sway you into investing in something you don't like.
And when you trade, you can know there's no conflict of interest on Public's behalf as they don't accept PFOF. Instead, they make money through tipping, securities lending, interest on cash balances and possibly subscription fees on services they might someday offer.
Because the company comes backed with venture capital funding, they prioritize growing their community of investors and providing a unique service to them—without conflicts of interest.
If not accepting PFOF and keeping an eye on making markets fair and balanced for the everyday investor are important to you, then you might consider Public. You might even reason this is the future. This is the way. This is for you.
Public.com | Commission-Free Themed Investing
Basic: Commission-free trading. Premium: $10/mo.
Public.com offers zero-commission trading on thousands of stocks and ETFs, available as fractional shares. The app also allows you to invest in cryptocurrency, and it's one of the rare brokerages that allows its users to buy alternative assets.
Uses a social feed where members can share why they believe in certain companies (or don't) and can post comments on others' trades.
Can invest in curated lists of stocks and ETFs for people to aggregate investments by interest area or values.
Subscribe to Public Premium for features such as advanced company-level data, Morningstar insights, and exclusive audio content from Public.com's expert analysts.
Special offer: Transfer investments from another broker to Public.com and earn between $150 and $10,000.*
Pros:
Fractional shares

Allows you to trade alternative assets

No payment for order flow (PFOF)

Creative social investing features
Cons:
Doesn't support mutual funds

Limited investment research and other tools
* Users will earn a cash credit of $150 for transferring $5,000 to $24,999; $250 for transferring $25,000 to $99,999; $600 for transferring $100,000 to $249,999; $1,000 for transferring $250,000 to $499,999; $2,000 for transferring $500,000 to $999,999; $4,000 for transferring $1,000,000 to $4,999,999; and $10,000 for transferring $5,000,000 or more. Offer valid for U.S. residents 18+ and subject to account approval. There may be other fees associated with trading. See public.com/disclosures/.
Public.com Alternatives
1. Webull
---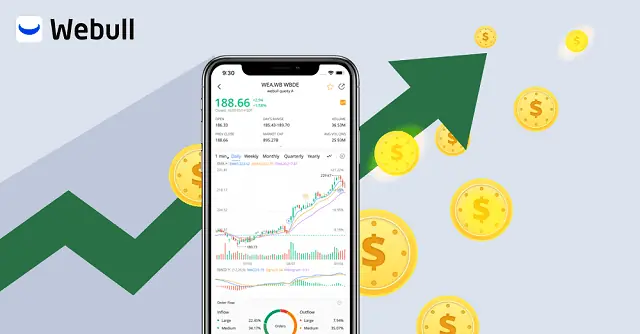 Available via desktop, Apple iOS and Google Android.
Webull came into the stock trading world in 2018 when it started challenging Robinhood for market share. This stock trading app offers stock purchases without trade commissions as well as free trades on ETFs, options and cryptocurrencies.
Like most investing apps available, the company provides access to trade on your smartphone, tablet or desktop.
Webull makes money not on trades, but on other actions you take. It accepts Payment for Order Flow (PFOF), margin loans, interest on cash balances and service fees for their Nasdaq TotalView Level 2 Advances quotes subscription.
Webull also provides you access to several powerful tools you can use for in-depth trading analysis. These services easily make the service one of the best stock research and analysis apps for conducting technical analysis.
If these account features sound attractive, the best part might also come with knowing setting up a Webull account is free and comes with no account minimums you must meet or maintain.
Read more in our Webull review.
Commission-Free Self-Directed Investing App
Webull | No Minimums, Free Trades
Webull is a low-cost trading and investing app that allows you to invest in stocks, ETFs, options, and crypto, and participate in initial public offerings (IPOs).
Commission-free trades on stocks, ETFs, and options.
Trading features include charting tools, technical indicators, customizable screeners, real-time stock alerts, and group orders.
Let Webull manage your money for you with Webull Smart Advisor, which combines Webull's in-house investment expertise and artificial intelligence to build, manage, and rebalance an ETF portfolio for you.
New users also get one free month of Nasdaq TotalView's Level 2 Quotes service. (That subscription costs $2.99/mo. thereafter.)
Sign up for Webull Cash Management to earn a 5.0% APY without fees or minimums.
Special offer: Open an account and deposit any amount to receive between 6 and 12 free fractional shares, collectively worth between $18-$36,000.*
Pros:
Good selection of available investments

Fractional shares

Powerful technical analysis tools

Offers robo-advisory services

Accessible to beginning and intermediate users

Voice commands

Offers highly competitive APY through Webull Cash Management
Cons:
Does not support mutual funds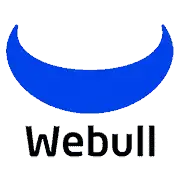 * New users will randomly be assigned six, 10, or 12 shares. Each share will be worth between $3 and $3,000 each.
2. SoFi Invest
---

Available via desktop, Apple iOS and Android App on Google Play.
SoFi Invest is an application that allows you to track stocks and trade your money. The well-known brand in the personal finance space recently entered into the investing world by offering free trades on stocks, ETFs, cryptos and more.
The service provides you the ability to trade actively or stand back and let its automated investing tools takeover. Therefore, this application might make a good place to hold your investment accounts because you'll have options of how to invest money.
The company wants to serve all customers who have an interest in improving their financial situation alongside participating in their other personal finance products like refinanced student loans, money management, credit cards and more.
SoFi Invest | Free Active + Automated Investing
SoFi Invest allows you to trade or invest in stocks, ETFs, and options with no commissions and no account minimums. You can also invest in cryptocurrency and participate in some initial public offerings (IPOs).

Invest for as little as $1 with fractional shares.

Free robo-advisory services, including goal planning and auto-rebalancing.

Special offer 1:

Fund a new account with at least $10 within 30 days of opening an account, and receive $5, $10, $25, $100, or $1,000 worth of stock. (Prize level awarded at random.)

Special offer 2:

You can receive up to $100 in Bitcoin when you make you first cryptocurrency trade with SoFi.*
Pros:
Good selection of available investments

No options contract fees

DIY and automated investing options

Fractional shares
Cons:
Doesn't support mutual funds

Limited trading tools

Higher-than-average cryptocurrency trading fees

No tax-loss harvesting

No socially responsible robo-advisor functionality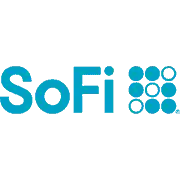 * Users will receive a $10 bonus for a first trade of $50-$99.99, $15 for $100-$499.99, $50 for $500-$4,999.99, and $100 for $5,000-plus.
3. M1 Finance: Best Robo-Advisor Stock Investing App for Beginners
---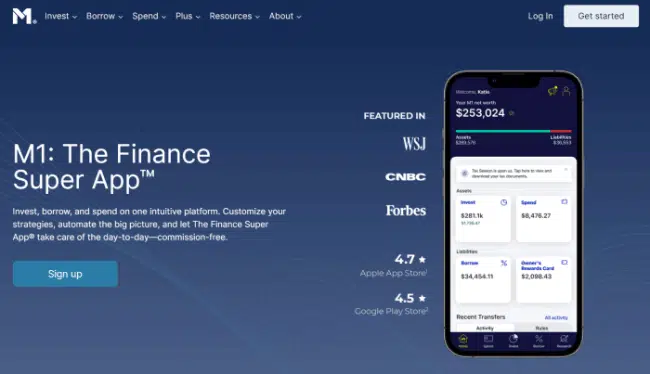 Available via desktop, Apple iOS and Google Android.
M1 Finance offers free stock trading but also provides automated investing according to your predetermined investment decisions as this site's top robo-advisor pick.
What we like most about this application is the ability to make recurring deposits that automatically get invested into your portfolio.
M1 Finance acts as a singular personal finance platform to assist with building wealth through automating your investments into diversified portfolios, having a bank account and linked debit card that provide market-beating interest rates and have access to valuable personal finance literature.
Most importantly, investing with M1 Finance can be as simple as depositing money, setting your stock and index fund selections and having the platform automate your investments on your behalf.
You can invest in income-generating assets like dividend-paying stocks to receive passive income and even have them be automatically reinvested.
I've said it before, but this truly automates your investments if you set up recurring deposits, allowing your wealth to build.
From there, M1 Finance automatically rebalances your portfolio in line with your stated asset allocation targets. Doing this at regular intervals has been shown to improve overall portfolio performance.
It does so by moving outperforming funds into underperforming ones, capturing a value effect over time as returns revert to the mean.
Consider opening an investment account with M1 Finance.
Read more in our M1 Finance review.
Our Self-Directed Robo-Advisor Pick
M1 Finance | Smart Money Management
Basic: Free. M1 Plus: $10/mo. or $95/yr.
M1 Finance's Smart Money Management gives you choice and control of how you want to invest automatically, borrow, and spend your money—with available high-yield checking and low borrowing rates.
Basic account includes an FDIC-insured checking account and an M1 Visa debit card that delivers 1% cash back.
Upgrade to M1 Plus and unlock perks including higher cash-back rewards on the M1 Owner's Rewards Credit Card, 5.00% APY from high-yield savings, ATM reimbursements, and 0% international fees.
Invest in stocks, ETFs, and cryptocurrencies.
Special Offer 1: Open a brokerage account and receive up to $500.*
Special Offer 2: Open an account and get 3 months free of M1 Plus**.
Pros:
Robo-advisor with self-directed investing capability

Attractive cash-back and APY opportunities with M1 Plus subscription
Cons:
Doesn't support mutual funds

Doesn't allow trading throughout the trading day (1 trading window for Basic, 2 for M1 Plus)

High cost for M1 Plus service tier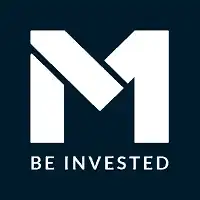 M1 Plus is a $10/mo. or $95 annual subscription offering products and services from M1 Spend LLC and M1 Finance LLC, both wholly-owned, separate but affiliated subsidiaries of M1 Holdings Inc. * You must make a qualifying deposit within 14 days. Deposit $10,000-$29,999 to receive $75. Deposit $30,000-$49,999 to receive $150. Deposit $50,000-$99,999 to receive $250. Deposit $100,000 or more to receive $500. ** Your free trial begins the date you enroll in the M1 Plus subscription, and ends 90 days after ("Free Trial"). Upon expiry of the Free Trial, your account is automatically billed an annual subscription fee of $95 unless you cancel under your Membership details in the M1 Platform.
Related Questions About the Public App
Do I Need a Phone Number to Download the Public App?
---
Yes. Public makes it convenient and secure to request your number for them to text a link to your phone.
You can download their app from the App Store or Play Store, but you will need to receive a code on your phone to activate your account on the Public app.
Why Does Public Need My Social Security Number?
---
Public operates in an industry with heavy regulation. Since passage of the 2001 USA Patriot Act, the Securities and Exchange Commission (SEC) requires all investment brokers to verify your identity, address and citizenship.
This means providing Public with your Social Security number in order to identify and prevent potential terrorists and money laundering from happening through your account.
Public Holdings Inc. encrypts all your personal information with AES 128 bit encryption, obscuring it from anyone attempting to access it who is not licensed by FINRA to do so.
How Do I Contact Customer Service?
---
You can contact Public.com over email at hello@public.com. They also have an in-app chat feature members can reach in the Settings menu. In-app chat is answered by humans Monday through Friday from 9 a.m. to 5 p.m. ET. They also have accounts on Facebook, Twitter, and LinkedIn.
Is Public Legit?
---
Yes. The Public Investment app is a real brokerage app and is SIPC-insured up to $500,000 for each account. Like with any brokerage, strategic investments can make members money. The app is safe and easy to use.
What are Public's Fees?
---
In most cases, Public doesn't charge commissions, but some advanced actions on the investing platform can cost money:
Broker-placed phone trades – $30
Domestic wire transfer – $30
Domestic overnight checks – $35
Returned checks or stop payments – $30
ACAT outgoing – $75
Paper statements – $35
Public Reviews
---
Apple App Store
4.7 stars out of 5 with 20,700 ratings as of this publication.
Google Play Store
4.6 stars out of 5 with 15,188 ratings as of this publication