Rental property bookkeeping can be a complex and time-consuming task. It involves a lot of forms and endless numbers on top of managing tenants. A rent ledger can help keep this information organized in one place.
This article will explain how to create a rent ledger, why you need a rent ledger, what information to include, and answer your other rent ledger questions.
For those interested in time-saving shortcuts, we'll also share a free rent ledger template and discuss software options that can automatically create landlord reports to use in place of a rent ledger.
What is a Rent Ledger?
---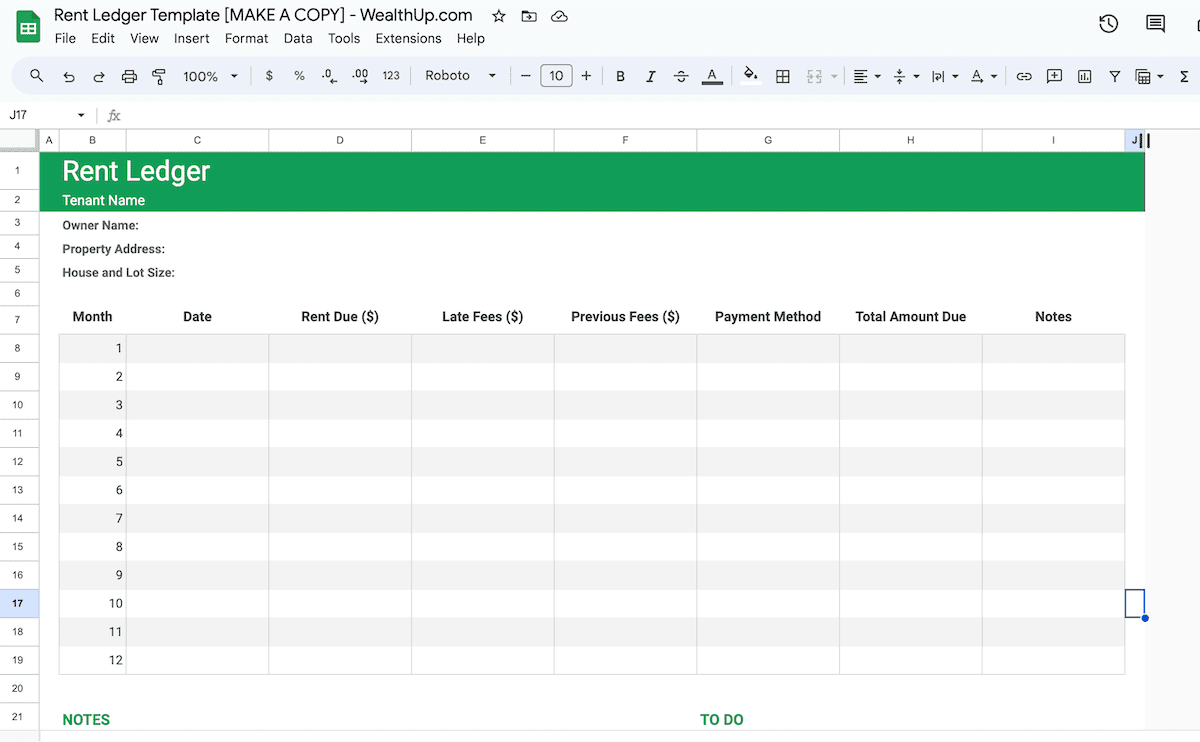 A rent ledger is a record of all the rent payments (revenue) and expenses for a rental property business. It's also known as a lease ledger, rental ledger, tenant ledger, or payment ledger.
With a rental ledger, you can get an idea of cash flow at a glance. In addition to rental income received and past-due payments, a rent ledger includes the security deposit amount, lease expiration date, and much more.
Why Are Rent Ledgers Important to Have for Rental Properties?
---
A rent ledger compiles key data for real estate investors, property owners, landlords, property managers, and tenants.
Investors
Investors can use a rent ledger to identify opportunities or issues with the cash flow a property generates. Reviewing long-term property trends will tell an investor if rental income is increasing, decreasing, or staying the same.
When a tenant moves out, a rental ledger will show if the unit is filled right away or if it's losing money on long vacancies. If a tenant's rent renewal is consistent, turnover for the rental unit will likely remain low.
A lease ledger that shows less rent income year-over-year could indicate poor property maintenance. Investing in some upgrades could attract better tenants willing to pay higher rents. We found by replacing dated appliances from one of our rentals spruced up the kitchen and drew in more interest from prospective tenants. Many of the other units on the market contained older appliances and we saw this investment as key to keeping the occupancy rate of our unit high.
Property Managers
A rental ledger can provide landlords and property managers with a summary of the rent payment status for each rental unit and lease agreement.
This makes it easy to see which tenants are up to date or behind on rental payments. Any tenants with an outstanding balance will have a record of non-payment that can help determine if they need a late rent notice or an eviction letter.
The lease end date will also be on the lease ledger. This serves as a reminder to ask tenants if they are going to renew their lease for another year.
WealthUp Tip: Typically, you want to begin these discussions at least 45 days before the lease is set to expire, both giving your tenant time to decide and for you to prepare your rental listing to find new tenants if they don't wish to extend the lease.
One upside to the tenant not renewing the lease? They're typically a good time to increase rent payments if they have fallen below the current fair market rate for long-term and short-term rental properties.
Related: Best Online Rent Payment Systems to Collect Rent On-Time
Residents
Sometimes, a property manager or landlord will provide tenants access to rental ledgers. A current tenant ledger will have a complete payment history of every security deposit and monthly rent payment that can be used as evidence against an illegal eviction.
A rent ledger can also help tenants prove they are reliable in paying rent when applying for rental property. A new landlord can look over their payment history on a tenant ledger faster than calling a previous property manager or landlord.
Related: How to Politely Ask Tenants to Pay Rent On-Time
Lenders
Banks, lenders, and other financial institutions often ask to see a rent ledger after they receive a request for a rental property loan. The lender will look at the rental ledger to calculate the net operating income (NOI), which is the amount left over from rent payments after the operating expenses have been paid (not including the mortgage).
Additionally, a rent ledger can determine the debt service coverage ratio (DSCR), which compares monthly mortgage payments to the rental property's NOI. Based on these calculations, the lender can decide whether to approve a rental property loan.
Related: Best Banks for Real Estate Investors + Landlords
How Do I Fill Out a Rent Ledger?
---
You could use a physical, handwritten rental ledger, but this increases the risk of incorrect entries or misreading messy writing—not to mention mental math mistakes for the totals. To make sure every tenant and roommate rent payment is accounted for, it's better to use a digital rent ledger.
Simply fill in the rental ledger when you're collecting rent every month (or not). For example, if a tenant misses a monthly rent payment, you would mark the outstanding balance on your payment ledger and any late fees that are due.
Alternatively, you might update it when rent payments hit your bank account. Be careful not to miss overdue payments if you're only tracking income received.
After a new tenant signs a lease agreement, add them to the rent ledger as soon as possible. Include any notes that may not be in the rental ledger. For instance, you might make a note of other fees for pets or parking.
If roommates pay rent separately (as opposed to a single payment for one unit), make a note of who has paid and who hasn't. It's always better to write it down than to try and remember it.
You can either create your own rent ledger, use a template like the one we have under the section "How to Create a Rent Payments Ledger", or use software that automatically generates reports.
Related: Should You Collect Recurring Rent Payments With Venmo, Zelle or PayPal?
What Information is Included on a Rent Ledger?
---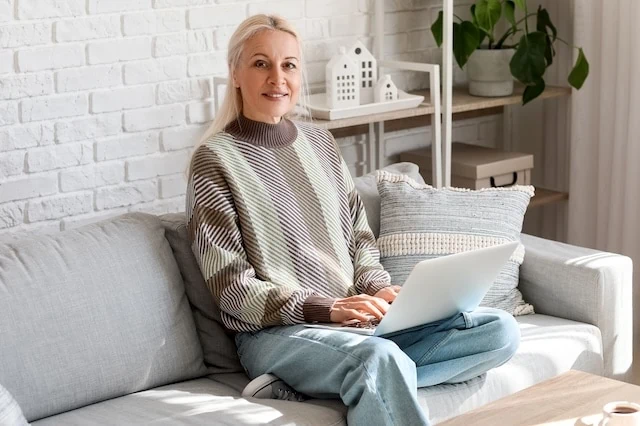 Your rent ledger doesn't have to look exactly the same as another landlord's rent ledger. Some landlords and property owners like simple ledgers, while others try to fit in as much information as possible.
A rental ledger will usually include the following information:
Property owner name
Monthly rent amount and due date (plus any other fees)
Date rent was last paid
Payment method (check, cash, ACH, etc.)
Security deposit amount
Type of rental property (single-family, multifamily, etc.)
Rental property address and rental unit number (for multifamily buildings)
Square feet of property and number of bedrooms/bathrooms
Tenant name(s)
Lease start and end dates
Any other relevant notes
Having all of this information in one location keeps you far more organized than having to shuffle through several physical or digital files any time you need to check on something.
Related: Best Rental Property Accounting Software
How to Create a Rent Payments Ledger
---
Usually, a landlord or property owner who creates their own rent payment ledger will use a spreadsheet application (e.g., Google Sheets or Excel). All relevant data categories will be listed in the top row or side columns, with blank cells for entering numbers.
Spreadsheets are helpful because they can do calculations for you. However, rather than trying to manually create a spreadsheet, you can use a rent ledger template like the one below.
Download Our Free Rental Ledger Template
Consider Free Automated Rental Property Tools Like Baselane
---
Another option is to use software that can build a report similar to a rent payment ledger. Baselane is a rental property management platform that can automate reports for any type of tenant ledger, rent ledger, payment ledger, or lease ledger.
Baselane has a consolidated transaction ledger that's particularly useful for landlords with multiple properties. You can filter reports for one unit or property, rental payments, and other revenue. The filters help sort through a large amount of data to quickly find the information you need.
Baselane provides online rent collection through ACH, credit cards, and debit cards. The feature saves time for landlords and tenants who don't have to deal with checks or trips to the bank.
The automated rent collection also tracks all on-time and overdue rent payments, outstanding balances, late charges, and any prorated rent. It creates rent ledger reports, so you don't have to spend time recording that information yourself.
Baselane also offers landlord banking and debit cards that earn up to 5% cashback debit card. All transactions are categorized by property and Schedule E category to keep your tax deductions organized.
The service can auto-generate tax reports with just a click. It can also provide real-time insights into your property's net cash flow, ROI, cash-on-cash return, cap rate, and more.
All of this information is shown visually with easy-to-understand charts that give you an instant picture of your rental business's financial health. You don't need to be an accountant to understand how your rental properties are performing.
Everything you can learn from a rent ledger, Baselane can automatically generate for you. Baselane is free to use, there are no hidden fees, and you can get started within minutes.
Rental Property Financial Solution
Baselane | Landlord Banking + Rental Property Finances
Baselane is a complete rental property financial management system.
The bank account for landlords has no fees and offers high yields on all balances (4.19% APY as of 11/17/2023), unlimited 1% cash back on debit card spend, and up to 5% cash back on home improvement spending.*

Other features include check writing, same-day ACH payments, and up to $2.5 million in FDIC insurance.

Baselane also offers bookkeeping, rent collection, analytics, and more.
Special Offer ($150 bonus): Earn a $150 bonus after completing four steps with your Baselane Banking account. (1) Make a deposit of greater than $500 into a Baselane banking account within 30 days. (2) Maintain that average balance for 60 days. (3) Make more than $1,500 worth of mortgage payments within 90 days. (4)

Collect more than $1,500 of rent via Baselane into Baselane Banking within 90 days.
Pros:
Free high-yield bank account

Free online rent collection

Same-day ACH payments

Check writing

Generous cash back on qualified debit card spend

Up to $2.5 million in FDIC insurance

50 states lease creation and e-sign

Provides Zillow-sourced market values automatically
Cons:
No tenant screening services

No rental property listing capabilities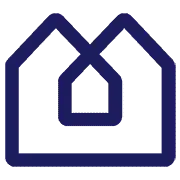 * 1% cash back is credited instantly following purchase with
no maximum spend. No minimum spend applies. Cash back is credited once per month for all rewards above 1% and credited to your account with a maximum of $2,000 annual spend per calendar year. Terms and conditions apply.
Related: Best Real Estate Crowdfunding Sites + Platforms
How Using a Rent Ledger Benefits Your Rental Property Business
---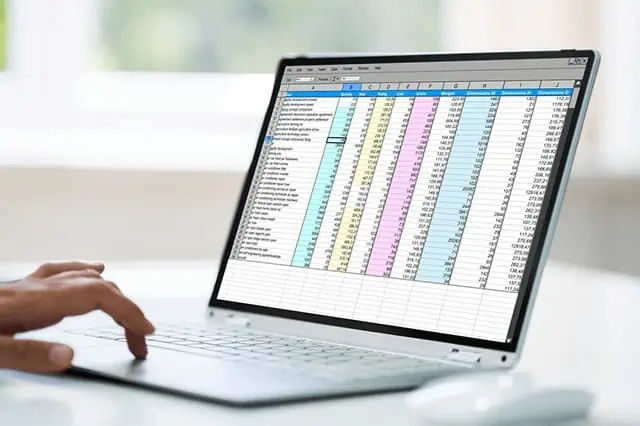 Here are just a few ways a rental ledger can make your life easier.
Better Income and Expense Tracking
A payment ledger shows your incoming cash flow (rental income) and outgoing cash flow (operating expenses). You can compare the numbers to see how much money you're making and any adjustments that need to be made.
For instance, if there isn't enough money coming in, your rent prices might be too low. Alternatively, if low occupancy rates are the issue, your rent is likely priced too high.
Improved Documentation
A tenant ledger provides a clear view of a tenant's rent payment history. Late payments could be from financial issues, or it might mean it's time to use an online rent collection platform to make it easier for tenants to pay rent.
The tenant ledger will show if late fees are properly applied to the rent payment and whether or not the fees are being paid.
If tenants stop paying rent altogether, having a tenant ledger can simplify the eviction process. This document will have a record of when you stopped receiving rent payments.
You can also quickly see if any leases are about to end and send rent renewal reminders. This can help reduce tenant turnover or give you a head start in finding new tenants to fill the soon-to-be-vacant units.
Enhanced Financial Performance
Based on the trends shown in your rent ledger, you can predict if your future income is likely to go up, down, or remain the same. Hopefully, it shows your future income will go up, but if not, it will help you identify areas for improvement.
You might notice you're spending too much on advertising when all your rental units are full, and every tenant plans to renew the lease agreement. Real estate investors looking to expand might see one neighborhood outperforming another and know to look for more properties in the profitable area.
Easier Tax Preparation
A rent ledger includes rental property expenses, which are essential for tax deductions. Having this information organized and handy can save you a substantial amount of time during tax season.
In the event of an audit, the IRS requires proof of your deductions. A rent ledger helps keep track of your repairs and other expenses.
Digital rent ledgers can create tax reports in minutes, and they're easy to share with your accountant. With some software, you can share with just the click of a button.
Clearer Insights Into Your Business
A rent ledger can quickly highlight trends that may have otherwise taken longer to notice. For example, if one of your rental units is consistently vacant more than your other units, it may be a sign that renovations need to be done.
Alternatively, if many units are frequently vacant, it may be time to see if the tenant screening process is too strict. If the rent ledger shows you have low turnover, but your overall rental income isn't high enough, it may be time to raise rent prices. The possible insights are endless.
Related: