Avoid Single-use Plastics
---
It's common knowledge that single-use plastic products are detrimental to the environment, but did you know avoiding them can save you money? If the plastics industry were a country, it would be our fourth biggest CO2 emitter.
Quit Using Single-Use Plastic Bags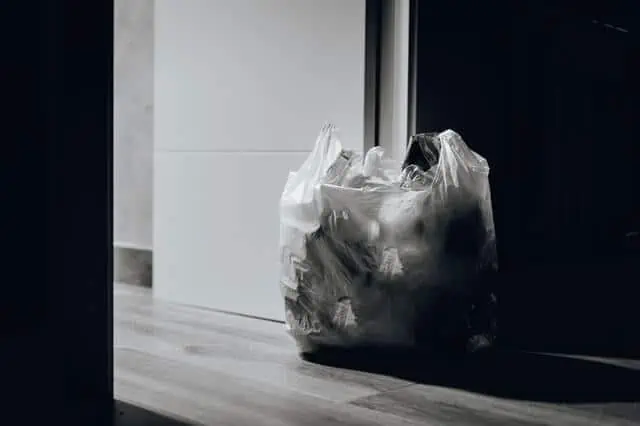 One of the most common culprits of plastic waste is plastic bags. They are in the top five list for items found during river and beach cleanups. These bags are consumed by dolphins, whales, and sea turtles.
In California, shoppers in cities where bags were banned (before the statewide ban took effect), plastic waste was reduced by around 40 million pounds. Clearly, using reusable bags helps the environment, but how does it affect your wallet?
While not all places widely advertise this, many popular grocery stores give you a discount for using your own reusable bags.
Target, Trader Joe's, Kroger's, and more, all give a five-cent discount per bag. Some Whole Foods stores go as high as ten cents off per bag. This money adds up.
As plastic bag bans become more popular in major cities, you may be required to own reusable bags soon anyway, so you might as well save some money with them while you can.
→ Check out Amazon for buying reusable shopping bags and having them delivered directly to your door and never use a single-use plastic bag for groceries again.
Buy a Reusable Water Bottle
Plastic water bottles are another significant problem. On average, people in the United States use around 50 billion plastic bottles per year and 91% aren't recycled. Instead, these bottles enter our landfills and oceans and they aren't biodegradable.
An average American spends approximately $5 each week on bottled water. By switching to a reusable water bottle, people save about $200 each year.
If you, for example, buy a glass ($12.50) or stainless steel ($20) water bottle from Faucet Face, it would pay for itself in a month or less. After that, you're saving money each and every time you fill it up.
As a bonus, Faucet Face provides a minimum of 100 liters of clean water for families in India for each bottle they sell. This means purchasing a reusable water bottle helps the earth, your budget, and people in need of clean water.
Alternatively, you can also choose from the hundreds of BPA free reusable water bottles available on Amazon.  Making the switch to reusable bottles for your liquids might seem like a small step, but over time the savings to the environment and your wallet compound.
→ Check out Amazon for buying reusable water bottles and ending use of single-use plastic bottles.
Start "Meatless Mondays"
---
According to the United Nations, around 14.5% of all greenhouse gases are created by livestock. The World Resources Institute, as well as other environmental groups, has been encouraging people to eat less meat to help the environment.
While adopting a vegetarian or vegan diet makes the most significant impact, it doesn't have to be all or nothing. Just choosing one day a week not to eat meat can make a noteworthy difference.
Sujatha Bergen, the Natural Resources Defense Council Health Campaigns Director, states, "If the average American cut just a quarter pound of beef a week from their diet, about one hamburger, it would be the equivalent of taking 10 million cars off the road for a year."
According to the founder of the Reducetarian Movement, a 10% reduction in meat consumption can have significant effects on global warming. Lower the amount of meat you eat just a little to have a big, positive impact on the environment.
How will this save you money? As a general rule, vegetarian food is typically cheaper than meat-based foods. Check the menus at restaurants you frequent and this becomes clear.
Research shows going vegetarian can save Americans around $750 per year. Bonus points if you start your own herb garden or install a rain barrel to collect water for your plants.
Invest in Low-Energy and/or Solar Products
---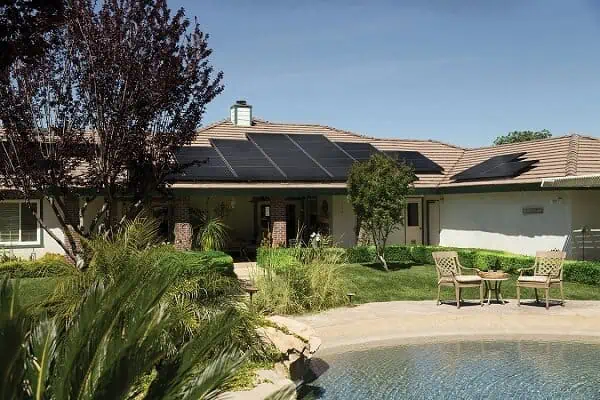 It's no secret solar energy is better for the environment compared to coal. Solar energy reduces air pollution, decreases water usage, and helps fight climate change. In terms of CO2, using coal releases around 800-1250 grams of CO2 per kwh2.
Natural gas emits between 360-575 grams of CO2 per kwh2. Rooftop solar panels produce none!
But are they worth the financial investment? Short-term, no. Long-term, yes. You can check Google's Project Sunroof to calculate your estimated savings based on your specific home.
The example below shows that a house with 497 square feet available for solar panels, which receives about 1,479 hours of sunlight each year, would likely save $18,000 over 20 years.
You can have somebody install solar panels for you or you can get a DIY kit like the ones GoGreenSolar sells. The company is based in Orange County, California, and as a bonus, their solar systems are eligible for a 26% solar energy investment tax credit.
1. LED Lighting from Lumens.com
If you aren't ready to invest in solar panels, you have some smaller steps you can take to save the environment as well as money.  The first option involves purchasing low-energy LED outdoor lights.
They use very little electricity, so once you buy them, you save money by using the new technology to slash costs compared to traditional bulbs used in outdoor lights. Lumens.com has a wide variety of outdoor lights as well as LED lights for indoor use.
LED lighting is more energy-efficient and environmentally-friendly.
→ Check out Lumens.com for low energy LED lights.
2. Arcadia Power
Another powerful way to start reducing your environmental impact comes from participating in Arcadia Power's nationwide renewable energy program to provide access to solar and wind power.
Arcadia Power's mission involves creating a simple and free way for everyone to choose renewable energy as their primary source for electricity.
The company operates under the assumption that we can live in a 100% renewable energy future and that it has never had more importance.
Further, the company continues to add environmentally-friendly products and services to deliver on its mission and also save you money along the way.
Participating in Arcadia Power's vision requires little effort and can be done in three easy steps:
1. Check availability in your area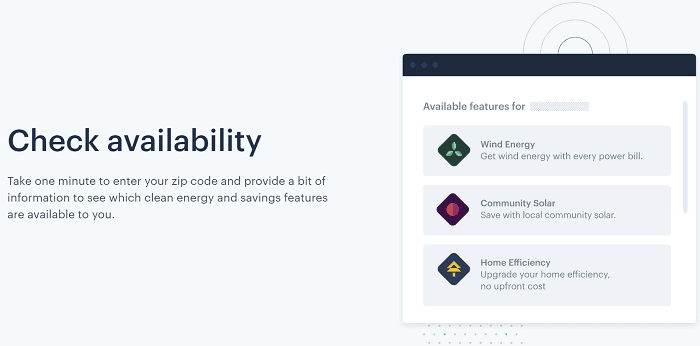 2. Connect your utility account
3. Let Arcadia handle the rest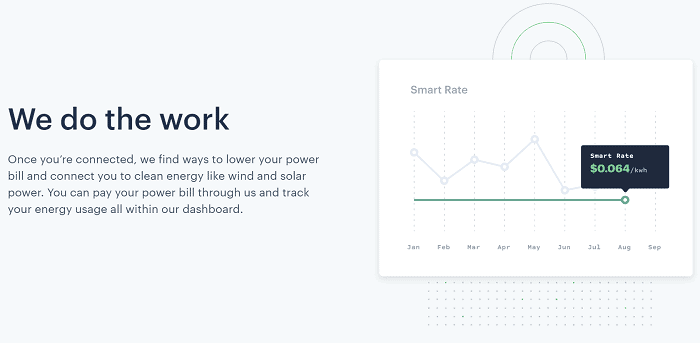 I've participated in their service for the previous 3 years by purchasing a solar panel at a project located in Massachusetts.  I paid $250 upfront and have ownership over proceeds made from selling the solar power under a fixed price to the local Massachusetts utility.
So far, I have received about $90 in bill credits placed directly on my utility bill and also had 50% of my personal electricity usage offset with renewable energy credits Arcadia Power buys and retires on my behalf.
Over the life of my ownership, I can expect to make roughly $300 in bill credits, which essentially recoups the cost of the panel while also providing a small return on my investment.
It might not be the best way to build wealth but the impact to the environment is a beneficial investment.
In sum, by participating in Arcadia Power's clean energy service, you will receive the following benefits:
Access to clean energy, helping the environment
Automatic saving on your monthly power bill when a lower rate comes available in your area
Never deal with any commitments or contracts
Have an easy online sign-up
Monitor your energy usage on a modern internet-based dashboard, refer friends for $, and get other ways you can save money
Pay your power bill with no credit card fee, and earn your rewards points
This final point is one of the most attractive parts of participating in Arcadia Power's program.  Previously, I had no way to pay my electric bill with a credit card and resorted to writing checks through my bank as the only means of payment.
Now, Arcadia Power accepts credit cards to monetize your utility payments and earn valuable rewards credit card points. Arcadia Power assesses no credit card processing fee.
If you need more money to spend toward your minimum spend requirements on your credit card churning journey, this can be a valuable outlet for guaranteed qualifying payments.
→ Begin reducing your carbon footprint by signing up for Arcadia Power.
Manage your utility bills, save the environment, and also earn rewards credit card points by enrolling in a service like Arcadia Power.
Arcadia allows you to pay your power bill with no credit card fees and also to earn your rewards points. Previously, I had no way to pay my electric bill with a credit card and often ran the risk of being late with my bill payment.
Now, Arcadia Power auto-bills your credit card without fees, monetizing your utility payments and earning valuable rewards credit card points.
→ Help the environment and avoid utility late fees with Arcadia Power.
Reduce Junk Mail Deliveries
---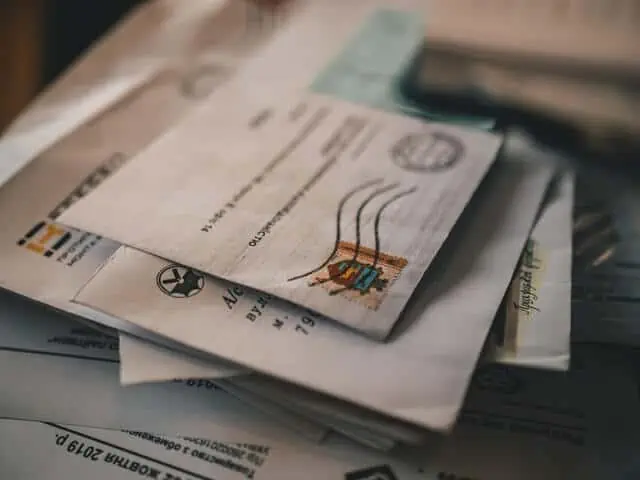 Junk mail isn't just annoying, it's harmful to the environment. Each year, the creation and transportation of junk mail consumes more energy than 2.8 million cars idling all day, every day.
Junk mail often ends up unopened in landfills, where it produces methane that hurts the environment. Time is money and households spend around eight hours a year dealing with junk mail. For people who pay for recycling, all of this paper adds up.
Even without the environmental and financial benefits, most people would love to get less junk mail, but aren't sure how to make it happen. Fortunately, there are several tools you can use.
The smartphone app PaperKarma has you take photos of junk mail. They then contact the mailer to get you removed from their mailing list. Catalog Choice and DMAChoice both help you stop store catalogs from bombarding your mailbox.
Use Rechargeable Batteries
---
Disposable batteries use more energy and produce more waste than rechargeable batteries. Overall, rechargeable batteries are better for people who want to save the environment. They're also better for people who want to save money. Rechargeable batteries pay for themselves in over a handful or recharge cycles, including the cost of a wall charger. The standard lifespan of rechargeable batteries is around four years.
Since the average American household goes through around 47 batteries each year, you could get away with buying just a dozen rechargeable batteries every four years rather than 188 disposable ones.
When checking "Best Rechargeable Batteries" lists, some of the top brand choices that come up are Duracell, AmazonBasics, and Energizer (all found on Amazon).
→ Check out rechargeable batteries on Amazon for a risk-free foray into reducing your carbon emissions.
How to Save the Environment & Money
---
Saving the environment and saving money aren't opposing actions. It's possible to help save the environment and money simultaneously. You might not be able to stop driving a car or go completely vegan, but there are small steps you can take that still make a significant difference.
Cut down on single-use plastic, eat less meat, invest in solar products, get rid of annoying junk mail, and get more use out of batteries. It's a double-win. Saving money can help you afford other items you want and need. Saving the environment ends up being beneficial to you and everyone else too.