The financial transition from a person's teenage years to adulthood is a lot more gradual than you realize. Teens start taking on costs (like a car payment or a cell phone bill), get jobs, even start looking for loans (for college) … all before they ever become legal adults.
For a long time, though, teens never gradually started investing—they waited until their late 20s or 30s to finally take the plunge. But that's changing, and so too are trading accounts, some of which now have minors specifically in mind.
Consider these findings from Fidelity's 2023 Teens and Money study:
23% of teens say they're already investing
91% of those who don't say they plan on investing at some point
75% of those who don't say they plan on starting before they graduate college
That's a big change from when many of us were teens and didn't think twice about stocks, bonds, or Wall Street. And if you ask me, that's awfully encouraging.
Parents who want to nurture this interest might still be hesitant, though. After all, do you want to put your child behind the wheel of your average brokerage account and say "have at it, kid"? Heck no. Most regular brokerage accounts are too complex (and frankly too boring) for young minds just starting to learn the ropes.
But today, I'm going to talk about some options that specifically have kids in mind. Read on as I explore the pros and cons of some of the best trading accounts for minors—accounts that go above and beyond just letting families buy and sell, and instead offer parental controls, educational resources, and even package together other important financial tools like savings accounts and debit cards.
Read on to decide which trading account is the best fit for both you and your kid. The sooner you get started, the sooner your child or teen can grow not just their money, but their financial knowhow.
Trading Accounts for Minors—Our Top Picks
---
| | | |
| --- | --- | --- |
| | | |
| | | |
| | | |
| Open a Fidelity Youth™ Account for your teen, and Fidelity will drop $50 into their account. Get $100 for yourself when you open a new Fidelity account and fund with $50.¹ | Core: $4.99/mo. Max: $9.98/mo. Infinity: $14.98/mo. (Each account supports up to 5 children.) | Free 30-day trial, then $48/yr. (Each account supports up to 5 BusyKid cards.) |
| | | |
Best Free Brokerage Account + Debit Card for Teens
Open a Fidelity Youth™ Account for your teen, and Fidelity will drop $50 into their account. Get $100 for yourself when you open a new Fidelity account and fund with $50.¹
Best Paid Investing + Prepaid Card for Kids
Core: $4.99/mo. Max: $9.98/mo. Infinity: $14.98/mo. (Each account supports up to 5 children.)
Kids' Investing, Spending, Saving + More
Free 30-day trial, then $48/yr. (Each account supports up to 5 BusyKid cards.)
How Old Do You Have to Be to Buy Stocks?
---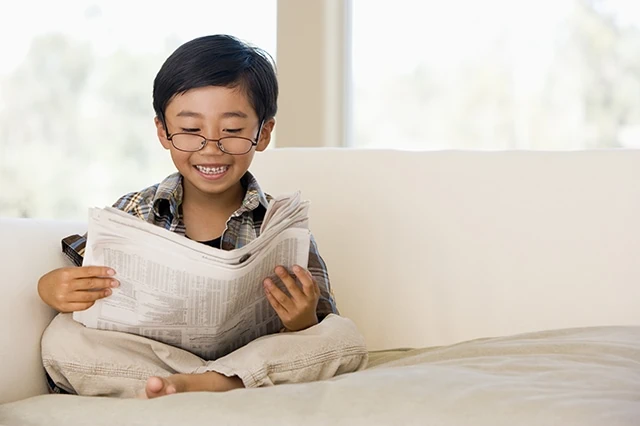 To buy stocks completely on your own, you must be a legal adult. However, minors can invest in stocks, mutual funds, and other investments with the help of a trusted adult.
A minor can start investing at any age through a custodial account or joint brokerage account.
How Do You Open a Brokerage Account for a Minor?
---
It's easy to open a brokerage account for a child. In the past, the type of custodial account you could open for a child depended on the state. Some states offered Uniform Gifts to Minors Act (UGMA) accounts and others offered Uniform Transfers to Minors Act (UTMA) accounts. (If you're curious, here's the difference between UTMA and UGMA.) Now, anyone in one of the 50 U.S. states or the District of Columbia automatically uses UTMA accounts.
You don't need to be a parent to open a custodial account for a minor, by the way. You might be a grandparent, aunt, or other relative.
To open an account, you will need personal information, such as the child's Social Security number. After the account is open, you can fund it and choose investments, such as stocks, exchange-traded funds (ETFs), or mutual funds, just like you would for a traditional brokerage account
It's simple for a parent to open a joint brokerage account for their child as well. You just need personal information for both parties. A joint brokerage account isn't limited to two people, so both parents are allowed on the account.
Remember: With a custodial account, the minor owns the assets, but the parent or trusted adult manages the account until the minor reaches the age of majority. With a joint brokerage account, both the minor and the adult jointly own the assets.
Related: What Is a UGMA Account? [Can You Open One in 2023?] 
Best Trading Accounts for Minors
1. Fidelity Youth™ Account
---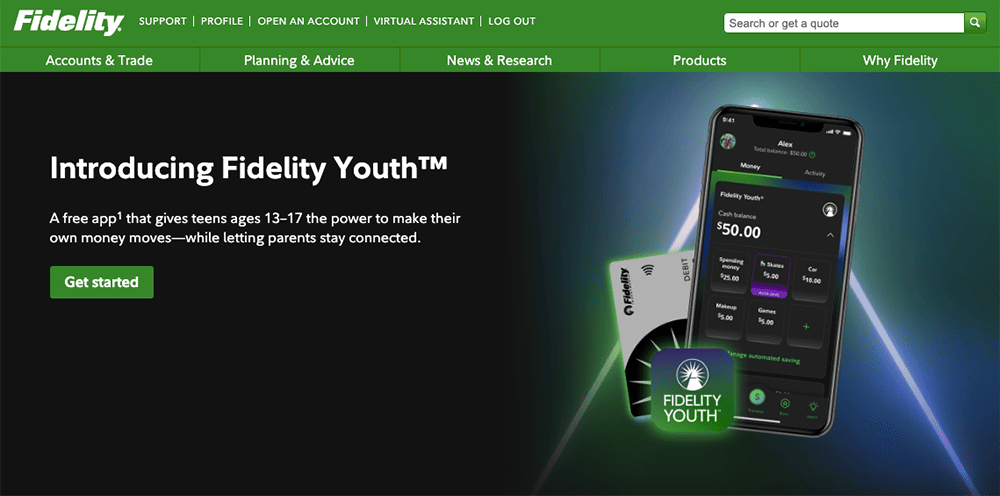 Available: Sign up here
Price: No account fees, no account minimum, no trading commissions*
Promotion: Teens get $501 on Fidelity® when they download the Fidelity Youth™ app and activate their Youth Account; parents get $100 when they fund a new account
Is your teen interested in jumpstarting their financial future? Do you want them to build smart money habits along the way?
Of course you do! Learning early about saving, spending and investing can pay off big when you start on the right foot. And one tool that can help your teen get that jump is the Fidelity Youth™ Account—an account owned by teens 13 to 17 that's designed to help them start their money journey. They can start investing by buying most U.S. stocks, exchange-traded funds (ETFs), and Fidelity mutual funds for as little as $1!⁴
Your teen will also get a free debit card with no subscription fees, no account fees³, no minimum balances, and no domestic ATM fees.⁵ And they can use this free debit card for teens to manage their cash and spend it whenever they need.
And as for building smart money habits? You and your teen can access your account through the Fidelity Youth™ app, which has a dedicated Learn tab packed with materials developed specifically to help teens develop good financial habits. Not only will Fidelity's interactive lessons, videos, articles, tools, and calculators accelerate their learning—but for every level they complete, reward dollars will be deposited into their account to use however they want.
Controls parents want and need
A parent or guardian must have or open a brokerage account with Fidelity® to open a Fidelity Youth™ Account. For new Fidelity® customers, opening an account is easy, and there are no minimums and no account fees.
Parents and guardians have plenty of tools they can use to monitor their teen's activity: They have online account access, can follow monthly statements and trade confirmations, and can view debit card transactions made in the account.
To make it even easier, you can set up alerts to notify you of trades, transactions, and cash management activity, keeping you firmly in the loop on actions your teen takes across the Fidelity Youth™ Account's suite of products.
If your teen has an interest in learning about investing and taking their first steps toward building their financial journey, you should consider downloading the Fidelity Youth™ app and opening a Fidelity Youth™ Account. The account comes custom-built for their needs, which will help them become financially independent and start investing for their future.
Read more in our Fidelity Youth™ Account review.
Best Brokerage Account + Debit Card for Teens
Fidelity Youth™ Account | An account where teens can save, spend, and invest
Open a Fidelity Youth™ Account for your teen, and Fidelity will drop $50 into their account. Get $100 for yourself when you open a new Fidelity account and fund with $50.¹
Your teen will get a $50 reward once they download the Fidelity Youth app and activate their Youth Account.
The app is free

²—plus, no monthly fees or account minimums to open.³

They can invest in stocks for as little as $1 with fractional shares.

⁴

Your teen can learn to save and spend smarter with their own debit card with no domestic ATM fees.

⁵

Teens can link their account to mobile payment apps like Venmo and PayPal.

⁶

Parents can set up alerts and monitor their teen's account activity online, and through statements, trade confirmations and debit card transactions.
The Fidelity Youth app will have a dedicated Youth Learn tab to help jumpstart your teen's financial learning and build better money habits.
Pros:
No monthly account fees

Signup offer available to new users

Comprehensive financial suite for teens
Cons:
Parent must be a Fidelity account holder

Account balance doesn't accumulate interest

No chore or allowance system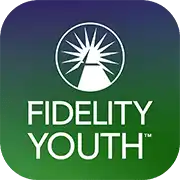 See additional terms and details for the Fidelity Youth™ Account at the end of this article.
Related: 21 Best Investing Research & Stock Analysis Websites
2. Greenlight Max or Infinity
---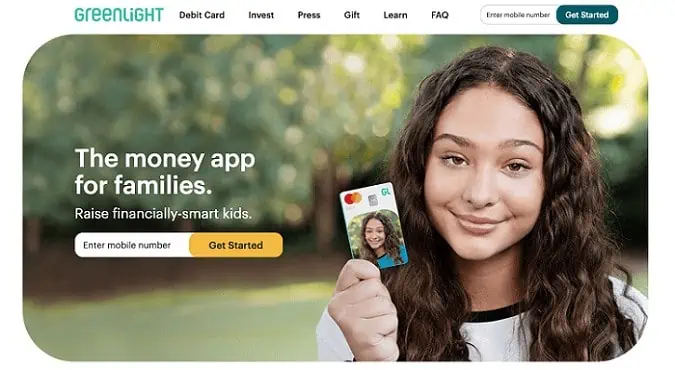 Available: Sign up here
Price: Free 1-month trial. Max: $9.98/mo. Infinity: $14.98/mo. (All plans include cards for up to 5 children)
Greenlight is a premier kids' financial app that teaches minors the ins and outs of saving, spending, and financial responsibility—and with a Greenlight Max or Greenlight Infinity plan, they can start to invest, too!
Greenlight's investing app will help your kid learn the basics of investing, how stocks and exchange-traded funds (ETFs) work, and more with real money, real stocks, and real-life lessons—all with your direct involvement and supervision.
With Greenlight Investing, your child can:
Start investing with as little as $1
Buy fractional shares of companies they admire (say, kid-friendly stocks)
Spread out their risk with ETFs
Avoid trading commissions
Parents can enjoy peace of mind knowing that Greenlight's popular guardrails extend to its investing offering, too. Teens can only invest in U.S.-listed stocks and ETFs that have either a market capitalization over $1 billion or a three-month average daily dollar volume of more than $500,000. And parents must approve every trade directly in the app.
And, of course, you get everything else that comes along with Greenlight. At the Max level, that includes a prepaid debit card with strong parental controls, mobile payments, ATM access, instant money transfers, and even 1% cash-back rewards. They can also save and get a 2% annual Greenlight Savings Reward—which is boosted to 5% at the Infinity level.
Greenlight currently offers a free one-month trial so families can see whether it meets all of their needs. Read more in our Greenlight Card review, check out plan pricing below, or sign up for Greenlight Max or Infinity today.
Our Investing + Prepaid Card for Kids Pick
Greenlight | The Investing App and Prepaid Card for Kids
Core: $4.99/mo. Max: $9.98/mo. Infinity: $14.98/mo. (Each account supports up to 5 children.)
Greenlight offers flexible parental controls for each child and real-time notifications of each transaction.
Greenlight is the only debit card letting you choose the exact stores where kids can spend on the card.
Parents can use this app to teach them how to invest with a brokerage account through Greenlight Max and Greenlight Infinity plans
Pros:
Best-in-class parental controls (can prohibit specific stores)

Can add brokerage account to invest in stocks

Intuitive Parent and Kid apps

Competitive cash back and interest rates
Cons:
High price points

No cash reload options

No parent / child lending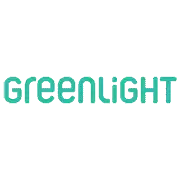 Related: Best Greenlight Alternatives
3. Step
---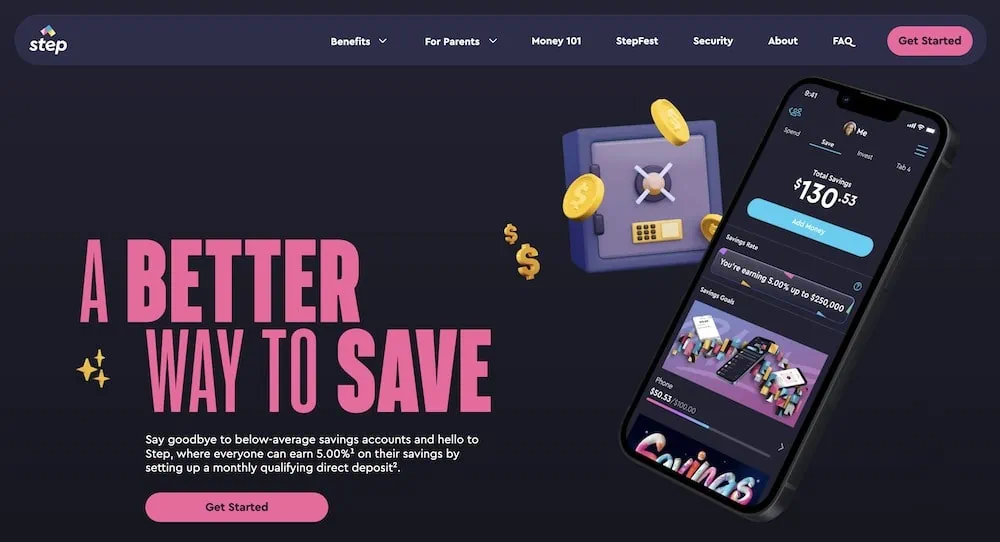 Step is a free financial app that helps teens manage their money, build their credit, and even invest toward their futures.
Through Step, a parent or legal guardian can open a stock account, crypto account, or both for their minor—and those accounts will transfer to the teen once they've turned 18.
Within the Step stock account, teens get access to more than 1,000 "popular" stocks and ETFs. It's not the whole world of offerings one could get through a traditional brokerage account, but it's more than enough for beginner investors. Step also offers fractional shares, so teens can invest for as little as $1, and trades are commission-free. Step will even make recommendations based on how well users feel they can handle the market's ups and downs.
The crypto account, meanwhile, allows teens to start investing in digital currencies by purchasing and holding Bitcoin.
Minors get all of the above while also enjoying the benefits of the Step Visa Card. Step's unique "hybrid" secured credit card functions just like a Visa credit card, but offers the safety features of a debit card … all while building your teen's credit history. Parents, who sponsor the card, can opt to have Step report the past two years' worth of information—transactions, payment history, and more—to the credit bureaus when their child turns 18, which can result in a massive boost to their credit scores right from the get-go.
Parents simply add money to this FDIC-insured account, and then their teens can use their card anywhere Visa is accepted. They can also withdraw money from more than 30,000 ATMs for free.
Other features include Savings Goals, where any money saved can generate 5% in annual interest (compounded and paid monthly) with a qualifying direct deposit*; Savings Roundup, where purchases are rounded up to the nearest dollar and the overage is put toward a Savings Goal; and opt-in cash or Bitcoin rewards from companies including Hulu, Chick-Fil-A, CVS, and the New York Times.
The Step Card is protected by Visa's Fraud Protection and Zero Liability guarantee. That means if your teen's card gets lost or stolen, or misplaced and fraudulent charges crop up, you can dispute the charges within a certain time frame to avoid liability for paying.
Check out our Step review to learn more, or sign up today.
High-Yield Savings + Credit-Building Card
Step | Banking for the Next Generation
Earn 5% annually with Step, where you can save, spend, invest, and even build your credit history.
Step offers a high yield on up to $250,000 stored in Savings Goals with qualifying direct deposits.* Interest is compounded and paid monthly, and calculated using the average daily balance in your Savings Goals.
While the savings rate can change, Step will provide a 30-day notice before it does.
Buy and sell fractional shares of stocks, ETFs, and Bitcoin for as low as $1, and earn cash and crypto rewards when you use your Step Visa Card at participating merchants.
Send and receive money instantly, spend with Apple and Google Pay, and track your card's balance from the Step App.
Banking services, provided by Evolve Bank & Trust, are FDIC-insured for up to $250,000.
Pros:
High yield on money held in Savings Goals

Helps build credit

Free investment account for stocks, ETFs, and Bitcoin

Fractional investing for as low as $1

FDIC insurance
Cons:
High-yield savings only available with qualifying monthly direct deposit*

Can't directly deposit checks into a Step account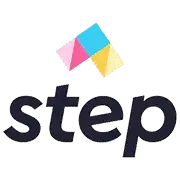 * Users must have a direct deposit of at least $500 per month to qualify. Benefits continue for as long as the user maintains the monthly $500 minimum direct deposit.
Related: How to Open a Bank Account for a Minor: Steps, What You Need
4. BusyKid (Investing + Visa Prepaid Debit Card)
---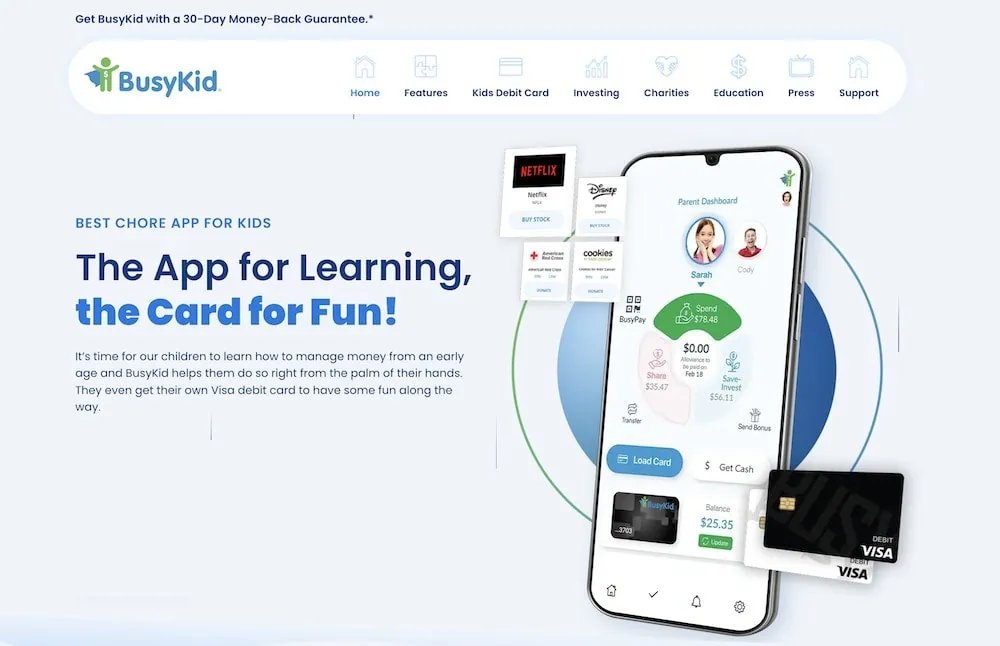 If you're looking for prepaid debit cards for kids that also teaches your children about money, lets you pay them allowance, allows them to spend, and gets them into investing, consider the award-winning BusyKid app and the connected BusyKid Visa Spend Card.
BusyKid also allows children to invest their earnings through the app. Doing so requires setting up a separate Apex Clearing account. Children can choose from hundreds of stocks and ETFs and invest commission-free with as little as $10!
BusyKid started as an easy-to-use, interactive chore app for kids, but has since added a prepaid debit card that allows your children to spend their money in stores and online. Your children can earn real money by completing chores and other tasks around the house, then use the app to learn valuable financial skills, such as budgeting, saving, and even giving back.
Parents can pay allowance on an ad hoc basis, or they can set up Auto-Allowance. When parents add to their children's accounts, that money can be split between Save, Share, and Spend:
Save: Parents can automatically allocate money toward a savings basket; however, parents can also match any money their children elect to save.
Donate: Children can choose which charities they would like to give money to, and parents must approve before the cash is transferred.
Spend: When they're ready for independence, BusyKid has a Visa Spend Card so kids are never without cash in hand.
Also, with BusyKid, the parent isn't the only person who can add money to child accounts. With a share of the QR code, grandparents, aunts, uncles, other family members, and even friends can add money—from birthday presents to paying for chores–for a $1 fee (plus any credit card or bank transaction costs).
In addition to the $48 annual subscription, BusyKid charges other fees, including a $1.50 ATM fee, 50 cents per declined transaction, $5 for a card reissue, and a $5 monthly fee for paper statements.
BusyKid | Chores and Allowance App With Debit Card
Free 30-day trial, then $48/yr. (Each account supports up to 5 BusyKid cards.)
BusyKid is an award-winning, parent-approved app that educates kids about money.
Parents can pay allowance on an ad hoc basis, or they can set up Auto-Allowance.
Parents can split allowance money across Save (and even match money in the Save category), Spend (which kids can access with their Visa Spend Card), and Donate (children can choose charities to donate to; parents must approve).
Parents can set up a separate Apex Clearing brokerage account to allow their children to invest earnings through BusyKid, with as little as $10.
Pros:
Feature-heavy allowance function

Offers investment functionality

Combines several kid-focused financial needs in one app
Cons:
Charges a fee

Lower customer user ratings than competitors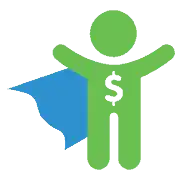 Related: 13 Best Allowance and Chore Apps for Kids [Easier Family Life]
Trading Accounts for Minors: FAQs
---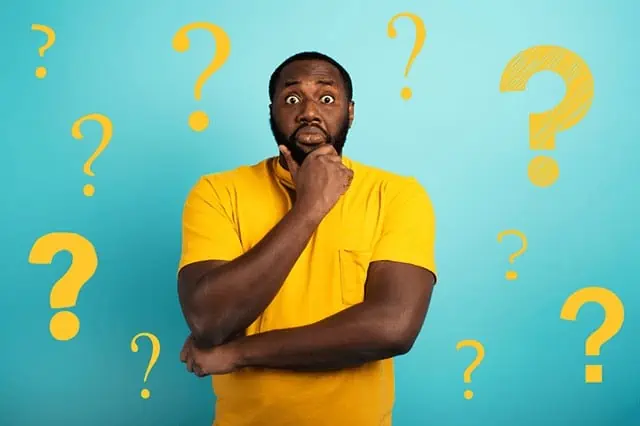 Can I open a trading account for a minor?
Yes, as previously mentioned, you can open an investment account for a minor.
Anyone can open a custodial account for an important child in their life. For educational savings, anyone can also open a 529 plan or Coverdell education savings account (ESA) for a child. For the former, the child owns the assets in the account and for the latter the adult owns them.
Parents can also open joint brokerage accounts with their children and have joint ownership over assets.
Can a minor have a retirement account?
Yes, a minor can have a retirement account if they have earned income. For example, if a teenager has a part-time job, a parent could set up a custodial IRA.
A custodial IRA, particularly a custodial Roth IRA, is an excellent account for a minor because, as a retirement account, it has tax benefits. During retirement, tax-free withdrawals can be taken from the account, even when withdrawing earnings.
However, these accounts have contribution limits. Just like an adult's Roth IRA, the contributions can't exceed annual contribution limits or the child's amount of earned income that year. The 2023 IRA contribution limit for minors is $6,500.
Parents can contribute to the account as long as their contributions don't exceed the limits. Once the money is in the account, it belongs to the child and the parent cannot take it back.
Do custodial accounts affect financial aid eligibility?
Yes, the money in a custodial account can affect financial aid eligibility. The account assets belong to the minor, so financial aid formulas consider 20% of the money available for education costs.
Those opening investment accounts specifically for higher education, but expect to still need financial aid, should consider instead using 529 plans or Coverdell education savings accounts. The assets in these investment accounts belong to the parents, so only 5.64% counts towards the expected family contribution.
These accounts allow tax-free withdrawals as long as the money is being spent on qualified education expenses.
How are earnings in a custodial account taxed?
Custodial brokerage account earnings are considered taxable income and are subject to "kiddie tax" rules. There are three phases to the kiddie tax and if the earnings are low enough you don't have to pay taxes that year.
For 2023, the breakdown for custodial account taxes is as follows:
The first $0 to $1,250 of unearned income is tax-free
The next $1,251 to $2,500 is taxed at the child's rate
Any amount over $2,500 is taxed at the parents' rate
These rules don't apply to custodial IRAs.
What types of assets can you hold in a custodial account?
Custodial accounts can hold a wide range of assets. These accounts can hold popular stock market investments, such as stocks, bonds, exchange-traded funds, and mutual funds. Additionally, a custodial account can include real estate, life insurance policies, fine art, and much more.
There are some limitations, though. You cannot trade on margin in a custodial account or trade derivatives, futures, or other highly speculative investments.
Who owns the assets in a custodial account?
The beneficiary, which is the minor, owns all of the assets in a custodial brokerage account. While the custodian manages the account, they don't actually own the assets.
Adults are allowed to make withdrawals from custodial accounts at any time, but the money withdrawn must be used in a way that directly benefits the minor. Parents cannot withdraw money to spend on themselves.
Once the beneficiary reaches the age of majority, which varies by state, she takes control of the custodial account.
Do parents pay a gift tax for custodial account contributions?
Custodial accounts (except for custodial IRAs) have no contribution limits.
However, when parents add money to custodial accounts, it counts towards gift contribution limits. For 2023, the annual federal gift tax exclusion is $17,000 for an individual or $34,000 per married couple.
If parents exceed that limit with contributions to custodial accounts, they need to fill out an IRS form so they can deduct the excess money from their lifetime gift tax exemption limits. As of 2023, the lifetime limit is $12.92 million. Unless you expect to surpass the lifetime limit, you shouldn't face any issues.
Related:
---
Terms and Conditions for Fidelity Youth™ Account
The Fidelity Youth™ Account can only be opened by a parent/guardian. Account eligibility limited to teens aged 13-17.
* $0.00 commission applies to online U.S. equity trades and exchange-traded funds (ETFs) in a Fidelity retail account only for Fidelity Brokerage Services LLC retail clients. Sell orders are subject to an activity assessment fee (from $0.01 to $0.03 per $1,000 of principal). Other exclusions and conditions may apply. See Fidelity.com/commissions for details. Employee equity compensation transactions and accounts managed by advisors or intermediaries through Fidelity Institutional® are subject to different commission schedules.
¹ Limited Time Offer. Terms Apply. Before opening a Fidelity Youth™ Account, you should carefully read the account agreement and ensure that you fully understand your responsibilities to monitor and supervise your teen's activity in the account.
² The Fidelity Youth™ app is free to download. Fees associated with your account positions or transacting in your account apply.
³ Zero account minimums and zero account fees apply to retail brokerage accounts only. Expenses charged by investments (e.g., funds, managed accounts, and certain HSAs) and commissions, interest charges, or other expenses for transactions may still apply. See Fidelity.com/commissions for further details.
⁴ Fractional share quantities can be entered out to 3 decimal places (.001) as long as the value of the order is at least $0.01. Dollar-based trades can be entered out to 2 decimal places (e.g. $250.00).
⁵ Your Youth Account will automatically be reimbursed for all ATM fees charged by other institutions while using the Fidelity® Debit Card at any ATM displaying the Visa®, Plus®, or Star® logos. The reimbursement will be credited to the account the same day the ATM fee is debited. Please note, for foreign transactions, there may be a 1% fee included in the amount charged to your account. The Fidelity® Debit Card is issued by PNC Bank, N.A., and the debit card program is administered by BNY Mellon Investment Servicing Trust Company. These entities are not affiliated with each other, and Fidelity is not affiliated with PNC Bank or BNY Mellon. Visa is a registered trademark of Visa International Service Association, and is used by PNC Bank pursuant to a license from Visa U.S.A. Inc.
⁶ Venmo is a service of PayPal, Inc. Fidelity Investments and PayPal are independent entities and are not legally affiliated. Use a Venmo or PayPal account may be subject to their terms and conditions, including age requirements.
Fidelity Brokerage Services LLC, Member NYSE, SIPC, 900 Salem Street, Smithfield, RI 02917
---
Step Disclaimer
Disclaimer: Step is a trademark of Step Mobile, Inc.