Do you rent out properties? Then you probably know that balancing the books can get complicated. But accounting software designed specifically for landlords and property managers can help make the process simpler and less time-consuming.
The best real estate accounting software will provide several benefits: It will save rental property owners time, keep them organized, and provide useful insights into how their business is performing.
The good news: There are myriad accounting software options available today. The bad news: Not all of them have the features that landlords need most.
Rather than sort through the riffraff yourself, we suggest following along as we highlight the best products in this corner of the software market.
We've recently reviewed the top accounting software for rental properties. We'll go over the features that make these platforms stand out, and then we'll answer several other common questions about rental property accounting software uses, banking advice, and more.
Best Accounting Software for Rental Properties—Our Top Picks
---
Best Accounting Software for Rental Properties [Free]
---
First, we'll look at rental accounting programs that are either completely free or offer feature-rich free tiers.
1. Baselane (Best Real Estate Investor Banking Solution)
---
Baselane is a comprehensive real estate finance platform, and that includes excellent rental property accounting software with an ample array of features.
One-click, smart categorization with Schedule E and property tags greatly simplifies your bookkeeping, making there no need to fear tax time. Users can quickly see insights into the current state of their finances, such as cash flow, expenses, and more.
The software pairs seamlessly with as many of Baselane's virtual bank accounts as you need. For example, you might have a different bank account for each unit, or separate accounts for security deposits and other operational finances. You can also connect Baselane accounts to any other of the 11,000 banks, credit unions, and other financial institutions it supports.
Users receive physical and virtual debit cards that offer unlimited 1% cash back (and up to 5% cash back on home improvement spend), and they can keep track of these debit cards via Baselane's software. Built-in smart controls allow landlords to limit how much can be charged, and how often.
Landlords can pay invoices, send Automated Clearing House (ACH) payments, make transfers between Baselane accounts, and deposit checks from any device. Need cash? Baselane offers unlimited free ATM cash withdrawals and deposits from more than 55,000 locations nationwide.
Tenants can set up automatic, online rent payments that will be sent directly to your bank account(s).
Baselane can be used with an unlimited amount of properties,  you can open and use accounts for free, and new users can earn $150 through the service. (Note: Baselane does charge for some premium features.)
Related: 7 Best Banks for Real Estate Investors + Landlords
2. Avail (Free Accounting Software for Small Landlords)
---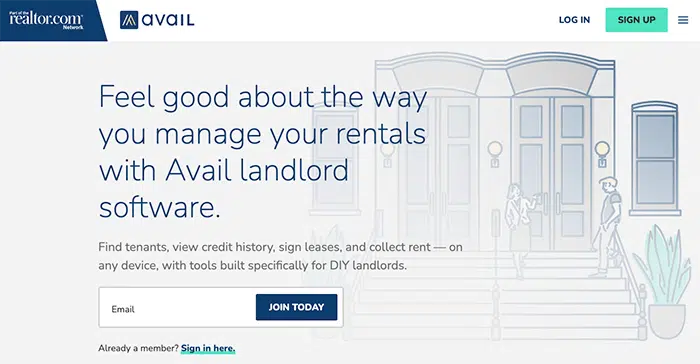 Avail's property management accounting software is an excellent fit for independent landlords.
The software automatically tracks rental property income, operating expenses, maintenance costs, and more. Get a quick view of all of these metrics in the dashboard, which makes it simple to track the performance of your properties.
Rental property owners can add any transactions collected outside of Avail, upload receipts or invoices, and edit or delete transactions as they see fit.
When it's time to do taxes, you can view everything in the dashboard or export it to a spreadsheet to share with a tax advisor. This spreadsheet can be sorted by rental property, vendor, transaction type, and more.
This property management software also makes accounting easier by allowing you to collect rent payments directly through Avail. Tenants can set up Autopay (meaning your payments will always arrive on time), and the rent is deposited straight into your linked bank account. Residents can pay security deposits and other fees through Avail, too.
In addition to accounting features, Avail provides other property management tools, such as advertising properties, tenant screening, lease creation, maintenance requests, and far more.
Visit Avail to learn more or sign up today.
Related: 6 Ways to Invest in Apartment Buildings [w/Minimal Effort!]
3. Stessa (Property Management and Banking Platform)
---
Stessa accounting software was created by real estate investors who know exactly which accounting features landlords need most.
Currently, Stessa has a partnership with Roofstock, which lets landlords check performance dashboards at the portfolio and property levels whenever they wish. Balance sheets for assets and liabilities, income & cash flow, net operating income, occupancy, total portfolio value, and more, are automatically updated so landlords always have up-to-date information. Landlords also have the option to automate income and expense tracking. All documents are stored safely in the cloud.
The Stessa Tax Center lets you export tax-ready documents, and Stessa even provides an exclusive TurboTax discount. AppFolio users can integrate with Stessa if they want to automatically import income and expense transactions.
Stessa can also collect online rent payments. After landlords have opened a Cash Management account with Stessa, they simply provide Stessa with tenants' email addresses. Stessa will get tenants started and let them set up recurring ACH payments. Additional payment methods are on the horizon.
Users who want to go beyond free Stessa services can pay for optional premium services, such as rent analysis and market research.
Related: 9 Best Real Estate Crowdfunding Sites + Platforms
4. TenantCloud (Online Rent Collection with Customized Website Design)
---
TenantCloud offers end-to-end accounting solutions for landlords, and much of it is completely automated.
This property management software automatically sends rent invoices, late fees, and receipts to tenants. Renters can set up recurring online rent payments, receive payment receipts, and can view their payment history at any time.
Rental property owners can build rental and financial reports in seconds, providing a comprehensive visual overview of the business.
TenantCloud users can also take advantage of features such as the amortization tracker, depreciation tracker, tax preparation, and more. Check monthly statistics, rent payments, and other financial information quickly and seamlessly.
Contracts, transactions, receipts, and balances are stored and sorted online, and TenantCloud summarizes the data for you. These files can be downloaded in Excel, CSV, QuickBooks, PDF, and Numbers formats to be given to tax professionals. Or you can sync TenantCloud with QuickBooks so you can share income and expense transactions that way.
Outside of accounting, TenantCloud provides a number of property management services, including helping you set up your own customized property websites.
Many landlords can get by with TenantCloud's free tier, but if you have a larger property management business or simply want more features, you might consider one of TenantCloud's paid tiers.
Related: How to Run a Background Check for Rental Property
Best Paid Rental Property Accounting Software
---
Some landlords and property managers are going to require high-horsepower accounting software, whether it's because they need a glut of features, or they have a large number of units to oversee. Either way, these paid solutions are accounting workhorses.
5. Rentec Direct (Best Paid Rental Property Accounting Software)
---
Property management software Rentec Direct has many useful accounting features.
Rentec Direct offers rental property owners full general ledger accounting. Landlords can edit, review, and print ledgers for each property, resident, and bank account, without any need to enter transactions multiple times.
The comprehensive reporting system creates specialized reports for property portfolios. These reports can be emailed, exported to PDF or Excel, or printed—or even imported into QuickBooks, if your CPA is most comfortable with that format.
Users can securely store an unlimited number of files and receipts, and these files are backed up automatically in the cloud.
Landlords can use the software's vendor ACH payments tool to send vendors electronic payments. They can also collect online rent payments through credit cards, ACH, or electronic cash payments. Payments are tracked and recorded.
Rentec Direct is also trust account certified software, taking some worry off your shoulders in the event you face an audit.
Besides financial tools, Rentec Direct helps landlords with advertising, insurance, maintenance requests, tenant screening, and much more. Visit Rentec Direct to learn more about its offerings or sign up.
Related: Real Estate Syndication: What It Means and How to Invest
6. Buildium (Best Online Rent Collection for Larger Portfolios)
---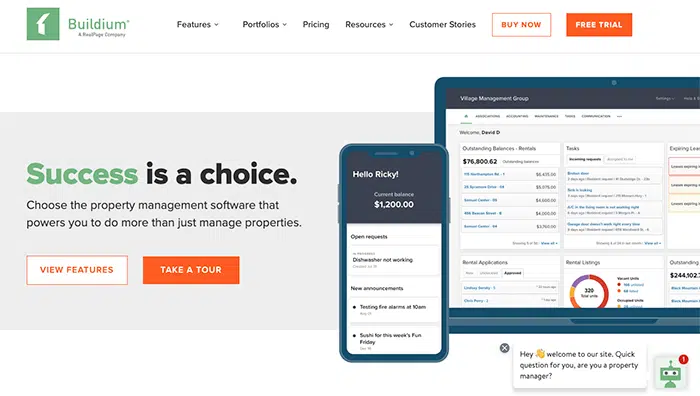 Buildium has a plethora of helpful accounting tools. Landlords or property managers can collect rent payments and other fees online and have them sent straight to the landlord's designated bank account. You can even let tenants pay in cash through PayNearMe, then have those funds directed to your account.
Real estate investors can use Buildium's built-in calculators to see anything they owe. Work orders can be changed into bills and paid online. Outgoing payments to vendors and others are automatically recorded.
Buildium records every single deposit, payment, and refund transaction. Automatic reconciliations of bank statements ensures that every record is accurate. And you can look at your balance sheet, cash flow statement, income statement, general ledger, property statement, and more, at any time.
Worried about competition? Buildium's software can even help you compare your numbers to industry benchmarks to get a gauge of how your business is performing.
Buildium helps landlords quickly create 1099 tax forms, which makes life easier come tax time. When you file with the software, you can send free digital copies to vendors to go with the hard paper copies Buildium sends.
Learn more about Buildum or sign up today.
Related: Which Type of Real Estate Investment is Right for You? 8 to Know
7. RentRedi (Excellent Mobile App Capabilities)
---
RentRedi's rental property accounting software can automate many tasks and create simple-to-understand reports.
Landlords can collect online rent payments from an unlimited number of payment accounts. Residents can pay through bank accounts, credit cards, ACH, or cash, and you receive the money four to five business days later. Landlords can choose to pay the fees ($1 ACH, or 2.9% plus $0.30 for credit cards) or to pass those fees along to their tenants. And those rent payments can be exported to spreadsheets or directly to QuickBooks Online.
New landlords benefit from rental transaction templates that show you important processes such as how to record a security deposit.
RentRedi's property management software will automatically import transaction data and match transactions based on the description or amount to specific properties and expense or revenue accounts.
Users can easily access reports such as profit-and-loss (P&L) statements, balance sheets, cash flow, and IRS Schedule E reports.
RentRedi has a partnership with REI Hub that allows you to automatically import RentRedi financial information to REI Hub. Adding REI Hub to your RentRedi subscription requires an extra monthly fee.
Related: Best Video Intercom Systems for Apartments and Office Buildings
8. FreshBooks (Small Business Accounting Software)
---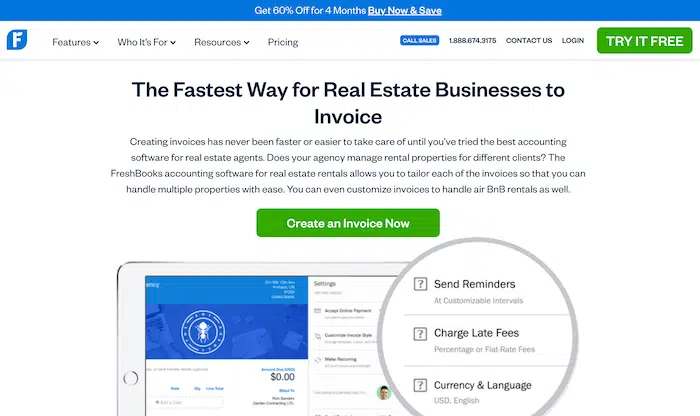 FreshBooks accounting software is designed for business owners (including real estate investors) and accountants.
Property owners can benefit from FreshBooks' many accounting tools. For instance, FreshBooks automatically tracks business expenses (including mobile receipt scanning), allows you to create custom invoices, and even accepts rent payments.
Tenants automatically receive reminders if rent is late, and landlords can write a custom message so the reminder is strategically worded. If rent is still late, late fees are sent automatically in accordance with your policy. To make it easier for residents (and ensure rent is paid on time), landlords can set up recurring credit card payments.
Landlords can save time with automatic expense tracking when they connect FreshBooks to credit cards or bank accounts. And FreshBooks also offers double-entry accounting, which ensures each financial transaction is recorded in at least two accounts.
Access financial reports, such as profit and loss reports, expense reports, and more, from the dashboard. And you can stay current on your business's performance from your desktop or the mobile accounting app.
FreshBooks even provides insights, such as suggesting how much to charge for rent or alerting landlords when it's prudent to upgrade properties.
Related: 23 Passive Income Apps that Give & Make You Money
9. DoorLoop (All-in-One Rental Property Software)
---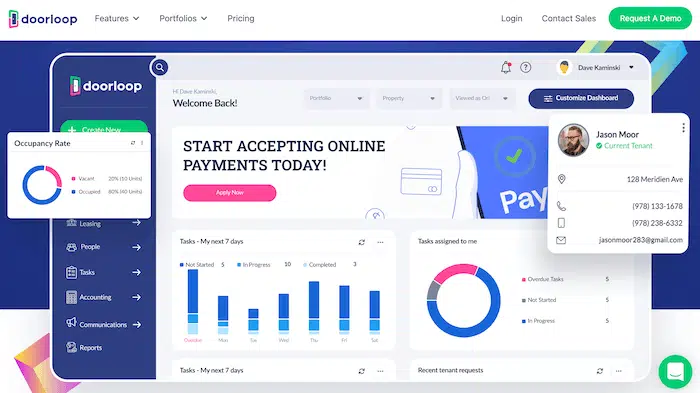 DoorLoop's rental property accounting software offers useful accounting tools to real estate investors and property management companies alike.
Similar to many other competitors in this piece, DoorLoop has a built-in automated rent collection system. It costs you nothing to have tenants make one-time or recurring payments through ACH or credit cards.
Property owners can connect a credit card, debit card, or bank account to track and organize transactions. DoorLoop updates all your transactions in real time and allows you to make any necessary edits.
Run and sort customizable reports, such as P&L statements, balance sheets, deposits, and more. DoorLoop provides more than 60 built-in property management and financial reports. Filter by property, date, accounting method, and more, to quickly see the information you need.
You can export your data to Excel or PDF or send it to QuickBooks with one click to prepare your taxes. Alternatively, you can invite your accountant to join your account for no extra charge.
DoorLoop works for landlords or property managers with all levels of property management business accounting experience. The Help Desk and unlimited customer support can answer any questions by phone, email, or chat.
Related: 14 Best Investment Opportunities for Accredited Investors
10. AppFolio (Property Management Software)
---
AppFolio's suite of rental property accounting tools feature smart automation to help you streamline your bookkeeping, regardless of how many (or few) properties you rent out.
AppFolio provides insights from more than 80 customizable reports, such as delinquency records, cash flow statements, income statements, balance sheets, and more.
AppFolio automates your accounts payable to make sure invoices are paid correctly and promptly. Landlords can take the PDF invoices from vendors and AppFolio's Smart Bill Entry will read the invoices, identify the important information, and process them for payment. Vendors can be securely paid via eCheck.
The software helps you manage deposits, but it also customizes late fee waivers and automatically sends late fees according to your lease. It can even streamline your debt recovery process if rent is consistently not being paid.
Linking AppFolio to bank accounts lets you take advantage of transaction matching through the software's Plaid integration, ensuring your accounting is accurate.
Users can see performance insights on their rental properties with real-time data visualizations. You can compare financial data over the years, share these reports with others, and more. You can also monitor any and all loans in a single location.
And if you want to share your data with an accountant? You can securely export your data outside of AppFolio.
Related: 20 Best Stock Research & Analysis Apps, Tools and Sites
What Is Landlord Accounting Software for Rental Properties?
---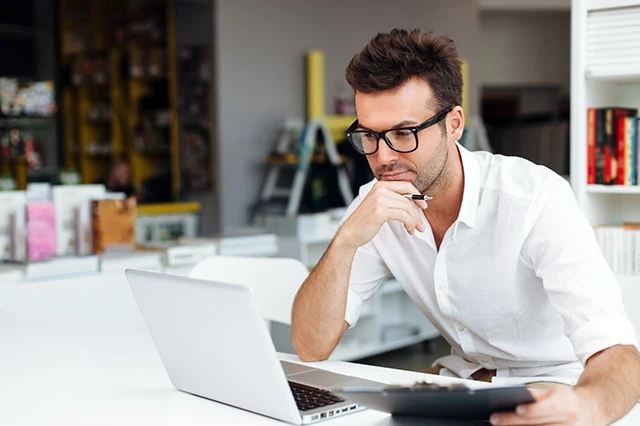 Accounting software for rental properties can automate many bookkeeping tasks that landlords and property management would normally do manually, saving them a substantial amount of time.
For example, a software suite might track all transactions (rent payments coming in, maintenance costs going out, etc.), create financial reports, connect to bank accounts, and create tax-ready documents.
Why Use Rental Property Accounting Software?
---
Rental property accounting software provides three major benefits:
It saves landlords time.
It reduces human error compared to manually entering information.
It can provide more insights than landlords can glean on their own.
What Features Should You Look for in Rental Property Accounting Software?
---
Look at the features below and decide which are most important to you. While we've provided ratings for the best accounting software solutions, the best fit for you ultimately boils down to which provider offers the options you need. In some cases, you might opt for an all-in-one platform that also includes accounting functions. Or you might consider combining platforms to meet all of your needs—say, combining Baselane for accounting and Hemlane for property management.
Rent collection, tracking, and reporting
Online rent collection, tracking, and reporting are some of the most important property management services. When done manually, these tasks can gobble up significant chunks of time. Furthermore, most residents appreciate the ability to pay rent online—especially if they can set up recurring payments. And automatic payments also give landlords peace of mind.
Setting up individual accounts for each rental property
When each rental property has its own account, it can be easier to keep your business organized, and landlords can more easily see how each property is performing.
Accelerated depreciation tracking
Accelerated depreciation provides greater depreciation value in the earlier years of your rental property's life. Tracking your depreciation is useful for tax purposes.
Schedule E preparation
Schedule E (Form 1040) is used to report the income or loss from your rental properties. Having this prepared for you will make tax season much easier.
Tracking income and expense transactions to generate income statements and balance sheets
When software tracks income and expenses automatically for you, it makes it easier to see how your real estate assets are performing at a glance.
Insurance marketplace
Homeowner's insurance and landlord insurance are different. It's important to get landlord insurance to protect you from the financial losses that can come with rental properties.
Non-accounting functions you might want/need
Some people prefer all-in-one solutions that include not just accounting, but other property management tools. Other features you might look for in this kind of software include:
Customizable leases
Rental leases need to cover all legal bases, which is made more difficult given that they also must be specific to each state. You'll also want to add your own rules, such as those regarding pets and late fees. So, some landlords gravitate toward services that make it easier to customize your leases.
Work order management
Work order management requires several steps. The tenant needs to send a maintenance request (and get confirmation it was received), a maintenance worker needs orders on what to do, the tenant needs progress reports, and the worker needs to be paid. Streamlining maintenance requests through software can help with all of this.
Publishing to multiple listing sites
You can't have a rental business without tenants, so you need to list your properties. However, rather than manually listing your rental property on each listing site, it's easier to let management software publish it across many popular websites simultaneously.
Tenant screening
Tenant screening involves going through a lot of records (eviction reports, criminal records, credit reports, etc.), so it's much more efficient to let software help you filter through potential tenants. The more thoroughly you screen your tenants, the more likely you'll have residents who pay rent on time and don't cause any issues.
How to Choose the Right Accounting Software for Rental Properties
---
First and foremost, you want to choose accounting software designed specifically for rental properties. Consider the features in the section above, decide which are most essential to your business, and get software that will do those tasks.
Another big consideration is the size of your rental business. Some accounting software is ideal for just a few units, others really only work for large-scale property managers, and a select few will work for any number of units. The size of your business, as well as the accounting features you want, could also influence what tier you'll need (and thus what price you'll pay).
How Does Accounting Software for Rental Properties Differ From Normal Accounting Software?
---
Just about any accounting software you'll come across will track and record your daily financial transactions and perform other bookkeeping tasks. Accounting software designed for landlords goes far above that and includes features specific to running a rental property business.
For instance, landlord-tailored accounting software will include things such as ways to collect rent payments online, Schedule E prep, and real estate-specific financial reports.
Frequently Asked Questions (FAQs) About Rental Property Accounting Software
---
How do you do bookkeeping for a rental property?
Rather than manually tracking your transactions and making calculations, use landlord accounting software. Even if you use a certified financial planner come tax season, you'll want to use software to ensure all of your numbers are adding up correctly. Plus, this software usually updates automatically, which allows to see your business's current financial situation at a glance, and it'll often provide valuable insights you might not glean on your own.
And here's an important tip: Keep your personal finances and rental property finances completely separate. It will make tax season far easier on you and your accountant, and it will ensure you retain any legal protections you're entitled to under your business structure.
Do property managers and landlords have unique accounting needs?
Yes, property managers and landlords have unique accounting needs. Among them: They need to track money coming in from rent, fees, and security deposits. They also need to track money going out from maintenance, mortgage payments, inspections, landlord insurance, and more. Depreciation on rental properties also needs to be calculated.
Is QuickBooks a good rental property accounting software?
While QuickBooks is an excellent general accounting program, it's not an ideal rental property accounting software solution because it's not tailored to real estate investors and their needs.
However, if you already use QuickBooks, you can sync it to a TenantCloud, Rentec Direct, RentRedi, or DoorLoop account (or export data from these accounts to use in QuickBooks). These software are designed for landlords.
Should you have multiple bank accounts to manage rental properties?
Real estate investors should have multiple bank accounts to manage rental properties. For instance, you might have one bank account specifically for security deposits, and another for regular rent payments. Some landlords prefer to have an account for each property.
Some landlord banking companies, like Baselane, let you have as many accounts as necessary without any additional charges.
Related: