The average American, I'm sorry to say, isn't saving enough money.
In some cases, it's a matter of means—sadly, many adults are only able to live paycheck-to-paycheck. However, many others have the means but simply need a little help with financial structure and discipline … and that's where automatic savings apps and savings accounts can be a difference-maker.
Americans are at least able to save more than they used to. The percentage of American adults who could cover a small $400 emergency with cash or cash equivalents is 68%—the highest it has been since the Federal Reserve began surveying adults on the matter in 2013.
However, bigger emergencies are a less inspiring story. According to a YouGov survey, roughly half of Americans have less than $5,000 in savings, 40% have less than $1,000 in savings, and 12% have no savings at all.
If you find yourself in one of these "not enough saved" boats, don't despair. All you might need is a shove in the right direction—and a helping hand.
Today, I'm going to introduce you to several money-saving apps and accounts. These products all boast automated savings features that allow you to save without thinking about it. And in many cases, they also have features that can actually accelerate your saving. 
First, I'll dive into today's best money-saving apps and savings accounts so you can compare and contrast their automated savings features and pick the right one for you. Then I'll answer a number of questions related to these apps and saving in general.
Automatic Savings Tools—Our Top Picks
---
The Best Automatic Savings Apps + Savings Accounts
---
Below are my top choices for apps and/or savings accounts that allow you to automatically save.
1. Fidelity Bloom (Our Top Automatic Savings App)
---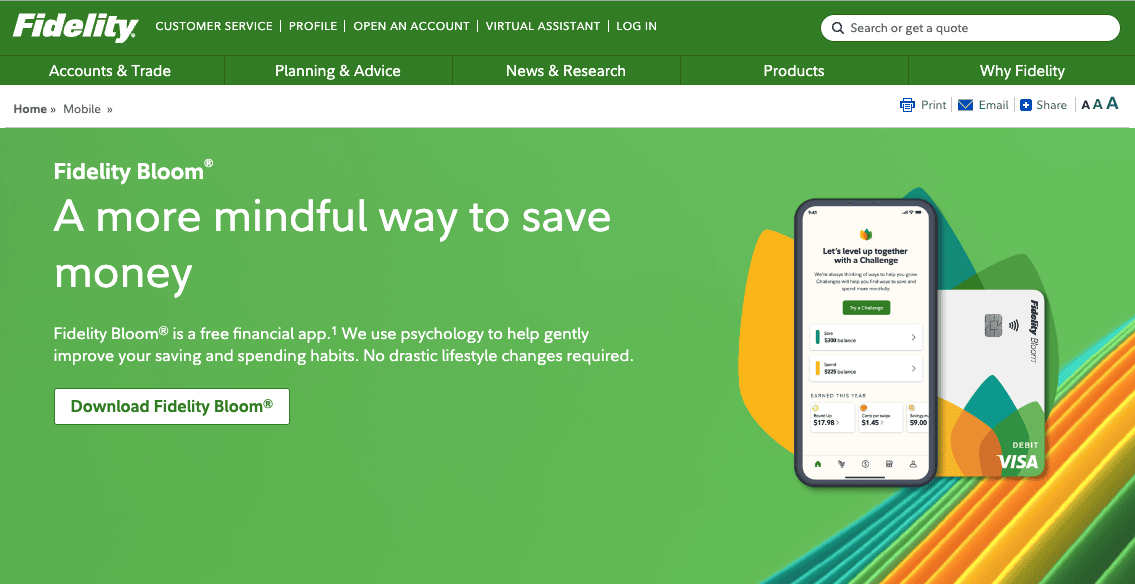 Available: Sign up here
Price: Free (no monthly fees)1
Platforms: Mobile app (Apple iOS, Android)
Fidelity Bloom® is a unique free mobile app and debit card that comes with two brokerage accounts—one for saving, one for spending—and pays you to save. Fidelity Bloom® aims to simplify your finances by separating your savings from your day-to-day spending money. The app also helps you build better financial habits by educating you about your spending and motivating you to save more.
When you download Fidelity Bloom®, you're opening two brokerage accounts: Fidelity Bloom® Spend and Fidelity Bloom® Save. Spend is an account for your day-to-day spending, while Save helps you grow your savings. The accounts have no monthly fees, nor are you required to make a minimum deposit to open them.
Fidelity Bloom Spend
The Spend account is linked to a Fidelity Bloom® debit card that can be used wherever Visa cards are accepted. The debit card has a flat 10-cent cash-back reward on every purchase—a small nominal amount, but one that translates into a high amount on small purchases. (For instance, 10 cents on a $10 purchase is effectively a 1% cash-back reward, which is generous for a debit card.)
Fidelity Bloom® also offers cash-back shopping with more than 1,000 popular retailers. You can use this feature through the app, or through your browser. Desktop/laptop users also have access to the Fidelity Bloom® Cash-Back Rewards Browser Extension—a Chrome extension that alerts you to potential rewards when you're visiting a participating site, and that displays reward rates while you're searching in Google.
Your Fidelity Bloom® debit card also comes with customizable round-ups that allow you to round up purchases by either adding a set dollar amount ($1 to $10) or a percentage of the purchase price (1% to 10%). Any time you use your Spend card, your round-up amount will be deposited into your Save account.
Fidelity Bloom Save
The Fidelity Bloom® Save account helps you keep your savings separate from your spending money. But it also goes one step further by helping you build your savings. Fidelity Bloom® will automatically match 10% on up to $300 saved annually in Fidelity Bloom® Save accounts, good for a potential maximum yearly reward of $30.
Other Features
Gift card exchange. Have a gift card sitting around with $10 or more in unused funds? Fidelity, through third-party provider CardCash, allows you to convert that gift card into cash that's deposited into your Save account.
Potentially earn yield on your funds. Uninvested cash you deposit into your Fidelity Bloom® accounts is invested in one of three money market mutual funds—a low-risk way to help earn additional yield.2
Direct deposit. Your employer can send wages directly to one of your Fidelity Bloom® accounts.
Recurring transfers. Put your savings on autopilot by setting up recurring automatic transfers from your Spend account to your Save account.
Money lessons and activities. Fidelity Bloom's® "Challenges" teach you research-based concepts and skills that help you change your saving and spending habits.
One small technical note that users should be aware of: While Fidelity Bloom® Save and Fidelity Bloom® Spend act like checking and savings accounts, they're actually brokerage accounts. Rather than Federal Deposit Insurance Corporation (FDIC) insurance that you'd get with a traditional bank account, you receive Securities Investor Protection Corporation (SIPC) coverage. Fidelity Bloom® accounts are covered for up to $500,000 of securities, including up to $250,000 in cash.
Read more in our Fidelity Bloom® review.
Related: Best Credit Cards for Teens [Build Credit]
2. Step Banking (High-Yield Savings With Credit-Building Card)
---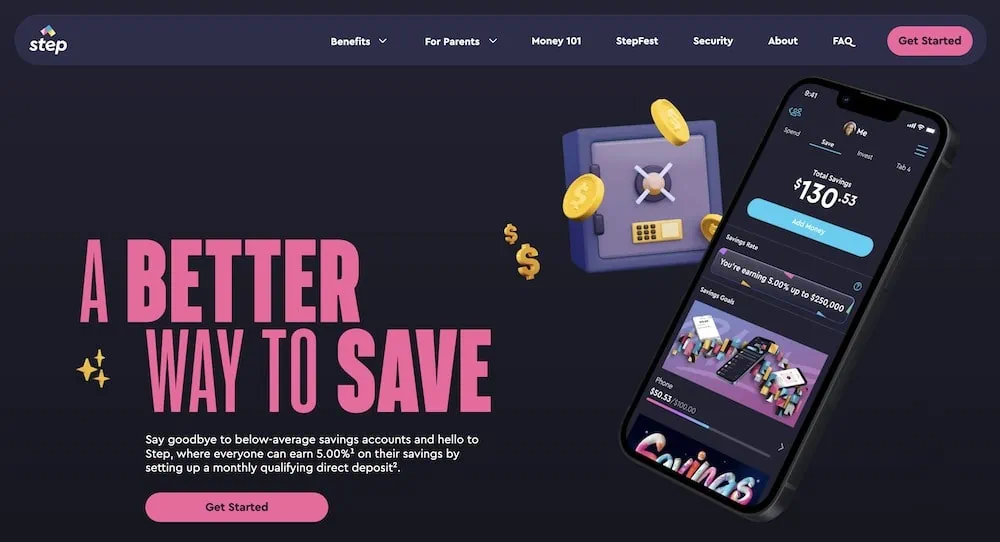 Available: Sign up here
Price: Free (no monthly fees)
Platforms: Mobile app (Apple iOS, Android)
Step, made popular by its unique "hybrid" Step Visa Card, has expanded its offerings to include a powerful high-yield savings tool.
Users earn 5% annually—compounded and paid monthly—on up to $250,000 saved in their Savings Goals, calculated using the average daily balance in your Savings Goals. Like with your average savings account, Step's savings yield can change depending on movements in the Federal Funds Rate, but if that happens, Step will give you 30 days' notice before it happens.
To qualify, the user must have a direct deposit of at least $500 per month, and the benefit extends for as long as the direct deposits continue. (Other perks of making qualifying direct deposits? Bonus points on dining, food delivery, charitable donations, specific merchants—and you can get paid up to two days early.)
Past that, Step offers other functions you'd expect from a typical automatic savings app. You can create Savings Goals—emergency fund, college savings—and track your progress on them through the app. It also features round-ups: Every time you spend with Step, your purchase will be rounded up to the nearest dollar, and the extra change will be dropped into your Savings Goal.
And remember: When you sign up with Step, you also get their Step Visa Card—a spending card that functions like a debit card, but also boasts some of the features of a Visa credit card—including the ability to build your child's credit history. You can't spend money you don't have, eliminating the fear of overdrafting. The card can be used to withdraw money fee-free at more than 30,000 ATMs, and it's protected by Visa's Fraud Protection and Zero Liability guarantee. And when you spend with the card, you can rack up rewards points that you can redeem for cash—which you can then dump back into your savings.
Users age 13 and older can also buy and sell stocks, exchange-traded funds (ETFs), and Bitcoin through their Step account.
Check out our Step review to learn more, or sign up for high-yield savings with Step today.
Related: 9 Best Credit Cards for No Credit History: Starter Credit Cards
3. Current Bank (High-Powered Banking App)
---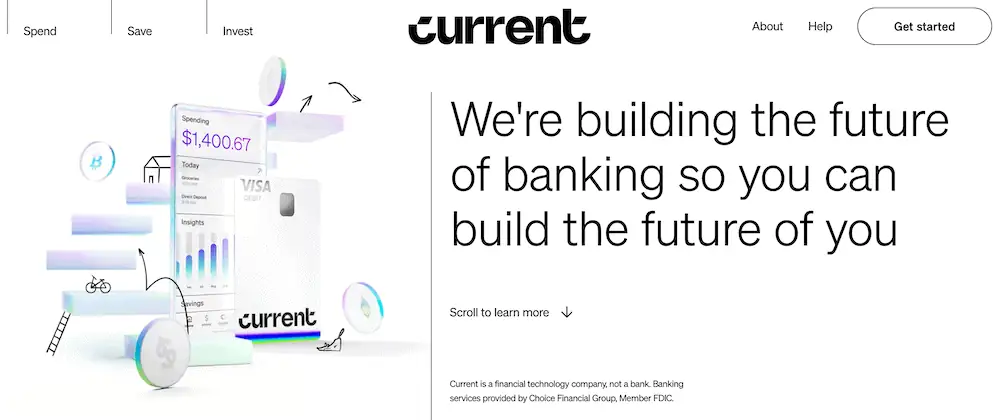 Available: Sign up here
Price: Free (no monthly fees)
Platforms: Mobile app (Apple iOS, Android)
Current provides a wide range of banking services, as well as financial tools and other perks that set it apart from traditional accounts.
Among Current's most popular features are Savings Pods. Each Current account comes with three Savings Pods, which are like digital envelope savings plans, or like having multiple savings accounts. Most people have more than one savings goal—and Savings Pods allow you to choose how much you want to allocate toward each goal.
Current's Round-Ups feature allows you to automatically send digital "change" into the Savings Pod of your choice. But note that you can't use Round-Ups for multiple Savings Pods—the feature can only be enabled for one Pod at a time.
Current offers a high APY on the first $2,000 in each of your three Savings Pods, though the APY on additional balances is close to the national average for all (not just high-yield) savings accounts. Other features include no fees for overdrafts under $200, faster paydays with direct deposit, and points that you can redeem for cash back in your account.
Related: How to Invest Money: 5 Steps to Start Investing w/Little Money
4. Allio Finance (Automatically Save Toward Retirement)
---
Available: Sign up here
Price: All features start at $1/mo. All fees waived if balance is over $10,000.
Platforms: Mobile app (Apple iOS, Android)
Allio Finance, which bills itself as "the only finance app powered by machine learning and managed by experts" is an automatic savings app, but one that focuses on meeting savings needs by investing. When you set up your account, you choose some sort of savings goal—a house down payment, vacation, etc. Allio will assess your risk, then it will construct a portfolio to reach that goal and provide you with an estimate of when you should expect to reach that goal.
The automatic savings component of Allio, like with many of these apps, comes with round-ups. When you determine how you want to fund your portfolio, you can select round-ups as one of the options. Once you link an account, any spare change from purchases using that account will be diverted into your Allio account. Allio also has a multiplier, so you can decide to double or triple any spare change from purchases. Just note that Allio won't invest that money until you've reached $10 worth of round-ups.
Allio is not self-directed—that is, you can't choose individual stocks or funds. Instead, Allio uses human experts and machine learning to create "institutional-grade" (read: complex) portfolios made up of ETFs. To Allio's credit, these portfolios include many more asset classes than most similar crafted-portfolio services. In addition to stocks and bonds, Allio's portfolios include alternative investments such as real estate, gold, and cryptocurrency.
Allio has one of the more curious price structures among investment apps. Rather than subscription tiers, instead, you pay monthly fees for various options. For instance:
Core Portfolio ($1/mo.): Invest in Allio's Core Portfolio.
Allio Impact Funds ($1/mo. each): Allio offers proprietary impact investment funds that target themes such as clean energy made-in-America goods, animal welfare, and more.
Holistic Account View ($1/mo., first month free): This feature turns Allio into a basic net-worth tracker that allows you to view all of your investment accounts from one dashboard.
Unlimited Savings Goals ($1/mo.): Set as many goals as you'd like.
And if your account balance is over $10,000, you pay nothing for all of the above features.
If you want to invest without thinking about it, you can also set up recurring deposits. Also note that Allio has no required account minimums.
Related: 14 Best Apps That Give You Money for Signing Up [Free Money]
5. Acorns (Best for Using Round-Ups to Invest)
---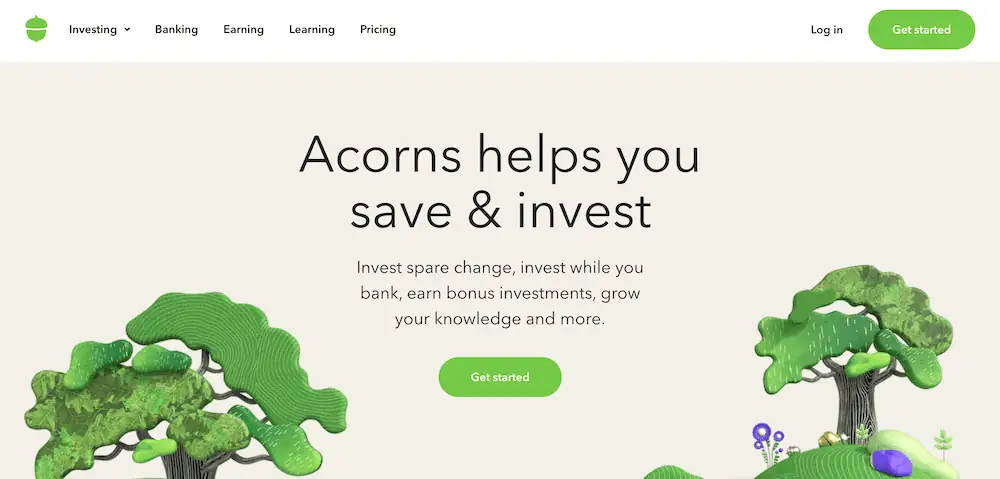 Available: Sign up here
Price: Acorns Personal: $3/mo. Acorns Personal Plus: $5/mo. Acorns Premium: $9/mo.
Platforms: Web, mobile app (Apple iOS, Android)
Acorns is a micro-investing app geared toward minors, young adults and millennials by offering Round-Ups: The app rounds up purchases made on linked debit and credit cards to the nearest dollar, investing the difference on your behalf.
For example, if you purchase a coffee for $2.60 on a linked credit card, Acorns automatically rounds this charge up to $3.00 and puts the 40-cent difference aside. Once those Round-Ups reach at least $5, they can be transferred to your Acorns account to be invested. You can also invest your Round-Ups more quickly with the Acorns Visa debit card—any time you swipe, your spare change is immediately invested, rather than waiting for your Round-Ups to reach the $5 threshold.
You can also choose to amplify your Round-Ups with the Multiplier feature, which allows you to multiply your Round-Ups investments by 2x, 3x, or 10x. And not sure what to do if the transaction is an even dollar amount? (Say, $1.00 or $2.00.) Whole-Dollar Round-Ups let you select how much to round up whenever this happens.
The Acorns investment offering itself is a simple, automated platform that uses pre-built portfolios of ETFs to keep investors exposed to stocks and bonds. While it doesn't have much to offer intermediate investors who want variety in their portfolios, Acorns' basic approach makes it one of the best investment apps for beginners.
Learn more in our Acorns review or sign up today.
Related: 7 Best Teen Checking Accounts [Bank Accounts for Teenagers]
6. Chime Bank (Smart, Free Online Banking)
---
Available: Sign up here
Price: Free (no monthly fees)
Platforms: Web, mobile app (Apple iOS, Android)
Chime was created with the idea that basic banking services should be easy and free. Thus, users aren't charged service fees, overdraft fees, or foreign transaction fees. Chime customers also have access to more than 60,000 fee-free ATMs nationwide, enjoy 24/7 live support, and they can get paid up to two days earlier if they set up direct deposit.
When you open a Chime checking account, you can choose to enroll in savings, too. Chime's high-yield savings account boasts an average annual percentage yield (APY) that's several times higher than the national savings account yield.
Chime makes it easy to save by automatically depositing money from every paycheck into your savings account. Simply select the amount you want to save each month, and let Chime do the rest.
With Chime's Save When You Spend feature, round-ups from your Chime Visa Debit Card are automatically transferred from your checking account into your savings account, helping you put that high yield to work more quickly.
Related: 7 Best Step Alternatives [Apps Like Step Banking]
7. Stash (Investing App With Stock-Back® Rewards)
---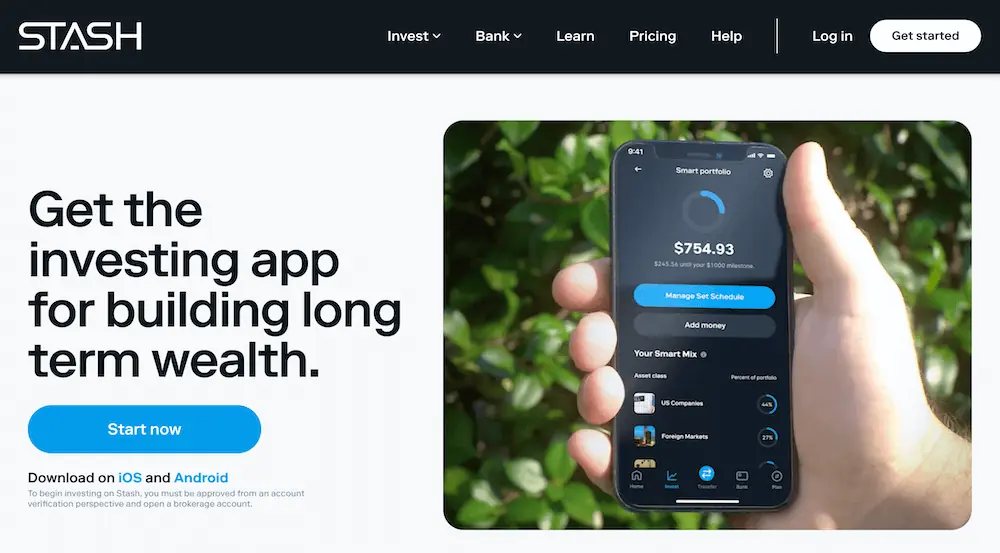 Available: Sign up here
Price: 1 month free. Stash Growth: $3/mo. Stash+: $9/mo.
Platforms: Web, mobile app (Apple iOS, Android)
Stash is a mobile-friendly personal finance app that includes various types of investment accounts and an online banking account. This low-cost, all-in-one financial platform caters to hands-on and hands-off investors alike who want an all-in-one financial platform.
Self-directed investors can buy stocks and ETFs with no add-on commission fees; cryptocurrency trading is also available with varying fees. Hands-off investors can use their Smart Portfolio feature, which gives you access to a pre-built portfolio of stocks, bonds, and crypto, and lets Stash automatically rebalance and reinvest dividends for you.
Stash's most noteworthy feature is the Stock-Back® Card, which rewards you various percentages of your purchases (depending on your plan) in stock.
Stash has two subscription tiers: Stash Growth ($3/month) and Stash+ ($9/month), and Stash is covering the first month subscription fee for both plans2. The latter naturally features more options, such as two kids' portfolios, exclusive Stash market insights, and better rewards from the Stock-Back® card.
Sign up here and Stash will give you a $5 bonus once you open an account and deposit at least $5 into your personal portfolio.1
Related: 19 Best Investment Apps and Platforms [Free + Paid]
8. Qapital (Customizable Savings App With Round-Ups)
---
Available: Sign up here
Price: Basic: $3/mo. Complete: $6/mo. Premier: $12/mo.
Platforms: Mobile app (Apple iOS, Android)
Qapital is a highly customizable savings app that pulls money from an existing checking account you connect with the app.
Qapital has one of the more flexible round-up programs. Like with most programs, when you make a purchase with an account that its "Round-Up Rule" is applied to, Qapital will deposit the spare change into one of your Goals (investment or savings).
However, unlike most programs, you don't just have to round up to the nearest dollar—you can round up even higher. So, let's say you selected $4 for your Round Up Rule amount: If you spent $5.50 on a coffee, the purchase wouldn't be rounded up to $6—it would be rounded up to $9! And whole-dollar amounts are always rounded up to your Round Up Rule amount; if it's set to $2 and you spend $1, you'll be charged $3 and a full $2 will be saved toward your goal.
You can save in other ways, too. For instance, you can set Qapital to save a dollar every time you go for a jog, or five bucks every time you go to a baseball game.
People who want to incorporate Qapital further into their financial lives can sign up for the Qapital Visa Debit Card and spending account. The fee-free card provides no-fee access to more than 55,000 ATMs, and is compatible with Apple Pay, Google Pay, and Samsung Pay. It offers round-ups, too, as well as money management features such as Spending Sweet Spot and Money Missions.
When you've reached a certain savings goal, you can cash it out through the debit card, or through one of your bank accounts.
If you prefer to invest with your round-ups, you can pick from several pre-built portfolios—from very conservative (90% bonds, 10% stocks) to very aggressive (10% bonds, 90% stocks).
Related: 8 Best Personal Capital Alternatives
9. Guac (Automated Savings App With "Tips")
---
Available: Sign up here
Price: Starter: Free. Pro: $1.99/mo.
Platforms: Mobile app (Apple iOS, Android)
Guac is a straightforward savings app that helps you set goals, save toward them, and track your progress along the way. Simply create a goal, set the dollar amount you want to reach, even add a photo to remind yourself what you're saving toward, and Guac will set you on the path toward achieving that goal.
Guac's main savings feature is "tipping," which has a similar thrust as round-ups. When you link a debit or credit card, you can determine how much you'd like to tip yourself every time you make a purchase. Then, when you buy something, Guac automatically pulls the tip from your linked account and puts it toward your Guac savings.
Users can also earn cash-back rewards when they shop through Guac's marketplace. The "Guac Double Dip" allows you to earn double the cash-back rewards with any of Guac's partners.
Guac has two tiers: Starter, which is free, and Pro, which costs $1.99 per month. Pro allows you to move your Guac balance back to your bank with same-day transfers for free, whereas Starter members must wait one to two business days or pay a 1.5% fee for same-day transfers. Pro also allows you to link a credit card for tips instead of linking your bank through Plaid, and it can support tips on more than one card; Starter users can only link tips to one card.
Guac also offers protection against overdrafts and up to $250,000 in FDIC insurance.
Lastly, I have to single out the app's frequently asked questions (FAQs) section. It's the first time I've ever seen FAQs answered in video format only—no text answers! This hardly cripples the app, but it could be a source of extreme annoyance as you're trying to get started.
Related: Best GoHenry Alternatives [Debit Cards Like GoHenry]
What Is an Automatic Savings App?
---
An automated savings app, whether it's connected to a traditional savings account or a financial technology product, helps you save without any extra effort. Once you get everything set up, you just relax and watch your savings grow.
How Do Automatic Savings Apps and Accounts Work?
---
The exact way you save money might differ depending on the app or savings account you're using. For instance, you might have automatic transfers of money that flow from your checking account to a savings account. You might have money deposited in your account every time you shop thanks to round-ups, cash-back, or other rewards. The common thread here is that you go about your day as normal, but you save more than you used to save.
Should I Use an Automatic Savings App or Savings Account?
---
As a general rule, yes. I think most people could benefit from the savings simplicity of an automatic savings app. If you're already a savings pro, you probably don't need these apps, per se, but you can still benefit from high APYs, savings matches, and other perks. But the prime candidates for these products are people who aren't saving as much money as they wish they were.
Features to Look for in Automatic Savings Apps and Accounts
Round-Ups or Tipping
Round-ups, or the ability to "tip" yourself with every purchase, are simple ways to incrementally save. Also, they have the fringe benefit of making you feel slightly less guilty about your purchases given that you're simultaneously saving.
Recurring Transfers
One of the fastest and easiest ways to save is to set up recurring transfers. That's when you either have your paychecks automatically transferred into a savings account (or similar account), or have money regularly transferred into savings from a linked bank account.
High APY or Savings Match
The higher the annual percentage yield (APY) of an account, the more money your savings can passively earn. You typically won't get much of a yield from a traditional savings account, but high-yield savings accounts and some financial apps offer high APYs. Some products will instead (or also) offer a savings match, usually up to a certain dollar amount of savings, which can motivate you to save more.
Cash Back
If you're shopping anyway, you might as well earn a little money while you're at it. Cash-back rewards return a certain portion of your purchase price—in some cases, directly into a savings account. Cash-back rewards vary widely by size and type of expenditure, so you'll want to look around to find the program that will benefit you the most.
Investment Options
Some automatic savings apps put your money in an interest-bearing account, but others deposit that money into an investment account. If you're interested in investing, but have struggled to put aside money for investing or even haven't yet opened a brokerage account, a savings account that comes with an investment account could be a great fit for you.
Low or No Fees
Try to choose money-saving apps with little to no fees. Monthly, account minimum, overdraft, and other fees can cut into your ability to save.
Multiple Accounts
Sometimes it can be tough to save when all of your money is flowing in and out of a single account, especially if it's a checking account. It's too easy to spend money you planned on saving when it's coming out of the bucket you usually spend from. At a minimum, you want an app or bank that offers multiple accounts or "buckets"—preferably, at least separate spending and savings accounts so you can silo away money meant for later.
Debit Cards
So, a standard debit card won't help you with saving money. However, some of the automatic savings apps mentioned above have feature-packed debit cards that will help with your savings efforts. Debit cards that offer round-ups, cash-back, or other rewards are a great way to save.
Automatic Savings Apps: Frequently Asked Questions (FAQs)
---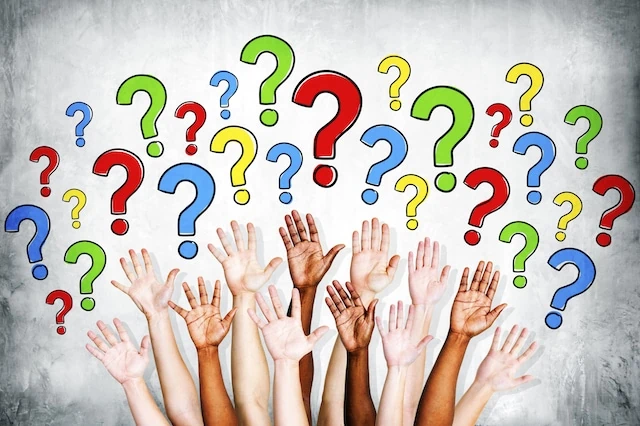 Can you automate savings?
Yes. You can and should automate at least some of your savings. Many financial apps and some banks often allow you to set up regular transfers of money into savings. They might also come with features such as round-ups that automatically save for you anytime you make a purchase.
What is the way to auto-save money?
You can auto-save money in a few ways.
One common way is to set up recurring transfers from a checking account to a savings account or other interest-bearing bank account.
Another way is to use a money-saving app. These apps can automatically help you save cash through round-ups, cash-back rewards, savings matches, and more. The more savings features you opt into, the more you can save.
Do savings apps work?
Savings apps are a great tool, but depending on the app and the amount of effort you put in, results will vary.
For instance, some apps save you money by rounding up your purchases and sending the spare change to a savings account. The more frequently someone makes purchases with a linked card, the more money is set aside. If you don't use the card often, you won't save as much.
Similarly, the more money you have in a high-interest account, the more you will save. The more often and the higher the dollar amount of automatic transfers, the faster one's savings will accumulate.
And if the savings app is connected with a spending account, you should use the app to analyze your spending and income patterns so you can better understand when you make good (or bad) decisions.
Lastly, you have to be dedicated to saving to some degree. If you frequently pull money out of your savings account to spend on things you don't need, you can't blame the app.
How can I trick myself to save money?
Saving money can be difficult. Maybe you think you don't have extra money to spare, or maybe you're just forgetful about socking away a few dollars. The good news is, that by putting your savings on autopilot, you're essentially "tricking" yourself into saving.
Are savings apps safe?
Some people find it comforting to handle all of their finances through banks with physical locations, such as Bank of America or JPMorgan Chase. However, fintech companies without brick-and-mortar buildings can keep your money just as safe—you just need to ensure they have the right protections in place.
For instance, you'll want to see security features such as encryption technology, secure login, biometric authentication. You'll also want to make sure your account is insured by the FDIC, National Credit Union Administration (NCUA) or SIPC.

---
Terms and Conditions for Fidelity Bloom®
The Fidelity Bloom® app is designed to help with your saving and spending behaviors through your Save and Spend accounts, which are brokerage accounts covered by SIPC. They are not bank accounts and therefore are not covered by FDIC insurance.
The Fidelity Bloom® debit card is issued by Leader Bank, N.A., and the debit card program is administered by BNY Mellon Investment Servicing Trust Company. These entities are not affiliated with each other or with Fidelity, although, the parent company of Fidelity has a minority percentage, non-controlling interest in Leader Bank. Visa is a registered trademark of Visa International Service Association, and is used by Leader Bank pursuant to a license from Visa U.S.A. Inc.
Images are for illustrative purposes only.
1 The Fidelity Bloom® app is free to download. Fees associated with your account positions or transacting in your account apply. Accounts made available via the app may be subject to fees.
2 You could lose money by investing in a money market fund. An investment in a money market fund is not insured or guaranteed by the Federal Deposit Insurance Corporation or any other government agency. Before investing, always read a money market fund's prospectus for policies specific to that fund.
Fidelity Brokerage Services LLC, Member NYSE, SIPC, 900 Salem Street, Smithfield, RI 02917
---
Terms and Conditions for Stash
1 Investment advisory services offered by Stash Investments LLC, an SEC registered investment adviser. Investing involves risk and investments may lose value. Holdings and performance are hypothetical. Offer is subject to Terms and Conditions.
2 Promotion offer subject to terms and conditions available in registration.
Stash Banking services provided by Stride Bank, N.A., Member FDIC. The Stash Stock-Back® Debit Mastercard® is issued by Stride Bank pursuant to license from Mastercard International. Mastercard and the circles design are registered trademarks of Mastercard International Incorporated. Any earned stock rewards will be held in your Stash Invest account. Investment products and services provided by Stash Investments LLC and are Not FDIC Insured, Not Bank Guaranteed, and May Lose Value.
Ancillary fees charged by Stash and/or its custodian are not included in the subscription fee.
Cryptocurrency trading and execution services are provided by Apex Crypto LLC (NMLS ID 1828849) through a software license agreement between Apex Crypto LLC and Stash Financial, Inc. Apex Crypto is not a registered broker-dealer or a member of SIPC or FINRA and is licensed to engage in virtual currency business activity by the New York State Department. Cryptocurrencies are not securities and are not FDIC or SIPC insured. Advisory products and services are offered through Stash Investments LLC, an SEC registered investment adviser. Cryptocurrency is a highly volatile investment; please ensure that you fully understand the risks involved before trading crypto. Visit apexcrypto.com/legal. Apex Crypto charges customers a fee on each cryptocurrency transaction based on their subscription plan with Stash, a portion of which Stash receives as revenue.
Stash has full authority to manage a "Smart Portfolio," a discretionary managed account. Diversification and asset allocation do not guarantee a profit, nor do they eliminate the risk of loss of principal. Stash does not guarantee any level of performance or that any client will avoid losses in their account. Crypto is relatively new and can be volatile. Investments are Delaware Statutory Trusts and offer indirect exposure to Crypto.
All rewards earned through use of the Stash Stock-Back® Debit Mastercard® will be fulfilled by Stash Investments LLC and are subject to Terms and Conditions. You will bear the standard fees and expenses reflected in the pricing of the investments that you earn, plus fees for various ancillary services charged by Stash. In order to earn stock in the program, the Stash Stock-Back® Debit Mastercard must be used to make a qualifying purchase. Stock rewards that are paid to participating customers via the Stash Stock Back program, are Not FDIC Insured, Not Bank Guaranteed, and May Lose Value. What doesn't count: Cash withdrawals, money orders, prepaid cards, and P2P payment. If you make a qualifying purchase at a merchant that is not publicly traded or otherwise available on Stash, you will receive a stock reward in an ETF or other investment of your choice from a list of companies available on Stash. See Terms and Conditions for more details.