The financial aspects of real estate investing can be complicated, so it's essential to work with a reliable bank that knows what you need.
A bank that works well for your personal banking won't necessarily have all the features you need if you're, say, running several rental properties or need to secure a commercial real estate (CRE) loan.
So when real estate investors choose a bank, they need to consider price, features, flexibility, and much more.
Below are the best banks that real estate investors should consider. In addition to explaining why each of these banks made the list, this piece will answer your frequently asked questions (FAQs) about how many bank accounts you need for a rental property, financial software, and more.
Best Banks for Real Estate Investors + Landlords—Top Picks
---
The Best Bank Accounts for Real Estate Investors + Landlords
1. Baselane (Best Real Estate Investor Banking Solution)
---
Baselane is one of the most comprehensive real estate finance platforms you'll find—a perfect financial complement for anyone trying to run a rental property business.
Baselane Banking provides landlords with a bank account that offers a competitive APY, as well as a debit card with unlimited 1% cash-back rewards (and up to 5% rewards on home improvement spending). And Baselane's recent migration to a new sponsor bank, Thread Bank, will allow it to add several additional features to Baselane Banking, including check writing, same-day ACH payments, and FDIC insurance of up to $2.5 million (provided through the deposit sweep program with Thread Bank, Member FDIC).
Need rental property accounting help? The Baselane platform categorizes all of your expenses, and offers tools that show year-to-date (YTD) expenses, YTD revenue, and more.
I also view Baselane as one of the best rent collection apps and software for landlords. Residents can pay online with bank transfers, debit cards, or credit cards and they have the option to set up recurring payments. Payments are sent directly to your bank accounts.
Other Baselane features worth noting?
It partners with Lendency to provide flexible real estate loans for single and multifamily, five-plus units, portfolio loans, and more.
It offers landlord insurance covering dwelling and liability, loss of rent, and other situations through partner Obie.
Baselane has an artificial intelligence (AI)-powered marketplace that can connect you with the best rates for mortgages, and loans.
Interested in learning more? Sign up with Baselane today and learn how you can earn a $150 bonus, too.
Related: 9 Best Tax-Advantaged Investments & Accounts to Build Wealth
2. Chase Business Banking (Accounts Backed by "Big Four" Bank)
---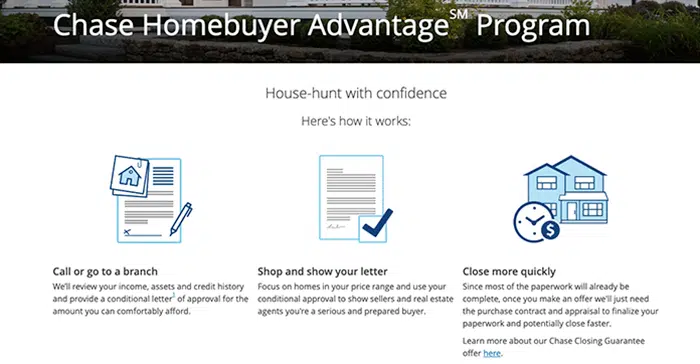 Chase is a top global financial services firm and America's largest bank with assets of $2.6 trillion. Its clients include governments, corporations, institutional investors, and wealthy individuals.
And they can help real estate investors get mortgages for more rental properties.
With the Chase Homebuyer Advantage Program, you can have Chase review your credit history, income, and assets to give you a conditional letter of approval for how much you want to spend on your next acquisition. This letter shows real estate agents that you're a serious buyer. When you make an offer, you can close more quickly; Chase will simply need the purchase contract and appraisal to finish your paperwork.
Meanwhile, the Chase Closing Guarantee says that if you don't secure an on-time closing in as soon as three weeks, they'll pay you $5,000—double the original amount they offered when they started the program in 2019.
Once you're ready to advertise a property, you get access to Chase's customizable marketing materials and their homebuyer education opportunities.
If you run into any financial troubles when you need to make repairs or anything else, you can get a Chase small business loan. So it's worth considering also getting a business account with them.
Chase for Business offers useful tools, such as an unlimited 1.5% cash back on business purchases made with their Ink Business Unlimited® card and the ability to take card payments anywhere, anytime with Chase QuickAccept. Deposits are made same-day with no additional fees.
A Chase Business Complete Banking account also makes it easy to send and receive funds through wire transfers, Chase QuickDeposit, and Chase Online Bill Pay. You can earn a $300 bonus for opening a new Chase Business Complete Checking account online, funding the account with a minimum deposit of $2,000, maintaining the balance for 60 days and completing five qualifying transactions within 90 days of enrollment. Actions include debit card purchases, Chase QuickAccept deposits, Chase QuickDeposit, ACH (credits), wires (credits and debits), and Chase Online Bill Pay.
The account comes with a monthly service fee of $15, but you have multiple ways to waive the fee, including maintaining a minimum daily balance or making purchases on your Chase Ink Business® credit card.
If you want to give a card to your property manager or a handyman to use, you can receive Associate Debit and Employee Deposit cards upon request.
Related: Real Estate Syndication: What It Means and How to Invest
3. Axos Bank (Online-only bank with real estate banking services)
---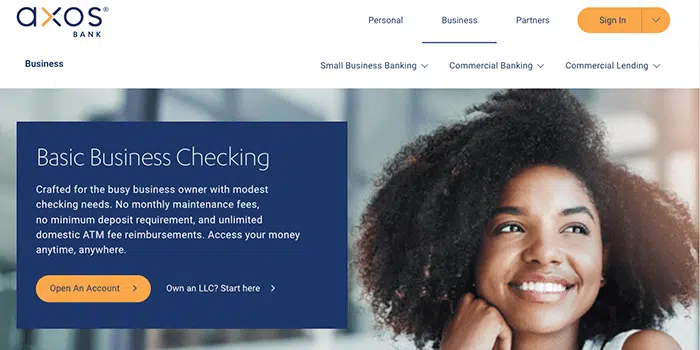 Available: Sign up here
Axos Bank is a premier small-balance commercial lender that can help mortgage brokers and CRE investors with financing.
They can get you financial aid for a variety of rental property investments, such as multi-family, two- to four-unit properties, mixed-use buildings, mobile home parks, commercial properties, student housing, non-resident alien properties, and more.
Axos is an experienced advisor to 1031 Exchange Qualified Intermediary firms. You can take advantage of reverse 1031 lending to quickly secure funding for a replacement property.
You pay nothing extra for their qualified escrow and trust agreements.
Axos is a nationwide HOA lender that provides various loan structure options. Term loans vary from three to 20 years, and you can get a non-revolving construction line of credit from three to 24 months—no personal guarantee required.
You can also take advantage of Axos Commercial Property Banking. With their treasury management services, you can offer your residents several digital and paper payment collection options.
Users can also offset fees with a competitive earnings credit rate, streamline cash flow with receivables management tools, and manage all finances from a single online dashboard.
Related: Axos First Checking Account Review [Free Checking + Debit Card]
4. Stessa Cash Management (Property management platform and banking)
---
Available: Sign up here
When you bank with Stessa through its Stessa Cash Management product, you can open an unlimited number of free business bank accounts. You can choose to open several rental property bank accounts to have a separate account for each rental property. These accounts have no monthly maintenance fees, no inbound wire fees, and no minimum balance requirements.
Your Stessa bank account seamlessly integrates with Stessa's rental property software. Your Cash Management card lets you tie purchases directly to a property.
The software lets you access your portfolio from anywhere, collaborate with others, and organizes all of your important real estate documents. It also lets you automate income and expense tracking, run unlimited monthly reports (new cash flow, capital expenses, etc.), and export tax-ready financial documents.
Additionally, it helps onboard tenants and lets them set up recurring online rent payments to be deposited into your bank account.
When you're ready to expand, Stessa has the resources you need to scale. Through Stessa's parent company, Roofstock, you can look through a curated selection of property listings to find your next investment. Roofstock can also help you sell your property or portfolio.
Stessa is free, but there are optional paid premium services including mortgage financing and market research. For instance, you can access instant online mortgage quotes within your Stessa account. You can also get fast landlord insurance quotes from Obie via your account.
Related: Which Type of Real Estate Investment is Right for You? 8 to Know
5. LendingClub Bank (Flexible CRE financing)
---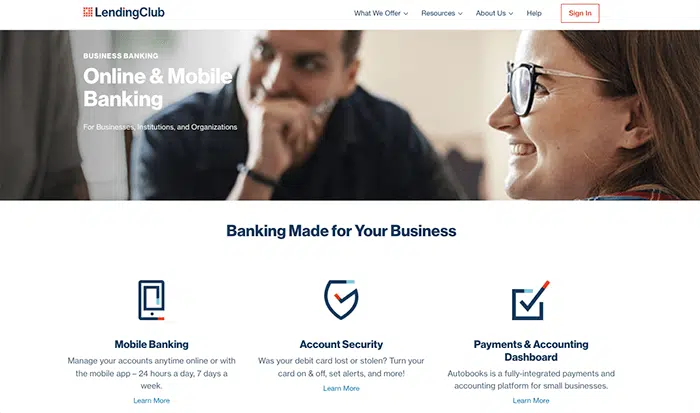 LendingClub Bank has flexible commercial real estate financing options for rental property owners. They can provide you with loans for property acquisition, refinancing, or construction. Asset types include office, industrial/warehouse, multi-family, medical, and retail. The usual loan size is up to $10 million and you can syndicate larger loans.
Once you have your rental property, you can take advantage of LendingClub's online business banking accounts.
Accounts earn 1% cash back on qualified purchases with a Tailored Checking debit card, have no monthly maintenance fees (for balances over $500), and you can sync your account to Mint, QuickBooks, or Quicken to help with your rental property accounting.
You can accept ACH payments, card payments, and wire transfers from tenants. And LendingClub also offers bill pay for when you need to pay contractors or property managers.
Related: 23 Passive Income Apps That Give & Make You Money
6. CitiBusiness Bank Accounts (Accounts backed by "Big Four" bank)
---
Citi offers excellent features for landlords and property managers, including:
Collecting, processing, and depositing rent payments

A CitiBusiness Streamlined Checking Account makes it easy to have rent deposited into a separate business operating account. You can check your finances online at any time.

Paying building expenses and purchasing building equipment
Making payments to professionals (without checks)

CitiBusiness credit cards let you set spending limits for individual employees who might need to purchase supplies on your behalf. You can look at detailed quarterly or annual spending reports to ensure your budget stays on track.

Controlling tenant sub-accounts
Creating an account just for security deposits, making tax time simpler
Landlords also benefit from all of Citi's standard features, such as mobile check deposit, reward business cards, online banking tools, bill pay, cash management services, and the ability to accept various payments (debit, credit, checks, tap-and-pay technologies, etc.).
Real estate investors can choose whichever bank account works best for them from the following:
CitiBusiness Streamlined Checking Account (best for new, smaller businesses)
CitiBusiness Flexible Checking Account (best for businesses with higher balances and more transactions)
CitiBusiness Analyzed Checking Account (helps offset eligible banking fees)
CitiBusiness Interest Checking Account
Citi banking customers can also get mortgage closing costs or interest-rate discounts through "relationship pricing."
Related: 6 Ways to Invest in Apartment Buildings [w/Minimal Effort!]
7. Wells Fargo (One of the most active SBA 7(a) lenders)
---
SBA 7(a) loans are designed for small businesses. These loans are partially backed by the U.S. Small Business Administration, but they're issued by private lenders.
Wells Fargo is one of the nation's 10 most active SBA 7(a) lenders. In addition to SBA 7(a) loans, they offer SBA Express and SBA CDC/504 loans.
The bank uses longer repayment terms (meaning lower monthly payments) and lower down payments (making upfront costs more affordable) than many competitors. Term lengths vary anywhere between seven to 25 years.
Wells Fargo can also offer higher loan amounts than many smaller banks can afford; it caps its small business loans at $5 million.
You can also secure a Commercial Real Estate Equity Loan by borrowing against your equity or a Commercial Equity Line of Credit to fund ongoing business operations.
Its various business checking accounts offer customized cards and checks, Zero Liability protection and mobile deposits, among other features.
Related: 11 Best Stock Portfolio Tracking Apps [Stock Portfolio Trackers]
Related Questions About the Best Banks (and Bank Services) for Landlords + Real Estate Investors
---
Naturally, making the most out of a business bank account isn't just about who you bank with or your account's features—it's what you do with it. Here are some questions about how landlords and real estate investors alike can maximize their business account's potential.
Should You Use a Separate Bank Account for Your Rental Property?
Yes, it's wise to use a separate bank account for your rental property. Doing so will significantly simplify your business.
Having a separate account will keep your personal and business funds separate, rather than commingled. This protects your personal assets, simplifies income and expense tracking, and makes tax season easier. (Trust us: Your CPA will thank you.)
Some real estate investors have both a checking and savings account for their rental property. The checking account is for all income and expenses, while the savings account might store security deposits or funds for emergency repairs.
Should You Use Separate Bank Accounts for Each Property?
Whether you should use separate bank accounts for each property depends on your personal situation.
If you have just a couple of properties or are using accounting software, you might be fine with just one rental property bank account. However, if you have multiple legal entities, you should obtain separate rental property bank accounts for each legal entity.
Many landlords find it easier to have a different business account for each of their rental properties, while some find it requires too many transfers.
Should You Separate Your Personal and Business Finances?
Rental property owners should always have separate personal and business accounts. Having a business bank account makes it easier to track income and expenses.
You want to be able to know in an instant how much of your money is set aside for business and how much can be spent on personal expenditures.
When tax season arrives, you'll save yourself (and your CPA!) a headache by not needing to weed through transactions in your personal account to find the ones applicable to your business. Products like those from Baselane and Stessa help with this.
Do These Accounts Offer Rental Property Accounting Software?
Yes, Baselane and Stessa both offer rental property accounting software.
Baselane categorizes all of your expenses and can quickly show you your YTD revenue, YTD expenses, and more.
Stessa organizes your real estate documents and automatically tracks your income and expenses. You can run an unlimited number of reports on capital expenses, cash flow, and more.
Are There Fees on Business Bank Account Options?
It depends. Some business bank accounts charge fees but waive them if you meet a minimum funds level in your account.
For example, a LendingClub Bank Tailored Checking account charges no fee if your average monthly balance is at least $500. However, if you consistently have a lower balance, LendingClub will charge a $10 monthly fee.
Other bank accounts waive fees if you use enough of their features. Other accounts are entirely free and you only pay if you sign up for premium services.
Carefully consider which bank account(s) deliver the best value for your needs.
How Can I Track Business vs. Personal Expenses for Real Estate Investments?
It's important to always be up-to-date on the state of your business finances. The two easiest ways to track business vs. personal expenses are to have separate bank accounts and use software to track and organize all of your expenses.
Preferably, your business bank account comes with a free debit or credit card.
You can get financial software for your rental properties for free; some of these services will even generate financial reports for you.
Do Any of These Bank Accounts Offer Assistance With Online Rent Collection?
Yes: Baselane and Stessa both make online rent collection simple.
With Baselane, tenants can pay rent online with credit cards, debit cards, or bank transfers. They can also set up recurring payments, so rent is always on time.
Stessa also lets residents pay rent online and set up recurring payments.
Related: