No one ever saved a dime by wishing, dreaming, hoping, or thinking they could set some money aside. The only way you'll ever get to saving is to jump in and do it.
Easier said than done, of course. That's why so many of us who do have the means to save still can't manage to make a meaningful dent in our savings goals. So, if you find yourself thinking "I'd like to save more," my advice would be to consider a small step that can snowball into big results.
That small step, of course, is trying out a microsavings app. Microsavings apps can work in several different ways, but the general idea is roughly the same—they help you save automatically. No thinking. No procrastinating. No postponing. Just saving.
So, read along with me as I introduce you to some of the best microsavings apps I've tested out. Rather than trying to make a big splash into saving, they help you gradually ease into the habit—and as you get more comfortable, they help you accelerate your savings until you finally reach your financial goals.
As I walk you through the best money-saving apps, I'll show you their best features, downsides, and any other considerations you'll need to make before trying one (or more) out. After that, I'll ask a few frequently asked questions about microsaving apps, and saving in general.
What Is a Microsavings App?
---
Microsavings apps make saving money easier. Think of them as automatic savings apps that help users set aside money in small increments to build toward bigger goals.
How Microsavings Apps Work
The various money-saving apps out there might all seem alike at a quick glance. But when you dig down deep, you'll see that they all have their own proprietary blends of herbs and spices that not only whip your savings into shape—but often help enhance other areas of your financial life.
Still, you're bound to see some similarities. Among the most popular features you'll tend to see among the different microsavings apps:
Round-ups (Purchases are rounded up to the nearest dollar, and the "spare change" is deposited into a savings or investment account)
Self-tipping (Similar to round-ups, you select an amount of money to pay yourself—and deposit into your savings account—every time you spend)
Saving matches
Cash-back rewards
Interest on account balances
Automatic transfers from spending accounts to savings
Educational resources
Other features that promote good savings habits
A microsavings app might use just one or several of the features highlighted above. But the end goal is the same: help you save regularly, automatically, in manageable chunks.
Also, while many money-saving apps funnel your money into a savings account, some help you use your savings to fund investment accounts so you can grow that money.
Microsavings Apps—Our Top Picks
---
Best Microsavings Apps and Accounts
---
So, without further ado, let's dive into the apps.
1. Fidelity Bloom (Our Top Microsavings App)
---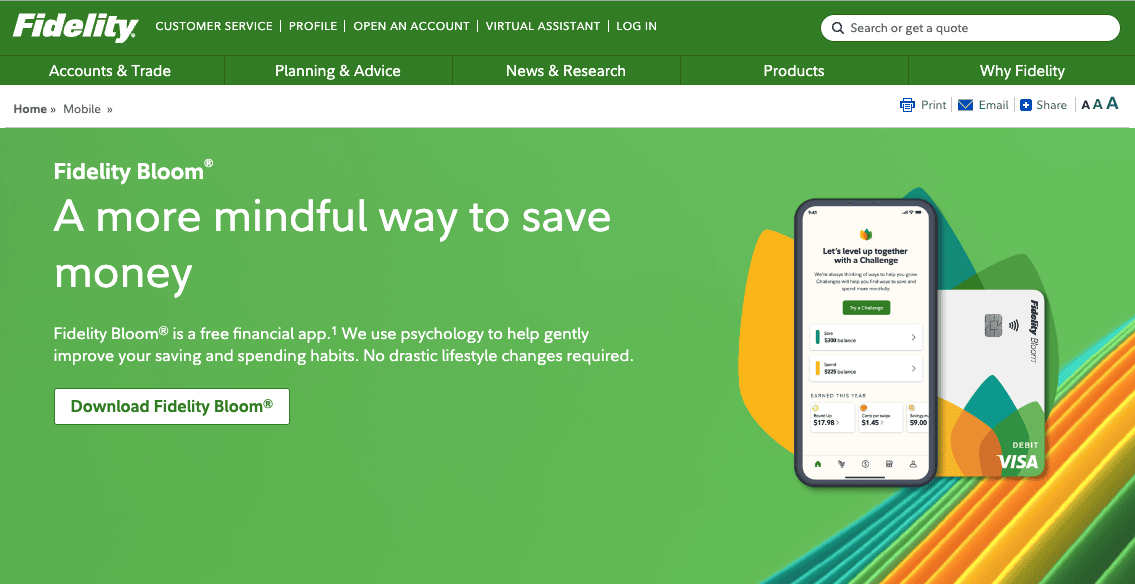 Available: Sign up here
Price: Free (no monthly fees)1
Platforms: Mobile app (Apple iOS, Android)
Fidelity Bloom® is a unique free mobile app and debit card that comes with two brokerage accounts—one for saving, one for spending—and pays you to save. Fidelity Bloom® aims to simplify your finances by separating your savings from your day-to-day spending money. The app also helps you build better financial habits by educating you about your spending and motivating you to save more.
When you download Fidelity Bloom®, you're opening two brokerage accounts: Fidelity Bloom® Spend and Fidelity Bloom® Save. Spend is an account for your day-to-day spending, while Save helps you grow your savings. The accounts have no monthly fees, nor are you required to make a minimum deposit to open them.
Fidelity Bloom Spend
The Spend account is linked to a Fidelity Bloom® debit card that can be used wherever Visa cards are accepted. The debit card has a flat 10-cent cash-back reward on every purchase—a small nominal amount, but one that translates into a high amount on small purchases. (For instance, 10 cents on a $10 purchase is effectively a 1% cash-back reward, which is generous for a debit card.)
Fidelity Bloom® also offers cash-back shopping with more than 1,000 popular retailers. You can use this feature through the app, or through your browser. Desktop/laptop users also have access to the Fidelity Bloom® Cash-Back Rewards Browser Extension—a Chrome extension that alerts you to potential rewards when you're visiting a participating site, and that displays reward rates while you're searching in Google.
Your Fidelity Bloom® debit card also comes with customizable round-ups that allow you to round up purchases by either adding a set dollar amount ($1 to $10) or a percentage of the purchase price (1% to 10%). Any time you use your Spend card, your round-up amount will be deposited into your Save account.
Fidelity Bloom Save
The Fidelity Bloom® Save account helps you keep your savings separate from your spending money. But it also goes one step further by helping you build your savings. Fidelity Bloom® will automatically match 10% on up to $300 saved annually in Fidelity Bloom® Save accounts, good for a potential maximum yearly reward of $30.
Other Features
Gift card exchange. Have a gift card sitting around with $10 or more in unused funds? Fidelity, through third-party provider CardCash, allows you to convert that gift card into cash that's deposited into your Save account.
Potentially earn yield on your funds. Uninvested cash you deposit into your Fidelity Bloom® accounts is invested in one of three money market mutual funds—a low-risk way to help earn additional yield.2
Direct deposit. Your employer can send wages directly to one of your Fidelity Bloom® accounts.
Recurring transfers. Put your savings on autopilot by setting up recurring automatic transfers from your Spend account to your Save account.
Money lessons and activities. Fidelity Bloom's® "Challenges" teach you research-based concepts and skills that help you change your saving and spending habits.
One small technical note that users should be aware of: While Fidelity Bloom® Save and Fidelity Bloom® Spend act like checking and savings accounts, they're actually brokerage accounts. Rather than Federal Deposit Insurance Corporation (FDIC) insurance that you'd get with a traditional bank account, you receive Securities Investor Protection Corporation (SIPC) coverage. Fidelity Bloom® accounts are covered for up to $500,000 of securities, including up to $250,000 in cash.
Read more in our Fidelity Bloom® review.
Related: Best Credit Cards for Teens [Build Credit]
2. Step Banking (High-Yield Savings With Credit-Building Card)
---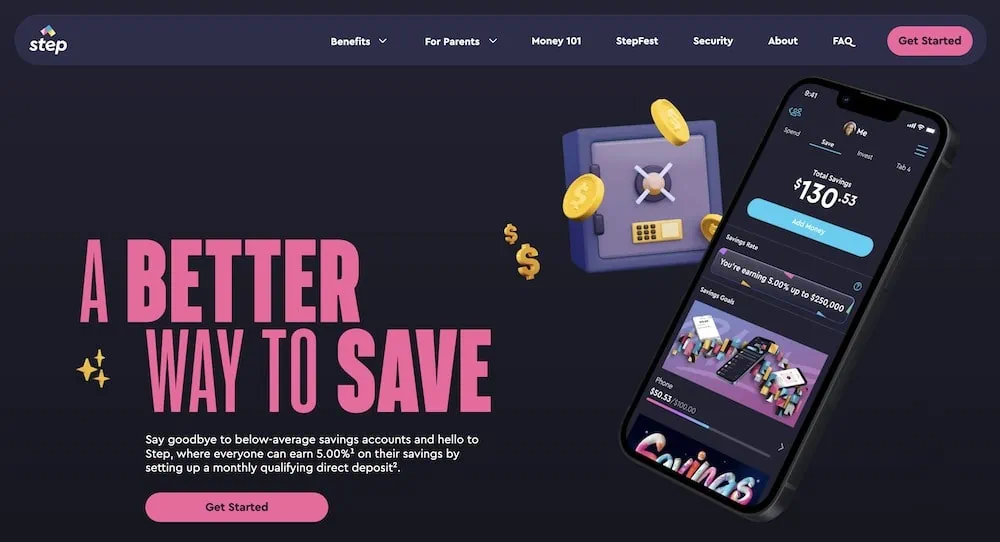 Available: Sign up here
Price: Free (no monthly fees)
Platforms: Mobile app (Apple iOS, Android)
Step, made popular by its unique "hybrid" Step Visa Card, has expanded its offerings to include a powerful high-yield savings tool.
Users earn 5% annually—compounded and paid monthly—on up to $250,000 saved in their Savings Goals, calculated using the average daily balance in your Savings Goals. Like with your average savings account, Step's savings yield can change depending on movements in the Federal Funds Rate, but if that happens, Step will give you 30 days' notice before it happens.
To qualify, the user must have a direct deposit of at least $500 per month, and the benefit extends for as long as the direct deposits continue. (Other perks of making qualifying direct deposits? Bonus points on dining, food delivery, charitable donations, specific merchants—and you can get paid up to two days early.)
Past that, Step offers other functions you'd expect from a typical automatic savings app. You can create Savings Goals—emergency fund, college savings—and track your progress on them through the app. It also features round-ups: Every time you spend with Step, your purchase will be rounded up to the nearest dollar, and the extra change will be dropped into your Savings Goal.
And remember: When you sign up with Step, you also get their Step Visa Card—a spending card that functions like a debit card, but also boasts some of the features of a Visa credit card—including the ability to build your child's credit history. You can't spend money you don't have, eliminating the fear of overdrafting. The card can be used to withdraw money fee-free at more than 30,000 ATMs, and it's protected by Visa's Fraud Protection and Zero Liability guarantee. And when you spend with the card, you can rack up rewards points that you can redeem for cash—which you can then dump back into your savings.
Users age 13 and older can also buy and sell stocks, exchange-traded funds (ETFs), and Bitcoin through their Step account.
Check out our Step review to learn more, or sign up for high-yield savings with Step today.
Related: 10 Best Free Debit Cards for Kids & Teens [Earn, Save & Spend]
3. SoFi Checking and Savings Account (Up to $250 in Free Cash)
---

Available: Sign up here
Price: Free (no monthly fees)
Platforms: Web, mobile app (iOS, Android)
The SoFi Checking and Savings Account sounds like your run-of-the-mill bank account, but it's more: It's also a high-yield savings account that earns 10 times the national average percentage yield (APY) and more than the average high-yield account. Better still, it boosts your ability to save right off the bat by rewarding you with $50 to $250 upon sign-up.
Sofi Checking and Savings covers all of the basics: No monthly account fees, no minimum balances, and website and mobile app access. But it also has several perks that match or top the competition. Features include:
Early paycheck reception when you sign up for direct deposit
FDIC insurance of up to $2 million (vs. $250,000 for most bank accounts)
Up to 15% cash back when you spend with local retailers
No-fee overdraft coverage up to $50
Round-ups on debit card purchases, which are deposited into your savings "Vault"
And right now, you can get a head-start on your savings with qualifying direct deposits. You'll receive $50 in bonus cash if $1,000.00 to $4,999.99 is sent to your bank account within a 25-day period, starting from when you receive the first direct deposit. That number jumps to $250 when you receive $5,000 or more. The higher cash bonus requires you to hit an admittedly high threshold, but the $50 is a reasonable bonus for a much more manageable threshold.
Want to get started on your cash bonus? Sign up with SoFi today.
Related: How to Invest Money: 5 Steps to Start Investing w/Little Money
4. Allio Finance (Automatically Save Toward Retirement)
---
Available: Sign up here
Price: All features start at $1/mo. All fees waived if balance is over $10,000.
Platforms: Mobile app (Apple iOS, Android)
Allio Finance, which bills itself as "the only finance app powered by machine learning and managed by experts" is an automatic savings app, but one that focuses on meeting savings needs by investing. When you set up your account, you choose some sort of savings goal—a house down payment, vacation, etc. Allio will assess your risk, then it will construct a portfolio to reach that goal and provide you with an estimate of when you should expect to reach that goal.
The automatic savings component of Allio, like with many of these apps, comes with round-ups. When you determine how you want to fund your portfolio, you can select round-ups as one of the options. Once you link an account, any spare change from purchases using that account will be diverted into your Allio account. Allio also has a multiplier, so you can decide to double or triple any spare change from purchases. Just note that Allio won't invest that money until you've reached $10 worth of round-ups.
Allio is not self-directed—that is, you can't choose individual stocks or funds. Instead, Allio uses human experts and machine learning to create "institutional-grade" (read: complex) portfolios made up of ETFs. To Allio's credit, these portfolios include many more asset classes than most similar crafted-portfolio services. In addition to stocks and bonds, Allio's portfolios include alternative investments such as real estate, gold, and cryptocurrency.
Allio has one of the more curious price structures among investment apps. Rather than subscription tiers, instead, you pay monthly fees for various options. For instance:
Core Portfolio ($1/mo.): Invest in Allio's Core Portfolio.
Allio Impact Funds ($1/mo. each): Allio offers proprietary impact investment funds that target themes such as clean energy made-in-America goods, animal welfare, and more.
Holistic Account View ($1/mo., first month free): This feature turns Allio into a basic net-worth tracker that allows you to view all of your investment accounts from one dashboard.
Unlimited Savings Goals ($1/mo.): Set as many goals as you'd like.
And if your account balance is over $10,000, you pay nothing for all of the above features.
If you want to invest without thinking about it, you can also set up recurring deposits. Also note that Allio has no required account minimums.
Related: 14 Best Apps That Give You Money for Signing Up [Free Money]
5. Acorns (Best for Using Round-Ups to Invest)
---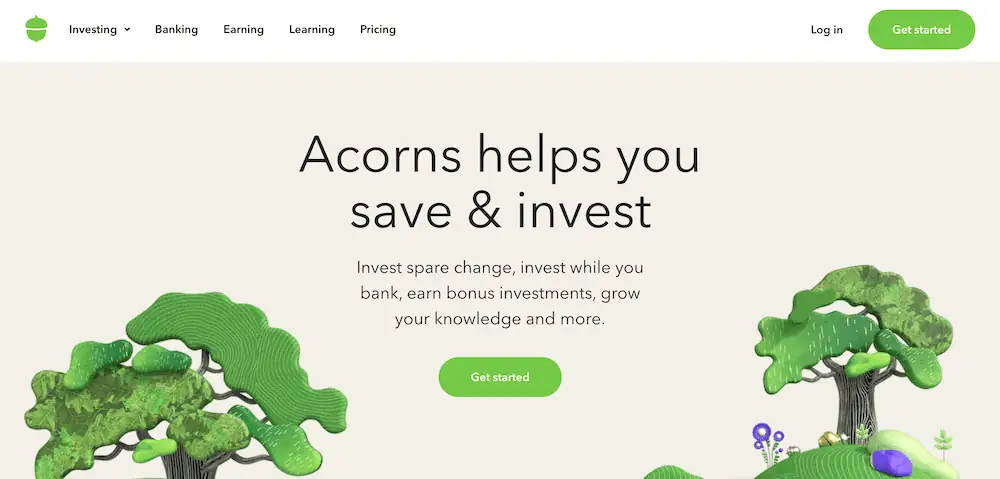 Available: Sign up here
Price: Acorns Personal: $3/mo. Acorns Personal Plus: $5/mo. Acorns Premium: $9/mo.
Platforms: Web, mobile app (Apple iOS, Android)
Acorns is a micro-investing app geared toward minors, young adults and millennials by offering Round-Ups: The app rounds up purchases made on linked debit and credit cards to the nearest dollar, investing the difference on your behalf.
For example, if you purchase a coffee for $2.60 on a linked credit card, Acorns automatically rounds this charge up to $3.00 and puts the 40-cent difference aside. Once those Round-Ups reach at least $5, they can be transferred to your Acorns account to be invested. You can also invest your Round-Ups more quickly with the Acorns Visa debit card—any time you swipe, your spare change is immediately invested, rather than waiting for your Round-Ups to reach the $5 threshold.
You can also choose to amplify your Round-Ups with the Multiplier feature, which allows you to multiply your Round-Ups investments by 2x, 3x, or 10x. And not sure what to do if the transaction is an even dollar amount? (Say, $1.00 or $2.00.) Whole-Dollar Round-Ups let you select how much to round up whenever this happens.
The Acorns investment offering itself is a simple, automated platform that uses pre-built portfolios of ETFs to keep investors exposed to stocks and bonds. While it doesn't have much to offer intermediate investors who want variety in their portfolios, Acorns' basic approach makes it one of the best investment apps for beginners.
Learn more in our Acorns review or sign up today.
Related: 7 Best Teen Checking Accounts [Bank Accounts for Teenagers]
6. Chime Bank (Smart, Free Online Banking)
---
Available: Sign up here
Price: Free (no monthly fees)
Platforms: Web, mobile app (Apple iOS, Android)
Chime was created with the idea that basic banking services should be easy and free. Thus, users aren't charged a monthly fee, service fees, overdraft fees, or foreign transaction fees. Chime customers also have access to more than 60,000 fee-free ATMs nationwide, enjoy 24/7 live support, and they can get paid up to two days earlier if they set up direct deposit.
When you open a Chime checking account, you can choose to enroll in a Chime savings account, too. Chime's high-yield savings account boasts an average annual percentage yield (APY) that's several times higher than the national savings account yield.
Chime makes it easy to save by automatically depositing money from every paycheck into your savings account. Simply select the amount you want to save each month, and let Chime do the rest.
With Chime's Save When You Spend feature, round-ups from your Chime Visa Debit Card are automatically transferred from your checking account into your savings account, helping you put that high yield to work more quickly.
Related: 19 Best High-Yield Investments [Safe Options Right Now]
7. Qapital (Customizable Savings App With Round-Ups)
---
Available: Sign up here
Price: Basic: $3/mo. Complete: $6/mo. Premier: $12/mo.
Platforms: Mobile app (Apple iOS, Android)
Qapital is a highly customizable savings app that pulls money from an existing checking account you connect with the app.
Qapital has one of the more flexible round-up programs. Like with most programs, when you make a purchase with an account that its "Round-Up Rule" is applied to, Qapital will deposit the spare change into one of your Goals (investment or savings).
However, unlike most programs, you don't just have to round up to the nearest dollar—you can round up even higher. So, let's say you selected $4 for your Round-Up Rule amount: If you spent $5.50 on a coffee, the purchase wouldn't be rounded up to $6—it would be rounded up to $9! And whole-dollar amounts are always rounded up to your Round-Up Rule amount; if it's set to $2 and you spend $1, you'll be charged $3 and a full $2 will be saved toward your goal.
You can save in other ways, too. For instance, you can set Qapital to save a dollar every time you go for a jog, or five bucks every time you go to a baseball game.
People who want to incorporate Qapital further into their financial lives can sign up for the Qapital Visa Debit Card and spending account. The fee-free card provides no-fee access to more than 55,000 ATMs, and is compatible with Apple Pay, Google Pay, and Samsung Pay. It offers round-ups, too, as well as money management features such as Spending Sweet Spot and Money Missions.
When you've reached a certain savings goal, you can cash it out through the debit card, or through one of your bank accounts.
If you prefer to invest with your round-ups, you can pick from several pre-built portfolios—from very conservative (90% bonds, 10% stocks) to very aggressive (10% bonds, 90% stocks).
Related: 8 Best Personal Capital Alternatives
8. Revolut (Capable App for Many Money Needs)
---
Available: Sign up here
Price: Standard: Free. Premium: $9.99/mo. Metal: $16.99/mo.
Platforms: Mobile app (Apple iOS, Android)
Revolut is a financial technology company that helps users save money in several ways, offering payments solutions, a prepaid debit card, currency exchange, investing … and, of course, savings.
With Revolut, you save in its FDIC-insured "Vault" product, which acts as a two-tiered high-yield savings account (one high yield for Free users, and an even higher yield for Premium and Metal users). Users set savings goals and deadlines within their Vaults as motivation. You can even open a Group Vault for joint savings—so, say, saving for a vacation with a friend, or for a house down payment with a spouse. Also, money can be set aside in 28 currencies.
Like many other money-saving apps, Revolut lets you make one-time deposits or set up recurring transfers to your savings account. You can add money to a Revolut account in numerous ways: bank transfer, debit card, Apple Pay or Google Pay, mobile check deposit, direct deposit, even money from other Revolut users. You can also round-up purchases and have the spare change dropped into your Vault.
You can withdraw money instantly, and fee-free, at any time from a network of 55,000 in-network ATMs. (But note that Revolut limits out-of-network ATM withdrawals at $1,200 per month.)
Revolut offers other useful money-related features as well, such as the ability to get paid up to two days early, Group Bills (to split costs), discounts and cash-back rewards on certain brands, airport lounge access (Premium and Metal plans only), and more.
Related: 50+ Best Money-Making Apps That Pay You Real Money
Why Use a Microsavings App?
---
Microsavings apps are useful to people who have trouble saving, but also to those who excel at saving.
If you forget to save or just never feel motivated enough to manually put money away, microsavings apps can take the bricks off your shoulders. They can help you automatically put part of your paycheck away each month, or help you turn every purchase into an opportunity to save a bit at a time.
And if you're an experienced saver, microsavings apps can help you accelerate what you're already doing, whether that's through round-ups, cash-back rewards, interest, or other savings-amplifying features.
Benefits of Using a Microsavings App
---
Automatic savings apps …
Build saving habits. Savings should be part of your monthly budget—not an afterthought.
Help you grow your savings over time. Even small amounts of money, built up and grown (whether by investing it, collecting interest on it, or enjoying savings matches on it) help build a large nest egg over time.
Save time and reduce stress. The better money savings apps out there help automate all sorts of saving processes.
Keep your savings separate from other financial buckets. People who try to save money within the same account they spend from have a more difficult time tracking how much they're actually saving, and face greater temptation to withdraw saved funds.
Who Might Consider Using a Microsavings App?
---
Aspiring savers who want to find concrete ways to stop spending their entire paycheck.
Financial novices who are just starting their savings journey—regardless of age.
Anyone who feels overwhelmed by their finances and wants but knows saving is important.
Experienced savers who want to squeeze more money out of their financial transactions.
Considerations When Reviewing Microsavings Apps
---
Fees: Try to avoid microsaving apps with monthly fees, or other costly fees, unless the features justify the cost.
Minimum balance requirement: Don't choose a money app with a minimum balance requirement unless you are confident you would never need to dip below the minimum.
Interest rate/APY: The higher the interest rate or yield, the more earning potential available.
Savings rules/features: Does the app offer round-ups? Automatic transfers? Cash-back rewards? The more ways an app can help you save, the better.
Number of accounts or savings goals: I can't speak for everyone, but I will say that most people can benefit from having multiple accounts to make sure money ends up going toward what it was originally earmarked for. At the very least, you should have one checking/spending account and one savings account. Some people prefer having multiple savings accounts to keep their money siloed for different purposes.
Insurance: FDIC and National Credit Union Association (NCUA) insurance helps protect funds in bank accounts and other banking products against the possibility of the bank going under. SIPC insurance acts similarly, but applies to investment institutions, such as stock brokers.
Investment options: If you care about having the ability to invest within your savings app, make sure you have access to the assets you want. If you want to invest in stocks you choose, but the app only has pre-built ETF portfolios, look elsewhere.
Related:
---
Terms and Conditions for Fidelity Bloom®
The Fidelity Bloom® app is designed to help with your saving and spending behaviors through your Save and Spend accounts, which are brokerage accounts covered by SIPC. They are not bank accounts and therefore are not covered by FDIC insurance.
The Fidelity Bloom® debit card is issued by Leader Bank, N.A., and the debit card program is administered by BNY Mellon Investment Servicing Trust Company. These entities are not affiliated with each other or with Fidelity, although, the parent company of Fidelity has a minority percentage, non-controlling interest in Leader Bank. Visa is a registered trademark of Visa International Service Association, and is used by Leader Bank pursuant to a license from Visa U.S.A. Inc.
Images are for illustrative purposes only.
1 The Fidelity Bloom® app is free to download. Fees associated with your account positions or transacting in your account apply. Accounts made available via the app may be subject to fees.
2 You could lose money by investing in a money market fund. An investment in a money market fund is not insured or guaranteed by the Federal Deposit Insurance Corporation or any other government agency. Before investing, always read a money market fund's prospectus for policies specific to that fund.
Fidelity Brokerage Services LLC, Member NYSE, SIPC, 900 Salem Street, Smithfield, RI 02917
---
Step Disclaimer
Disclaimer: Step is a trademark of Step Mobile, Inc.