Nobody wants a tenant who will steal their copper pipes or appliances and smear peanut butter over the electrical outlets and walls. But bad tenants are a real risk when you own a rental property.
Fortunately, landlords have options when it comes to the tenant screening process. Numerous services allow you to gain insight into prospective tenants' credit, financial history, legal history, and more. This insight could help lower the risk that you'll end up with a tenant that costs you thousands of dollars in repairs (not to mention countless headaches), and improve the chances that your passive income will keep rolling in.
Here are some of the best ways to screen tenants, some insight into how the tenant screening process works, and what information you can expect to receive when you screen potential renters. 
Best Ways to Screen Tenants—Top Picks
---
| | | |
| --- | --- | --- |
| | | |
| | | |
| | | |
| 14-day free trial. All plans have a $28/mo. base fee. Basic: Additional $2/unit/mo. Essential: Additional $12/unit/mo. Complete: Additional $32/unit/mo.* | Unlimited Plan: Free, Unlimited Plus: $7/mo/unit | Free: $0. Starter: $12/mo. Growth: $40/mo. Business: Varies. |
| | | |
All-in-One Landlord Software
14-day free trial. All plans have a $28/mo. base fee. Basic: Additional $2/unit/mo. Essential: Additional $12/unit/mo. Complete: Additional $32/unit/mo.*
Free-to-Use Landlord Tool
Unlimited Plan: Free, Unlimited Plus: $7/mo/unit
List, Screen, Collect Rent + More
Free: $0. Starter: $12/mo. Growth: $40/mo. Business: Varies.
Best Tools for Screening Potential Tenants
1. Hemlane
---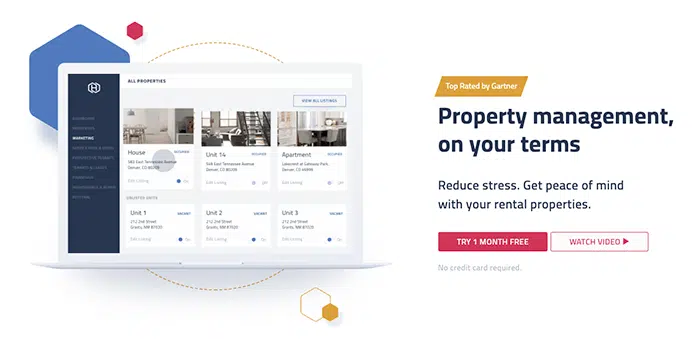 Available: Sign up here
Hemlane is a holistic property management software that lets you do everything from screening tenants to coordinating repairs to collecting rent. It can come in handy whether you own one rental property or several. Property managers can use its tenant screening tool to review TransUnion credit reports, criminal and sex offender records, court case details and more. Comprehensive tenant screening costs $30.
Hemlane also makes customized rental recommendations based on a prospective tenant's background. It might, for example, suggest a tenant isn't qualified based on the financial history or income information they've provided. Ultimately, you'll have the final say in whether you choose to rent to a prospective tenant or not, but these recommendations can still be useful.
On-Demand Property Management Software
Hemlane | All-In-One Property Management
14-day free trial. All plans have a $28/mo. base fee. Basic: Additional $2/unit/mo. Essential: Additional $12/unit/mo. Complete: Additional $32/unit/mo.*
Hemlane offers property management services in three packages using per unit pricing with no unit minimum.
The service offers leasing tools to find qualified tenants, local support to connect you with agents, repair coordination with 24/7 US-based support for tenant requests and management tools for property management.
Free 14-day trial to start. Afterward, pricing starts at $30/month, allowing landlords to structure their management of 1-100 units flexibly.
Pros:
Clear and transparent pricing, no nickel and diming

Access to nationwide local leasing agent partner network

Listing syndication with dozens of sites

Tenant screening

24/7 repair coordination
Cons:
Not designed for landlords seeking full-service property management

Not suitable for short-term/vacation rentals

Not meant for portfolios over 100 units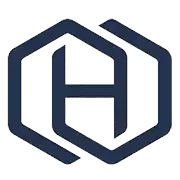 * Pricing reflects annual billing. With monthly billing, all plans have a $34/mo. base fee. Basic: Additional $2.50/unit/mo. Essential: Additional $15/unit/mo. Complete: Additional $40/unit/mo. No credit card required for free trial.
Related: Which Type of Real Estate Investment is Right for You? 8 to Know
2. Avail
---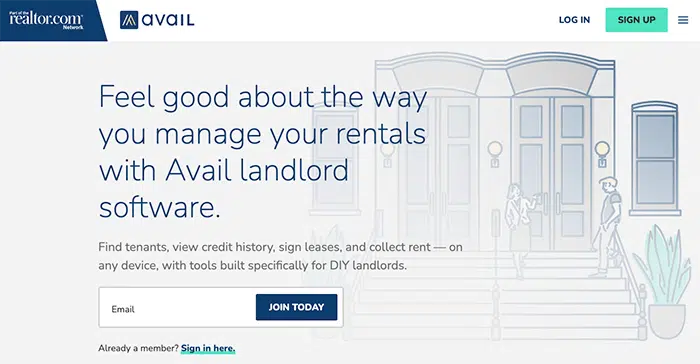 Available: Sign up here
Want a landlord software that simplifies everything from marketing your property to tenant screenings? Avail could be just the ticket. It's a soup-to-nuts solution for landlords who want to use technology to simplify property management. It lets you list your property or properties, manage rental applications, screen tenants, manage leases and rent payments, track maintenance and more.
Avail's tenant screening tool lets you customize which reports you want to run, so you won't have to pay for something you don't want. You can opt for a basic Renter Profile report, which includes job history, rental history, and income verification. Its higher-tier Credit Plus package includes a credit score, report and adverse items information. And the top-tier Full Screening package includes all of the features of the other packages, plus a nationwide criminal, sex offender and terror list check, and information on prior evictions. Report prices vary by state, though Avail indicates on its blog that report prices range from $25 to $75.
Free Property Management Solution for Independent Landlords
Avail | Free Landlord Software
Unlimited Plan: Free. Unlimited Plus: $7/unit/mo.
Avail offers free landlord software that allows you to syndicate listings on rental property sites, conduct credit and criminal screenings, execute state-specific leases, process online rent payments and perform maintenance tracking.*
Premium version offers next-day rent payments, waived ACH fees, custom applications and leases, custom lease cloning for reuse, and creating a property website.*
Tenants pay application fees, screening fees and payment fees ($2.50 per bank transfer w/Unlimited Plan).*
Pros:
Free plan with useful features

Tenant screening

Listing syndication with dozens of sites

State-specific lease creation

Online rent payments
Cons:
Next-day rent payments only come with Premium

No chat features within the app, must rely on email for communicating with tenants
* Some fees may apply for certain services (e.g., ACH fees for rent collection)
Related: 11 Best Stock Portfolio Tracking Apps [Stock Portfolio Trackers]
3. SmartMove
---
Available: Sign up here
SmartMove is a TransUnion service that specializes in the tenant screening process. So if you're overwhelmed by the idea of a full-featured property management platform and just want to do tenant background checks, SmartMove could be worth a look.
It lets you access prospective tenants' credit, criminal, eviction, and income reports quickly and easily. You can also choose which reports you get with SmartMove's tiered screening bundles.
For instance, if you're only looking for a basic credit and criminal records check, you might opt for the SmartCheck Basic bundle, which costs $24.99 per screening. Those looking for more in-depth screening could purchase SmartCheck Plus ($39.99 per screening) or Premium ($41.99 per screening). The higher-tier packages include full credit checks, info on previous addresses, past evictions and more.
Tenant Screening Service
SmartMove | Tenant Screening & Background Check from TransUnion
Tenant credit, eviction and background check options ranging from $24.99 to $42.99
SmartMove is a tenant screening solution designed for independent landlords with 1-10 properties.
The service provides a legal and convenient portal for independent landlords to perform tenant background checks.
Backed by TransUnion, the tenant screening process can be completed in a matter of minutes for $40
Pros:
Provides tenant scoring system (ResidentScore™)

Pulls tenant credit, eviction and background reports in minutes

Landlord can choose to pay fee or pass it along to prospective tenant(s)
Cons:
Only uses TransUnion credit information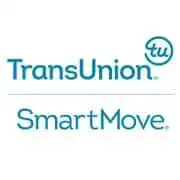 Related: 6 Ways to Invest in Apartment Buildings [w/Minimal Effort!]
4. TenantCloud
---
Available: Sign up here
If you'd prefer a full-featured property management tool that lets you do everything from screening prospective tenants, handling maintenance requests and reviewing rental payment history, TenantCloud might be exactly what you need. Its comprehensive platform can help you manage multiple rental properties all in one place, from marketing to property maintenance. 
TenantCloud offers tiered package pricing, ranging from $0 to $40 and up. But if you're just looking to screen tenants, screening reports vary in price depending on which reports you want. For a basic background check, you'll pay $25. You can also opt for a credit check for $30 or a full check for $39. The basic background check can be used to verify a prospective tenant's identity. It includes a national criminal and sex offender search, and an employment and education check. The credit check includes a credit score, bankruptcy search and address history. And with the full check, you'll get all the info of a basic and credit check, plus an eviction history report. 
Landlord Software for Listing, Screening and Collecting Rent
TenantCloud | Rental Advertising, Tenant Screening & Rent Payments
Free. Starter: $12/mo. Growth: $40/mo. Business: Custom pricing.
TenantCloud allows you to list vacant rentals on advertising sites, screen tenants and collect rent payments online
List your vacant rental(s) on dozens of rental listing sites simultaneously
Screen prospective tenants from the TenantCloud app
Collect rent online using ACH payments, debit and credit cards
Free 14-day trial to start for paid plans. After that, pricing varies depending on the plan
Pros:
Aesthetically-pleasing user interface

Automate vacancy listings available on dozens of rental sites

Screen prospective tenants
Cons:
No human support readily accessible

Only supports financial integration with QuickBooks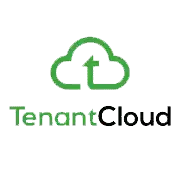 Related: 14 Best Investment Opportunities for Accredited Investors
How Does the Tenant Screening Process Work?
---
Before you screen any tenants, it's a good idea to familiarize yourself with state laws and federal fair housing laws.
Fair housing laws are in place to help prevent housing discrimination. They state, for instance, that you cannot refuse to rent to a tenant based on their race, color, national origin, religion, sex, familial status, or disability.
Understanding fair housing laws is essential if you own rental property. You can visit the U.S. Department of Housing and Urban Development to learn more about the federal Fair Housing Act; state government websites should have information on their own fair housing laws.
To screen tenants, you can turn to a tenant screening company, or you can run credit reports through the major credit bureaus. Tenant screening services let you evaluate prospective renters. These services offer detailed background on everything from a potential renter's credit and financial history to any past criminal record, evictions, liens, and more. The screening process does cost money, but the expense is typically nominal and the peace of mind they provide is often worth it.
While free tenant screening isn't an option, landlords might pay for the cost of screening or pass that cost on to rental applicants, generally in the form of an application fee. Once the tenant submits a rental application, that information is shared with the tenant screening service. The service will use the info to evaluate prospects, and while the length of time it takes to generate reports varies, the entire process from application to reporting generally takes between 48 and 72 hours.
Depending on the service used, property owners may choose to customize which reports they receive. For instance, you might simply want to look at an applicant's credit history. In that case, you could order a credit check. Those who want a more comprehensive picture might also order a rental history report or a criminal background check.
Once you receive the reports, you can use them to help determine whether or not you'd like to rent to a particular individual or family. Some services will also send a copy of the reports directly to potential tenants for full transparency. This can help you avoid any disputes with potential renters, as they have the same information you've received.
Related: Best Video Intercom Systems for Apartments and Office Buildings
What Information Do You Learn About a Prospective Tenant Using Tenant Screening Services?
---

Credit Report
Accessing a tenant's credit score and credit report can give you a useful glimpse into their financial history. For instance, with access to their credit information, you'll be able to see how much debt a prospective tenant has and whether they might be able to comfortably afford monthly rental payments in addition to other financial obligations.
Criminal History Report
Many services let you perform criminal background checks, often providing options to look into state, county and national history. You also might be able to determine whether a potential tenant is a registered sex offender, depending on the screening service you use and the reports you choose to run.
Eviction Report
As a landlord, you'll likely want to know whether a possible renter has been evicted in the past. Tenant screening services typically let you view eviction records and may also provide insight into the reason behind the eviction. In general, a past eviction could be a major red flag, depending on the reason the tenant was evicted.
Income Report
You'll also want to know whether a tenant can comfortably afford to pay their rent, which is why you'll want a report to verify income. In addition to the information about debt history you'll get from their credit report, an income insights report lets you view how much your prospective tenant currently makes.
Employment History
Consistent employment history is a big plus for a new tenant. It signals that they'll likely have reliable income, which could mean they're more likely to pay their monthly rent. (Good news if you're looking for consistent rental income!) If you're wondering if they've been employed consistently or what their line of work is, you'll generally see that info on an employment report.
Public Records
Curious about a prospective tenant's bankruptcies, foreclosures, liens, and lawsuits? With a public records report, you'll be able to see whether they've filed for bankruptcy, had a home go into foreclosure, or if they have any past or pending liens or lawsuits. This can provide a comprehensive picture of their financial status, which is valuable info for landlords.
Related Questions on Screening Tenants
---

Can you screen tenants for free?
Tenant screening services generally cost money; however, some allow you to pass the cost of the screening process onto prospective renters. For instance, with SmartMove and Avail, you can choose to have a rental applicant pay the screening fee.
However, the rules and limits around application and screening fees can vary based on the state where you live, so it's important to research before you pass this cost onto your prospects. Landlords in Massachusetts, for example, can only charge first and last months' rent, a security deposit, and a fee to change the locks. It's illegal for them to charge any other fees.
Can you screen tenants online?
Yes, you can screen tenants online using a tenant screening company. Either you or the prospective tenant can submit their personal information online, and the service will offer insight into that person's credit, criminal history, rental background, liens, and more. Note that the report options vary based on the tenant screening service you use, and some will let you customize which reports you'd like. For instance, you might be able to get a credit report, criminal background check, employment history report, and more, depending on your needs. Compare options to find a service that makes sense for your situation.
Does screening tenants affect their credit?
It depends on what service you use and how you choose to run a prospective tenant's credit. Many tenant screening services will only conduct a soft credit pull, which is a basic inquiry that's common during background checks. For instance, SmartMove, Avail, TenantCloud and Hemlane do a soft inquiry when you check a prospective tenant's credit. Soft credit pulls do not appear on credit checks or impact credit scores.
Some services may do a hard credit pull, which will appear on a prospective tenant's credit report and can cause their credit score to dip slightly—generally around five points. A hard credit inquiry can stay on their credit history for up to two years, though their credit score will likely recover more quickly than that, assuming they're using credit responsibly.
How do property managers screen tenants?
A property manager can screen a potential tenant in a couple of different ways. The easiest option may be a tenant screening service. These services can help simplify the process of tenant screening and allow you to get different types of reports in one place. For instance, if you want a credit report, insight into a prospect's job history, and a criminal background report, you might opt for a service like Avail or TenantCloud.
You can also get credit checks on prospective renters through the three major credit bureaus, Equifax, Experian, and TransUnion. Equifax and Experian offer direct tenant screening, and TransUnion offers it through its SmartMove brand.
Can you screen tenants for previous rental property damage?
Some tenant screening companies let you look into the rental and/or eviction history of a prospect. You might even be able to see why previous landlords evicted a renter—and the 'why' could include property damage. Under the law, landlords can evict tenants who've caused damage to a rental unit beyond typical wear and tear, which may include minor scuffs on the floor or stains on the carpet. If you want insight into a prospective renter's past evictions, be sure to choose a service that lets you access this information.
Related: