Being a discerning investor is, for better or worse, all about the homework.
If you're "doing it right," you're culling through useful information regularly on stock analysis websites, stock news apps, research reports and other valuable information.
Being a data-driven investor myself, I have my favorite investment research software, stock research websites and informational apps I use to source my best stock picks—and I plan to share many of these tools with you today.
By leveraging these powerful investment tools, you should gain an investing edge and make more informed decisions with how you deploy your capital.
Among my personally tested picks are Seeking Alpha's Premium service and Motley Fool's Stock Advisor and Rule Breakers services, three of my top recommendations.
I subscribed to them during graduate school, and they pointed me toward some "diamonds in the rough," which allowed me to buy at low prices, hold for a few years, and eventually sell these appreciating assets to buy my first place: a condo in downtown New Orleans.
I still utilize these services for reliable data, opinions and stock ratings to select the individual stocks I choose to hold outside of my portfolio of index funds.
So, let's dig in. Today, I'll highlight some of the best stock research websites on the web. Importantly, I'm taking a broad approach so there's something here for every investor. Some are laser-focused on DIY stock research, others also help you select exchange-traded funds (ETFs) and mutual funds, still others provide more stock market news, and a few are all about providing you with stock picks.
What matters most is finding the best fit for you.
Best Investing Websites—Top Picks
---
What Are the Best Stock Market Websites?
---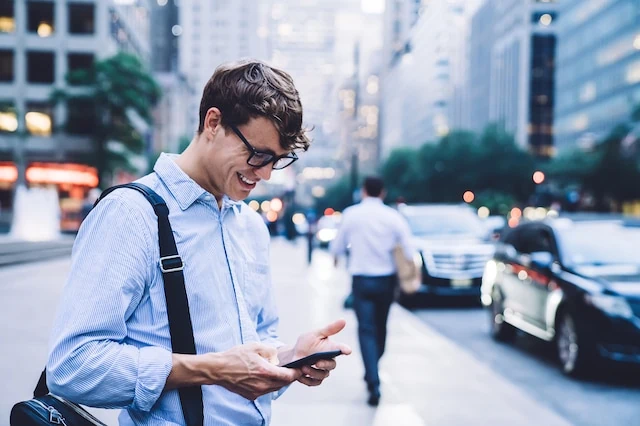 If you're looking to make an informed investment with upside potential (which, aren't we all?), you'll want to consult stock research websites to gather information and develop investment rationales. This means using trusted sources that gather information, provide news, display data, and maybe even make investment recommendations.
The best stock research websites will provide a combination of important features: stock analysis tools, stock and fund screeners, real-time data, even investing advice. (For the record, a site doesn't need all of these to rank among the best investment resources, but the best stock market websites are typically going to be feature-rich.)
The following list of the most indispensable stock market research sites, software, and apps should help you narrow your search.
1. Seeking Alpha (Best Stock Analysis Website for Investment Research + Stock Recommendations)
---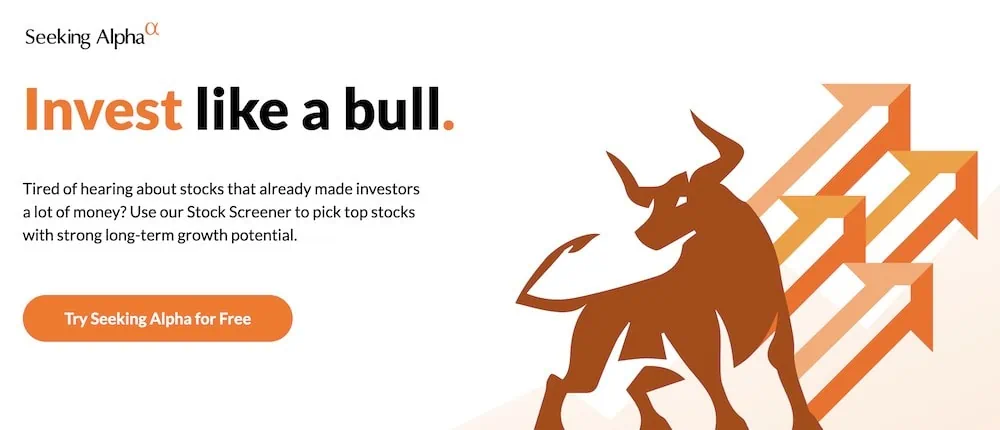 Even the free version of Seeking Alpha ranks among the best stock research websites. But we're going to specifically highlight Seeking Alpha Premium, which caters to intermediate and advanced investors looking for an affordable, all-inclusive, one-stop shop for their investing needs.
Seeking Alpha itself has more than 16,000 active contributors sharing stock analysis. In-house editors vet these pieces before they're read and discussed by millions of people. Reading different opinions about the same stock helps investors develop their own informed opinions on the likelihood a stock will rise or fall. I recommend this approach when learning how to research stocks.
SA also offers stock research tools, real-time news updates, crowdsourced debates, and market data. Users can create their own portfolio of favorite stocks, see how they perform, and receive email alerts or push notifications about their investments.
However, while the basic SA website has a significant amount of information, some features remain reserved for the Premium Plan and Pro Plan members.
Seeking Alpha Premium
With a Seeking Alpha Premium subscription, you will enjoy unparalleled access with an ad-lite user experience.
SA Premium is an all-in-one investing research and recommendation service that offers insightful analysis, financial news, stock research, and more—all designed to help you make better investing decisions.
Seeking Alpha Premium can help you manage your stock portfolio by putting you in touch with a large investing community—one that can help you research stocks and understand the financial world and provide you with ideas for your next great investment.
Premium plan members can see the ratings of authors whose articles they read. (After all, it's useful to know whether you're reading the opinion of someone with a top record, or someone who's whiffing a lot.) And Premium subscribers unlock analyses from SA-designated "experts."
Among the other benefits:
A stock screener that lets you filter by average analyst rating
Earnings conference call transcripts
10 years' worth of financial statements
Ability to compare stocks side-by-side with peers
Access to dividend and earnings forecasts
How Has Seeking Alpha Premium Performed?
SA's Premium subscription provides full access to the service's Stock Quant Ratings. These are collections of the best (to the worst)-rated stocks according to three independent investment resources provided on Seeking Alpha's website. These cross checks and validations come from: (1) the Seeking Alpha Quant Model, (2) independent SA contributors, and (3) Wall Street analysts. The list of best stock recommendations gets further vetted by quantitative and fundamental analysis.
Look at the dramatic market outperformance seen by these quant-fueled "Strong Buy" stock picks as compared to the S&P 500 (total return with dividends reinvested):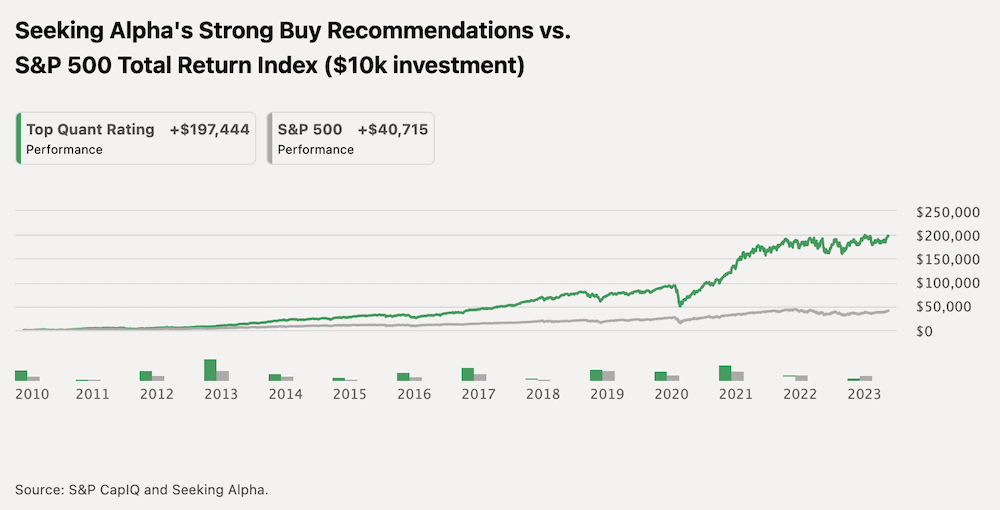 Check out our Seeking Alpha Premium review to learn even more.
Seeking Alpha Pro
A Seeking Alpha Pro subscription includes all of the features offered by Seeking Alpha Premium, then packs on additional services, such as:
The Top Ideas recommendation list
Exclusive newsletter subscriptions and interviews
VIP Editorial Concierge
Seeking Alpha Pro stock screener for investing ideas
A completely ad-free experience
In short: The Pro tier, which is geared toward professional investors, is more expensive than the Premium tier—but it comes with more goodies.
Why Subscribe to Seeking Alpha?
Seeking Alpha distills relevant financial information for you so you don't have to—making it easy for anyone interested in self-directed investing to have a chance at outperforming the market.
Consider starting a free trial to take advantage of SA's Premium services and see if they make sense for your needs.
Related: Best Seeking Alpha Alternatives [Competitors' Sites to Consider]
2. Motley Fool Rule Breakers (Best Stock Market Website for Growth Recommendations)
---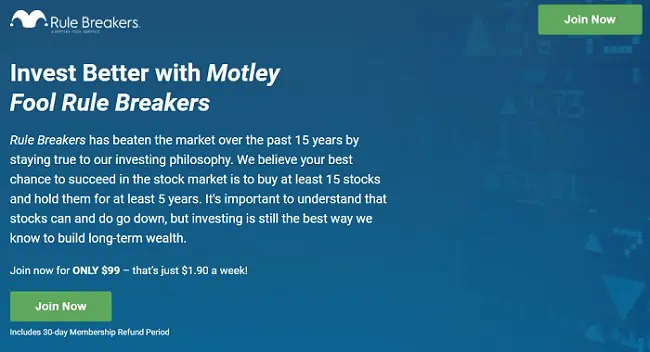 Motley Fool has long been regarded as one of the best stock research websites you'll ever come across. And its Motley Fool Rule Breakers service focuses on aggressive investors who are most interested in growth.
Rule Breakers aims to help you discover market-beating growth stocks and learn which businesses will become tomorrow's market leaders. The service famously recommended Amazon, Tesla, and Netflix, among others, before they became the household names we know today. They targeted these companies early and continued to recommend them over time as more investors joined their service.
This stock advisor website typically sends out its emails on Thursdays, with their newest recommendations coming on a set schedule:
Second Thursday of the month: One specific, detailed New Stock Recommendation where the Rule Breakers team outlines the full case for their latest stock recommendation
Third Thursday of the month: 5 Best Buys Now—a short listing of previous Motley Fool recommendations the service feels still provide upside appreciation potential
Fourth Thursday of the month: New stock recommendation, just like on the second Thursday (two new stocks per month)
How Has Motley Fool's Rule Breakers Performed?
Over the past 19 years, Rule Breakers has more than doubled the S&P 500, beating many leading money managers on Wall Street. Their results speak for themselves and easily justify the affordable price tag of $99 for the first year.
Consider signing up for the Rule Breakers service and investing in these growth companies with a paper trading account.
If you're not satisfied with the service after signing up, they offer a full-membership-fee back guarantee within 30 days of purchase.
Read more in our Motley Fool Rule Breakers review.
Related: Motley Fool's Rule Breakers vs. Stock Advisor
3. Seeking Alpha's Alpha Picks (Best Data-Driven Stock Recommendation Service)
---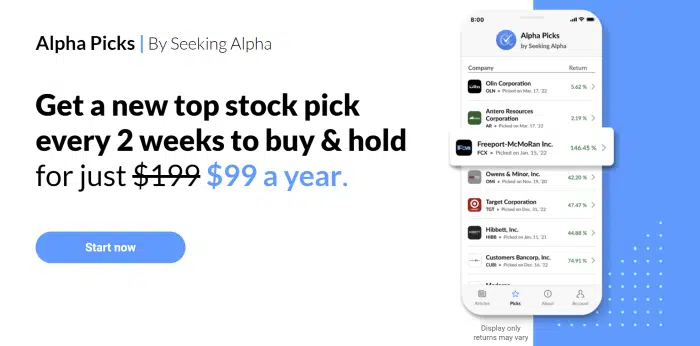 Are you looking for a way to beat the market consistently? Consider Seeking Alpha's Alpha Picks.
Alpha Picks is a stock selection service that provides you with two of the best stock picks each month that SA determines have the greatest chance for price upside. They base their selections on fundamentals such as valuation, growth, profitability, and momentum—not hype.
The stock selection process relies on Seeking Alpha's proprietary, data-driven computer scoring system to screen and recommend stocks for more conservative "buy-and-hold" investors.
And if results from their backtest (run from 2010 to 2022) are any indication, historical simulations of the methodology behind their strategy prove it has worked: Alpha Picks' recommendations outperformed the S&P 500 Index by 180 percentage points (+470% for SA vs. +290% for the S&P 500).
A bit more detail about how this works: Alpha Picks relies on the existing Seeking Alpha Quant model available to Seeking Alpha Premium and Pro users, but with a bit of modification. Namely, all recommendations must meet the following criteria:
Hold a Strong Buy Quant rating for a minimum of 75 days
Market cap greater than $500 million
Stock price greater than $10
Is a publicly traded common stock (no American Depository Receipts [ADRs])
Be the highest-rated stock at the time of selection that has not been previously recommended within the past year (Alpha Picks releases one pick at the start of the month, another in the middle)
If you sign up for the service, you can expect the following:
Two long-term stock picks to buy and hold for at least two years, delivered every month
Detailed explanations from Seeking Alpha behind why they rate each stock pick so highly
Notifications when a recommendation changes
Regular updates on current Buy recommendations
The service, designed for busy professionals interested in building a portfolio that outpaces the market but without the time to commit to finding these opportunities, is worth considering. If you're interested, you can sign up for a discounted first-year price of $99.
Related: Motley Fool Everlasting Stocks Review
4. Motley Fool Stock Advisor (Best Market Website for Steady-Performer Recommendations)
---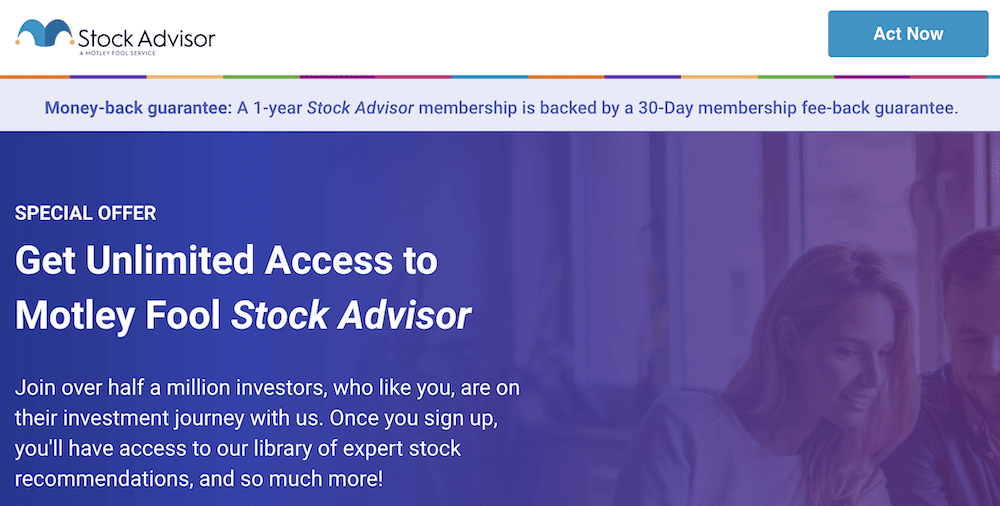 Motley Fool, like Seeking Alpha, has earned multiple spots among the internet's best stock research websites. Motley Fool's signature product, Stock Advisor, aims to provide you with one thing: top picks for market-beating stocks from the site's co-founders.
The service espouses my favorite, plain-vanilla trading style: buy-and-hold.
Of the two services offered by Motley Fool (Rule Breakers, previous), Stock Advisor is my pick of the bunch if you want consistent performance with less volatility.
The investment newsletter and service sends recommendations for "Steady Eddies" and potential high-flying stocks the service believes provide financially sound fundamentals.
Preferring to stick with companies that outperform steadily over time, Stock Advisor offers stock picks with investment rationales, research, and information to educate you about your investments.
How Has Motley Fool Stock Advisor Performed?
As a subscriber, you're granted access to their history of recommendations and can see for yourself how they have done over the years.
According to their website, the Motley Fool Stock Advisor stock subscription service has returned of 468% since their inception in February 2002 through October 3, 2023 when you calculate the average return of all their stock recommendations over the last 21 years.
Comparatively, the S&P 500 only had a 124% return during that same timeframe.
What to Expect from Motley Fool Stock Advisor
The Motley Fool Stock Advisor service provides a lot of worthwhile resources to subscribers.
"Starter Stocks" recommendations to serve as a foundation to your portfolio, whether you're a new investor or experienced
Two new stock picks each month
10 "Best Buys Now" chosen from more than 300 stocks the service watches
Investing resources with the stock picking service's library of stock recommendations
Access to community of investors engaged in outperforming the market and talking shop
The service charges a discounted rate for the first year and has a 30-day membership-fee refund period. Consider signing up for Stock Advisor today.
Read more in our Motley Fool Stock Advisor review.
Save on Motley Fool with the Epic Bundle
You can also sign up for Stock Advisor and Rule Breakers, as well as Everlasting Stocks and real estate stock service Millionacres, for a considerable discount through the company's Epic Bundle. We have an entire Motley Fool Epic Bundle review where you can learn more.
5. Benzinga Pro (Best for Fast, Actionable Market News and Research)
---
Benzinga Pro is a platform for day and swing traders and investors to get fast, actionable market news and stock research.
The service specializes in providing exclusive breaking news stories on publicly traded companies. Benzinga's Newsfeed covers all sectors, analyst ratings changes and SEC filings from companies. You can customize these news feeds based on watchlists you create within the platform.
Other notable Benzinga Pro features include:
Audio Squawk: A team calls out actionable news during pre-market all the way through after-hours trading.
Insider Trading Tracker: What are corporate insiders (company officers, big stakeholders and other important people) doing? Are they buying? Are they selling? How much do they own? This tool helps you learn more about insiders' "skin in the game."
Stock Scanner: Get real-time, customized updates on the stock market.
Charting: You can chart stocks within the Benzinga Pro platform, which uses a TradingView developer API (application programming interface).
Calendar: Get dates for earnings reports, dividends, economic data releases, initial public offerings (IPOs), SEC filings and more.
If you'd like the fastest real-time news feed, profitable trading ideas, and exclusive content, consider signing up for Benzinga Pro today.
Related: Best Swing Trade Alerts Services
6. Zacks Investment Research
---
Zacks Investment Research also sits among the best stock market research websites, delivering a subscription-based service that you can use to improve your own due diligence or lean on for stock selection.
The investment research site has a free service that provides general market data and information about the financial markets and business news. One of its popular features is the Bull and Bear of the Day, where the service selects two stocks and rates them as a Bull (strong buy) or Bear (strong sell) pick.
However, the Zacks Premium service unlocks access to:
The Zacks #1 Rank List to develop your investment strategies
Focus List portfolio of long-term stocks
Custom stock screener
Equity research reports and more
The Portfolio Tracker provides constant monitoring of your stocks to help you decide if you should buy, hold, or sell.
If you want even more firepower, Zacks Investor Collection provides access to Zacks Premium and other services, including ETF Investor and Stocks Under $10. You can try the service for 30 days for just $1. After that, it's $59/mo. or discounted to $495/yr. if paid upfront.
Investors who desire even more information can get Zacks Ultimate. This plan provides even more exclusive services, including Black Box Trader, Blockchain Innovators, Marijuana Innovators, Options Trader, and more. After a $1 30-day trial, Zacks Ultimate costs $299 per month.
Related: Zacks vs Motley Fool: Which Stock Picking Service is Better?
7. TradeStation Analytics (Free w/TradeStation Brokerage Account)
---
TradeStation is a powerful trading platform which comes with analytic tools useful to seasoned professionals and new traders alike. The platform comes equipped with brokerage services and trading education resources recognized by respected industry reviewers.
You can use the company's robust TradeStation Analytics platform for free if you open a TradeStation brokerage account. TradeStation helps you analyze stocks, options, ETFs, stock futures, and crypto markets. You'll also have access to backtesting, historical intraday data, and extensive charting capabilities.
You can access the analytics software without having an account, but it requires a monthly fee that varies depending on your professional capacity.
Related: How to Invest as a Teenager or Minor (Start Investing Under 18)
8. Morningstar (Best Research Site for Fund Investors)
---
Morningstar Investor is a rich platform of investment research tools designed for the buy-and-hold crowd, and it plugs investors into one of the world's foremost sources for mutual fund and ETF data and analysis.
Morningstar's ratings are among the service's most revered features. The original Star Rating—which measures a fund's risk-adjusted past returns—has been around since 1985 and helped steer countless investors toward cheaper, better-constructed mutual funds and ETFs. But Morningstar doesn't just look to the past. Its forward-looking Medalist Ratings use traits such as a fund's parent organization, the managers responsible for making decisions, and fund strategies to determine a fund's ability to outperform over the long term. You must be a Morningstar Investor subscriber to access Medalist Ratings.
Morningstar also provides a wealth of information and comparable data points about mutual funds and ETFs—fees, risk, portfolio composition, performance, distributions, and more. Morningstar experts also provide detailed explanations and analysis of many of the funds the site covers.
Stock owners shouldn't feel left out—Morningstar also provides everything you need for stock research, including equity data, corporate financials, analysis, and even Star Ratings of publicly traded companies.
With Morningstar Investor, you can also:
Seamlessly and securely link your external accounts to get a holistic view of your assets from one simple dashboard
Use Morningstar Portfolio X-Ray®, which evaluates what you hold from numerous angles—asset allocation, stock sector, valuation, fees, and more—and can identify any overlaps between accounts that might impact just how diversified you are (or aren't!)
Set up stock and fund watchlists
Enjoy stock news and commentary that's tailored to your holdings
Screen for securities that match your investing goals using a variety of performance and valuation metrics
Follow Morningstar authors so you can check out their latest articles, videos, and podcasts as soon as they're posted
Not sure if Morningstar Investor is right for you? Try it out with a free seven-day trial. You can check out the current deal, as well as discounted rates for students and teachers, in our details box below.
Related: 10 Best Investments for Roth IRA Accounts [Target High Growth]
9. Trade Ideas (Best Stock Analysis Site for Active Traders)
---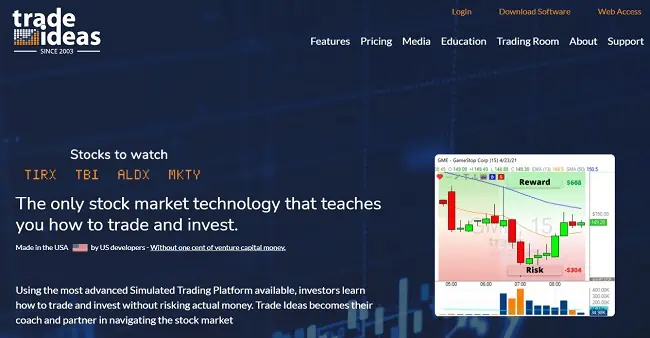 Trade Ideas employs an artificial intelligence-powered assistant named Holly. This AI becomes your virtual research analyst who never sleeps and instead sifts through technicals, fundamentals, social media, earnings, and more to pick stocks as real-time trade recommendations.
Holly stays busy, too. She runs over 1 million simulated trades each night and morning before the stock market opens, with more than 70 proprietary algorithms to find you the highest-probability, most risk-appropriate opportunities.
This trading information website doesn't stop there, though. You can test these trade ideas in a live simulated trading room. This allows you to demo the stock picking service's ideas without risking your own money.
The powerful service allows you to access real-time streaming trading ideas on simultaneous charts to learn how to trade into risk-reward balanced trades. You can invest and learn at the same time.
Where Trade Ideas Excels
Where Trade Ideas excels is not only giving you the data and ideas you haven't seen elsewhere, but also teaching you how to manage your money.
As the stock market evolves, Trade Ideas' software adjusts levels and the trading plan to match. The best part? You can learn how to do all of this without risking your principal through a real-time simulated trading environment.
After you've grown comfortable with the service, you can choose to go live with the trade ideas and start investing real money by connecting directly through a brokerage like Interactive Brokers, TD Ameritrade, and E*Trade.
Additionally, the service provides alert services. You can receive price alerts through Trade Ideas' Standard and Premium services, as well as by subscribing to the company's Strength Alerts newsletter. This gives you five new trade ideas in your inbox from the company's model portfolio every Monday. Trade Ideas also has a free Trade of the Week newsletter highlighting a stock pick TI has identified for subscribers.
How Does Trade Ideas Find Stock Picks?
Trade Ideas' technology uses a different scan each week to find unusual trade activity. For example, they may detect high short interest in a stock or industry, which often leads to short squeezes, such as what happened with GameStop.
Real people curate scan results before any recommendations come available through the service. You'll also learn how the service picked the trade, why they believe it will perform well, and how to find similar trades on your own.
The service carries a hefty price tag, with the Standard subscription starting at $999 per year. For the full Holly experience, you'll need to upgrade to their $1,999 Premium plan.
Consider starting your Trade Ideas subscription with no contract involved. Cancel anytime.
Related: Best Investing Apps for Teens
10. TrendSpider (Best for Refining Trading Strategies)
---
Available: Sign up here
Best for:

Traders of all experience levels looking to trade more efficiently

Platforms: Web, mobile app (Apple iOS, Android)
TrendSpider offers a comprehensive platform for traders to create, backtest, and refine trading strategies, scan and analyze the market, and time trades with precision. With its advanced tools and features, TrendSpider is designed to make trading more efficient for both novice and experienced traders.
Among the platform's powerful tools:
Robust technical charting and pattern recognition features, such as native multi-timeframe analysis, automatic trendlines, and Smart Checklists
Raindrop Charts®, which provide a new way to visualize market data, focusing on trading volume at each price level
Alternative data offerings including information on options flow, analyst actions, market breadth, insider trades, and more
Data Flow, which enables real-time tracking of market data for all symbols, including analyst estimates, earnings, news, and unusual options flow
Strategy Tester, which allows users to quickly develop and test trading strategies without any coding required; users can configure entry and exit rules and explore the performance of their strategies directly on the price chart
Backtesting capabilities for technical, non-technical, and event-based strategies; once a winning strategy is identified, users can deploy it as a trading bot with just one click
Of particular note for traders is TrendSpider's Scanner feature, which allows you to instantly test any strategy on any market and search for ideal trading opportunities. The stock scanner supports searching through watchlists, indexes, and more than 700 smart lists. Users can mix and match conditions and timeframes, allowing them to express any view in a single scan. The platform also provides a range of pre-made scanners to help users get started.
TrendSpider's mobile app ensures traders are always connected to their charts and scanners, while the Chrome extension allows users to access real-time charts while browsing the web. The platform also offers extensive educational resources through TrendSpider University and detailed documentation for its features.
The platform also supports integration with external systems using webhooks, enabling traders to build custom alerts and bots that interact with social media channels, private chat servers, email, or order routers connected to brokerage accounts. TrendSpider's SignalStack service can turn any signal or alert on TrendSpider into a live order in a trader's account.
Learn more about the platform's capabilities or sign up for TrendSpider today.
11. Millionacres Real Estate Winners (Best for REIT Stock Picking)
---
It takes only a few minutes to find out whether you need Motley Fool's Millionacres Real Estate Winners as your real estate investing guide.
The service focuses on understanding the fast-moving, ever-changing world of real estate investment—and mobilizing you for success with valuable resources, recommendations and picks!
From the stock picking service's easy-to-understand monthly investment alerts that cover real estate investment trusts (REITs) and real estate equities, or the quarterly investment ranking selections—Millionacres aims to simplify investing research and make clear cut cases for why you might consider picks they recommend.
They aim to cover obstacles encountered by savvy or beginner investors by making informed decisions clear and simple—not just possible.
What You Get with Millionacres Real Estate Winners
Millionacres Real Estate Winners is a premium solution for your real estate investing success. You will receive clear, actionable investing ideas and recommendations along with specific guidance on getting started in today's market.
The Millionacres Real Estate Winners services offers these resources to subscribers:
New stock recommendations each month you remain subscribed
Regular updates on recommended stocks following earnings and other important events
Quarterly "Top 10 Investment Alerts" ranking real estate investment selections
Education content and resources for you to access
Most importantly, you'll receive monthly picks tailored to help you succeed as well as educational content and resources to make sure you get the information you need when starting from scratch.
With successful solutions created by experts in every facet of the business, Millionacres Real Estate Winners has helped investors grow their portfolios and take control of their financial future without costly mistakes or bad habits that lead to undoing all of your hard work.
See if this service makes sense for you now by subscribing today for only $149 for your first year.
Related: Best Bookkeeping and Accounting Software for Rental Properties
12. Stock Rover (Best Stock Market Research Site for Fundamentals)
---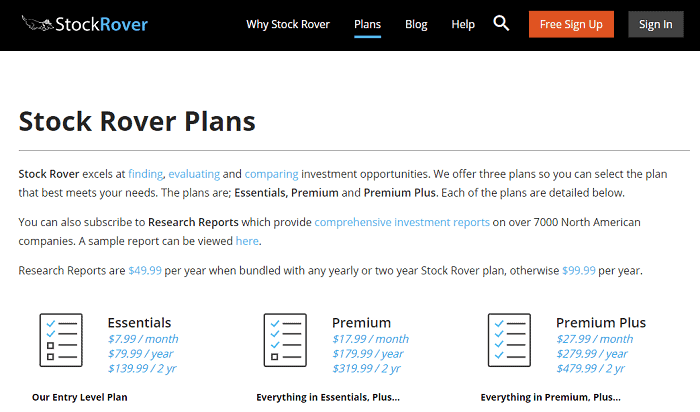 Stock Rover is one of the best paid stock websites for fundamental investors, in part because of its powerful stock screener.
Stock Rover helps you keep track of your portfolio with detailed performance information, emailed performance reports, in-depth portfolio analysis tools, correlation tools, trade planning, and rebalancing facilities. You can also create real-time research reports that provide a full fundamental and technical overview of a company's performance for the last 10 years.
This service works as a web-based applet and offers a number of useful services and applications, depending on your research and analysis needs.
Stock Rover provides a comprehensive alerting facility, real-time stock screener for instances where companies trade below their perceived fair value, and signaling opportunities to buy stocks with a built-in margin of safety.
One of the best features of the web-based app is Stock Rover's "Brokerage Connect." This provides you with a read-only data feed of your actual portfolio holdings. This shows you a comprehensive view of your portfolios, whether they're in one brokerage account or spread across numerous investment accounts. This view makes Stock Rover one of the best stock tracking and portfolio management apps.
After syncing your brokerage accounts to Stock Rover, details for each portfolio get populated in your Stock Rover dashboard for in-depth analytics and tracking purposes.
Consider signing up for Stock Rover with a free 14-day trial. From there, you can decide if you'd like to upgrade to the service's premium plans for more robust tracking and analysis.
Related: How to Start Investing Money in Stocks
13. AAII (American Association of Individual Investors)
---
American Association of Individual Investors is a leading financial services publication with a monthly journal, thousands of online articles covering everything from behavioral finance to financial planning, and access to a Shadow Stock Portfolio. (This latter feature has beaten the stock market by a nearly 4-to-1 margin since inception.)
All of these items come included with the AAII Basic plan. But if you'd like to go with a more advanced stock research software option, you should consider AAII's A+ Investor subscription.
This provides the membership benefits included with the AAII Basic plan but also includes access to a robust data suite that allows you to screen tens of thousands of stocks, mutual funds, and ETFs to consider for your portfolio. It also includes more than 60 prebuilt screens based on famous investor personalities and fundamental factors.
Related: Best Dividend Stocks for Beginners to Buy
14. TradingView
---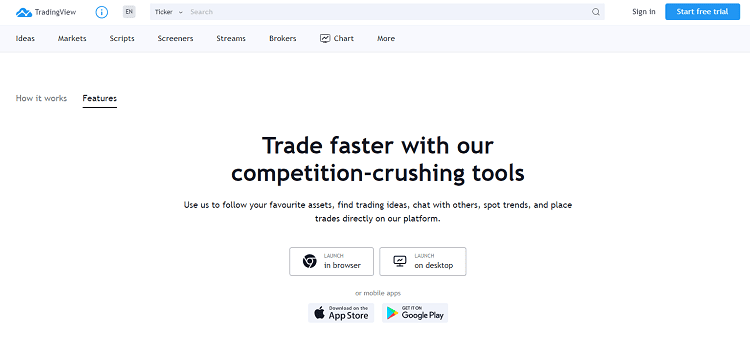 TradingView is a useful investment research software for stock traders who rely on technical analysis.
The stock research app provides stock charts with real-time data and personally selected indicators including moving averages, Relative Strength Index (RSI), Bollinger Bands, and more.
TradingView also provides a powerful stock screener that can help you research stocks, mutual funds, exchange-traded funds (ETFs), closed-end funds (CEFs), foreign exchange (forex), cryptocurrencies, and more. The screener comes with pre-built data sets, with fundamental sets including the likes of Overview, Performance, and Dividends, and even technical sets such as Oscillators and Trend-Following. TradingView also pre-built screens, such as Large-Cap, High-Dividend, Most Volatile, even Largest Employers.
This investment research service works well for traders looking to gain an edge on the stock market by utilizing the 50-plus data feeds and exchanges offered on the platform.
15. Moomoo
---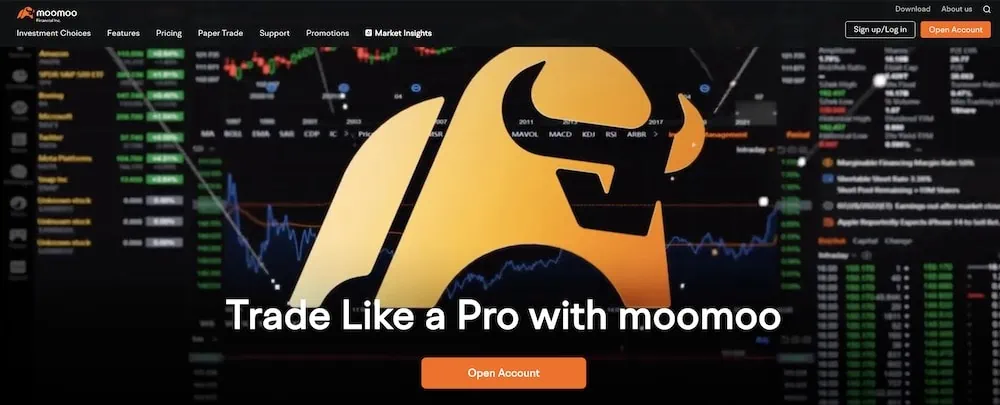 Available via desktop, Apple iOS, Android App on Google Play, Windows PC, and Mac.
Moomoo is a commission-free trading platform for stocks, ETFs, and options. While Moomoo is best for advanced traders, offering powerful tools to empower your trading insights and strategies, it takes a different approach from other similarly targeted platforms, favoring simple interfaces and high ease of use. The desktop platform is highly customizable, while the mobile app is straightforward, allowing you to search for stocks and trade with minimal hassle.
Still, Moomoo has more than enough under the hood for advanced traders to get the job done. Its charting system, for instance, includes 62 technical analysis indicators and 22 drawing tools. You can set up alerts based on changes in price, bids, turnover ratio, and more. Free Level 2 market data helps you get a greater understanding of a stock's value, determine how liquid a stock truly really is, and better time your trades. You can even enjoy 24/7 financial news handpicked by Moomoo's editorial team. The trading platform provides these features to empower investors to make better investing decisions.
One Moomoo feature worth noting is its mobile charting, which allows traders to take advantage of more than 60 investing indicators and 38 drawing tools. And any drawings or annotations you make are saved and synced with your profile so you can view them from either the app or your desktop.
While Moomoo isn't as suitable to beginner traders, the trading platform does include some useful educational tools. For instance, paper trading functionality with real-time data simulates the investment experience without committing any of your real money. (This feature is also helpful to advanced traders, allowing them to test out strategies and hone their skills.)
Moomoo also boasts relatively low rates for trading on margin. The annualized interest rate on financing, as of this writing, is 6.8%—one of the most competitive rates among its peers.
The app pays you for giving it a spin by offering free stocks when you make a qualifying deposit after signing up. Specifically, you can get free stocks if you sign up for a Moomoo account and make a qualifying deposit.
If you want a professional-grade system for research and trading, but with a simpler user experience, Moomoo is among the best trading platforms to consider.
Moomoo's parent company is Nasdaq-listed Futu Holdings Ltd (FUTU). Their subsidiaries are licensed and regulated in the United States, Singapore, Australia, and Hong Kong.
16. EDGAR
---

The Securities and Exchange Commission's (SEC) Electronic Data Gathering, Analysis, and Retrieval system, better known as EDGAR, is a unique stock research tool—but an important one for anyone who wants accurate, original-source information by publicly traded companies.
This free-to-use service helps you research stocks by providing access to up-to-the minute filings from publicly listed companies. You can find all sorts of useful informational nuggets buried in annual Forms 10-K, quarterly Forms 10-Q, Forms 8-K, and more.
Warren Buffett famously pores over annual reports and pays particular attention to Management's Discussion and Analysis (MD&A) sections for management's thoughts on the company's prospects.
Indeed, EDGAR could be considered the internet's best stock research website by virtue of its sheer wealth of data. However, much of what it provides is undistilled data—not exactly the user-friendliest experience, especially for novice investors.
17. Webull
---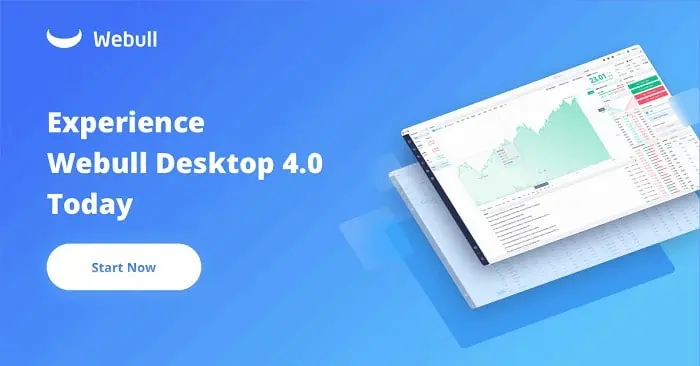 Webull is a commission-free stock trading app that focuses on traders who utilize technical analysis.
Webull offers commission-free trading alongside a significant amount of technical research resources for individuals looking to invest in stocks, bonds, options and cryptocurrencies.
One such example is a free three-month trial of NASDAQ TotalView Level 2 Advance quotes, which provide a real-time sense of how deep the market for a security is, the pending trade offers at various bids and asks, and whether market momentum might shift in favor of higher or lower stock prices. After three months, users can subscribe to the service for a low monthly fee of $1.99/mo.
The service offers a desktop and smartphone app for placing your trades, whether that entails shorting stocks, trading options, buying and selling stocks and ETFs, or tracking your stocks in the app.
This stock trading app for beginners and experts alike also offers free stocks for signing up if you make a nominal deposit.
18. TC2000
---
TC2000 is an easy-to-install investment research and analysis software that allows you to build watch lists, follow stock news, receive stock alerts, scan, sort, and make personal notes on stock opportunities.
The investment software provides more than 70 technical indicators with 10 drawing tools. The heart and soul of TC2000 is the service's Condition Wizard. This allows you to build for any condition you might think of on any indicator step-by-step.
While this doesn't require formula writing, you can develop your own and watch "flex" conditions unfold over time.
The service also has an EasyScan service, allowing you to scan millions of data points for your conditions on the fly.
19. Yahoo! Finance
---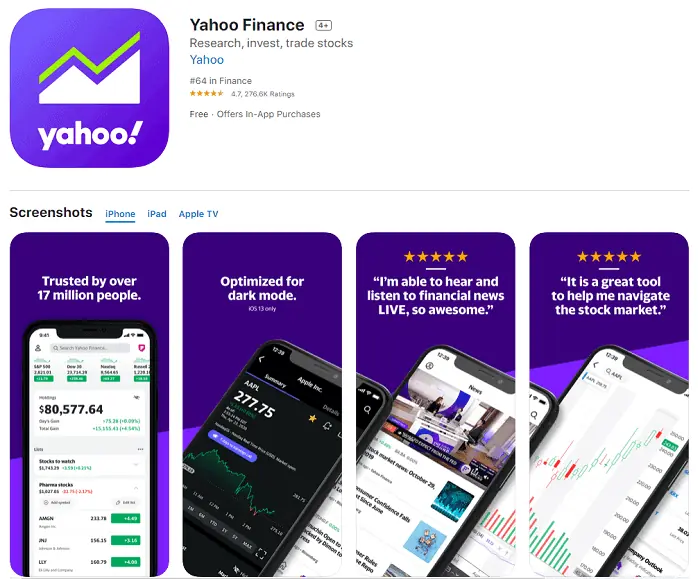 Long seen as a mainstay in the investment news world, Yahoo! Finance connects investors with numerous news outlets to keep investors abreast of the latest developments in the stock market.
Investors can type in a ticker symbol to receive the latest quote available, use flexible charting to see a stock's performance over time, read the latest news stories on specific stocks, and even visit message boards to speak with other investors.
20. CNBC
---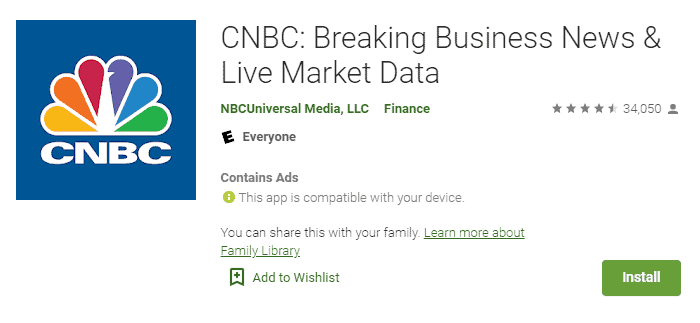 CNBC is the flagship financial news network that operates as part of the broader NBC news conglomerate. It offers 24/7 television news as well as an active investment website complete with stock market news stories, analysis, opinion pieces, and more.
Many well-known financial figures visit the shows regularly and/or pen opinion pieces on the company's website.
Long seen as a financial news hub, this stock website can provide late-breaking news stories and market development for you to learn more about the stock market.
21. Tim's Alerts (Best for Penny Stock Day Traders)
---
Penny stocks (typically considered to be any stock that trades for under $1) have a certain appeal because of their low price point and the hopes of making big gains quickly.
However, they're among the riskiest investments you can make. Most don't trade on major exchanges, and thus don't have many of the requirements that protect investors, such as having to regularly report corporate financials.
If an investor is going to delve into penny stocks, then, they'll need an educated guide.
Tim Sykes rose to fame by taking around $12,000 in bar mitzvah financial gift money and day trading it on penny stocks. By the time he'd graduated college, he'd become a self-made millionaire with the intent of teaching others how to replicate his success.
Since then, Sykes has created a stock picking service in addition to providing financial services, educational content, and training to retail investors.
Sykes sends his Tim's Alerts newsletters with penny stock picks every trading day around 8 a.m. EST (5 a.m. PST) with a set of stock watchlists for the day. You can receive this by email, SMS or even push notifications in real time throughout the trading day.
Subscribers also get live chat room access with a paired proprietary trading app. And they can access a library of more than 7,000 videos to train you on how to trade penny stocks and potentially replicate Tim's success.
What Are Investing Research & Stock Analysis Websites?
---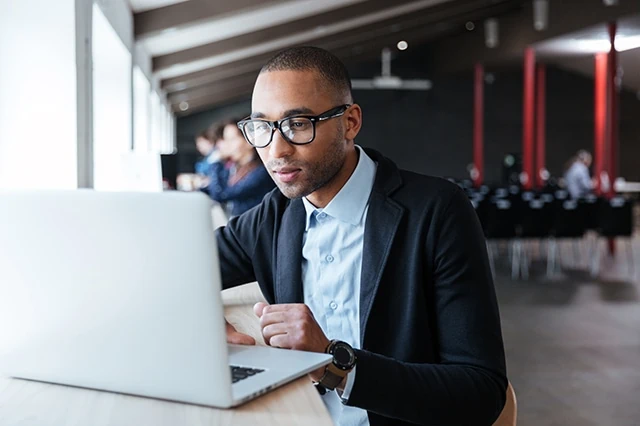 When you're conducting stock research and analysis, your due diligence (basically, your homework on an investment) falls into two broad categories:
Fundamental analysis: This is when you examine a company's financial and other business characteristics to determine a fair market value for the stock. When conducting fundamental analysis, you use several tools to measure a company's health and financial performance as well as making estimations about how you project the stock to perform in the future. Your stock research should also consider the company's management, competitive advantages, competitors, and markets in which they operate.
Technical analysis: This is when you measure the actual movement of the stock, typically via stock charts. Technical analysts use short- and long-term stock signals alike to predict where a stock will move in the future.
You can find both of these analysis types on a wealth of stock market websites, investment research software, and mobile apps. They compile the pertinent information, parse through what is and isn't relevant, and either display the information for you or take it a step further and make recommendations based on the data.
Why Is Stock Market Research Important for Your Investments?
---
The more you know about an investment, the more confidence you can have when you make the decision to buy or sell. So the purpose of conducting investment research is to gain as much knowledge as you can so you can make the best possible choices.
But remember: Your decisions are only as good as the information educating them. High-quality information will help you make high-quality investments. Garbage information? Well …
That's why it's vital to use tried-and-tested stock research tools like the ones above. They're the difference between making an informed investment decision, and simply gambling on the equity markets.