Thanks to advances in software and technological accessibility, you no longer need to rebuild every trade you've ever made in some elaborate spreadsheet to track your investment portfolio.
Today, FinTech advancements let you trade stocks from free mobile apps, gather all your investments in a single place, watch their progress and sell on your own when it's time.
Building on this foundation, several companies have created powerful trackers to follow your portfolio performance and offer other value-added services like research, stock recommendations and more.
I've gathered a list of the best stock and portfolio trackers on the market and explain which are ideal for different investors.
Best Investment Tracker and Online Portfolio Tracker Options—Top Picks
---
| | | |
| --- | --- | --- |
| | | |
| | | |
| | | |
| | 7-day free trial. Premium (30% Black Friday Sale): $167/yr.* Pro: $2,400/yr. | Free to $21/month (billed annually) |
| | | |
Best for Net Worth & Portfolio Tracking
Best for Stock Research + Recommendations
7-day free trial. Premium (30% Black Friday Sale): $167/yr.* Pro: $2,400/yr.
Best Portfolio Tracker for Broker Support
Free to $21/month (billed annually)
What is a Stock Tracker?
---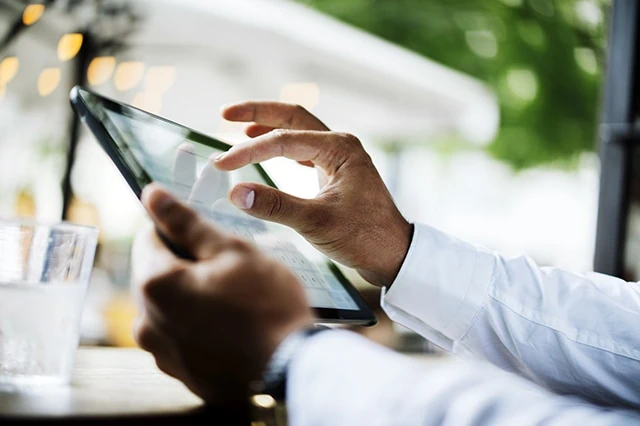 A stock tracker allows you to monitor stocks you've purchased as well as others you are interested in following. Most of the time, but not always, these trackers are also stock trading apps.
These stock market apps can also be helpful stock news apps, investment websites or software and stock analysis apps.
The features of stock trackers vary, so it's essential to choose one that has the tools you need.
Best Stock Tracking Software at a Glance
---
The best stock tracking software for you isn't necessarily the perfect stock portfolio tracker app for someone else. Your best choice is likely one of the following:
Let's look deeper into these picks (listed in no particular order) and the features of each.
1. Empower (Best Portfolio Management Software With Budgeting)
---

Available via web and mobile app (iOS, Android)
Empower (Personal Capital is now Empower) has 3.3 million users, some of whom use free tools such as the Personal Dashboard, and some of whom use the Wealth Management service.
Empower's Free Tools
The free Personal Dashboard makes it easy for people to add all their financial accounts in one place, including credit cards, savings, checking, loans, and tax-advantaged investment accounts.
Empower also provides a free Investment Checkup tool to assess your portfolio risk, analyze past performance, and get a target allocation for your portfolio. The tool will help you identify overweight and underweight sector investments (perhaps you have too much allocated to utilities, and not enough to healthcare, for example) and assess your diversification.
You can even compare your portfolio to both the S&P 500 and Empower's "Smart Weighting" Recommendation, which suggests that investors more equally weight their portfolios across size, style, and sector—unlike the S&P 500, where the biggest stocks have the most effect on the portfolio, and there are huge differences in how much each sector is weighted.
The Empower Fee Analyzer helps you examine the fees you pay in your accounts, whether that's advisory fees, sales charges, expenses, and other costs.
Other investing and personal finance tools include a Savings Planner, Retirement Planner, Financial Calculators, and more.
These services, of course, are also available with Empower's full-service Wealth Management account—along with a number of other perks.
Empower's Wealth Management Services
The Wealth Management plan better suits investors who want a fuller advisory experience. The service pairs automated tools with human management.
After you enter your risk tolerance, goals, time frame, and personal preferences, Empower creates a recommended portfolio. The portfolios are diversified across multiple asset classes and rebalanced when necessary. The six asset classes include:
U.S. stocks
International stocks
U.S. bonds
International bonds
Cash
Customers have the option to incorporate socially responsible investing (SRI) into their investments, too. In short, that means you can choose to invest only in companies that have positive environmental and social impacts.
Investors enjoy access to financial advisors who can help them make various financial decisions, from retirement planning to college savings to stock options and more. Empower's financial advisors are available 24/7 by phone, live chat, email, or web conference.
Note that the Wealth Management plan has a minimum initial investment of $100,000. Investors with between $100,000 and $200,000 have access to a team of financial advisors. Those with more than $200,000 have access to two dedicated financial advisors. There are extra benefits for people who invest over $1 million, including lower fees.
Wealth Management Annual Fee Tiers
$100,000-$1,000,000: 0.89%
$1,000,001-$3,000,000: 0.79%
$3,000,001-$5,000,000: 0.69%
$5,000,001-$10,000,000: 0.59%
$10,000,001-plus: 0.49%
Regardless of how much money you bring to the table, if you sign up, you will be given the option to schedule an initial 30-minute financial consultation with an Empower advisor.
Our Net Worth Tracking Pick
Empower | Free Net Worth and Investment Tracking
Tools: Free. Wealth Management: Starts at 0.89% of assets annually.*
Empower (formerly Personal Capital) offers both a free set of portfolio, net worth, and cash flow tracking tools, as well as paid asset management service.
Link Empower to your bank and investing accounts, credit cards, and more to see a single view of useful information and data, including your net worth.
Empower Wealth Management offers unlimited advice and retirement planning help, as well as managed ETF portfolios, for accounts with between $100,000 and $250,000 in assets. Higher asset tiers include access to dedicated financial advisors, retirement specialists, and more investment options (including stocks, options, real estate, and private equity).
Pros:
Free portfolio tracker

Free net worth, cash flow, and investment reporting tools

Dedicated investment advisor

Free tax-loss harvesting

Dividend reinvestment

Automatic rebalancing

5-day-a-week live customer support, 24/7 email support
Cons:
High minimum for investment management ($100k)

High investment management fee (0.89% AUM)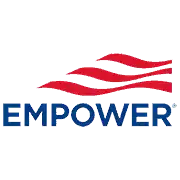 * Fees for clients with $100,000 to $1 million in assets pay 0.89% of assets annually. Clients with more than $1 million in assets pay 0.79% of assets annually on the first $3 million, 0.69% on the next $2 million, 0.59% on the next $5 million, and 0.49% on anything over $10 million.
Related: How to Invest Money: 5 Steps to Start Investing with Little Money

2. Vyzer (Best Investment Tracking App for High-Net-Worth Individuals)
---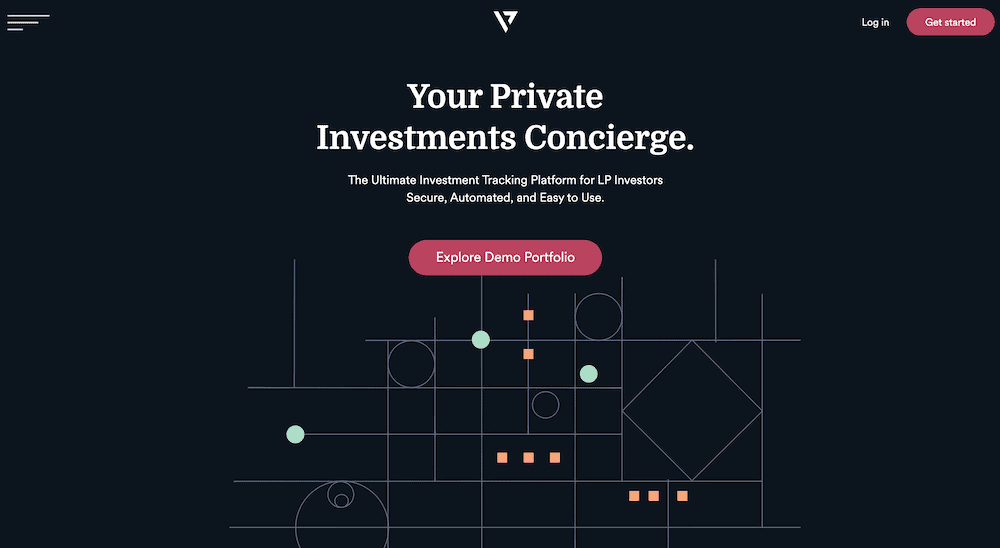 Available via Desktop (Windows, macOS), mobile (Android, iOS) app
Vyzer represents the best investment tracking app for high-net-worth individuals found on this list. It offers investment portfolio tracking, financial planning tools, and wealth management solutions for both public and private investments.
The digital wealth management platform also distinguishes itself by serving as the only service that combines public and private investment performance tracking. Vyzer keeps tabs on all of your investments in one place, providing a comprehensive view of your entire portfolio so you can easily monitor its performance. It supports all of the following accounts and asset classes:
Real estate (syndications, funds, rental properties)
Private equity funds (venture capital, hedge funds, debt funds)
Private companies (startups and small-to-mid-sized enterprises)
Investment accounts (Brokerage accounts, pension plans, 401(k), IRA, Roth IRA)
Bank accounts (18,000+ banks worldwide)
Crypto (Binance, Coinbase, BTC + ETH addresses, and more)
Precious metals
Collectibles
You can even track investments you co-hold with others, and organize your investments under different holding entities.
Vyzer is designed for investors with diverse portfolios and multiple sources of income. It allows users to forward or upload any financial documents (think spreadsheets, investment documents, Schedule K-1s, quarterly statements, and more) and have the platform translate them into new assets or liabilities or update existing ones. After you link your bank accounts to the platform, Vyzer analyzes your transaction data with artificial intelligence to identify which transactions link to which assets or liabilities you've added to your account. This feeds the system's cash flow tools.
Once you load all of your assets and liabilities into the dashboard, you can produce a cash flow forecast based on scheduled distributions, capital calls, expenses, and more.
Curious about how your peers handle their investments? Vyzer members can anonymously view each other's portfolios to understand the financial products and funds they've invested in.
Empower, found earlier on this list is the closest comparison to Vyzer. The platform is different from Empower in four main ways:
Vyzer doesn't offer active wealth management.
Vyzer can track more asset classes than Personal Capital (Empower)
Vyzer offers more flexibility in adding new data to your account, and requires less effort.
Vyzer charges a flat monthly fee (or a discounted annual fee) that you pay from outside with your investments, say with a credit card. Personal Capital takes its fees from portfolio performance.
If you are a sophisticated investor with a complex portfolio to track, consider using Vyzer to follow everything in a single platform. You can open an account for free for 30 days to see if the service is right for you. There's no commitment and you can cancel at any time.
Read more in our Vyzer review.
High-Net-Worth Portfolio Tracker
Vyzer | Your Private Investments Concierge
Starter: Free. Plus: $29/mo. Premium: $79/mo. Family Office: $699/mo.*
High-net-worth investors can keep track of public and private investments with Vyzer, which provides portfolio tracking, wealth management, and financial planning tools.
Enjoy comprehensive, holistic insight into your investment portfolio.
Platform includes robust cash flow planning tools to make the most of your cash.
Find new opportunities by seeing what other high-net-worth investors within the Vyzer community are doing.
Pros:
Can track a portfolio of public and private investments

Can generate easy-to-view data from uploaded documents and linked bank accounts

Fair fees under new tiered fee structure
Cons:
No active wealth management offerings

Free Starter tier is heavily limited and has no mobile app access
* Price when paid annually. Represents savings of 19%, 20%, 20%, respectively, versus monthly billing options. Paid monthly: Plus: $36/mo. Premium: $99/mo. Family Office: $873/mo.
Related: Best Personal Capital Alternatives (Empower)
3. Seeking Alpha (Best Stock Tracker w/Investment Research + Stock Recommendations)
---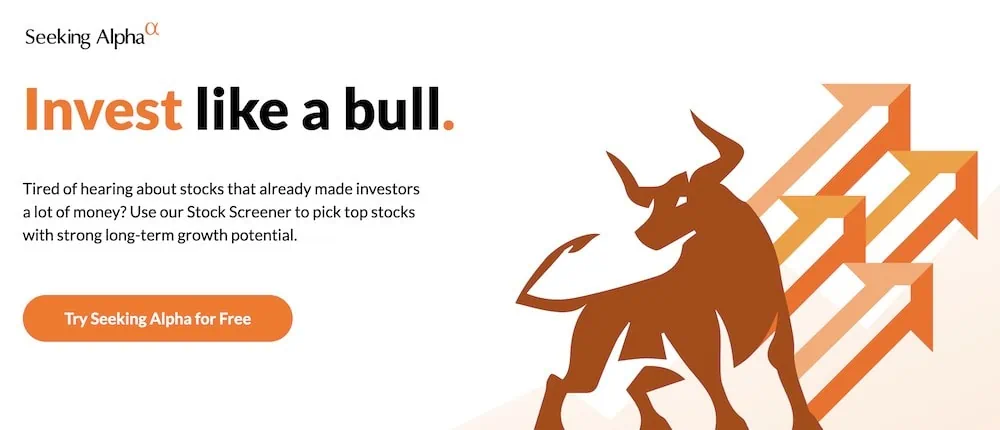 Available via Desktop (Windows, macOS), mobile (Android, iOS) app.
Seeking Alpha Premium caters to the needs of intermediate and advanced investors looking for an affordable, all-inclusive, one-stop shop for their investing needs.
Seeking Alpha Premium acts as an all-in-one investing research, stock tracker and recommendation service that offers insightful analysis of financial news, stocks, and more—all designed to help you make better investing decisions.
Whether you're looking to invest on the go or dedicate time for more in-depth research and analysis, Seeking Alpha provides features that meet your needs.
No other site provides what Seeking Alpha does, providing unlimited access to everything from:
Earnings call transcripts
Seeking Alpha Author Ratings and Author Performance metrics
Ten years worth of financial statements
Ability to compare stocks side-by-side with peers
Access to dividend and earnings forecasts and much, much more.
Why Subscribe to Seeking Alpha?
In short, Seeking Alpha distills down the relevant financial information for you, so you don't have to—making it easy for anyone interested in self-directed investments to have a chance at outperforming the market. Now's your chance with Seeking Alpha's Paid Plans!
Consider starting a free trial to take advantage of SA's Premium services and see if they make sense for your needs.
Stock Research, Analysis + Recommendation Website
Seeking Alpha Premium & Pro
7-day free trial. Premium (Black Friday Special): $167/yr.* Pro: $2,400/yr.
Seeking Alpha has the world's largest investing community.
Seeking Alpha Premium helps you find profitable investing ideas, improve your portfolio, research stocks better and faster as well as track the news to find investing opportunities.
Receive up to 15 investing newsletters filled with stock research and analysis, commentary and recommendations.
Use Seeking Alpha Premium's Seeking Alpha Stock Ratings to find stocks likely to outperform and make you money.
Seeking Alpha Premium's proprietary quant records have an impressive track record leading to massive market outperformance.
Black Friday offer: New subscribers who sign up between Nov. 21 and Dec. 5 receive a 30% discount ($72) off the price of Seeking Alpha Premium.
Pros:
Active community of engaged investors and analysts

Stock screeners, quantitative tools for stock analysis

Strong track record of market outperformance on stock ratings
Cons:
Minimal mutual fund coverage
* $72 first-year discount for first-time subscribers. Renews at regular $239/yr. rate.
Related:
4. Motley Fool Stock Advisor (Best Stock Tracker for Long-Term Investors)
---

Simply put, Motley Fool's signature product, Stock Advisor, aims to provide you with one thing: top stock picks for market-beating stocks from the site's co-founders. The service espouses my favorite, plain vanilla trading style: buy-and-hold.
It also keeps track of their recommendations across time and provides you with a community of engaged investors keen on earning outsized returns.
This makes it a great stock tracking platform to include on this list because it not only follows stock price movements, it provides engaging commentary from the service and investors themselves.
The latter commentary comes from an active and engaged community honed in on following stocks. The community, called Motley Fool CAPS, works to help you identify the best stocks at the best times to buy them — and which stocks to avoid.
Why Motley Fool Stock Advisor and CAPS are Different
The options listed above provide real-time insight and analytics, but Motley Fool's Stock Advisor and CAPS community provide that more valuable insight: due diligence and depth.
Not discounting the above for their valuable data-driven tracking abilities, but this stock advice service and tracking app provides qualitative and quantitative features for tracking your stocks.
Likely of little interest to many day traders, this long-term orientation can produce exciting longer-term returns that outperform several trading strategies when invested in the right stocks. It does so with little active portfolio management beyond doing your research upfront.
The company also offers a growth stock-oriented service called Motley Fool Rule Breakers. Of the two, Stock Advisor remains my pick because it doesn't go for moonshots, just steady outperformers. (You can learn more about how Stock Advisor compares to Rule Breakers.)
The investment newsletter recommends "Steady Eddies" and potential high-flying stocks the service believes provide financially sound fundamentals.
Preferring to stick with companies that outperform steadily over time, Stock Advisor offers stock picks with investment rationales, research and information to inform you of your investments. Consider subscribing and joining the Motley Fools CAPS community.
Read more in our Motley Fool Stock Advisor review.
Best Introductory Stock Newsletter
Motley Fool Stock Advisor
Motley Fool Stock Advisor provides a list of five stocks they believe deserving of your money today.
Stock Advisor also lists "Starter Stocks" they believe should serve as a portfolio's foundation.
Limited Time Offer: Get your first year with Stock Advisor for $89 (vs. $199 usual value)
Pros:
Discounted introductory price

Strong outperformance above S&P 500

High overall average return for stock picks
Cons:
High renewal price

Not every stock is a winner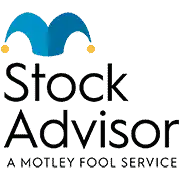 *$89 promotional price for new members only. $110 discount based on current list price of Stock Advisor of $199/yr. Membership will renew annually at the then current list price. Past performance is no guarantee of future results. Individual investment results may vary. All investing involves risk of loss.
Related: Motley Fool Rule Breakers Review
5. Sharesight (Best for Tracking Investment Performance Online [Including Dividends])
---

Sharesight has an award-winning performance and tax reporting platform that empowers you to track stocks and exchange-traded funds (ETFs) from over 40 exchanges worldwide. It also allows investors to track more than 100 global currencies and follow unlisted, alternative investments such as fixed interest and investment properties.
All of this and more are available via Sharesight's easy-to-use online portfolio tracker.
The service prides itself on being a spreadsheet replacement, allowing you to know the true performance of all listed holdings, across multiple asset classes, in a single place.
With powerful sorting features and the option to exclude closed positions, you can actively compare the performance of your holdings to numerous benchmarks of your own choosing. You also can see the impact of capital gains, dividends and currency fluctuations (if investing internationally) on your portfolio and against your benchmark.
These reasons alone qualify Sharesight to make this list, but where it truly excels is its dividend-tracking capabilities.
Income-generating assets are a powerful source of passive income for investors, so getting their amounts right is essential. You can do that via the website's Taxable Income report, which allows you to see a running total of all your dividends, distributions, and interest payments over any time period. It can even break up distributions by local and foreign income. You can also use the platform to project expected dividend income based on announced dividend payments. And no more digging for dividend dates.
All you need to do is upload your holdings by either connecting to your broker or stock trading app, uploading a spreadsheet or manually entering your trading history or opening balance. Sharesight integrates with more than 170 online brokers worldwide and can readily add ones not yet available to the service with a simple request.
To get started, visit the Sharesight website and start a free trial to see how you like the service. The free trial allows you to track up to 10 holdings in one portfolio. From there, you'd need to consider one of their paid packages to track your full portfolio. They offer discounted annual plans by visiting their page through this link.
Best Portfolio Tracker for Broker Support
Sharesight | All Your Investments in One Place, Not All Over the Place
Free Plan: Free. Starter: $10/mo.* Investor: $16/mo.* Expert: $21/mo.*
Performance and tax reporting to track your shares and ETFs from over 40 exchanges worldwide
Track 75 global currencies and unlisted investments in an easy-to-use portfolio tracker
Over 300,000 users from over 100 countries with 3 million individual holdings tracked and 170+ brokers supported rate it as 4.6 / 5 stars on Trustpilot
Pros:
Tracks investments across multiple accounts

Creates Dividend Income Report to forecast distributions

Powerful tax reporting feature

High customer ratings
Cons:
Limited support for crypto beyond major options

Pricey solution for some investors
* Prices reflect discounts to U.S. customers if paid annually. Prices vary by geolocation and if electing to pay monthly. Monthly prices are: Free Plan: Free. Starter: $15/mo. Investor: $24/mo. Expert: $31/mo.
Related: 9 Best Stock Trading Apps & Platforms for Beginners
6. StockMarketEye (Best Stock Portfolio Tracker Housed on Your Device)
---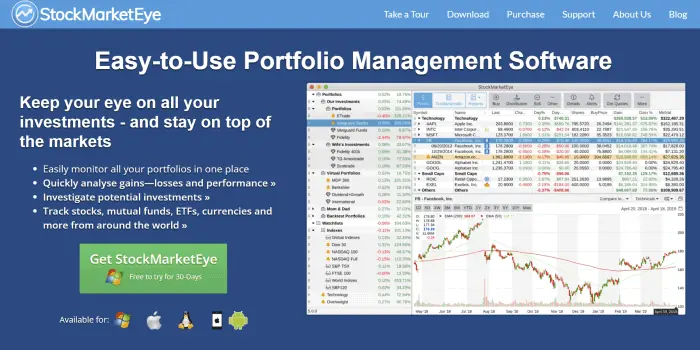 Available via desktop, tablet, iOS and Android
Are you caught up in the market, checking several different sources to track performance? Instead of constantly refreshing multiple apps or browser windows, keep tabs on all your investments in one place and stay on top of the markets with StockMarketEye.
Use this powerful, clean-looking portfolio management software to leverage financial information at the convenience of your fingertips—all without having to spend time learning software. Instead, use that time focusing on your trades and portfolio performance.
Why Use StockMarketEye?
Are you caught up in the market, checking several different sources to track performance? Instead of constantly refreshing multiple apps or browser windows, keep tabs on all your investments in one place and stay on top of the markets with StockMarketEye.
Use this powerful, clean-looking portfolio management software to leverage financial information at the convenience of your fingertips—all without having to spend time learning software. Instead, use that time focusing on your trades and portfolio performance.
Why Use StockMarketEye?
StockMarketEye has a wide range of capabilities designed to track and drill down into your portfolio's performance, allowing you to:
Easily monitor all your portfolios in one place
Quickly analyze gains, losses and performance
Investigate potential investments
Track stocks, mutual funds, ETFs, currencies and more from around the world.
Looking closer into StockMarketEye's features, it offers three primary categories investors find helpful:
Manage Portfolios
Get started quickly by importing transactions and positions from brokerages or entering them manually
Manage all of your investment accounts in one place
You can group portfolios and categorize your investments for a complete overview of what you have going on
Compare your assets to a benchmark to see how well they've performed to date or in the past
Run reports for complete analysis-everything is at a click!
Organize Watchlists
The days of collecting stock watchlists are over. With StockMarketEye, you have bundled access to hundreds of securities in one convenient location within the application.
With real-time stock quotes and data available for some exchanges, stay on top of important activities without having to do the hard work tracking down the data yourself.
Get live quotes and graphs to see how your investments perform; use the built-in alerts that will send you an email or text letting you know when changes occur with any security (or combination) listed in your watchlist(s).
StockMarketEye makes investing smarter and easier to track and follow—leveling up your investing game.
View Stock Charts
StockMarketEye is a stock price tracker that offers end-of-day and 1 & 5-day charts to provide perspective on your stocks.
Its 14 technical indicators can help you make better decisions as an investor with improved analysis.
You can tap into its built-in and comparison charting features for superior insight. That way, you know what's going on in the market, allowing you to find the best opportunities and trade confidently.
How to Get Started with StockMarketEye
Getting started with StockMarketEye is easy. Import your transactions from select brokerages directly into the software or use the Advanced Brokerage Import tool for brokerages in the U.S., UK, Canada, Australia, India and more.
You can also opt for using standard investment files used by industry participants like QIF, OFX/QFX or CSV file formats. If this isn't your style, you can also add your transactions manually.
Once imported, you can see your current asset allocation and understand your portfolio performance through these brokerage services.
One major differentiator for StockMarketEye compared to many of its competitors is accessing and using the software.
Namely, you install the software directly on your platform or device, and you don't store your data in the cloud. Instead, the data resides on your machine, providing privacy over your brokerage transactions and portfolio holdings.
If StockMarketEye sounds like a stock tracking platform worth trying, consider installing the software for a 30-day trial directly on your machine.
Try out the functional features and see if it makes your investing more accessible for you. After 30 days, you can purchase a license on StockMarketEye's website.
StockMarketEye | Portfolio Tracker
Free 30-day trial, then $74.99/yr.
StockMarketEye is an easy-to-use investment management and stock tracker that helps you keep an eye on your holdings and the markets.
Track portfolios, keep watchlists, view charts with technical indicators, and enjoy free, flexible stock quotes.

Desktop apps compatible with Windows, MacOS, and Linux.

Free trial:

You can try StockMarketEye for 30 days before purchasing.
Pros:
Linux compatibility

Fair pricing

Intuitive portfolio tracking
Cons:
Clunky report generation

No standalone mobile app
Related: Best Brokerage Account Sign-Up Bonuses, Promotions and Deals
7. Kubera (Best Portfolio Tracker for All Assets)
---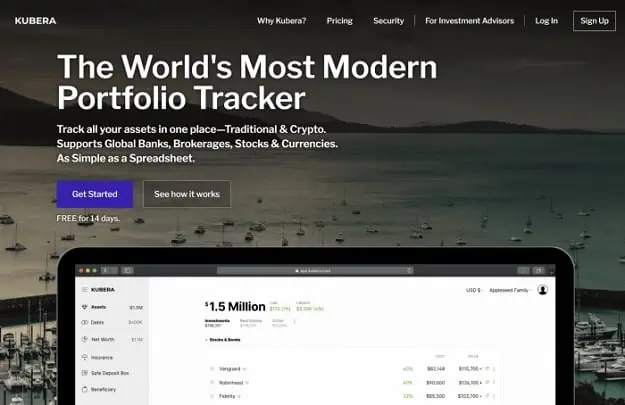 Kubera is one of the most advanced portfolio trackers on the market. It boasts thousands of bank connections, more global currencies than any other service, and detailed information about all of your investments.
Kubera is the ideal product for young professionals, homeowners, real estate professionals, and even cryptocurrency investors, among others. It allows you to keep track of your comprehensive portfolio holdings and analyze data from markets around the world.
The service is ideal for customers with international holdings, too. The service boasts connectivity to more than 20,000 banks, brokerages, and other investment institutions around the world. You can track global stocks—Kubera supports major stock exchanges in the U.S., Canada, U.K., Europe, Asia, Australia, and New Zealand—bonds, mutual funds, foreign exchange, precious metals, cryptocurrencies, NFTs, and more. You can also track real estate, automobiles, even domain names.
The platform allows you to view your holdings' values and even estimated resale values at any given time without having to search through complicated paperwork.
In short: This service offers the functions of several portfolio management apps all in one place.
Want to explore Kubera to see if it's right for you? Start with a risk-free 14-day trial; after that, you can choose a monthly or annual plan.
Best Multi-Asset Class Investment Tracker
Kubera | World's Most Modern Portfolio Tracker
Try plans for 14 days for $1. Then, Kubera Personal: $150/yr. Kubera Family: $225/yr.
Kubera tracks all your assets in one place—traditional & crypto.
Can access financial information from 20,000+ global banks, brokerages, and financial institutions.
Keeps all details in one place to build a complete view into your net worth as simple as a spreadsheet.
Pros:
Easy to use

Connects to more than 20,000 financial institutions around the world

Values a high assortment of assets
Cons:
No financial planning tools

Above-average cost

No mobile app
Related: 10 Best Non-Stock Investments [Alternative Options to the Stock Market]
8. Stock Rover (Best Stock Tracker & Research Tool [Stocks, ETFs, Mutual Funds])
---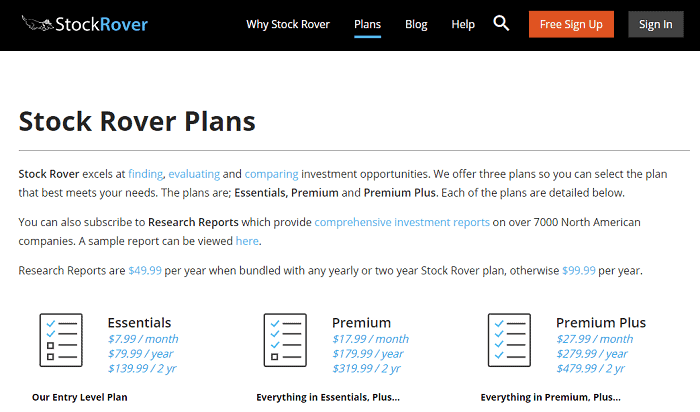 Available via desktop, mobile and tablet
Stock Rover helps you keep tabs on your portfolio with detailed performance information, email performance reports, in-depth portfolio analysis tools, correlation tools, trade planning and rebalancing facilities.
The web-based applet works well as a stocks portfolio manager for Windows and functions on Mac, mobile, and tablets.
You can subscribe to this service for several applications, but it provides a comprehensive alerting facility, allowing you to find out immediately when something happens that you need to know.
The stock screener can also find instances where companies trade below their perceived fair value, signaling opportunities to buy stocks with a built-in margin of safety.
Stock Rover's "Brokerage Connect" provides an investor with a read-only data feed of their portfolio holdings, providing you a comprehensive view of your portfolios spread across numerous investment accounts.
When you connect your Stock Rover account to your brokerage accounts, details for each portfolio get delivered to Stock Rover for analytics and tracking purposes.
Consider signing up for Stock Rover with a free 14-day trial. From there, you can decide if you'd like to upgrade to the service's premium plans for more robust tracking and analysis.
Our Stock Research Tool Pick
Stock Rover | Tools for Investors
Essentials: $7.99/mo. or $54.99/yr. Premium: $17.99/mo. or $124.99/yr. Premium Plus: $27.99/mo. or $194.99/yr.
A complete service for investors looking to use screeners, investment comparisons, real-time research reports, model portfolios, chart and more
Use this top-rated investment analytics service to identify stocks worth buying and outperforming the market
Pros:
Hundreds of screening metrics

Proprietary scoring systems

Real-time executive summary research reports
Cons:
No mobile app

No crypto or forex data

US markets only
The Power of Seeing all Your Investment Accounts in One Place
---
Consider reviewing the best stocks portfolio manager and tracker options listed above. When employed correctly, they can deliver unparalleled insight into your overall risk exposure, asset allocation and view of your financial situation. Breaking these holdings down by asset class across stocks, bonds, alternatives and more can lead to superior results for your money and place you on a sustainable path to wealth creation.
Combined with good personal finance skills, strong dedication to investing (whether in a portfolio of individual stocks or a mutual fund), and persistence, you can learn how to build wealth. Consider starting with free versions of each portfolio and stock tracker (where available) and demoing their products.