Stock screeners and stock scanners are among the most vital tools in the investing and trading tool belt.
With the push of a few buttons, you can take a wide universe of stocks, and weed them down to a select few using whatever fundamental and technical criteria you want.
And believe us: The universe of stocks is wide indeed. Consider this:
Nearly 4,900 U.S. stocks are listed on either the New York Stock Exchange and Nasdaq Composite alone, according to recent data from the stock exchanges.
Add in U.S.-listed international stocks, and that number swells to 6,400.
Once you toss in all listed stocks, across all global exchanges, you're talking about some 58,200 stocks, according to the World Federation of Exchanges.
Obviously, that's a lot of stocks to sort through when you're trying to figure out your next best trading idea. And that's where the best stock screeners and scanners prove their worth.
Your brokerage account or trading platform likely comes with a decent stock screener or scanner. But dedicated stock screening software can be far more robust, examining stock characteristics that a basic stock screener or scanner just can't provide.
Read on as we examine numerous products to help you find the best stock screener for you. This will include some of the best stock screening software and stock screener apps on the market—some paid, some paid with a free version, and some that are completely free. We'll also discuss how stock screeners work, and whether it's worth it for stock investors or swing traders to pay for these services.
Best Stock Screeners + Stock Scanners—Top Picks
---
| | | |
| --- | --- | --- |
| | | |
| | | |
| | | |
| Screener included with Seeking Alpha Premium. (Premium: $189/yr.*) | Screener: Free. (Paid products: Free 30-day trial. Essential ($12.95/mo. or $155.40/yr.), Plus ($24.95/mo. or $299.40/yr.), Premium ($49.95/mo. or $599.49/yr.)) | Scanner included with paid plans. (Standard: $999/yr., $83/mo. Premium: $1,999/yr., $167/mo.) |
| | | |
Premium Paid Stock Screener
Screener included with Seeking Alpha Premium. (Premium: $189/yr.*)
Outstanding All-Around Free Product
Screener: Free. (Paid products: Free 30-day trial. Essential ($12.95/mo. or $155.40/yr.), Plus ($24.95/mo. or $299.40/yr.), Premium ($49.95/mo. or $599.49/yr.))
Excellent Stock Scanner for Day Traders
Scanner included with paid plans. (Standard: $999/yr., $83/mo. Premium: $1,999/yr., $167/mo.)
Best Stock Screeners
---
Like just about anything having to do with investing, there's no one-size-fits-all solution when it comes to stock screeners. So, below, we've listed our favorite platforms and explained how each is the best stock screener for a particular purpose or situation.
1. TradingView (Overall Best Free Stock Screener)
---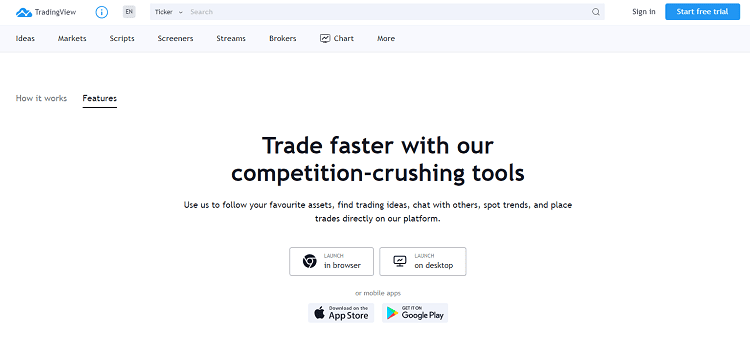 TradingView is one of a handful of valuable charting and screening platforms for both fundamental and technical analysis-driven stock traders on this list. In fact, on several fronts, it's the best stock screener we reviewed.
TradingView utilizes 50+ real-time data feeds, historical data, pre-built popular indicators, smart drawing tools, figure charts and valuation analysis.
The free stock screener software, TradingView Basic, is plenty robust, offering both charts and screens with real-time data.
On the screener side, Basic users can screen stocks, mutual funds, exchange-traded funds (ETFs), closed-end funds (CEFs), foreign exchange (forex), cryptocurrencies, and more. The screener comes with pre-built data sets, with fundamental sets including the likes of Overview, Performance, and Dividends, and even technical sets such as Oscillators and Trend-Following. They also have pre-built screens, such as Large-Cap, High-Dividend, Most Volatile, even Largest Employers.
Worth noting is that TradingView Basic also comes with a robust web-based charting system that includes real-time stock price data; historical charts (1-day, 5-day, 1-month, 3-month, 6-month, year-to-date [YTD], 1-year, 5-year, and all-time presets, as well as custom time frames); technical indicators; technical analysis summaries explaining whether a stock is a Buy, Sell, or Hold based on oscillators and moving averages; even the ability to draw and enter text on charts.
You can use the platform to conduct customized technical analysis with metrics such as volume indicators, Relative Strength Index (RSI), moving average convergence divergence (MACD), and more.
TradingView works well for traders looking to gain an edge on the markets, whether that's via the stock market, forex markets, crypto, futures or more. Pairing even TradingView Basic's free stock screens with a stock trading platform or app like TradeStation or Moomoo account might help traders capture more alpha. You can also gain more features by upgrading to one of TradingView's paid plans, which come with 30-day free trials.
Best Free Stock Charting Tool
TradingView | Free Stock Charts, Quotes and Trade Ideas
Free 30-day trial. Offers Non-Professional and Professional Plans (Details Below)*
TradingView provides an easy and intuitive stock charting experience w/tools to share and view trade ideas.
Use this stock analysis app to leverage real-time data and browser-based charts to do your research anywhere.
Collaborate with 50 million TradingView investors.
Non-Professional Plans: Essential ($12.95/mo. or $155.40/yr.), Plus ($24.95/mo. or $299.40/yr.), Premium ($49.95/mo. or $599.49/yr.)
Professional Plans: Expert ($199.95/mo. or $2,399.40/yr.), Elite ($349.95/mo. or $4,199.40/yr.), Ultimate ($499.95/mo. or $5,999.40/yr.)
Test out the service with a free 30-day trial.
* Annual plans represent a 16% discount over paying monthly.
Related: 11 Best Stock Portfolio Tracking Apps [Stock Portfolio Trackers]
2. Seeking Alpha (Overall Best Paid Stock Screener)
---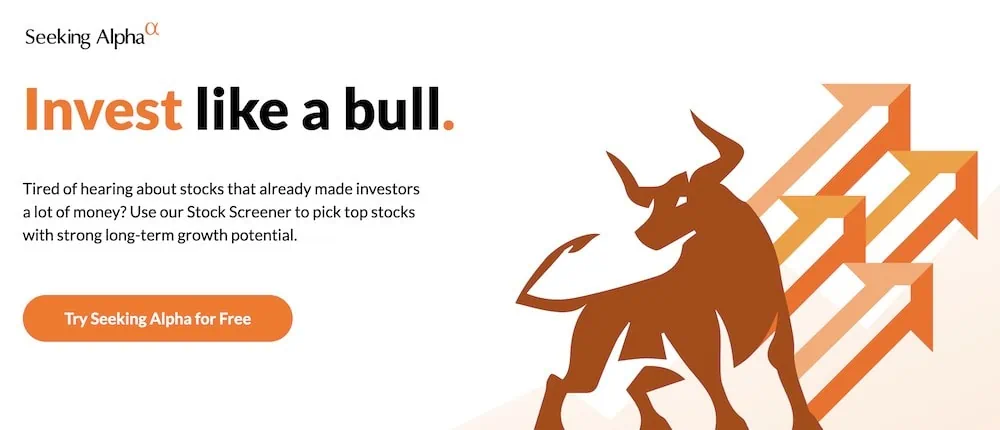 Seeking Alpha has an abundance of tools that screen stocks and conduct fundamental analysis for you.
Seeking Alpha's screener, available to Premium and Pro subscribers, mixes traditional, primarily fundamental-based screening with a few Seeking Alpha "extras." For instance, SA's screener can filter for the usual data such as dividend yield, valuation metrics and growth expectations. However, you can also filter for Seeking Alpha-specific metric such as Quant Grades, or Dividend Grades, which measure dividends based not just on yield, but growth, consistency, and safety. You can even filter by ratings from Wall Street analysts and from SA's broad author set.
If you don't feel like building your own custom screen, you can use one of Seeking Alpha's 20-plus prebuilt screens, including Top Rated Stocks, Top Yield Monsters, and Most Shorted Stocks.
Other features include "Fundamental Charting." An algorithm analyzes fundamental factors from the income statement, balance sheet, and cash flow statements to determine a "Main Street" price per share. It then compares the Main Street price to the actual price and creates a chart showing you whether the stock is oversold (bargain), overbought (might want to sell), or if it might be best to hold.
Seeking Alpha's Premium and Pro products work best for intermediate investors who want to both research and receive stock ideas, as well as advanced investors who want to thoroughly analyze market data themselves. Visit their site to learn more or sign up with a free 7-day trial today.
Best Overall Stock Research Service
Seeking Alpha Premium & Pro
7-day free trial. Premium: $189/yr.* Pro: $2,400/yr.
Seeking Alpha has the world's largest investing community.
Seeking Alpha Premium helps you find profitable investing ideas, improve your portfolio, research stocks better and faster as well as track the news to find investing opportunities.
Receive up to 15 investing newsletters filled with stock research and analysis, commentary and recommendations.
Use Seeking Alpha Premium's Seeking Alpha Stock Ratings to find stocks likely to outperform and make you money.
Seeking Alpha Premium's proprietary quant records have an impressive track record leading to massive market outperformance.
Special offer: New subscribers receive a $50 discount off the price of Seeking Alpha Premium in their first year.
Pros:
Active community of engaged investors and analysts

Stock screeners, quantitative tools for stock analysis

Strong track record of market outperformance on stock ratings
Cons:
Minimal mutual fund coverage
* $50 first-year discount for first-time subscribers. Renews at regular $239/yr. rate.
Related: 19 Best Stock Market Investing Research & Analysis Sites
3. Finviz (Best Free Fundamental Stock Screener)
---
Finviz is a stock analysis and stock screener software with both a free version and a paid premium version.
The free version of Finviz, which is ad-supported, is one of the most powerful free stock screeners you'll find. Investors can screen for metrics broad and narrow, from country, stock exchange and market capitalization to quick ratio, sales growth over the past five years, and insider transactions. You can even screen for various technical indicators, including common simple moving averages, RSI, and even various chart patterns.
Once your stocks are displayed, you can view dozens of data points, including numerous valuation metrics—P/E, P/B, price-to-sales (P/S) and price-to-free-cash-flow (P/FCF), among others—earnings per share (EPS) estimates, short-selling data, and performance figures.
And a tip for investors who simply love watching the market: Finviz's "heat maps" illustrate performance from the S&P 500, full U.S. stock market, world stocks, even ETFs in an engaging visual format that allows you to drill down into each individual stock or fund.
Simply opening a free registered account with Finviz will also allow you to add 50 screener presets and customize your layout. But if you sign up for the paid Finviz*Elite, you can unlock premium features, including (but not limited to):
Real-time quotes and data
Pre-market and after-market stock data
Backtesting
Email alerts
Fundamental charts
100 portfolios per user and 100 tickers per portfolio
200 screener presets
Officer information
Consider signing up and starting a subscription. If you're not satisfied, you can request a full refund within the first 30 days of subscribing. Also, by becoming a Finviz*Elite member, you can remove all ads from your platform.
Finviz | Stock Analysis Software
Free Version; Finviz*Elite: $24.96/mo if paid annually
Finviz*Elite offers real-time data and access to extended hour sessions
Advanced charting and overlays with indicators, technical studies and interactivity
Backtesting with technical indicators to test trading strategies over the last 24 years
Proprietary correlation algorithms optimized for financial markets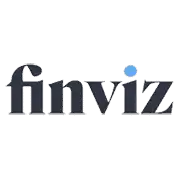 Related: 11 Best Commission-Free Stock Trading Apps & Platforms
4. Zacks (Best Free Stock Screener With Proprietary Scoring)
---
Zacks Investment Research is well-known for its Bull/Bear of the Day stock picks, as well as an abundance of free resources on its website. But it also has a powerful stock screener that allows you to harness the power of Zacks' proprietary stock rankings and scores.
Zacks' free stock screener allows you to filter stocks by dozens of fundamental data points—spanning dividends, valuations, earnings estimates, even acute details like what month the company's fiscal year ends. But some of its most popular criteria include several proprietary Zacks metrics, including Zacks Rank, Value/Growth/Momentum Scores, and Earnings Expected Surprise Prediction (ESP).
Zacks also offers free mutual fund and ETF screeners that let you search for funds based on things such as fees, performance, and portfolio composition.
If you sign up for Zacks Premium, you'll be able to leverage even more research tools, including 45 premium screens designed to help you beat the market, no matter your investing style. A few fundamental analysis screen examples include PEG (price/earnings-to-growth), Return on Equity, and Highly Ranked Undervalued Stocks.
Zacks Investment Research | Research to Build Success
30-day free trial, then $249/yr.
Zacks Investment Research offers several research products to provide the information subscribers want to know about market opportunities
Features include: Zacks #1 Rank List, Industry Rank List, Premium Screens, Focus List, Research Reports, Earnings ESP Filter, Zacks #5 Rank List
Related: 13 Best Stock & Investment Newsletters for Inbox Alpha
5. Stock Rover (Best Paid Fundamental Stock Screener)
---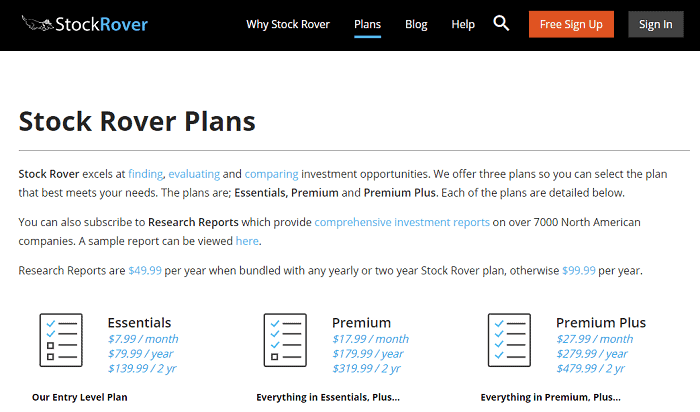 Stock Rover's screeners and watchlists make it easy to conduct fundamental analysis. It has more than 140 pre-built screens and 500-plus screenable metrics to help you get started.
Stock Rover Premium and Premium Plus members can screen for criteria best suiting your investment style. Are you a momentum investor? Do you only buy companies that increase their dividends? Do you want growth at a reasonable price (GARP)? Stock Rover's premium products allow you to screen for numerous data points to give you exactly the results you need. Better yet: You can even weight certain criteria more heavily than others, then create a ranking of stocks, with your top choices appearing on top.
Do you like a pre-existing stock screen but wish it were a bit different? Stock Rover lets members modify existing screens or even create custom screens from scratch; a customization that allows investors to develop highly specific filters.
Stock Rover also offers other tools, such as a side-by-side comparison tool for stocks, ETFs, and mutual funds. You can then compare these via "views," including Growth, Valuation, Momentum, Dividends, and Historical Returns. Also useful is the Stock Rover Insight Panel, which outlines fundamental data, financial statements, analyst ratings, recent news, and even earnings transcripts.
Want more information? Check out Stock Rover to see everything it has to offer.
Our Stock Research Tool Pick
Stock Rover | Tools for Investors
Essentials: $7.99/mo. or $54.99/yr. Premium: $17.99/mo. or $124.99/yr. Premium Plus: $27.99/mo. or $194.99/yr.
A complete service for investors looking to use screeners, investment comparisons, real-time research reports, model portfolios, chart and more
Use this top-rated investment analytics service to identify stocks worth buying and outperforming the market
Pros:
Hundreds of screening metrics

Proprietary scoring systems

Real-time executive summary research reports
Cons:
No mobile app

No crypto or forex data

US markets only
Related: 19 Best High-Yield Investments [Safe Options Right Now]
6. TC2000 (Best Paid Stock Screener With Chart Drawing Tools)
---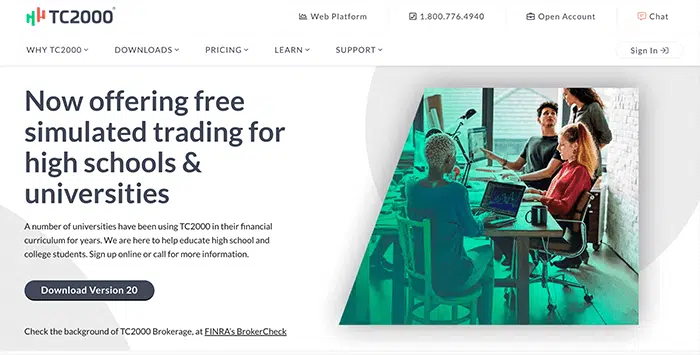 TC2000 is an easy-to-install stock screening and scanner software that allows you to build watch lists, follow stock news, receive stock alerts, conduct stock scans, and sort and make personal notes on stock opportunities.
The heart and soul of TC2000 is the service's Condition Wizard. The tool allows you to build for any condition you might think of on any indicator, step-by-step. The investment software provides more than 70 technical indicators with 10 drawing tools. While this doesn't require formula writing, you can develop your own and watch "flex" conditions unfold over time.
TC2000's screener is called EasyScan, and it allows you to scan millions of data points for your conditions on the fly. And on top of allowing you to screen for stocks, EasyScan also allows you to screen options, too.
TC2000 has three different paid plans with a variety of perks as you go up in price level.
Best Customizable Technical Condition Software
TC2000 | Market Research
$8.32/mo. to $74.98/mo. (billed annually). Optional services extra.
TC2000 is a market research platform providing tools and analysis software for identifying opportunities to capture alpha.
Receive a $25 discount for signing up today!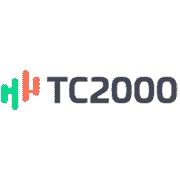 Related: 23 Best Income-Generating Assets [Invest in Cash Flow]
7. Yahoo! Finance (Best Stock Screener for Simplicity)
---
Yahoo! Finance is one of the premier sites for stock news and information, and it offers one of the simplest interfaces for investors who want to build a stock screen for free—but don't necessarily want to skimp on data.
The Yahoo! Finance stock screener includes a build-a-screener function for stocks, ETFs, mutual funds … even indexes and futures. All screeners allow you to build, from simple to complex, by starting with a few basic filters (market cap, sector), then adding more from there—everything from profitability ratios to valuations to even ESG scores. Meanwhile, you can filter funds and ETFs by Morningstar star rating, fees, turnover ratios, and more.
Yahoo! Finance also offers a number of preset stock screens, such as Growth Technology Stocks, Undervalued Large Caps and Small Cap Gainers.
Upgrading to Yahoo! Finance unlocks a number of perks across the site, including more preset screens and additional filter data for the Yahoo! Finance stock screener.
Yahoo! Finance | Stock Data, Tools & More
Yahoo! Finance allows you to screen stocks, ETFs, and mutual funds across dozens of data points
Includes several preset screens
Intuitive interface that's easy for beginners to understand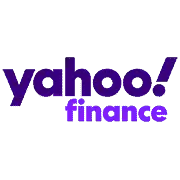 Related: 20 Best Stock Research & Analysis Apps, Tools and Sites
8. Moomoo (Brokerage With Free Stock Screener)
---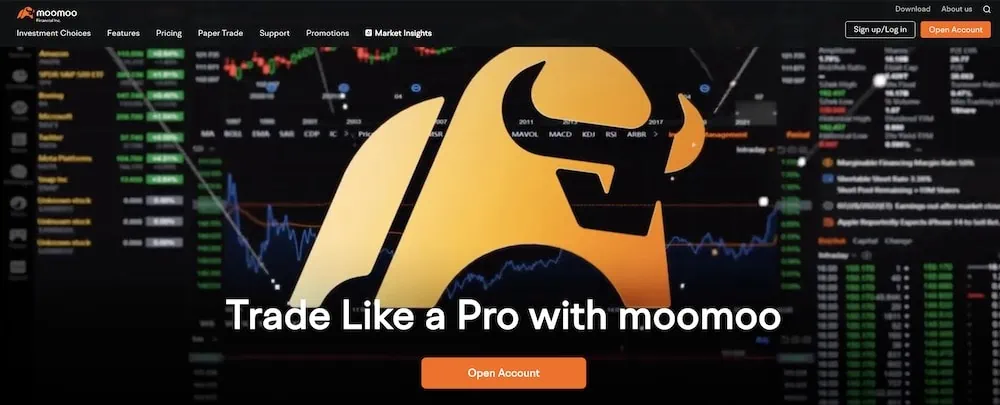 Online broker Moomoo offers up a freebie for non-account holders: A screener that not only looks at U.S. exchanges, but also the Hong Kong and China's Shanghai and Shenzhen exchanges as well. That makes Moomoo an excellent niche choice for people who want to be able to look at both U.S. and some of the major Asian stocks as well.
The stock screener itself allows you to filter for a number of fundamental and technical metrics. Fundamental data includes valuations such as price-to-earnings (P/E) and price-to-book (P/B), net income, and revenue, while technical analysis data includes moving averages, RSI, MACD and Bollinger Bands. (Being a free screener, it does have a few shortcomings, including less robust data options than paid screeners, including in a couple key areas such as dividends.)
The Moomoo app lets you see the performance of major indices, the average gain and loss across market sectors, and the distribution of advancers and decliners. It also provides a news feed to keep you up-to-date on stocks, a social network where you can follow other users and write your own updates, and discussion groups about numerous investing topics.
The best part about Moomoo's brokerage account? It's free and comes with free stocks for signing up!
Get 16 Free Stocks
Moomoo | One-Stop Trading + Investment Platform
Moomoo is an all-in-one investment app geared toward stock, ETF, and options traders who want to work with real-time market data at the ready.
The service offers free Level 2 market data, offering more insight into the trading activity below the NBBO surface shown on many financial data sites.
Use the service's powerful stock charting software capabilities to find trading opportunities.
Get a great return on uninvested cash: Moomoo currently offers a 5.1% APY from its cash sweep program.
Special offer: Get up to 15 free stocks plus 1 exclusive share of either TSLA or GOOG stock when you sign up through WealthUp, for opening a new account and funding it with certain minimums.*
Pros:
Free Level 2 market data

Free powerful stock charting software

Free paper trading

Low margin rates
Cons:
Fewer features than peers

No robo-advisor functionality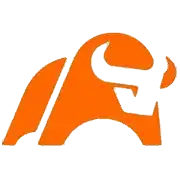 * All new users earn 5 free stocks for signing up and depositing at least $100, 10 more free stocks for depositing at least $1,000, and 1 free share of TSLA or GOOG for depositing at least $5,000. New Moomoo users who sign up to join Moomoo and open a Moomoo Financial Inc. brokerage account during the Promotion Period are eligible. The offer is only valid for U.S. residents with a valid Social Security Number (SSN), who are at least 18 years old and do not have a Moomoo U.S. brokerage account.
Related: 14 Best Discount Brokers [Low-Cost Online Brokerage Accounts]
Best Stock Scanners
---
Stock scanners are a somewhat different product that's more suitable for active traders (more on that below). Here, we outline a few stock scanners that stand out from the crowd.
1. Trade Ideas (Best Stock Scanner for Day Trading)
---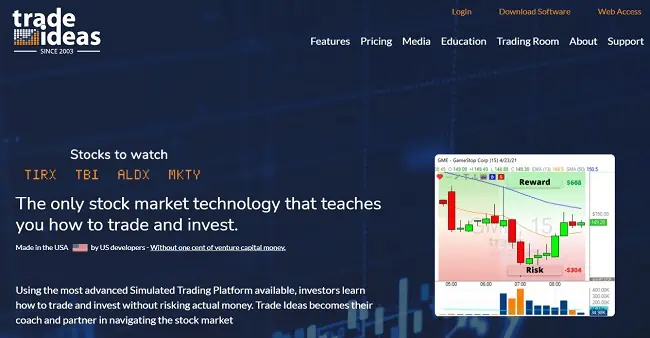 Trade Ideas employs an artificial intelligence-powered assistant named Holly. This AI is like a virtual research analyst who constantly sifts through technicals, fundamentals, social media, earnings, and more to pick stocks as real-time trade recommendations.
Holly stays busy, too. She runs more than 1 million simulated trades each night and morning before the stock market opens with over 70 proprietary algorithms to find you the highest-probability, risk-appropriate opportunities to invest in stocks. Ideas include premarket movers, gaps, low-float stocks, stocks with high relative trading volume, and more.
Trade Ideas doesn't stop there, though. You can use these trade ideas proposed in real-time through a live simulated trading room. The simulation allows you to demo the stock service's ideas without risking your own money.
The powerful service allows you to access real-time streaming trading ideas overlaid with technical analysis on simultaneous stock charts. The pairing can help you learn how to trade into risk-reward balanced trades. You can invest and learn at the same time.
Where Trade Ideas excels is not only giving you the data and ideas you haven't seen elsewhere but also how to manage your money. The rules-based virtual trading room on every chart plays for both long-term investors and active traders.
Trade Ideas' software adjusts levels and the trading plan to match as the stock market evolves. The best part? You can learn how to do all of this without risking your principal through a real-time simulated trading environment.
After you've grown comfortable with the service, you can choose to go live with the trade ideas and start investing real money by connecting directly through a brokerage like Interactive Brokers, TD Ameritrade and E*Trade.
Consider starting your Trade Ideas subscription with no contract involved. Cancel anytime.
Best Active Trader Stock Service
Trade Ideas | Your Coach and Partner for Navigating the Stock Market
Standard: $84/mo. or $999/yr., $228 Premium: $167/mo. or $1,999/yr.* Save 15% with coupon code YATI15.
Trade Ideas is a stock market app that teaches you how to trade and invest.
Using a simulated trading platform, you can learn how to trade and invest without risking actual money.
The service offers a free newsletter and also AI-powered automated trading for premium subscribers.
Special Discount: Take 15% off any first month or year of a Trade Ideas subscription using promo code "YATI15"
Pros:
Free live trading room that delivers actionable guidance

In-browser and desktop interface functionality

Automated trading capabilities

AI-powered trade suggestions
Cons:
No mobile app

Pricey subscriptions for some traders

Cannot place actual trades through TI
* Price when paid annually. Standard is $118/mo., and Premium is $228/mo., when paid monthly.
Related: 14 Best Investment Opportunities for Accredited Investors
2. TrendSpider (Best for Refining Trading Strategies)
---
Available: Sign up here
Best for:

Traders of all experience levels looking to trade more efficiently

Platforms: Web, mobile app (Apple iOS, Android)
TrendSpider offers a comprehensive platform for traders to create, backtest, and refine trading strategies, scan and analyze the market, and time trades with precision. With its advanced tools and features, TrendSpider is designed to make trading more efficient for both novice and experienced traders.
Among the platform's powerful tools:
Robust technical charting and pattern recognition features, such as native multi-timeframe analysis, automatic trendlines, and Smart Checklists
Raindrop Charts®, which provide a new way to visualize market data, focusing on trading volume at each price level
Alternative data offerings including information on options flow, analyst actions, market breadth, insider trades, and more
Data Flow, which enables real-time tracking of market data for all symbols, including analyst estimates, earnings, news, and unusual options flow
Strategy Tester, which allows users to quickly develop and test trading strategies without any coding required; users can configure entry and exit rules and explore the performance of their strategies directly on the price chart
Backtesting capabilities for technical, non-technical, and event-based strategies; once a winning strategy is identified, users can deploy it as a trading bot with just one click
Of particular note for traders is TrendSpider's Scanner feature, which allows you to instantly test any strategy on any market and search for ideal trading opportunities. The stock scanner supports searching through watchlists, indexes, and more than 700 smart lists. Users can mix and match conditions and timeframes, allowing them to express any view in a single scan. The platform also provides a range of pre-made scanners to help users get started.
TrendSpider's mobile app ensures traders are always connected to their charts and scanners, while the Chrome extension allows users to access real-time charts while browsing the web. The platform also offers extensive educational resources through TrendSpider University and detailed documentation for its features.
The platform also supports integration with external systems using webhooks, enabling traders to build custom alerts and bots that interact with social media channels, private chat servers, email, or order routers connected to brokerage accounts. TrendSpider's SignalStack service can turn any signal or alert on TrendSpider into a live order in a trader's account.
Learn more about the platform's capabilities or sign up for TrendSpider today.
Institutional-Grade Data + Tools for Traders
TrendSpider | Smart Trading Software
Free 7-day trial. Essential: $384/yr. Elite: $780/yr. Elite Plus: $1,620/yr.
Hone your trading skills and strategies with the TrendSpider platform, where you can use advanced tools to test trade ideas, scan for opportunities, and perfect your timing.
Enjoy robust tools including technical charting and pattern recognition features, alternative data, backtesting, and Raindrop Charts.
TrendSpider's stock scanner supports searching through watchlists, indexes, and more than 700 smart lists.
Special offer: Enter code YATI25 at checkout to receive 25% off the lifetime cost of your subscription.
Pros:
Automated order execution

Intuitive interface

Chrome extension

Reasonable pricing
Cons:
Mobile app is a companion app, not standalone

Charts sometimes load sluggishly
3. Benzinga Pro (Stock Scanner With Breaking News/Analysis)
---
Benzinga Pro offers up-to-date stock market news and data, as well as a powerful real-time stock scanner.
The Benzinga Pro scanner allows you to filter for data including price, market cap, volume (and relative volume), float, short interest, and more. It also offers preset filters to give investors an edge, such as Real-Time After-Hours Gainers, 5-Minute Movers, and Mid-Cap Movers From Open. ("Movers" are typically the biggest gainers and losers in the stock market.)
The Pro service also comes with "the only stock screener you need," which allows investors to narrow down the stock market based on fundamental and technical analysis.
A big perk of Benzinga Pro is that it provides access to news and analysis from Benzinga.com, which delivers breaking financial news, stock analysis, updates on ratings from Wall Street equity researchers, and more. Other Benzinga Pro features, depending on the plan, include stock signals, a community chat, even trading mentorship and education from a leading options trader.
Learn more about pricing and features to determine the best Benzinga Pro plan for you.
Our Fast Real-Time Market News Pick
Benzinga Pro | Fast Stock Market News
Basic: $27/mo. Essential: $177/mo. or $1,404/yr. (34% discount) if billed annually.
Benzinga Pro is built for traders and investors to receive actionable market news and research in real time.
Utilize Benzinga's competitive news advantage for receiving breaking news and research to enhance your analysis.
Leverage scanner and charting capabilities to get customized movement updates in the stock market.
Enjoy the experience of professional day traders, who share their real trades throughout each trading session.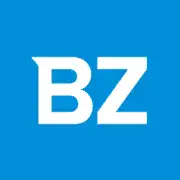 Related: 17 Best Stock News Apps & Sites [Financial & Stock Market Info]
4. MetaStock (Paid Stock Scanner for Windows)
---

MetaStock has provided investors with stock charts and analysis tools for more than 30 years. While they focus primarily on technical analysis, they have some useful tools for fundamental analysis as well.
The software's Fundamental Analyzer has five tabs:
Fundamental Tab: Lets you quickly see information on a stock, such as the industry sector, market cap, earnings per share, annual dividend, dividend yield, and more.
Revenue Tab: Displays the quarterly and annual net income compared to revenue. It shows information from the last eight quarters or four years.
Performance Tab: Provides information about annual earnings per share, annual dividends, annual growth rate, and more.
Estimates Tab: Shows EPS quarterly estimates, total revenue quarterly estimates, EPS annual estimates, and total revenue annual estimates.
Scanner Tab: Allows investors to search for companies based on their chosen criteria. Stocks can be sorted by average volume, closing price, annual dividend, EPS, P/E ratio, and much more.
All of MetaStock's tools are customizable and extremely powerful once you have mastered them. (Note: MetaStock's software is only compatible with Windows.)
Related: 9 Best Portfolio Analysis Tools [Portfolio Analyzer Options]
What Is a Stock Screener?
---
A stock screener is software that allows investors to sort a wide universe of stocks by various characteristics, be it fundamental criteria such as market capitalization or sector, or even technical criteria such as oversold according to Relative Strength Index or above their 50-day moving average.
Stock screeners, however, are typically used more often for their fundamental data. As a for-instance: A novice investor might use a free stock screener to whittle down a universe of thousands of stocks …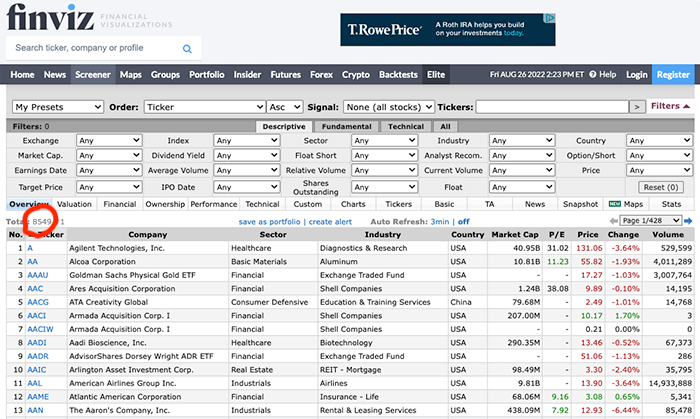 … down to just a handful of S&P 500 energy stocks that yield more than 3%.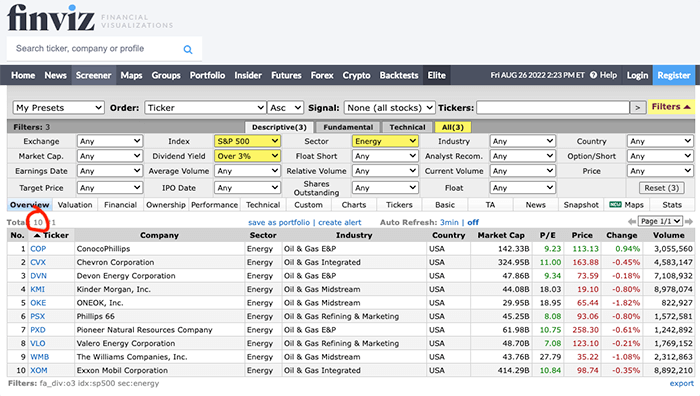 This kind of information is better suited to helping long-term investors focused on making decisions about stocks they might hold for years.
Stock scanners, on the other hand, typically are used by people who need real-time price information for day or swing trading.
Are Stock Screeners Worth It?
---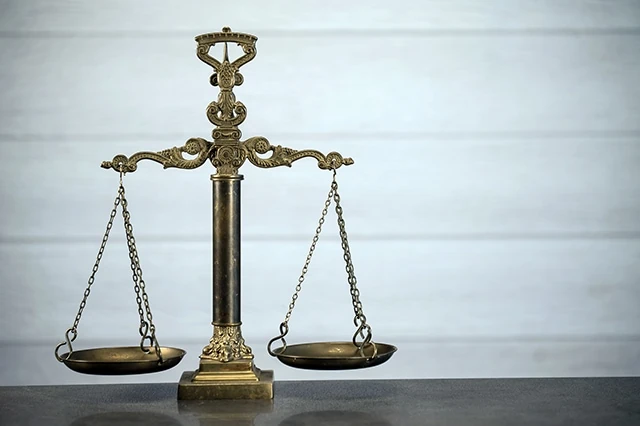 The worth of anything is a calculation of how much it costs (in money, other resources and time) versus how much you get out of it.
It's easy, then, for free stock screeners to justify their costs—there are none! Still, even free stock screeners aren't made equal, so one with an intuitive interface, better tools and faster loading times is going to produce better results while costing you less time. Hence, it's still important to take a little time to research the best free stock screeners.
Where the rubber hits the road is as it pertains to paid stock screeners. Remember: A payment on any investing service, whether it's a stock screener or a stock advisor website that makes picks for you, is effectively like when a mutual fund manager charges a fee—it eats into your returns. So, just like you'd ask yourself, "Is this manager justifying his fees?" you should ask yourself, "Is this stock screener justifying the cost?"
So, is a paid stock screener worth it? Well, ask yourself these questions:
Is it head-and-shoulders above comparable free products?
Does it offer both fundamental and technical filters that are superior to its peers?
Does it fit with your trading or investing style?
Are you discovering great stocks that are producing market-beating returns?
If the answer to most if not all of these is "yes," then chances are, your screener is worth it.
What Is the Best Stock Screener?
---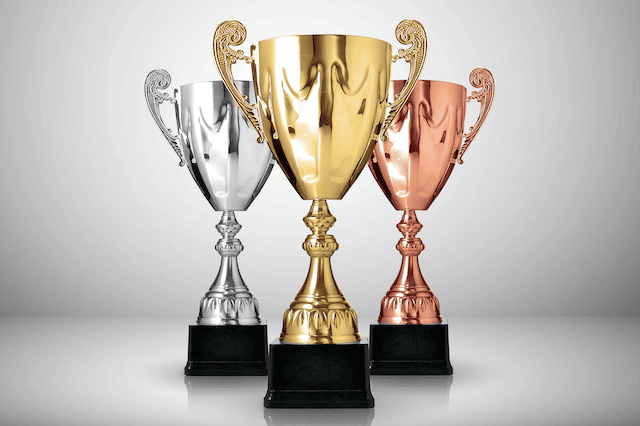 Like we mentioned above, there is no single best stock screener for everyone—what you'll enjoy the most ultimately comes down to what features each individual screener offers. Also, it's difficult to compare free screeners with paid screeners just given how many more options are typically available on the latter.
That said, Seeking Alpha stood out among the paid stock screeners we reviewed based on a combination of both excellent features and an attractive annual rate for Seeking Alpha Premium, making it a superior overall value.
Which naturally leads us to the question …
What's the Best Free Stock Screener?
---
Among free stock screeners, several programs stood out. We listed TradingView as the best free product overall, not just because of its excellent screener, but because of its other free tools, including a feature-rich stock charting program. Finviz offers one of the easiest-to-use free screeners you'll ever come across, and Zacks' free screener has both a deep menu of financial data to filter by, as well as its own popular proprietary scores.
Related Stock Screener and Stock Scanner Questions
---
How good is the TradingView stock screener?
The TradingView stock screener is one of the most highly rated stock screeners we reviewed, and on a few fronts, it's arguably the best stock screener we came across.
Among the things we loved were the wealth of screening options for free (Basic) users, including some interesting technical screens and even extended-hours (pre-market and post-market) screens. But TradingView also stood out for the other goodies that come with it, including an intuitive charting system with a host of tools that are useful for traders of all experience levels.
That said, advanced users should consider TradingView's paid plans, which allow for more technical indicators on each chart, more alerts, saved chart layouts, and more.
What is the best screener for day trading?
Based upon our review, we believe Trade Ideas is the top screener for day trading, though like we mentioned above, it's technically a stock scanner. That means it's incorporating real-time data, versus data that might be delayed by several minutes, or even data that comes from the previous trading session.
And Trade Ideas does more with that real-time data. For instance, it offers alert windows that display events that happen in real time, as well as Real-Time Stock Racing—its distinctive approach to data visualization.
Related: Best Day Trading Platforms and Apps
How can I screen stocks for free?
Many stock screeners mentioned above are free, but in general, there are three ways to access free stock screening:
Website, no login: Several websites, such as TradingView, Zacks and Finviz, allow you to simply visit a website and perform a stock screen, no login or account required.
Website, login perks: Many websites that offer free stock screening will provide additional perks (saved screens, more data filters) for creating a free account and logging into their site.
Brokerage: In a few cases, you can go to an online brokerage and start up an account with no investment minimum, then use the tool's screens without funding the account. This is the most complicated method, and we do not suggest doing this long-term. However, it does make sense if you want to test out a brokerage account before you found it.
How much does a stock scanner cost?
Stock scanners—which, remember, use real-time data and are best for traders who need to act quickly—typically come at a cost. For instance, as of this writing, Benzinga Pro's real-time scanner only comes on Essential plans ($177/mo.) or better. MetaStock Real Time (R/T), meanwhile, costs $100/mo. plus the cost of a required Xenith data subscription, which varies depending on which region's data you need.
Can screeners look at fundamental and technical criteria?
Yes, they can. Stock screeners typically specialize in providing fundamental data, but several of the screeners listed above—including TradingView and FinViz, among others—do provide a few points of technical analysis, such as whether the stocks are above or below certain moving averages, or what their Relative Strength Index (RSI) reading is.
That said, screeners' technical data might not be enough for some day traders. Those who need real-time info might have to pony up for a stock scanner instead.
Related: