It is a common question that many people ask themselves: how old do you have to be to get a credit card? The answer, much like the rules and regulations applied to minors and adults, can vary slightly depending on your financial institution.
However, to have a credit card issued in your name, you'll need to be considered an adult in your state of residence. Often, that means being 18 or older. Though, this doesn't mean you can't have a credit card—you might just need to become an authorized user on an adult's credit card account.
Below, we will discuss the minimum age requirements for receiving a credit card at some of the most popular banks in America as well as cover many other related topics and content.
Let's jump in!
How Old Do You Have to Be to Get a Credit Card?
---
Getting a credit card in your own name requires you to be the age of majority in your state of residence. If, however, you don't require the card to be held in your own name, you can qualify to have a card held by an adult, parent or guardian as an authorized user.
Several credit card issuers allow you to apply for a card as an adult with the intent of adding a child as an authorized user. Parents tend to do this for a number of reasons:
First, credit card companies will often allow parents to add a child as an authorized user without having them provide any credit history. This is helpful for teens or young adults just starting out who don't have a credit report yet.
Secondly, it can be easier to build credit through piggybacking on someone else's credit account rather than building credit on your own.
Thirdly, authorized users aren't responsible for paying off credit card purchases, though they can easily be removed from the account if necessary.
Lastly, credit cards are often more of a convenience than an essential part of life—credit scores and credit reports don't care how much you're spending every month as long as you pay your credit card bill. Therefore, even if you add your kid as an authorized user but never give them a card, it can still help with building their credit.
Related: Best Credit Cards for Teenagers
What is an Authorized User?
---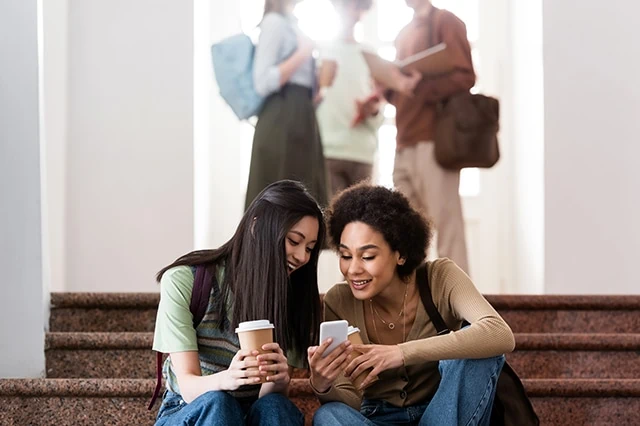 Because minors can't have credit cards held directly in their names, if they need to have access to a credit card, that will require being added to a parent or guardian's credit card as an authorized user.
An authorized user is a person who is permitted to use a credit card account, but isn't the primary account holder.
This means that authorized users are not responsible for making monthly payments on their credit cards, nor do they have access to view billing statements or transaction history online.
What Credit Cards Can You Have as an Authorized User?
---
If you want to get a credit card for your child, you'll need to have them become an authorized user on your own account. This will have your credit history reflect on your credit reports as well as your child's credit reports.
You can select from one of several credit card issuer options with companies like Capital One, American Express, Discover, Chase Bank, Bank of America, Wells Fargo and many others.
You will likely receive credit offers in the mail and in your email inbox as your child nears their teen years or becomes a young adult.
This can be for things as simple as having a card for use at gas stations, buying products online while at school or even being in need of something like a student credit card.
All of these options can help with building credit and earning good marks on credit reports from the credit bureaus.
You'll often find many have attractive features like:
Intro APR
Cash Back
Balance Transfers
Travel insurance
Credit scores through the mobile app or online portal
No income requirements
No credit scores or credit report requirements
Low credit limit options
Co-signer availability (meaning someone equally responsible for the credit card bill and not just as an authorized user)
What is a Credit Card for a Child?
---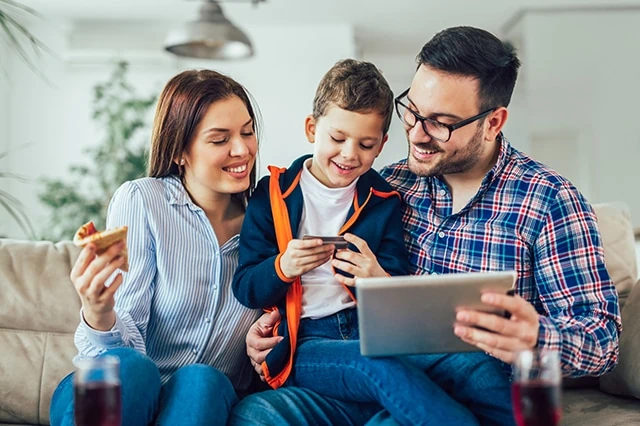 Why would you give a minor a credit card? Having a credit card for kids may assist them by developing healthy money habits from an early age, allowing these financial literacy skills to compound from the start.
And if you don't provide them a credit card early on with training wheels firmly attached? While certainly not always the outcome you'd encounter, one of the most common mistakes encountered by young adults is accumulating costly credit card debt.
Depending on your circumstances as their family member, you might be able to manage assistance for when this happens. Though, to head this off at the pass, you want to share, practice and instill financial literacy skills with them as early as possible—before real money is at stake.
Kids can learn about money management through several means, though the best option is through modeled behavior. In other words, seeing you handle credit cards responsibly as an adult.
If not managed properly, credit cards can quickly spell disaster because they front a line of credit, offering buying power you might not necessarily have the means to afford.
Combine this lack of financial resources with a considerable marketing effort to attract young consumers and it spells disaster from which it could take years to recover.
Though, all this doom and gloom isn't a certainty. In fact, a teen can learn how to manage money prudently, establish good credit habits and absorb useful financial literacy skills to navigate credit cards themselves—though they'll need your help!
Credit cards present an opportunity for a kid or teen to access credit for the first time and begin building a credit history. Though, your best first step is through exploring a kids debit card first.
This keeps the training wheels firmly attached until they've shown enough responsibility to manage their own money prudently.
From there, it's your responsibility to teach them how credit cards work, why having a credit card account is a good step toward financial security and demonstrate what they can do for credit score.
Let's now talk about kids' debit cards, how they allow you to establish important concepts like savings goals and what they entail.
What is a Debit Card for Kids?
---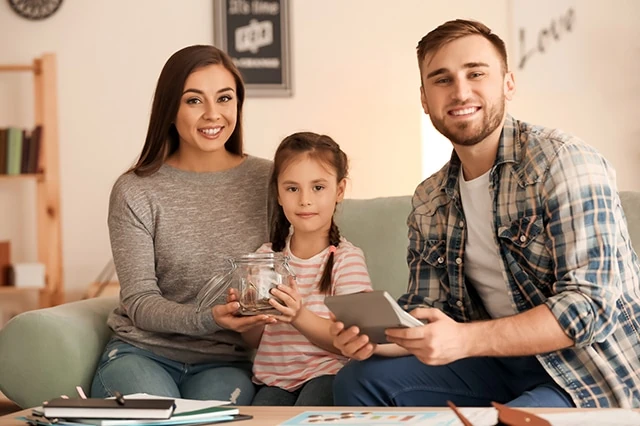 As we've discussed above, due to legal reasons tied to lack of capacity, minors do not have the ability to enter into legal contracts.
As a result, children can't open their own bank account until they reach the age of majority in their state—often 18 years old.
Parents interested in offering their kids a bank account and paired debit card can still choose a number of possible paths:
1) Opening a sub account from their own bank account.
This can provide your kids with a card to use while you can maintain control over the account itself. Under this situation, it's still likely that your child will need to be at least 13 years old before receiving a debit card.
However, these accounts may not come with the features you want for maintaining control over your child's spending behaviors.
2) Opening a joint banking account.
Another option to consider includes opening a joint account with your kid or teen. This means you both have ownership over any joint accounts you share as well as the assets held inside them.
3) Opening a debit card for kids (and teens).
This route understands parents' desires to teach their kids about money, while providing sufficient parental controls and oversight to make sure a child's spending and money decisions are smart.
To accomplish this mission, debit cards for kids and teens offer parents custom spending controls, spending notifications, merchant blocking, daily and ATM spending limits, plus other controls enabled through feature-filled mobile apps.
Some new apps even allow you to lock the card or limit where your child spends money.
These cards also effectively function as a prepaid debit card for kids and teens because you can establish parental controls. Traditional banks or free debit cards might not allow you to do this beyond keeping the balance at a certain level.
Related:
Best Credit Card Options for Kids and Teens
---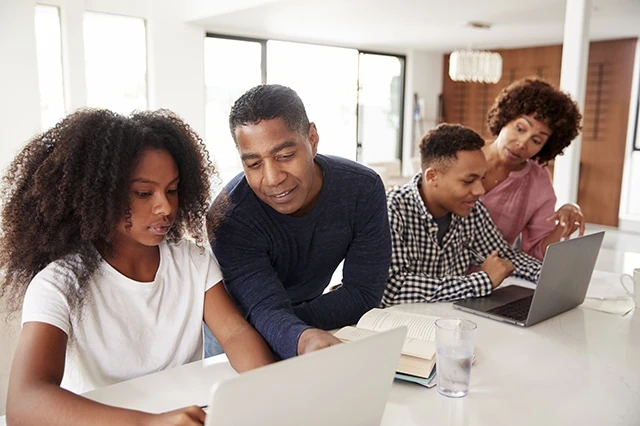 The most natural moment to place plastic in the hands of your children with their name on it is in high school when they're beginning to develop independence, getting a driver's license or spending time away from with friends.
You've got a number of different options to consider beyond simply having all your kid's finances handled in cash. Below, we cover the most common ways to get your children equipped with a card.
Credit Card Authorized Users
---
Likewise, you can also add your kid as an authorized user to your own card or through a new one you set up together under your name through a credit card issuer.
Authorized users can also receive a card under your account from numerous credit card issuers. This will help parents begin to build credit history for their children.
Secured Credit Card
---
After they show enough responsibility and they turn 18, you can move on to a secured credit card under their own name.
Secured credit cards work by having the cardholder front a security deposit to open an account, reducing the risk to card issuers of you defaulting or missing a payment.
Usually, minimum deposits are in lower denominations, between $200 to $500 to start. This represents your credit limit.
Once you apply for a credit card and make the security deposit, these secured credit card options work like any other card.
Unlike prepaid cards, the security deposit funds don't load onto your card and it is not directly used for purchases. Instead, this deposit will be forfeited if you fail to pay your credit card bill.
So, if you make your payments on time, your normal spending activity and collateral will help you to build your credit. With time, you may opt to move to unsecured credit card issuers' options to provide you more financial flexibility.
Secured cards work best for people with no or bad credit. One card to consider includes the Step secured credit card.
Step (Best Secured Credit Card for Teens and Young Adults)
---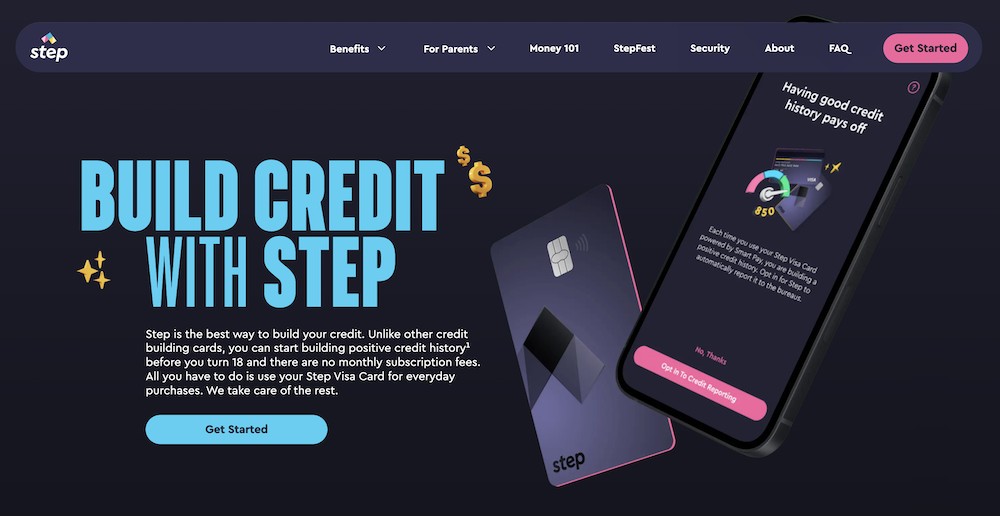 Available: Sign up here
Type of credit card: Secured
Builds credit: Yes
The Step Visa Card is a unique "hybrid" secured credit card that's tailor-made for kids and teens. It functions just like a Visa credit card, but it offers the safety features of a debit card—and most importantly, it can help build your child's credit history.
Parents, who sponsor the card, can opt to have Step report the past two years' worth of information—transactions, payment history, and more—to the credit bureaus when their child turns 18. Credit scores are assigned once someone turns 18, and most teens will begin with a score of under 600. But based on a Step survey, 18-year-olds who used Step for at least seven months had an average credit score of 725.
How much of a difference could that better credit make? Step says that an 18-year-old user with a score of 725 could expect these kinds of savings compared to users with lower credit scores:
Car insurance: $147 per month instead of $250 per month
Student loan: 6.24% interest rate instead of 10.46%
Security deposit: 1 month's rent instead of two months' rent
Step also provides a seamless experience for teens who "graduate" into young adulthood. When they turn 18, Step allows cardholders to keep their old credit card number and account, doing the legal heavy lifting in the background to get them appointed as the legal owner of their account, and transitioning them to an independent account. Everything—from how they access the app to their account numbers to their investments—stays the same from their perspective, and Step continues reporting credit on the same "credit line," which allows them to keep building their credit history.
In other ways, Step acts like a debit card.
Parents can add money directly into their child's FDIC-insured Step account. A regular Step account allows a child to have both a physical spending card as well as a virtual card in the Step app, while a Parent Managed Account only allows the child to spend via a physical card. Children can use both the virtual and physical cards to spend anywhere Visa is accepted, and they can use the physical card to withdraw money for free at more than 30,000 ATMs.
And parents needn't fear their child overdrafting—they can't spend any money they don't have.
Other features include Savings Goals, where any money saved can generate 5% in annual interest (compounded and paid monthly) with a qualifying direct deposit*; Savings Roundup, where purchases are rounded up to the nearest dollar and the overage is put toward a Savings Goal; an "invest" function that allows users age 13 and older to buy and sell Bitcoin; and opt-in cash or Bitcoin rewards from companies including Hulu, Chick-Fil-A, CVS, and the New York Times.
The Step Card is protected by Visa's Fraud Protection and Zero Liability guarantee. That means if your teen's card gets lost or stolen, or misplaced and fraudulent charges crop up, you can dispute the charges within a certain time frame to avoid liability for paying.
Visit Step to learn more or sign up today. Read more in our Step review.
Related: Best Credit Cards for Teenagers
Unsecured Credit Cards
---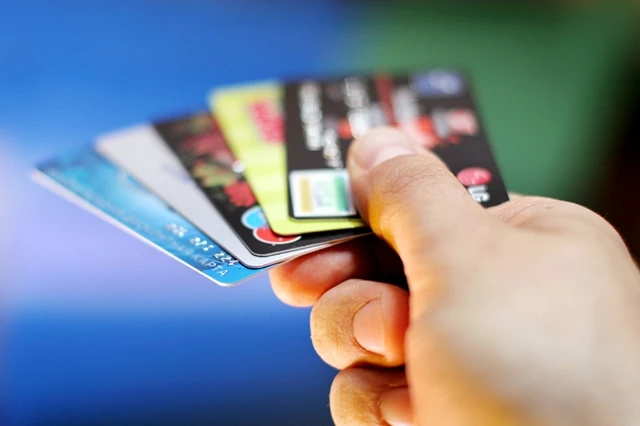 If your kid has shown good money habits and you think they can handle a line of credit, you may want to start with an unsecured credit card.
You have several options like student credit cards, gas cards, or other low balance credit cards available from credit card issuers.
These are all great options if your children will attend college and need to get a credit card that works for expenses away from home.
Likewise, the unsecured card option works for young adults who work full-time and need a way to access credit while possibly earning rewards, cash back or other benefits that come from using unsecured credit cards.
You can apply for a card like the Petal One or Petal Two credit cards. These cards have low initial credit limit options, offer cash back and avoid annual fees—all features you should look for in a first card.
These types of credit cards can help with beginning to build a credit history. Further, if your children will have student loans, these will factor into their credit history and can build a credit profile for lenders to evaluate on future credit needs.
However, if you'd like the card to be under their own name and they are underage, they'll need to look first at getting a prepaid debit card for kids and teens.
Prepaid Debit Cards for Kids
---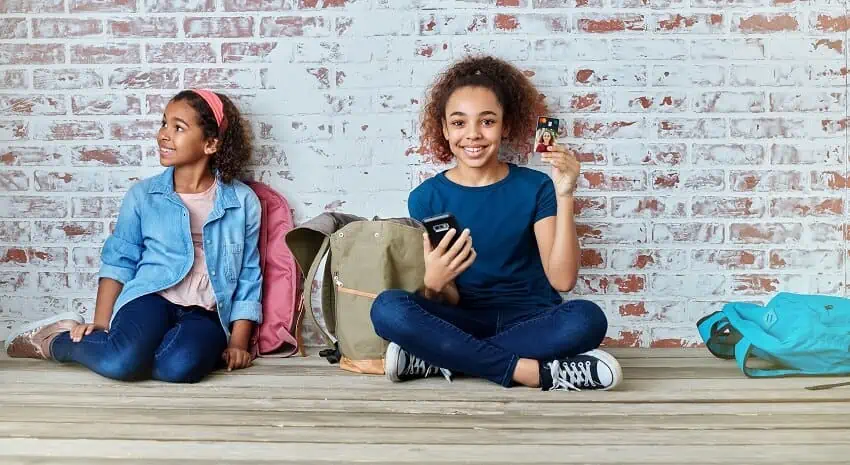 These cards come filled with features uniquely tailored toward helping parents assist, oversee and monitor their kids' finances.
You can choose to start them off with debit cards for teens that withdraw money directly from the prepaid card balance or from the associated account.
These might be better than a credit card at first because a child will become familiar with the responsibility of carrying a card and not purchasing more than they can afford.
You can load it with weekly allowance payments, money from a summer or after-school job or even financial gifts they receive from friends and family.
Have a look below at some alternatives to credit cards for kids or adding them to one of your existing credit cards as an authorized user.
Related: Best Kid-Friendly Debit Cards
What are the Best Debit Cards for Kids and Teens?
---
We've compiled a list of the best debit cards for kids and teens that should work for your needs below. Look at each and compare which one makes the most sense for your needs.
1. Best Rated Overall: Greenlight
---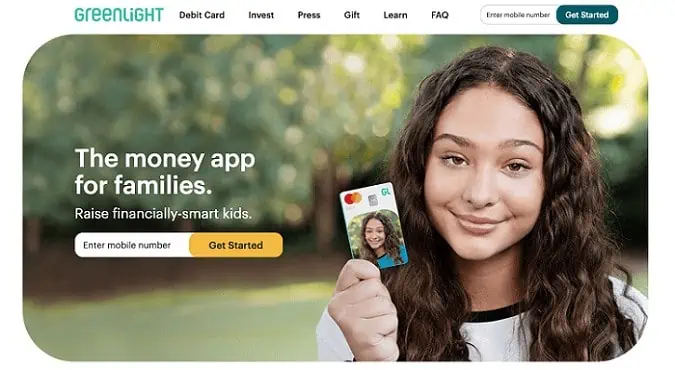 Available: Sign up here
Price: Free 1-month trial, $4.99/mo after
Greenlight provides parents control over where their kids can spend money by limiting the stores where their cards work. Parents can get alerts when money is spent on the Greenlight debit card for kids and for how much.
Further, parents can open an investment account for kids to get their children investing in stocks and index funds for the first time.
Greenlight works like a prepaid debit card, allowing you to transfer money onto the card for your children to pay for expenses at approved locations.
You can choose how much money to load onto the card and your children will be cleared to make approved purchases so long as a money balance backs up the card.
Greenlight charges $4.99 per month for up to five kids. Replacement cards cost $3.50 each but are free the first time. If you need to replace your card quickly, you can get express delivery for $24.99.
The company also offers a personalized card for $9.99/year with your own photo or design.
Greenlight offers interest (the only kid and teen prepaid debit card to do so), cash back and you also may set up "parent-paid interest" between you and your children. This allows you to foot the bill and pay interest on accounts for up to five kids.
If your child asks for extra money to get added to the card, you can have them take a photo of the purchase they want to make and receive your approval. This gives you control and allows kids to discuss with you why a purchase either is a good or bad idea.
If your child has a job, they can add their own funds to the card as well through direct deposit.
The Greenlight debit card is a good choice for parents looking to teach their kids the importance of saving money and making prudent financial decisions.
This financial product can be an effective learning tool for helping kids to understand why saving should be a priority as well as to help parents simplify paying an allowance or tracking chores.
It's also a rapidly growing app many parents have come to use for raising financially-smart kids. The product has no minimum age, but recommends starting at 6 or later.
The Greenlight Mastercard Debit Card for kids offers the best combination of features among all cards we reviewed, including its simple mobile app.
Who says kids can't have their own debit card? Nowadays, there are plenty of options for parents and our top choice is Greenlight.
Read more in our Greenlight Card review.
Related: 11 Best Allowance and Chore Apps for Kids [Easier Family Life]
2. Best for Customer Service: GoHenry
---
Available: Sign up here
Price: 1 month free, then $9.98 per family of 4/mo
GoHenry is a banking app for minors that comes paired with a prepaid debit card for parents to oversee and manage their children's account balance. You have an online account which comes linked to individual accounts for each of your children.
You can manage all of the money held in each account through the company's app and online account portal.
Each child will receive their own GoHenry debit card which comes paired with parental controls you can set for your children.
What's nice about GoHenry is the ability to spend only the money available on the card, meaning you don't need to worry about costly overdraft fees or accrue debt.
You open a GoHenry account, receive your children's debit cards in the mail 7-8 business days later, set up an automatic weekly allowance transfer into your children's accounts and can set up one-off or weekly spending limits.
This will keep your children's spending in check and you can block/unblock the card as needed as well as choose the stores where your kids can shop.
With time, the controls provided by the app and the guidance you offer can help your kids to earn, save, spend and give with good money habits.
GoHenry is one of the best debit cards for kids for customer service. They offer 24/7 phone availability, email access and social media engagement, ensuring users can solve their problems quickly and with little hassle.
The product has no minimum age requirement, but recommends starting at 6 or later.
Learn more by reading our GoHenry debit card review.
Related: GoHenry vs. Greenlight
3. BusyKid
---
Available: Sign up here (Devices: Android, Apple iOS/iPhone/iPad)
Price: $3.99/mo, $38.99/yr (up to 5 cards)
Are you looking for a way to teach your kids about money through chores, earning an allowance and managing their money on prepaid debit cards for kids?
BusyKid is an award-winning, parent-approved app that educates kids about money. It's a way to teach your children how to manage their allowance and learn important money lessons.
The BusyKid Visa Prepaid Spend Card lets them spend their money in stores or online with just one swipe of the card. You can even set up automatic savings. The product has no minimum age requirements, but recommends starting earlier than later.
Your child will be able to earn real money by completing chores and tasks around the house each week while learning valuable financial skills like budgeting, saving and giving back.
Plus they'll have fun earning rewards from brands like Disney on BusyKid's weekly challenges!
BusyKid is an easy-to-use, interactive kid chore app with a debit card that will help them learn and practice important real-life lessons from the palm of their hands.
They can earn, save, invest, donate or spend – all while having fun! And it couldn't be more simple.
Parents set chores and allowance gets directly deposited each Friday!
Earn – Kids can earn by completing tasks assigned by parents
Save – They can save up to 10% of their weekly allowance automatically
Donate – They can give back by donating 1% of what they make to charity
Spend – When they're ready for independence, BusyKid has a Visa Prepaid Spend Card so kids are never without cash in hand.
In order to get paid, parents need to approve the Payday text message sent through the app each Thursday if your kids are to be paid on Friday.
Some fees apply for various actions you can take through the app and with the card as well.
Finally, BusyKid also allows children to invest their earnings through the app. Doing so requires setting up a separate Stockpile custodial account.
Related: Current Bank Account and Debit Card Review: Online Banking for Families
4. Best for Financial Education: FamZoo
---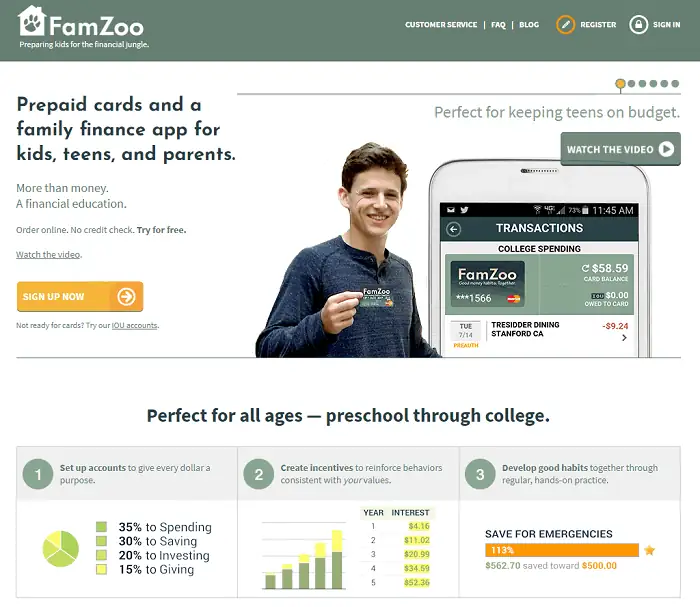 Available: Sign up here
Price: Free trial, then $5.99/mo per family
FamZoo is another service for parents interested in opening prepaid debit cards to manage their children's spending.
It works by having parents release money into their child's account and then having the card work with a loaded balance. Money can be loaded onto the card at any time.
FamZoo acts like a regular checking account with a linked debit card except FamZoo makes sure the account can't be charged overdraft fees, saving you money.
Adults are able to monitor the transactions being made. After a free trial, this app costs $5.99 per month, but the price goes down if prepaid in advance.
FamZoo is our top education choice because of its strong financial education library which improves its overall value.
The product has no minimum age requirements, but recommends starting earlier than later.
Related: Greenlight vs. Famzoo
5. Best Free Debit Card for Teens: Axos Bank First Checking
---

First Checking by Axos Bank is the ultimate starter checking account for teens which also comes with a debit card. The world of banking can be a little scary, but not with the simplicity and power of Axos' First Checking Account.
The account works as a joint account between a parent or guardian and their teen, allowing for easy-to-set, customizable parental controls with a debit card dashboard.
Parents and teens can manage almost every part of the banking experience through a convenient mobile app or through the online desktop portal. Perfect for modern families who always find themselves on the go.
The First Checking account from Axos Bank gives teens their first taste of financial independence by giving them their own checking account (which pays interest!) and free debit card for teens that has daily cash withdrawals limits of $100 and purchase limits of $500.
This provides safeguards against teens getting carried away with the money held in their account.
Further, you can have up to $12 of domestic ATM fee reimbursements per month, avoid any monthly maintenance, overdraft or non-sufficient funds fees—essentially making the account free!
The account carries the highest level of security through biometric authentication techniques like fingerprint readers, voiceprints and facial recognition (pending smartphone feature availability).
The teen checking account product has a minimum age requirement of 13 and will convert to an Axos Checking Account after reaching the age of majority.
Read more in our Axos First Checking Account review.
Related: 9 Best Greenlight Alternatives
Related Questions on Credit Cards
Authorized Users vs Co-Signers
---
As we covered above, authorized users essentially have the primary cardholder's card in their possession with permission to use the card. They can use the full credit limit and make purchases how they wish, leaving the primary cardholder to make credit card payments.
Authorized users differ from handing your children your credit card to use because a store could deny them from using your credit card. As an authorized user, they have legal authorization to use the card just as much as you.
A co-signer on the other hand deals with more than just trusting someone to use your credit line. A co-signer has legal exposure.
When a co-signer signs the dotted line on the application, they become equally liable for products and services purchased on the card. If the primary cardholder can't make payments, the credit card issuer can come after you to collect what's due.
If the co-signer fails to pay what their bill shows, this will impact their credit history and score.
Do Debit Cards for Kids Help Build Credit?
---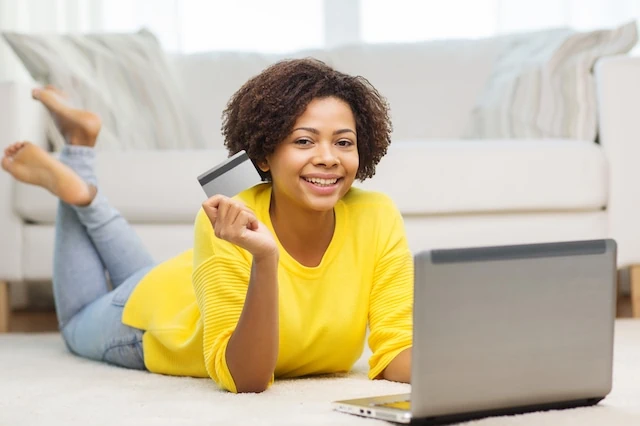 Despite a prepaid debit card having the same look and feel of a regular credit card, these cards don't tend to help to build your credit like a credit card can.
For an account to impact your credit score, it needs to count as a debt or liability. To build good credit, you need to make regular payments on these debts over long periods of time. This factor plays the biggest role in building your credit.
A prepaid debit card, on the other hand, works like a regular debit card where you load the card with money (or, in the case of a debit card issued by a banking app or institution, have a balance in your account) and draw on the funds when you make purchases.
You can use a prepaid card like a credit card, but it won't necessarily build credit like a credit card. Some debit card options do offer the ability to run them as a credit card when processing payments, acting as a means for building credit history and your credit score.
Though, for most prepaid cards, because you don't borrow money, the account doesn't get reported to credit bureaus and therefore has no effect on your credit score.