Whether you're a long-time cryptocurrency enthusiast yourself or your child has approached you with a desire to invest in cryptocurrency, you're likely wondering if there are ways for kids to own crypto.
The short answer is yes. However, your child can't just sign up for a crypto wallet and start purchasing cryptocurrency for themselves the same way an adult could.
Today, we will explain how you can open a crypto investment account for a minor. We'll also go over other important information about crypto for kids, such as why kids may want to invest in crypto, if major crypto exchanges offer custodial accounts, crypto apps for kids, and more.
Crypto Accounts for Minors—Top Picks
---
| | | |
| --- | --- | --- |
| | | |
| | | |
| | | |
| | $2.95/mo. for one child. $4.95/mo. for families with 2+ children. | $4.99/mo. (Unlimited children on one account) |
| | | |
Joint Brokerage Account With Crypto
Premium Custodial Account With Crypto
$2.95/mo. for one child. $4.95/mo. for families with 2+ children.
Premium Custodial Account With Crypto
$4.99/mo. (Unlimited children on one account)
Can Kids Invest in Cryptocurrency?
---
There isn't a minimum age requirement to own cryptocurrency. However, most major crypto platforms, including traditional brokerage firms, won't let a child buy crypto until they become an adult.
Therefore, if a minor wants to invest in the crypto space, they'll almost certainly need to enlist the help of a parent or guardian. Adults can help kids set up a crypto investment account and help the child invest money in cryptocurrencies. Alternatively, some apps let kids earn crypto.
Is Crypto a Good Long-Term Investment for Kids?
---
Diversification is essential for one's investment portfolio at any age. From that perspective, crypto might be an excellent long-term investment to add to a child's portfolio. Investing involves risk. Investing in crypto is no different. That's why it should be part of a well-rounded portfolio—most experts say no more than 5%—rather than having a crypto hardware wallet hold the entire savings for a child.
Many people believe blockchain technology to be the future of money. And while crypto has been extremely volatile in the past, the top coins have still performed much better than other investments over the longer term.
Just remember: Past performance is no indication of future returns. Whatever crypto you and your child end up investing in, make sure to do your research beforehand.
Why Invest in Crypto for Kids?
---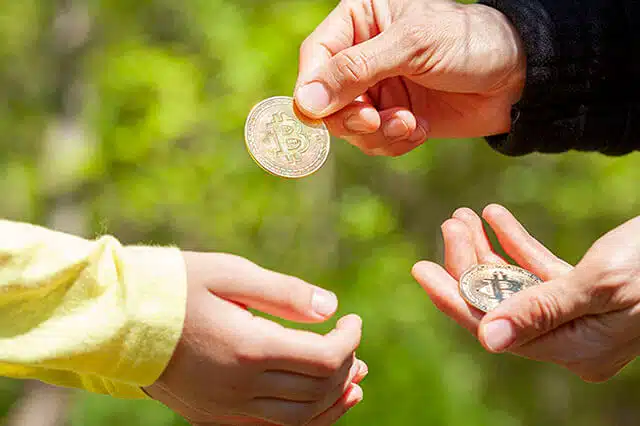 When kids invest in crypto, they're able to accomplish several things at once:
Improve their financial literacy
Invest for their future
Depending on their age, learn about blockchain technology
Once your children have mastered basic money management concepts, such as saving in a piggy bank, they may enjoy buying crypto to learn about how financial markets work. A child can see how an investment grows or shrinks and better understand the concept of risk and reward with investments.
Many minors find the concept of crypto interesting, and some guided firsthand investing experience is a great way to learn more. There are even gamified crypto apps that make earning crypto fun. The more you keep your child engaged, the likelier they'll want to keep improving upon their financial literacy.
Furthermore, given a child's long time horizon for investments, if they own crypto now, it might grow substantially in value by the time it's needed for expenses.
Can I Open a Crypto Account for My Child?
---
Yes, you can open a crypto account for your child if it's a custodial account, joint account, or another type of account that allows the child to earn crypto without directly buying it. Minors cannot buy, sell, or trade any type of securities. But a parent or custodian can buy crypto on a child's behalf, or let them earn crypto without purchase.
How to Open a Kids Crypto Investment Account
---
Opening a crypto investment account for children is relatively easy once you understand how the accounts work and the investments you want. Follow the steps below.
1. Decide on the type of investment account for your crypto investments
---
Choose one or more of the investment account types below.
Custodial accounts
Custodial accounts typically hold the same securities as a traditional brokerage account, such as stocks or mutual funds. Only very risky investments, like futures or derivatives, aren't allowed. Uniform Transfers to Minors Act (UTMA) accounts can also hold real estate and other types of investments.
And increasingly, custodial accounts support cryptocurrencies. These accounts might not be able to hold all digital assets, but they can hold major cryptocurrencies including Bitcoin and Ethereum.
Adults make the investment decisions for custodial accounts, but the assets belong to the beneficiaries and the accounts transfer to them once they reach the age of majority. After the account is transferred, the new adult has full access to the account and can choose to continue investing or withdraw some or all of the money to use toward any expense.
Open a crypto wallet for your kid through an EarlyBird custodial account
---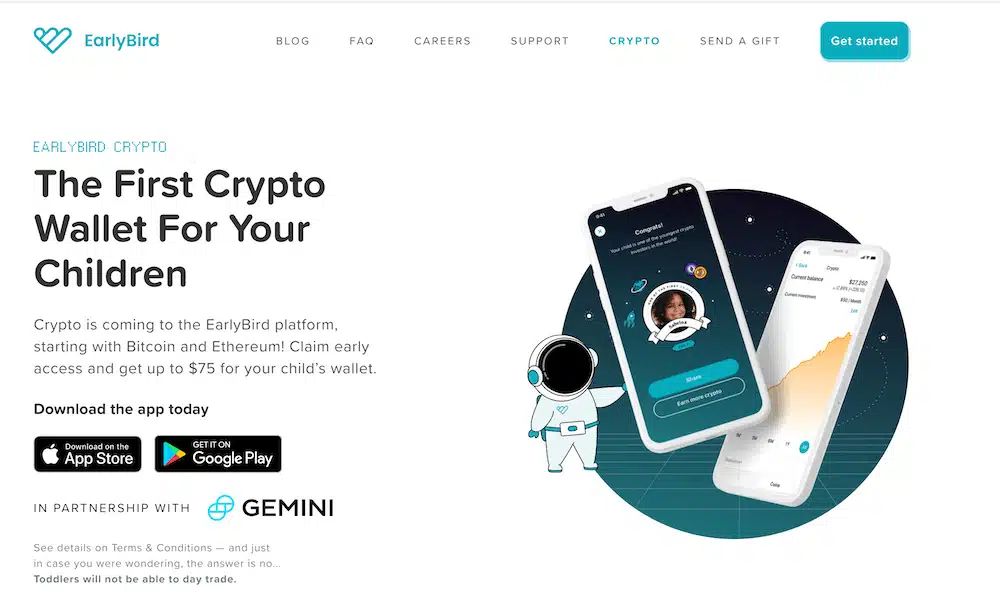 EarlyBird aims to be a child's first investment account.
Parents or guardians can download the app, then quickly start investing for a minor in this Uniform Gifts to Minors Act (UGMA) account. Loved ones don't need their own EarlyBird accounts to contribute, and anyone who wants to add some money to the account can even record short videos to personalize their gift.
Want to start saving before your baby is even born? You can open a Baby Fund for free. Then, you can create a unique gifting link for friends and family to use for the baby shower, birthday gifts, and beyond.
Once your child is born, a traditional EarlyBird investment account costs $2.95 per month for one child, or $4.95 per month for multiple children. The custodial investment account allows you to choose from five strategic ETF-only portfolios, ranging from conservative to aggressive, based on your stated risk tolerance and overall investor profile.
Through a partnership with Gemini, one of the world's largest and most secure crypto exchanges, you also get a crypto wallet for Ethereum and Bitcoin. Allocate money to each as you see fit. Having both types of accounts makes it simple to diversify investments. Currently, EarlyBird is in its "early access" of its crypto offering, you get $25 when you open your wallet to invest in Ethereum or Bitcoin, and you also get a referral bonus when you refer three other families $50 invested in that same token of choice.
Once the child turns 18, the account transitions into a standard adult brokerage account that they can continue to use. Funds in the account can stay invested or be used as seen fit, whether for college or a trade school, a house down payment, even retirement. Newly minted adults will also be able to access their crypto.
EarlyBird | Custodial Account
$2.95/mo. for one child. $4.95/mo. for families with 2+ children.
EarlyBird empowers parents, family and friends to invest in the next generation through custodial accounts.
Send and receive financial gifts to invest in children.
Offers managed and auto-rebalanced portfolios of ETF-based investments based on the child's age, investment goals, time horizon, risk tolerance, and other factors.
Special offer: Receive $15 to invest by opening an account today.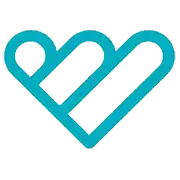 Only available to U.S. residents who are new, first-time EarlyBird users.
Related: UTMA vs UGMA: Differences Between these Custodial Accounts
Joint brokerage accounts
Joint brokerage accounts are often co-owned by spouses, but really, any two people (providing at least one is an adult) can open a joint account together. Thus, a parent can open a joint brokerage account with their child; the minor would be on the account title jointly with the parent.
With a joint account, both owners have equal rights and say in which investments to buy. So if you want to invest in crypto, make sure the account supports the coin(s) you and your child want.
A multi-signature cryptocurrency wallet might be a good fit for those who want joint ownership. These wallets necessitate two or more private keys to sign and send a transaction.
Other accounts
You can also find a wide array of accounts and apps that allow your child to buy, sell, even earn cryptocurrencies.
Invest in a crypto account for kids with Step
---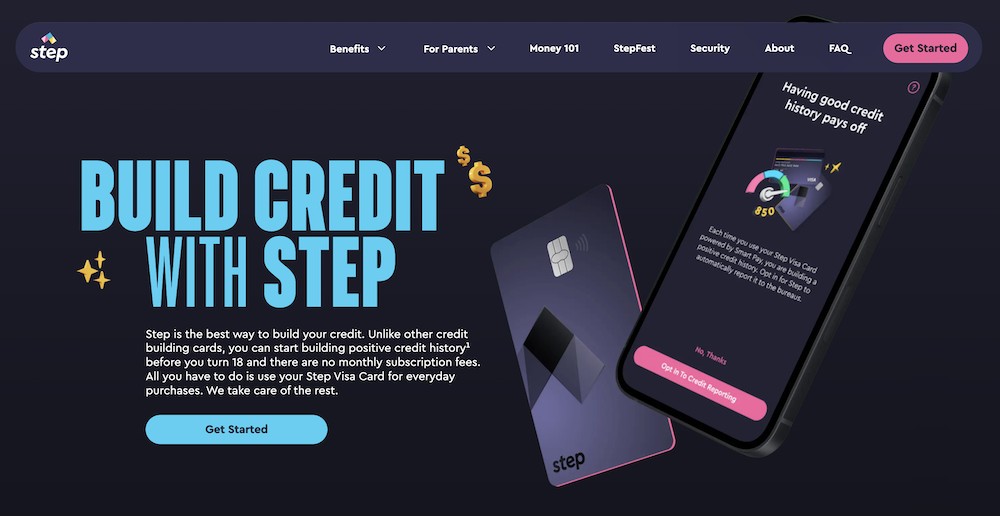 The free Step Visa Card is a unique "hybrid" secured credit card that's tailor-made for kids and teens. It has the safety features of a debit card, but it functions like a Visa credit card—including the ability to build your child's credit history.
Parents, who sponsor the card for their child, add money to this FDIC-insured account and can determine how their child can spend. Kids can use their card anywhere Visa is accepted, and even use it to withdraw cash within Step's network of more than 30,000 ATMs.
Step features an "invest" function that allows children age 13 and older to buy and sell Bitcoin for a small transaction fee. They can also earn Bitcoin (or cash) rewards when they opt into offers from companies like Hulu, Chick-Fil-A, CVS, and The New York Times. The app is not a pure crypto wallet, however—your kids currently can't spend Bitcoin directly at vendors.
One of the most unique and powerful features of the Step card is its ability to build your child's credit history. With this optional feature, Step will report the past two years' worth of information—transactions, payment history, and more—to the credit bureaus when your child turns 18. That can greatly improve their chances of starting adult life with a better credit score, which can help lower the cost of things like student loans and auto insurance.
The Step Card also boasts a great savings tool for kids. Any money up to $250,000 saved in a Savings Goal can generate 5% in annual interest (compounded and paid monthly) with a qualifying direct deposit*. And with Savings Roundup, small purchases are rounded up to the nearest dollar figure; that extra money is put toward a savings goal. (Example: Your kid buys a cup of coffee for $2.75; Step rounds up to $3.00 and puts 25 cents toward a goal.)
Read more in our Step review.
Best for Building Credit
Step | Banking for the Next Generation
The Step Visa Card is a one-of-a-kind "hybrid" spending card that can help you to build your credit history via everyday purchases, even before you turn 18.
Earn a high 5% annual rate on up to $250,000 in your Savings Goals with qualifying direct deposits.*
Buy and sell fractional shares of stocks, ETFs, and Bitcoin for as low as $1.
Earn cash and crypto rewards when you use your Step Visa at participating merchants.
Send and receive money instantly, spend with Apple and Google Pay.
Pay allowance weekly, bi-weekly or monthly.
Track your card balance from the Step App.
Banking services, provided by Evolve Bank & Trust, are FDIC-insured for up to $250,000.
Pros:
Helps build credit

Free secured card for kids, teens, and young adults

High yield on money held in Savings Goals

Free investment account for stocks, ETFs, and Bitcoin

Fractional investing for as low as $1

FDIC insurance
Cons:
High-yield savings only available with qualifying monthly direct deposit*

Can't directly deposit checks into a Step account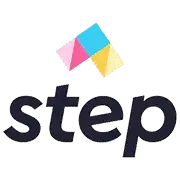 * Users must have a direct deposit of at least $500 per month to qualify. Benefits continue for as long as the user maintains the monthly $500 minimum direct deposit.
Related: The Best Credit Cards for Kids
2. Review the Features
---
Costs
Costs will vary depending on the financial institution you use. Pay attention to any opening fees, monthly costs, and transaction prices every time you buy or sell a security. If fees are too high, those costs might cut too much into your profits, so you'll generally want an account with low fees. But if the account is rich with features, it might be worth paying up rather than settling for a bare-bones free account.
Investment selection
Check that the crypto your child is most excited about is among the investment selections available in the account you're considering.
While almost all crypto investment accounts will have well-known coins, such as Bitcoin, other coin options will vary depending on the account provider. And if you and your child are unsure about which crypto(s) to buy, you can always talk to an SEC-registered investment advisor for investment advice.
Depending on the account, you might also be able to purchase traditional investments, such as stocks, ETFs, and mutual funds. (And if so, you might be able to purchase certain crypto-themed funds in addition to cryptocurrencies.) While it's possible to buy traditional investments elsewhere, it can be convenient to purchase all of the child's investments in one place.
Security (hot vs. cold crypto wallets)
Hot wallets for cryptocurrency are any wallets that are connected to the internet—typically web-based, mobile, or desktop wallets. An advantage to hot wallets is that they are simple to use; you don't need to transition between going online and offline to conduct transactions.
The major disadvantage is that hot wallets are less secure than cold wallets—basically, hardware, such as a USB stick, that's not connected to the internet. Hardware wallets are designed to be nearly impossible to hack.
You can use hot and cold wallets together. While hot wallets work well for small to moderate amounts of crypto, if you own a significant amount, you should hold some in a cold wallet, too.
Decide if you want your kid's crypto to be stored in a cold wallet, hot wallet, or both.
Crypto exchange being used
A cryptocurrency account should clearly state which crypto exchange is being used. As more exchanges pop up, it's essential to use one that is registered and trusted.
Also, remember: The Federal Deposit Insurance Corporation (FDIC) doesn't insure crypto companies. So if an exchange claims to be FDIC-insured, be wary.
3. Submit an application
---
You'll need basic identification information about the child to get started, such as a birthday and Social Security number. You'll also need to provide basic information about yourself.
4. Fund the account
---
You will need to fund your account with fiat currencies, such as U.S. dollars or euros. Other family members and friends can also contribute funds to the account as gifts to the minor. You and your child can use that money to buy your cryptocurrencies of choice.
Other FAQs About Crypto for Kids
---
Can you hold crypto as a minor?
Most major cryptocurrency exchanges require you to be an adult to open a trading account, meaning a minor can't buy crypto on an exchange by themselves. However, there are still many ways a minor can hold crypto.
A parent can open a joint or custodial account where the minor can hold crypto. Alternatively, the minor can obtain crypto from locations other than a major exchange. For example, the minor might use an app that lets them earn crypto.
Some adults choose to buy and hold cryptocurrencies themselves with the intention of later selling the assets and gifting the fiat to their children once they become adults. Be aware that this method might have tax consequences.
Can you have a custodial account for crypto?
Yes, you can have a custodial account for crypto. The assets in the account legally belong to the beneficiary. Before applying for a custodial account, make sure it allows the digital assets the child wants to hold.
Does Coinbase have custodial accounts for minors?
No, Coinbase does not offer custodial accounts for minors. If a parent wanted to use Coinbase, they would have to purchase the cryptocurrency and simply earmark it to give it to the child later.
However, crypto accounts for minors can be opened elsewhere. If you want the crypto to belong to the minor in a way the adults can't change their minds and maintain possession, open a custodial account for cryptocurrency on another platform.
Can you open a custodial account on Coinbase?
No, you cannot open a custodial account on Coinbase. Don't confuse a "self-custodial crypto wallet" with a custodial account for a minor. There are custodial accounts that allow crypto, but you can't open them on Coinbase. EarlyBird is one example of a company that offers custodial accounts where minors can invest in crypto.
Is there a crypto app for kids?
Yes, there are crypto apps for kids. For instance, EarlyBird lets adults open a crypto wallet for children through a custodial account. There are also more gamified crypto apps for kids, such as Step—not to be confused with the Step Card, which also allows kids to participate in crypto—which lets children earn crypto through walking.
Can minors have a crypto wallet?
While minors technically aren't outlawed from having a crypto wallet, registered exchanges and other wallet providers typically won't allow your child to sign up for one.
Related: