Have you ever wanted to start investing but didn't know where to begin? If so, this blog post will teach you how to invest by yourself. We'll go over the types of investments out there and the best way to get started.
How Do I Teach Myself to Invest?
---
To teach yourself how to invest, learn about investing options available to beginning investors — all have advantages and disadvantages. Additionally, think about your goals for investing to help determine the best investments for you.
Some people like to invest long-term, while others may want to make money quickly with short-term investments.
Can You Learn to Invest Money?
---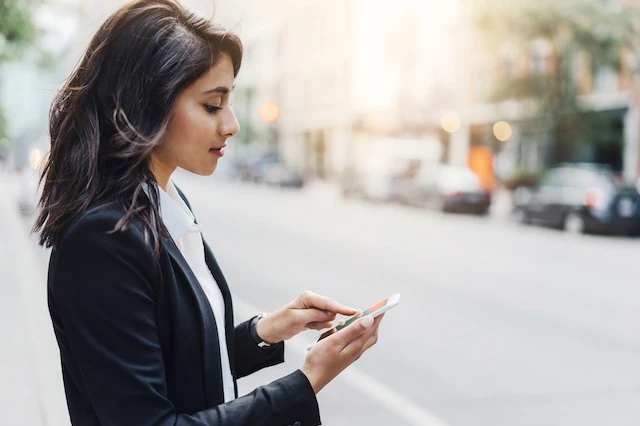 Yes, you can learn to invest money. A wide variety of websites, investing courses, and investment books for young adults explain the basics of stocks and how they work.
You could also talk with an investing professional or look for an online investing course from an expert you trust.
Investing money is more straightforward than it seems. You only need to learn investing basics to get started building a strong portfolio that will grow over time.
You need to decide:
How much to invest (set a recurring budget)
---
A recurring budget is a great way to figure out the amount of money you can afford to invest monthly or yearly. This type of budget breaks down your income and expenses into categories that repeat monthly or yearly.
A budget makes it easy to see how much you have left over to invest. This information can help make better investment choices and keep you from overspending.
Your investing goals (short-term vs. long-term)
---
One of the most important steps to learning how to invest is figuring out your goals. Do you want to focus on short-term gains or do you have more time in mind?
Each approach has advantages and disadvantages, so it's important to get some investing education to understand what works best for you.
How to allocate money to suitable investments aligned with your risk tolerance
---
When you're starting, it's important to choose investments aligned with your risk tolerance. You don't want to make investments that make you nervous every time the market takes a dive.
At the same time, you don't want to put all your eggs in one basket either.
A few things you can do to determine your risk tolerance.
Once you know your risk tolerance, it'll be easier to find investments that match your goals.
Related: Best High-Yield Investments [Safe Options Right Now]
Open investment accounts (retirement and traditional brokerage accounts)
---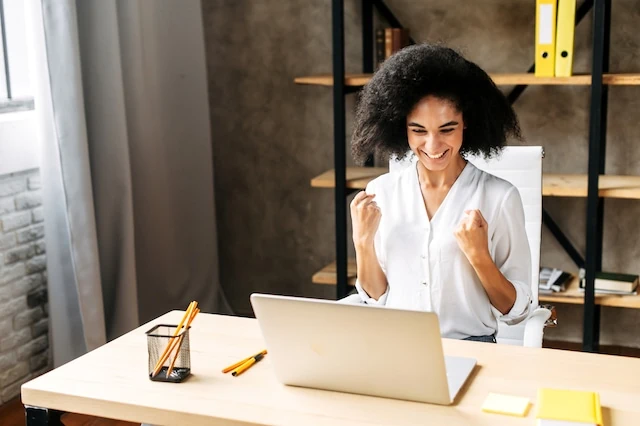 You can't invest without a brokerage account, but you can open one with most major financial institutions. You can also open a retirement account on your own or through work.
To open a traditional brokerage account, you will need to provide some personal information, contact details, and make your first deposit to purchase your investments.
Track investments over time and make adjustments as needed
Track your money invested over time and make adjustments as needed.
---
This will help you stay on top of your portfolio and ensure it is meeting your goals. Use various stock tracking apps and tools such as online tracking platforms or even simple Excel spreadsheets to track your investments.
Keeping tabs on your investments ensures optimal performance and adjust if necessary. You'll have more confidence in your investment strategy and feel better prepared for the future.
Decide How to Invest in the Stock Market
---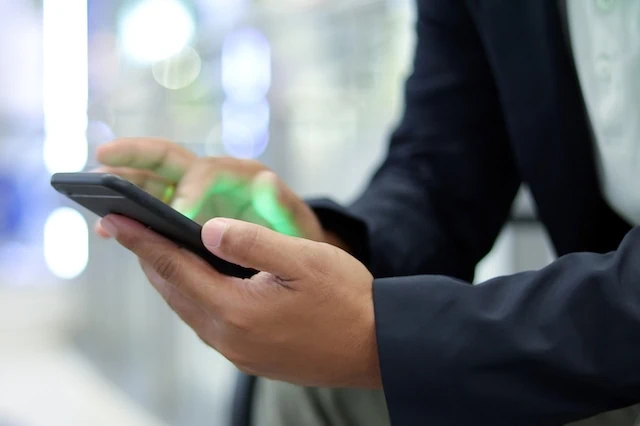 Of course, there is more than one way to invest in the stock market. For example, you can become an active investor, invest on your own with index funds, passive investing with robo-advisors, or a combination of all of the above.
Here is a little more information on each investing type.
Active Investing: Investing in Individual Stocks
---
Active investing is a form of investment management where the investor or fund manager at a financial institution takes an active role in selecting and managing the investments.
This contrasts with passive investing, which involves buying pre-determined investment instruments such as mutual funds and exchange traded funds.
In contrast to buy and hold investors, active investors typically strive for both capital gains and/or dividend income.
Active investing usually requires more frequently buying and selling securities than passive investing.
Because it generally entails greater risk, individuals or online brokers who believe they can add value over time through stock picking, market timing, sector allocation, or other security selection strategies are often active investors.
Invest On Your Own: Investing in Index Funds (ETFs and Mutual Funds)
---
You can also invest on your own with mutual funds, a type of investment vehicle that pools money from many investors to invest in a variety of assets. The goal is to provide investors with a diversified portfolio.
Mutual funds come in different varieties, including those that focus on specific types of investments (e.g., real estate),regions (e.g., Asia), or investment styles (e.g., value investing).
Exchange-traded funds are similar to mutual funds, but they are bought and sold on a stock exchange. ETFs have become very popular in recent years because of low costs and tax efficiency.
They also offer investors exposure to a wide range of asset classes, including stocks, bonds, commodities, and currencies.
Index funds are a type of mutual fund that follows a predetermined index. For example, an S&P 500 Index fund would follow the same investment mix to mimic stocks in the S&P 500 index.
Passive Investing: Robo-Advisors
---
Finally, investing with robo-advisors is similar to passive investing but uses automated software for portfolio management instead of human managers.
Robo-advisors can be less expensive than traditional advisors because they do not require paying for active management.
Plus, all you need to start is a small amount of money to open an account. Most robo-advisors don't have any minimum balance requirements.
The biggest appeal of robo-advisors is they charge relatively low fees, typically around 0.25% of your total portfolio value each year.
This may seem like a lot, but it's actually less than the average fee charged by traditional financial advisors (which can be as high as one percent).
And, since robo-advisors invest in low-cost index funds, you'll likely pay less in fees than you would with a more expensive actively managed fund.
To get started, learn about the best robo-advisors available today. Once you choose one, you will need to provide some basic information about yourself, including your age, investment goals, and risk tolerance.
Then, based on this information, the robo-advisor will create a custom investment portfolio for you.
If you're unsure about getting started or the type of investments right for you, don't worry. Most robo-advisors offer in depth tutorials and customer support to help you every step of the way.
And remember, you can always change your investment strategy later.
Related: 10 Best Non-Stock Investments [Alternatives to the Stock Market]
Related Questions on Stock Market Basics
How Much Money Do I Need to Start Investing in Stocks?
---
The amount of money you need to start investing in stocks varies depending on the type of brokerage account you open.
A regular brokerage account may have a minimum deposit requirement of $500 or more, while an IRA may require a smaller minimum investment, such as $100.
However, remember you don't need to invest a lot of money at once; many investors begin with just a few hundred dollars. You can also spread your investment out over time to make it more manageable.
If you're looking for ways to save for your initial investment, consider setting aside some money each month until you reach your goal. These days you can even buy partial shares for as little as a few dollars to own part of a stock.
Related: How to Get Free Stocks for Signing Up: 16 Apps w/Free Shares
How Much Money Should I Invest in Stocks?
---
How much money you should invest in stocks depends on your financial goals, time frame, and risk tolerance. For some people, it may be best to set aside a certain amount of money each month until they reach their goal.
If this is your first time investing, it may be best to start out with a smaller amount and continue building your portfolio in the future.
Ultimately, there's no one right answer to this question. Your situation plays a big role in determining how much you should invest, but below are some guidelines for new investors looking to get started.
If you have a 401k or other employer-sponsored retirement accounts, contribute the maximum amount your company will match. This is free money, so take advantage of it. After that, you can begin investing in stocks on your own.
As a new investor, consider investing around 5%-25% of your income. If you're investing in stocks, here are some other things to consider:
Related: Best Commission-Free Stock Trading Apps & Platforms
What Percentage of My Monthly Income Should I Invest in Stocks?
---
Again, there's no one right answer to this question. But as a general rule of thumb, beginner investors getting started can consider investing 5%- 25% of their monthly income into stocks.
This gives exposure to the market while also ensuring they're not taking on too much risk.
Also consider other long term wealth goals, like buying a home, paying down student loans, or traveling the world.
Decide how stock investing fits into your overall plan for your future.
Ultimately, try to strike a balance between using your money for investing and achieving other personal goals.
What is Micro-Investing and Is it Worth Investing in Small Amounts?
---
Micro-investing is the act of investing small amounts of money into stocks and other investment vehicles. This can be a great option for people who are new to investing or don't have a lot of money to spare.
One of the best things about micro-investing is that it allows you to start building your portfolio and gain access to the market without making a huge initial investment.
In many cases, you can get started with as little as a few cents. And since most investments earn compound interest over time, even small contributions can add up to returns in the long run.
After all, a few cents is real money you can use to grow wealth.
To get started with micro-investing, simply sign up with one of the many reputable online brokers like Acorns.
This type of service allows you to invest small amounts automatically. (As always, make sure to do your research before investing in any company or product.)
Are Stocks a Good Investment for Beginners?
---
There is no simple answer to this question. Some people believe that all beginning investors should invest in stocks, while others think beginners should invest in mutual funds like index funds or exchange-traded funds (ETFs).
Mutual funds allow you to spread your risk over several different securities, which can be a more conservative route for new investors to get started in the stock market.
However, if you have some experience under your belt or you're willing to research, it's ok to begin picking your own stocks. Just be sure to understand the risks involved and never invest more money than you're willing to lose.
No matter what route you choose, it's important to have realistic expectations about the potential rewards and risks involved in investing.
Do I Need to Research Investments?
---
If you're investing in individual stocks, yes. It's important to do your own stock research before investing in any company.
This includes reading the company's financial reports, evaluating its competitive landscape, and understanding how much debt it has.
If you're investing in mutual funds or ETFs, there is less need for individualized research since these products are designed to be diversified across many different securities.
However, it's still a good idea to understand what kind of companies the fund invests in and the overall investment strategy.
No matter what kind of investment you're considering, it's always a good idea to read unbiased reviews and conduct your own research before making any decisions about the funds themselves and the brokerage firms too.
Also, don't forget that index funds through a robo-advisor can handle the difficult asset allocation decisions in exchange-traded fund or mutual fund options and put you on a path to realize your investment goals.
If you'd like to add some greater performance potential, consider an award-winning stock picking service like the Motley Fool.
Related: Best Stock Investing Research & Analysis Websites
How Long Should I Invest?
---
To answer this question we have to consider your investment horizon.
Although there isn't a one-size-fits all approach, the general rule of thumb is that younger investors should have longer horizons and can take more risk while older investors need shorter ones because they're closer to retirement age.
If you feel comfortable investing for short-term goals (less than five years), then stocks may be right for you. If you prefer long-term goals you don't have to actively manage, index funds might be best.
What Is the Smartest Way to Invest in the Stock Market?
---
Any of the above are smart ways to invest if it keeps you invested for long periods of time. A heavy mix of index funds and perhaps some strong individual stocks could provide market-beating returns through cost-effective brokerage services.
Also, using a robo-advisor to handle the majority of your money in a diversified portfolio is another great way to invest.
Consider investing in stocks likely to outperform the market selected through services like the Motley Fool's Stock Advisor and Rule Breakers.
Open a Brokerage Account that Meets Your Needs
Open a brokerage account in a few simple steps. Most importantly, open an account with a reputable and trustworthy firm.
Here are some things to consider:
Low-cost vs. full-service brokerage
---
Consider a few things when choosing between low-cost and full service brokerage firms.
One consideration is how active you are as an investor. If you plan to make frequent trades, a low-cost broker may be the best option. If you are looking for more guidance, a full-service broker may be a better fit because they can serve as an investment advisor.
Another consideration is account minimums and fees. Many low-cost brokers have no account minimums, while most full-service brokers require at least $500-$2000 to open an account.
Fees can also vary greatly between firms. Make sure to compare mutual fund expenses, commissions, and other trading fees before making your decision.
Finally, research the firm's reputation and customer service record. Read online reviews and talk to friends who have used the brokerage firm before opening an account.
Considering these factors can help you make the best choice for your investing needs.
Active vs. passive investing (self-directed vs. robo-advisor)
---
There are two main types of investors: active and passive. Active investors make frequent trades in an attempt to beat the market.
Passive investors, on the other hand, buy and hold a mix of stocks and bonds with the goal to match the returns of the overall market.
Your goals, time horizon, and risk tolerance can determine whether you are active or passive. If you want to beat the market or need regular access to your funds, active investing is for you.
If you're comfortable with leaving your investments alone for long periods without worrying about day-to-day fluctuations in prices, passive investing may be a better fit.
If you're not sure which type of investor you are or would like some help deciding, consider a robo-advisor.
Robo advisors provide professional investment management services at relatively low cost and typically have low minimums to start. They make buying and selling investments
easy with automatic rebalancing and tax loss harvesting capabilities.
Investment types/assets available
---
One of the main reasons to open a brokerage account is to invest in different assets.
Carefully consider which types or assets you want to own before opening an account because some firms only offer certain investment options depending on your location, net worth, and other factors.
Account minimums and fees, etc.
---
There are several factors to consider when choosing a brokerage firm, but account minimums and fees tend to be the most important.
Account minimums can vary significantly between firms and often depend on your location and net worth. Fees also vary widely depending on the types of investments you own or the amount of money in your account.
Thoroughly research before opening an account because paying higher trading commissions or investing expenses could end up costing you thousands over time if left unchecked.
By learning about all available options for investment companies as well as their pros and cons, you can find the best fit for managing your portfolio.
Find Market-Beating Stocks to Supplement Your Index Funds
---
The best stock picking services consider all of the variables discussed above when making their selections to subscribers. Have a look at two Motley Fool stock research services subscribed to by close to a million investors.
We think either subscription makes for a great short-listing system to find good stocks worth investigating yourself—and possibly even buying for your portfolio for the long-term. Both services recommend buying and holding for no less than three to five years, departing with some of the other swing trade alerts services people use to find short-term profit potential in the stock market.
You can also get them, and two other Motley Fool services, as part of Motley Fool's Epic Bundle.
Motley Fool Rule Breakers: Best for Long-Term Investors Looking for Growth Stocks
---
Motley Fool Rule Breakers focuses on stocks that they believe have massive growth potential in emerging industries. This service isn't fixating on what's currently popular, but rather always looking for the next big stock.
The service has six rules they follow before making stock recommendations to subscribers:
Only invest in "top dog" companies in an emerging industry – As Motley Fool puts it: "It doesn't matter if you're the big player in floppy drives — the industry is falling apart."
The company must have a sustainable advantage
Company must have strong past price appreciation
Company needs to have strong and competent management
There must be strong consumer appeal
Financial media must overvalue the company
As you can see, before recommending a stock to users, Rule Breakers considers a number of factors. In short, the service mainly looks for well-run companies in emerging industries with a sustainable advantage over competitors, among other factors.
And their rules seem to pay off if their results have anything to say about it.
Over the past 19 years, Rule Breakers has more than doubled the S&P 500, beating many leading money managers on Wall Street. Their results speak for themselves and easily justify the affordable price tag for the first year.
What to Expect from Motley Fool's Rule Breakers:
The service includes three primary items you can expect to receive:
A listing of Starter Stocks to begin your Rule Breakers journey with their "essential Rule Breakers"
5 "Best Buys Now" opportunities each month
Two new stock picks each month
You'll receive regular communications from the stock picking service with their analysis and rationales for buying stocks meeting their investment criteria.
If you're unhappy with the service within the first month, you can receive a full membership-fee back guarantee.
Read more in our Motley Fool Rule Breakers review.
Growth Stock Recommendations
Motley Fool Rule Breakers
Motley Fool Rule Breakers is an investment advisory service that provides insight and recommendations on potential market-beating growth stocks
Picks are centered around emerging industries in an attempt to pick tomorrow's stock market leaders today
Pros:
Strong performance track record

Discounted introductory rate

Consistent outperformance of S&P 500
Cons:
High-growth stocks carry volatility

High renewal price

Not every stock has positive returns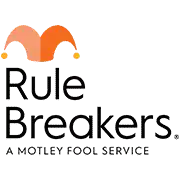 *$99 promotional price for new members only. $100 discount based on current list price of Rule Breakers of $199/yr. Membership will renew annually at the then current list price. Past performance is no guarantee of future results. Individual investment results may vary. All investing involves risk of loss.
Related: Motley Fool Stock Advisor vs. Rule Breakers
Motley Fool Stock Advisor – Best for Buy and Hold Investors
---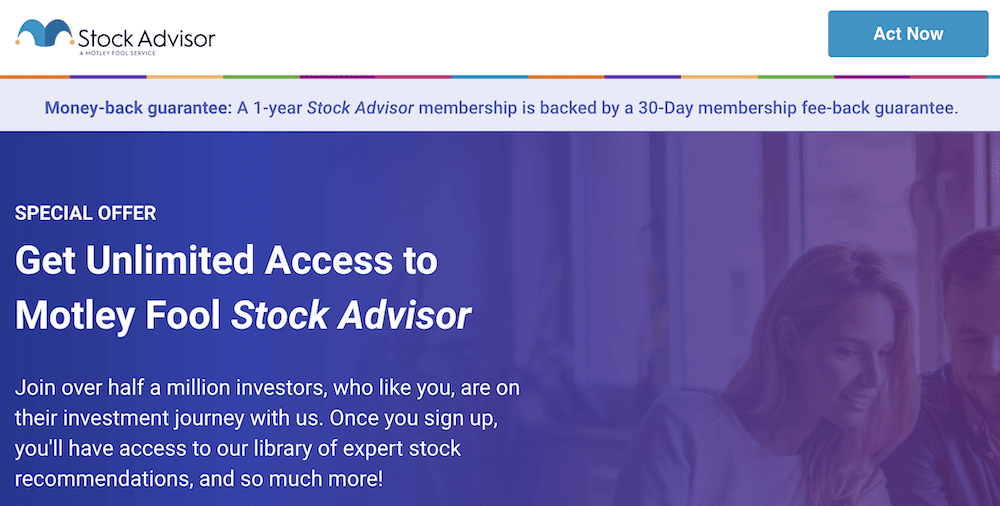 The main difference between Motley Fool's services is the type of stock pick recommendations.
Stock Advisor primarily recommends well-established companies. Over a decade ago, they advised subscribers to buy companies such as Netflix and Disney, which have been majorly successful.
As a subscriber, you're granted access to their history of recommendations and can see for yourself how they have done over the years.
According to their website, the Motley Fool Stock Advisor stock subscription service has returned of 468% since their inception in February 2002 when you calculate the average return of all their stock recommendations over the last 21 years.
Comparatively, the S&P 500 only had a 124% return during that same timeframe.
What to Expect from Motley Fool's Stock Advisor:
The Stock Advisor service provides a lot of worthwhile resources to subscribers.
"Starter Stocks" recommendations to serve as a foundation to your portfolio for new and experienced investors
Two new stock picks each month
10 "Best Buys Now" chosen from over 300 stocks the service watches
Investing resources with the stock picking service's library of stock recommendations
Access to community of investors engaged in outperforming the market and talking shop
The service costs a discounted rate for the first year and has a 30-day membership refund period. Consider signing up for Stock Advisor today.
Read more in our Motley Fool Stock Advisor review.
Best Introductory Stock Newsletter
Motley Fool Stock Advisor
Motley Fool Stock Advisor provides a list of five stocks they believe deserving of your money today.
Stock Advisor also lists "Starter Stocks" they believe should serve as a portfolio's foundation.
Limited Time Offer: Get your first year with Stock Advisor for $89 (vs. $199 usual value)
Pros:
Discounted introductory price

Strong outperformance above S&P 500

High overall average return for stock picks
Cons:
High renewal price

Not every stock is a winner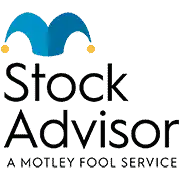 *$89 promotional price for new members only. $110 discount based on current list price of Stock Advisor of $199/yr. Membership will renew annually at the then current list price. Past performance is no guarantee of future results. Individual investment results may vary. All investing involves risk of loss.
3. Motley Fool Epic Bundle
---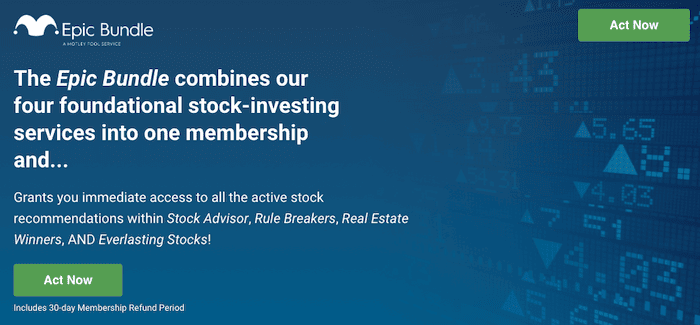 If you ever wanted to try more than one Motley Fool service, now's the time.
Motley Fool Epic Bundle isn't itself a stock-picking service—instead, it's a bundled selection of four popular Motley Fool stock recommendation products:
The point of Epic Bundle is simple: Collectively subscribe to all four products for much less than it would cost to buy individual subscriptions of each. However, while that normally only applies to the regular renewal rates, right now, Motley Fool is offering a significant first-year discount on Epic Bundle. Now, first-year cost savings come out to about 22% vs. the first-year prices of all four products individually, then that savings expands to 52% at regular renewal rates.
4-in-1 Bundle of Fool Savings
Motley Fool Epic Bundle | 4 Stock Services in One
4.7
$299/yr. (22% savings vs. individually subscribing to all four services in first year)*
Motley Fool's Epic Bundle is a discounted combination of four foundational stock-investing services rolled up into one membership.
Get access to the Stock Advisor, Rule Breakers, Everlasting Stocks, and Millionacres: Real Estate Winners subscription services.
Get at least six stock recommendations every month.
This bundled product also includes more than 300 stock recommendations, reports, and analyses from each service.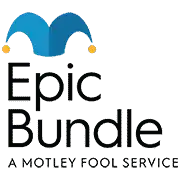 *$299 promotional price for new members only. $200 discount based on current list price of Epic Bundle of $499/yr. Membership will renew annually at the then current list price. $499/yr. represents a 52% savings vs. individually renewing each service. Past performance is no guarantee of future results. Individual investment results may vary. All investing involves risk of loss.