Having multiple sources of passive income is a useful way to diversify your earnings. There are a variety of passive income apps you can download to start making money right away. None of these apps are going to make you a millionaire, but they are a simple way to get some extra spending cash. Some are even great apps for effortless money.
In this article, we cover apps that provide you with passive income, or in some cases, income from doing fun activities you'd enjoy. We'll note instances where apps require some effort on your part but generally highlight the overall features of each passive income app and what makes it compelling to use.
Best Passive Income Apps—Top Picks
---
Best Passive Income Apps that Give You Money [& Make You Money]
---
Some notes on the items found in this list of passive income apps:
Some require investing money and earning passive income from investments purchased in these accounts
Some apps on this list either don't need you to do more than download them or will pay you for activities you do anyway.
Finally, some of these apps can't work together, so you'll need to determine which ones work best for you.
However, many can be running simultaneously, meaning even if each is only making a small amount, combined you can earn a noteworthy sum.
Let's start first with the best passive income investing apps, then move to some favorable banking products that offer attractive interest rates on your assets, followed by the best cash back / savings passive income apps, then look at mobile phone passive income apps and gaming apps and finish with other passive income apps.
1. Plynk (Up to $85 Bonus)
---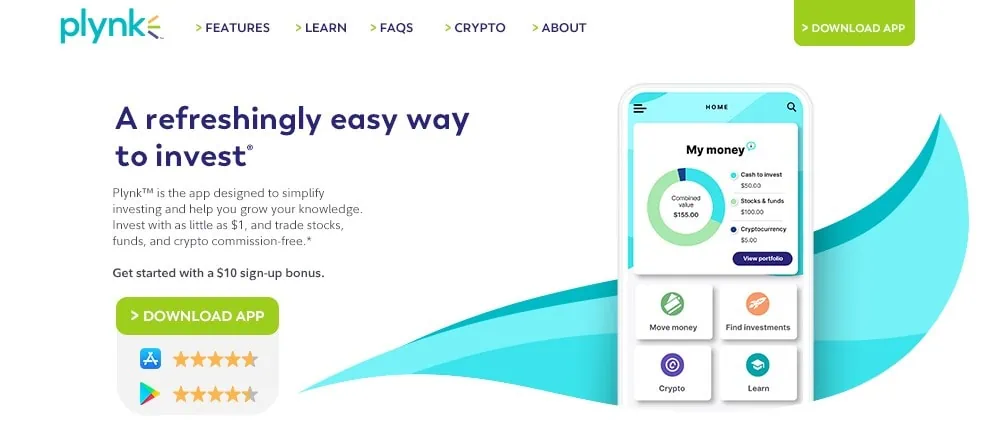 Available via Apple iOS and Android App on Google Play.
Price: Free, but certain features may require a fee in the future.
Plynk™ is an app designed to help you start investing and learn along the way, and they're currently offering a $10 account signup and $75 net deposit bonus ($85 combined).
The Plynk app helps investors put their money into an investment portfolio. You can invest with as little as $1, and trade stocks, funds, and crypto commission-free**—all in one app.
The platform uses straightforward, easy-to-understand language to explain investing concepts. No jargon. No complex charts and tables. Just simple-language tips and how-tos.
Navigate investment ideas with tools to help you explore and choose. With Plynk Explore, just answer a few questions, and the app will display stock, ETF, and mutual fund investments that mesh with your investment comfort zone.
To assist with building your financial literacy, Plynk offers complete lessons and courses on financial education, including tips, educational content and how-tos.
The Plynk app enables you to make use of a powerful investing technique called dollar-cost averaging through participating in recurring investments. By continuing to buy a fixed dollar amount of investments over time, whether the market is up or down, you can build a disciplined investing habit and lower the stress that can come from market movements.
One of Plynk's most interesting features involves, of all things, gift cards. Specifically, you can redeem unused gift cards for money that you can use to buy stocks in your favorite companies.
If this sounds interesting to you, consider opening an account with Plynk. To make it more worth your while, they have a few special offers.
Simply open an account and link your bank account to get a $10 signup bonus. Plynk is also offering a special bonus promotion through Dec. 14, 2023. If you make a deposit, Plynk will double it up to $75. Customers must have a minimum of $25 in net deposits during the promotional period to receive a match. That means you may be eligible for up to $85 in signup bonuses from Plynk by taking qualifying actions.
Read more in our Plynk review.
Related: Best Brokerage Account Sign-Up Bonuses, Promotions and Deals
2. Fundrise
---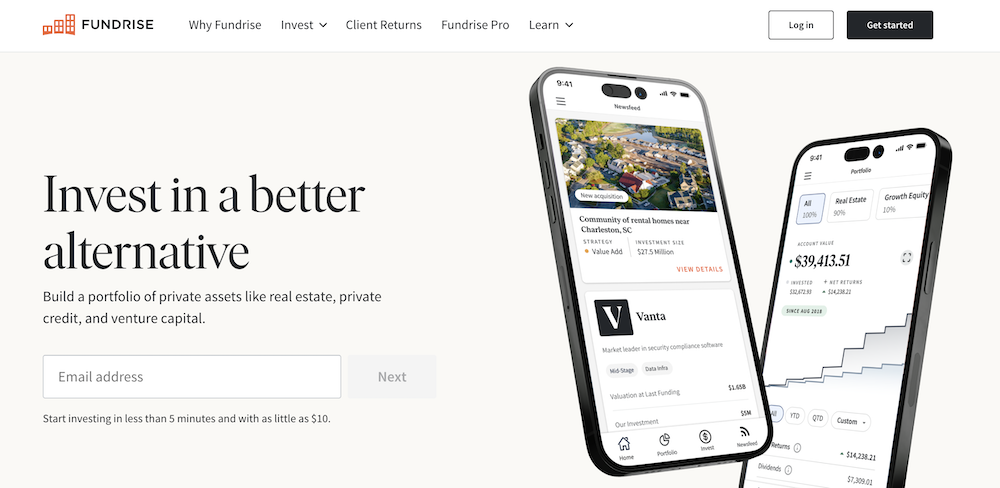 While many of these passive income apps offer the potential to earn decent amounts of money for minimal effort, this app has one of the best opportunities to earn real money for your investment. Fundrise is not a cashback, loyalty, expense trimming, or gaming app.  Instead, Fundrise is a online investment platform which enables you to invest in real estate based on your investing goals.
The service offers you real estate investment portfolio options which are prudently selected and proactively grown to build your wealth. This passive income app is among the best to help you take steps to financial independence. The Fundrise app allows you to invest in large real estate projects without needing to own the entire property, exposing you to risk. You can invest small amounts across several projects to diversify your portfolio and not have all of your money tied up in one real estate investment.
As you invest with Fundrise, the app updates you on the progress for each project you invested in inside of your portfolio.
To make the investment platform convenient, there is an iPhone app which gives you access to every feature available on their desktop platform. This accessibility means you can check in on your real estate investments wherever you might be. Some real estate investing apps require you to be an accredited investor to place your money with them for investment. However, Fundrise offers some products which non- accredited investors can access as well.
When you receive passive income from real estate investing on the Fundrise app, it can come to you in the form of dividends. If you don't need the money and want to leave the funds on the platform, you can reinvest through a "dividend reinvestment program" offered by the company. Fundrise, along with other alternative investment options, are great to consider for growing your passive income.
Consider signing up for an account to learn more.
Related: 11 Best Fundrise Alternatives [Accredited & Non-Accredited Apps]
3. Fidelity Youth™ Account ($50 bonus for teens, $100 bonus for parents)
---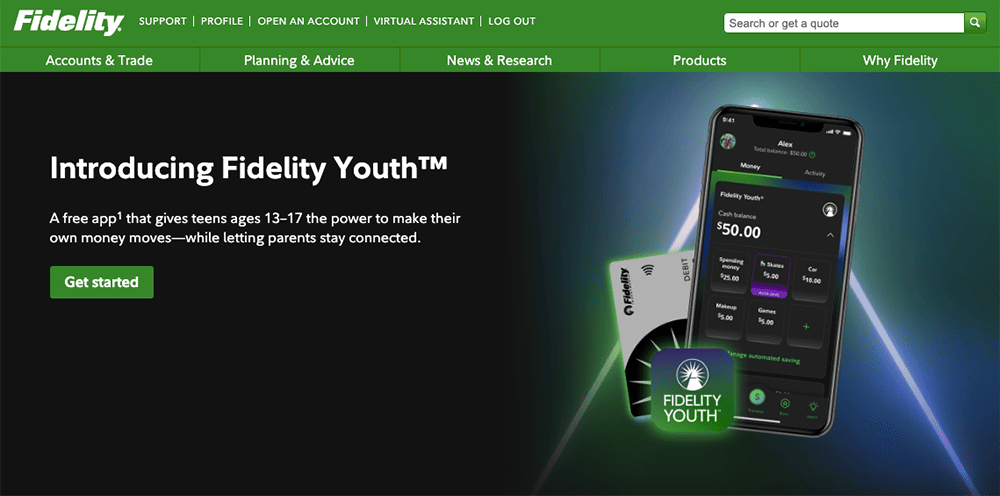 Available: Sign up here
Price: No account fees, no account minimum, no trading commissions*
Platforms: Web, mobile app (Apple iOS, Android)
Promotion: Teens get $501 on Fidelity® when they download the Fidelity Youth™ app and activate their Youth Account; parents get $100 when they fund a new account
Is your teen interested in jumpstarting their financial future? Do you want them to build smart money habits along the way?
Of course you do! Learning early about saving, spending and investing can pay off big when you start on the right foot. And one tool that can help your teen get that jump is the Fidelity Youth™ Account—an account owned by teens 13 to 17 that's designed to help them start their money journey. They can start investing by buying most U.S. stocks, exchange-traded funds (ETFs), and Fidelity mutual funds for as little as $1!⁴
Your teen will also get a free debit card with no subscription fees, no account fees³, no minimum balances, and no domestic ATM fees⁵. And they can use this free debit card for teens to manage their cash and spend it whenever they need.
And as for building smart money habits? You and your teen can access your account through the Fidelity Youth™ app, which has a dedicated Learn tab packed with materials developed specifically to help teens develop good financial habits. Not only will Fidelity's interactive lessons, videos, articles, tools, and calculators accelerate their learning—but for every level they complete, reward dollars will be deposited into their account to use however they want.
Controls parents want and need
A parent or guardian must have or open a brokerage account with Fidelity® to open a Fidelity Youth™ Account. For new Fidelity® customers, opening an account is easy, and there are no minimums and no account fees.
Parents and guardians have plenty of tools they can use to monitor their teen's activity: They have online account access, can follow monthly statements and trade confirmations, and can view debit card transactions made in the account.
To make it even easier, you can set up alerts to notify you of trades, transactions, and cash management activity, keeping you firmly in the loop on actions your teen takes across the Fidelity Youth™ Account's suite of products.
If your teen has an interest in learning about investing and taking their first steps toward building their financial journey, you should consider downloading the Fidelity Youth™ app and opening a Fidelity Youth™ Account. The account comes custom-built for their needs, which will help them become financially independent and start investing for their future.
Read more in our Fidelity Youth™ Account review.
Related: Best Investing Apps for Teens
4. Moomoo ($45-$30,000 in Free Stock + 1 Free Share of TSLA or GOOG)
---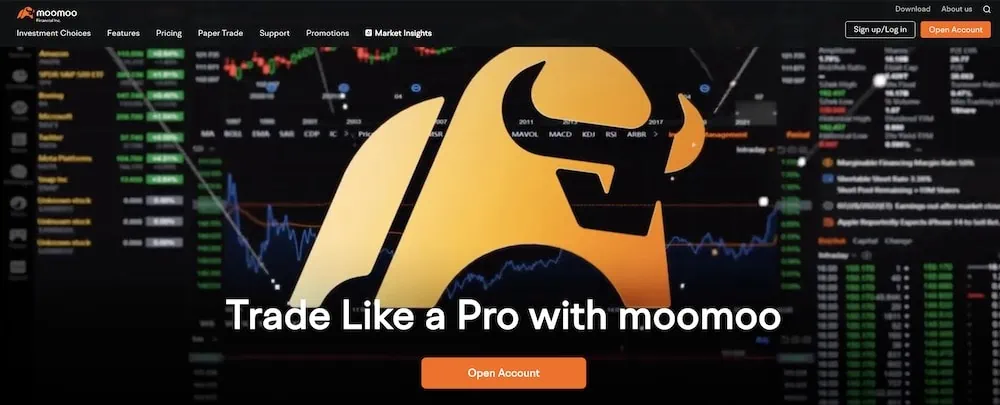 Available: Sign up here
Price: Free, no trading commissions
Promotion: 15 free stocks, each valued between $3-$2,000, plus a share of Tesla (TSLA) or Alphabet (GOOG)
Moomoo is a commission-free trading platform for stocks, ETFs, and options. While Moomoo is best for advanced traders, offering powerful tools to empower your trading insights and strategies, it takes a different approach from other similarly targeted platforms, favoring simple interfaces and high ease of use. The desktop platform is highly customizable, while the mobile app is straightforward, allowing you to search for stocks and trade with minimal hassle.
Still, Moomoo has more than enough under the hood for advanced traders to get the job done. Its charting system, for instance, includes 62 technical analysis indicators and 22 drawing tools. You can set up alerts based on changes in price, bids, turnover ratio, and more. Free Level 2 market data helps you get a greater understanding of a stock's value, determine how liquid a stock truly really is, and better time your trades. You can even enjoy 24/7 financial news handpicked by Moomoo's editorial team.
→ How to get your free stock on Moomoo
You can receive up to 15 free shares (collectively worth anywhere between $45 and $30,000) and an extra share of Tesla (TSLA) or Alphabet (GOOG) from Moomoo. Here's how:
If you open a new brokerage account with Moomoo and fund it with $100, you'll earn five free stocks valued between $3 and $2,000 each.
If you make a net deposit of $1,000 or more in the promotion period, you'll get a total of 15 free stocks valued between $3 and $2,000 each.
If you make a net deposit of $5,000 or more in the promotion period, you'll get a total of 15 free stocks valued between $3 and $2,000 each, as well as one free share of either TSLA or GOOG.
Enjoy these free bonus shares by opening an account with Moomoo through our link and making a qualifying deposit.
Related: Top Stock Trading Apps for Beginners to Start With Stocks
5. High-Yield Savings Account (Step Banking)
---
While a bank account might not seem like a true passive income app, with interest rates on the rise and yields from banking products following suit, it's hard to pass up these juicy passive income opportunities that carry zero risk. First, we'll talk about the most liquid of banking products aimed at paying interest income: savings accounts—specifically, high-yield savings accounts.
High-yield savings accounts are a type of federally-insured savings account which aim to earn interest rates much higher than the national average. In recent years, they've not paid much to account holders. But, that's starting to change.
Depending on where you look and the prevailing market interest rates overseen by the Federal Reserve, high-yield accounts can earn around 3.00% APY or more.
As a comparison, the national savings account average interest rate comes to 0.07% APY- a far cry from the most competitive offers in the market. All things equal, if you hold your money in an account which pays a higher interest rate, your balance will grow faster without any additional effort on your part.
To illustrate the effect of holding money in a high-yield savings account compared to one offering a far lower rate, consider the following comparison. After one year, a savings account balance of $10,000 would earn $10 in an account with a 0.10% APY. If this money had instead been placed in a high-yield savings account offering 3.00% APY, your money would have earned 30x more, or a total of $300.
As no depositor has lost a single cent in federally-insured funds since 1933, balances of up to $250,000 are encouraged to be held in high-yield savings accounts or one of the following two short-term investments for young investors, depending on your liquidity needs.
Consider placing your money in one of the most competitive high-yield savings accounts available on the market through Step Banking. Read more about it below.
Save With Step
---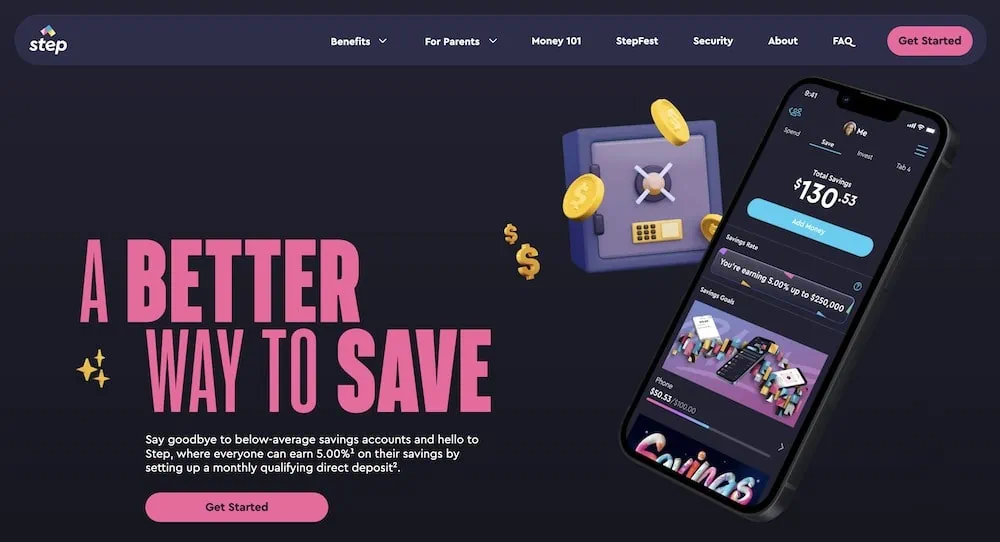 Step, made popular by its unique "hybrid" Step Visa Card, has expanded its offerings to include a powerful high-yield savings tool.
Users earn 5% annually—compounded and paid monthly—on up to $250,000 saved in their Savings Goals, calculated using the average daily balance in your Savings Goals. Like with your average savings account, Step's savings yield can change depending on movements in the Federal Funds Rate, but if that happens, Step will give you 30 days' notice before it happens.
To qualify, the user must have a direct deposit of at least $500 per month, and the benefit extends for as long as the direct deposits continue. (Other perks of making qualifying direct deposits? Bonus points on dining, food delivery, charitable donations, specific merchants—and you can get paid up to two days early.)
And remember: When you sign up with Step, you also get their Step Visa Card—a spending card that functions like a debit card, but also boasts some of the features of a Visa credit card—including the ability to build your (or your child's) credit history. You can't spend money you don't have, eliminating the fear of overdrafting. The card can be used to withdraw money fee-free at more than 30,000 ATMs, and it's protected by Visa's Fraud Protection and Zero Liability guarantee.
Users age 13 and older can also buy and sell stocks, ETFs, and Bitcoin. Sign up for high-yield savings with Step today.
Related: 10 Best Free Debit Cards for Kids & Teens [Earn, Save & Spend]
6. Certificates of Deposit (CIT Bank)
---
Certificates of Deposit (CDs) are offered by most banks and credit unions and are easy to open and understand. CDs are risk-free and insured in the United States for up to $250,000. They are another savings instrument like savings accounts but come with longer-term commitments, varying from three months to five years or more. They work by having you lend money to a bank for a set amount of time (the "term length"), with longer term lengths typically involving higher interest rates.
Much like any interest-bearing asset, the longer the term length or commitment, the higher interest rate and return you can expect to earn in exchange for losing access to your money for longer. During the term length, you gain interest on the principal at a rate usually higher than that of a high-yield savings account.
If you take money out during the term length, you'll have to pay a penalty, so it isn't wise to invest money you anticipate needing in the near future. The penalty can vary by institution and can range from as little as 90 days' worth of interest but up to 18 months or more. You'll need to read the fine print to understand how much you'd have to pay if you terminated your CD early.
Keep in mind that some CDs might have a lower interest rate than inflation and if that happens you may lose money. Depending on your current financial objectives, holding money in a risk-free CD might be one of the best investments for young adults who have short-term financial goals they need to meet.
7. SurveyJunkie
---
SurveyJunkie is a paid online survey site—that means using this passive income app requires effort on your part. We mention this here because it's a quick way to share your opinion and get paid for your thoughts.
As you complete surveys through the site, the company will build a profile that matches you to new survey opportunities. You can redeem your points toward PayPal or e-gift cards at places like Amazon and Target.
You can participate in two offerings through Survey Junkie: (1) core Survey Junkie community attitudinal based market research studies like surveys and focus groups and (2) Survey Junkie Pulse Community to engage in behavioral market research such as sharing browsing activity.
Related: How Old Do You Have to Be to Buy Stocks?
8. Branded Surveys
---
Another survey app worth considering to build some passive, *clears throat*, mostly passive income is Branded Surveys (we'll remind you that this app doesn't provide truly passive income, more low effort income through completing paid surveys).
More than three million users earn points through Branded Surveys and the service has paid out over $36 million. Depending on the survey length, users make anywhere from $0.50 to $5 per survey. There are more than 100 gift card options to use your points towards or you can always choose to get cash. Alternatively, you can make a charitable donation.
The surveys available to you will depend on your profile and what research partners currently need. The service tries to match with surveys relevant to our interests, as well.
Branded Surveys promises to keep your personal data safe and it's highly rated on Trustpilot.
Related: Best Online Jobs for Teens to Make Money From Home Or On The Go
9. EquityMultiple's Alpine Notes (Accredited Investors Only)
---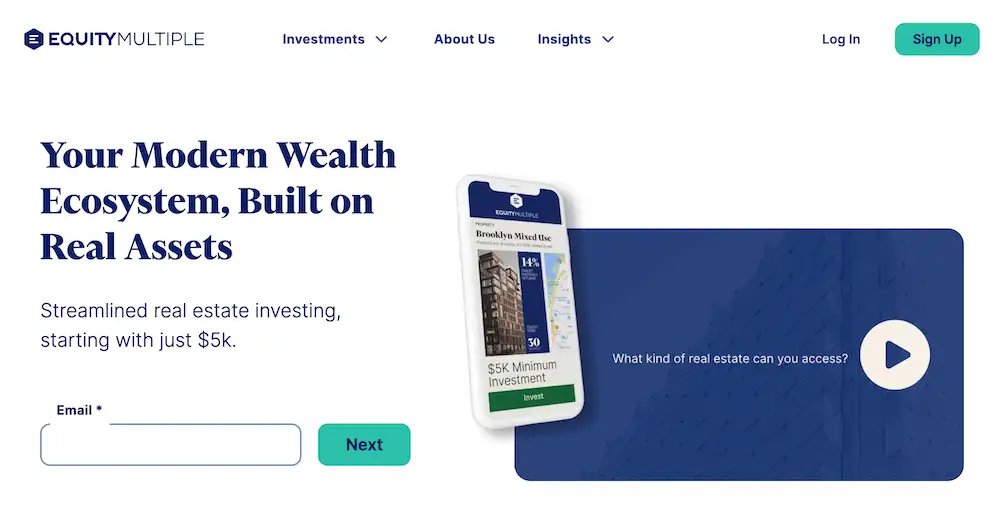 Are you an accredited investor looking for a short-term investment with attractive returns? Meet EquityMultiple's Alpine Note series.
Alpine Notes are a savings alternative with competitive rates of return on three-, six-, and nine-month notes, providing another means of conservative diversification and short-term yield. Compared to the commercial real estate crowdfunding platform's other investment offerings, these notes are extremely short-term in nature, and thus an optimal choice for EquityMultiple users who want better liquidity.
While the notes aren't as liquid as a savings account, they do offer maturity dates that tend to be shorter than your typical CD—and significantly higher rates of return. While this product isn't FDIC-insured, EquityMultiple does add a degree of protection by assuming the first-loss position in case of default. That means EquityMultiple will purchase a small portion of the aggregate notes issued in a series and will only receive payments after all other investors receive their total principal and interest. Such an arrangement puts their capital at risk, adding skin in the game and aligning their interests with yours.
In case you're wondering what EquityMultiple does with your funds that justifies paying you such a healthy return, the platform takes the capital you provide and uses it as a line of credit to sponsors who bring real estate investments to EquityMultiple's core investment platform. The credit allows sponsors to receive surety of funding on initial closing, thus attracting more high-quality investments from high-quality sponsors.
With EquityMultiple's Alpine Note, you'll need to be both an accredited investor and have at least $5,000 to participate. If you're interested in accessing higher yields than traditional CDs or money market accounts, the Alpine Note series is one of the simplest and most efficient ways to take advantage of EquityMultiple's real estate investment opportunities without tying up your money long-term.
10. Public.com (Up to $300 Bonus)
---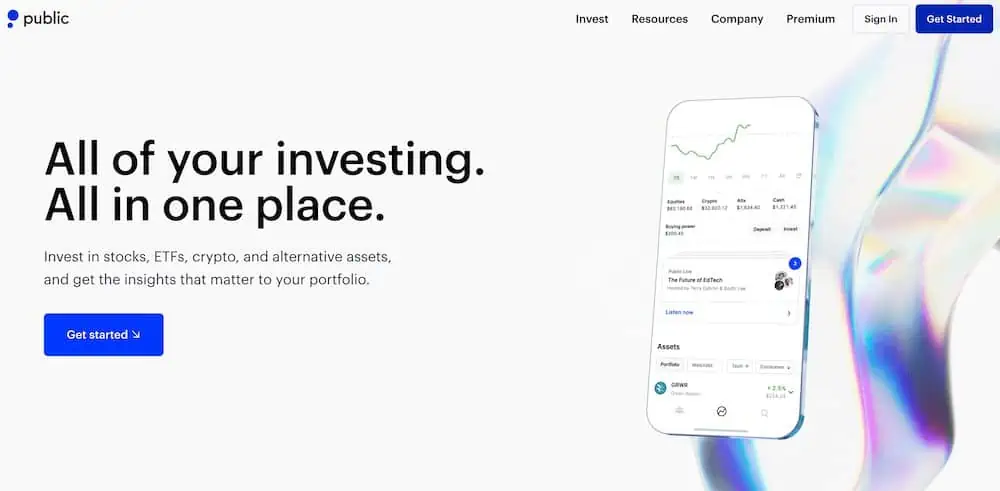 Available: Sign up here
Price: Free
Promotion: Up to $300 + Account Transfer Bonus
Public.com is a newer investing service which offers you the opportunity to invest in numerous types of stocks while also enabling you to connect with other investors as you would on social media.
The service offers themed bundles of stocks where you can invest in several companies which share common characteristics. These items can include topics like environmentally-conscious companies, diversity and inclusion-focused enterprises, produce their goods in America, and many more.
You can also subscribe to their Premium service to learn significantly more about companies of interest, offering you more details to inform your investment decisions. The Premium service makes the investment app a useful stock analysis app.
Also, Public.com offers you the ability to purchase fractional shares in companies that carry higher stock prices without dropping the full share price.
Public.com requires no investing minimum to begin nor does it require any account minimums. Signing up can net you free stocks and make trying it out worth your while.
Public.com offers a generous account transfer bonus for assets you choose to move from other brokers (including covering up to $500 in fees charged from your existing broker):
| Transfer Amount | Bonus |
| --- | --- |
| $5,000 – $24,999 | $150 |
| $25,000 – $99,999 | $500 |
| $100,000 – $499,999 | $2,000 |
| $500,000 – $999,999 | $5,000 |
| $1,000,000+ | $10,000 |
Read more in our Public.com investing app review.
Related: Best Fractional Share Brokerages for Buying Partial Stocks & ETFs
11. Mainvest (Invest in Small Businesses)
---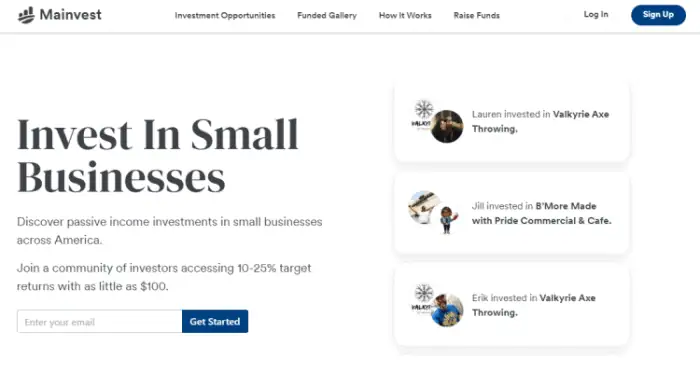 Imagine, if you will, a small town in the heart of America. The streets are lined with quaint shops and diners that offer home-cooked meals to locals and visitors alike.
When you walk down this main street, you can feel the sense of community that fills the air. People stop by each other's businesses to chat about their day or lend a helping hand when needed; it feels like everyone is family here. And that's because they are, whether you realize it or not.
It's not just one small company who provides jobs for this town; rather every store owner has created their own niche business which brings joy and financial stability to those around them too. Wouldn't you want to support such a community and see if flourish?
Well, now you can through a small business crowdfunding service called Mainvest.
MainVest curates vetted small business opportunities in your local community or nationwide for you to invest, track and build a portfolio in passive income investments.
These business ventures offer returns between 10-25% per year through revenue-sharing notes, which act as financial agreements to share revenue with investors until reaching a certain return. These payments happen in lieu of interest on a traditional loan.
Mainvest holds a responsibility for protecting investors from businesses which don't have a strong direction or investment rationale for retail investors. As such, the service only accepts 5% of businesses who sign up for the platform to raise capital to grow their businesses.
The platform vets these businesses to allow you to make informed investment decisions based on your own interests and investing strategy.
You can invest based on location, industry and risk appetite by comparing terms and qualitative data for the 300+ investment opportunities that have launched on the small business investing platform since its founding.
Consider tapping into a new kind of investment with as little as $100 on Mainvest. Start small and see how the alternative asset class performs before making it a significant part of your portfolio.
Other Top Investment Opportunities to Consider
---
Check out some of these other investment options for a complete listing of every FinTech-enabled investment opportunity popping up. They might represent some of the best assets to buy for your portfolio.
12. Mistplay
---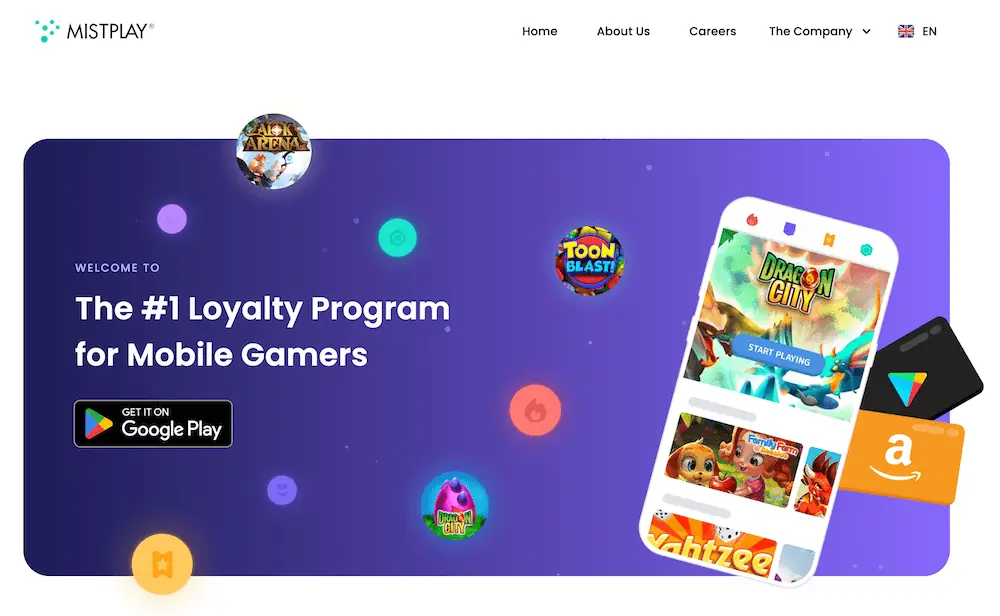 Mistplay is a great way to earn money by playing video games, participating in contests, and earning money through a loyalty program targeted to gamers.
While this app requires some effort on your part on a regular basis, we included it on our list because it monetizes something you already may do: playing games.
To make money using the Mistplay app (only available on Android at the moment) you can find new games on the app's mix list, select ones which interest you and gather points from your play activity.
From there, you can redeem these earned points toward prizes and invite friends to the app to earn more or join competitions to improve your ranking on the Mistplay app.
Additionally, the service offers unit multipliers to earn more points. It is worth trying out games with unit multipliers of 3X and 4X, because this allows you to earn gift cards 8X faster than a game with a 0.5X unit multiplier.
13. Rakuten ($10 bonus)
---

Rakuten (formerly known as Ebates) has become one of the most popular apps for offering rewards and savings to users who shop through the app. To take advantage of the shopping savings, you can either shop through their online platform or install the Rakuten Chrome browser extension which identifies potential shopping savings as you browse online retailers.
When you use Rakuten to get shopping savings, the rewards you earn will first go to Rakuten, and then be distributed to users.  However, the Rakuten app also provides rewards for other offers in addition to savings earned from shopping.
The Rakuten app is free to users and earns money by keeping a portion of the savings earned from retailers and affiliate links. Rakuten leverages its massive scale to extract affiliate revenue from over 2,500 retailers and then shares this savings with users.
For signing up with Rakuten, you can also receive a $10 bonus and earn as much as 40% cashback on your purchases made through the app.
14. Acorns ($20 Bonus)
---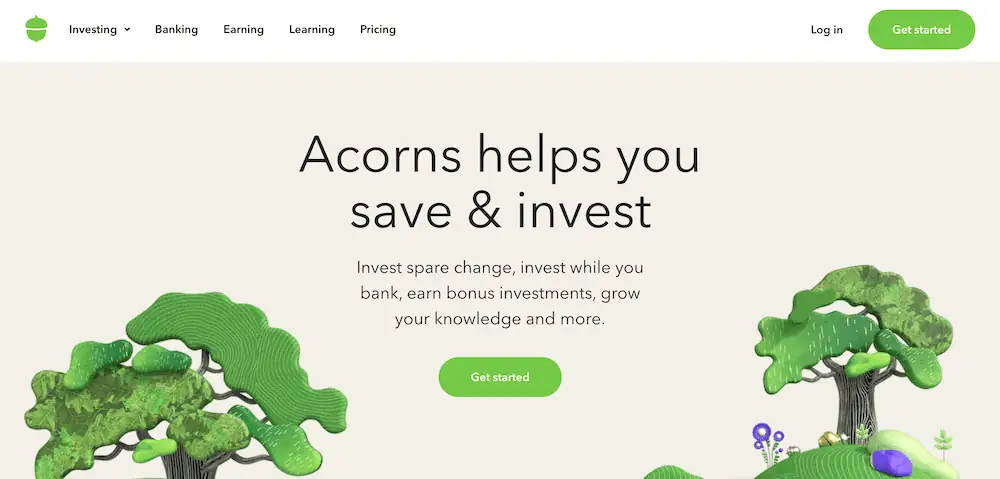 Available: Sign up here
Price: Acorns Personal: $3/mo. Acorns Personal Plus: $5/mo. Acorns Premium: $9/mo.
Acorns is one of the best micro investing apps which can help you invest your money. Initially designed only to offer "round-ups," or when the app takes money spent on linked debit card purchases rounded up to the nearest dollar and investing it, it has quickly expanded into other services as well.
One feature, "found money," is when the app finds additional money to deposit in your account when you shop with companies partnered with Acorns. The service charges a low monthly fee (as low as $3/mo.). This makes the app one of the best investments for young adults.
It's best to use on mobile, which also appeals to younger demographics. Because the app automatically works on your behalf as you make regular purchases or deposits, Acorns is a good fit for young adults who want to invest small amounts incrementally and see it grow over time.
Additionally, Acorns now also has "Acorns Spend" which is the first checking account with a debit card that saves, invests, and earns on your behalf. Learn more in our Acorns review.
Related: Best Acorns Alternatives: Micro-Investing Apps to Use
15. Swagbucks ($5 bonus)
---
Swagbucks is a great app for making money by doing everyday activities. For example, you can make money by watching videos, playing games, taking online surveys, and more. While Swagbucks requires some activity on your part, because these are fun activities and things you are likely to do anyway, it monetizes your current activity. In a sense, that makes Swagbucks a passive income app.
To get started, you will just need to sign up for a Swagbucks account and begin participating in some routine tasks offered through the app. You will see your earnings grow as you participate in more and more activities.
And for opening an account, you'll also earn a free $5 bonus. Once you sign up, you can earn extra money by referring friends to the app as well.
16. InboxDollars ($5 bonus)
---
InboxDollars allows you to make extra money while you do easy tasks. The cashback program also offers rewards for watching things you like on TV, taking surveys online, or money back from shopping or participating in cash offers.
This app acts as a rewards club for all kinds of activities you do on a daily basis. InboxDollars provides you real cash for shopping, searching for information on the web, watching videos and taking surveys online.
While this passive income app won't land a ton of money in your pockets at once, InboxDollars is a great way to earn some extra money with a little additional work on your part. And if you'd like to sign up to try the service, they also offer a $5 bonus just to get started.
17. M1 Finance
---

M1 Finance is a stock trading app that allows you to build personalized portfolios of stocks and index funds traded as exchange traded funds (ETFs). The service does not charge fees for trades nor does it assess any assets under management (AUM) fees for using the platform.
Further, like Public.com, the service allows you to purchase fractional shares of companies you believe will perform over time.
If you have a desire to invest in major tech companies but can't afford to purchase their higher-priced shares all at once, you can elect to purchase them in fractional amounts.
Where M1 Finance can produce passive income for you is through use of their several automation tools.  These can help you to turn the typically time-intensive nature of investing into powerful passive income ideas.
M1 Finance offers more than 80 expert-curated portfolios, numerous automation tools and fractional shares to unlock investing gains and passive income for your finances. You can also set up custodial accounts and Roth IRAs.
Read more in our M1 Finance review.
Related: Best Robo-Advisors to Automate Your Investments
18. Rocket Money
---
Available: Sign up here
Price: Free. Premium subscription varies from $3/mo. to $12/mo.
Rocket Money (formerly TrueBill) acts as a money-saving and management app dedicated to reviewing your expenses and automating potential opportunities to uncover the true cost of your bills … and lower them.
By working as an automated financial manager, it will proactively work on your behalf to reduce your monthly bills on items like cell service, internet connection, and other utilities and on-going subscriptions.
When you employ Rocket Money effectively, the money it saves in the background causes it to double as a great productivity app.
As another powerful feature, Rocket Money can right-size your subscriptions if you've been upsold on services you no longer need. For example, if you subscribed to a service provider's premium package but haven't used many of the included benefits, Rocket Money can slash the cost by reverting you to a lower service tier. This saves you money by removing unused service offerings.
Rocket Money can negotiate your bills for you, though the service is an additional charge. You choose a percentage (between 30% to 60%) of the first-year savings as a "success fee" when you submit your negotiation request. And you don't have to pay if the negotiation is unsuccessful.
Users also choose how much they want to pay (between $3 and $12 per month) for a Premium subscription, which includes features such as Unlimited Budgets, Premium Chat, Smart Savings, and more. Those who pay $3 to $4 per month can choose to be billed annually.
19. Drop ($1 bonus)
---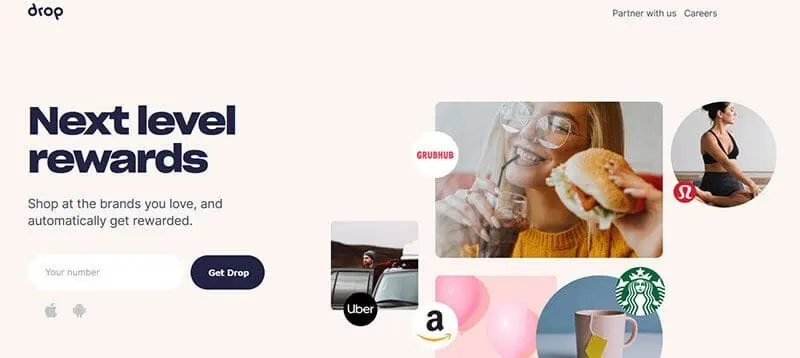 Drop is a passive income app that rewards you for the shopping you do already. The process is simple. You sign up for Drop, connect your credit card, debit card or bank account and pick the five stores you want to earn cash back from automatically.
Some of the top choices people choose are Uber, Starbucks, Target, and Walmart, but there are many more options.
Typically, you earn 0.5 to 1.5% cash back in the form of Drop Points. The points can be redeemed for gift cards to stores, including popular ones such as Amazon and Starbucks. If you want to earn points more quickly, you can play their mini-games (of course, this isn't passive).
20. Dosh
---
Dosh works the same way as Drop. The advantage of Dosh is that you aren't limited to only choosing five stores. It also has well-known brands, such as Walgreens, Nike, Forever21, Target, and Walmart.
The downside is that you have to wait until you've earned $25 to cash out. You can accumulate rewards faster by completing special offers.
21. PEI
---
A newer cashback app on the scene, PEI differentiates itself by allowing you to cash out in USD or Bitcoin. Out of their hundreds of partners, some of the most popular are Walgreens, Subway, Burger King, and Starbucks. You just connect a credit or debit card and start shopping.
You receive a $5 signup bonus (cash out minimum is $15). Additionally, through their loyalty program, you earn $0.50 if you shop at the same store five times and some merchants give a $2 bonus if you spend $20 or more.
22. Nielson Computer & Mobile Panel
---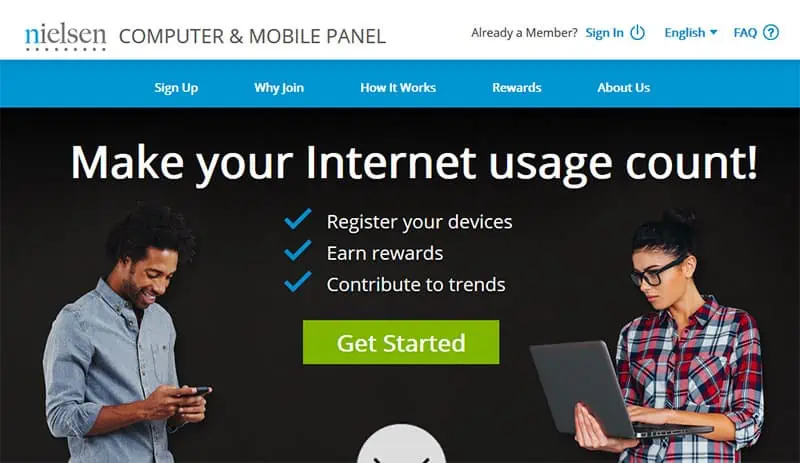 Formed in 1923 and touting an A+ rating from the Better Business Bureau, the Nielsen Computer & Mobile Panel is a reputable source for passive income. On your end, all you have to do is download it.
The app tracks your non-sensitive data, such as which websites you're visiting. In exchange, you receive $50 per year to keep it downloaded on your devices and you can download it on multiple devices. You'll also earn entries into the company's $10,000 monthly sweepstakes.
23. Mobile Performance Meter
---
Here we have another money-making app where all you have to do is download it. After that, just use your phone how you usually would.
This company, based in San Francisco, works with reputable market research firms and mobile carriers that want to know how your phone is working.
Every day that you use your phone, Mobile Performance Meter gives you "Meter Points." These points can be exchanged for gift cards for Target, Amazon, and more. You're only going to make around $6 per month, but it's completely passive money.
24. MobileXpression
---
This passive app gives you a $5 Amazon gift card after it runs in your smartphone's background for a week. MobileXpression is a market research community with the goal of improving the mobile internet.
You get rewarded for sharing your mobile surfing activity with them (meaning it collects your data). Rewards include gift cards for Starbucks, Best Buy, or Amazon.
You'll likely only earn a reward every month and a half or so, but it is an effortless app requiring zero effort on your end once installed. Not every smartphone is eligible, so make sure to check their website to see if you qualify.
Signing up for MobileXpression is free and only requires you to install the app on your smartphone or tablet. To make sure the app is working in the background for effortless money, you'll need to open the app periodically to claim the credits you're earning by using the app.
Each week you run the app will earn you 5 credits and when you have earned 30 credits (5 credits per week * 6 weeks), you can then redeem these credits for a $5 gift card of your choice.
However, if you have more patience and choose to wait longer, you can accumulate 50 credits (10 weeks) and redeem them for a $10 gift card. As a further bonus, just for signing up and installing the app, you'll receive a bonus.
As far as strategy, it becomes a better deal to wait until you have 50 points earned on your account. If you choose to do this, you can earn ~$50 in gift cards per year ($10 per 10 weeks at 52 weeks per year). What's better is you can install the app on multiple devices to earn more credits.
Remember, this app provides MobileXpression access to your browsing history and sells it to interested parties. If you don't mind this, MobileXpression is a great way to make extra money effortlessly.
The service states they do not collect or view your text messages, emails, or other personal content.
If you're looking to earn more money, consider looking into the Microsoft Rewards program to see how you can convert Bing searches into gift cards.
25. Embee Meter CX
---
This app works the same as MobileXpression. Embee Meter CX runs in the background of your phone and rewards you for collecting data on phone connectivity to wireless networks. Users typically earn between 10 to 30 cents per day.
You can cash out through PayPal each time you reach $5. Embee Meter is available exclusively on Android and only specific devices are accepted into the program.
26. OnMyWay
---
If you drive often, and aren't texting while you do so, you can get paid for it. The OnMyWay app wants to keep drivers safe and off their phones as they drive.
You simply download the free app, scan your driver's license, and start to automatically get rewarded for every mile you drive, over 10 mph, without texting.
Other applications, such as mapping or music apps, will still work as long as you activated them before you started driving. You can still make phone calls through your in-car Bluetooth.
You get $10 right away for signing up and then a nickel for every mile you drive without texting. If you refer a friend, you get $2 when they sign up and two cents for every mile they drive without texting. You can exchange money earned for gift cards or cash.
27. S'mores Lockscreen
---
This passive income app, available for Android, displays an ad as the lock screen of your smartphone. You can ignore the ad and aren't required to interact with it. Users receive ten cents per day for unlocking their phones.
Every time you reach $1, you can cash it out for an Amazon gift card. S'mores isn't going to make you rich, but it's a simple set-it-and-forget-it method to get extra money. People often forget it's even there until they remember to cash out some of their money.
28. Earny
---
Earny is a cash back app which works to track your on-going purchases and capture any price drops after you buy from several retailers. You can enroll in an Earny membership, link your email and Amazon account and let the app handle the rest.
The app boasts average annual price drop savings of almost $300 per person, and this only likely to increase as they begin to cover more and more services like hotels and travel.
There's no major investment of time in this app after setting up your account, making this cashback app truly passive income. To learn more, see our Earny review.
29. Airbnb
---
Airbnb allowed my wife and I to earn enough passive income to cover our mortgage payment for two and a half years when we lived in New Orleans. We had an extra bedroom in a lock off unit behind us which allowed guests to come and go as they pleased with complete privacy.
The arrangement recreated the experience of a hotel where you had an entire space to yourself and never had the worry of running into the host. We made a minimum of $500 per month and up to $2,500 on our busiest months (Mardi Gras).
Of all the apps listed here, it is my favorite because it has the highest earning potential if you have extra space in your house or apartment to rent.
If short-term rentals are allowed in your area, Airbnb is a great option to earn additional cash.
What's also great is because it made the short-term rental business an acceptable housing arrangement for the masses, you have access to a database of millions of users instantly who can quickly become customers.
It's possible to get guests the same day you post your listing.
However, this app relies on positive reviews so you will need to do a good job of being a host or you won't have great success in having your listing get booked consistently. Do well enough for an extended period of time and become an Airbnb Superhost.
If you do well, price your listing accurately, and keep it available, you will have cash flow in your pocket in no time. Turn your extra space into an income-generating asset in no time.
Active vs. Passive Income
---
Sometimes there is confusion over what falls into the categories of active income versus passive income. Active income is money you earn directly from work you perform. This includes both hourly and salary work. In other words, you're trading your time or skills for money.
Active income is the most common form of income, which includes standard "day jobs," freelancing "side gigs," and activities such as consulting or coaching.
Conversely, passive income is money earned with assets you control and aren't actively putting work into. This includes sales from products, such as apps or books.
These earnings could also be from rental real estate business profits, investment returns, or affiliate earnings. You can also earn money without spending time through passive income apps.
Many articles and people will describe any easy work, such as taking surveys or watching ads as passive income because it doesn't involve much mental or physical effort. But you're still trading your time to do these activities.
Most of the money-making apps I mention in this article don't require you to do much more than download them and let earnings accumulate.
However, I also include some apps which monetize activities you already enjoy doing. The money might accumulate slowly, but it's doing so without significant additional effort on your part.
Are Passive Income Apps Safe?
---
In truth, this question involves multiple considerations and factors.  One common theme for these apps is whether they take the necessary steps and precautions to prevent fraud as well as protecting users' data, privacy and money.
Many opportunities exist for apps to make money passively, which is why you should be selective with the ones you choose.  These items should factor into your consideration before signing up for an account.
I chose to create this list of passive income apps to save you time from searching out these opportunities on your own, saving you both time and effort.
When reviewing these passive income opportunities, make sure to check their reviews on the Better Business Bureau, Google Play Store and the App Store.  Some apps might promise features which many other users did not find to be the case.
Find out from others whether these passive income apps live up to their promises. Further, use these ratings to plan which you pursue and avoid potential disappointments down the road.
Make Money Online Effortlessly with Passive Income Apps
---
These passive income apps won't earn you enough to quit your job. However, they are a great way to make some extra spending money, especially if you use multiple apps. Plus, if you invest the money you earn wisely, it can grow.
Once you get a taste of passive income, you may also be more inclined to work towards passive income sources that are more profitable. Just take a few minutes to set up some apps, sit back, and let them start earning money for you.
---
Terms and Conditions for Fidelity Youth™ Account
The Fidelity Youth™ Account can only be opened by a parent/guardian. Account eligibility limited to teens aged 13-17.
* $0.00 commission applies to online U.S. equity trades and exchange-traded funds (ETFs) in a Fidelity retail account only for Fidelity Brokerage Services LLC retail clients. Sell orders are subject to an activity assessment fee (from $0.01 to $0.03 per $1,000 of principal). Other exclusions and conditions may apply. See Fidelity.com/commissions for details. Employee equity compensation transactions and accounts managed by advisors or intermediaries through Fidelity Institutional® are subject to different commission schedules.
¹ Limited Time Offer. Terms Apply. Before opening a Fidelity Youth™ Account, you should carefully read the account agreement and ensure that you fully understand your responsibilities to monitor and supervise your teen's activity in the account.
² The Fidelity Youth™ app is free to download. Fees associated with your account positions or transacting in your account apply.
³ Zero account minimums and zero account fees apply to retail brokerage accounts only. Expenses charged by investments (e.g., funds, managed accounts, and certain HSAs) and commissions, interest charges, or other expenses for transactions may still apply. See Fidelity.com/commissions for further details.
⁴ Fractional share quantities can be entered out to 3 decimal places (.001) as long as the value of the order is at least $0.01. Dollar-based trades can be entered out to 2 decimal places (e.g. $250.00).
⁵ Your Youth Account will automatically be reimbursed for all ATM fees charged by other institutions while using the Fidelity® Debit Card at any ATM displaying the Visa®, Plus®, or Star® logos. The reimbursement will be credited to the account the same day the ATM fee is debited. Please note, for foreign transactions, there may be a 1% fee included in the amount charged to your account. The Fidelity® Debit Card is issued by PNC Bank, N.A., and the debit card program is administered by BNY Mellon Investment Servicing Trust Company. These entities are not affiliated with each other, and Fidelity is not affiliated with PNC Bank or BNY Mellon. Visa is a registered trademark of Visa International Service Association, and is used by PNC Bank pursuant to a license from Visa U.S.A. Inc.
⁶ Venmo is a service of PayPal, Inc. Fidelity Investments and PayPal are independent entities and are not legally affiliated. Use a Venmo or PayPal account may be subject to their terms and conditions, including age requirements. 
Fidelity Brokerage Services LLC, Member NYSE, SIPC, 900 Salem Street, Smithfield, RI 02917
---
Plynk Disclosures
Google Play Store and Apple Store Ratings are as of the date referenced (06/22/2023) and provide an average rating of users and do not reflect the experience of an individual customer.