Owning rental property comes with some uncertainty, especially when it comes to finding new tenants. If you're looking for new tenants, chances are there are several questions running through your mind:
Will they take care of your property?
Will they pay their rent on time?
Are they a responsible and kind neighbor?
As a landlord, a background check can be a useful measure of protection. They offer valuable insight into a prospective tenant's credit situation, criminal history, and employment history. Plus, they can offer some valuable peace of mind and help you mitigate potential risks.
Here's what's covered in a tenant background check, how to run one, which services can help, and what to know about the process.
Background Check for Rental Property–Top Picks
---
| | | |
| --- | --- | --- |
| | | |
| | | |
| | | |
| Comprehensive tenant screening: $30. | Background check prices vary by state. | SmartCheck Basic: $24.99/screen. SmartCheck Plus: $39.99/screen. Premium: $41.99/screen. |
| | | |
Background Checks + Rental Recommendations
Comprehensive tenant screening: $30.
Customizable Rental Reports
Background check prices vary by state.
Specialist in Tenant Screening
SmartCheck Basic: $24.99/screen. SmartCheck Plus: $39.99/screen. Premium: $41.99/screen.
What Is a Rental Background Check?
---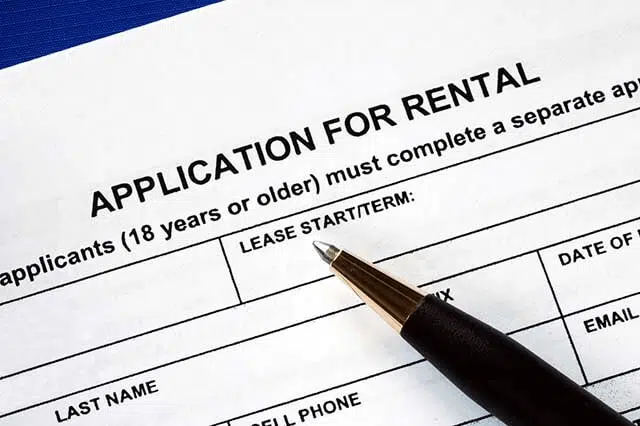 As its name suggests, a rental background check (or tenant background check) lets you review a prospective tenant's history. As a landlord, you'll typically be able to confirm their identity, view their credit report and score, income information, employment history, and public records information—like if they've been evicted or filed for bankruptcy in the past.
Checking into a tenant's background can give you some insight into potential red flags and help you make an informed decision about whether you want to rent to a certain person or not.
What Does a Rental Background Check Cover?
---
While the information provided in a rental background check might vary depending on the tenant screening service you use, here's what may be included:
Credit Report
Accessing a tenant's credit score and credit report can give you a useful glimpse into their financial history. For instance, with credit report access, you'll be able to see how much debt a prospective tenant has and whether they might be able to comfortably afford monthly rental payments in addition to other financial obligations.
Criminal History Report
Many services let you screen would-be tenants' criminal background, often providing options to look into state, county and national criminal history reports. You also might be able to determine whether a potential tenant is a registered sex offender, depending on the screening service you use and the reports you choose to run.
Eviction Report
As a landlord, you'll likely want to know whether a possible renter has been evicted in the past. Tenant screening services typically let you view eviction reports and may also provide insight into the reason behind the eviction. In general, a past eviction could be a major red flag, depending on the reason the tenant was evicted.
Income Report
You'll also want to know whether a tenant can comfortably afford to pay their rent, which is why an income insights report can be useful. In addition to the information about debt history you'll get from their credit report, an income report lets you view how much your prospective tenant currently makes.
Employment History
Consistent employment history is a big plus for a new tenant. It signals that they'll likely have reliable income, which could mean they're more likely to pay their monthly rent. (Good news if you're looking for consistent rental income!) If you're wondering if they've been employed consistently or what their line of work is, you'll generally see that info on an employment history report.
Public Records
Curious about a prospective tenant's bankruptcies, foreclosures, liens, and lawsuits? With a public records report, you'll be able to see whether they've filed for bankruptcy, had a home go into foreclosure, or if they have any past or pending liens or lawsuits. This can provide a comprehensive picture of their financial status, which is valuable info for landlords.
How to Run a Background Check With a Tenant Screening Service
---

1. Set Up an Account Using One of the Tenant Background Check Companies for Landlords
Landlords have their choice of several background check companies, so it's a good idea to compare the different services to find one that offers what you need. For instance, some focus solely on tenant screening, and others offer a full suite of rental management tools.
While some might require you to input slightly different personal information than others, you'll generally need to provide your name, address and email to set up an account. You'll also likely need to verify your account information by email to complete the signup process.
2. Request Permission to Run a Background Check from Prospective Tenants
Under the Fair Credit Reporting Act (FCRA), consumer information is private, so you can't just run a background check on a tenant whenever you want. As a landlord, you need a permissible purpose to do so. However, a permissible purpose could include a tenant submitting a rental application to you.
Getting permission to run tenant background checks as part of your rental process is not only a good idea—it's also required in certain states. For instance, landlords in Massachusetts must get permission from a prospective tenant before running a criminal background check, or Criminal Offender Record Information (CORI) form.
3. Select Preferred Tenant Screening Reports and Run the Reports
Often, background check services will let you customize which reports you want to receive. For instance, if you simply want insight into a potential renter's credit score and income, you might choose to run a credit and income or employment history report. Choose the reports you'd like to run based on your unique needs and the insights you'd like to glean.
4. Review Tenant Screening Report
You've set up an account, asked rental applicants' permission to do a background check, and run the reports. Now it's time to review the information the tenant screening service has provided. Look for issues that might influence a tenant's ability to pay their rent or care for your property. For instance, significant debt or past evictions could be major red flags.
5. Make an Informed Decision
Once you've reviewed the tenant screening report, it's time to make a decision about a prospective renter. Certain screening services will actually make recommendations about whether a renter is qualified based on the information they've provided, which can be useful during the decision-making process.
Of course, the decision to rent or not rent is ultimately up to you.
Related: Best Video Intercom Systems for Apartments and Office Buildings
Best Services for Background Checks
1. Hemlane
---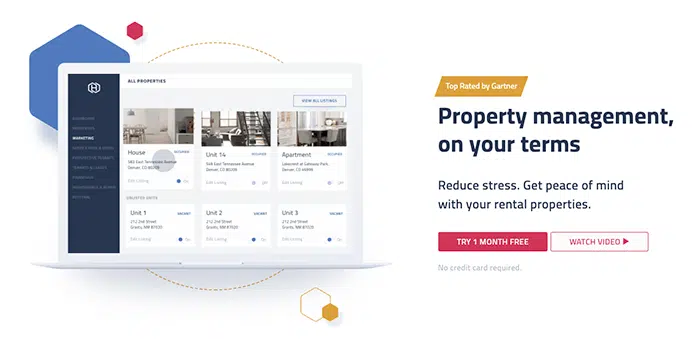 Available: Sign up here
Hemlane is a holistic property management software that lets you do everything from screening tenants to coordinating repairs to collecting rent. It can come in handy whether you own one rental property or several. Property managers can use its tenant screening tool to review TransUnion credit reports, criminal and sex offender records, court case details and more.
Hemlane also makes customized rental recommendations based on a prospective tenant's background. It might, for example, suggest a tenant isn't qualified based on the financial history or income information they've provided. Ultimately, you'll have the final say in whether you choose to rent to a prospective tenant or not, but these recommendations can still be useful.
On-Demand Property Management Software
Hemlane | All-In-One Property Management
14-day free trial. All plans have a $28/mo. base fee. Basic: Additional $2/unit/mo. Essential: Additional $12/unit/mo. Complete: Additional $32/unit/mo.*
Hemlane offers property management services in three packages using per unit pricing with no unit minimum.
The service offers leasing tools to find qualified tenants, local support to connect you with agents, repair coordination with 24/7 US-based support for tenant requests and management tools for property management.
Free 14-day trial to start. Afterward, pricing starts at $30/month, allowing landlords to structure their management of 1-100 units flexibly.
Pros:
Clear and transparent pricing, no nickel and diming

Access to nationwide local leasing agent partner network

Listing syndication with dozens of sites

Tenant screening

24/7 repair coordination
Cons:
Not designed for landlords seeking full-service property management

Not suitable for short-term/vacation rentals

Not meant for portfolios over 100 units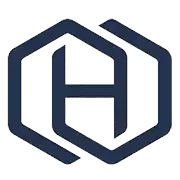 * Pricing reflects annual billing. With monthly billing, all plans have a $34/mo. base fee. Basic: Additional $2.50/unit/mo. Essential: Additional $15/unit/mo. Complete: Additional $40/unit/mo. No credit card required for free trial.
Related: Real Estate Syndication: What It Means and How to Invest
2. Avail
---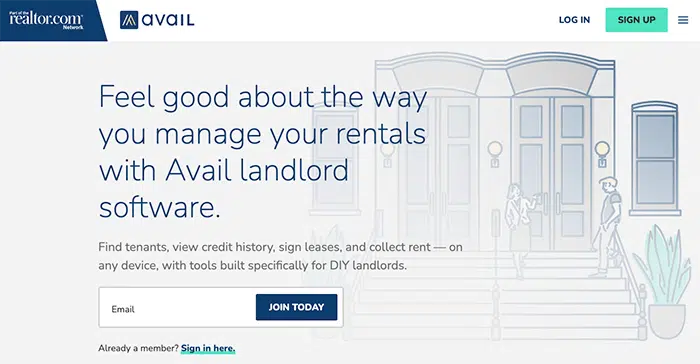 Available: Sign up here
Want a landlord software that simplifies everything from marketing your property to tenant screenings? Avail could be just the ticket. It's a soup-to-nuts solution for landlords who want to use technology to simplify property management. It lets you list your property or properties, manage rental applications, screen tenants, manage leases and rent payments, track maintenance and more.
Avail's tenant screening tool lets you customize which reports you want to run, so you won't have to pay for something you don't want. You can opt for a basic Renter Profile report, which includes job history, rental history, and income verification. Its higher-tier Credit Plus package includes credit score, credit report and adverse items information. And the top-tier Full Screening package includes all of the features of the other packages, plus a nationwide criminal, sex offender and terror list check, and information on past evictions. Report prices vary by state, though Avail indicates on its blog that report prices range from $25 to $75.
Free Landlord Software
Avail | Free Landlord Software
Unlimited Plan: Free. Unlimited Plus: $7/unit/mo.
Avail offers free landlord software that allows you to syndicate listings on rental property sites, conduct credit and criminal screenings, execute state-specific leases, process online rent payments and perform maintenance tracking.*
Premium version offers next-day rent payments, waived ACH fees, custom applications and leases, custom lease cloning for reuse, and creating a property website.*
Tenants pay application fees, screening fees and payment fees ($2.50 per bank transfer w/Unlimited Plan).*
Pros:
Free plan with useful features

Tenant screening

Listing syndication with dozens of sites

State-specific lease creation

Online rent payments
Cons:
Next-day rent payments only come with Premium

No chat features within the app, must rely on email for communicating with tenants
* Some fees may apply for certain services (e.g., ACH fees for rent collection)
Related: 14 Best Investment Opportunities for Accredited Investors
3. SmartMove
---
Available: Sign up here
SmartMove is a TransUnion service that specializes in tenant screening. So if you're overwhelmed by the idea of a full-featured property management platform and just want to do tenant background checks, MySmartMove could be worth a look.
It lets you access prospective tenants' credit, criminal, eviction, and income reports quickly and easily. You can also choose which reports you get with MySmartMove's tiered screening bundles.
For instance, if you're only looking for a basic credit report and criminal records check, you might opt for the SmartCheck Basic bundle, which costs $24.99 per screening. Those looking for more in-depth screening could purchase SmartCheck Plus ($39.99 per screening) or Premium ($41.99 per screening). The higher-tier packages include full credit reports, info on rental history, past evictions and more.
Tenant Screening Service
SmartMove | Tenant Screening & Background Check from TransUnion
Tenant credit, eviction and background check options ranging from $24.99 to $42.99
SmartMove is a tenant screening solution designed for independent landlords with 1-10 properties.
The service provides a legal and convenient portal for independent landlords to perform tenant background checks.
Backed by TransUnion, the tenant screening process can be completed in a matter of minutes for $40
Pros:
Provides tenant scoring system (ResidentScore™)

Pulls tenant credit, eviction and background reports in minutes

Landlord can choose to pay fee or pass it along to prospective tenant(s)
Cons:
Only uses TransUnion credit information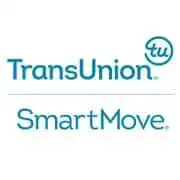 Related: 6 Ways to Invest in Apartment Buildings [w/Minimal Effort!]
4. TenantCloud
---
Available: Sign up here
If you'd prefer a full-featured property management tool that lets you do everything from screening prospective tenants, handling maintenance requests and reviewing rental payment history, TenantCloud might be exactly what you need. Its comprehensive platform can help you manage multiple rental properties all in one place, from marketing to property maintenance.
TenantCloud offers tiered package pricing, ranging from $0 to $40 and up. But if you're just looking to screen tenants, screening reports vary in price depending on which reports you want. For a basic background check, you'll pay $25. You can also opt for a credit check for $30 or a full check for $39. The basic background check can be used to verify a prospective tenant's identity. It includes a national criminal and sex offender search, and an employment history and education check. The credit check includes a credit score, bankruptcy search and address history. And with the full check, you'll get all the info of a basic and credit check, plus an eviction history report.
Landlord Software for Listing, Screening and Collecting Rent
TenantCloud | Rental Advertising, Tenant Screening & Rent Payments
Free. Starter: $12/mo. Growth: $40/mo. Business: Custom pricing.
TenantCloud allows you to list vacant rentals on advertising sites, screen tenants and collect rent payments online
List your vacant rental(s) on dozens of rental listing sites simultaneously
Screen prospective tenants from the TenantCloud app
Collect rent online using ACH payments, debit and credit cards
Free 14-day trial to start for paid plans. After that, pricing varies depending on the plan
Pros:
Aesthetically-pleasing user interface

Automate vacancy listings available on dozens of rental sites

Screen prospective tenants
Cons:
No human support readily accessible

Only supports financial integration with QuickBooks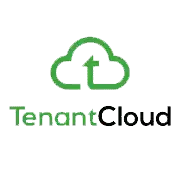 Related: 18 Best Stock Market Investing Research & Analysis Sites
Related Questions on How to Run Rental Background Checks
---
Who should use tenant screening services and why?
Rental property owners should use tenant screening services to gauge prospective tenant interest, obtain objective data points on renters, and make an informed decision. These services can help ensure tenants are qualified and likely to take care of your rental property and keep up with their rent payments.
How long does a background check take for an apartment?
The background check process typically takes a few days. According to Apartments.com, the process is generally complete in about 48 to 72 hours. However, the length of time it takes might vary based on the screening service you use and your state's regulations. For example, criminal records checks in Massachusetts can take up to 10 days.
How far back do most background checks go?
While the lookback period for a rental background check varies based on which type of reports you're running, it's commonly seven years. Same goes for criminal record checks, but for credit checks, it might be as long as 10 years.
The rules about the length of time you can look back also vary from state to state. For instance, California has a seven-year lookback period for criminal convictions, while Florida has a 10-year lookback period for criminal background checks. Seven-year lookback states include California, Colorado, Kansas, Maryland, Massachusetts, Montana, New Hampshire, New Mexico, New York, Texas, Washington, and the District of Columbia.
Where does most of the data come from on tenant background checks?
The majority of the data on prospective tenants comes from the three major credit bureaus:
Equifax

TransUnion

Experian
In addition to the three major credit bureaus, tenant information also might come from public records data, which is generally available through your state's official website. Public records data includes information on liens, bankruptcies, lawsuits, and more, which can be useful info to have when you're screening tenants.
Who pays for tenant screening services?
Many tenant background search services give you the option to pay for screening yourself or pass the cost onto your prospective renter. There's no law that requires a landlord to pay for a rental background check; however, depending on where you live, there may be a limit on how much you can charge a tenant for screening. For instance, California imposes a limit of $53.33 for tenant screening. Consider researching your state's limits if you plan to pass screening costs onto prospective renters.
Do background checks also review criminal records like the National Sex Offender Registry?
Whether a background check includes a review of criminal reports or sex offender records depends on the reports you choose to run and the tenant screening service you're using. Some tenant screening companies offer criminal records checks as part of their typical tenant screening process, while others may charge you extra for access to these types of reports. Compare tenant screening services and the reports they offer in order to choose a service that best meets your needs. 
Related: