Charles Schwab is a juggernaut among financial services firms. Across all its various arms—its brokerage business, banking, wealth management, investment products, consulting, and more—it has amassed more than $6 trillion under management.
One of the pillars of this financial institution is, of course, its Schwab brokerage offering. More than 34 million people invest through Charles Schwab—including via the TD Ameritrade platform, where customers are currently being merged into Schwab—making it one of the most popular investment platforms on the planet.
It should be! Schwab brokerage accounts provide access to a wide array of investment products, boast numerous features, and allow you to invest in thousands of stocks, exchange-traded funds (ETFs), and mutual funds without paying a cent in commissions.
Yet, many more millions of people don't invest with Schwab. And it's not for no reason. For as good an all-around offering as its brokerage platform is, it's not necessarily the best venue for every type of investor.
Today, we're going to explore some of the most popular Charles Schwab alternatives. We'll talk about what Schwab does well as an investment platform (and where it falls short), and explain when and why other alternative brokerages and investing apps might make more sense.
About Charles Schwab
---
Charles Schwab is a U.S.-based brokerage and banking company founded in 1971 as a traditional brokerage company and then as a discount brokerage service in 1974. It is headquartered in San Francisco, California, and operates primarily throughout the United States, but also has international operations. The firm is the largest publicly traded investment services firm with more than $6 trillion in assets.
Schwab offers a wide range of financial services, such as investment advice and management, trading services, financial planning, banking services, workplace and individual retirement plans, annuities, and more.
Of course, today, we're focused on Schwab's investing app experience.
Schwab caters to beginners and experts alike, providing them with the ability to trade stocks, exchange-traded funds (ETFs), mutual funds, bonds and other fixed-income products, options, money market funds, and futures. The software itself offers up features such as real-time quotes and charting, the Idea Hub (a trade-idea generator), options chains, fundamental research, and more.
It also offers StreetSmart Edge, a trading platform suitable for day traders. StreetSmart Edge provides traders with screeners and watchlists, customizable layouts, the All-in-One Trade Ticket, and the interactive Trade & Probability calculator, among other features.
Like with other brokers' mobile apps, the Schwab app isn't as full-featured as the desktop app or browser versions—but it's no slouch, either. Regular investors get the basic trading, research, and news functions they need, while traders enjoy features such as multi-leg options orders and interactive charts. And if you need just a quick glance at the market, raise your wrist—the Schwab app is integrated with Apple Watch, too.
Why You Might Consider Charles Schwab Alternatives
---
Given all those pros of Schwab brokerage accounts, why would an investor look elsewhere?
Schwab doesn't have much in the way of direct weaknesses. One glaring shortcoming, to some, is the inability to trade cryptocurrencies directly—Schwab only allows you to buy through thematic or coin-based ETFs, or, if you have a futures account, crypto futures. Also, its Schwab Bank Investor Savings account doesn't offer nearly the income potential as most high-yield savings accounts—but you can still get competitive yield by investing unused cash in Schwab's money market funds.
Other reasons why people might not invest in Schwab? Several free investing apps offer similar quality. Some investors are attracted by generous offers of free stocks and other sign-up bonuses. And in some cases, Schwab simply isn't the right fit.
While an excellent all-around app, Schwab doesn't necessarily hit all the right notes for certain types of investors. More advanced traders and day traders, for instance, might be better served with other platforms—same goes for beginners, and as mentioned before, for crypto investors, too.
Below, we review several Charles Schwab alternatives that might make sense depending on what kind of investor you are. They might be better overall platforms in some cases—in other cases, they might not, but they might better serve a specific type of investor.
Best Charles Schwab Competitors
1. TradeStation Select (Best Schwab Alternative for Advanced Traders)
---
Available: Sign up here
Best for: Advanced traders, options and futures traders, active stock traders
Platforms: Desktop app (Windows), web, mobile app (Apple iOS, Android)
TradeStation Select is an excellent alternative to Schwab if you're an advanced trader or day trader. TradeStation's powerful trading system includes a full-featured desktop app, a robust web trading platform, and a highly rated stock trading app—all of which include numerous tools for trading stocks that are useful to seasoned professionals.
Much like every other online discount broker found on this list, this free stock trading app helps traders avoid commissions. Specifically, TradeStation offers zero commissions on stocks, exchange-traded funds, options, futures, micro futures, and futures options.
But the reason traders opt for TradeStation over Charles Schwab isn't just the cost—well, lack of it—but its advanced trading features and services.
What makes TradeStation different?
TradeStation is one of the most high-powered stock trading platforms on this list. That's because opening a TradeStation brokerage account provides you with free access to the TradeStation Analytics platform, which includes advanced trading tools such as:
Matrix: TradeStation packs market depth, advanced order entry, and order tracking all in a single window, then combines it with one-click trading and extremely fast order execution. TradeStation calls it the "Swiss Army Knife of trading tools," and it's an apt description.
RadarScreen: Identify trading opportunities with RadarScreen, a real-time screener that can monitor as many as 1,000 tickers. You can also use RadarScreen to rank those stocks based on your own custom criteria, or based on more than 180 preset (but customizable) fundamental and technical indicators.
OptionStation Pro: This app provides a more visually appealing, and easier-to-understand, method of exploring the options markets. You can build option chains, model options positions with 3D graphics, and quickly place your trades.
EasyLanguage: Want to take your trading to the next level? Create your own trading tools, indicators, even applications, with this trading-focused programming language—a language TradeStation already uses in every one of its indicators, strategies, and user functions.
(Note: Even if you don't use TradeStation as your trading platform, you can still access TradeStation Analytics for $99 per month if you're a non-professional trader, or $199 per month if you're a professional trader.)
Other trading features include a simulated trading mode that allows you to test out trading plans without putting your funds at risk, backtesting, and customizable charting.
A passive feature of note is the Fully Paid Stock Lending Program. Through the program, you can allow TradeStation to lend out fully paid or excess margin securities, and in exchange, they'll pay you a portion of the interest TS earns each day.
Other considerations
TradeStation is one of the best stock trading apps for advanced traders, but even experts might need a hand every now and then—and less experienced traders very well might need assistance. Fortunately, TS offers personalized support from the company's brokerage professionals.
While TradeStation is commission-free, it's hardly cost-free. For instance, all stock options trades still require a 60-cent contract fee. Futures trades are charged $1.50 per contract per side, micro futures trades are charged 50 cents per contract per side, and futures options are charged $1.50 per contract per side. Crypto trades have tiered pricing depending on volume size (unless made within a TradeStation IRA, which has just one pricing tier regardless of size). Margin rates, currently in the double digits, are high compared to peers. And mutual fund fees are a steep $14.95 per trade—no big deal for traders, who likely would avoid them anyways, but a hurdle for anyone looking to buy and hold mutual funds in their TS account.
And let's be clear: Beginning traders could be overwhelmed by this service, which caters to extremely active and experienced traders who use the trading platform primarily for its research tools and advanced trading tools.
Regardless, TradeStation's top-of-class trading tools (and a wide variety of ways to access them) makes it one of the top Charles Schwab alternatives for advanced traders on this list. Intermediate users should be able to make plenty of hay on this platform, too. So if you're interested, visit TradeStation to sign up for an account or get more information.
Related: 7 Best Wealth + Net Worth Tracker Apps [View All Your Assets]
2. Plynk (Best Charles Schwab Alternative for Beginner Investors)
---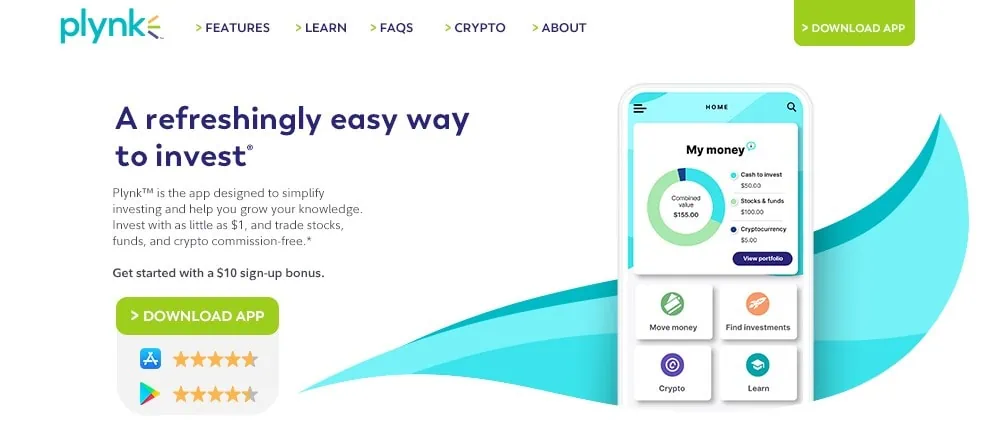 Available via Apple iOS and Android App on Google Play.
Price: Free, but certain features may require a fee in the future.
Plynk™ is an app designed to help you start investing and learn along the way, and they're currently offering a $10 account signup and $75 net deposit bonus ($85 combined).
The Plynk app helps investors put their money into an investment portfolio. You can invest with as little as $1, and trade stocks, funds, and crypto commission-free**—all in one app.
The platform uses straightforward, easy-to-understand language to explain investing concepts. No jargon. No complex charts and tables. Just simple-language tips and how-tos.
Navigate investment ideas with tools to help you explore and choose. With Plynk Explore, just answer a few questions, and the app will display stock, ETF, and mutual fund investments that mesh with your investment comfort zone.
To assist with building your financial literacy, Plynk offers complete lessons and courses on financial education, including tips, educational content and how-tos.
The Plynk app enables you to make use of a powerful investing technique called dollar-cost averaging through participating in recurring investments. By continuing to buy a fixed dollar amount of investments over time, whether the market is up or down, you can build a disciplined investing habit and lower the stress that can come from market movements.
One of Plynk's most interesting features involves, of all things, gift cards. Specifically, you can redeem unused gift cards for money that you can use to buy stocks in your favorite companies.
If this sounds interesting to you, consider opening an account with Plynk. To make it more worth your while, they have a few special offers.
Simply open an account and link your bank account to get a $10 signup bonus. Plynk is also offering a special bonus promotion through Dec. 14, 2023. If you make a deposit, Plynk will double it up to $75. Customers must have a minimum of $25 in net deposits during the promotional period to receive a match. That means you may be eligible for up to $85 in signup bonuses from Plynk by taking qualifying actions.
Read more in our Plynk review.
Related: 12 Best Stock Trading Apps + Platforms for Beginners
3. Robinhood (Ideal Schwab Alternative for Beginner Traders)
---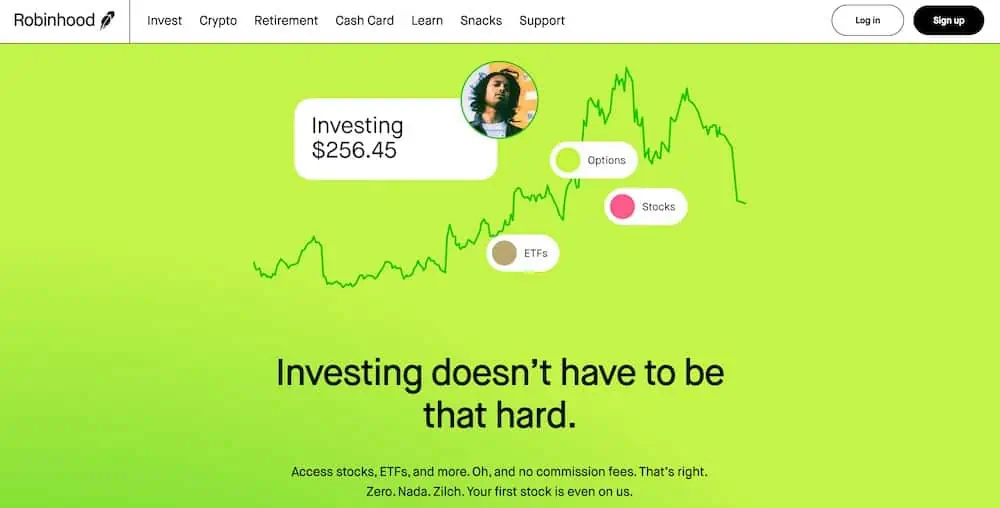 Available: Sign up here
Best for: Beginner traders
Platforms: Web, mobile app (Apple iOS, Android)
Robinhood is another outstanding Schwab alternative for beginner traders.
Robinhood is a pioneer of commission-free trading, jumping into the investing public's consciousness in 2013 when it rolled out commission-free stock and ETF trades. It remains a standout option for cost-minded investors thanks to its continued $0 commissions on stocks, ETFs, and options, as well as for its fractional trading, which allows people to invest with as little as $1.
It also boasts an intuitive interface, a gamified experience that keeps younger investors involved, and excellent educational tools. And it's super-easy to open an account.
That said, Robinhood has also added a boatload of other features to suit a wider range of experience levels. Advanced Charts, for instance, provides simple and customizable charts with a variety of technical features. Robinhood's Options Strategy Builder simplifies the options-trading process by helping you build a strategy based on what you expect your target stock or ETF will do in the future. Robinhood also offers 24/7 commission-free cryptocurrency trading with Robinhood Crypto (though you'll still have to pay a spread), allows extended-hours trading, and lets users earn interest through stock lending.
Robinhood now also offers individual retirement accounts (IRAs) and Roth IRAs via Robinhood Retirement. Functionally, it comes up short compared to many other IRA providers because of its investment options. It offers just stocks and ETFs; like with its brokerage account, mutual funds aren't available. Options aren't currently available, though Robinhood has explicitly stated that options will be made available soon.
However, Robinhood Retirement still stands out from the pack because it's the only IRA provider that offers matching funds. If you open up an IRA with Robinhood Retirement, Robinhood will match 1% of any IRA transfers, 401(k) rollovers, and annual contributions to your account—and 3% if you pay for the Robinhood Gold service ($5 per month)—typically almost immediately after you make your contribution. Better still: Any matches made on annual contributions don't count toward your contribution limit.
(Friendly message from your WealthUp tax expert: The reason the IRA match doesn't count toward your annual IRA contribution limit is because Robinhood treats it as interest income in your IRA.)
You can choose your IRA investments yourself, but Robinhood's Portfolio Builder can also provide you with a custom recommended portfolio made up of five to eight ETFs.
Sign up for a Robinhood brokerage account or Robinhood retirement account today.
Related: 14 Best Stock Picking Services, Subscriptions, Advisors & Sites
4. Interactive Brokers (Best Charles Schwab Competitor for Day Traders)
---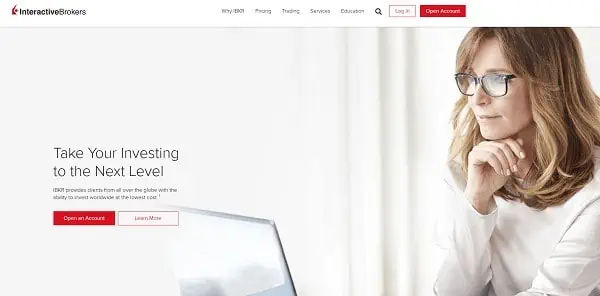 Available: Sign up here
Best for: Advanced and professional traders seeking low margin rates
Platforms: Desktop app (Windows, macOS), web, mobile app (Apple iOS, Android)
Interactive Brokers, founded in 1978, is one of the largest U.S. electronic trading platforms, offering traders access to stocks, bonds, funds, options, cryptocurrencies, forex trading, futures trading and more.
It's also another excellent Schwab alternative for day traders. IB's Trader Workstation (TWS) is Interactive Brokers' flagship desktop program—a trading platform with roots back to 1995. But since then, the company has launched a number of other access points for brokerage accounts, including:
IBKR Mobile: A powerful mobile platform for iOS and Android that allows people to trade on the go
IBKR GlobalTrader: A simplified app for iOS and Android that targets global traders, allowing deposits in up to 23 different currencies
Client Portal: A lighter web-based platform allowing clients to manage their account, evaluate performance, and read market news
IBKR EventTrader: A web-based platform allowing investors to trade "event" contracts (yes-or-no questions like "Will the S&P 500 Index close above 3,900 today?")
IBKR Impact: A mobile app that helps investors select holdings most in line with their values.
But Workstation remains the workhorse, serving as one of the top Charles Schwab alternatives for traders looking for advanced trading tools. The platform supports investments across 150 global markets, and offers a wide variety of features, including real-time monitoring, risk management tools, paper trading—all packaged under a heavily customizable layout.
While TWS users can still select the original view, they can build their own bespoke view through Mosaic. Functions such as stock monitoring, order entry, charts, and more appear as "tiles," sized and arranged however you want them, and you can save custom layouts designed for one or more monitors.
Trader Workstation also lets investors:
Create example watchlists
Use preset scans or build your own
Create real-time trading alerts using price, time, margin, and volume
Access more than 100 order types and algorithms to execute better trades
Read breaking news from Reuters, Dow Jones, and other financial news outlets
Access to third-party investment research and free stock reports from Morningstar, Zacks, and other firms
Interactive Brokers offers two primary plans—IBKR Lite and IBKR Pro—and both have no account minimums and zero maintenance fees. They also provide investors with access to many of the same features, including the Client Portal, Trader Workstation, and IBKR Mobile platforms; advanced order types; fractional shares of U.S. and European stocks and ETFs; paper trading; and Risk Navigator, which evaluates your risk in single positions or across your entire portfolio.
IBKR Lite is most suitable for beginner and intermediate investors, offering unlimited commission-free U.S.-listed stock and ETF trading, and fixed pricing for non-U.S.-listed stocks and ETFs, mutual funds, options, and futures.
IBKR Pro, meanwhile, is meant for advanced investors and active traders. While it does charge commissions on even U.S.-listed stocks and ETFs, it provides better execution for trades via its IB SmartRouting, which seeks out the best available prices for stocks and options across exchanges and dark pools—possibly resulting in lower spreads that offset the commissions you pay. It also offers better margin rates than Lite, though both platforms' rates are among the best on offer.
Pro also offers some features not available on IBKR Lite, including higher interest paid on idle cash balances, lower interest charged on margin loans, backtesting, and access to IBKR APIs, which allow you to build your own custom trading applications and even develop commercial trading software—features often used by hedge funds, Registered Investment Advisors (RIAs), and proprietary trading firms.
We should note that IBKR's rating does get dinged (by both us and app-store users) for its sometimes buggy mobile-app experience. But the desktop app is a mainstay among advanced and professional traders.
You can visit Interactive Brokers to sign up or learn more.
Related: 14 Best Investment Opportunities for Accredited Investors
5. eToro (Best Schwab Alternative for CopyTrading)
---
Available: Sign up here
Best for: Beginner traders
Platforms: Desktop app (Windows, macOS), web, mobile app (Apple iOS, Android)
Most trading apps keep you in one place: Your account. But eToro wants to change that.
eToro has made investing social by giving you the chance to engage with other traders, creating a social trading network designed to share ideas on the publicly traded markets. You can trade stocks, exchange-traded funds (ETFs), and options commission-free, and you can also get exposure to cryptocurrencies. (In non-U.S. markets, you can also trade currencies, as well as contracts-for-difference, or CFDs.)
eToro is known for its CopyTrader service—a novel product that allows you to copy the trades of experienced investors automatically. No more guesswork on making trades yourself; you simply follow the leader and let the app handle the legwork for you. While this might not interest advanced traders, it's an appealing feature for beginners looking to replicate the performance of popular traders on the platform. (Editor's Note: Even though this can make for a fun trading experience, you should still be fully aware of the risks entailed through this feature—namely, the potential for losses.)
Of course, you don't have to copy anyone—you can trade on your own ideas. This intuitive investing app began with a strong crypto focus, but you can now make self-directed trades across a host of other assets.
In addition to offering access to thousands of stocks and hundreds of ETFs, it also allows you to invest directly in dozens of cryptocurrencies—something Schwab doesn't offer. When you trade crypto with the platform, you'll encounter an industry-standard spread of 1%. Of particular interest to options traders, eToro charges no options contract fees in the U.S. Investors can also use the app to understand environmental, social, and governance (ESG) scores through their user-friendly "traffic light" color scheme: green means the company is a leader in its sector, yellow indicates average, and red means the company scores poorly relative to sector competitors.
Lastly, if you'd like to invest based on a specific theme or strategy, eToro offers Smart Portfolios. These are fully allocated, balanced portfolios, investing in various market segments, that are backed by professional research and various risk management rules. You only need $500 to participate in Smart Portfolios, and you pay no management fees.
And for people interested in testing the waters without opening their wallet at the start, eToro offers a free Demo Account that comes with $100,000 in virtual money to test your trade ideas.
Opening an account is quick and simple to do. Simply visit eToro's website to open and fund an account. From there, you get access to their commission-free trading platform for stocks, ETFs, options, forex and crypto.
Related: 21 Best Stock Research & Analysis Apps, Tools and Sites
6. Webull (Ideal Schwab Alternative for Intermediate Investors + Traders)
---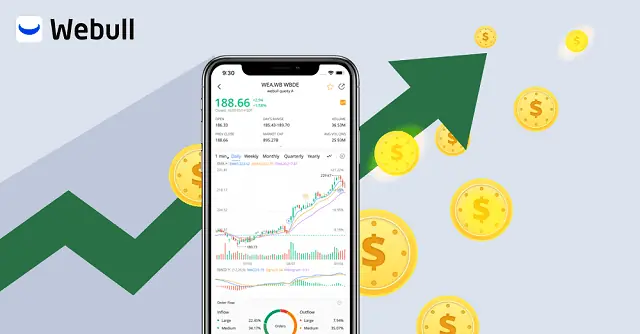 Available: Sign up here
Best for: Self-directed investors and intermediate traders
Platforms: Desktop app (Windows, macOS, Linux), web, mobile app (Apple iOS, Android)
Webull first hit the investing world in 2018 and made a splash by offering free stock trading, as well as commission-free trading of exchange-traded funds (ETFs) and options. And since then, it has become one of the best stock apps for intermediate traders and investors, though many of its features are helpful to beginners as well.
For one, Webull remains friendly to wallet-conscious traders today. It costs nothing to open a Webull account. Stocks, ETFs, and options still trade without transaction fees. Many options have $0 contract fees. And Webull has no deposit minimums. On top of that, it offers fractional shares, which allows investors to start buying for as little as $1. So beginners working with small dollar amounts can still easily diversify across numerous investments.
Newer investors can also learn trading skills through the courses in Webull's education center, and even practice their skills via Webull's paper trading service.
And Webull is available across just about every platform, allowing you to research, trade, and track your stocks on your smartphone, tablet, or desktop.
Why choose Webull to trade stocks?
Webull provides investors with several useful features and advanced trading tools, including:
Customizable screeners for both stocks and ETFs
Preset lists–including Top Gainers, Top Losers, Most Active, and Best-Performing Industries—investors can use to identify opportunities
Voice commands: Simply speak to buy, sell, or look up information about a ticker
"Big Button Mode": Populates giant buttons on your screen that allow you to quickly make trades with just a push.
Free real-time stock quotes and stock alerts
We'll point out that while Webull allows for many types of commission-free trading, other costs will still apply to a few transactions. For instance, a 55-cent contract fee applies to certain options trades. And Webull doesn't directly charge fees for trading cryptocurrencies; however, it does build a 1-percentage-point markup into the price of cryptocurrency when you buy or sell crypto.
One particularly noteworthy shortcoming for investors is that you can't buy mutual funds on Webull. Yes, ETFs offer a wide array of diversified strategies, but the mutual fund world offers some cheap index funds and many successful actively managed strategies.
Regardless, Webull remains one of the best, and most cost-friendly, Charles Schwab competitors you can come across. And on top of all the free features mentioned above, Webull also runs frequent promotions that allow investors to collect free stocks.
Read more in our Webull review, or sign up at Webull today.
Related: 11 Best Stock Trading Apps [Free + Paid]
7. J.P. Morgan Self-Directed Investing (Best Schwab Alternative From a Major Bank)
---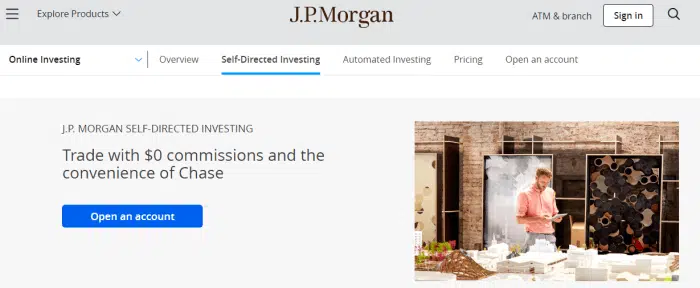 Available: Sign up here
Best for: Self-directed investors, Chase customers
Platforms: Web, mobile app (Apple iOS, Android)
J.P. Morgan Self-Directed Investing acts as an investing solution offered from Chase and is accessible through the Chase Mobile® app or Chase.com.
You can use this investing app to make unlimited commission-free trades in thousands of investment options, including a wide range of stocks, ETFs, fixed income, mutual funds and options.
The investing app allows you to utilize tools to build your portfolio including screeners and watchlists—both useful for building diversified portfolios and staying on top of market activity.
The app provides personalized news and J.P. Morgan research and market analysis to empower informed investment decisions. You can leverage these resources to design your own target allocation for your investments.
Consider using J.P. Morgan's Self-Directed Investing platform if you'd like the flexibility to invest as much as you want without paying any commissions on equity and options trades. Some regulatory fees and fund expenses may apply.
You can choose an account that's right for you: an individual taxable account, Traditional IRA or Roth IRA. All carry a $0 minimum.
Open your J.P. Morgan Self-Directed Investing account today and get up to $700 when you open and fund an account with qualifying new money:
$50 when you fund with $5,000-$24,999
$150 when you fund with $25,000-$99,999
$325 when you fund with $100,000-$249,999
$700 when you fund with $250,000 or more
Learn more by visiting J.P. Morgan Self-Directed Investing's website to see if it's the right fit for your needs.
Related: 19 Best High-Yield Investments [Safe Options Right Now]
8. E*Trade (Ideal Schwab Alternative for Intermediate Investors + Traders)
---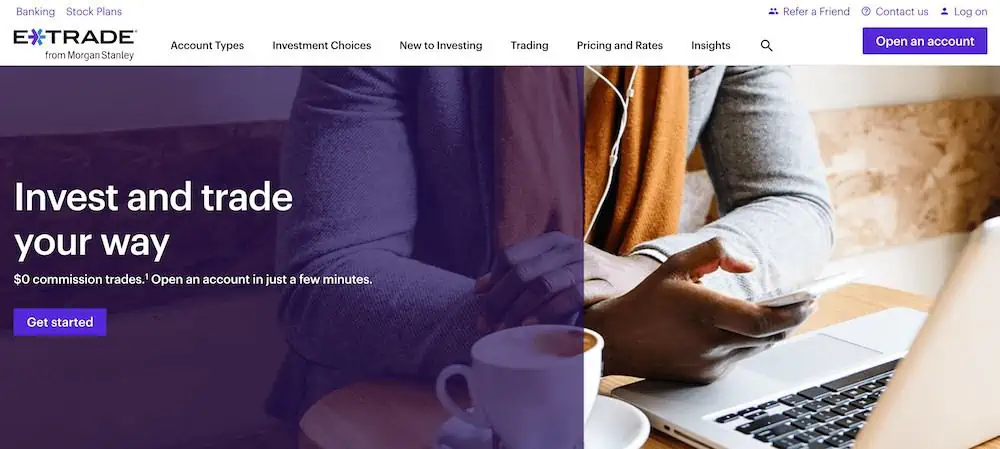 Available: Sign up here
Best for: Intermediate investors
Platforms: Web, mobile app (Apple iOS, Android)
E*Trade has long been seen as a leading stock investment app for retail investors, and it's one of Schwab's top competitors. E*Trade provides investors access to educational resources that assist you with conducting investment research and analysis and diversifying your portfolio.
E*Trade, like most of the best stock investing apps, offers zero-commission stock, ETF, and options trading. It also has a leg up on some platforms by offering $0-commissions on trades of mutual funds. Options still incur a 50- to 65-cent contract fee, however.
E*Trade has two platforms, both of which are free, and both of which have web and mobile versions:
Power E*Trade
Power E*Trade is a trading platform designated for more intermediate-to-advanced traders. Features include:
Advanced charting that includes intraday and historical options; more than 100 studies; over 100 drawing tools; and the ability to automatically identify technical patterns
Snapshot Analysis, which lays out risk-reward probabilities in your options trading
Powerful stock and trade scanner; use preset filters or customize as you wish
Paper trading to test out strategies without putting your money at risk
Ability to design exit strategies
Like with the Power E*Trade web platform, the Power E*Trade app is a more powerful version of its basic counterpart. This app allows you to use preset scans, work with interactive charts, place complex options trades, and more.
E*Trade
The "basic" E*Trade web platform might be more suitable for beginning-to-intermediate traders and investors, but that doesn't mean it's short on features.
E*Trade's main web platform includes everything you need to keep up to date on your portfolio, including real-time quotes, charts, market commentary, and stock news. The latter includes free access to research tools and reports from companies like Thomson Reuters and TipRanks research. Meanwhile, you'll have ample tools at your disposal, including stock, mutual fund, bond, and ETF screeners; trade optimizers; backtesters; and more.
E*Trade also touts its educational resources, which includes articles, videos, and classes, as well as monthly webinars and live events. But we will note that its educational content is difficult to sort through.
Visit E*Trade to learn more or sign up today.
Related: 11 Best Stock Advisor Websites & Services to Seize Alpha
9. SoFi Invest (Best Schwab Alternative for Personal Finance-Focused Investors)
---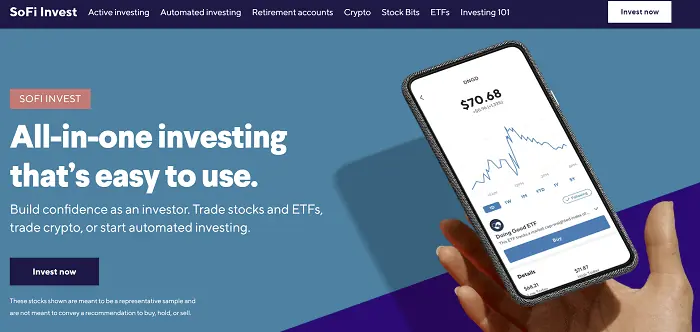 Best for: Traders looking for an all-in-one personal finance experience
Platforms: Web, mobile app (Apple iOS, Android)
SoFi is a multi-faceted financial company that offers everything from credit cards and savings accounts to student loans and mortgages … and they also allow you to trade and invest through its SoFi Invest app.
With SoFi Invest, you can invest as actively or as passively as you'd like.
The Active SoFi Invest Brokerage Account has no required minimum balance, charges no commissions on stock, ETF, and options trades, and its options trading is free of contract fees, too. SoFi does offer 24/7 cryptocurrency trading, too, but it charges a 1.25% markup on transactions.
The interface is still very much geared toward younger, less experienced investors—everything is focused on simplicity and ease of use, rather than an expanse of sophisticated tools. SoFi also offers budget-friendly features such as fractional shares, which allow you to invest for as little as $1. And SoFi even provides a social element, such as bringing SoFi members together at exclusive events.
Want to put your portfolio on autopilot? SoFi's robo-advisory services will create a portfolio for you free of charge (that can be designed to address one or several goals) and auto-rebalance it for you as necessary over time.
And unlike many Charles Schwab alternatives with limited offerings, SoFi's app allows you to manage a much wider range of financial services and products, such as banking, student loans, insurance, and mortgages.
SoFi also occasionally has sign-up bonuses attached to its brokerage accounts and/or its crypto trading services, which you can read more about below. You can also visit SoFi to learn more or sign up today. You can also download the app for iOS and Android.
Related: 20 Best Investing Research & Stock Analysis Websites
Who Are Charles Schwab's Competitors?
---
Charles Schwab has faced several competitors over the years, first with traditional brokerages like Merrill Lynch and Morgan Stanley in the 1970s through the early 1990s, Fidelity Investments starting in the 1990s, and then discount brokerages like TD Ameritrade and Interactive Brokers in the 2000s and eventually apps like Robinhood in the 2010s onward.
Charles Schwab and its competitors have grown considerably as discount brokerages lowered the price of entry into the market through reduced commissions and transaction fees. The companies continue to grow, vying for each other's customers and attracting new ones who invest money for the first time.
Can You Invest in Charles Schwab Funds Through Charles Schwab Alternatives?
---
The answer: It depends.
A few of the Schwab alternatives mentioned above don't offer any access to mutual funds, so you wouldn't be able to access Schwab mutual funds from those platforms—though Schwab ETFs would almost certainly still be supported.
Where mutual funds are allowed, you should be able to access most Charles Schwab mutual funds. But you'll want to check the broker's commissions—you might be able to buy them commission-free, but you might not.
Also, many Charles Schwab money market funds won't be available to you unless you invest through Schwab. This is typical—major brokerage houses often limit availability mostly to their own in-house money market funds.
Related:
Plynk Disclosures
Google Play Store and Apple Store Ratings are as of the date referenced (06/22/2023) and provide an average rating of users and do not reflect the experience of an individual customer.