It's never too early to teach your children healthy spending and saving habits. Opening a savings account for kids is often one of the very first ways parents start their kids on this journey.
For the record: Adults can always just head down to a local credit union or bank and open a standard savings account in their child's name. Any kid will benefit from having their own savings account, basic or otherwise.
But by opening up a dedicated kids savings account, parents and their children can enjoy many of the excellent features that come from products specifically designed for youths.
Read on as we explore today's best savings accounts for children. Each section will detail what sets the bank, credit union, or online financial institution's account apart from the competition. We'll also teach you to be a smarter account consumer by discussing the important features of kid savings accounts and answering other commonly asked questions (FAQs) about savings accounts for children.
Let's dig in!
Best Savings Accounts for Kids—Our Top Picks
---
Best Savings Accounts for Kids
1. Step Banking (Best High-Yield Savings Account for Building Credit)
---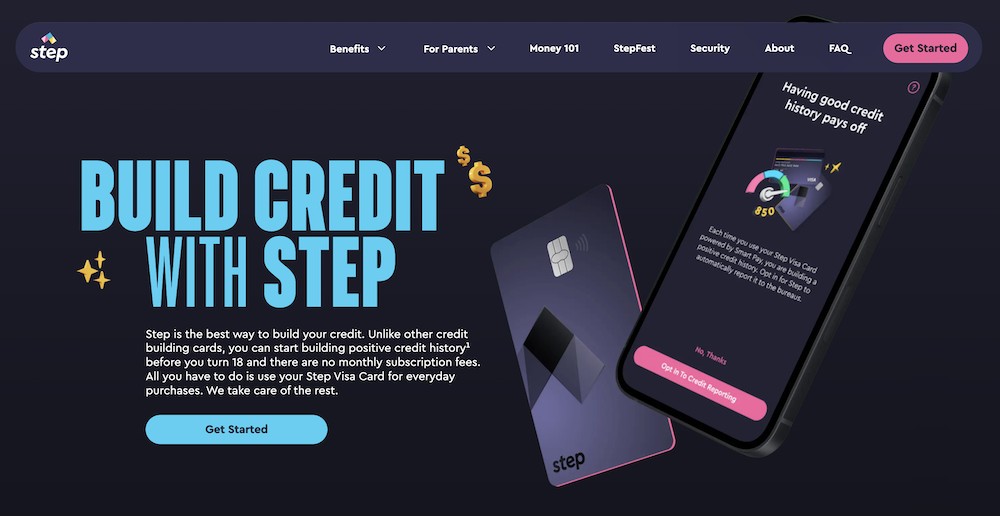 The free Step Visa Card is a unique "hybrid" spending card that functions like a debit card, but also boasts some of the features of a Visa credit card—including the ability to build your child's credit history.
Parents add money to this FDIC-insured account and can determine how their child can spend. A regular Step account allows a child to have both a physical spending card as well as a virtual card in the Step app, while a Parent Managed Account only allows the child to spend via a physical card. Either way, they can use their card anywhere Visa is accepted. Children can also use their cards to withdraw money from more than 30,000 ATMs for free.
And parents needn't fear that their child will overdraft—they can't spend any money they don't have.
Further, the Step Card comes protected by Visa's Fraud Protection and Zero Liability guarantee. That means if your teen's card gets lost or stolen, or misplaced and fraudulent charges crop up, you can dispute the charges within a certain time frame to avoid liability for paying.
The Step Card also comes with fantastic savings benefits. Users earn 5% annually—compounded and paid monthly—on up to $250,000 saved in their Savings Goals. Like with your average savings account, Step's savings yield can change depending on movements in the Federal Funds Rate, but if that happens, Step will give you 30 days' notice before it happens.
To qualify, the user must have a direct deposit of at least $500 per month, and the benefit extends for as long as the direct deposits continue. So even if your teen just holds down a summer job for three months and meets the qualifying direct deposit, they can still enjoy three months of high interest. (Other perks of making a qualifying direct deposit? Bonus points on dining, food delivery, charitable donations, specific merchants—and you can get paid up to two days early.)
You can boost your savings potential even more with Savings Roundup. With this feature, small purchases are rounded up to the nearest dollar figure, and that extra money is put toward a Savings Goal. For instance: Let's say your child buys a cup of coffee for $2.75; Step rounds up to $3.00 and puts 25 cents toward a goal.
Step even features an "invest" function that allows children age 13 and older to buy and sell Bitcoin for a small transaction fee. They can also earn Bitcoin (or cash) rewards when they opt into offers from companies like Hulu, Chick-Fil-A, CVS, and The New York Times. The app is not a pure crypto wallet, however—your kids currently can't spend Bitcoin directly at vendors.
One of the most unique and powerful features of the Step card is its ability to build your child's credit history. With this optional feature, Step will report the past two years' worth of information—transactions, payment history, and more—to the credit bureaus when your child turns 18. That can greatly improve their chances of starting adult life with a better credit score, which can help lower the cost of things like student loans and auto insurance.
And Step is absolutely free: No monthly fees, no subscription fees, no account minimum fees, and no ATM fees within Step's network of 30,000+ ATMs.
Read more in our Step review.
2. Greenlight (Great Savings Rewards + Cash-Back Rates)
---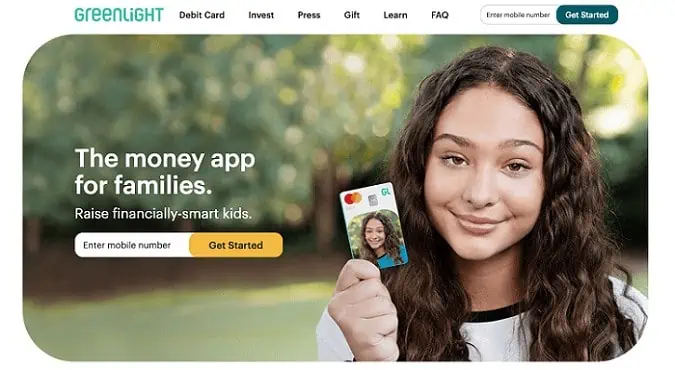 Greenlight, while technically not a savings account, is a family-designed debit card with so many savings features, it trumps many traditional savings products. That includes the ability to earn as much as 5% rewards on savings.
Children can set Savings Goals for specific purposes, whether that's a new gaming system or college tuition. Then every month, Greenlight calculates your kid's average daily savings balance, multiplies it by the percent earned annually, and divides it by 12 months to get the monthly reward amount. That amount is deposited proportionally into General Savings as well as any active Savings Goals.
The monthly rewards you can receive on those savings depends on your plan: Greenlight Core families earn 1% per annum, Greenlight Max families earn 2% per annum, and Greenlight Infinity families earn 5% per annum on an average daily savings balance of up to $5,000 per family.
Also, those in Greenlight Max and Infinity families can earn 1% cash back on their monthly spending with the kid's debit card.
Children also can speed up their savings with Round Ups; purchases are rounded up to the next dollar, and the difference is automatically added to their savings.
Want to help your children save more? Parents can set a percentage of allowance to go straight into savings. The allowance can be directly deposited on a schedule or tied to chore completion. Greenlight also offers "Parent-Paid Interest," where a parent can set an interest rate of anywhere between 1% and 100%, then pay that into the account based on their childrens' savings. This not only encourages children to save, but also teaches the power of compound interest.
Greenlight also boasts a number of other features for kids and parents alike. For instance, kids will benefit from educational materials, while teens will enjoy direct deposit if they have a job. Parents, meanwhile, enjoy controls such as extremely customizable spending limits—they can let children spend wherever they want, only at certain types of retailers, or even set exact dollar amounts only to be spent at specific stores. You can learn more about Greenlight or sign up here.
Related: 16 Best Prepaid Debit Cards for Teens & Kids [Reloadable]
3. Revolut <18 (Most Enticing to Children & Teens)
---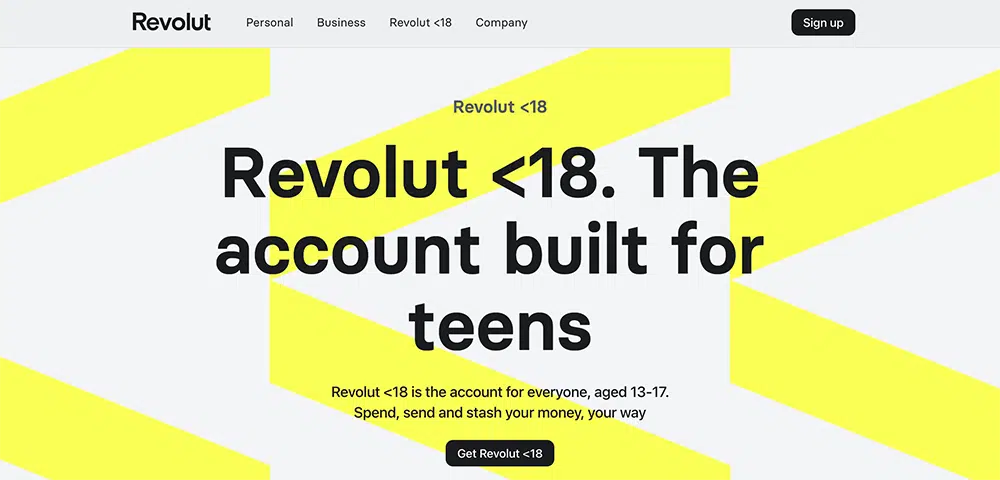 Revolut <18 is a prepaid debit card for kids designed to teach them money skills for life. Aimed at building healthy money habits from an early age, the unique, customizable card and account empowers parents to have full insight into their kids' card activity through providing instant spending alerts and parental controls.
You can choose to freeze the card, set controls on how they use the cards online and with contactless payments through your Revolut app. Further, you can set spending limits on how much your child can use with the prepaid card.
Parents use the card and accompanying app to teach kids about earning, budgeting, saving and even investing money (depending on the plan chosen). You can also use the card to manage chores and allowance, set savings goals as a family and help your children manage their money.
And if your child did something deserving of a reward? You can send parent-paid bonuses when they complete specific tasks. Simply add money to their digitized piggy bank through the app. You can send and receive money in seconds through Revolut's Payments feature, which allows instant transfers between account holders and also global transfers at transparent rates.
Of note: You must have a personal Revolut account before you can open a Revolut <18 account for your children. You can add up to five Revolut <18 accounts per parent account.
To learn more about Revolut <18, consider visiting their site and opening an account for yourself and your child.
Related: Best Debit Cards for Teens
4. Current (Best for Transferring to Adulthood)
---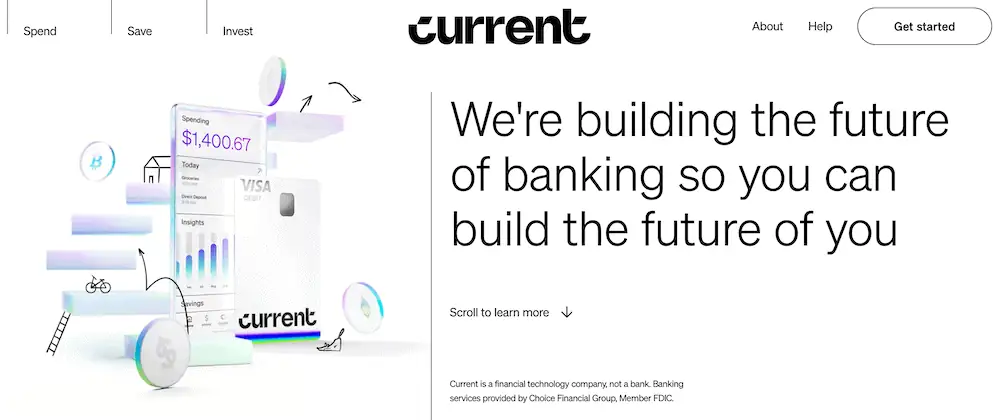 Current is a financial app designed for families that charges no monthly fees. It offers both Current Accounts (parents) and Teen Accounts, with the latter acting like prepaid debit cards that parents load for their children. Still, while it acts like a checking account/debit card in some ways, the Current app has a number of features that make it seem like a high-powered savings account, too.
Current Account users get three virtual Savings Pods, which can hold up to $2,000 each and have no restrictions on how often money is moved in and out of the Pod. Each Teen Account also gets a virtual Savings Pod. At the moment, Savings Pods earn an annual percentage yield (APY) of up to 4.00%, which is higher than even top high-yield savings accounts. Payments are applied to the balance daily. (Just note that bank interest rates change, so you should always confirm account yields before signing up. Also, Teen Accounts do not earn an APY on Savings Pods.)
Another savings feature: Account holders can use Round-Ups to round purchases to the nearest dollar amount, then store the difference in Savings Pods.
Other noteworthy Current features include:
Track your teen's spending in real-time, set limits on how much your children can spend, and even block specific merchants on Current's Visa-enabled debit cards.
Get paid up to two days early when you enroll in direct deposit. (Current Accounts only.)
No minimum required balances, no fees on transfers to other Current and Teen Accounts, and no hidden fees.
Earn up to 15x points, which can be redeemed for cash, when you swipe with more than 14,000 participating merchants. (Current Accounts only.)
Giving Pods that allow your children to donate to charities of their choice.
Withdraw money fee-free from more than 40,000 Allpoint ATMs across the country.
Buy and sell 27 different cryptocurrencies with zero trading fees.
Teens will love easy allowance deposits, a card they can use in stores or online, and instant gas hold removals when buying gas. They'll also have the opportunity to learn about financial responsibility and financial independence through Current's Budgets feature, which allows them to track their spending and even receive alerts when they get too close to (or exceed) a predetermined limit.
This mobile banking app has no specifically stated minimum age requirement, but the marketing suggests teens are the target audience. However, you might be able to open an account for a younger child.
Once they've reached adulthood, your children can enjoy many of the same perks with a standard Current Account.
Related: 10 Best Free Debit Cards for Kids & Teens [Earn, Save & Spend]
5. Capital One Kids Savings Account (National Bank Savings Account)
---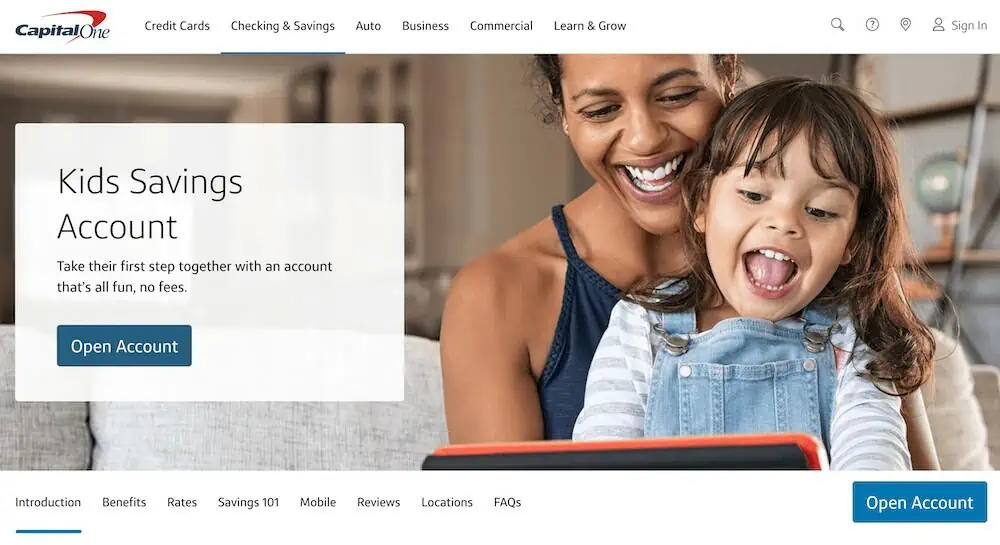 If you're looking for a traditional experience, the Capital One Kids Savings Account is one of the best accounts available nationwide.
The Capital One Kids Savings Account requires no minimum balance to open, charges no monthly service fee, and can be opened at any age. Just note that if the child is younger than age 12, the adult has to be a parent or guardian.
It's simple to link a parent's bank account (and doesn't have to be Capital One!) to a Kids Savings Account and send automatic deposits. Young adults old enough to have a job, or kids who receive checks as gifts from family members, can make mobile deposits with photos of their checks.
APYs are always subject to change. However, Capital One consistently maintains a high APY to help children earn more, and the current APY on the Kids Savings Account is higher than the national savings average.
While many other top savings accounts for kids are online-only, Capital One is one of the few nationwide providers that offers physical branches.
When children become adults, their Kids Savings Account automatically changes into a 360 Savings account.
Related: 7 Best Teen Checking Accounts [Bank Accounts for Teenagers]
6. Chase First Banking Account (Best Major Bank for Learning Good Money Habits)
---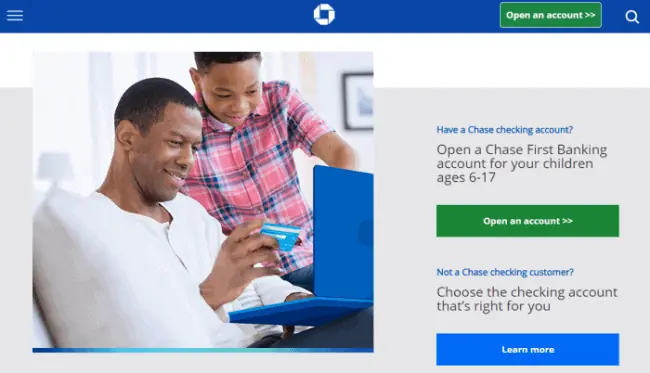 Ready to teach your little ones about money, but not quite sure if you have the time, patience and expertise?
Chase First BankingSM offers simple banking for both of you in one location: the Chase Mobile® App—for free. Manage all accounts with this mobile app and encounter no fees as well as find yourself able to withdraw money on 16,000 Chase ATMs around the country. The account is designed with kids 6-12 in mind, and available for ages 6-17.
At the heart of Chase First BankingSM sits one of the best free debit cards for kids that works anywhere Visa is accepted.
Need insight and oversight into your child's spending and saving? You can set spend alerts and limits as well as specific locations all in your Chase Mobile® app.
Teach your kids to spend, save and earn — all from the Chase Mobile® app. Chase First BankingSM helps parents teach teens and kids about money by giving parents the control they want and kids the freedom they need to learn.
To get started, you'll first need to be a Chase customer with a qualifying Chase checking account.
Consider opening a Chase Total Checking SM or Chase Secure BankingSM account to qualify.
Chase Total CheckingSM also grants access to 16,000 Chase ATMs and more than 4,700 branches as well as a $200 sign up bonus when you set up direct deposit within 90 days of coupon enrollment. You can pay $0 in monthly fees, subject to meeting certain conditions*.
Chase Secure BankingSM offers the same Chase ATMs and branch locations as well as a $100 sign up bonus when you make stated qualifying activities and meet certain conditions.
Once you open a qualifying Chase Checking account, you may apply for a Chase First BankingSM account for your child.
Read more in our Chase First Banking review.
Related: Investment Accounts for Kids
7. USAlliance MyLife Savings for Kids Account (Credit Union Account)
---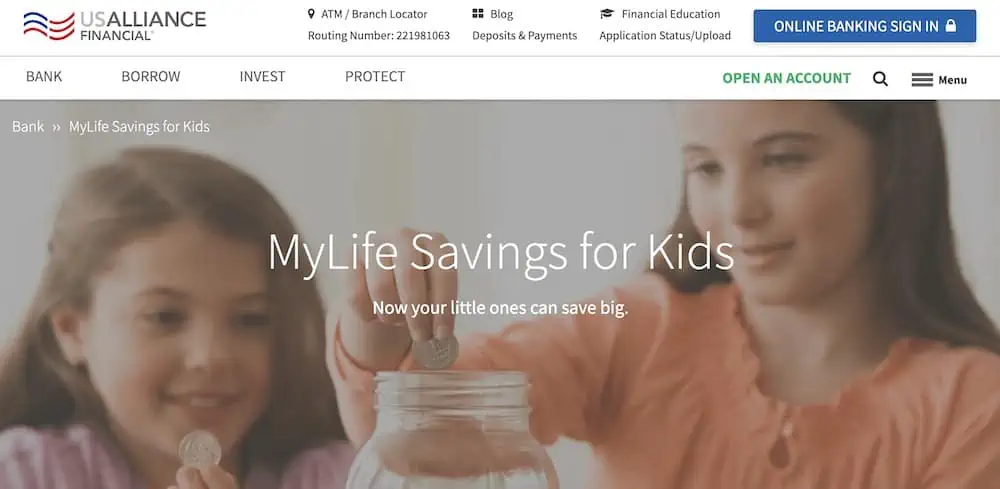 Some parents might prefer to get their child's first savings account via a credit union. A credit union offers many of the same products as a bank, but whereas banks are run for profit, credit unions are not-for-profit organizations where the earnings are typically reinvested to provide better rates to their customers.
The USAlliance MyLife Savings for Kids Account is one of the kid-friendliest accounts among credit unions, including a birthday bonus among its various perks. USAlliance will deposit $10 in "Birthday Bucks" into your child's account through age 12.
At age 13, the child can transition to a MyLife Savings account, or if they'd prefer an account with a debit card, a MyLife Teen Checking account.
This FDIC-insured account also includes a very competitive APY boost (currently 2.00%) on the account's first $500 to further encourage your child to save, though savings above the $500 threshold deliver an APY below the national average.
Children can monitor their savings from a mobile device or a computer.
One hurdle for joining credit unions is that they're typically local in nature. Indeed, Rye, New York-based USAlliance Financial largely serves New York state, New Jersey, Massachusetts, and Connecticut, and membership is largely determined based on living, working, or some other connection to those places. However, USAlliance has an interesting end-around for people who don't meet those criteria; you can also qualify for USAlliance membership by becoming a member of one of several local nonprofits.
8. BECU Early Saver Youth Account (Competitive Interest Rate from a Credit Union)
---

BECU, originally the Boeing Employees Credit Union, was founded back in 1935 to serve workers at the aviation company. However, the credit union has since expanded membership to many more communities, employment connections, and membership associations, across Washington state, Oregon, and Idaho.
The BECU Early Saver Youth Account offers an extremely high APY (currently 6.17%) on your child's first $500 saved, and an above-average APY (0.50%) on any balances over that. The account has no required minimum balance, and it charges no monthly fees.
Parents with a credit union account can make automatic transfers into their kid's savings accounts.
Once the child turns 18, the account converts into either a standard savings account or checking account, and they will continue to earn the high interest rate on their first $500. It can remain a joint account with the parent or become an individual savings account.
Like with most credit unions, the parent must be eligible for a credit union membership to open an Early Saver savings account. If you're outside BECU's region, we recommend reviewing youth savings accounts at local credit unions.
Related: Best Bar Mitzvah Gift Ideas
Other Noteworthy Kid-Specific Accounts—Our Top Picks
---
Other Financial Accounts for Kids
9. Fidelity Youth Account (Best Investment Account With Debit Card)
---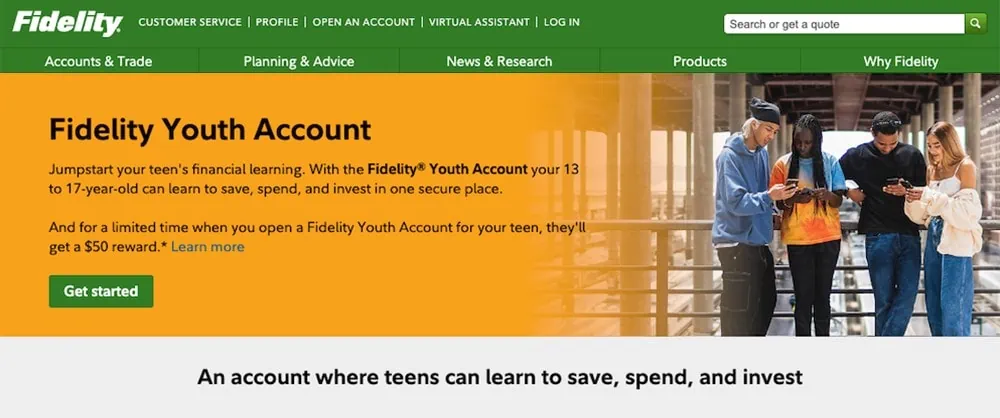 Available: Sign up here
Promotion: Teens get $50 on Fidelity® when they open an account; parents get $100 when they fund a new account
Is your teen interested in jumpstarting their financial future? Do you want them to build smart money habits along the way?
Of course you do! Learning early about saving, spending and investing can pay off big when you start on the right foot. And one tool that can help your teen get that jump is the Fidelity® Youth Account—a brokerage account owned by teens 13 to 17 that's designed to help them start their investing journey. They can use their own brokerage account to start their investing journey by trading most U.S. stocks, exchange-traded funds (ETFs), and Fidelity mutual funds.
Your teen will also get a free debit card with no subscription fees, no account fees, no minimum balances, and no domestic ATM fees. And they can use this free debit card for teens4 to manage their cash and spend it whenever they need.
And as for building smart money habits? You and your teen can access Fidelity's Dedicated Youth Learning Center, which is packed with materials developed specifically to help teens develop good financial habits.
We'll note that Fidelity Youth Account isn't a prepaid card nor a banking app, but it's still strongly worth considering.
Controls Parents Want and Need
A parent or guardian must have or open a brokerage account with Fidelity® to open a Fidelity® Youth Account. For new Fidelity® customers, opening an account is easy, and there are no minimums and no account fees.
Parents and guardians have plenty of tools they can use to monitor their teen's activity: They have online account access, can follow monthly statements and trade confirmations, and can view debit card transactions made in the account.
To make it even easier, you can set up alerts to notify you of trades, transactions, and cash management activity, keeping you firmly in the loop on actions your teen takes across the Fidelity® Youth Account's suite of products.
If your teen has an interest in learning about investing and taking their first steps toward building their financial journey, you should consider opening a Fidelity® Youth Account. The account comes custom-built for their needs, which will help them become financially independent and start investing for their future.
Read more in our Fidelity Youth Account review.
Related: Best Under-18 Investment Accounts [Investing as a Minor]
10. GoHenry (Best Customer Service)
---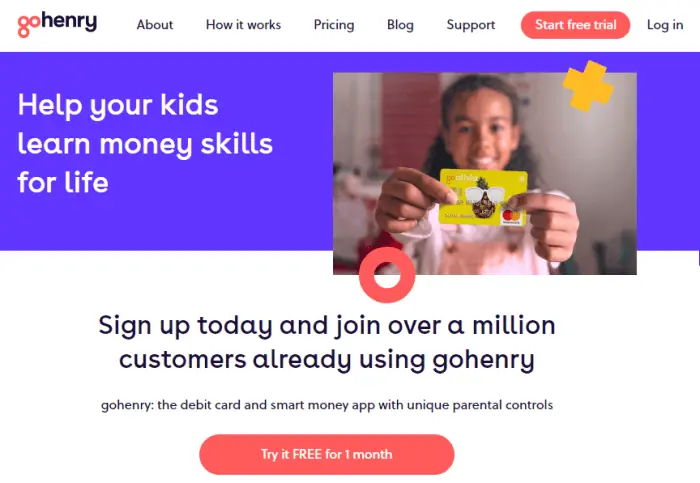 It might feel a little scary opening a bank account for your child and letting them start to make financial decisions. Fortunately, GoHenry's member services team is available for any assistance you need, every day of the week, via phone, email, or live chat.
GoHenry is a financial solution tailored for minors age 6 to 17 that includes an app, prepaid debit cards, and even financial lessons. Parents are given an online account that's linked to, and allows them to oversee and manage, individual accounts for each of their children via both the GoHenry app and the online account portal.
GoHenry is also dedicated to teaching your children financial literacy through the in-app Money Missions, which include videos, quizzes, and more. These missions are aligned with the K-12 Personal Finance Education National Standards. Children can learn through hands-on experience as well. (And they can have fun choosing from among 45 debit card designs or even customizing a card.)
Adults can set up events such as automatic weekly allowance transfers into children's accounts, real-time spending alerts, and one-off or weekly spending limits. You can also keep your children's spending in check by choosing the stores where your kids can shop, and even blocking/unblocking the card as needed.
Parents can also fund accounts via instant transfers. Friends and family can fund accounts with monetary gifts via Giftlinks. And teenagers with jobs can have their paychecks directly deposited in their GoHenry accounts.
What Is a Kids Savings Account?
---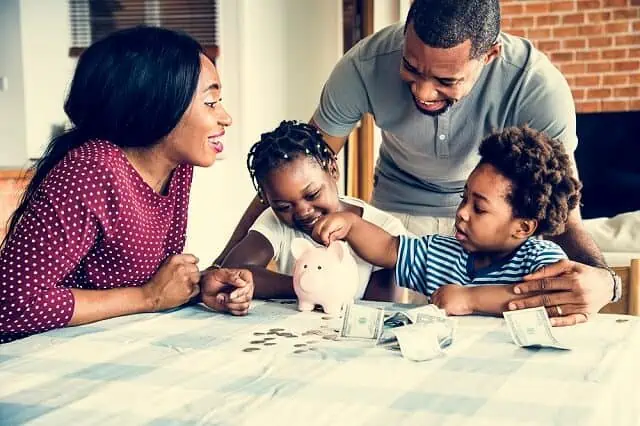 A kids savings account is similar to a standard savings account at banks or credit unions in that it allows people to store their money safely, and it typically pays interest on the money in the account to help the funds grow.
Some adults just open a standard joint savings account for their child. However, the best savings accounts for kids offer far more features.
A kids savings account will often come with parental controls that let adults view transactions and limit how much money minors can spend and what locations are allowed. It also might come with an attached ATM or spending card so children can begin to practice responsible use of the account.
These accounts also should make it easy for parents to set automatic transfers from their own savings or checking account to their kids' savings accounts—say, for allowances—or have payments triggered by chore completion.
You'll also find savings bonuses in many kids savings accounts. For instance, banks, credit unions, and other financial firms might offer higher-than-standard interest rates on small balances to incentivize savings. Some accounts even let kids "round up" purchase amounts, with the rounded-up amount automatically sent into savings.
Ultimately, the best savings account for you and your child will tackle the basics while delivering at least a few features.
What Features Should You Consider in a Kids Savings Account?
---
Fees
The best savings accounts for kids charge little or no fees. Considering that kids savings accounts typically don't contain much money in the first place, fees can substantially cut into savings. If you're looking for a purely savings-only account, only consider one with no or very limited fees.
Interest rates
The interest rates for a kids savings account will vary significantly. But in general, the higher the interest rate (often referred to as the annual percentage yield, or APY), the faster it will help your child's money grow.
Minimum opening deposit
A minimum opening deposit is a typically small amount of money (say, $25, $100) you need to fund the account when you open it. However, the best savings accounts for kids have a low (or no!) minimum. The sooner you open a savings account, the more time your child's money has to compound, so don't wait around saving for an account with a high minimum opening deposit.
Minimum balance requirement
Sometimes a savings account or checking account will charge a fee if the account balance dips below a predetermined number. This minimum balance requirement typically will be low, too—for example, Alliant Credit Union requires an daily average minimum balance of $100 in its high-yield savings account. Minimum balances can be determined in several ways, be it an average monthly balance or sometimes a daily required balance. But in general, given the low dollar amounts your children will be saving, we recommend avoiding savings accounts that penalize your child for a low balance.
Additional banking services
Always review additional banking services provided by the bank or credit union. This can be anything from online banking or easy transition to adult accounts, to parental controls or integration with Apple Pay and Google Pay.
Mobile banking app
Children and teens today are accustomed to being able to do anything from their phones that can be done on a desktop. Banking is no different. Your kids should be able to access their savings accounts from a user-friendly mobile banking app.
Connection with parent bank account
If a parent already banks with a credit union or bank that offers a top kids savings account, it's easy to stick with that bank. Banking under the same provider means the parent doesn't have to open a new account for themselves, it should be simpler to transfer money between accounts, and the adult should already be familiar with the banking interface.
However, not all major banks offer special savings accounts for kids, so having a connection with a parent bank account isn't a realistic option for all people.
Financial literacy content to teach basic money concepts
Kids need to build financial literacy skills, but not all parents have the time and expertise to fully teach their children these skills. Fortunately, some banking apps provide financial literacy content to help kids learn the basics.
Gifting features
Grandparents and other relatives usually are interested in contributing to a child's savings account. Top banks and credit unions make it simple for multiple people to contribute directly, so everything doesn't have to go through the parents.
Automatic savings plan
Consistency is an essential part of saving. Using an automatic savings plan, adults can automatically transfer funds from a checking account into a youth savings account. These automatic transfers ensure you never forget to set money aside.
Mobile deposit
Whether it's a celebratory check from a family member or a teen's paycheck, mobile deposit lets kids and their parents skip a trip to the credit union or bank. A quick photo, and the money goes right into a savings or checking account!
How Can I Open a Bank Account for My Child?
---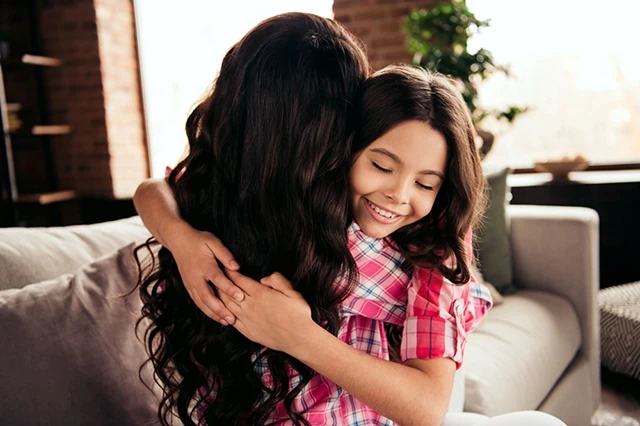 Opening a bank account for your child is simple. Often, you can apply online with just basic identification information, such as your kid's birthday and Social Security number. If your bank or credit union has a physical location, you can sign up in person. (And a handful of credit unions still require in-person sign-up.)
Some institutions require an adult to have an account with the institution before creating a youth savings account. Additionally, some accounts require a minimum deposit to get started.
You are usually allowed to open multiple accounts if you want to bookmark money for different purposes, such as one account for recreational spending and another account for saving up for a car.
Do You Pay Taxes on Children's Savings Accounts?
---
The money in a kid's savings account earns interest, which is considered "unearned income." If the unearned income (the interest or dividends if it's an investment account) from your child's account is less than $1,150 (as of 2022), no taxes need to be paid on that money.
If it's higher than $1,150, the next $1,150 is taxed at the child's tax rate, which is often 0%, meaning taxes aren't paid on that amount either. However, if your child accumulates more than $2,300 in unearned income in a year, that money is taxed at the parents' tax rate.
What Is the Best Kids Savings Account?
---
The best savings accounts for kids have little to no fees, high interest rates, and ample kid-friendly features that differentiate them from adult savings accounts. Consider the banks and credit unions above as these have many useful features, such as automatic allowance payments, payment roundups, important parental controls, and more.
If your local bank offers a competitive children's savings account option, that might be the easiest choice. For many, online banking accounts do the job just fine.
Related:
---
Terms and Conditions for Fidelity® Youth Account
The Fidelity® Youth Account can only be opened by a parent/guardian. Account eligibility limited to teens aged 13-17.
1 Limited Time Offer. Terms Apply. This offer is valid for new or existing Fidelity Brokerage Services LLC ("Fidelity') customers who open through the following link https://www.fidelity.com/go/starter-pack and fund a new, eligible Fidelity account with a minimum of $50 on or after 07/20/2022 and have not otherwise previously taken advantage of Fidelity's $50 for $100 cash offer. Offer is limited to one bonus award per individual.
2 Limited Time Offer. Terms Apply. Before opening a Fidelity® Youth Account, you should carefully read the account agreement and ensure that you fully understand your responsibilities to monitor and supervise your teen's activity in the account.
3 Zero account minimums and zero account fees apply to retail brokerage accounts only. Expenses charged by investments (e.g., funds, managed accounts, and certain HSAs) and commissions, interest charges, or other expenses for transactions may still apply. See Fidelity.com/commissions for further details.
4 Your Youth Account will automatically be reimbursed for all ATM fees charged by other institutions while using the Fidelity® Debit Card at any ATM displaying the Visa®, Plus®, or Star® logos. The reimbursement will be credited to the account the same day the ATM fee is debited. Please note, for foreign transactions, there may be a 1% fee included in the amount charged to your account.
5 Venmo is a service of PayPal, Inc. Fidelity Investments and PayPal are independent entities and are not legally affiliated. Use a Venmo or PayPal account may be subject to their terms and conditions, including age requirements. 
Fidelity Brokerage Services LLC, Member NYSE, SIPC, 900 Salem Street, Smithfield, RI 02917
---
Step Disclaimer
Step is a trademark of Step Mobile, Inc.