Timing is everything, and missing a major development in the market or a stock can cost you dearly. To remain up-to-date on stock and financial news, consider these apps to make the most of your time.
If you uncover a trend not yet seen by the market, this could lead to capturing alpha and delivering yourself superior returns.
To keep yourself up-to-date with the stock market and financial news, as well as increase your chances for capturing alpha, consider downloading some of the best stock and financial news apps and software listed below.
Some even allow you to trade stocks based on information you read in the news.
Best Stock Market and Financial News Sites & Apps—Top Picks
---
| | | |
| --- | --- | --- |
| | | |
| | | |
| | | |
| $89 for 1st year; $199 renewal | $99 for first year; $299 renewal | 7-day free trial. Premium (30% Black Friday Sale): $167/yr.* Pro: $2,400/yr. |
| | | |
Best Introductory Stock Newsletter
$89 for 1st year; $199 renewal
Best Growth Stock Newsletter
$99 for first year; $299 renewal
Best for Stock Research + Recommendations
7-day free trial. Premium (30% Black Friday Sale): $167/yr.* Pro: $2,400/yr.
Best Stock News Apps & Sites
---
Keep up-to-date with the latest market developments, including stories about stocks you care about.
These publications provide in-depth, insightful information about what's happening in the world today and how markets might react going forward.
1. Motley Fool Rule Breakers: Best for Investing News and Stock Picking
---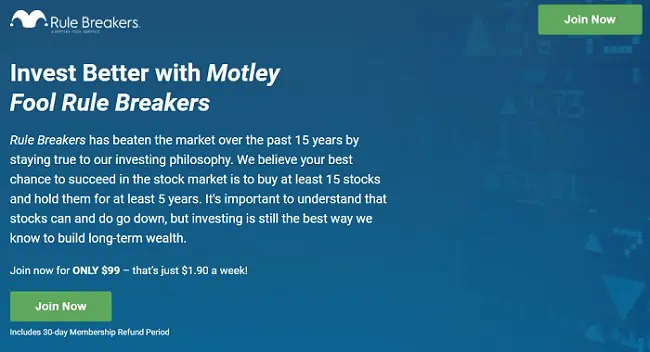 Available: Sign up here
Price: Discounted rate for first year
Motley Fool has established itself as one of the premier stock market websites for stock news, research and analysis services.
David Gardner and his team dig deep into individual stocks across the market using historical data, fundamental analysis and market research to uncover selections they believe qualify as the best buys in the stock market right now.
This means keeping up-to-date with the latest stock news stories, market developments and financial events for its paying subscribers.
A subscription to Motley Fool's Rule Breakers stock picking service includes access to education materials, an active investor community and monthly buy recommendations.
Motley Fool Rule Breakers focuses on stocks that have massive growth potential in emerging industries. This stock advisor service isn't fixating on what's currently popular, but rather always looking for the next big stock.
The Motley Fool Rule Breakers service has six rules they follow before making stock recommendations to subscribers:
Only invest in "top dog" companies in an emerging industry – As Motley Fool puts it: "It doesn't matter if you're the big player in floppy drives — the industry is falling apart."
The company must have a sustainable advantage
Company must have strong past price appreciation
Company needs to have strong and competent management
There must be strong consumer appeal
Financial media must overvalue the company
As you can see, before recommending a stock to users, Rule Breakers considers a number of factors. In short, the service mainly looks for well-run companies in emerging industries with a sustainable advantage over competitors, among other factors.
And their rules seem to pay off if their results have anything to say about it.
Over the past 19 years, Rule Breakers has more than doubled the S&P 500, beating many leading money managers on Wall Street through October 3, 2023. Their results speak for themselves and easily justify the affordable price tag for the first year.
What to Expect from Motley Fool's Rule Breakers:
The service includes three primary items you can expect to receive:
A listing of Starter Stocks to begin your Rule Breakers journey with their "essential Rule Breakers"
5 "Best Buys Now" opportunities each month
Two new stock picks each month
You'll receive regular communications from the stock picking service with their stock market news, analysis and rationales for buying stocks meeting their investment criteria.
If you're unhappy with the service within the first month, you have a 30-day money back guarantee that allows you to receive a full refund.
Read more in our Motley Fool Rule Breakers review.
Growth Stock Recommendations
Motley Fool Rule Breakers
Motley Fool Rule Breakers is an investment advisory service that provides insight and recommendations on potential market-beating growth stocks
Picks are centered around emerging industries in an attempt to pick tomorrow's stock market leaders today
Pros:
Strong performance track record

Discounted introductory rate

Consistent outperformance of S&P 500
Cons:
High-growth stocks carry volatility

High renewal price

Not every stock has positive returns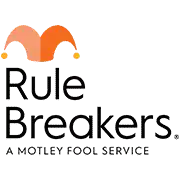 *$99 promotional price for new members only. $100 discount based on current list price of Rule Breakers of $199/yr. Membership will renew annually at the then current list price. Past performance is no guarantee of future results. Individual investment results may vary. All investing involves risk of loss.
Related: Best Brokerage Account Sign-Up Bonuses, Promotions and Deals
2. Motley Fool Stock Advisor: Best for Buy and Hold Investors
---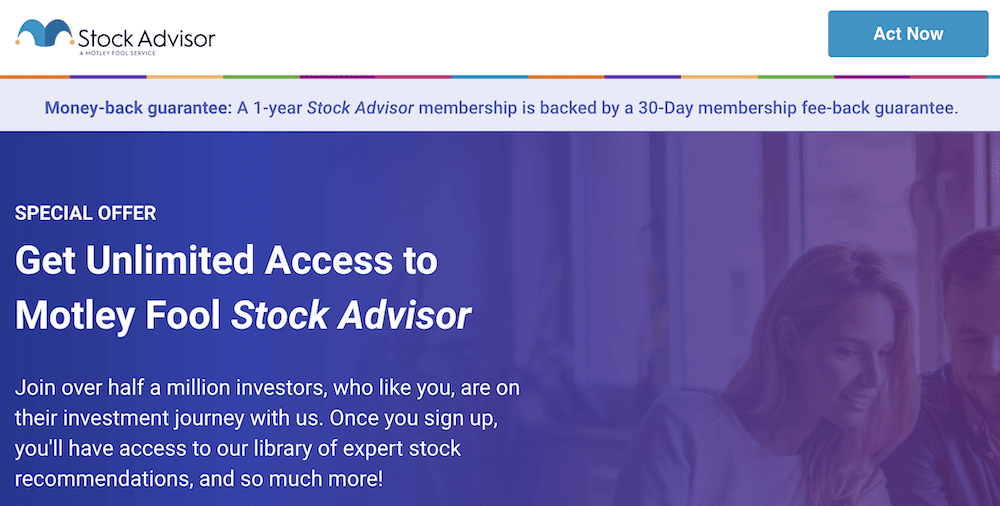 Available: Sign up here
Price: Discounted rate for first year
The main difference between Motley Fool's stock picking services is the type of stock pick recommendations.
Stock Advisor primarily recommends well-established companies. Over a decade ago, they advised subscribers to buy companies such as Netflix and Disney, which have been majorly successful.
Both provide stock market news, research and financial analysis as well as commentary on economic news
As a subscriber to Motley Fool Stock Advisor, you're granted access to their history of stock market recommendations and can see for yourself how they have done over the years.
According to their website, the Motley Fool Stock Advisor stock subscription service has done three times better than the S&P 500 over the last 17 years. The Motley Fool Stock Advisor track record of stock picks has done well for buy and hold investors.
How Has Motley Fool's Stock Advisor Performed?
As a subscriber, you're granted access to their history of recommendations and can see for yourself how they have done over the years.
According to their website, the Motley Fool Stock Advisor stock subscription service has returned of 468% since their inception in February 2002 through October 3, 2023 when you calculate the average return of all their stock recommendations over the last 21 years.
Comparatively, the S&P 500 only had a 124% return during that same timeframe.
What to Expect from Motley Fool's Stock Advisor:
The Stock Advisor service provides a lot of worthwhile resources to subscribers.
"Starter Stocks" recommendations to serve as a foundation to your portfolio for new and experienced investors
Two new stock picks each month
10 "Best Buys Now" chosen from over 300 stocks the service watches
Investing resources with the stock picking service's library of stock recommendations
Access to community of investors engaged in outperforming the market and talking shop
The service has a discounted rate for your first year and has a 30-day membership refund period. Consider signing up for Stock Advisor today.
Read more in our Motley Fool Stock Advisor review.
Best Introductory Stock Newsletter
Motley Fool Stock Advisor
Motley Fool Stock Advisor provides a list of five stocks they believe deserving of your money today.
Stock Advisor also lists "Starter Stocks" they believe should serve as a portfolio's foundation.
Limited Time Offer: Get your first year with Stock Advisor for $89 (vs. $199 usual value)
Pros:
Discounted introductory price

Strong outperformance above S&P 500

High overall average return for stock picks
Cons:
High renewal price

Not every stock is a winner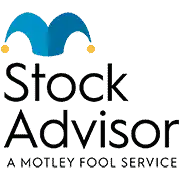 *$89 promotional price for new members only. $110 discount based on current list price of Stock Advisor of $199/yr. Membership will renew annually at the then current list price. Past performance is no guarantee of future results. Individual investment results may vary. All investing involves risk of loss.
Save on Motley Fool when you bundle with Epic Bundle
---
| | | |
| --- | --- | --- |
| | | |
| | | |
| | | |
| | | $299/yr. (22% savings vs. individually subscribing to all four services in first year)* |
| | | |
Best Introductory Stock Newsletter
Growth Stock Recommendations
4-in-1 Bundle of Fool Savings
$299/yr. (22% savings vs. individually subscribing to all four services in first year)*
3. Seeking Alpha Premium App: Best for User-Generated Content & Breaking Stock Market News
---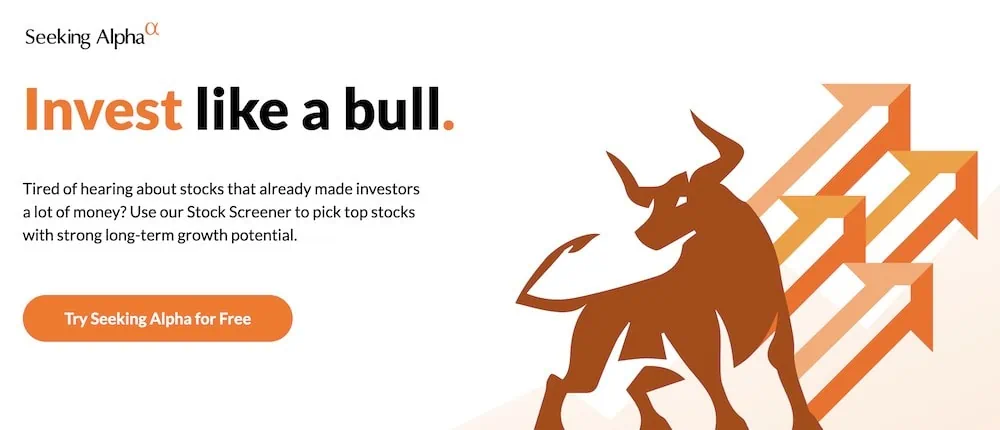 Available: Sign up here
Price: 7-day free trial, then $167/yr*.
Seeking Alpha is a financial news app that offers subscribers access to content for free or on a premium basis. The app serves as one of the financial industry's top sources for stock news alerts, crowdsourced investment ideas and community message boards.
The service also provides in-depth research on a full range of publicly traded stocks and managed funds. If you subscribe to the service, you can elect to receive stock alerts throughout the day on companies and funds that you want to follow.
Sign up for Seeking Alpha, or check out our Seeking Alpha review to learn more.
Stock Research, Analysis + Recommendation Website
Seeking Alpha Premium & Pro
7-day free trial. Premium (Black Friday Special): $167/yr.* Pro: $2,400/yr.
Seeking Alpha has the world's largest investing community.
Seeking Alpha Premium helps you find profitable investing ideas, improve your portfolio, research stocks better and faster as well as track the news to find investing opportunities.
Receive up to 15 investing newsletters filled with stock research and analysis, commentary and recommendations.
Use Seeking Alpha Premium's Seeking Alpha Stock Ratings to find stocks likely to outperform and make you money.
Seeking Alpha Premium's proprietary quant records have an impressive track record leading to massive market outperformance.
Black Friday offer: New subscribers who sign up between Nov. 21 and Dec. 5 receive a 30% discount ($72) off the price of Seeking Alpha Premium.
Pros:
Active community of engaged investors and analysts

Stock screeners, quantitative tools for stock analysis

Strong track record of market outperformance on stock ratings
Cons:
Minimal mutual fund coverage
* $72 first-year discount for first-time subscribers. Renews at regular $239/yr. rate.
Related: 7 Best Seeking Alpha Alternatives [Competitors' Site to Use]
4. Robinhood
---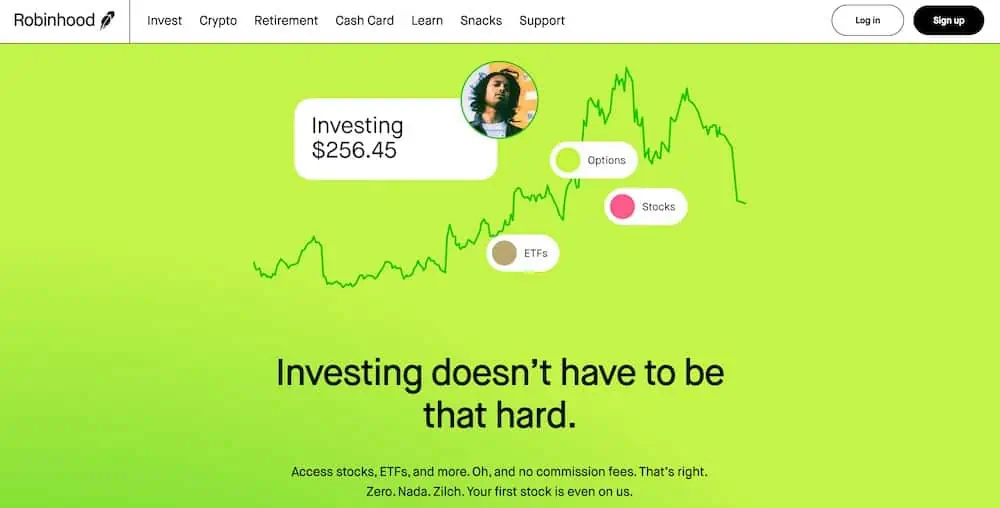 The Robinhood app, in addition to helping you become more financially literate, is an exchange where you can buy and sell stocks, cryptocurrency, index funds and ETFs.
The app also provides a news stream service within the app, pulling from multiple major financial news outlets.
A major selling point of the app is that it's completely free to use. Robinhood has research tools such as market data, news, and analysis.
The information on Robinhood may not be as comprehensive as other apps, but it makes up for that by being very user-friendly and straightforward to use. It's a useful app for beginners.
If you want an app that both educates you and allows you to trade on it, Robinhood is a great option.
If you want to see a larger universe of investment apps, you may want to explore the several apps like Robinhood available to investors.
Best Stock Trading App for Beginners
Robinhood | Commission-Free Trades, IRA Matches
Commission-free trading. Robinhood Gold: Free 30-day trial, then $5/mo.
Robinhood is an investing app that became famous for offering commission-free trades on stocks, ETFs, options, and cryptocurrency.
The platform has added a new innovation in the retirement space: the only individual retirement accounts (IRAs) with a 1% match. Robinhood will match 1% of any IRA transfers or 401(k) rollovers, as well as any annual contributions*, made to your Robinhood Retirement account—and it will upgrade that match to 3% if you subscribe to Robinhood Gold.
Robinhood Gold also includes Level II market data provided by Nasdaq, higher interest rates on uninvested brokerage cash, lower margin trading rates, and bigger Instant Deposits.
Special offer: Sign up for Robinhood, link a bank account, and fund your account with at least $10, and receive a randomly selected cash amount between $5 and $200 to put toward fractional shares.
Pros:
Good selection of available investments in brokerage accounts

1% match on rollovers, IRA transfers, and contributions to IRAs and Roth IRAs (3% with Robinhood Gold)

Automated portfolio builder in IRAs and Roth IRAs

Intuitive interface

Extensive educational library
Cons:
Lackluster investment selection in IRAs and Roth IRAs

No mutual funds in brokerage or IRAs

No robo-advisor functionality

* Robinhood's match applies to any contributions up to the IRS's annual limit, but it does not count toward your contribution limit. Example: A person under age 50 in 2023 could contribute the full $6,500 to their IRA, and Robinhood would match it at 1% ($65) or 3% ($195) if they were subscribed to Robinhood Gold.
Related: Top Day Trading Platforms
5. Trade Ideas: Best for Daily Trading Ideas & Proprietary Idea Filter Tools
---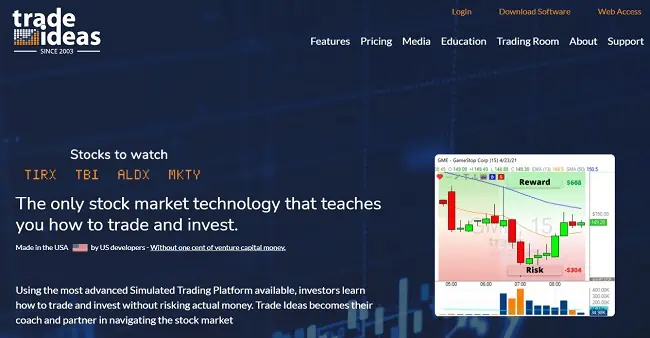 Available: Sign up here
Price: Trade of the Week Newsletter: Free; $1,999 / year, $167/mo for Premium; $999 / year, $83/mo for Standard
Trade Ideas employs an artificial intelligence-powered assistant named Holly. This AI becomes your virtual investment research analyst who never sleeps and instead sifts through technicals, fundamentals, social media, earnings and more to pick stocks as real-time trade recommendations.
Holly stays busy, too. She runs over 1 million simulated trades each night and morning before the markets open with more than 70 proprietary algorithms to find you the highest probability, risk appropriate opportunities to invest in stocks.
Trade Ideas doesn't stop there, though. You can use these trade ideas proposed in real-time through a live simulated trading room. This allows you to demo the stock picking service's ideas without risking your own money.
The powerful service allows you to access real-time streaming trading ideas on simultaneous charts to learn how to trade into risk-reward balanced trades. You can invest and learn at the same time.
Where Trade Ideas Excels
Where Trade Ideas excels is not only giving you the data and ideas you haven't seen elsewhere through its premium features, but also how to manage your money.
The rules-based virtual trading room on every chart plays for both long-term investors as well as active traders for guiding their investment decisions.
As the market evolves, Trade Ideas' software adjusts levels and the trading plan to match. The best part? You can learn how to do all of this without risking your principal through a real-time simulated trading environment.
After you've grown comfortable with the service, you can choose to go live with the trade ideas and start investing real money by connecting directly through linked brokers like Interactive Brokers, TD Ameritrade and E-Trade.
Additionally, the service provides alerting services. You can receive price alerts through their Standard and Premium services as well as by subscribing to the company's ALERT index newsletter.
This gives you 5 new trade ideas in your inbox from the company's model portfolio every Sunday night. They also offer a free features through their Trade of the Week newsletter highlighting a stock pick they have identified for subscribers.
How Does Trade Ideas Find Stock Picks?
Trade Ideas' technology uses a different scan each week to find unusual trade activity. For example, they may detect a high short interest % in a stock or industry, which often leads to short squeezes, such as what happened with GameStop.
Real people curate scan results before any recommendations come available through the service. You'll also learn how the service picked the trade, why they believe it will perform well and how to find similar trades on your own.
The service carries a hefty price tag with plans starting at $999 per year for the Standard subscription. For the full Holly experience, you'll need to upgrade to their $1,999 Premium plan.
Though, for these prices, you get access to what is likely the best day trading stock picking service on the market. If you've got a lot of capital you plan to place at risk, this investment is a no brainer.
Consider starting your Trade Ideas subscription with no contract involved. Cancel anytime.
Best Active Trader Stock Service
Trade Ideas | Your Coach and Partner for Navigating the Stock Market
Standard: $84/mo. or $999/yr., $228 Premium: $167/mo. or $1,999/yr.* Save 15% with coupon code YATI15.
Trade Ideas is a stock market app that teaches you how to trade and invest.
Using a simulated trading platform, you can learn how to trade and invest without risking actual money.
The service offers a free newsletter and also AI-powered automated trading for premium subscribers.
Special Discount: Take 15% off any first month or year of a Trade Ideas subscription using promo code "YATI15"
Pros:
Free live trading room that delivers actionable guidance

In-browser and desktop interface functionality

Automated trading capabilities

AI-powered trade suggestions
Cons:
No mobile app

Pricey subscriptions for some traders

Cannot place actual trades through TI
* Price when paid annually. Standard is $118/mo., and Premium is $228/mo., when paid monthly.
6. Finimize: Best for Daily Digests of Stock Market News
---
Available: Sign up here
Price: Daily Brief is Free; Premium costs $40 annually through link above
Finimize keeps its Daily Brief newsletter emails short (usually fewer than 500 words) and engaging.
The service breaks them up into three sections of
"What's going on?"
"What does this mean?"
"Why should I care?"
It uses a casual, humorous tone to summarize recent financial news and links to further reading material.
Finimize doesn't directly tell you stocks to buy or avoid, but rather gives you information to make your own decisions.
Subscribers receive an email each weekday for free. If you like Finimize's style, you may choose to sign up for their premium services, such as recorded audio of their content, meetups, and more detailed reporting.
Premium services normally cost $79.99 annually after a weeklong free trial. However, by using this link, you can receive 50% off your annual premium subscription.
Finimize | Millennial/Gen Z Stock Research and News
Annual Membership: $40 (50% off)
Finimize delivers pithy, Millennial-centric spins on current news and events affecting markets
The service offers detailed analysis on investment opportunities to Premium subscribers through their annual membership plan
Use the link below for a 50% discount on your annual premium membership
7. Tokenist's Five Minute Finance – Best for Quick Macro Trend Discussion
---
Five Minute Finance (5MF) is one of those newsletters that's read by every type of investor out there.
Here's the newsletter in summary:
It's free
Published weekly, every Friday
Focuses on identifying the five most significant trends of the week—keeping investors up to speed on all things finance
If you want to stay in the know and have a general pulse on the bigger picture of financial markets, then Five Minute Finance is exactly what you're looking for.
This newsletter focuses on explaining the macro trends and their impact on financial markets. It also pays close attention to the integration of finance and technology, including fintech, cryptocurrency, digital assets, DeFi, and NFTs.
But instead of just giving you headlines, there's actual analysis involved as well—making the most significant events to impact financial markets understandable by all investors.
Here's a sample of the topics covered: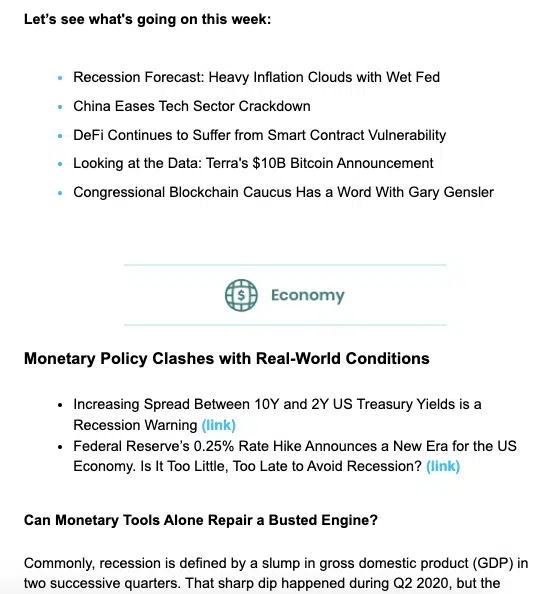 In today's macroeconomic environment—with the Federal Reserve battling inflation, various global supply chain disruptions, and the ramifications of Russia's invasion of Ukraine—Five Minute Finance is a no-brainer, especially for the price: free.
8. CNBC App: Best for Stock Market News and Personal Finance Topics
---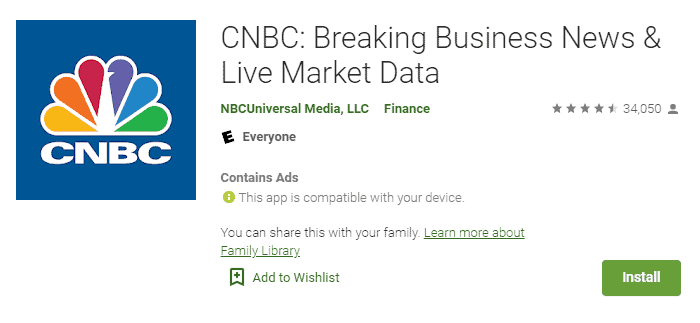 NBC's flagship financial news app provides users with market data, financial information, and international business news. You can access real-time stock quotes, look at interactive charts and even see stock futures information to get a sense for where the market may head.
This app lets you customize a watch list to track specific stocks that interest you.
If you choose, you can have breaking news updates pushed through even while the app is closed, so you never miss time-sensitive financial information.
As a bonus, you can watch full episodes of CNBC shows, such as "American Greed" and "Mad Money with Jim Cramer" to keep yourself financially motivated.
9. Webull: Go to Resource for Technical Aspects and Free Trading
---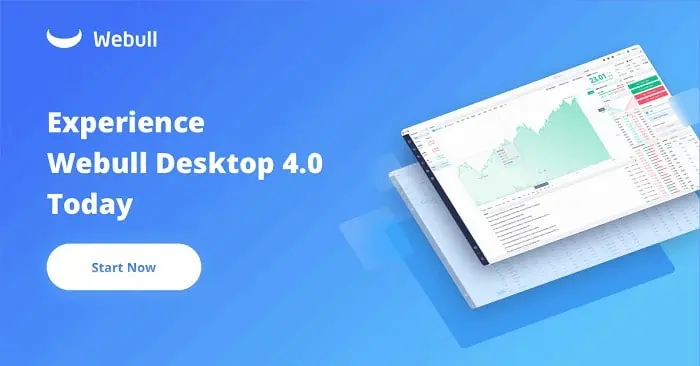 Available: Sign up here
Price: $0 trades, $0 account minimums; Free stocks w/$100 deposit
Webull is the latest free stock trading app on the market which charges no commissions for trades.
The service provides a significant level of financial tools for conducting in-depth analysis but also comes paired with a news aggregator service for quickly following market developments.
Webull tracks thousands of stocks with real-time alerts you can manage in your in-app notification preferences. In addition to this news service, Webull also serves as one of the best stock research and analysis apps because it focuses on traders who utilize technical analysis.
This is why I list it as one of the best stock trading apps for beginners.
In fact, Webull not only offers commission-free trading, free news stories and an active investor community, it also offers a significant amount of technical research resources for individuals looking to invest in stocks, bonds, options and cryptocurrencies.
Further, it acts as a great stock tracking app with alerts, notifications and charting.
Further, Webull provides a free 3-month trial of NASDAQ TotalView Level 2 Advance quotes, which provides real-time views into the depth-of-market in a security.
This gives a sense of market depth and trading activity After 3 months, you can subscribe to the service for a monthly fee of $1.99/mo.
The app provides useful tools, access to financial news stories and any summary-level research activity published by Wall Street analysts. As a bonus for opening your account, if you deposit a minimum amount of money or more you can also earn free stocks.
Commission-Free Self-Directed Investing App
Webull | No Minimums, Free Trades
Webull is a low-cost trading and investing app that allows you to invest in stocks, ETFs, options, and crypto, and participate in initial public offerings (IPOs).
Commission-free trades on stocks, ETFs, and options.
Trading features include charting tools, technical indicators, customizable screeners, real-time stock alerts, and group orders.
Let Webull manage your money for you with Webull Smart Advisor, which combines Webull's in-house investment expertise and artificial intelligence to build, manage, and rebalance an ETF portfolio for you.
New users also get one free month of Nasdaq TotalView's Level 2 Quotes service. (That subscription costs $2.99/mo. thereafter.)
Sign up for Webull Cash Management to earn a 5.0% APY without fees or minimums.
Special offer: Open an account and deposit any amount to receive between 6 and 12 free fractional shares, collectively worth between $18-$36,000.*
Pros:
Good selection of available investments

Fractional shares

Powerful technical analysis tools

Offers robo-advisory services

Accessible to beginning and intermediate users

Voice commands

Offers highly competitive APY through Webull Cash Management
Cons:
Does not support mutual funds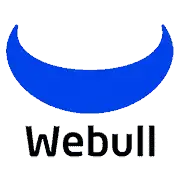 * New users will randomly be assigned six, 10, or 12 shares. Each share will be worth between $3 and $3,000 each.
10. Scanz (formerly EquityFeed Workstation)
---
Scanz caters to traders and not investors. As a result, the service targets tickers and not companies. That means your goal is to find good trading opportunities each day and profit from them.
To do this, you need to scan thousands of tickers regularly and keep up-to-date with the latest stock market news.
The service offers long or short stock tracking options for price-based, volume-based or news-based trades. You can subscribe to the Steaming News module only if this is all you need. You can also add on the Pro Scanner module or bundle them.
If you choose to subscribe to the bundled service in addition to the stock news module, the most acclaimed feature of Scanz (formerly EquityFeed Workstation) is the "FilterBuilder."
With this tool, you can filter and pick stocks based on your desired criteria, including value, growth, momentum or even penny stocks.
Scanz is a powerful stock trading software platform and acts as one of the best stock news options on this list. Consider starting a free trial to see how effective the service can be for capturing alpha in your portfolio.
Scanz | Find it. Trade it. Profit
Scanz is the "all in one" market scanning platform for day traders and swing traders.
The service delivers "extreme real-time" data and news to make sure you can take advantage of trading opportunities as soon as they come available.
11. Yahoo! Finance
---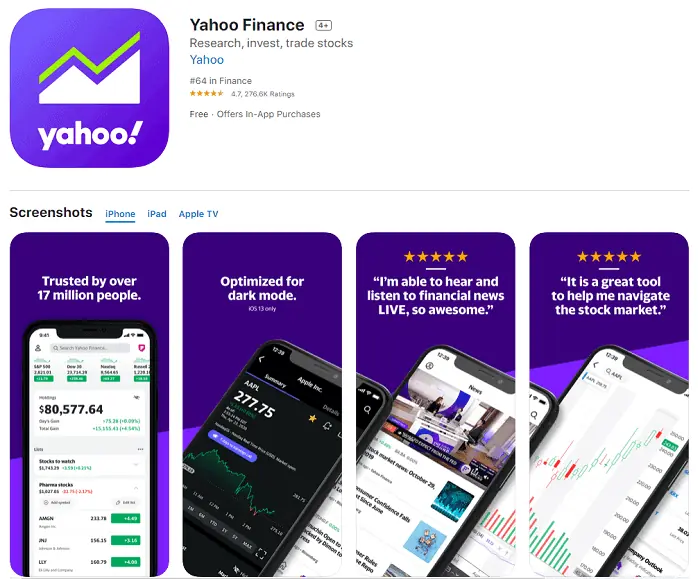 Available: Play Store, iOS
Price: Free; contains ads and in-app purchases

With Yahoo! Finance, you create your own portfolio, follow stocks you're interested in, and set up personalized alerts. Your research abilities within the app are extensive. There are current news stories telling you the most exciting investing insights.
The app has interactive charts and a useful set of analytical tools. You can also view ESG ratings, historical financials, and top holders of companies. There is both a free and premium version. The Google Finance app is similar, but has far fewer users than Yahoo! Finance.
12. MarketWatch App
---
Available: Play Store, iOS
Price: Free; contains ads and in-app purchases
The MarketWatch app, like the website, provides in-depth analytical information. Some of the apps' top features include:
Interactive Top Stories bar that allows you to customize your drop-down menu of other news channels
News about the stock market, business, and finance
Market data center with stocks, commodities, and rates updated in real-time
Ability to track stock market data over various date ranges and regions
Option to follow stock picks and read related stories to stay current on your investments
When possible, many people still prefer the website because it is even more comprehensive, but the app is useful when a desktop isn't an option or you want to check a stock quickly. With an account, you can sync your watchlists between the website and your app.
13. Morningstar
---
Available: Sign up here
Price: Free 7-day trial. Then $34.95/mo., or $199/yr. (53% savings vs. monthly) when you sign up through our link.*
Morningstar Investor is a rich platform of investment research tools designed for the buy-and-hold crowd, and it plugs investors into one of the world's foremost sources for mutual fund and ETF data and analysis.
Morningstar's analysts provide rich commentary about (and updates on) stocks, mutual funds, and ETFs. Also, Morningstar's "News" tab puts you in touch with subscription-free access to earnings results, analyst upgrades/downgrades, and more from news outlets including MarketWatch, Benzinga, and Briefing.com.
Morningstar's ratings are among the service's most revered features. The original Star Rating—which measures a fund's risk-adjusted past returns—has been around since 1985 and helped steer countless investors toward cheaper, better-constructed mutual funds and ETFs. But Morningstar doesn't just look to the past. Its forward-looking Medalist Ratings use traits such as a fund's parent organization, the managers responsible for making decisions, and fund strategies to determine a fund's ability to outperform over the long term. You must be a Morningstar Investor subscriber to access Medalist Ratings.
Morningstar also provides a wealth of information and comparable data points about mutual funds and ETFs—fees, risk, portfolio composition, performance, distributions, and more. Morningstar experts also provide detailed explanations and analysis of many of the funds the site covers.
Stock owners shouldn't feel left out—Morningstar also provides everything you need for stock research, including equity data, corporate financials, analysis, and even Star Ratings of publicly traded companies.
With Morningstar Investor, you can also:
Seamlessly and securely link your external accounts to get a holistic view of your assets from one simple dashboard
Use Morningstar Portfolio X-Ray®, which evaluates what you hold from numerous angles—asset allocation, stock sector, valuation, fees, and more—and can identify any overlaps between accounts that might impact just how diversified you are (or aren't!)
Set up stock and fund watchlists
Screen for securities that match your investing goals using a variety of performance and valuation metrics
Follow Morningstar authors so you can check out their latest articles, videos, and podcasts as soon as they're posted
Not sure if Morningstar Investor is right for you? Try it out with a free seven-day trial. You can check out the current deal, as well as discounted rates for students and teachers, in our details box below.
Trusted Investment Research Provider
Morningstar Investor
Free 7-day trial. $34.95/mo., or $199/yr. (53% savings vs. monthly) when you sign up through our link.*
Morningstar Investor offers expert research, investing analysis, and advisor-grade portfolio management tools that are tailor-made for buy-and-hold investors.
Morningstar is one of the most prized sources of mutual fund and exchange-traded fund (ETF) data in the world.
How does your portfolio stack up? Put it through Morningstar's Portfolio X-Ray, which will provide insights such as whether you have too many overlapping holdings or whether you're paying too much in fees.
Special Offer 1: Click our sign-up link to receive $50 off your first year of Morningstar Investor. (Annual plan only.)
Special Offer 2: Students receive one year of Morningstar Investor access for just $25!
Special Offer 3: Teachers receive a 60% discount on Morningstar Investor access.
Pros:
Top-flight fund research and analysis

Portfolio management tool

Powerful screener

Watchlists

Tailored news and commentary
Cons:
Below-average charting

High monthly billing rate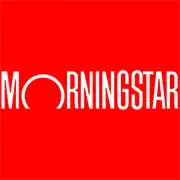 * Promotional rate for first year. $249/yr. renewal rate (41% savings vs. monthly).
14. The Wall Street Journal App
---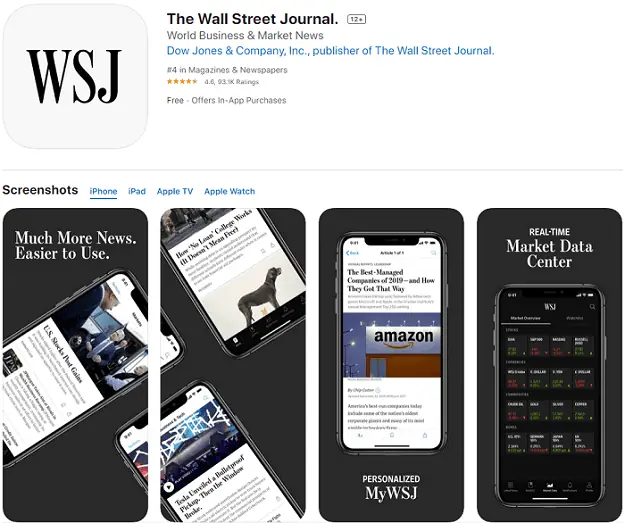 Available: Play Store, iOS
Price: $32.99/mo; contains ads and in-app purchases
Investing expert and billionaire Warren Buffet reads six newspapers each day, one of which is The Wall Street Journal. This newspaper has long been known as one of the most reputable sources for financial information.
Through the app, you can customize news and notifications to focus on the topics most relevant to you.
You receive real-time updates and can access news from an Apple watch. Some articles and information are free on the app, but for full access, you need to pay monthly.
15. Stocktwits
---
Available: Play Store, iOS
Price: Free, contains ads and in-app purchases
Stocktwits is basically Twitter, but people only talk about investing. In a Twitter-style feed, you can find what's happening in the market and stocks from the platform's over two million community members.
Some traders post useful charts and videos with technical analysis.
Stocktwits keeps you social with smart investors and everything is free. The feed doesn't update as often as actual Twitter and sometimes requires you to refresh rather than automatically updating.
Still, it's a great way to interact with other people who invest and share tips with each other.
16. Barron's – Investing Insights
---
Available: Play Store, iOS
Price: Introductory offer of $1/week for first 52 weeks; contains ads and in-app purchases
Barron's has been a trusted source for financial information since 1921 and downloading the app makes that information more easily accessible to you.
You can view all of their investment articles from Wall Street experts and you can save or download the articles to read later. The most iconic of these articles is the Saturday print edition.
You can also read the Asia Editions to get a global view of the stock market. Stock quotes are in real-time and interactive charts give you valuable insights.
New subscribers to Barron's pay $14.99 per month for unlimited access to both the app and website.
17. E*Trade
---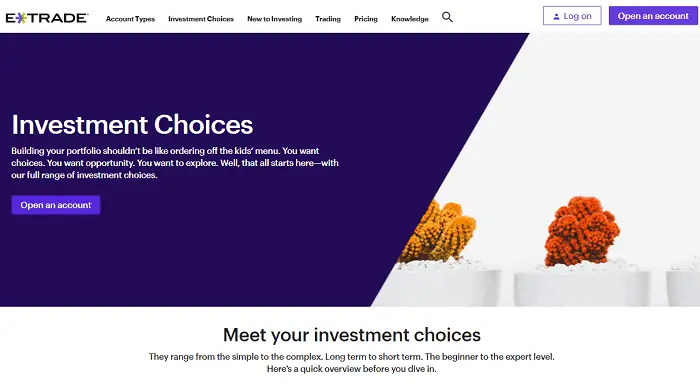 E-Trade is another app that will educate you about the stock market through news stories and educational resources as well as let you trade stocks, ETFs, mutual funds, or options within the app. You have access to Bloomberg TV®, breaking news, and third-party research.
The analysis tools are designed to be simple to understand so you can determine the probabilities of an option trade within moments.
Browse interactive charts, streaming quotes, and view stock's earnings, dividends, and more. Stockbrokers.com recently named E*Trade "Best in Class" among stock apps available to retail investors.
E*Trade | Best-in-Class Online Trading
E*Trade is one of the best online and mobile trading platforms among discount brokers, offering a full range of investments (including professionally managed accounts). It allows you to invest in stocks, ETFs, mutual funds, options, bonds, futures, micro futures, and futures options.
$0 commission trading for online U.S.-listed stocks, ETFs, options, mutual funds, and Treasuries.(Options do have a 65

¢ contract fee.)

Opening an account is easy and only takes a couple of minutes.
Pros:
Very good selection of available investments

Commission-free mutual funds and Treasuries

Automated portfolio builders and prebuilt mutual fund and ETF portfolios

Separate apps for power users and casual users
Cons:
Limited availability of fractional shares (only in DRIP plans or robo-created portfolio)

No direct cryptocurrency trading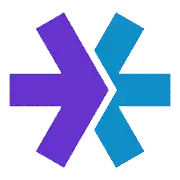 Best Stock Market and Financial News Apps
---
You need to find a way to keep abreast of market trends or you're taking shots in the dark. Investor Peter Lynch once said, "If you don't study any companies, you have the same success buying stocks as you do in a poker game if you bet without looking at your cards."
Therefore, you need to educate yourself both on stocks and market activity.
Thankfully, many financial news apps don't charge a fee because they offer in-app purchases and ads, offsetting the cost to you. Some charge a subscription fee but provide in-depth news and analysis to compensate for this expense.