Five bucks might not seem like a lot of money. But if you can earn $5 quickly, and you can do it over and over again, those $5 earnings will really start to add up.
Heck, let's say it takes you just five minutes to earn $5. That's $60 per hour. Not bad, right?
Fortunately, there are many ways to earn 5 dollars fast that are easy—and plenty of them are downright fun to boot.
Today, I'll go over several ways you can get a free $5 instantly (or at least pretty darn quickly). In fact, you'll find that you can monetize several of the activities you're already doing! You can do one or two, or take advantage of more offers to make more money.
Whether you're trying to save money for an important expense or just need a few dollars more to afford a luxury, you're in the right place. Let me show you how to make a little extra cash.
Best Ways to Earn $5 Quickly—Our Top Picks
---
1. Free Stocks + Cash Bonuses on Stock Apps
---
Sign up. Make a deposit. Profit.
Webull ($18-$36,000 in free stock)
---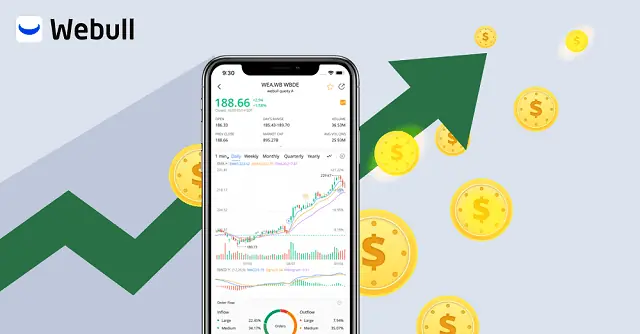 Available: Sign up here
Platforms: Desktop app (Windows, macOS, Linux), web, mobile app (Apple iOS, Android)
Promotion: 6 to 12 free stocks valued between $3 and $3,000 each ($18 to $36,000 total)
Webull frequently runs promotions that allow investors to collect free stocks.
This platform has become one of the best stock apps for intermediate traders and investors, though many of its features are helpful to beginners as well.
For one, Webull remains friendly to wallet-conscious traders today. It costs nothing to open a Webull account. Stocks, ETFs, and options still trade commission-free. Many options have $0 contract fees. And Webull has no deposit minimums. On top of that, it offers fractional shares, which allows investors to start buying for as little as $1. So beginners working with small dollar amounts can still easily diversify across numerous investments.
Newer investors can also learn trading skills through the courses in Webull's education center, and even practice their skills via Webull's paper trading service.
Plus, Webull is available across just about every platform, allowing you to research, trade, and track your stocks on your smartphone, tablet, or desktop.
Why choose Webull to trade stocks?
Webull provides investors with several useful features and tools, including:
Customizable screeners for both stocks and ETFs
Preset lists—including Top Gainers, Top Losers, Most Active, and Best-Performing Industries—investors can use to identify opportunities
Voice commands: Simply speak to buy, sell, or look up information about a ticker
"Big Button Mode": Populates giant buttons on your screen that allow you to quickly make trades with just a push
Free real-time stock quotes and stock alerts
→ How to get free stock with Webull
Currently, Webull is offering new users between six and 12 free shares of stock worth between $3 and $3,000—so, the bonus is worth between $18 and $36,000.
To claim this potential bounty, you will first need to sign up through this link, open your account and make a deposit of any dollar amount. If you do, you will receive between six and 12 shares of stock from Webull.
Read more in our Webull review, or sign up at Webull today.
Related: 7 Best Wealth + Net Worth Tracker Apps [View All Your Assets]
Robinhood ($5-$200 worth of free stock)
---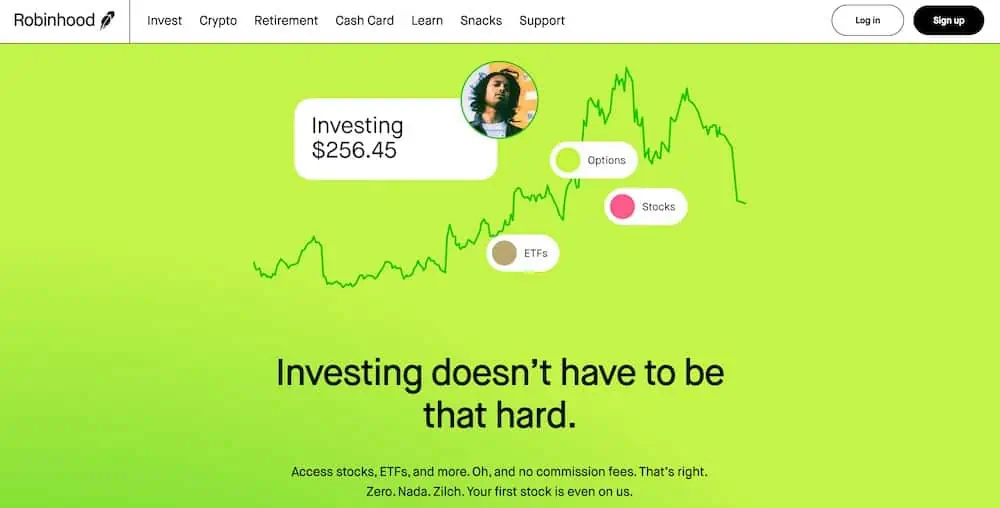 Available: Sign up here
Platforms: Web, mobile app (Apple iOS, Android)
Promotions: Free stock worth between $5 and $200
Robinhood is a pioneer of commission-free trading, jumping into the investing public's consciousness in 2013 when they rolled out commission-free trading. They remain a standout option for cost-minded investors thanks to their continued $0 commissions on stocks, ETFs, and options, as well as for its fractional trading, which allows people to invest with as little as $1.
→ How to get your free stock with Robinhood
Robinhood offers anywhere between $5 and $200 in free stock, just for signing up and linking an account.
Once you've signed up with this link and are approved for a brokerage account, simply link your bank account or debit card, and Robinhood will give you between $5 and $200 that you can use to buy fractional stock, chosen from a list of "20 of America's leading companies."
(Note: You must wait three trading days to sell your gift stock. Once you've sold your stock, you can use the money to buy other stocks right away. But if you want to withdraw the funds for cash, you have to wait at least 30 days.)
Related: 20 Best Investing Research & Stock Analysis Websites
Plynk™ Invest ($85 in free cash bonuses)
---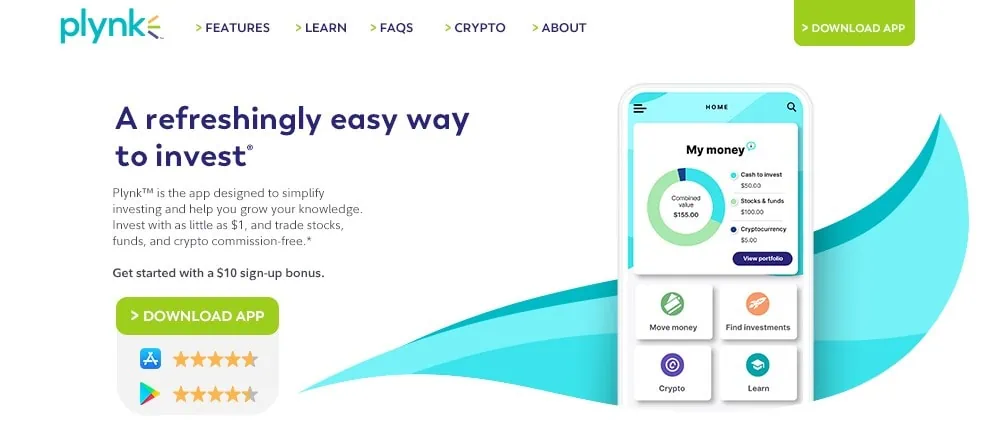 Available: Sign up here
Platforms: Mobile app (Apple iOS, Android)
Promotion: Earn $10 for signing up; Plynk will also double your deposit up to $75
Plynk™ is an app designed to help you start investing and learn along the way, and they're currently offering up to $60 in bonuses for new accounts.
The Plynk app helps beginner investors put their money into an investment portfolio. Specifically, Plynk offers access to a selection of stocks, ETFs, mutual funds and crypto—all starting at a single dollar. The platform uses straightforward, easy-to-understand language to explain investing concepts. No jargon. No complex charts and tables. Just simple-language tips and how-tos.
One of Plynk's most interesting features involves, of all things, gift cards. Specifically, you can redeem unused gift cards for money that you can use to buy stocks in your favorite companies.
If this sounds interesting to you, consider opening an account with Plynk. To make it more worth your while, they have a few special offers.
→ How to get free bonuses with Plynk
Simply open an account and link your bank account to get a $10 signup bonus. Plynk is also offering a special bonus promotion through Dec. 14, 2023. If you make a deposit, Plynk will double it to $75. Customers must have a minimum of $25 in net deposits during the promotional period to receive a match. That means you may be eligible for up to $85 in signup bonuses from Plynk by taking qualifying actions.
Read more in our Plynk review.
Related: 11 Best Free Investing Apps [Invest for Free]
Moomoo (15 free shares worth $45-$30,000 + share of TSLA or GOOG)
---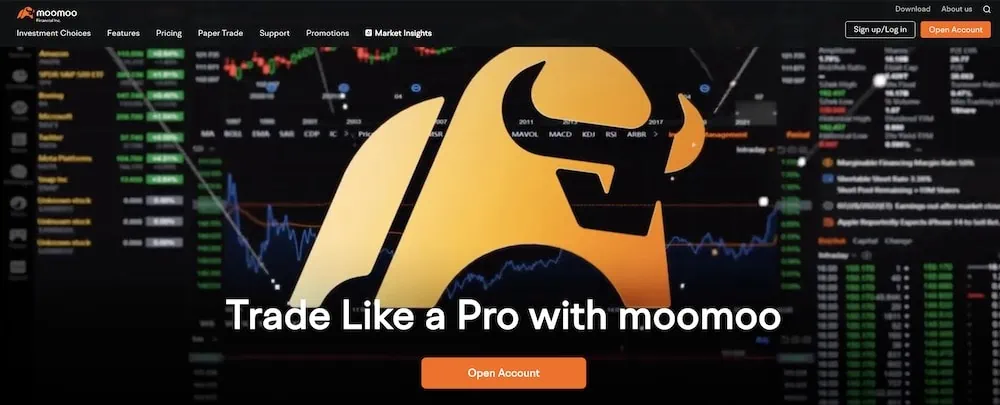 Available: Sign up here
Platforms: Desktop app (Windows, Mac), web, mobile app (Apple iOS, Android)
Promotion: 15 free stocks, each valued between $3-$2,000, plus a share of Tesla (TSLA) or Alphabet (GOOG)
Moomoo is a commission-free trading platform for stocks, ETFs, and options. While Moomoo is best for advanced traders, offering powerful tools to empower your trading insights and strategies, it takes a different approach from other similarly targeted platforms, favoring simple interfaces and high ease of use. The desktop platform is highly customizable, while the mobile app is straightforward, allowing you to search for stocks and trade with minimal hassle.
Still, Moomoo has more than enough under the hood for advanced traders to get the job done. Its charting system, for instance, includes 62 technical analysis indicators and 22 drawing tools. You can set up alerts based on changes in price, bids, turnover ratio, and more. Free Level 2 market data helps you get a greater understanding of a stock's value, determine how liquid a stock truly really is, and better time your trades. You can even enjoy 24/7 financial news handpicked by Moomoo's editorial team.
→ How to get your free money with Moomoo
You can receive up to 15 free shares (collectively worth anywhere between $45 and $30,000) and an extra share of Tesla (TSLA) or Alphabet (GOOG) from Moomoo. Here's how:
If you open a new brokerage account with Moomoo and fund it with $100, you'll earn five free stocks valued between $3 and $2,000 each, as well as a $50 cash reward.
If you make a net deposit of $1,000 or more in the promotion period, you'll get a total of 15 free stocks valued between $3 and $2,000 each, as well as a $50 cash reward.
If you make a net deposit of $5,000 or more in the promotion period, you'll get a total of 15 free stocks valued between $3 and $2,000 each, as well as a $50 cash reward, and one free share of either TSLA or GOOG.
Enjoy these free bonus shares by opening an account with Moomoo through our link and making a qualifying deposit.
Related: 11 Best Stock Trading Apps [Free + Paid]
2. Sign-Up Bonuses on Survey Sites
---
Join for the sign-up bonuses. Stick around for more easy money.
Branded Surveys ($1 sign-up bonus)
---
Available: Sign up here
Platforms: Web, mobile app (iOS, Android)
Promotion: $1 sign-up bonus
Branded Surveys has paid out more than $36 million to more than 3 million users.
The surveys made available to you will depend on your interests and profile information, as well as what research partners currently need. Each survey earns points; you can cash out once you've accumulated at least 500 points. Depending on survey length, users make anywhere from 50 cents to $5 per survey. This is an easy way to make $5 fast.
You can use your points toward gift cards from more than 100 brands, receive cash in your PayPal or bank account, or even make a charitable donation.
→ How to earn free money with Branded Surveys
Simply sign up for Branded Surveys and you'll receive 100 points, which is worth $1.
Related: 7 Best Paid Surveys for Kids and Teens [Online Surveys]
Rakuten ($10 sign-up bonus)
---

Available: Sign up here
Platforms: Web, mobile (iOS, Android, Galaxy Store)
Promotion: $10 sign-up bonus
Rakuten (formerly known as Ebates) has become one of the most popular apps among shoppers because of the rewards and savings it offers when you buy through the app. To date, it has paid members more than $2 billion via cash-back rewards, making it an easy and powerful way to make money.
To take advantage of the shopping savings, you can either shop through Rakuten's online platform or install the Rakuten Chrome browser extension, which identifies potential shopping savings as you browse online retailers. Rakuten leverages its massive scale to extract affiliate revenue from more than 2,500 retailers—when you use Rakuten to get shopping savings, brands pay Rakuten a commission, which it then shares with you every three months (an admittedly infrequent payout schedule) via PayPal or check.
→ How to get your free money with Rakuten
Currently, all you have to do is sign up with Rakuten, you'll receive a $10 bonus.
Related: 21 Best Stock Research & Analysis Apps, Tools and Sites
Swagbucks ($10 sign-up bonus)
---
Available: Sign up here
Platforms: Web, mobile app (iOS, Android)
Promotion: $10 sign-up bonus
Swagbucks is one of the most popular money-making apps because it allows you to earn money or gift cards by doing everyday activities. For example, you can make money by taking online surveys, playing games, watching videos, even doing live trivia. The more you play games, watch videos, and complete other activities, the more extra cash you earn.
To get started, sign up for a Swagbucks account and begin participating in some routine tasks offered through the app. Each task earns you "SB" (Swagbucks), which you can cash in for gift cards or redeem for free PayPal money.
→ How to earn free money with Swagbucks
SwagBucks will pay new users 1,000 SB, which is worth $10. All you have to do is:
Sign up using our link.
"Activate" the bonus in the Swag Ups section of your account.
Spend at least $25 at a store featured in Swagbucks.com/Shop. (You must receive at least 25 SB for the purchase, and you must complete it within 30 days of registration.)
Related: 25 Best Jobs for 15-Year-Olds [In-Person + Online]
Playing Games on Your Phone
---
You read that right. You can get rewarded just for playing games on your phone. Your mother won't believe you, though.
Rewarded Play (Earn money fast on your phone)
---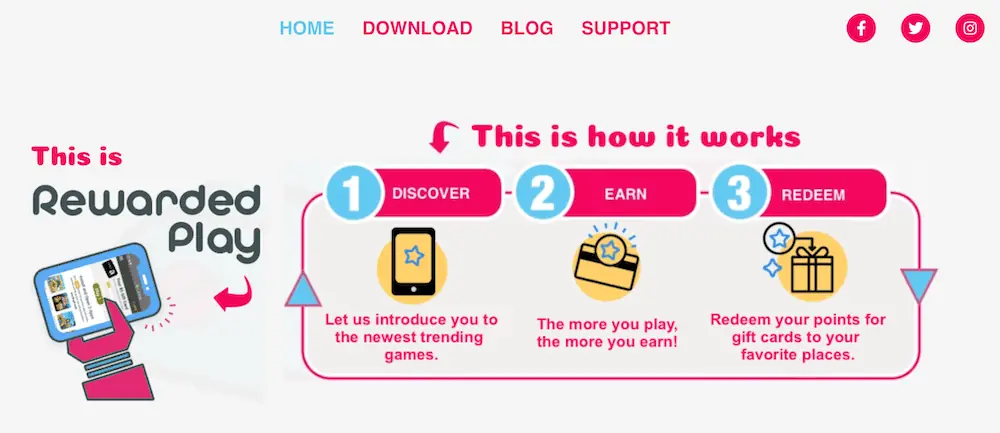 Rewarded Play introduces you to new games to play—and the more you play, the more you earn. You won't make money instantly, but the path to earning this extra cash is fun, and if you play a lot of games, you can make $5 fast.
Like many money-making apps, Rewarded Play is points-based. You earn points when you play games. If you earn at least 5,000 points on any given day, you'll also earn a Daily Bonus that starts at 500 points. For each consecutive day you earn 5,000 points after that, your Daily Bonus grows by 500 points, up to five days—after that, you'll earn 2,500 points every day you continue your earning streak. If you miss a day, the bonus starts over.
You can also earn points by making in-app purchases and watching ads.
You must accumulate at least 45,000 points (the equivalent of $5) to cash out. Points can be redeemed for free gift cards to popular retailers such as Amazon, Walmart, and Macy's. To date, Rewarded Play has paid out more than $15 million to users.
Related: The 13 Best Investment Apps for Beginners
Scrambly (Play games, try apps, earn money)
---
Scrambly lets you play games to earn rewards. Users test companies' products on their phones with various in-game steps. In exchange for testing the apps and playing online games, they get coins. These can be exchanged for gift cards or cash back to a PayPal account.
To earn cash rewards faster, people can also take surveys and invite friends. When you recruit friends, you get a commission on their lifetime earnings.
There is no minimum or maximum amount of time you have to spend. You can do this occasionally for just a bit more spending cash or more frequently to rack up rewards faster.
Related: 30 NFT Statistics to Understand [Market, Sales & Trends]
Mistplay (Play and earn)
---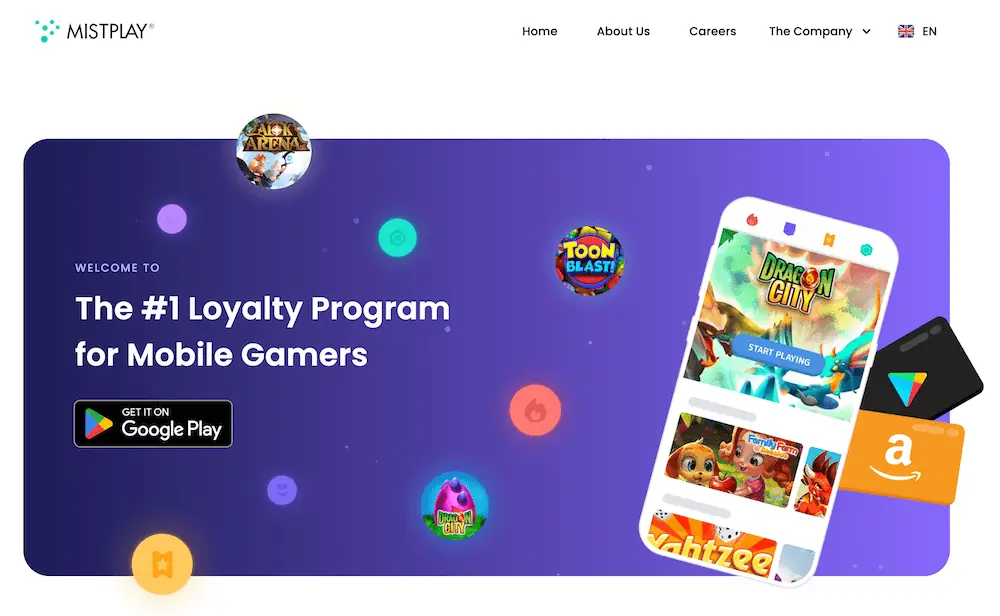 Available: Android
Platforms: Mobile app (Android)
Mistplay is a loyalty program targeted to gamers that rewards you when you play video games and participate in contests.
To make money using the Mistplay app (only available as an Android app at the moment), you discover new games on the app's mix list, select the ones that interest you, then generate points as you play.
You can redeem earned points toward prizes such as Amazon and Google Play gift cards, and PayPal cash. Mistplay also holds weekly contests and offers an "epic" grand prize in the last contest of each month.
Invite friends to the app to earn more or join competitions to improve your ranking on the Mistplay app.
Related: 26 Best Online Jobs for Teens [Earn Money at Home, Age 13+]
Bingo Cash
---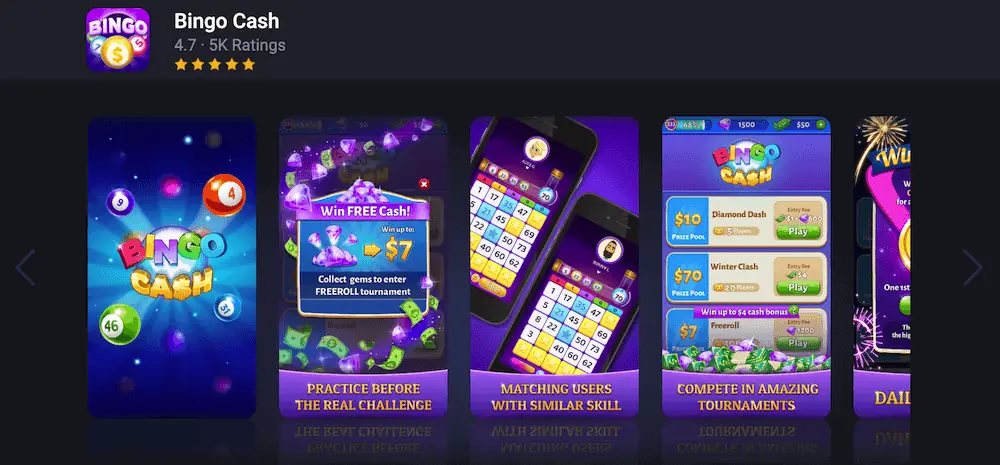 Available: iOS | Android | Galaxy Store
Platforms: Mobile app (iOS, Android [Not in Google Play], Galaxy Store)
Bingo Cash is a fun bingo game that lets you earn money. You play against other users in tournaments; whoever has the highest score when the two-minute timer runs out wins. The faster you click your numbers, the more points you get. You can use "boosters" to increase your score as well.
You earn gems (the in-game currency) and bonus cash alike. You'll also fill up an experience meter every time you play; as you level up, you'll unlock new content and win prizes. You can collect daily rewards, too, and earn extra gems by watching ads. You also have the option to spend money to get gems, but it isn't necessary. That said, some games do cost gems to play.
You can receive cash rewards to a PayPal account, Apple Pay, or a linked Visa or Mastercard. Just note that cash tournaments currently aren't available in Arizona, Arkansas, Delaware, Iowa, Louisiana, and South Carolina. You must be 18 or older to play for cash.
Related: Best Investments for Teenagers [How to Start Investing Young]
3. Cash-Back Apps
---
You're going to shop anyway. You might as well get rewarded for it.
Capital One Shopping (Up to $50 in bonuses)
---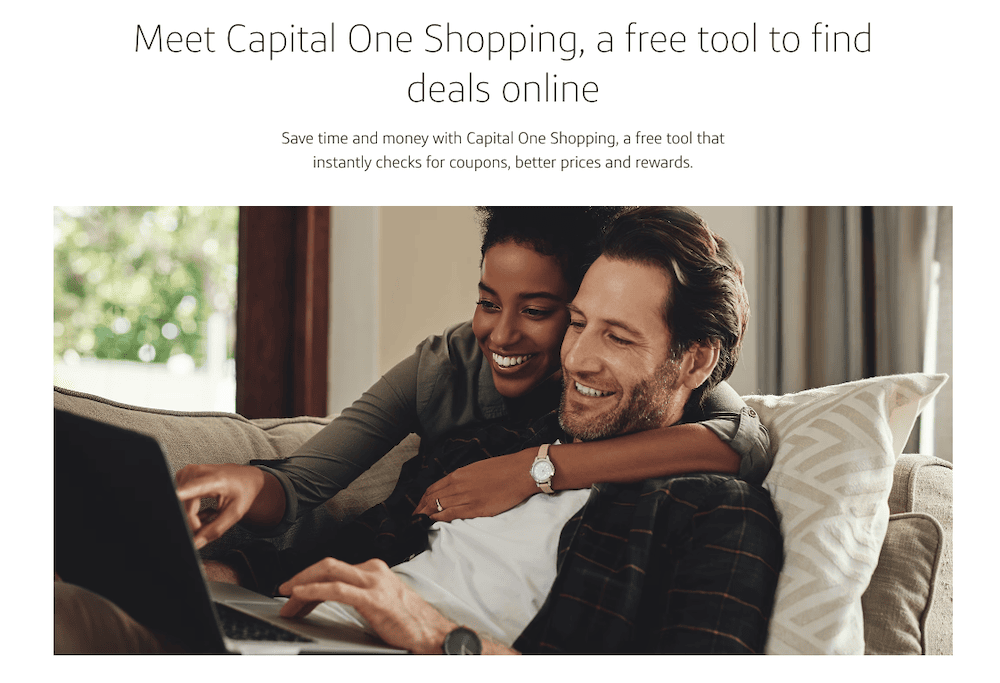 Available: Sign up here
Platforms: Web, mobile app (iOS, Android)
Promotion: Up to $50 in bonuses
The Capital One Shopping app can help save you money while shopping online. There's no need for you to search for deals and clip coupons. The app applies the best available deals at checkout, potentially giving you some jaw-dropping prices. Plus, the service offers rewards you can redeem for free gift cards.
The Capital One Shopping app always compares prices between Amazon and other retailers, helping you potentially pay a lower price. Users can also put items on a watchlist, and the app will notify them when the item goes on sale (or if the price otherwise drops).
The app is free, it works with more than 100,000 stores, and it doesn't require you to be a Capital One credit card holder to use it.
While the app is convenient, some people may prefer to do their online shopping on a web browser. After downloading the app, you can add Capital One Shopping to Safari as a browser extension and get rewarded there too.
→ How to get your free money with Capital One Shopping
To get your free bonus with Capital One Shopping, you'll need to download the app to your iPhone and sign up for an account. From there, you'll be prompted with the option to earn $10 for signing up through the app to install the browser extension on Safari, $10 for installing the desktop app and up to $30 for inviting your friends.
Related: 8 Best Personal Capital Alternatives
GoCashBack ($8 sign-up bonus)
---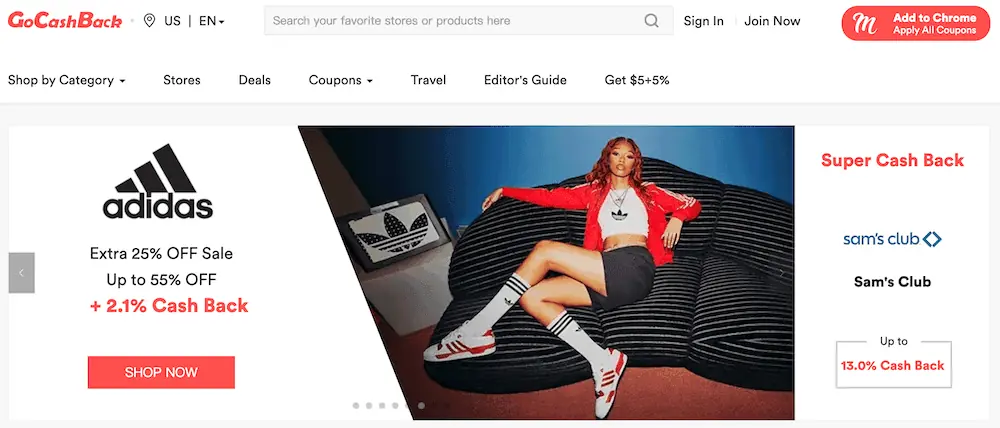 Available: Sign up here
Platforms: Web, mobile app (iOS)
Promotion: $8 sign-up bonus
GoCashBack is a cash-back app trusted by more than 700,000 users who've collectively earned more than $8 million in rewards. The free platform allows users to make money shopping online at retailers like eBay, Walmart, Home Depot, Macy's, GNC, and more, and get up to 40% back on their purchases. (However, actual cash-back rates are more commonly in the low- to mid-single-digit range for most offers.)
You can shop through GoCashBack's website or app, or use their Chrome browser extension to claim coupons and deals through various participating retailers. You can use their GoCashBack app to check your cash-back status from anywhere and click through while on the go to save when you shop on your phone. You can withdraw via PayPal, check, and gift cards.
→ How to earn free money with GoCashBack
Simply sign up for GoCashBack and you'll receive an $8 bonus.
Related: 14 Best Apps That Give You Money for Signing Up [Free Money]
Upside (Earn easy cash back on purchases)
---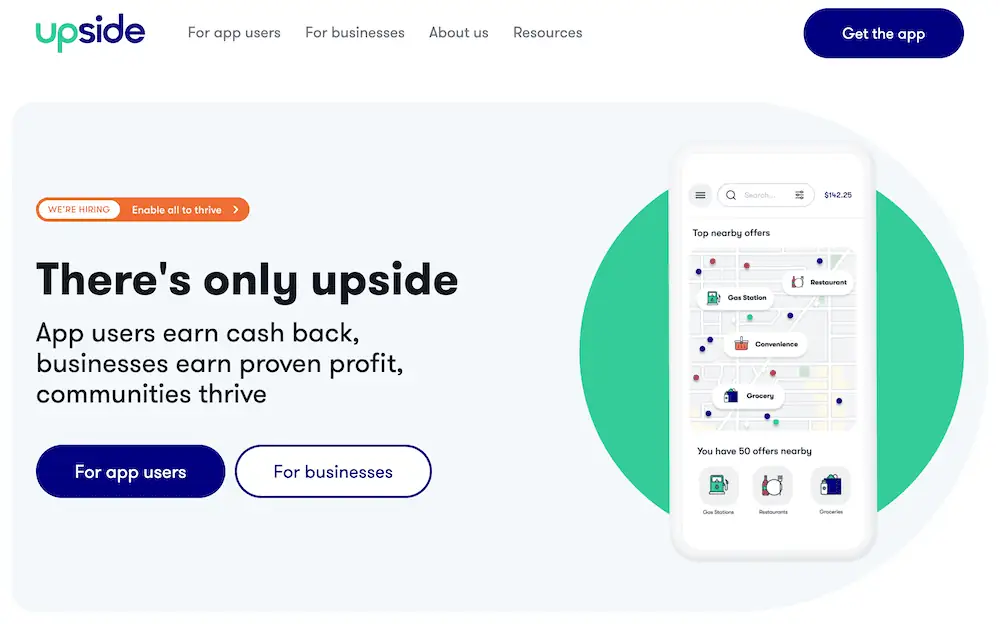 Available: Sign up here
Platforms: Mobile app (iOS, Android)
Upside lets users earn cash back on purchases with minimal extra effort.
Upside can provide cash back at grocery stores, restaurants, gas stations, and more, and it can work alongside other discounts, coupons, and loyalty programs. And there's no limit to how much extra money you can earn with this cash app.
Here's how it works: You claim an offer through the app, then pay as you normally would with a credit card or debit card. From there, you either "Check In" your purchase (or upload a photo of the receipt), and cash back will be deposited into your Upside account. Finally, you can cash out as you wish via e-gift card, PayPal cash, or bank transfer.
Related: 31 Millennial Spending Habits & Income Statistics to Know
Dosh (Automatic cash-back rewards)
---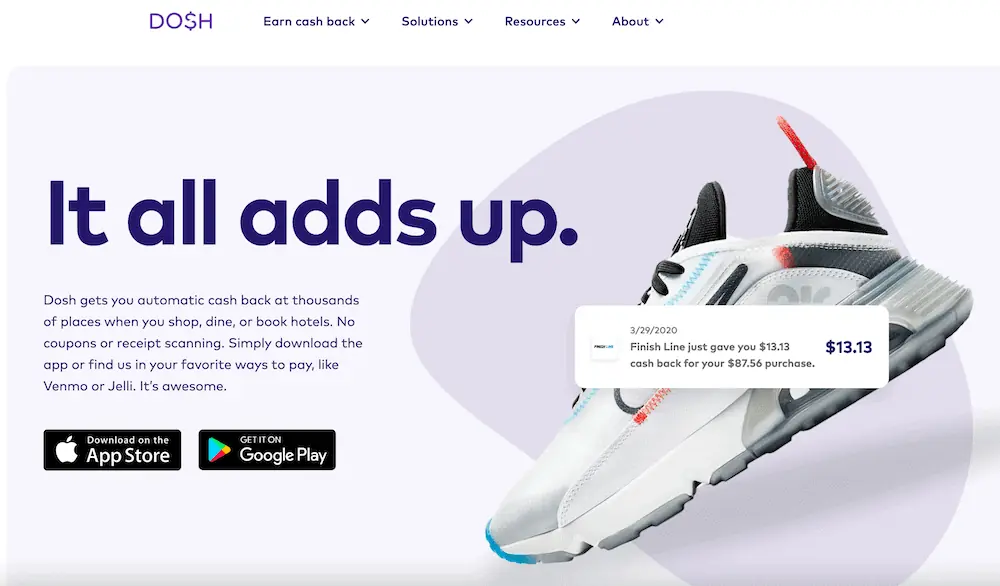 Available: Sign up here
Platforms: Mobile app (iOS, Android)
Dosh automatically generates cash-back rewards when you shop—not just retail brands, but restaurants, hotels, and more. Some of the well-known brands under its umbrella include Walgreens, Nike, Forever21, Hyatt, Marriott, Shake Shack, and Disney+.
Participating is easy. Simply download the app, link up any cards or eligible mobile wallets. Whenever you use your card with a partner featuring cash-back rewards, Dosh will automatically deposit the cash back into your wallet. You can also accumulate rewards faster by completing special offers.
When you've accumulated at least $15 in rewards, you can cash out to your bank, PayPal, or Venmo.
Related: 10 Investments that Earn a Great Return [10% or More]
More Ways to Make $5 Fast
---
This section will cover less conventional avenues of making a little extra money. We will add to this part of the list as new and different ways of making $5 fast present themselves.
Lend your shares in a stock app through stock lending programs
---
Traditionally, investors earn money from stocks through either capital appreciation (investment price goes up), dividend payments, or both. However, there are other, less familiar options, such as lending out stocks you own.
Robinhood has a stock lending program, where users are matched with financial institutions that want to borrow their stocks. Why would a financial institution borrow stocks? Well, they can be used to facilitate trade settlements and even for short selling.
What do you get out of the deal? Money, of course! Stock lenders (you, in this situation) receive whichever of the following situations earns you more on a given day:
Rebate rate of 15% of the weighted average rebate rate Robinhood earned by lending your stock to borrowers that day
Or $0.01 for your total position in the asset that was borrowed during that month. It's your share of the rebates earned for that stock on that day.
Your chances of making money are higher when there is a high market demand and low market availability for your stocks. You might only make a small amount from Robinhood's stock lending program, but it requires no extra effort on your end (except for opting in).
Related:
---
Plynk Disclosures
Google Play Store and Apple Store Ratings are as of the date referenced (06/22/2023) and provide an average rating of users and do not reflect the experience of an individual customer.
---
Moomoo Disclaimer
Moomoo's parent company is Nasdaq-listed Futu Holdings Ltd (FUTU). Their subsidiaries are licensed and regulated in the United States, Singapore, Australia and Hong Kong.