Anyone who has dabbled in investing has likely heard the terms accredited investor and qualified purchaser. And while you may not know what qualifies as an accredited investor or qualified purchaser, you're likely astute enough to realize that these terms probably don't apply to you.
On the other hand, those with a high-paying job or who have built up many assets may be much closer to reaching these esteemed statuses than they think.
So what does it mean to be an accredited investor or qualified purchaser, and why would anyone want to qualify as one?
Read on to learn what it means to be able to make qualified purchases vs. accredited investor status. Plus, understand why you might want to make becoming an accredited investor your next big money goal.
Best Accredited Investments—Top Picks
---
| | | | |
| --- | --- | --- | --- |
| | | | |
| | | | |
| | | | |
| Minimum Investment: $50,000 | Minimum Investment: $2,500 | | Minimum Investment: $5,000 |
| | | | |
What is a Qualified Purchaser?
---
A qualified purchaser is an individual or family-owned business with an investment portfolio totaling $5 million or more in assets. The investment portfolio asset total excludes primary residences or property used for business.
Additionally, a single individual can operate on behalf of a group of individuals who are qualified purchasers with a combined capability of investing $25 million or more. However, the same property exclusions from the above apply.
Furthermore, qualified purchaser status can be given to a trust if the portfolio has a value of at least $5 million and at least two owners are close family members.
The main difference between a qualified purchaser and other types of investors is that the criteria for qualifying are based on investments rather than net assets.
Investments can include stocks, bonds, futures contracts, cash, real estate, and other alternative investments.
Qualified purchaser funds are exempt from registering with the SEC and certain reporting requirements.
Related: How to Know What Stocks to Buy [Picking Stocks for the Long-Term]
Qualified Purchaser Examples
---
There are several scenarios in which an individual or entity could be given qualified purchaser status. Here are a few examples of qualified purchasers based on the criteria discussed above:
An individual with a stock portfolio totaling $5 million and an overall net worth of $10 million
A family-owned business with an investment portfolio of $5 million
A professional wealth manager who has invested $25 million on behalf of their qualified purchaser clients
A husband and wife who are part of a trust with an investment portfolio of $5 million
How Do You Become a Qualified Purchaser?
---
You become a qualified purchaser by meeting one of the criteria mentioned above.
It's important to point out that the emphasis is on the investment portfolio when becoming a qualified purchaser rather than income, total net worth, or net assets.
Generally, a qualified purchaser is an individual or family business that holds at least $5 million in investments, excluding primary or business real estate.
Certain entities or individuals can also be considered qualified purchasers if they meet specific criteria.
What is a Qualified Institutional Buyer?
---
A qualified institutional buyer (QIB) is an institutional-level investor that owns or manages at least $100 million in securities.
Deemed as a "sophisticated investor," QIBs are individuals or entities that do not need the regulatory oversight given to regular retail investors when purchasing securities.
The SEC awards this status due to the experience, assets under management, or net worth of the QIB.
Other entities considered QIBs include banks, loan associations (net worth of $25 million or more), investment companies, insurance companies, employee benefit plans, and entities owned entirely by QIBs.
Most qualified institutional buyers are also considered qualified purchasers. Still, QIB status also allows these investors to purchase securities on the secondary market.
How Does a Qualified Institutional Buyer Compare to a Qualified Purchaser?
---
There are a few key differences between a qualified institutional buyer and a qualified purchaser. The main difference is the amount in securities being managed or owned.
While qualified purchasers must have at least $5 million invested, a QIB must own or manage at least $100 million in securities.
There are also differences in what entities can qualify under each category.
Individuals, family businesses, certain trusts, and individuals operating on behalf of other qualified purchasers can be deemed qualified purchasers.
On the other hand, individuals managing or owning a significant amount in investments and a more comprehensive array of companies can be deemed QIBs.
What is an Accredited Investor?
---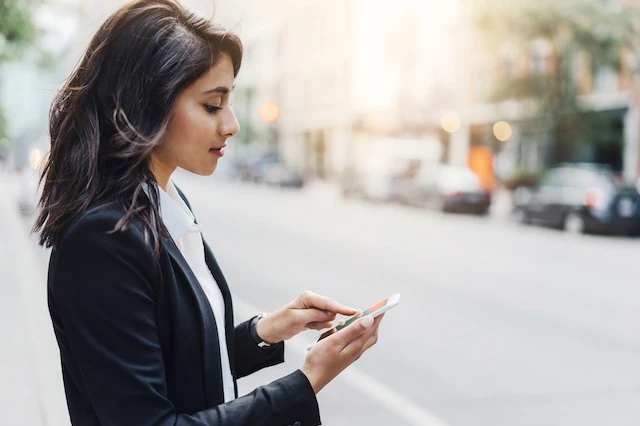 Accredited investors include high-net-worth individuals (HNWIs), banks, insurance companies, securities brokers, and trusts.
An accredited investor may trade securities that do not require registration with financial authorities, like the Securities and Exchange Commission.
The Securities and Exchange Commission feels if you meet at least one of the accredited investor requirements (covered below), you don't need the financial protection provided by regulatory disclosure filings many of their non-accredited counterparts might need to protect investors.
Many investment firms offer securities directly to this investor class through a private fund or another investment vehicle. These investment opportunities for accredited investors typically come through private placements.
These types of financial arrangements entail potential risks not seen in traditional investments. Therefore, authorities want to ensure an accredited investor has the financial resources and sophistication to understand these risky ventures before proceeding.
How Does the Securities and Exchange Commission Define an Accredited Investor?
---
While the accredited investor definition recently changed—from one which usually meant high-net-worth/high-income individuals to now one which focuses on investor experience and knowledge—it typically skews more towards investors with financial resources and familiarity.
That said, the new amendments from the Securities and Exchange Commission (SEC) allow investors to qualify as accredited investors based on defined measures of professional knowledge, experience or certifications in place of the existing tests for income or net worth.
These tests for financial resources include having an aggregate net worth of over $1,000,000 (excluding their primary residence) and earning over $200,000 in each of the two most recent years or joint income with that person's spouse of over $300,000 in each of those years with a reasonable expectation of reaching the same income level in the current year.
Knowledgeable employees who work for certain private funds can also participate as accredited investors.
You will need to understand how your net worth, income, employment, certification or status as a private business development company or organization with assets exceeding certain thresholds may become a factor when considering what types of investments you can buy.
Related: How to Get Rich Off Stocks [Steps to Invest in the Stock Market]
How Do You Gain Accredited Investor Status?
---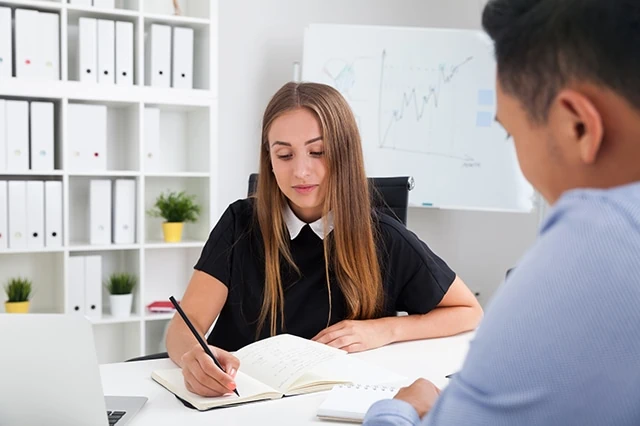 To become an accredited investor and gain the ability to invest in unregistered securities, you must meet one of the following standards:
You have a net worth (or joint net worth) exceeding $1,000,000 (excluding your primary residence).
You are part of an association or trust with assets exceeding $5 million dollars.
Your annual income has exceeded $200,000 in the previous two years, and you expect to make the same amount this year.
You must exceed $300,000 of joint income if you have a spouse.
Once you achieve these milestones, you have access to accredited investments through achieving accredited investor status.
From here, this allows you to invest in unregistered securities and investment opportunities like:
private placements
online investment platforms catering to accredited investors
venture capital
hedge fund opportunities
private equity
real estate deals and certain real estate investments
convertible investments
When considering alternative investments for accredited investors, it is essential to look at them through the lens of risk and return, which varies depending on your current financial situation.
It would help if you also held other considerations like portfolio diversification and liquidity.
Related: 9 Best Portfolio Analysis Tools [Portfolio Analyzer Options]
What are Some Accredited Investor Examples?
---
There are several scenarios in which an individual might qualify as an accredited investor.
However, the primary way to become an accredited investor is via having a net worth (individual or joint) of more than $1 million, excluding your primary residence.
You can determine your joint or individual net worth by creating a balance sheet to subtract your total liabilities from your total assets.
Here are a few other examples of accredited investors based on the criteria discussed above:
An individual whose annual income has exceeded $200,000 in the previous two years and is expected to continue to do so
A married couple whose joint income exceeds $300,000
An individual who is part of a trust with assets of $5 million or more
What is the Difference Between a Qualified Purchaser vs. an Accredited Investor?
---
The main difference between a qualified purchaser and an accredited investor is how financial status is quantified.
When determining qualification, accredited investors have a lower financial threshold that combines net assets and annual income.
On the other hand, qualified purchasers have a higher financial threshold based solely on investments.
Aside from being a much easier threshold to reach, being an accredited investor gives one the ability to invest in certain assets.
Thus, accredited investors seek access to various types of investments. In contrast, qualified purchasers already have a tremendous amount invested and are looking to maximize their assets.
Why Would an Investment Company Only Sell to Accredited Investors?
---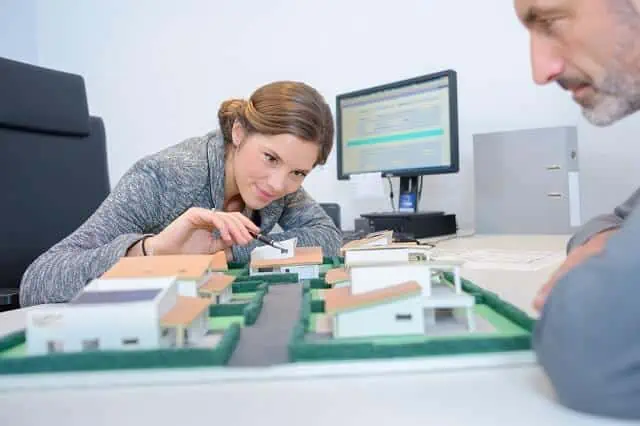 There are several reasons why an investment company might decide only to sell particular securities to accredited investors.
First, an investment company might only offer securities to an accredited investor because it allows the company to be exempt from registering the security with the SEC, saving them money.
Unregistered securities exempt from SEC regulation typically come with much higher risk.
Thus, companies offering these types of investments need to ensure that:
investors are financially stable
knowledgeable about higher-risk ventures, and
better able to withstand the fallout from investments that don't pan out.
Being an accredited investor means one has met established criteria for taking on such higher-risk investments.
Related: 36 Best Passive Income Ideas [Income Investments to Consider]
Where Can You Invest as an Accredited Investor?
1. First National Realty Partners (Grocery-Anchored Commercial Real Estate)
---

Minimum Investment to Start: $50,000
Type of Investor: Accredited Investors
First National Realty Partners (FNRP) is one of the fastest-growing vertically integrated commercial real estate investment firms in the United States.
The company's mission is to provide everyday, accredited investors with access to real estate assets that were originally available only to institutional investors.
Leveraging their team of industry-leading professionals and foundational relationships with top-tier national brand tenants, including Kroger, Walmart, and Wholefoods, they compete directly against these institutions to present investors with deals that achieve superior passive returns.
Specializing in grocery-anchored CRE, FNRP provides partners with exclusive access to institutional-quality commercial real estate investment opportunities both on and off-market.
They've helped thousands of investors increase their net worth and diversify their portfolios against market volatility through deals which yield steady cash flow from day one, as well as significant upside through their proven value-add strategies.
By investing with FNRP, you become a partner with a team of real estate professionals in the necessity-based retail space. From acquisition to disposition, their entire investment lifecycle is 100% in-house.
To ensure you're presented with only the best institutional-quality investments, their team filters through over 1,000 deals and chooses just ONE that they are confident will achieve strong returns.
Unlike a traditional REIT or fund, you have the ability to pick the deals that best align with your investment needs so that you can build your own portfolio within our holdings.
FNRP does this by providing a transparent platform in which you have access to all the information you need to make a confident decision. You will never have to invest blindly.
Starting to invest with First National Realty Partners does carry a high entry fee: a $50,000 minimum. For this, however, you gain access to unique deals no one else on this list provides: combining stability and strong returns.
Sign up to learn more about the opportunity and if it makes sense for your investment goals.
Read more in our First National Realty Partners review.
Best Risk-Adjusted CRE Returns
First National Realty Partners | Grocery-Anchored CRE
Minimum investment: $50,000. Fees vary by offering.
FNRP is the leading sponsor for grocery-anchored commercial real estate.

FNRP has a nationwide focus and leverages relationships with the best national-brand tenants to bring accredited investors exclusive access to institutional-quality de

als.

FNRP provides partners with

institutional-quality investments that achieve exceptional, risk-adjusted returns (12%-18% targeted average annual returns, of which, 8% is the targeted average annual cash distribution.)

Uses the Dragnet Acquisitions Model - strong due diligence. FNRP looks at 1,000 deals and chooses just one. FNRP chooses only the best deals they believe offer the highest return for the absolute lowest risk.

FNRP's entire investment cycle is 100% in-house and not outsourced like traditional private equity sponsors.
Pros:
Strong performance track record

Unique investment niche (grocery-anchored CRE)

High total shareholder return
Cons:
Only accessible to accredited investors

High investment minimum ($50,000)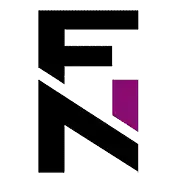 2. YieldStreet – Alternative Investments (Financial Securities in Real Estate, Art Finance & More)
---

Minimum Investment to Start: $2,500
Type of Investor: All Investors
Alternative investments have become increasingly popular as fintech services open up once closed markets to the individual retail investor. These opportunities have democratized numerous markets and unlocked previously-inaccessible cash flows to pad your income from assets.
Yieldstreet is one such platform leading the charge to provide access to income-generating assets in several asset classes.
Yieldstreet is an alternative investment platform that provides you with income-generating opportunities. These investment opportunities come backed by collateral, typically have low stock market correlation, and span various asset classes. Such asset classes include:
art finance
real estate
commercial finance
legal finance, and more.
Yieldstreet has been in business since 2015 and has returned over $600 million to its investors since its founding.
Historically, their yields range from 7%-15% and have predefined payment schedules (i.e., monthly or quarterly payments). They may pay principal and interest upon the occurrence of certain events (e.g., case settlement within a legal finance investment).
The durations of investment opportunities range from 6 months to 5 years and have investment opportunities starting as low as $2,500.
Learn more by opening an account now for access to passive income-filled returns on your investments.
Best Multi-Asset Alternative Platform
Yieldstreet | Passive Income w/Alternatives
Yieldstreet offers portfolio diversification through building passive income streams with alternative investments
Typically have low stock market correlation
Have short durations (6 months to 5 years)
Low minimums (as low as $2,500)
Backed by collateral to help protect your principal (over $600m in principal and interest payments returned to investors since 2015)
Pros:
Access to several alternative asset classes

Low stock market correlation

Low minimums compared to other accredited investment platforms
Cons:
Illiquid investments

Some investments have lost money

Most investments only available to accredited investors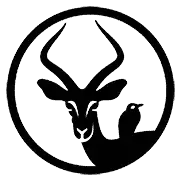 Related: 19 Best High-Yield Investments [Safe Options Right Now]
3. Percent (Private Credit Investments)
---
Minimum Investment to Start: $500
Type of Investor: Accredited Investors Only
Percent is an investment platform designed for accredited investors who are interested in accessing private credit (non-bank lending).
You can diversify your portfolio with investments such as …
small business lending in Latin America
U.S. litigation finance
Canadian residential mortgages
merchant cash advances
Percent has built a way for retail accredited investors to access a wide range of private credit opportunities with a clear view into their performance through its innovative tools and comprehensive market data. That allows investors to make better-informed decisions, source and compare opportunities, and monitor performance with ease.
This platform also provides access to an alternative investment that's a little more liquid than other alts, with some debt investments only lasting nine months, with liquidity available after the very first month in some cases.
The service targets annualized returns on unsecured notes between 12% to 18% on average and up to 20%. And while investment minimums vary, many Percent opportunities require only $500 to invest.
If you're interested, visit Percent's site to learn more or open an account.
Best for Private Credit Markets Access
Percent | Alternative Investing. Simplified.
Minimum Investment: $500. Fees: 10% of each advertised interest payment.*
Access for accredited investors to private credit markets, which historically have been limited to institutional investors

Shorter-term investments, with many durations between 9 months to several years, and liquidity available after the first month, if the borrower provides this option

Lower minimums (most deals requiring only $500 to invest)

Diversification, with access to small business lending in Latin America, U.S. litigation finance, Canadian residential mortgages, merchant cash advances, and more

Uncorrelated returns with the stock market and a potential hedge on stock market volatility
Pros:
Greater liquidity than many alternative investments

Low investment minimums

Low stock market correlations
Cons:
Only accessible to accredited investors
* Example: For an offering with a 15% APY, Percent will charge 1.5%, providing a net APY of 13.5%.
4. Equity Multiple
---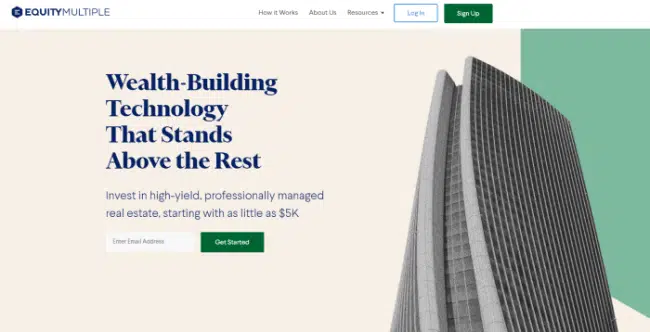 Minimum Investment to Start: $5,000
Type of Investor: Accredited Investors Only
Some platforms like Equity Multiple allow you to invest in individual properties, specifically commercial real estate. Others allow you to invest in real estate property portfolios.
Equity Multiple carries a minimum $5,000 initial investment and comes with a limitation on the type of investors who can participate.
Namely, Equity Multiple only allows its individual commercial real estate projects to receive investments from accredited investors.
For those interested in learning more about Equity Multiple, consider signing up for an account and going through their qualification process.
Best for CRE Investment Type Selection
EquityMultiple | CRE Investing for Accredited Investors
Minimum investment: $5,000.
EquityMultiple is a commercial real estate platform for accredited investors, providing investment opportunities in real estate funds, individual properties, and savings alternatives.
EquityMultiple has a team boasting decades of real estate transaction experience. Their due diligence process whittles down a large selection of properties, accepting only 5% as target investments that they use to build a variety of portfolios that suit numerous investing objectives.
The company has made $379 million in distributions since its founding.
Pros:
Makes commercial real estate Investments accessible

Intuitive website design

High net total returns and distributions paid to investors
Cons:
Only available to accredited investors

High investment minimum to begin

Fee structure varies by investment, complex at times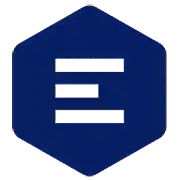 Related: 10 Best Non-Stock Investments [Alternatives to the Stock Market]
5. Hedge Funds
---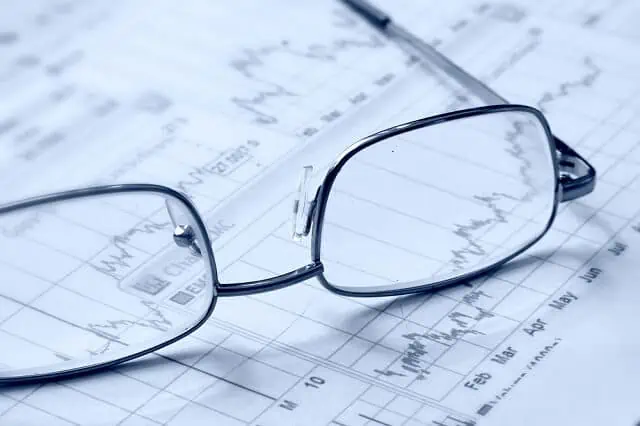 Hedge funds are actively managed investment vehicles with managers who employ various investing strategies.
Often, this includes buying assets with borrowed money or margin, short selling stocks or other securities, trading non-liquid assets and taking opposing bets on a position as a hedge on risk.
In exchange for these exotic investment decisions intended to produce returns higher than the stock market, they tend to charge high fees. Such fee models include a percentage of assets under management and profits made during the year.
One famous pricing model is called the "2 and 20 model", where investors pay 2% of assets under management and 20% of all annual profits.
To overcome these high costs, hedge funds need to produce market-beating returns regularly.
Accredited investors often place money with these risky alternative investments in an attempt to outperform the market or provide better returns than they expect through making their own investment decisions.
Accessing a hedge fund requires a high minimum investment or net worth, often leading to only the wealthiest clients eligible to participate.
Related: Best Commission-Free Stock Trading Apps & Platforms
6. Venture Capital
---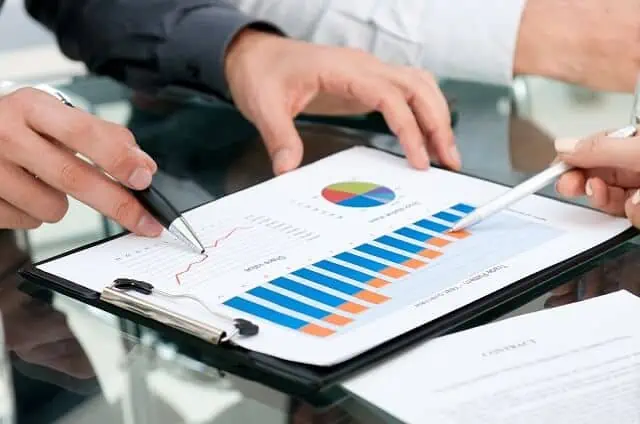 Venture capital is a form of financing made available through private equity funds and other investment firms to startups or other small companies seen as having long-term growth potential.
Typically, venture capital funds tend to come from well-off investors or private firms but don't always come as a financial investment.
Some venture capitalists provide managerial or technical expertise instead of financial capital.
When a small firm believes it can grow substantially and quickly with the help of outside capital or expertise, it will consider venture capital as a means to expand rapidly.
Venture investments carry considerable risk compared to a publicly-registered security trading on a regulated exchange in the financial sector.
Venture funds are an investment vehicle that can provide access to several small funds at once. Some platforms allow you to invest in small businesses directly.
Mainvest allows individual investors to invest in Main Street businesses in their area or across the nation. You can choose to invest small amounts to support the business.
Best for Small Business Investing
Mainvest | Invest in Small Businesses
No direct fees for investing.
Mainvest is a small business investment platform allowing you to target returns of 10%-25% with as little as $100 to start.
These passive income investments in vetted small businesses can provide your portfolio with exposure to an emerging asset class while supporting local communities.
Invest in innovative, community-driven founders' businesses in your backyard and across the country.
Pros:
Invest in small businesses for as little as $100

Invest in local businesses to have impact

High target returns (10-25%)

No fees
Cons:
Can't invest in digital-only businesses

Illiquid (can't buy/sell in secondary market)

Maximum investment size depends on your income or net worth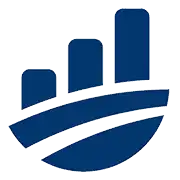 Should You Become an Accredited Investor?
---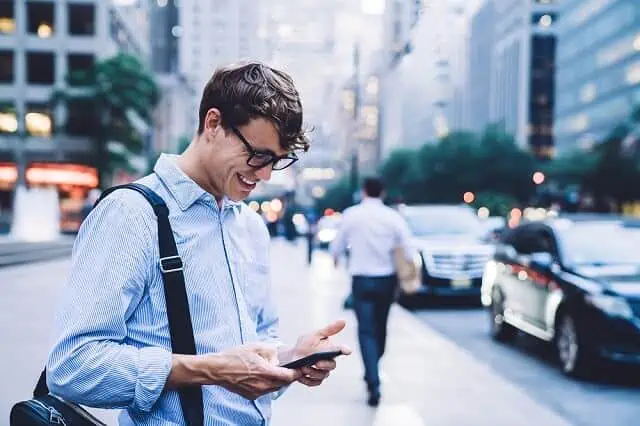 Becoming an accredited investor allows you to invest in more assets than the investing public.
Several companies specifically establish unique investment pools catering to accredited investors. These pools entail less regulatory burden and hassle with registering securities with the appropriate regulatory authorities.
Becoming an accredited investor can provide you with more opportunities to invest your money. However, being an accredited investor does not necessarily mean having higher returns.
In exchange for forking over your money for non-traditional assets, you should expect your returns to outperform the market.
Often, becoming an accredited investor changes little for your investing concerns nor does it present a step up in financial sophistication.
You want to preserve your day-to-day lifestyle through asset preservation or grow your funds through wealth accumulation.
Investing as an accredited investor does require you to participate in accredited investor-only deals. Choosing to invest in the real estate market, stocks, or other standard types of assets is prudent.
When deciding whether you should invest in accredited investor opportunities, you should balance the trade-off between higher-reward potential with the lack of reporting requirements or regulatory transparency.
Consider many of the alternative investment opportunities available exclusively to accredited investors above, but also consider consulting an investment advisor for investment advice.
Investment advisors might help you with crafting a more comprehensive financial plan that includes not only investing in accredited investments, but also one which seeks to invest in traditional assets like stocks, bonds, mutual funds and ETFs.
Taken together, this combination of investments, when invested prudently, should help you realize multiple investment objectives simultaneously, leading to financial security and peace of mind.
Related: